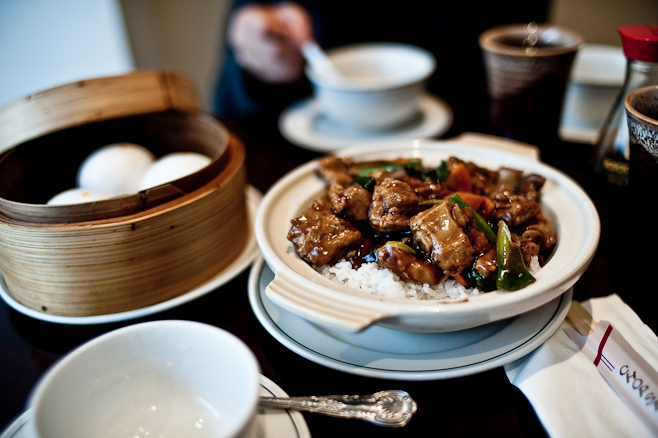 I finally pulled the trigger. I downgraded my travel card to exclude free roaming in zone 1. I'll have to pay as I go into central London (I work in zone 4) or use more bus routes, but that's only a mild inconvenience compared to the annual £600 savings, not to mention the 'health benefits' associated with a longer walk home. So my new home station is now Earls Court (again) – probably just about the noisiest street in London. There are plenty of restaurants in the area (I've tried most multiple times, including the new-ish Mangosteen), but lately have been frequenting this Chinese restaurant for quick after work bites.
Unsurprisingly, the restaurant is named after the address (no.10 hogarth place). There are also Filipino grocery stores on this very street. Unassuming and somehow seemingly blending into the locale (explains why I've missed it for the past four years), or maybe I was staring abit too much at the hairdressers next door at No.8, I blame the well polished glass panels. My first visit to the restaurant was to escape the rain. While I waited, I thought I may as well sample a plate of soya chicken rice (about a fiver… give or take, one of my favourite things in the world). I usually ask for a drumstick, and the waitress informed me that they only do the most tender parts of the chicken. Hmm, I took that as a yes. Anyway, I was quite amazed at how good the chicken was – very tender (that sort of tender..), fragrant, and a good balance of saltiness and sweetness. It tasted like what soya chicken was supposed to taste like. For the record, it's not Uncle Lims, but is close enough.
Reconnaissance successful, I thought it best to take the big guns for subsequent visits: the One with the knife skills in the house. So the menu is expansive, on the first page, the chef specials signal their specialty in Szechuan cuisine. There's a lot of recognisable Chinese dishes on the menu as well (which I wont go through) but I'll point out what I thought was a cracker: the braised pork ribs with rice. It came in a ceramic pot on a bed of rice, with 'winter' mushrooms (shitake). As the waitress lifted the lid, the gushing homely aromas were incredibly mouth watering, I kept thinking about my mum's cooking. Ohhhhh, warming flavours, it bubbled in my mouth as my palate began filling with mushroom and white pepper. The balance of flavour is sound and as the juices soaked into the rice beneath the excellent spare ribs, it made for an incredibly hearty mouthful. The portion was large, I looked around and saw other lone diners savouring the gentle pot as well. £6.50 a steal.
We were glad to find a dependable Chinese in the vicinity, but we were curious about their specialties. So the following visit, we were back to go ala carte, but first, a slight digression from food. The tables at No.10 are so closely arranged that neighbouring personal spaces are on the fringes of encroachment. I saw 'The ugly truth' (you'll see where this is going in a sec) and I didn't quite believe the situation of the woman trying all kinds of tricks to get her man existed in real life. But funnily enough, a couple (I say 'couple') sat next to us, and the woman was so clearly flaunting it, trying to impress her male friend with her vast experience with Chinese food, and was she impressive and then some. She ordered in Cantonese, but with a distinct Glaswegian accent, and her intimate knowledge of good restaurants in Hong Kong even had me tuning in. I know what you're thinking: "Kang, you are a such gossip whore" . Hey what did you expect, I write a blog.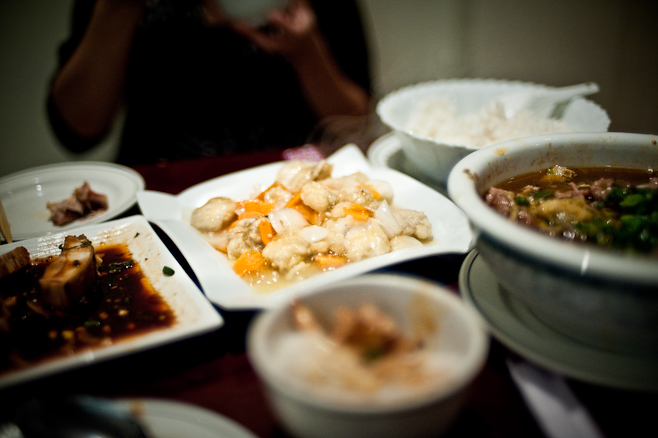 Hopefully pecking was involved at the end of that meal. Anyway: monk fish in white wine sauce, £7.60. Another warming sensation, steam rising from every exposed area of this dish. First of all, it's like there is some sort of heat emanating from the core of each parcel of fish. Encased in a batter, just thick enough to absorb the slimey, jelly-like sauce, and which created a unique texture, soggy but still kinda crunchy. Flavour wise, it was a big surprise – there was a lot of sizzly heatiness in the sauce (see wok hei), like a bouncy castle for the tastebuds. Yeah I enjoyed it.
Next we decided on the 'ma la' spicy pot, with mixed offals. £12.50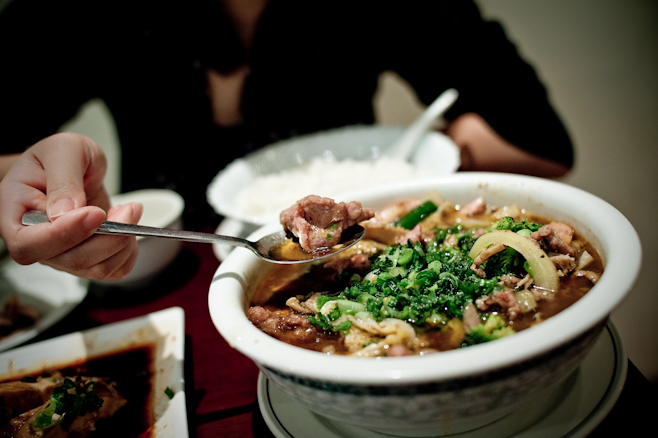 The waitress told us that this was the bona fide Szechuan speciality, 'mala' I think means spice your tastebuds to death. The offals included tripe and intestines but there were also slices of beef, pork and spam thrown in for good measure. The broth was incredibly sharp and spicy, to the point where all my my major orifices were watering. Nasal clearing stuff, it's a tad potent, considering we're in London.
And the award for eye catching dish names goes to …. Saliva Chicken £6.50.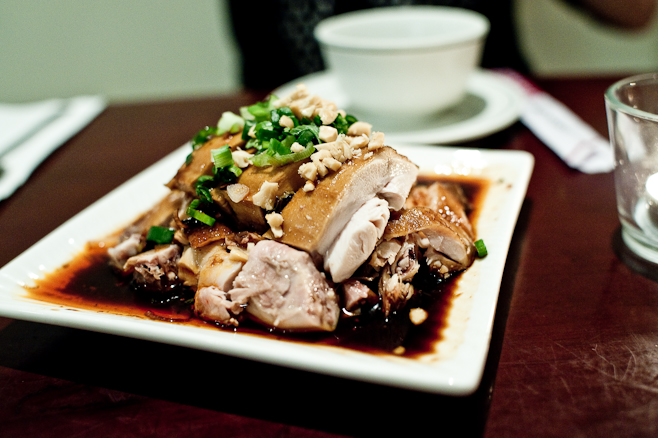 Not a reflection of the recipe of course, but rather, a suggestion of what it would do someone when eaten. Anyway, this was the aforementioned soya chicken, but bathing in a hot and spicy soya based sauce, with crushed peanuts. I prefer the plain version, less distractions.
All in all, No.10 is a sneaky little gem which really surprised me with its quality. Not everything succeeds, like the dim sum for example, I'm convinced the custard buns are off the shelf. The Szechuan specialities on the other hand are masterful, and you know you've chanced upon a good Chinese restaurant when the rice are like fragrant drops plucked from the steaming heavens.
The Gist of It
No 10. £15pp
10 Hogarth Pl
London, SW5 0QT
Tel: 020 7373 7000
Tube: Earls Court
Did you enjoy reading this post? Why not subscribe to my feed updates for free. Alternatively, You can subscribe via email.