In my never ending quest to eat everything, I am fortunately saddled with a curiosity for all manner of restaurants. Take Jack's for example. Situated next to the farmer's market in Queens Park (where Cillian Murphy can frequently be seen) , I've walked out with a beef burger in hand (superbly grilled by one of the meat mongers) still wanting to try a Jack's burger while munching on the home-made wholesome farmer's burger. I'm not a glutton am I?
Let's google that.
Glutton : "Person who is devoted to eating and drinking to excess." (Princeton)
I prefer this one:
"One who eats voraciously, or to excess; a gormandizer; One who gluts himself; A carnivorous mammal (Gulo gulo), of the family Mustelidæ, about the size of a large badger. It was formerly believed to be inordinately voracious, whence the name; the wolverine…" (Wiktionary)
And so it turns out, I am a glutton, who frequently gluts himself, or at least thinks about voracious gormadizing alot. I have good reason to constantly keep this neighbourhood cafe at the back of my mind, and mainly it is to do with a sign they used to hang outside their door which read "Wagyu Burger". That sign is no longer there. Very recently, the cafe has undergone a refurbishment which extends the once modest cafe into a modest cafe, with a dining area. Complete with black leather booth seats, and brick walls, business looks better than ever, as this place is constantly packed out. The new dining space is connected to the old cafe via what appears to be a tunnel lit by blue lights. At either side of this limbo land, cabinets and waitresses pop in and out from it. Pop. Or so it seemed anyway. So now we're in (yes, we're in). The menu is all day breakfast on one side; steak chips & lambshanks on the reverse and a whole host of greasy sandwiches, with your choice of bread, oh and malted milkshakes. So Byron ain't the only boys in town who do A&W ice-cream floats, because I just found another. It's the every greasy spoon I thought it was gonna be, dirty cutlery sans wagyu burgers.
Anyway, I ordered a malted peanut butter & banana milkshake to start. £3.75, it was huge, served in an oversized steel cup (ala GBK) and featuring crunchy peanut bits in the smooth, cold ice cream puddle. Yummy, I like malted things.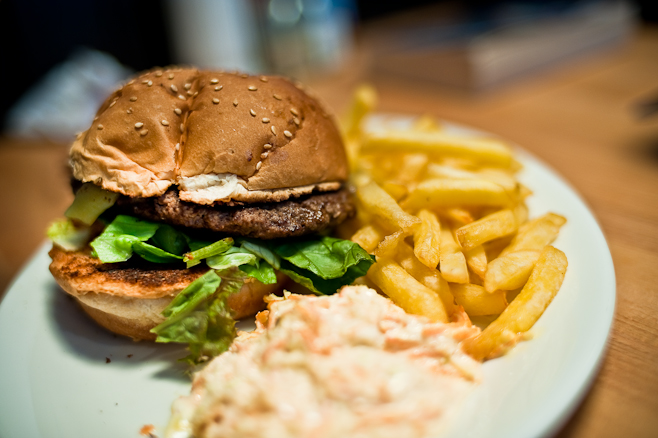 Conducting 'research' (or as some would say, 'cheating') for this piece led me to believe that the origins of the Jack's burger recipe is American. I have no true experience of the American Hamburger, except to channel interpretations of it from my familiarity with 'American diners' in various Asian countries. Today, I'm channelling an old 'American' restaurant from my childhood days called Red Wing. The restaurant (no longer exists) was based in the oil town of Seria in Brunei which (still) has an economy that literally runs on oil & gas. If memory serves me correctly, Red Wing was a place for the old cowboys (applied liberally) from Halliburton to gather for a warm meal after a hard day's slogging it out in the rigs, and it was here that baby Kang came across the curious case of the coleslaw. Ok back to the Jack's home-made burger. Let's get the bad bits out of the way first: that burger is overcooked, thinly cut (comparable to Burger King thickness) and dry. So why not write it off, right? Not yet, because everything else about the burger was actually rather good. The bun was toasted till crusty and I'm certain (even though the other half disagrees) that it had been flavoured with fresh garlic, giving it a tingling bite. The coleslaw was sort of yogurty and tasted (for want of a better term) fresh. We stuffed the good stuff into the burger, and it produced a really interesting garlicy and then creamy concoction of flavours, which instantly took me back to 1989, and back to Red Wing. This is about as close to A&W as one can get in London, and maybe its just nostalgia but I remember burgers tasting alot different, much more muscular (like this) back in 1989 as opposed to the progressive movement of gourmet burgers today… or maybe that's just the carnivorous badger in me getting carried away.
I initially wanted to try the corned beef hash (with two fried eggs) but they had run out at 3.30pm on a Sunday, so I settled for 'the Yank' instead.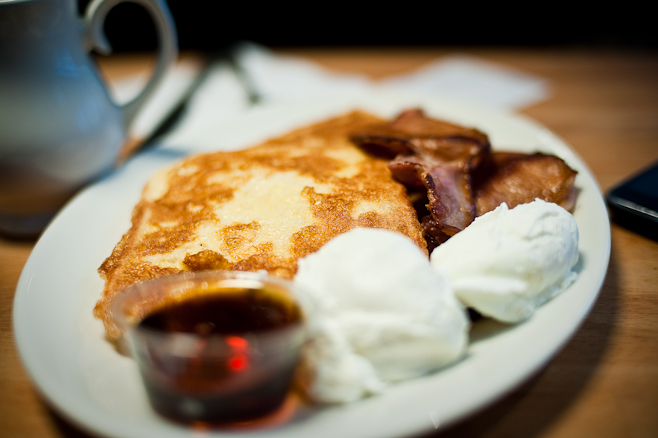 Further 'research' led me to study the diverse landscape of breakfast in America, specifically pancakes. To be honest, I felt a little queasy just reading this selection off the menu: eggs, bacon, french toast, syrup… blech, and this was the cheaper option. The other heftier double yank (oh gosh, I can't even remember the name of the item) had pancakes AND french toast on the same plate. Yup, just as I expected this protein explosion was a little too much for me to handle. I could just about do the fried bread and bacon, even bravely spreading the syrup on the bread, but once I broke the white of the eggs, and the golden yolks slowly seeping into the sweetened bacon – that was the last straw, the voracious wolverine quivered, and seriously considered turning vegequarian.
In the end though, I was rather glad I gave Jack's a try, I'd still go back to put my heart at risk and try the corned beef hash (for all the right reasons), and I almost forgot to mention the weird melange of music which played in the background; Bouncing from Jamiraquai to Borcelli. Interestingly enough, I felt abit like an extra in a Tarantino movie and in a funky kinda way, it all worked.
The Gist of It
Jacks Cafe official site
101 Salusbury Road
London NW6 6NH
Tel: 020 7624 8925
Tube: Queen's Park
Did you enjoy reading this post? Why not subscribe to my feed updates for free. Alternatively, You can subscribe via email.