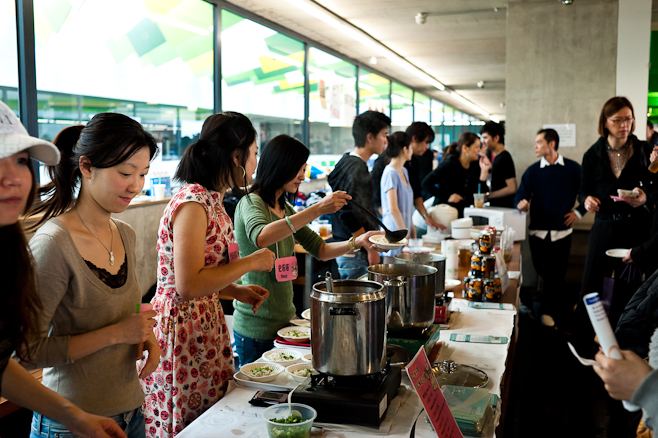 Not everything gets publicised on the internet these days, especially the hyperlocal events, like this Taiwanese Food Festival which took place at Westminster Academy last weekend for example. I heard about it through my special Taiwanese counterpart. I love food fests, time for another photo essay me thinks.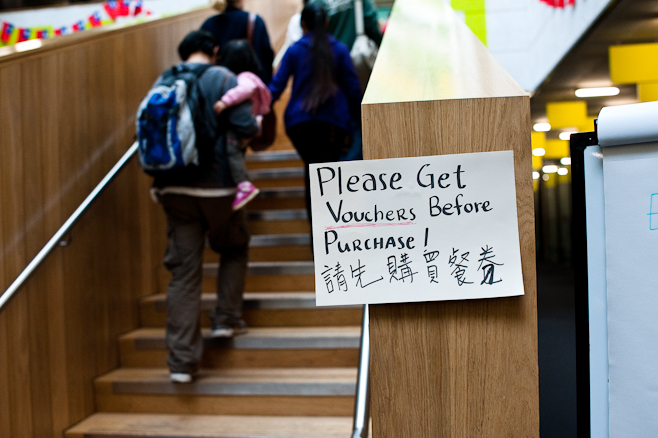 Here's what I think the premise is, this Taiwanese Food Festival rounds up the Taiwanese societies from various Universities around the country to celebrate Taiwan's greatest gastro treasures, but first we need to exchange cash for foodie vouchers.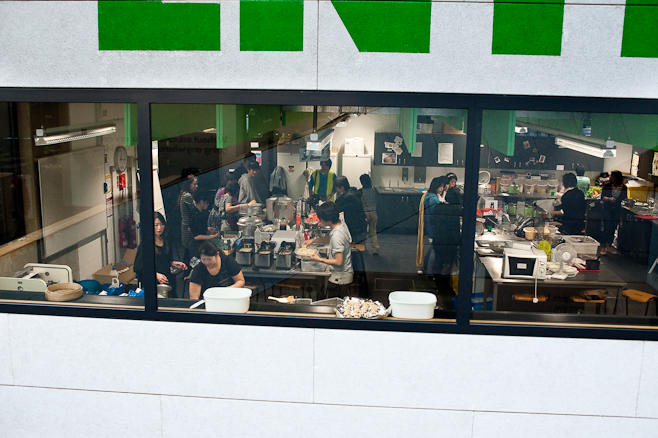 It is my first time at Westminister Academy, the festival took place on the uppermost floor. On my way up, I spotted the kitchen whipping up the food. That's where the smell came from. Yummy, my tummy is growling now.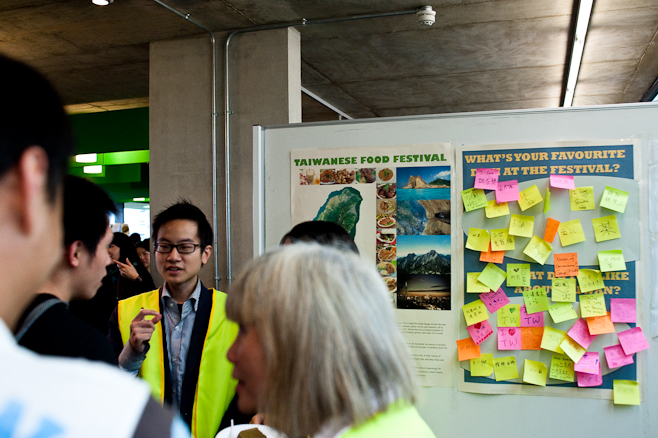 We got there early-ish – 11.30am – to beat the queue, there was a healthy crowd slowly building up. At the entrance, we were greeted by a dude wiping lyrical about Taiwan and their gastronomical gems. I stood there to listen for a few minutes, before my attention was completely diverted toward the food, of course.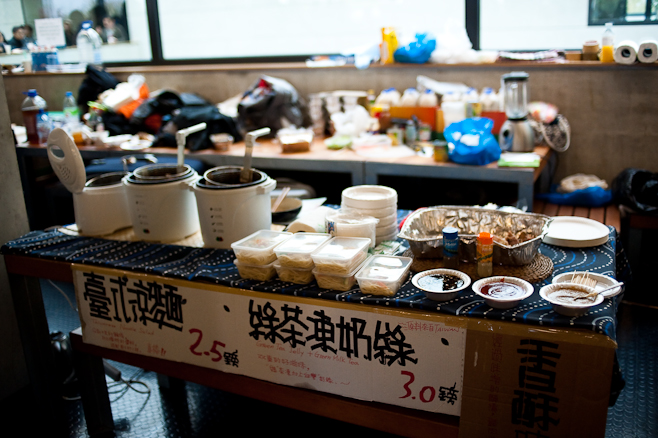 True to fairground fashion, tables made for food stalls and each stall specialised in something different. I caught a rare moment when a food stall was unmanned and empty.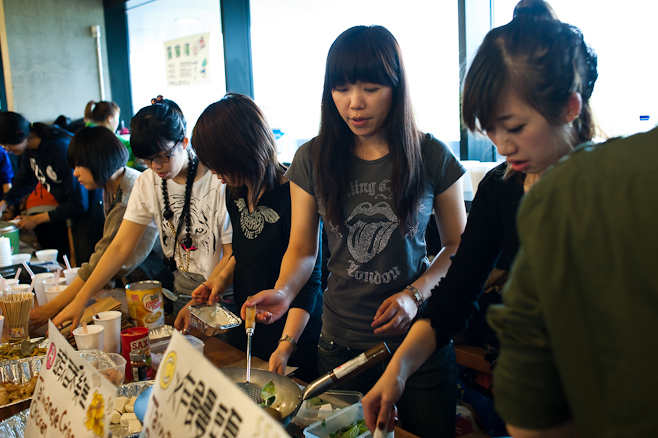 Before long, life would take over the stalls.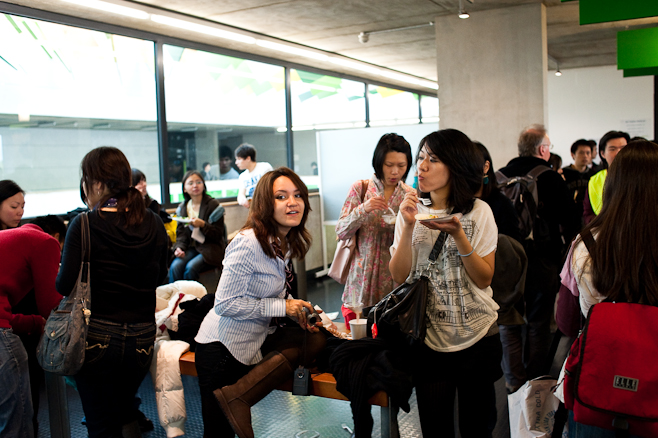 I loved being around so many people, the noise was reminiscent of the chorus within a food hall somewhere in Asia, instead of London. The atmosphere was building… and people were beginning to eat.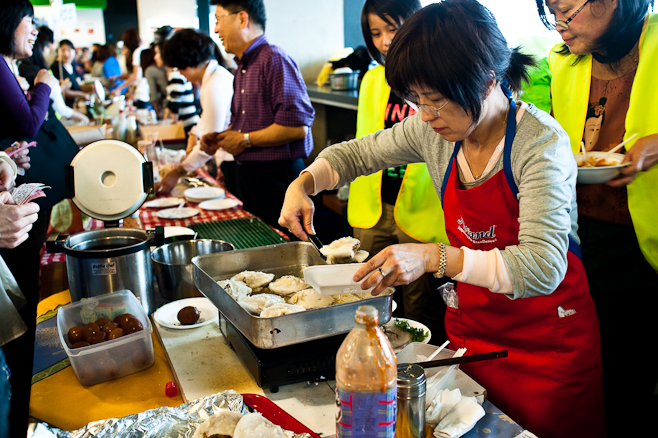 I don't realise the gravity of the occasion. I'm not sure if the parents were assisting the kids or bit of both, everything smells absolutely amazing though.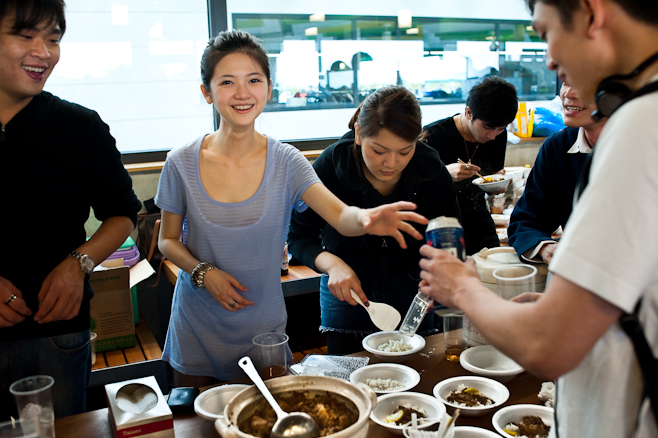 I'll try to cover the bases and the different variety of foods on sale (but not everything). The photographer in me was a little obsessed with grabbing the fleeting moments. These folks were bemused with the hunk of metal I was pointing at them, they were prepping minced pork rice, and beer.
And here, the boys were creating the atmosphere.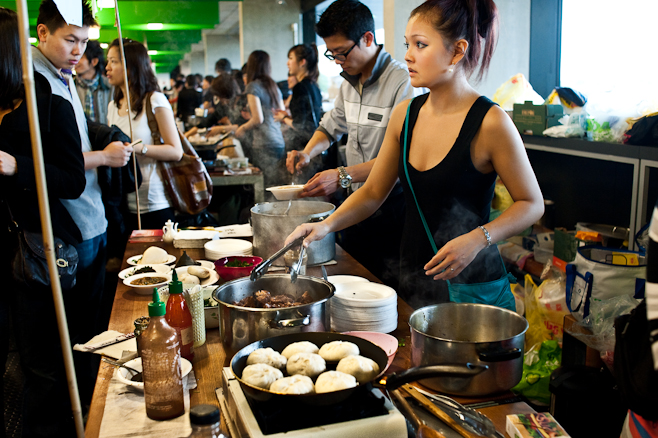 OK, time for me to eat. So, my mandarin is poor (at best), I can kind of read chinese (he says), I was in doubt, so I followed my nose to the most popular stall. There was a long queue waiting on this lovely lass, I fell in line.
This was what she was making – Gua Bao or Pocket Bun.
A puffy white fluff filled with slitheringly juicy braised pork cubes. I remember having this at a Night Market in Taipei, and this tasted really good.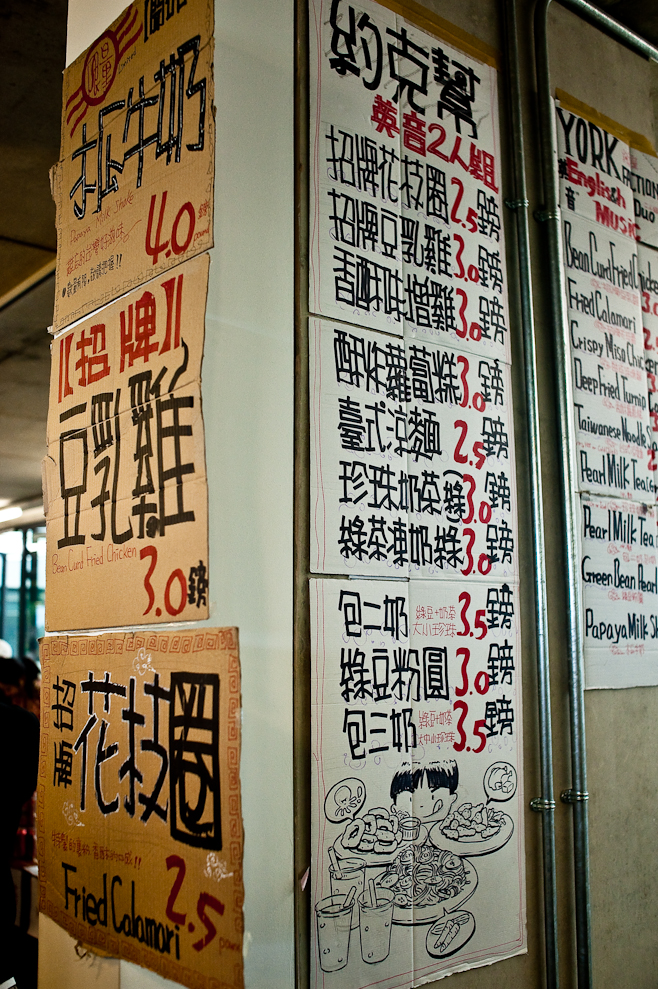 Not everything was in English, so I ended up pointing to the stuff I wanted to eat. A little unsuccessful at times.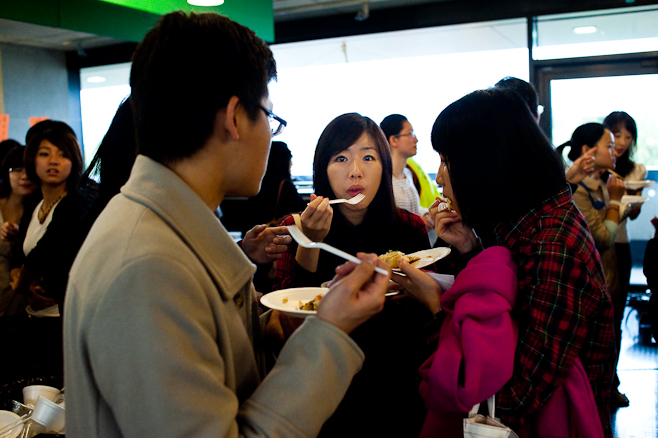 Crapola – they saw me.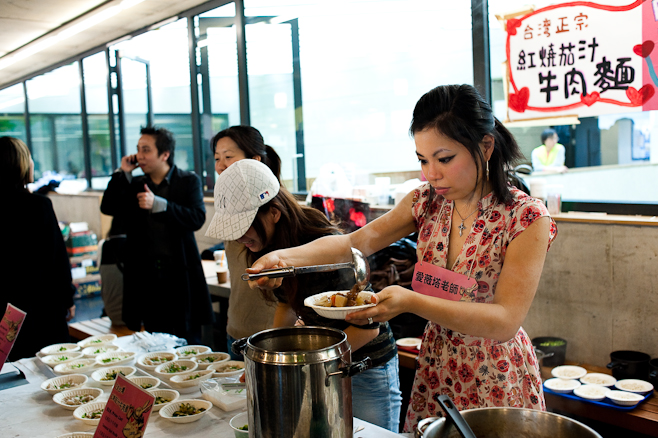 Ah, here's a stall selling a Taiwanese treasure: Beef noodle soup.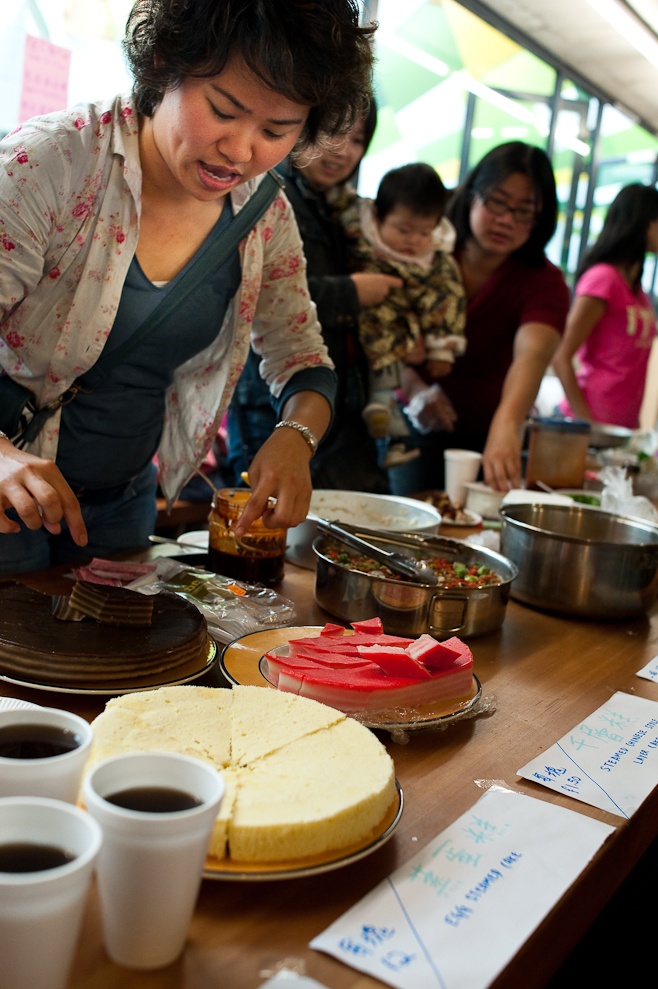 I managed to stay away from too much cake, but these looked so tempting. I love, love, love egg steamed cake. Looking back I probably should have tried a couple of slices of the layer cake as well.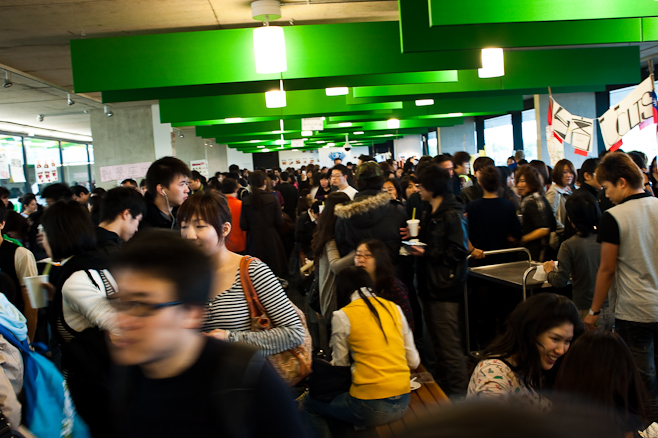 High Noon and we are in the midst of the greatest crowd ever assembled. It was as if the entire Taiwanese community in Britain had descended upon Westminster Academy. Love it.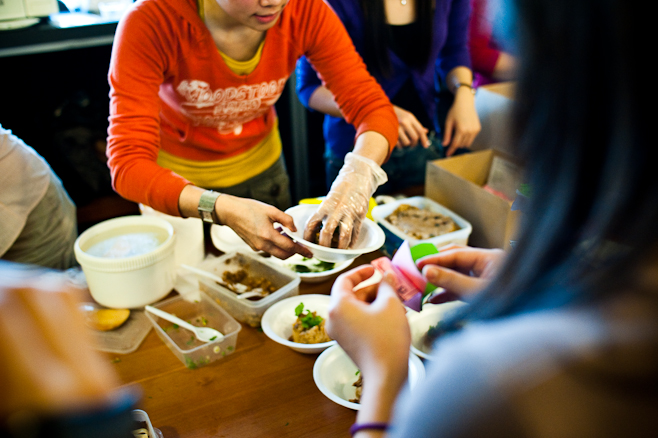 She is preparing glutinious rice, as a customer readies her coupons to pay…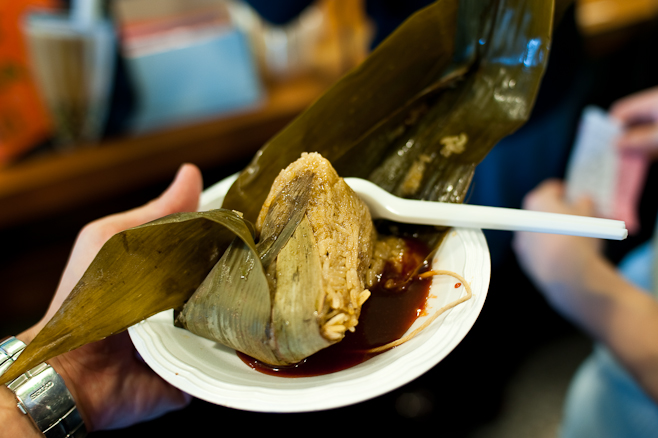 …and here's the finished product. Glutinous rice wrapped in bamboo leaves (I think) and otherwise known as 'Jung Zi'. They usually come with a variety of stuffings ranging from powdered nuts, egg, braised chicken and so goes the list. This particular version had pork and chestnuts. A little bland, but with that magic chilli sauce dip it came with, it was quite delightful.
(I wear a Seiko Kinetic Artura which stopped working over the weekend, not happy, I need to mail it back to Seiko, but I don't know if I can trust Royal Mail for that.)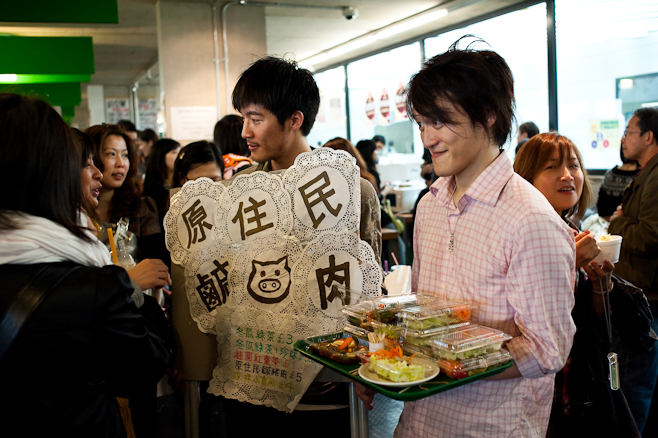 I cannot help but be cheerful with this image. It is so humanistic, the boys work the floor selling their food. I wish I could read chinese but I'm sure one of you can help with the translation.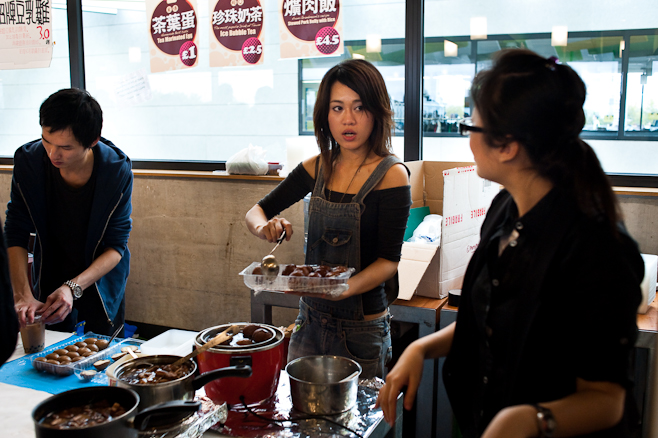 Another Taiwanese treasure – Egg infused with tea (via osmosis (I'd imagine)).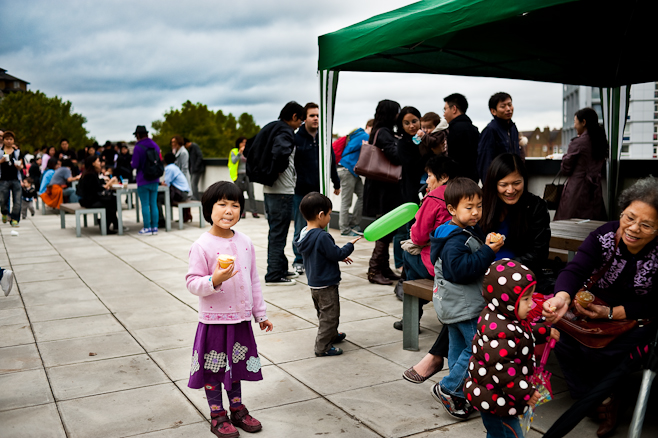 The third floor has an outside area. T'was a little gloomy, but it didn't affect the families huddled around the tables chatting away over their food. I think the kids like the cupcakes.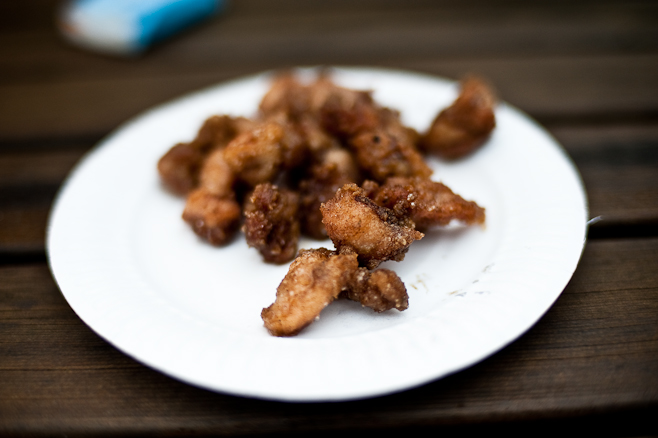 Outside, there was also a stall selling Taiwanese style salt and pepper chicken. I gobble them up within seconds.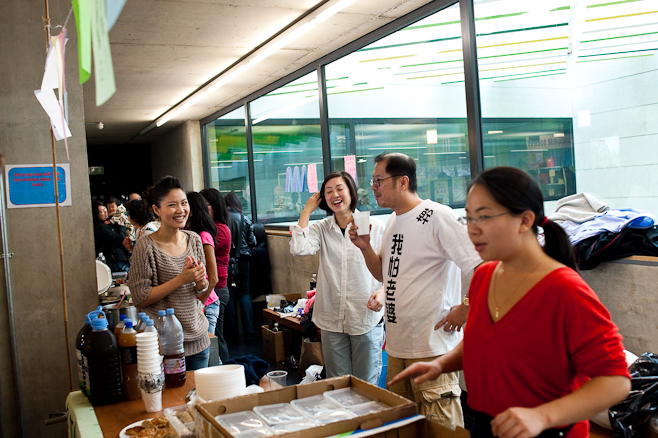 About 2pm, the crowd begins to thin and there are some warming moments for me and my camera. Oh and the dude's white t-shirt, it reads '#@%$, I'm afraid of the wife'.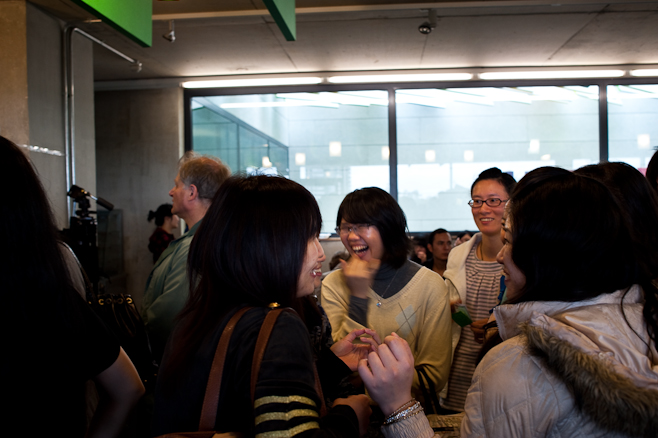 Let's get a few more laughs in, it is monday afterall (at the time of writing).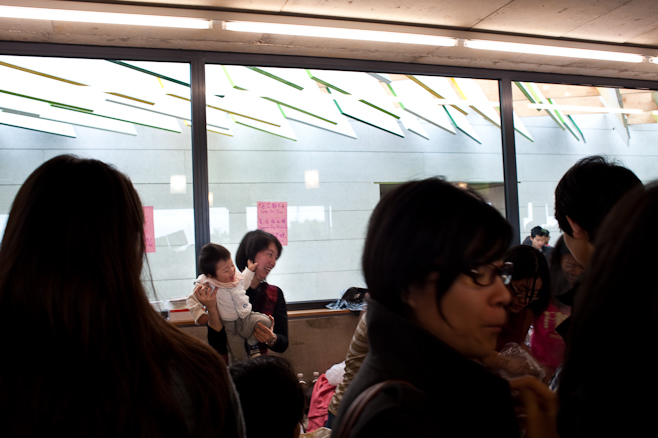 And even the little guy is enjoying himself.
And so I leave you with an image which shows that the festival continues to roll along even as I leave them. Between the five of us, we tried quite alot of food. We were all alittle amazed at the quality of the food. Authenticity aside, most things were delicious and I was surprised that the organisers didn't advertise this to a wider audience because it was a cracking event, for two hours last weekend, I believed I was in a night market in taiwan. I'll be there again next year (the real thing and this one).
Well, I hope you enjoyed this. Photo essays are one of my favourite things to post. As you can probably tell, I love places with lots of people, especially when they are celebrating food. I think that is probably food's most charming quality: it's ability to bring people together. It's times like this that I'm glad to be involved with food.
You can see the entire flickr photo gallery here.
Did you enjoy reading this post? Why not subscribe to my feed updates for free. Alternatively, You can subscribe via email.