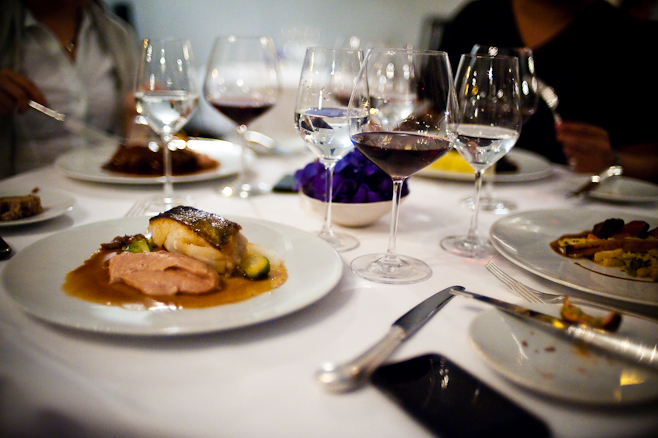 [UPDATE: Pierre Koffman is extending its run from 1st Nov to 27th Nov 2009]
I never had the pleasure to dine at La Tante Claire, the Chelsea based establishment which started in '77 before moving to the Berkerley Hotel in '98 where it stayed until its swansong in 2002. In that time, Pierre Koffman brought glory to trotters and had captured the highest accolade of the culinary world – the coveted three Michelin stars. Of course much of this is a bedtime story to me, taking place before my gastronomical awakening so to speak. Pierre had left behind a legion of hungry followers, for those who remember their LTC experiences can only heap high praise toward Koffman's genius. And now Koffman has come out of retirement – albeit temporarily – with a pop-up restaurant on the rooftop of Oxford Street's most famous department store. Originally a six day event to coincide with London restaurant festival, the response has of course been overwhelming and he is extending the already sold out spectacle till the end of October.
Since popping up, there has been a flood of internet buzz building around it. Those stuffed trotters are no longer just urban legend, for a fleeting moment in time, you could taste the Koffman genius once more. Given the occasion, I'd imagine many of the gastro fanatical would be in attendance. Along with my partners in crime Athos, Porthos & Aramis – we made reservations for a Monday evening.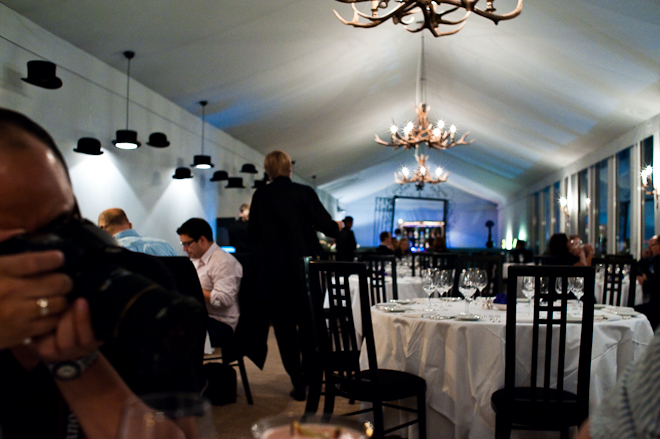 From a dedicated lift (by Chanel in the perfumery department on the ground floor), I jetted up to meet the musketeers who were already seated at the propped up rooftop. Upon arrival, I noted the makeshift cream coloured tent and scanned the duotone decor: black bowler hats lining the white walls, black chairs on white table cloths, coloured by the antler-like light fittings casting a brown tint on the entire venue. The dapper scenery amusingly brought out the ten year old in me as I gave my dining partners two bigs thumbs up as I arrived. Perhaps it was the exclusivity, but we were delightfully buzzing out of our skin even when we were presented with the set menu with a £75 price tag hung around it. We kicked off by washing down our inevitable financial setback with a round of cocktails.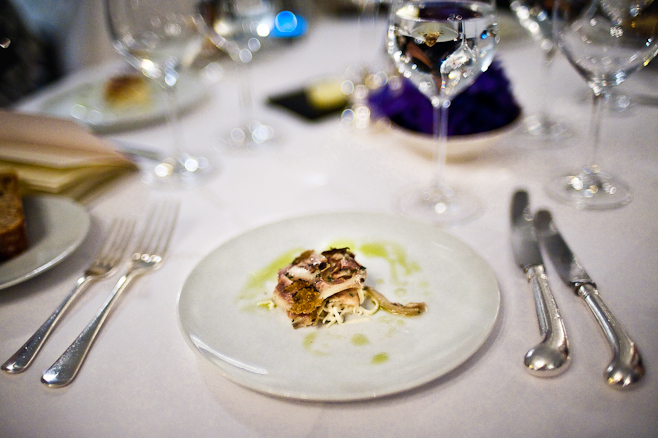 Amuse bouche was Pig's head and celeriac remoulade. A mellow truffle infusion. We agreed to try a different dish from the menu in an effort to sample everything. This one was all about rejoicing 'stead of reprimanding.
My starters was a game pie (I forget the posh name for it), a buttery yet crisp pastry and an almost pate like stuffing. Basic as it was, but very well executed. The rest of the starters all look wonderful to me. We stole small portions from each of our plates and every spoonful brought out ear to ear smiles, especially Euwen's lobster bisque – it was like slurping on puffy clouds, magically sourced with a special cloud sucking device.
As we finished the starters, we decided on a 06' Pinot from Pillot which the sommelier described as being feminine, a little tannic at first but slowly became round and soft by the time our mains arrived, which is to say that they took a while.
Ah yes, first things first: the famed sweetbread stuffed trotters.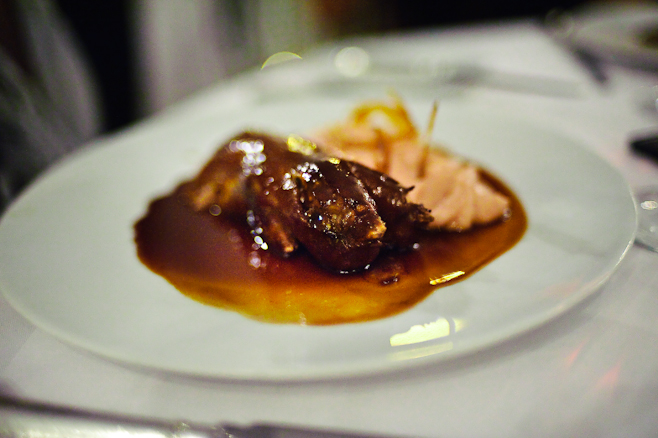 Pillowy & intense, I was slightly disappointed it didn't taste more exciting but it did remind me of Chinese style hotpot trotters which exhibit similar qualities with regards to taste & texture.
My selection was roast cod.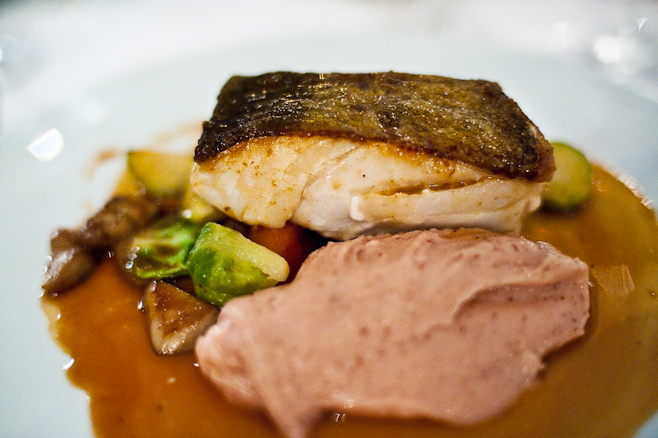 Fish was perfectly cooked, intensely salted with a buttery smooth mash –it was damn good fish & mash but not show stopping.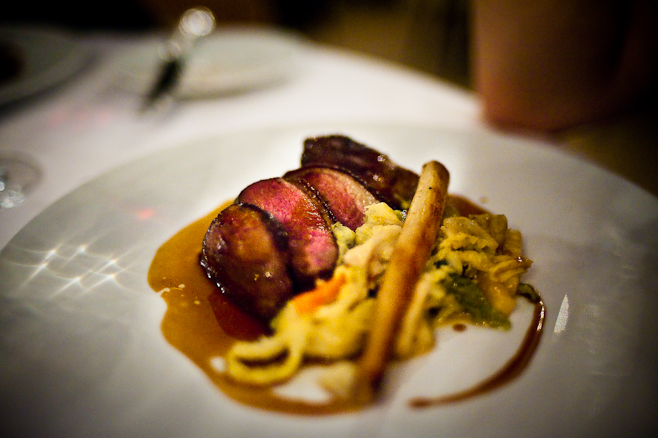 On the other hand, after sampling a forkful of it – I was tempted to reach over to gobble up Euwen's duck breasts which I thought was really delicious.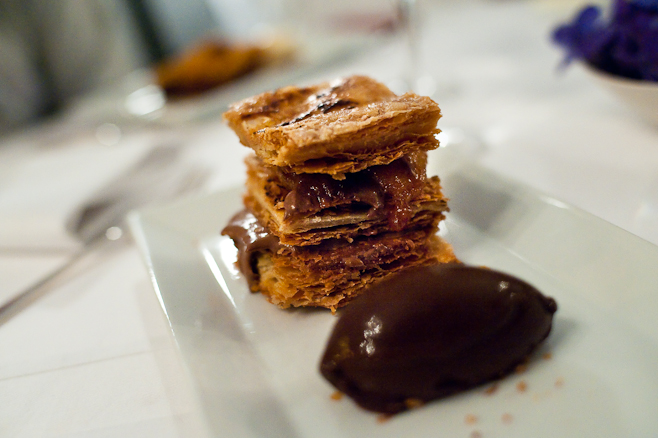 Accompanying the set menu were also the specials prepared by whoever the guest chef was on the night. Bruno Loubet was cooking during our service and I chose to finished my meal with his pear and chocolate mille feuille which came with an oozing chocolate centre and a deep dark chocolate ice cream on the side.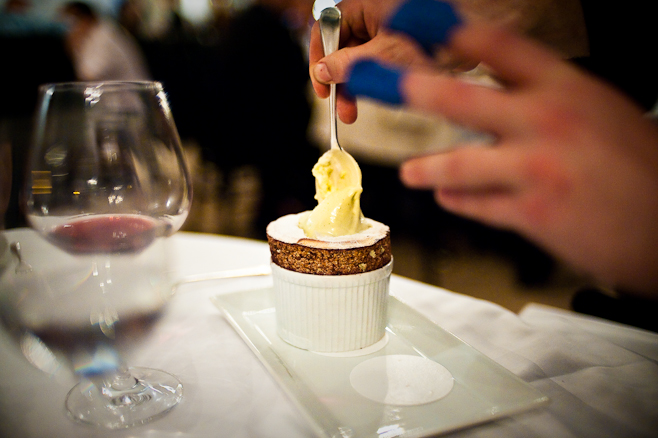 But again, I was envious of Euwen's pistachio laden souffle and ice cream. We looked on as the waiter filled the heart of the souffle with the ice cream. I gave up on my mille feuille as I went all puppy dogs watching Euwen lap up his majestic pudding. Eventually, I tried a spoonful and decided to end my meal with that memory.
I think that there is very little I can add to the plethora of reviews already floating about and which have delivered a positive verdict so far. In the end, my experience was a good one, Claire – Pierre's partner – and the rest of the staff made us all feel right at home. Food was mostly believable but I hardly think that it was three stars blow-your-mind-up great, nothing made me weep or sing. However to echo Euwen and Silverbrow's sentiments, I really had fun and the chance to sample a meal by a past master was well worth the entrance fee. I was glad to see Chris again (we bump into each other alot, even though I no longer follow him on Twitter (yes handslap for yours truly) ), and I was also especially glad to see Tim Hayward and Silverbrow among the diners, though I was positively estatic when Jay Rayner sat down behind us. It was nice to see the flesh behind the words (Tim looks exactly like his twitter avatar, very cool beard) and in hindsight I wish I had mustered up the courage to have at least walked across and say hello.
Ah well, I'm a pretty shy guy, but I'm sure there will be a next time.
The Pierre Koffman Pop-up restaurant will be at the Selfridges Rooftop until 31st October 2009, dinner service is all booked up but lunch is probably still available, deets here.
Did you enjoy reading this post? Why not subscribe to my feed updates for free. Alternatively, You can subscribe via email.