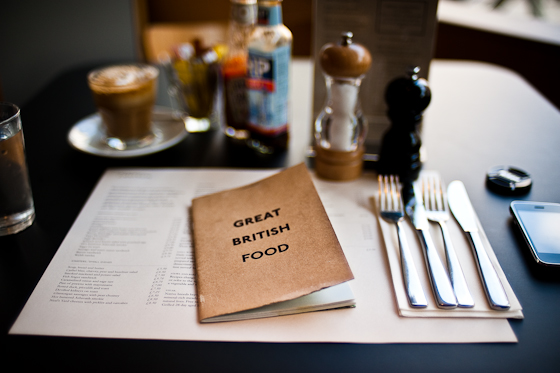 After decades of humiliation, we can now be taken seriously. Having watched 'British Cuisine' re-invent itself on TV complete with Jenny Bond voice-overs; we are now undoubtedly living in the golden age of restaurants proud to be serving British food and proudly pushing local produce. And why not? It makes for moving PR pitches and it allows for fancy farmer names on menus. Canteen takes the concept to the max and have smeared the Union Jack all over the shop like free sachets of HP sauce. Thus far it is the only place I've visited that has a highly produced propaganda laden pamphlet – entitled 'Great British Food' – which romanticises the restaurant concept. Don't get me wrong, I am totally gullible and I was thoroughly impressed with all the subliminal messages. Filled with page-turning documentary style photography, it seeks to bring the eater closer to the local producer with loads of warming moment shots such as a fishmonger de-scaling his catch or a thoughtful image of fishing boats against a vanilla sunset, for example. And then there are the exposition bits regarding their modernisation methods of British dishes such as potted duck or fish and chips and so forth. Also, they feature the best scotch egg food porn I've seen yet. The simply tasty mystic extends to the minimalist website too, whoever the marketing machine is, I have to applaud them as this campaign has managed to pull the wool over my eyes.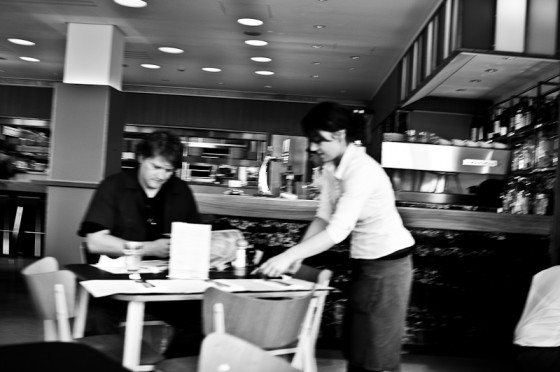 They are currently expanding their powerbase to cover the four corners of London, from the original location in Spitafields, to the Royal Festival Hall and now Canary Wharf. Naturally, I chose to sample from their West London branch in Baker Street. The restaurant is set in a modern glass block, walking into Canteen, I easily mistook this as a trip to a designer furniture shop. The duo-tone colour matching, high ceilings, marble flooring and dust-free environs was easy on the eyes. Ah. Now I know what IB canteens look like. By the way, the comforting dining space is also the result of a collaborative British effort, including the bespoke black & green tables – called the 'Canteen' table – at this branch. I was very impressed with their choice for background music – Ella Fitzgerald and free WiFi; Three guesses as to where I'm going to be taking my roving office to next. The menu seemingly brings together a whistle stop tour of daily British dishes. There's fish, pies, roasts and stews for mains; Soup and bread, tarts and cheddar cheese dominate the starters and you can even order a bacon sandwich for a trifling £4.50. This is definitely not your average greasy spoon.
Starters: Welsh Rabbit £3.75.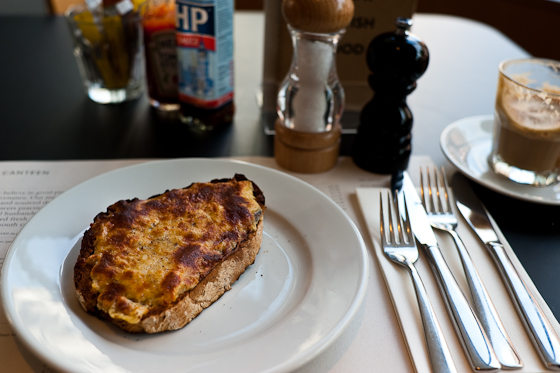 This was a difficult one to decide, so much so that I need a Latte to assist. I was totally intrigued by the Arbroath smokie, at the same time, I was also curious as to how they would modernise the bacon butty. And then, there's the signature potted duck and piccalilli ; and also fish finger sandwiches! In this dilemma, economics drove the final decision. Mmm… a mustardy mess on crunchy brown toast, the cheddar – Neal's Yeard Montgomery – used was particularly flavoursome. It was the right call, but I'm still longing for the fish finger sandwich.
Mains: Pork Belly with Baked Apple £12.50 and Duck fat roasted potatoes £3.50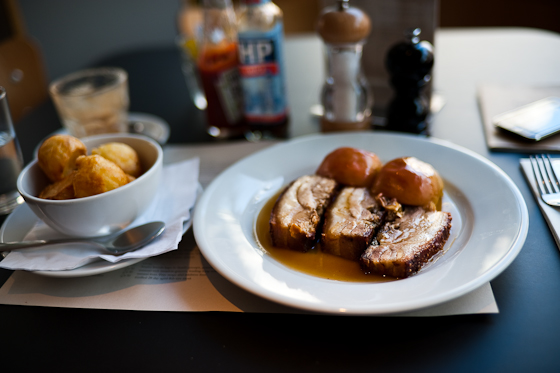 The most prominent features on the table were the oversized salt and pepper shakers, I usually rely on the chef's tastes, but I'm guessing in an effort to be genuine, Canteen have designed a meal such that you had to season your food. I've never seen pork belly more smartly presented than this one. There is a thick layer of gentle fat sitting with a chunky layer of tender pork belly meat topped with a cracking crackling. As I mentioned earlier, flavour-wise everything was present except for a bit of salt, which upon application made this dish entirely enjoyable. The whole baked apple was a little subdued in tartiness, though I wish for more of the gentlest of gravys moisturising the dish. I was a little confused with the duck fat potatoes though. On one hand, it definitely had substantial flavour, but on the other, the crispy exterior was too dry with a jawbreaker like imperviousness. When I managed to pry open the armor, the story was reversed as the insides were fluffy, nutty and buttery.
And then that was it. Home-made ice cream was available for £5 a pop, and jersey cream treacle tart for £5.75, but the pork belly was so filling that I hadn't had room for much else. The meal came to £25 plus a coffee, overall I had a positive experience. I'm definitely going back to try Canteen again, and the next time I do so, I'll be more interested in exploring the dishes ala tapas style since many of the small dishes sounded appealing. I don't know what it was, perhaps it was the gentlemanly charm Canteen had exuded. The fuss free interior and efficient gastronomy was spell binding. They were not breaking new ground, but I came away feeling like they've just reinvented the wheel, successfully. This new wheel can do everything the old one can, but in more ingenious ways. I like it and I think I may peruse it again in the near future.
The Gist of It
Canteen official site
£30pp
55 Baker Street W1U 8EW
Tel: 0845 686 1122
Tube: Baker Street
Like this blog? Why not subscribe to the email newsletter ; alternatively you can subcribe to the RSS feed.