St John is currently the 14th best restaurant in the world (2009). Yes, 'Worlds'. And I can confirm, they don't use San Pellegrino. Apparently, the British can indeed cook. As usual, I am late to the party as it seems like the entire food writers guild has eaten here, wrote about it and then some. A darling of the food world, I wanted to know what exactly makes St John so special.
Legend has it…
Opened by Fergus Henderson in 1994; St John restaurant at St John Road has since been awarded a Michelin star and is well-known for utilising offal and neglected cuts, in what he calls the 'nose to tail' concept. Mr Henderson no longer cooks at the St John due to health reasons, but his restaurant continues to win the adulation of fans from around the world, including a certain Anthony Bourdain.
Accompanying me for lunch was Stefan Lubomirski de Vaux.
Through the doors
The restaurant is painted white, almost gritty over what appears to be brick walls. It feels like stepping into a refurbished warehouse and I was certain I saw sunshine penetrating a skylight roof. Perhaps it was all the stories which I had read about St John, but the space felt so ethereal, like it was of another time, or even another world. I spotted Stefan at the far end of the bar as he raised his glass toward me. I'm a little late – handshake – up the stairs and into the dining room.
Shrouded in shade, the dining room continued the ethereal theme with pristinely white table cloths and rigid white uniforms for the staff; We sat in robustly solid wooden chairs – a deep brown. Lit with hanging lamps, diffused light, it was a silhouette to the naturally lit bar and entrance, just outside the dining room. The ceilings were high, and the space was large, perhaps sitting one hundred guests or so. The atmosphere was incredibly lively as the market buzz filled my ears and created a kind of sonic landscape, we are now – supposedly – seated in the 14th best restaurant in the world….and to my surprise, not fully booked on a Friday afternoon.
I've heard enough, food… FOOD.
For a michelin starred restaurant which has garnered more glowing reviews than Barack Obama, the menu was surprisingly straightforward and even more surprisingly affordable. Starters priced between £4-£8, the most expensive main course was £20 and pudding could be had for six squid, and everything was written in Anglais.
A truly, great British restaurant, could it be?
Mutton Broth £6.50
Our waitress had on ruby red lipstick, with bright blonde hair, she looked every bit a proper rock star and wouldn't be out of place next to Agnes. So I quizzed her about what to have, and she pretty much just said that everything was delicious.
Oh yummy. My mutton soup starters was intense and full flavoured, like an entire beast distilled and filtered through coffee cones and made into a juice, it was simply divine. Not too strong mutton flavours, just a slight slick of oil and a few dices of carrots, ever so simple, yet ever so good. I would have preferred if they had spruced it up with just a bit more meat (there were hardly any), but that's just because I love delicate meat in soup.
Roast Bone Marrow & Parsley Salad £6.90
The one thing she did tell us when we sat down, was that they only had two marrows left – Stefan immediately snapped one up! Oh he was lucky to have done so because the marrow was creamy, dreamy and so gamey. Spreading the buttery texture over the bread was incredibly satisfying. Stefan offered me one, but I was left wanting so much more, I regretted not ordering one for myself.
Keep bringing the food, please.
Stage one was a major success, very able starters and I appreciated just the simplicity in the execution, well done.
Braised Veal, Carrots, Aioli £17.60
I longed for meaty chunks in the broth, and I was glad to have landed a bowl of simply braised veal in what looks to be a light broth as well. First of all, it doesn't look like much, in fact, it looks very much like home cooked food, which is of course, a good thing. And I was so glad that this was exactly that, no poncy molecular gastronocrap on show here, it was delicious, hearty and beautifully tender chunks of meat. Mildly seasoned, the natural flavours were allowed to shine through but the real highlight was the puffy and airy aioli mix on the side. It was superlatively eggy, buttery and well seasoned. It went down smoothly with the juicy meat. I felt like I was eating in someone's home, as if Fergus had invited me to his home and he had lovingly whipped up some lunch for us. The dish was entirely valid, it wasn't trying to be anything other than what the menu said it was. Well done again.
We had to wait abit for our mains. Initially Stefan ordered the Rabbit, but they brought over turbot instead, hmm, we sent it back to the kitchen, they came out with Pigeon. They ran out of rabbit apparently.
Pigeon & Courgettes £15.00
Served very red in the middle and so bloody, it juiced all over the plate. Now, I've never really had poultry (is pigeon considered poultry?) this red before, but it was gamey, smelly and just amazing. The texture had an interesting chunkiness to it – abit like a Tempur pillow with the kind of slow moulding to your teeth as you sink in. The flavour was liver-like, mushy and soily… not adjectives which sound appealing, but if you're into neglected meats – this was different, in a good way.
I cannot do without pudding
Apricot crumble with ginger ice cream £6.70
We didn't order any Madeleines, but I suspect I will be back again to try them. Instead we went with the daily special of apricot crumble. Rich sweetness balancing the sour, the apricot flavours shone through and the almond infused crumble was delightful. Though I was completely taken with the ginger ice cream, it was well rounded and just absolutely stunning.
We also ordered Raspberries, Malted Meringue & Cream (£6.70). Airy, puffy and chewy malts which stuck to the gums. This one was honey sweet, balanced with the fruitiness of the raspberries – did Fergus invent some machine to source clouds from the heavens and convert them into plate-able format? If cloud nine was edible, it would be a St John's malted meringue.
Where in the world Top 50 indeed.
I had an enjoyable meal at St John. I was so glad that it wasn't one that featured the world's next bacon lettuce ice cream canapé or the world's next nitrogen infused seashell that sang Britney Spears songs; Instead, St John churned out mind numbingly simple food.
Yeah, there were a couple of things on the menu which I'd never heard of like, chitterlings for example, but otherwise, it was completely down to earth. The utter simplicity was its main selling point, and yes I can see why St John is so very special. The food has an innocent charm about it and the restaurant beats with soul and character, somehow I wished this place didn't come with all the attention that surrounds it, because it feels so much like a hidden gem of a local restaurant. Indeed, that would have only added to the mystique…
Is it deserved of its place among the glitzy glamour of the world top 50? Well, who knows, its there, and so it shall be remain for the time being I suppose. For London at least, its an institution whose kitchen is still churning out magic; let's hope it stays this way, simple, rustic and completely nose to tail.
The Gist of It
St John Official Site
26 St John Street EC1M 4AY 020 7251 0848
£40pp
Verdict: A loving restaurant, completely devoid of pretension and serving honestly superlative British cuisine, at affordable prices. A true London institution.
What are your thoughts about St John? Did you have a great experience, or abit of a dud?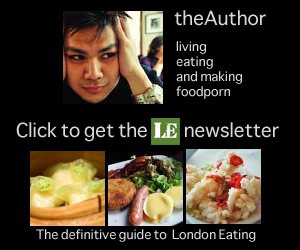 Did you enjoy reading this post? Why not subscribe to my feed updates for free. Alternatively, You can subscribe via email.