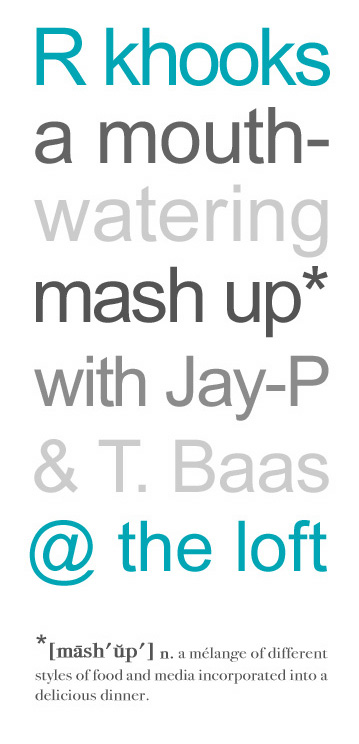 Guys, Rachel Khoo is BACK.
You'll remember a while back when I put out a post about the latest secret restaurant that is being run out of the Private dining club called The Loft, belonging to Chef Nuno Mendes. Well, Rachel is now back to put together another dinner event called a mash-up which will blend and incorporate various media formats into a dinner event.
I know some of you were keen to try a dinner out at Nuno's private kitchen and here is your chance to apply again. The event will take place on Wednesday 24th June 2009, 7.30pm and it will be a five course menu plus wine at £65pp.
If you are interested, all you need to do is RSVP with Rachel by email to mashuplondon@gmail.com. .
Places are of course, extremely limited so reserve your seat on the table now.
Oh, and I'll be tagging along for this one as event photographer, so if you've always been curious about secret restaurants, there ain't a better chance than this one. As usual, I've included the full press release to this post (keep reading..) and read this post about how it went down the last time. Hope to see you there guys!
Full Press Release from Rachel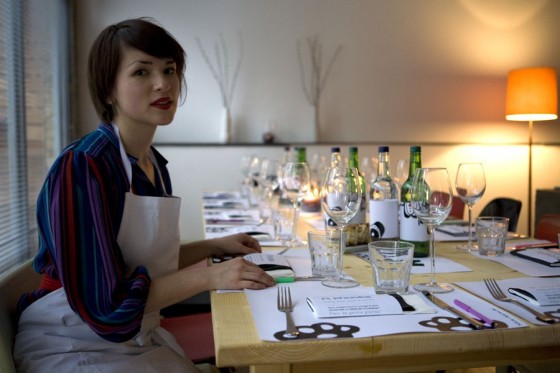 Photo by Bronia Stewart
After the debut success of her first mash up, Rachel Khoo is back with another mouth-watering installment.
The mash up* concept is about creating a dining experience for all your senses (sight, smell, sound, taste, touch). For this scrumptious supper, T. Baas will be offering a visual feast with some delectable designs and Jay-P will be tantalising your earbuds with some toothsome tunes.
This will all be rounded off with Rachel's creative culinary touch to the 5-course dinner (paired with wine).
The festive feast will be held at the private dinner club The Loft on Wednesday 24th June at 7.30pm.
Rachel Khoo is a Food creative based in Paris. With an Art & Design degree from Central St Martins and Pâtisserie diplôme from Le Cordon Bleu, Paris Rachel brings her unique touch to culinary events.
The Loft is a private supper club and personal test kitchen of Nuno Mendes, one of London's innovative & revolutionary chefs (El Bulli trained & previous head chef of Bacchus, London). He will be opening his next restaurant, Viajante at the Bethnal Green Town Hall in 2010.
T. Baas originally from Strasbourg but now based in Paris has been creating a visual storm with his illustrations the past 8 years for a range international brands, books and bands. He has a sweet weakness for mirabelle plum tarts too.
Jay-P when not spinning some savoury sounds in the cities Paris, London or New York puts his creative skills to producing multi-layered and heavily patterned paintings. And after all that creativity nothing hits the spot more than a Thai green curry.
Places are limited to ten people. Email mashuplondon@gmail.com. to reserve. A recommended donation made via paypal confirms your place. 5-course dinner paired with wine at £65 pp. Address details will be sent out once reservation has been confirmed.
Click here to take a look at the last event.
Feel free to forward this on to fellow foodies!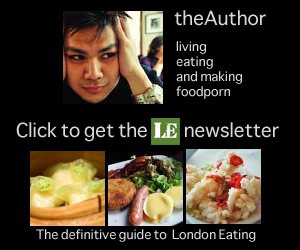 Did you enjoy reading this post? Why not subscribe to my feed updates for free. Alternatively, You can subscribe via email.