Croque Gascon official site
The Balcony at Westfield W12 7GE
£10 to £15 per head
As much as I like window shopping (in the traditional high street sense), I also love hanging out in oversized shopping malls. There's an Apple store, there's a huge Jessops, M&S Food and a massive food hall. So I was in the mood for something quick cheap and greasy. The duck burger beckons.
West London rocks….
I don't tend to do much photography in black and white, believe it or not, its much much harder than colour. As for black and white food, well, I'm still learning the craft.
So Croque Gascon is part of Chef Aussignac's Gascon empire in London. I must admit – at time of writing – this is the first Gascon for me. I do enjoy French Bistro food and I guess the beauty of Europe is being able to walk into modest cafés and be treated to simply delicious food, completely free from pretension. We need more places like that in London – sometimes there just too much gimmick, especially with café style food.
Right enough hot air, time for grub.
Seafoodie
Grilled scallops and milla chips £9.50
Croque isn't the cheapest around the block. It is completely overloaded with marble (so is the rest of the food hall) and it gives this steely cold feeling eating amidst the cold stone. For starters, this simple salad of rocket leaves and scallops were served with chunky polenta chips. The grainy chips were just a tad too sweet. At £9.50, I was expecting fresh and bouncy scallops but instead all I got was overcooked seafood. Sinking, rather than swimming. They threw in a couple of pieces of rather sad looking cherry tomatoes, and I couldn't help but sigh at the fact that this dish tasted like something I cooked (note, this is not a compliment).
For the price, well, its overpriced. Major fail.
Chopped Steaks
Hache and chips £8 (I think)
I love chopped steak, not as much as a giant slab of ribeye, but close enough. One of my most favourite dishes is a Steak Tartare, people tend to avoid it because it looks horrible being completely raw, but I just love it.
With a steak hache, its about nearly as exciting. This particular version is roughly hand chopped. Still reasonably chunky and well seasoned. I would have preferred it, if it was served with bread instead of smothering it with chips. The chips were inconsistent, some tasted crispy, while others were downright soggy. It was much too oily for my liking, as I felt queasiness come on as I munched on. The hache was midly enjoyable but the chips felt like an attempt on my life. As a dish, I was left wishing it were frites in the place of chips, and I was wishing my hache was a medium rare ribeye.
Just when I was about to write it off…
Duck Burger Classique with Cheese £7
A little bit on the pricy side, but I was so glad that the burger rocked. Full flavoured, it had an interesting plumpness and the juiciness really had me craving for more. The cheese was a kind of mild blue cheese of sorts, in tandem with the flavours of roast duck, it made for a satisfying end to the meal.
Ahh, a fine effort.
I wanted to try the churros, but the chips really turned me off more fried food, instead I chose to wash down all the salt with a can of coke instead. That in itself kind of sums up my meal at Croque Gascon really. Let's not be under any illusions here, Croque Gascon is high end fast food with fast prices; I may have enjoyed the duck burger, but I also enjoy a burger king from time to time. Having said that, I would go back for the burger alone, and maybe the croque monsieur, or maybe its a better idea to just wait until my Paris trip next month for some proper bistro food.
The Gist of It
Croque Gascon official site
The Balcony at Westfield W12 7GE
£10 to £15 per head
Verdict: Expensive, doesnt taste interesting, however the duck burger wasnt bad. Simply tasty French dishes is a good concept, especially in its mall setting, but better execution is required. Jettison the expensive fluff and with replace with lighter, meaner and bolder dishes.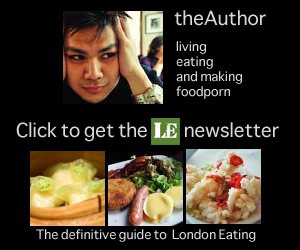 Did you enjoy reading this post? Why not subscribe to my feed updates for free. Alternatively, You can subscribe via email.