Kang's Note: Alright, so Foong runs the great Food site and she makes loads of healthy but delish recipes. There's two sides to this blogger ( log on to find out why) and she's gone for a food quirker with this guest post. Yes well apparently they are green worms, it's tasty stuff , really it is, keeping reading folks. – Kang.
You know, we Chinese are a superstitious lot but when it comes to food, almost anything goes. The Chinese are known to eat anything that moves except for vehicles so when we talk about eating worms, whatever the colour, it is not really all that unusual. If the Chinese thinks eating animal penises can make them more virile, you don't even want to know what else they eat for other so-called unproven medicinal values.
Now, lets get back to the green and white worms mentioned in the title of this post. As you well know, I am not Kang but a guest-blogger (you can call me Foong) here while Kang is away so I can blog about any food review I want…bwahahahahah…although only for one post…still, I want to shock his readers: YOU.
Who in their right mind would eat yucky green and white worms in mud, right? Well, only in Malaysia and only when it looks like these: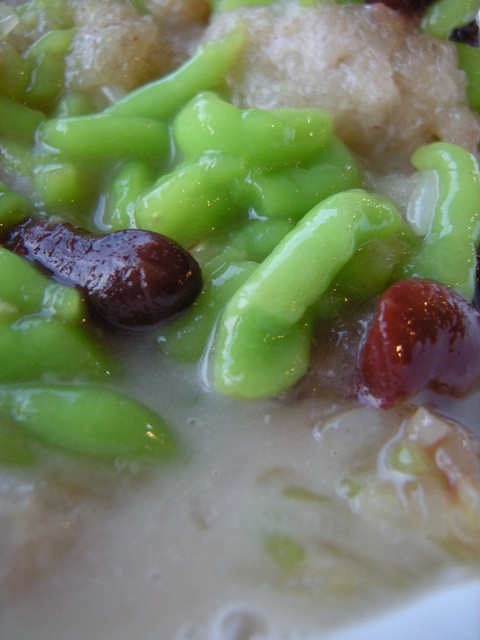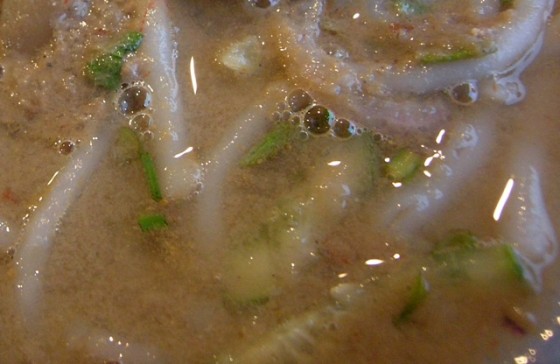 Heheheh…okay, I own up. These are not real worms but they sure do look like worms lying in mud. Okay, here's another look at the green worms in mud:
This is actually a bowl of Cendol – a Malaysian-style dessert. We went on a short road trip to a neighbouring state near the Thai border recently and made a stop at the area's famous Cendol Pulut (pulut means glutinous rice but there's no translation for cendol but it is what those 'green worms' are called) at Jo Cendul Pulut Restaurant. The 'green worms' are merely green pea flour (made by cooking the flour with screwpine juice that turns it green and alkaline water to solidify it and then a cendol maker to press out the worm shapes). The 'brown mud' is made by pouring Gula Melaka syrup (or brown sugar syrup) and fresh coconut milk over shaved ice. Other ingredients such as cooked red beans and canned corn are also added.
This restaurant's specialty is that it has glutinous rice in it. Due to our hot and humid weather, Cendol is a great dessert anytime of the day. The ice melts pretty fast and soon you are left with a bowl of slushy mix of 'green worms', red beans, coconut milk and syrup. This restaurant makes it extra special with the glutinous rice so it is pretty filling too. The flavours are a mix of sweet from the syrup, salty richness from the coconut milk and it is chewy too due to the pulut.
Next, let's look at the white worms: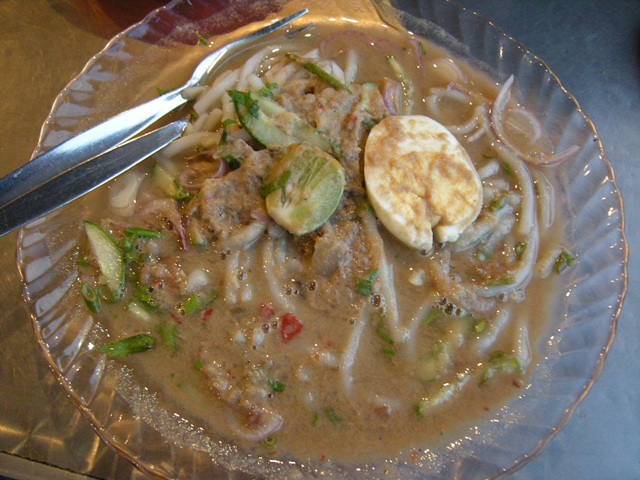 It is actually a plate of rice noodles in a sour fishy soup, the local Malay-style laksa. Now, not everyone likes laksa due to its overpowering stench. Yes, it emits a pretty strong fishy stench and since it is one of Malaysia's (or Penang, to be exact) trademark dishes, we pretty well have a lot of different versions of it. Of course, it is a well-known fact that only the Assam Laksa of Penang is the best of all. Still, I like trying laksa from other states. The laksa here is not exactly the best I've ever had as the fishy stench is really a bit too much even for a laksa-lover like me. I like my laksa sour with a tinge of sweetness and spicy. This one is salty, not spicy and not as sour as I'd like it to be but then that's because it is cooked the Malay-style, thus the tastes are different than the Chinese style Assam Laksa. The 'worms' are the rice noodles and the 'mud' is the soup made up of fish, a variety of sauces and spices. But if you are into the Malay-style laksa, this is a pretty good one.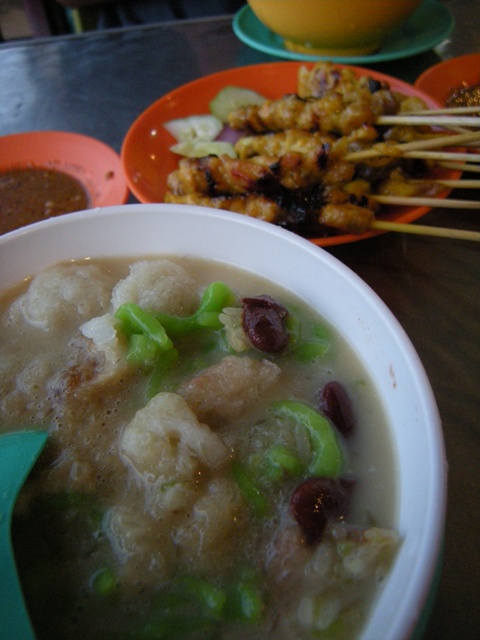 Both the cendol and laksa are usually eaten as snacks or as light meals. To complete our tea time snack (aren't we such gluttons?), we must of course have the other Malaysian trademark dish, satay (barbequed skewered meat). We ordered 10 sticks of chicken satay and let me tell you, these really do hit the spot.
My overall review ratings for Jo Cendol Pulut Restaurant, Kedah is 7/10 and it is worth stopping by for some cold dessert and snacks if you are on your way to Bukit Kayu Hitam, the Malaysian-Thai border.
That concludes my review of the 'green and white worms in mud' and I do hope you enjoyed it!
I told ya it was tasty stuff 😀 If you enjoyed Foong's guest post, do make sure you pop back to London Eater on 11th March to vote for her, till then as per usual point your browser to The Food Site.