Kang's Note: My forth guest post of the write and win fiddy competition is Hillary of Recipe4living and the chewonthatblog fame, she's contributed her very first texas BBQ experience and if she says the food is incredible, I'm flying to Texas for it. Start salivating folks! -Kang.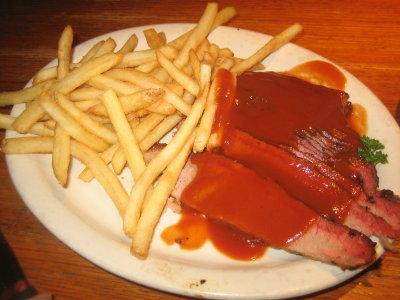 This weekend I had the pleasure of visiting San Antonio, Texas. A very last minute trip (like most of my travels), I didn't have much time to plan out every detail in advance. But, since it would be my first ever trip to Texas, I knew I would have to make time for some Texas-style barbecue (especially after just having Kansas City-style barbecue last month!)
In the few days notice I did have, I tried to figure out where we could get the best barbecue in San Antonio. Many people recommended places on the outskirts of downtown San Antonio, places less accessible for tourists without cars, unfortunately. So instead I succumbed to the supposed tourist trap that was County Line BBQ on the Riverwalk. But you know what? I am a tourist and I don't regret going there because the food was incredible.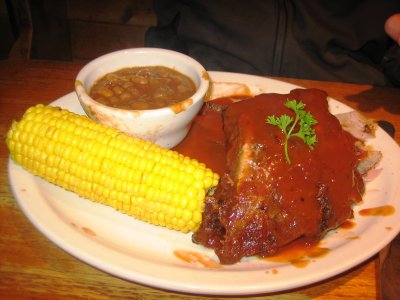 I ordered the beef brisket platter pictured at the top of this post and David ordered a combo of ribs, sausage and beef brisket pictured above. I'm no barbecue expert but the beef brisket was some of the most tender and tasty beef I've had in a long time. You could see the red smoke lines in the meat and to top it off, they doused it in their delicious barbecue sauce. I'm told Texas barbecue is infamous for the amount of sauce they use – and that's just the way I like it.
Actually, we liked it so much, we went back the next day. We were still craving a barbecue fix and with limited options and a good experience the night before, we decided to have County Line one more time (I know, I'm sure you native San Antonians are scoffing at me right now for falling for the tourist trap twice). . I ordered the beef brisket platter again and it was EVEN better this time! I didn't think it was possible. In fact, on this second time, David wound up ordering a plate of sausage since it was his favorite from the night before but after tasting my brisket, he converted. Too bad we didn't have two plates of brisket 🙂
In comparing my experience of Texas Style BBQ to Kansas City BBQ, I'd say the sauce is much more tangy than spicy and they focus more on beef and pork. Overall, I'm just glad I've gotten to experience two of America's most popular styles of barbecue (see a whole list of barbecue styles here). Now, I just have to try the rest 🙂
I only wish Chicago had places like County Line or Gates. Texas style barbecue goes to show how a little smoking and slow cooking can go a long way with flavor and we just don't get that here in Chicago anywhere. An NPR article puts it perfectly:
"Like many Americans, I thought "barbecue" meant throwing a few hamburgers and hot dogs on the grill. Then I moved to Texas…. In Texas, barbecue is not just a food — it is an icon, an ideal, a way of life. If you're not a Texan, the assumption is that you just don't get it."
Love the last line there, maybe one needs to eat it to get it? 😀 If you loved this one, remember check back here on 11th March to vote for Hillary, till then do pop Recipe4living and the chewonthatblog into your browser!