Kang's Note:
Today's guest post comes from the finance foodie who does numbers by day and eats like me by night! FF blogs about the very best five star establishments to the most modest hole in the walls in search of the proverbial gastronomical high. For this trip, she has landed at Chung Shin Yuan to sample a very Taiwanese Breakfast in Boston. Enjoy it folks! -Kang.

Last weekend, I attended a get together at Chung Shin Yuan, a "hidden gem" in Newton, MA known for its Taiwanese style breakfasts. Since the place is about 45 minutes away from Boston, my friends suggested we meet up at 10:30 a.m. in order to beat the weekend crowd (this place apparently fills up faster than my plate at a seafood buffet). When I realized we were meeting before noon on a Saturday (shudder!), I was tempted to feign illness and sleep in. However, my heater inexplicably shut off in the middle of the night, so I was unexpectedly awaken by the bitter cold that drifted into my room at 9:00 a.m.
I figured since I was already awake, I might as well go to brunch (plus, I didn't want to be known as "Anti-Social Athena"). When we arrived on scene, we found half of Boston's Asian population had already beaten us. Luckily, we bribed an elderly Chinese couple ahead of us in line with a couple of kumquats and managed to nab a table at first seating.
The place itself was small and very non-descript, but the inside of the restaurant was quite clean and cozy. The servers were curt but prompt. Our table ordered:
-shao bing / you tiao (pan fried sesame buns wrapped around fried dough sticks): Hands down my favorite item; dipped in the sweet soy bean milk, it's was akin to heaven (or a heart attack) on a plate!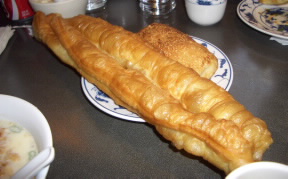 -salty (L) and sweet (R) dou jiang (soy bean milk): The salty soy bean milk had chunks of chopped fried dough and onions, which I thoroughly enjoyed.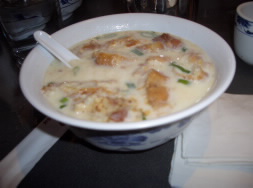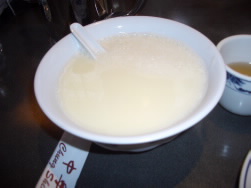 -cong you bing (scallion pancakes): Another fried doughy item=another winner in my book.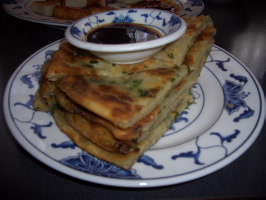 -niu rou mein (spicy beef noodle soup): This was the only item I disliked, as the soup was too spicy and the beef too chewy.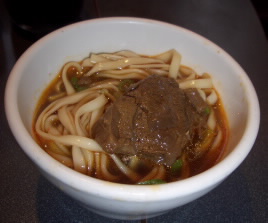 -jiu cai he (deep fried dough pocket filled with chopped tofu, cellophane noodles, and chives): The "Chinese Calzone". Scrumptious!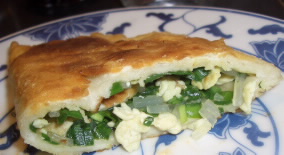 -lo bo gao (deep fried turnip cakes): This was my second favorite dish. Traditionally, turnip cakes are served pan fried, but at Chun Shin Yuan, they are deep fried and served with a slightly sweet and tangy brown sauce. I made a mental note to add an extra set of push-ups to my workout as I gobbled them up.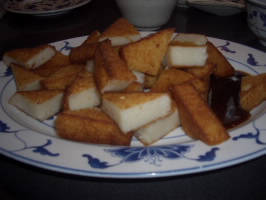 Since the majority of our dishes were made with oily carbohydrates, I would say the meal was delicious. Our party left the restaurant with our arteries clogged, but our stomachs and wallets happily full (Each dish was about $3-5, which is ridiculously affordable). All and all, if you're looking for traditional Taiwanese food done right, I heartily recommend Chung Shin Yuan's weekend breakfast.
Chung Shin Yuan
183 California Street
Newton, MA
617.964.0111
Hope you enjoyed that one! I was really craving that chinese calzone after seeing it, do come back on 11th of March to vote for her if you really enjoyed this post, till then do check out FF's blog at forays of a finance foodie here.