Kang's Note: Im in grey italics and on the sidelines for the next couple of weeks on holiday and I have turned the virtual podium to eight guest bloggers. The first of which is Gen.u.ine.ness's feasting at 1 michelin spot Ambassade. I shall say no more, there are 26 pictures and it's very delish, enjoy folks!
I've been asked to write a guest review by Londoneater and by coincidence I happen to have a 2nd visit to Ambassade de L'ile which I had lying around. Rather than publishing another review on my blog. I thought it would be ideal guest columnist write-up. For does who do not know me yet, I am a medical student who happens to be fortunate enough to dine out more often than the average student. I suppose, it is a reflection of the number of years I have spent training to be a doctor that my writing is more concise and to the point than most other food writers. I do tend not to indulge in descriptive prose (not very helpful when a patient is very ill and needs immediate help), although I sometimes can't help making a medical reference or two. My main focus is on food and food alone. If you want to read about how beautiful the hand dryers are in the restaurant's toilet I am the wrong writer for you. However, given that I am a guest reviewer, I thought I would depart slightly from my usual writing style where I grade each dish, but instead give a more descriptive account of my experience.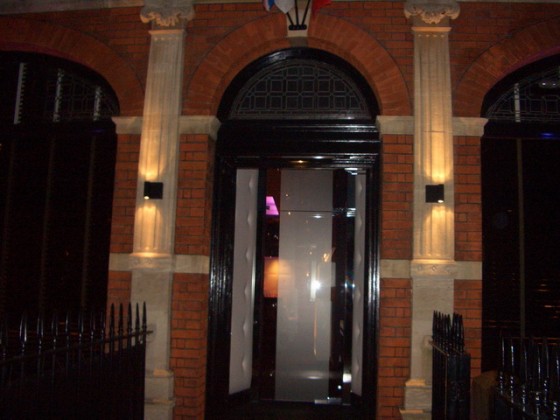 I can't remember a restaurant in London which has created such a divide in opinion as Ambassade. The restaurant has received as much high praise as it has stinging critiscm from food writers, restaurant critics and bloggers. I personally think that some of the critiscm is unjust – the inexplicable and infamous review by AA Gill who wrote 'All the cooking, whoever or wherever itís done, is craftsmanlike, considered and thoughtful' yet only merited a rating of 1/5 because he didn't like the decor. It seems many of these British food writers have an inferiority complex eager for each and every foreign chef to step foot in England to fail miserably. Nevertheless, Ambassade has received high praise as well. Food writer, Andy Hayler, one of the most knowledgeble and well travelled critic (he has eaten at every single Michelin 3* establishment around the world), rates Ambassade de L'ile as the best restaurant in London. High praise indeed when you stop to consider that this includes the Gordon Ramsay's 3* restaurant.
Ambassade is located on Old Brompton Road. The distinctive Edwardian building originally housed a library. In more recent times, the building has housed various restaurants including Lundumís and Chanterelle. The chef at Ambassade, Jean-Christophe Ansalay-Alex also runs the 2 Michelin starred líAuberge de líIle in Lyon. líAuberge is located on a tranquil island in the SaÙne called Ile Barbe which was declared an independent and sovereign state by the famous author Felix Benoit in 1977.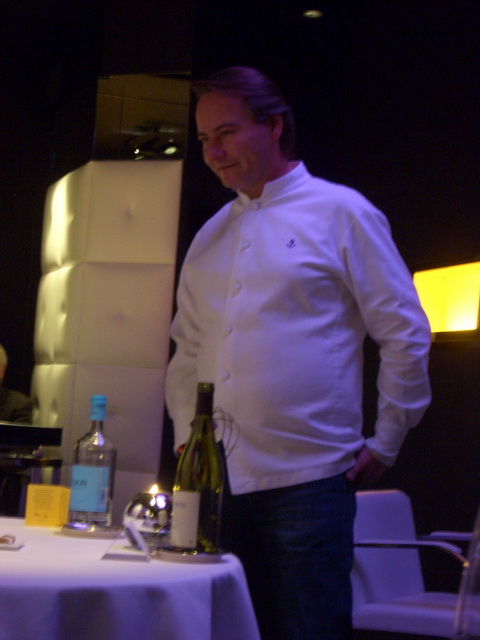 Chef patron Jean-Christophe is deprived of the use of his right hand due to an accident he suffered in 1990. It was around this time as well that he returned to work at his family own restaurant, the aforementioned Auberge. He navigated the restaurant through two difficult years in 1991 and 1992 during the Gulf War period before winning his first Michelin Star in 1993. The second star duly arrived in 2002. Jean-Christophe was made honorary Governor of líIle Barbe. It is from this that Ambassade gets its name – the restaurant is an outpost of líAuberge.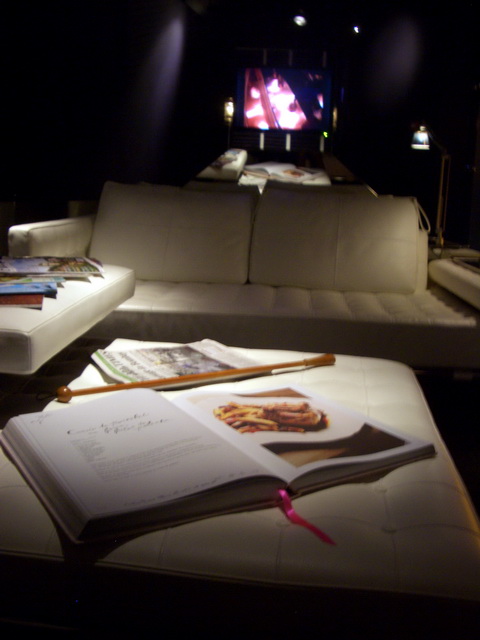 The building can easily be missed if you aren't looking for it as there isn't a visible signboard nor is it blatantly clear that it is a restaurant. Whilst you may assume that the decor is classical and old-fashioned judging from the exterior of the restaurant, the interior is anything but. If anything, the decor inside is ultra-modern, stylish and chic in a love-it or hate-it manner. Emphasis is placed on the colours purple and white – no doubt inspired by the flag of Ile Barbe. The lounge area, which you will see as you enter the restaurant houses large white leather sofas with ample magazines, the daily newspaper and a large cookbook for you to peruse while waiting for other guests.There is a very stylish and fully functional fireplace here.
The dining room itself is spacious with white leather chairs accompanying large tables draped in white table clothe and purple lighting. The restaurant seats 40 covers with a downstairs private dining room as well as a chefís table. Black wooden blinds are placed around the restaurant. A nifty feature of the restaurant is plasma TVs placed at specific locations in the dining room which allows diners to catch a glimpse of the kitchen at work.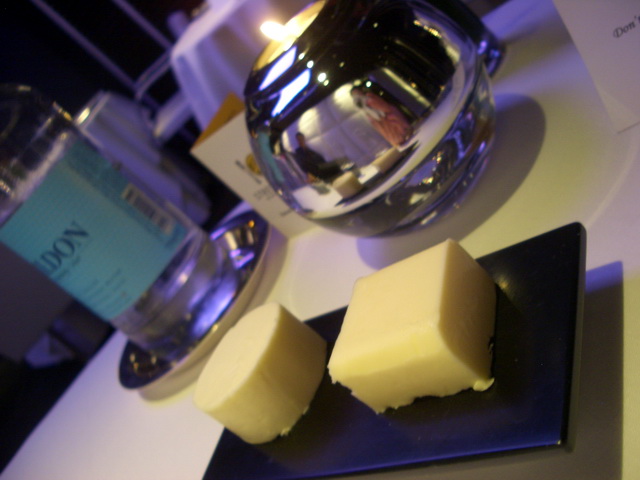 The menu is ever-changing and unlike many restaurants in London, the menu changes every MONTH depending on what items are at the peak of its season. The a la carte menu is limited to 4 options for starters, fish course, meat course and desserts. Items are individually priced and impressively, the chef places as much important on expensive ingredients like caviar, foie gras and truffles as he does with cheap ingredients like sardines, porks cheeks and sausages. A menu dÈcouvert (Tasting menu) is available as either 5 or 7 course and features various dishes which were not available on the main menu. Many dishes which may appear on the restaurant's menu have been featured on UKTV's 'Greatest Dishes in the World' including of course Canard a la Press which easily won the 'poultry and game' category for its combination of taste and theatre.
Les Beignets díHerbes Aromatiques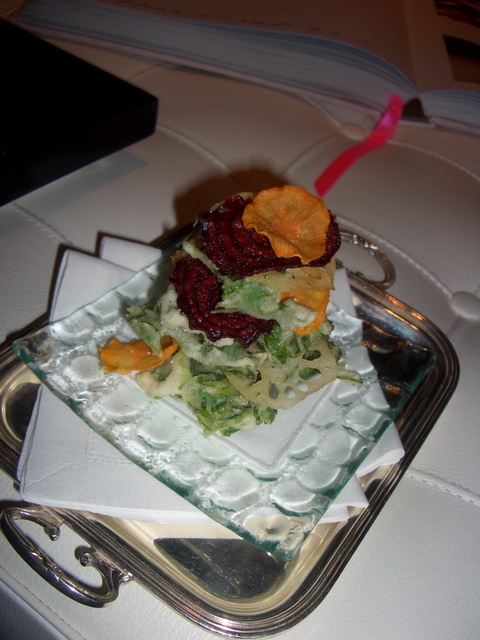 Canapes came in the form of an assortment of vegetable crisps. This consisted of crispy thin slices of sweet potato, beetroot and lotus as well as mixed herb beignets composed of basil, coriander and mint. The nibbles were ideal accompaniment with an apperitif (*hint* champagne) with bursts of saltiness accompanying the sweetness of the vegetables and the íspicinessí of the herbs. As would be expected from a restaurant of this calibre, the fried goodies were virtually grease-less.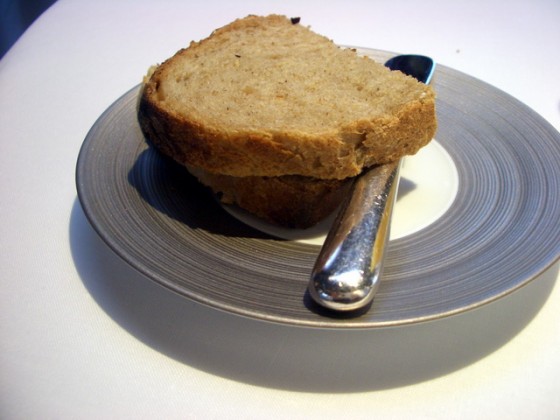 Bread was a selection of white or brown and was made in house – a huge plus when you consider a lot of top restaurants including the Fat Duck and Gordon Ramsay have their bread brought in. I personally can't understand why so many restaurants can't be bothered to make their own bread as it is more cost effective and yields better results when made properly. Both types of bread were perfectly capable with good crust and soft fluffy interior with enough salt to lift it from being ordinary to something remarkable. Bread was served with both salted and unsalted butter, again of high quality.
Baked Clam, Brunoise Vegetables & Truffled Butter; Deep-fried Boudin Noir with Quince Syrup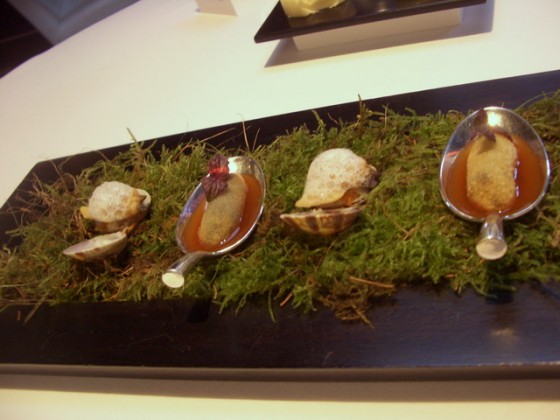 Amuse bouche was amusingly (sorry for the pun) served on a turf of grass. First, baked clam served in its own shell accompanied with brunoise vegetables and truffled butter. The tiny morsel of clam laid on top of a finely diced mirepoix and then topped off with a small dollop of truffled butter foam. The sweetness and slight brininess of the clam was highlighted by the grassy, tender vegetables. The truffled butter added a layer of richness and earthiness to give this simple offering more complexity and depth, while retaining the clean, crisp flavours.
This was a stark contrast from the second offering of deep-fried boudin noir (the French equivalent of black pudding) and quince syrup. Served on a spoon, handle detached, the smooth, rich and creamy boudin noir was matched perfectly by the acidity of the quince syrup.
Foie gras de Canard au Torchon servi en Brioche Mousseline, Ketchup de Coing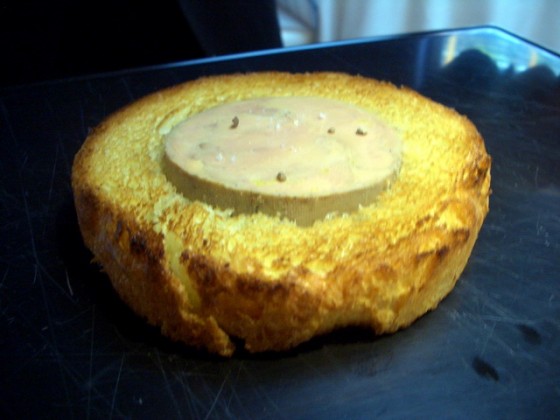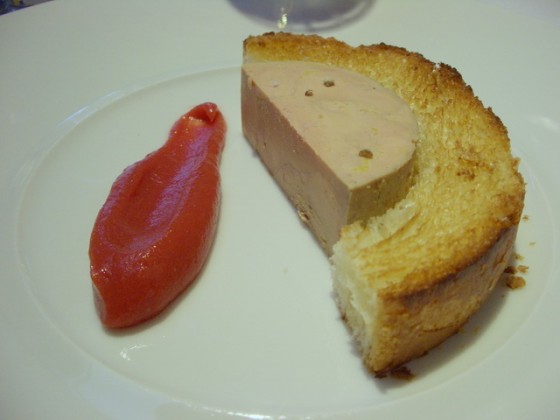 Foie gras, prepared au torchon was served in a brioche mousseline. The circular 'brick' of foie gras and brioche was smartly presented on a black slate before being sliced and presented with a quenelle of quince ketchup. This showed technical execution with the warm, butter, light-as-air brioche surrounding the cold foie gras. The foie gras itself was well prepared – carefully prepared and deveined, it was silky smooth with good liver flavour. Again, the quince ketchup showed great balance of sweet and sour notes to cut through the fatty liver.
Goujonnettes de Barbue de Ligne et grosse Gambas ìcomme un Fish & Chipsî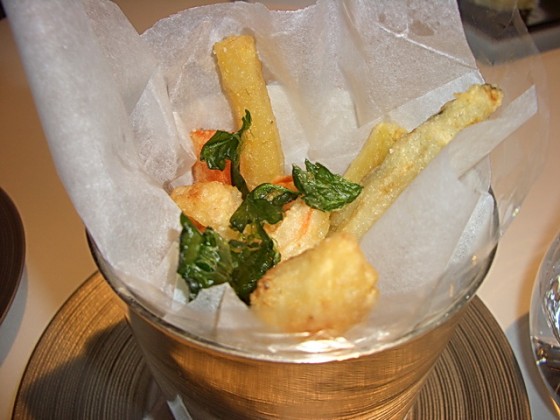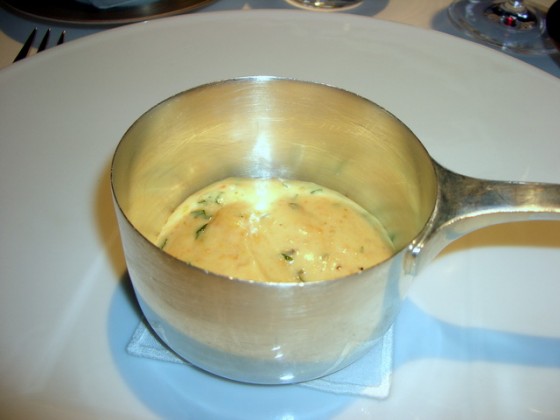 As it was a Friday, it only made sense to enjoy the mandatory helping of Fish & Chips. Brill and prawn goujons were served wrapped in paper showing chef Ansanay-Alex's sense of humour. Chips were in fact sticks of deep fried parsnip with a small pot of tomato bernaise for dipping purposes. The fresh brill and sweet prawns were unfortunately let down by the deep frying process which resulted in the goujons being soggy and greasy, a rare lapse by the kitchen. This dish was somewhat saved by the immensely well made tomato bernaise with just the right amount of tarragon. Often, bernaise which is badly made turns out cloying because it taste more like sweet custard infused with ridiculous amounts of tarragon. As good as the sauce was, this dish was a missed opportunity.
Canard au Sang servi ì‡ la Presseî en deux services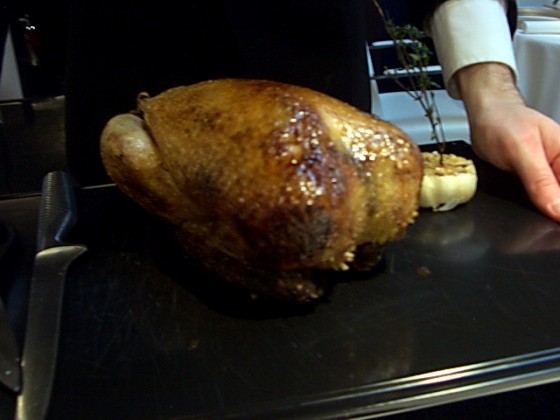 The star of the day belonged to the Canard a la Presse. The glistening, mahagony Gressingham duck was presented to us it all its majestic beauty before being carved at tableside.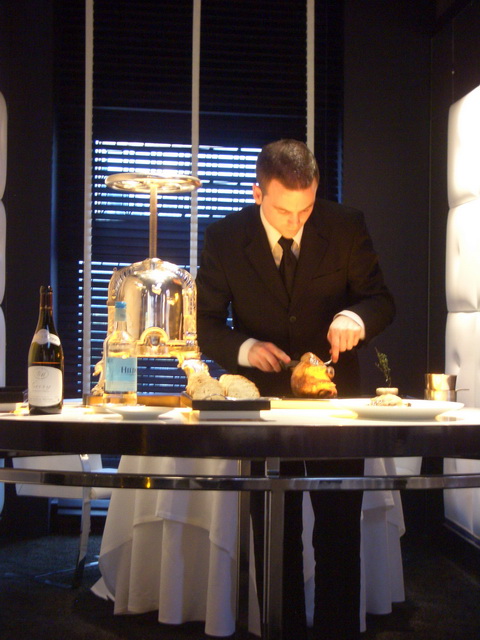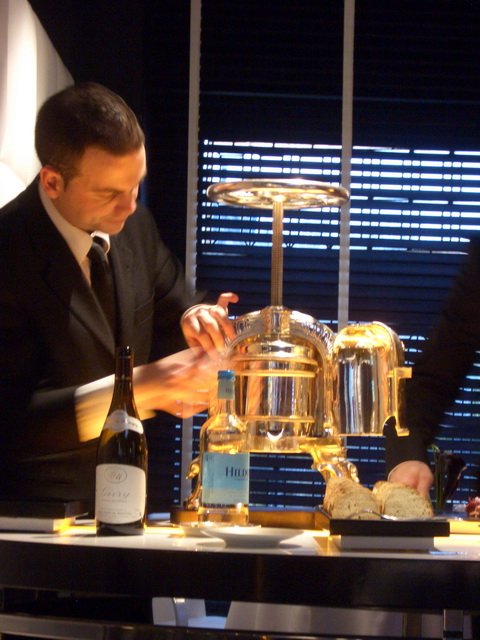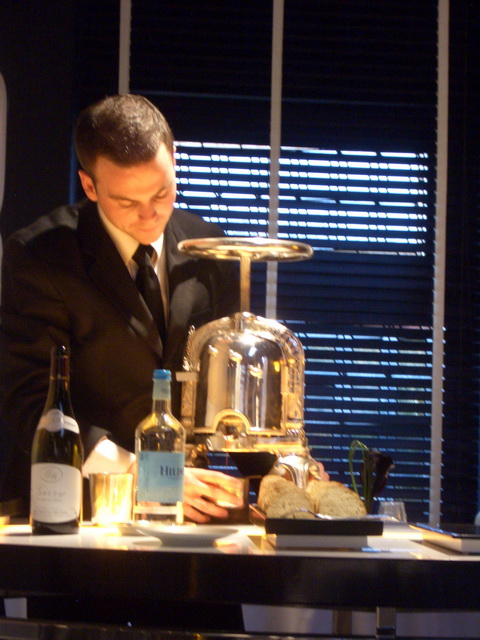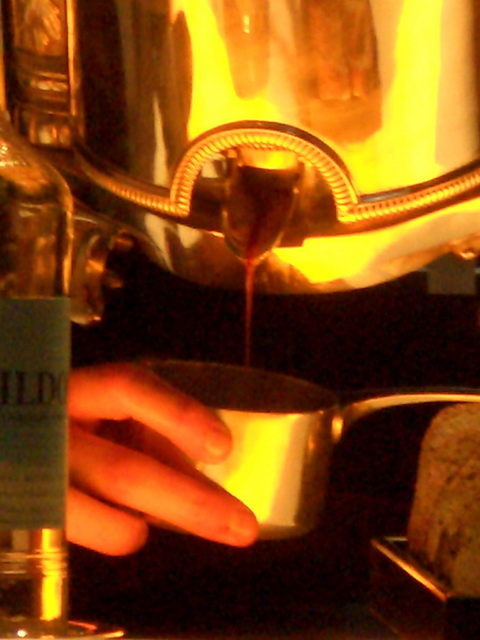 After the breast and legs have been removed, the rest of the duck is snipped up using a nifty pair of scissors before being placed in a small container and squeezed using the very exotic duck press. One common misconception is that the purpose of pressing is to extract the blood from the duck as suggested by the name of the dish. In actual fact, the duck marrow (and to a lesser extent, the juices) is the desired component, which when added to the sauce is supposed to give it a deeper, luscious, velvety taste.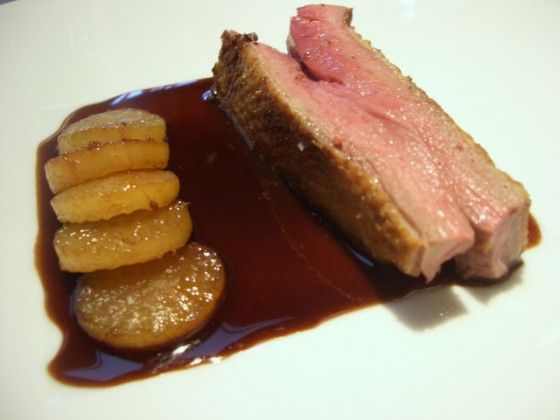 The first part of the dish was composed of the duck breast, pretty in pink (sorry bad reference to an equally bad movie). Sliced lengthwise in half, the duck breast sat in a pool of the marrow-enriched sauce. You know people always talk about braised beef or lamb which is melting tender you could cut it with your fork? How about the duck breast here which was so perfectly cooked, so unctuos, so soft, so tender it gave way with the slightest push of the fork. No the duck breast had not been stewed to death for an eternity. No sir! This was lesson 101 in great cooking technique highlighting an amazing product. And how could I talk about the dish without mentioning the sauce. I find it hard to put in words the utter brilliance of the sauce. I was grinning like a greedy Cheshire cat who has had his saucer of cream. Deep, clean, earthy, with the slight richness of the iron, the sauce highlighted what classical French haute cuisine is all about. And who would have thought that the innocent looking slices of turnips presented with the duck would have been the ultimate stroke of genius? Many a time, restaurants, even the best ones are guilty of making vegetable garnishes an afterthought. It just shows how well composed the dish was as the pickled turnips tied all the components together with its hint of pepperiness and acidity cutting through the fatty duck and the luscious sauce. Utterly, simply, mind-blowing.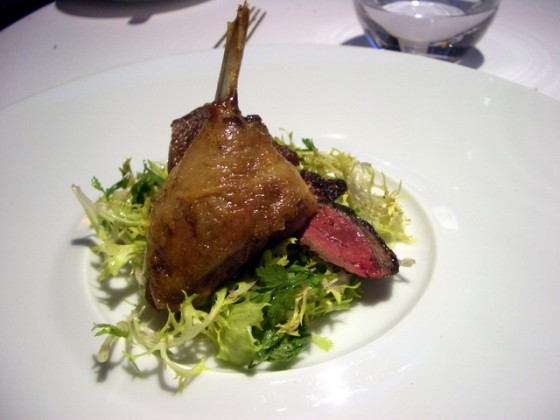 Part two of the dish was a more simplistic affair – the duck leg and liver served with a frissee salad, gently tossed with aged balsamic vinegar. Great judgement was shown in the dressing of the salad. I can't recount the number of times I have had to endure salad drenched in so much balsamic vinegar I would have had preferred sucking on a lemon. Liver is a pretty tricky thing to serve especially when it isn't called foie gras. Gently caramelised with a bit of icing sugar, the duck liver had a small sweet note to coincide with its bitter notes.
Friandiases: CanelÈ et Macaroon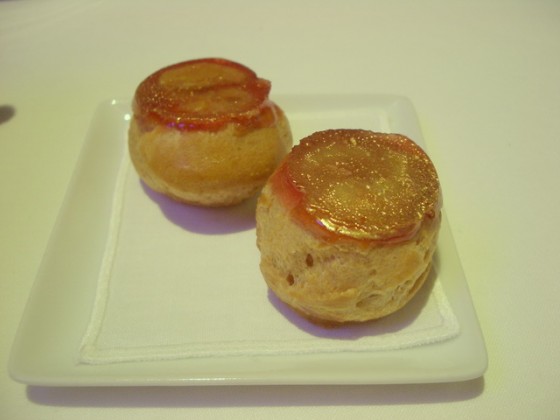 Small pre-dessert bites consisted of CanelÈs and Macaroons. The 'CanelÈs' were filled with blackcurrant custard and topped off with a burnt sugar before a small dusting of gold dusting is administered to give it that royal glow. The burnt sugar were an utter joy to crunch into, giving out a resonant snap with each bite.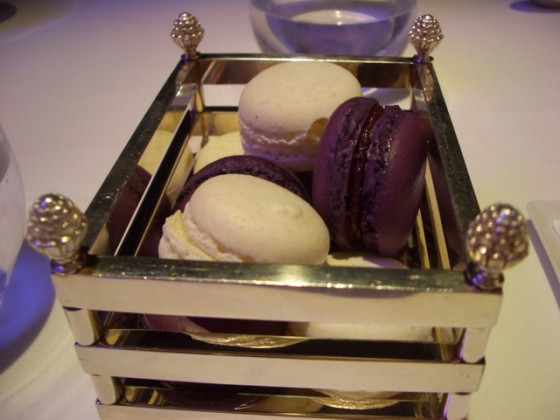 A large tray of macaroons were of the vanilla and blueberry variety. Anyone who has even tried to make macaroons at home will know how labour intensive they are to make, and even more difficult to get right. Hollow, light, airy yet somehow still crisp, the macaroons were as good as any I have tasted (and yes I have tasted many in case you are wondering).
Tarte sablÈe ‡ la Ch'taigne et Citron confit, Sabayon au Lagavulin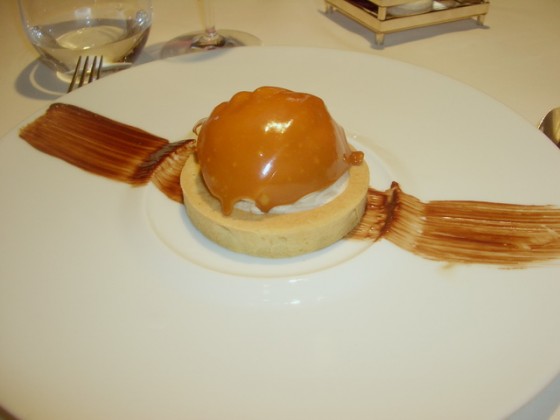 Desserts seem to and remain to be the weak point of Ambassade. Don't take this to mean that they are awful – even at their worst, the desserts here would put many Michelin starred restaurants to shame. Their lemon confit and chestnut tart topped with a whisky sabayon (or zabaglione) fell into the category of pleasant, enjoyable but never in the mind blowing, orgasmic category. The tart featured a deft hand in pastry making with a nice crumbly base balanced by the smoky and nutty chestnut and the sharpness of the lemon. Hidden under the caramel case, the heavenly sabayon was so light you would have been forgiven if you thought you were eating clouds. Somehow another though, all the components in this dish did not add up for me to become one single, truly pleasurable entity.
Truffe Chocolat blanc et Truffe blanche díAlba, un coulis de Poire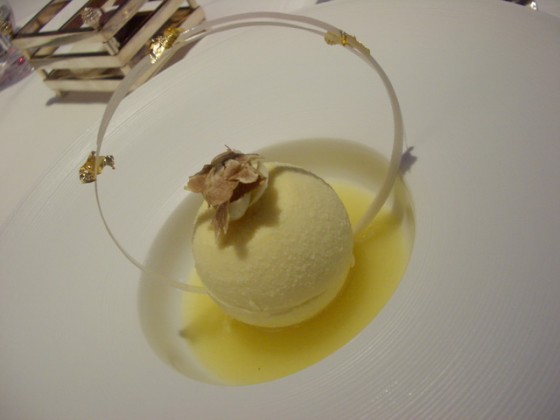 Alba white truffles, more commonly seen on the savoury menu than on the sweets were also given prominent feature. Apparently the pairing of white truffle with white chocolate truffle is a popular Lyonnaise combination. If the previous dessert was not mind-blowing, this was certainly thought provoking and revolutionary. The combination of the sweet and milky chocolate with the powerful and earthy white truffles was a winner from the first bite. The pear coulis was an ingenious addition given the cleansing nature of the pear as well as its low acidity content. And if anything, you can just look and admire how beautiful the darn thing is with its sugared ring prettily decorated with gold leaf.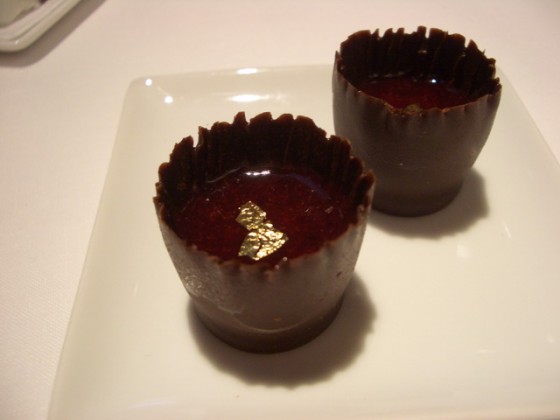 It is worth mentioning that there is a small coffee menu here including the lovely Jamaican Blue Mountain. Petit fours seem to be an afterthought, with a singular chocolate basket filled with liquid cherry jelly and decorated with even more gold leaf.
Liquorice Ice Cream, Gingerbread Cone, Star Anise Sweet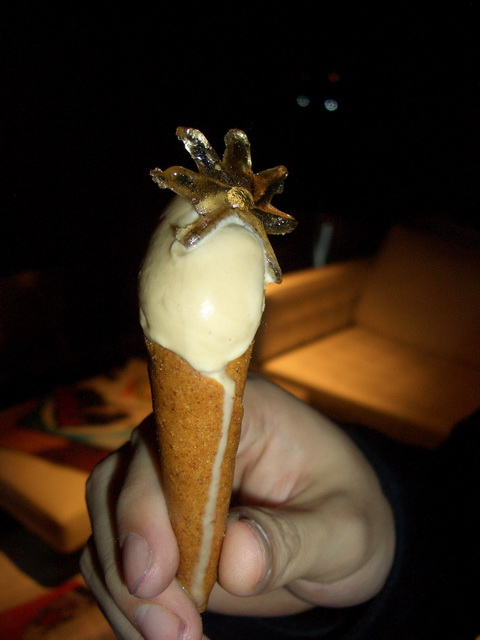 Full, satisfied and ready to leave, we were ambushed at the reception after putting our coats on with a small parting treat, the chef's signature dessert – a miniature liquorice ice cream on a gingerbread cone topped with a star anise sweet. Liquorice is the kind of thing you either love or hate and the idea of liquorice ice cream falls between the line of sheer lunacy and absolute genius. This brings me back to the point I made at the start of my review and pretty much sums up why there is such a great divide in opinion of this restaurant. Madness or brilliance, one thing that cannot be doubted is that behind all this is a kitchen which has absolute mastery and deftness in their cooking technique.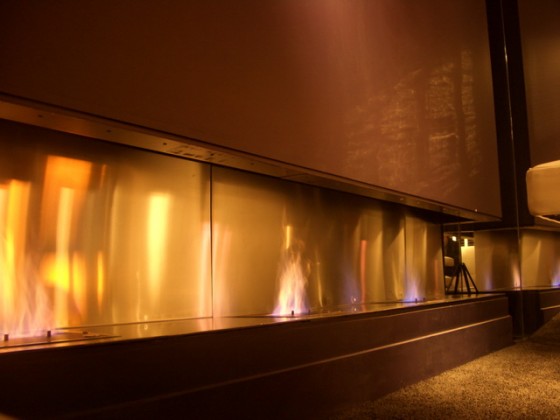 Ambassade de líIle
117/119 Old Brompton Road
London, SW7 3RN
Tel: 020 7373 7774
http://www.ambassadedelile.com/
Gen eats out regularly at the finest fine diners in London and his ultra sleek blog at Gen.u.ine.ness covers his gastro manic conquests. If you enjoyed his guest post, be sure to pop back to London Eater on 11th march to vote for him, till then point your browser to Gen.u.ine.ness now.