Carluccios Official Site
Heathrow Terminal 5
£12pp, £8.50 set menu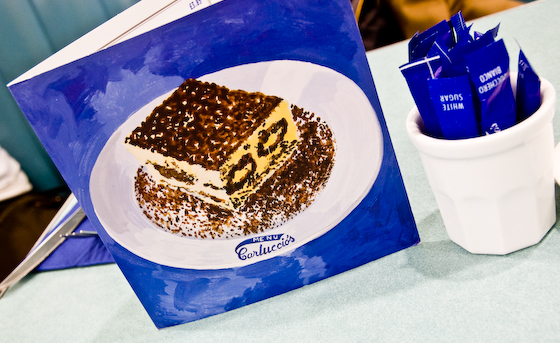 There appears to be two choices to eat at Terminal five.
Italian cafe behind the bag drop and Sofitel which is like a gazillion miles away and tucked inside – inconveniently- a separate building altogether. My flight is in 45 minutes and I don't want to risk getting lost in the crystal maze that is Heathrow Airport. Folks, you may have noticed that I'm not really here at the moment (Am I ever really there?) because I'm on holiday and I'm blogging on my holiday and my mum keeps telling me to switch off the frigging computer but get this: I am working off her dial-up connection. That's 56 kbs per second. Do you know how long it takes to load a picture – let alone compose an entire post?
That's called de-di-ca-tion, I may be in grey italics for most of the week, but the ghost in the machine needs his fix every now and again, except this time, I'm not really there.
So Italian it is. Do ya feel lucky. Well, do ya?
Warning. This is not a review.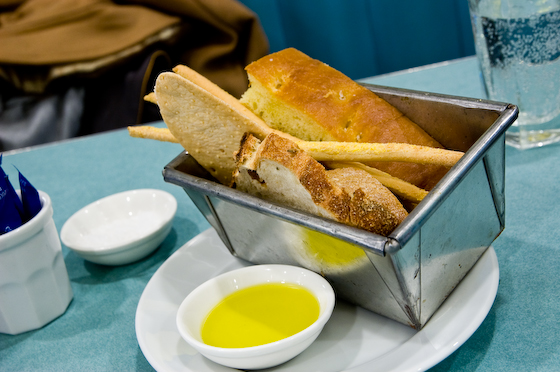 I chose the path of least resistance and proceeded to make the most value worthy choice on the menu. It was completely my luck that there was a set memu at carluccios for £8.50 which includes a bread tin, a choice of any pasta from the a la carte and a cup of coffee. Ok ok, I have nothing against chain restaurants, I mean Strada does solid pizzas, I hear nice things about rossopomodoro and who can say Nando's are doing more harm than good, right?
If you look hard enough, you'll pretty much find a Carluccio's round every posh London postcode, granted they do serve some very nice melon sorbets and everything on display by the walls are also for sale.
Kang makes his debut appearance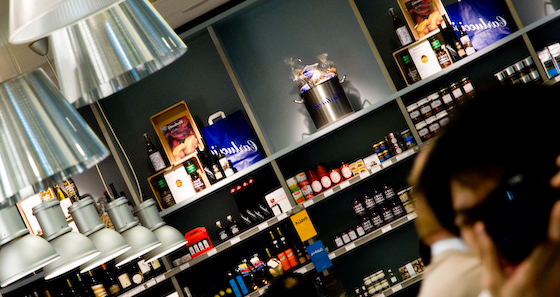 Ok so here's the picture to prove it: everything on display is for sale. Carluccios – like some Italian cafes around , Alimentari in Kilburn comes to mind- also doubles as an Italian food shop. While this is a great idea, I was a little miffed about the setup at an Airport, I mean, seriously am I really going to buy some linguine for when I'm visiting my long lost brother from another mother in Rome?
I should not hope – oh and that's me in the bottom corner with the trusty d40. I really need a haircut and I'm heading back home to see the man who's seen the top of my head for more than a decade.
He looks like a mean machine but will always offer me vanity fair while he does his work.
Talking over a spicy seafood soup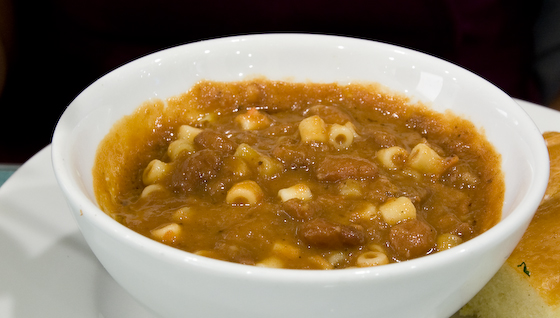 It seems as if I'm not paying much attention to the food doesn't it? Well that's because I'm on holiday and I'd like to think of this as a chat over food. Yes, imagine that's your bowl of spicy seafood soup which you have ordered. It costs about six quid and you're looking over to the neighbours' table – forlorn – and wishing you had gone with the breadsticks wrapped with parma ham instead. The soup is chunky but it needs alot of salt.
A hell lot of salt.
You push the bowl over to me and I criticise it and explain how my brother could have made a better bowl of soup than this, and then we laugh and you advise me to watch it with the insults. 
I've been reading the time traveller's wife on the plane peeps.  
The pasta arrives and T5 still sucks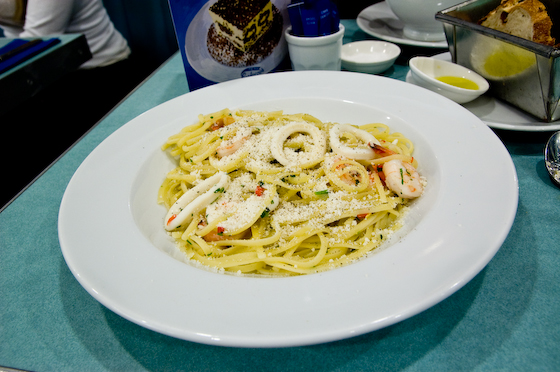 I don't know anybody who doesn't like a good rant every now and again. I need to say it, I really do: Terminal 5 is a load so wrongly blown that nothing can ever wipe the mess completely clean…. ever. Ok fine that's too harsh, no it's not really that's bad (catch the typo? I blame the badly blown load) : it's actually a really huge, tech heavy looking building complete with minority report style video billboards. When one looks up in an airport, what does one expect to see? Signs, right? Signs pointing and guiding you to where everything is, so you don't spend (waste) precious time(life) wandering up and down the building wondering what there is to eat. That's the whole point of an airport isnt' it – to make sure people get to where they're suppose to go on time. Right. So where are the signs?
To Mr T5 project manager, put someone useful as the 'sign' manager for your next job; despite popular belief, it really is rather important.
The pasta is too dry (it's so yellow it almost looks uncooked) but one can appreciate the garlic and white wine broth and fresh seafood. It still needs alot of seasoning, thank goodness for grated parmesan and now I'm starting to wish I ordered the parma ham wrapped breadsticks too, but less than when I had the soup. 
Calling it a foodie holiday.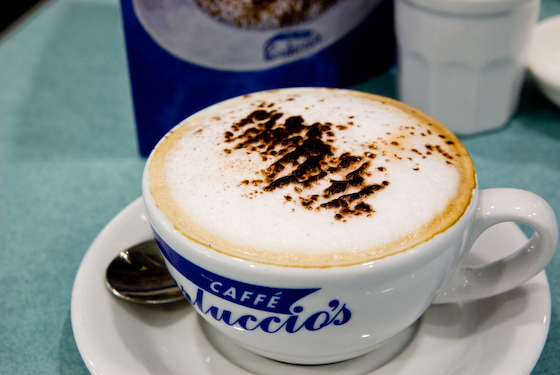 A cappuccino at 7pm … well, it's technically breakfast time where I'm headed. Incidentally, today is exactly seven months since London Eater's first ever post. I'm so proud of my little pet project and how far it's come, things have definitely changed, I've eaten alot of great stuff, unfortunately didnt avoid some clangers along the way and my ever expanding waistline continues to force my John Handcock at Ted Bakers. Ahh … that's a disgusting cappuccino but it was a damn good reflection and it's great to be on holiday.
The Gist of It
Carluccios Official Site
Heathrow Terminal 5
£12pp, £8.50 set menu
Verdict: For £8.50, not too bad actually, but pasta here is hmm, yucky. If you really need to eat here, try the paninis and order the breadsticks with parma ham, melon sorbet for pudding. If you're in T5 the pub toward the south (I think) side of the building looks more dependable.
Did you enjoy reading this post? Why not subscribe to my feed updates for free. Alternatively,  You can subscribe via email.