Abeno too Official site
17-18 Great Portland Street WC2H 7JE
020 7379 1160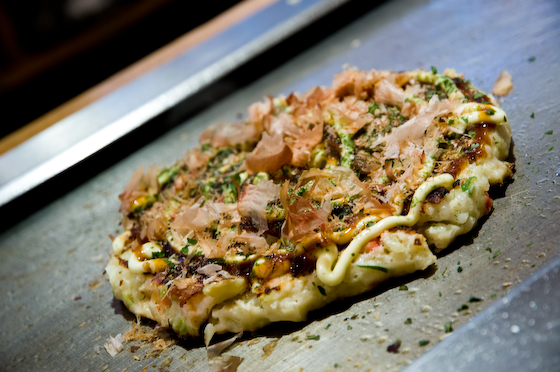 There are seven stages toward Okonomi-yaki englighment (source: abeno). First there is the arrival, then there is the mixing, after that is the pouring. Shaping then takes place, and comes cooking before it gets the flip. Finally, we decorate for the perfect Japanese pancake.
The soul food from Osaka apparently translates to 'cook whatever you want' (Okonomi) –' grilled' (yaki) and Abeno in Soho are the pre-eminent purveyors of this Japanese sensation. One of the best things about living in a sprawling metropolis is the multiculturalism and the myriad of rather authentic world cuisines available for very hungry and curious souls (such as yours truly).
Let's get flippin' peeps.
Ja-Pan.
I tend to associate cool, chic and quirky with all things Japanese and those guys over there have all sorts of cool concepts which manisfests itself in their very many forms of media and they almost appear to be ahead of the rest of the world at times when it comes to tech except they didn't invent the iPhone.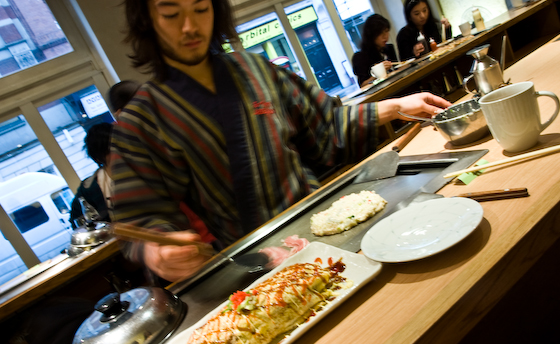 I didn't go to the flagship one, but I went to Abeno too instead. In any case, both branches are within walking distance of each other in Leicester Square. As London has just been hit by the worst snow storm in two decades, I felt I ought to write to fit the times and was in the hunt for some warming soul food to beat the freeze.
Perhaps the most prominent aspect of the wood laden restaurant are the hot griddles (very clean I might add) which are installed in the middle of the every table. It doubles as a personal heater for diners and are perfect for the winter days.
In summer – not so much, believe me I've been and I felt like a roast turkey as I finished my meal.
Rice balls and pancakes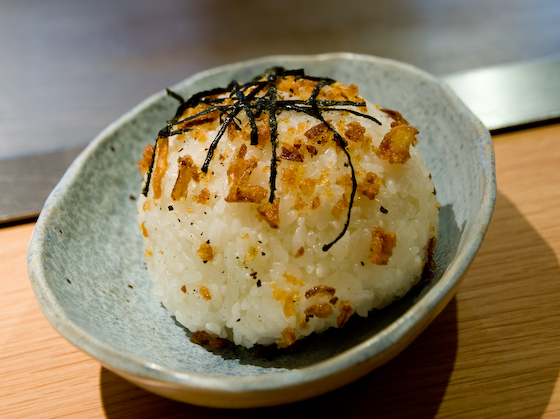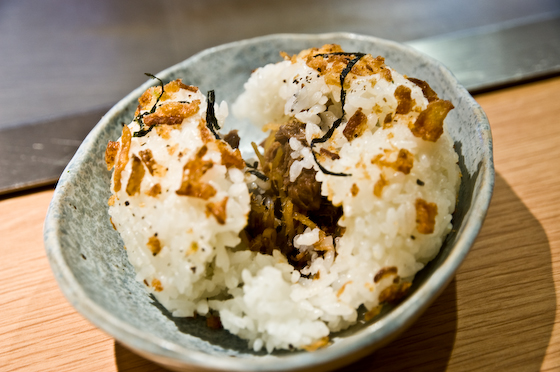 In addition to their flagship flat doughs, they've expanded their menu over the years to include bento lunch deals in the form of curry chicken with rice and green tea ice cream, just to give you an example. The lunch deals hover around the £12 mark, is an ok deal, though they might find it hard to compete with the double portions at half the price at Misato just round the corner (well, round a few corners).
I went for the lunch deal of Om-Soba with chicken and a rice ball of seasoned beef on the side. The riceball was spewing steam when I cut it open to reveal its core of ginger beef. It tasted ok, nothing really special and at £5 the money could have been better spent on a pudding.
Omelet du Soba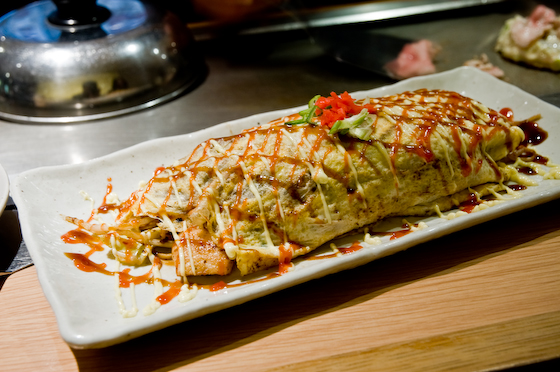 I was torn between an Om-soba or an Om-rice but as soon as I saw the waiter/grill man cook up theom-rice on the griddle for the two girls in the corner – I knew I'd made a mistake, should have gone with the griddled rice.
Thankfully, my om-soba didn't disappoint with the soya sauce infused stir-fry noodles nicely hearty and chunks of chicken tasting like a champion's breakfast. Yep the omelette wrap is a little gimmicky but well, it did taste good. Ok, I'm ready for the big show. Bring on the okonomiyaki!
Show me the flip.
If you've ever been to one of these teppanyyaki houses you'll know what I mean when the gimmick is really what you pay for. So my grill man started by showing me the uncooked ingredients of the Tokyo mix of pork, squid and chicken along with their special dough recipe all mixed in a stainless steel pot before he dumped it onto the hotplate and flattened it to let it cook in front of me.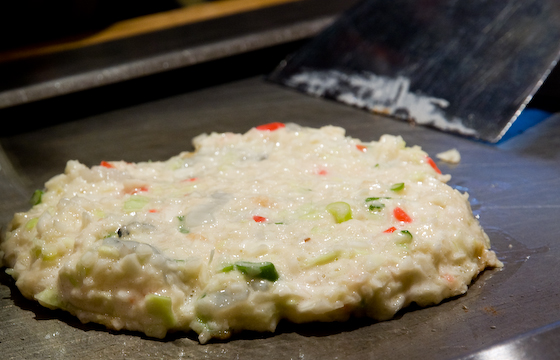 At this point, I can't help but feel like I'm on some sort of cooking class where I get to eat what I cook… well, what is being cooked in front of me.
It takes about 10 minutes for the dough to brown under the steel cover, after which my grill man comes back and prepares me for the big flip! Yes, yes I'm a sucker for quirks, what can I say – got to give the man abit of credit for doing it in front of me.
So after the pancake is done – he then explains the various sauces he's got in his little arsenal and asked me what I would like on my pancake. There was Japanese mayo, dried tuna flakes, dried seaweed and a sweet katsu sauce.
Everything and abit more please. 😀
While he decorated my pancake with the toppings, it was quite a sight seeing the melting tuna flakes wave and dance as they get hot. The finished product looked more like a Japanese pizza than a pancake though. Taste wise, it's ok – the dough base is floury and tasted like a cross between a pancake and a pizza. I am pretty content with the sweet katsu sauce balancing the creamy tanginess of the Japanese mayo. Can't really complain about the Tokyo mix of pork, squid and chicken as they do go well together.
Flip me again, not.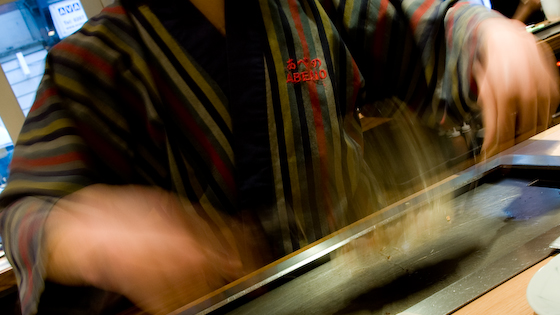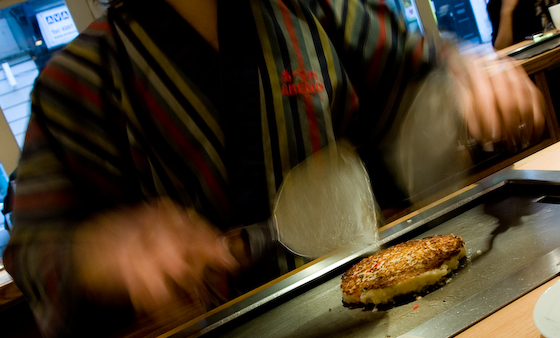 So it didn't take me long to finish £10 worth of pancake because it was actually rather small. It's not particularly jaw dropping and while it's a nice gimmicky lunch which provided mild amusement, I don't think the pancake flipping alone is enough to warrant frequent repeat visits. If the pancakes were in the £5-£8 bracket, then it'd make for a great lunch spot but for the £10-12 crowd, it's punching above it's weight and you might do better with a visit to Misato for rice or Baozi Inn for noodles.
Having said that, the grill man was a pretty quirky character. I did enjoy the show, for the price food is ok and I think it's well worth a visit or two, just not too often.
The Gist of It.
Abeno too Official site
17-18 Great Portland Street WC2H 7JE
020 7379 1160
Verdict: The pancakes taste like a cross between pizza and pancake with your choice of grilled meat or vegs and lots of japanese mayo. Good food, nice show and if it were a few pounds cheaper would be a great lunch spot.
Did you enjoy reading this post? Why not subscribe to my feed updates for free. Alternatively,  You can subscribe via email.