Weekly round-up of yummi-news from around london and the blogosphere. Now released every Sunday and brought to you by a London eater.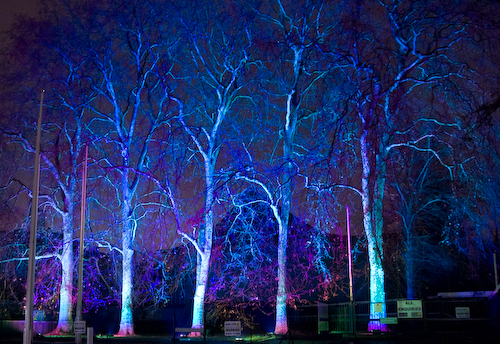 Ranting about oversalt at hibiscus, wondering why a humbug club exists in the UK and reading up on great christmas recipes. Come in and join me won't you?
eating happenings here on london eater
I still can't quite believe that the year is coming to a close now. But before that happens, there's something called chrissymas to get through first. London is turning cold enough to evoke those wintery feelings. Honestly though, this year's chirssymas seems abit sterile compared to recent years. I suppose there's less people shopping this year, but its nice to see that the chrissymas lights still go up to add to the atmosphere. Was walking around high street kensington yesterday and managed to snap a picture of holland park.
Very nice.
I'm happy to report that this week's eating&reading has resumed normalcy on a sunday even though this is probably one of my leanest weeks in recent memory, but there you go, it's christmas, I'm not fussed about site traffic or workload because I just want to spend more time with that special someone. Here's what went down this week here at london eater:
eating&reading: Georgian redhouse return.. on a monday I was so very close to missing two weeks' worth of eat&read and couldnt bear to do that (it's a personal benchmark I suppose) so I released it on monday instead. I included a youtube video of the London Mayor Boris Johnson doing his run in the reasonably priced car on topgear. Must watch, he's goofy funny.
midweek quirker: the weirdest foods I'm not a food critic so I'm not limited to just slating restaurants, if that were what I wanted to do, I would have done journalism and applied to the Times. Ok, the telegraph. I'm a blogger and the creative freedom equals posting about eating live octopus tentacles. Yuck.
london eater does hibiscus (review) This was a monster write up, or much more like I was rambling non-stop about everything from the recession, to the decor to the over use of salt. Still, hibiscus is pretty nice and I won't mind going back. The sole restaurant review this week, slim pickings in holiday period, I know. I'll be back next month with more reviews as my social life dies down.
x-factor judges on pizza Did anybody want Alex win it last night? Man, she was really balling wasnt she? I couldnt quite understand why they chose hallejulah as the 'winning song' . It's so totally a rip-off from american idol last season. You know it used to be funny because simon's slagging was great. Now that I'm desensitized, its just abit bland. Anyway, the italian chain restaurant , rossopomodoro created 4 pizzas with the faces of the x factor judges on them. I want to eat cheryl's over and over again.
london happenings around the smoke
fluid foundation's guide to london they claim to be 'London's biggest and most popular online Independent Guide to drinking, eating and going out' ( notice the caps in their quote ) .. yet i've never heard of them until today. Hm. Perhaps they are still new, their alexa ranking is like half of mine. Oh no, I tell a lie, they've been around since 2000 and have thousands of restaurant reviews. The site does look very cool and I guess it's another resource for finding things to do in the capital.
the humbug club in essex I saw this on bbc news the other day and just found it absolutely hilarious! Basically, its a bunch of grumpy old dudes in essex who are sick to the stomach of the entire christmas spirit leading up to the actual day. They say that christmas day is fine but the whole month of it – no no. They congregate in some pub every day and they serve reindeer on the menu! Bah, humbug indeed.
Timeout finds 20 ways to have sex in the city ahh yes, good ol' timeout and that quirkiness, this one needs no introduction I guess. Never thought that there were there were twenty ways to do it in london, but there you go, bonking all the way into the new year.
leicester square funfair is fun. For as long as I can remember, leicester square turns into a fun fair complete with carousels, simulator rides, those ball games where you can win oversized teddys and etc. Great atmosphere. I was actually there earlier today and managed to snap a picture. Not too flattering because it was a quick job, but if you're in london for christmas be sure to pop into the square, that oversized teddy will always come in handy believe me.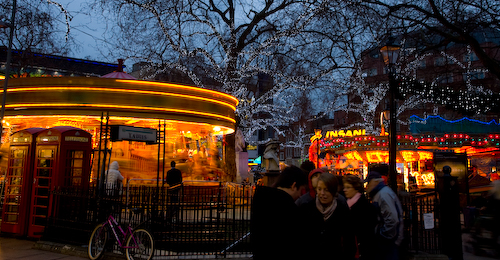 reading happenings around the community
I think running up to chrissymas, everybody will tend to spend abit more time in the kitchen, so I took the timeout to bring you some of the cooler, wackier, tastier , heartier , and definitely christmassy recipes from around the web today:
the constable larder's eggnog Its like a tradition isn't it? You've got to get drunk on eggnog. Come on, it's a must. There are many versions of this recipe, but I found a pretty solid one at the constables larder. Although, the best way to make this stuff is to hop on a plane to germany and get one of them genuine eggnog concoctions out of the bottle. They are really strong and really good. Dilute with milk, warm it up or freeze it to your specifications and watch your face go red.
pinch my salt's butternut squash and sweet potato gratin is flavoured with garlic, fresh thyme and manchengo cheese. All very nice ingredients and I think it's a very fitting christmas recipe.
hungry mouse's cranberry bacon chutney with rosemary and port cranberry check. port check. chutney double check. Jessie says that this can be had all on it's own, but I have a feeling this chutney will go very nicely with that superiorly juicy turkey your mum is planning to cook for the family. I don't know if turkey and cranberry is a british thing or not – but I hardly ever read about them, yet it's almost a staple here. Hm. I don't know. Somebody want to make me some cranberry chutney and turkey or do I have to do the cooking this year?
'ultimate' home aged beef rib roast? One person commented that this way of home aging in your own fridge is not advised. A good rib roast for chrissymas sounds like a perfect meal to me. I was pretty intrigued when he said that he basically stuck the rib of beef in his fridge for three weeks, um, Im no expert but if you leave a piece of meat in the fridge for three weeks – doesnt the blackness mean that it's gone bad? I'm curious to see the aftermeal follow up video to this:
the mistress of cakes' chocolate mint cakes! she's got like four different pictures of the same recipe, but the green mint icing looks so mouth wateringly good on the dark chocolate cakes. The bavarian mint recipe seems deceptively simple to make too – if any of you try this out, DO take a picture and send it to me so I can oogle at it.
counting down..
I still need to show up to work till xmas eve, not too happy about that since I'm already in a jingling mood. Ho. Ho. Ho. Anyway, I can smell the cooking in the kitchen, so I will leave you for now. Next week, I am releasing the conclusion to the wine series and also a breakfast visit to the Tapa room.
Till then, have a great end to the week folks and see you in seven.
Did you enjoy reading this post? Why not subscribe to my feed updates for free. Alternatively,  You can subscribe via email.