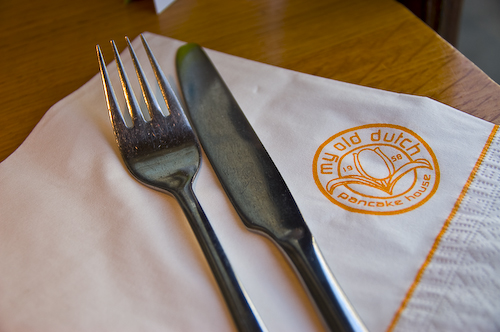 The financial storm has descended upon London like a dark cloud and it looks as if it might get worse before it gets better. But you know, that's not going to change my commitment toward finding that dish in London. I've decided to go on the hunt for a cheap meal with no compromise on quality. I then remembered this great place serving giant pancakes for £8. Is it a must-eat?
A pie-faced rector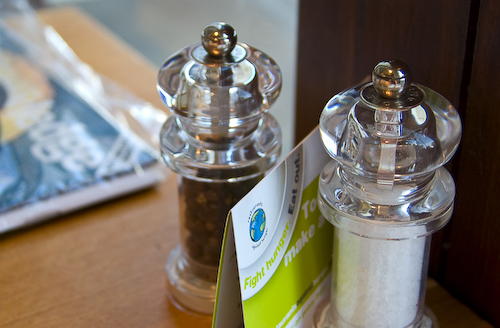 Situated along the affluent King's Road in Chelsea, which is itself a great place to visit since they feature a smattering of posh indie brands and quirky shops where everything is unerringly clean. This place was a hit among Imperial-lites, especially since the university is just 15 minutes down the road and was a favourite spot to celebrate mild successes at Uni, like barely scraping through our exams perhaps, or even throwing pies in our rector's face (it was for charity) .
Ah yes, the good ol' days, I am filled with uneasy nostalgia. It's time I pay a visit to this pancake house yet again.
On to the food
I went on a sunday and it's always so nice seeing lots of families and friends coming out for lunch. Just such a warm and buzzy atmosphere. Cue fuzzy feelings inside. Service was a little slow today, they stuck me by the front window and nearly forgot about me. The restaurant was completely packed for lunch. Getting back on the subject of food, my old dutch is a pancake house having established a presence in London ever since 1958. They serve a selection of sweet and savoury pancakes but also feature quite interesting starters such as dutch meatballs in mustard sauce as well as deep fried balls of mozzarella & cheddar cheese, onion & breadcrumbs. Each starter is about £5 but you can opt for the old dutch platter to sample everything for £7.85 – great value.
Spotlight on the pancakes
One thing about eating in London is quirkiness. Sure you can find the poshest fine dining spot, but every now and again, something like this is just a breath of fresh air. Here's where it starts getting interesting. I'm just going to pick some of the savoury items on the menu:
36: Greek v grilled aubergine, halloumi & feta cheese, red onions, olives & tomato £8.95 38: lamb stew halal moroccan lamb stew with peas & carrots £9.95 44: smoked duck smoked duck breast, mixed sweet peppers, spring onions, mushrooms with sweet & sour sauce £9.95 48: you choose £5.50 make your own savoury pancake from the ingredients below fish: anchovies, prawns, smoked salmon, tuna cheese: feta, gouda, mozzarella, halloumi, cheese mix meat: ham, bacon, chicken, chorizo, pepperoni, smoked duck £1.25 others: apple, artichokes, asparagus, aubergine, capers, courgettes, creamed spinach, mushrooms, olives, onions, pineapple, ratatouille, red chillies, spring onions, sun dried tomatoes, sweetcorn, sweet peppers, tomatoes £0.70
The menu speaks for itself; based on the novelty factor alone, it warrants a visit. Here's some of the sweet ones:
58: peaches with cream or ice cream £7.25 59: vermeer pancake plain sugar pancake with ice cream and a shot of vermeer £6.75
And you can also make your own sweet one too!
Feed me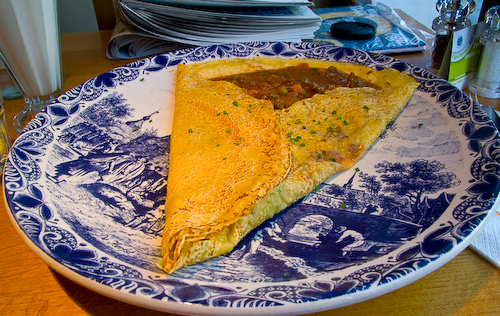 On this occasion, I chose the spicy route and went for the moroccan lamb stew. The first thing you will notice is the huge 17″ inch plates in which a giant pancake sits. Be forewarned, the portions here are huge, so go on an empty stomach. The pancake base is very light & fluffy and has the texture of  a squishy thin italian pizza base. It's got that super savory quality to it (must be a great dough recipe) that just fuels my appetite. The lamb stew is rather formidable with strong herbs and spices complementing the strong lamb flavours. It was so spicy that I could have mistaken it for a lamb curry with the peas and carrots in the stew. The stew would have been much too rich to have on its own, but with the pancake base, they balance each other out rather nicely.
Sweet secondthoughts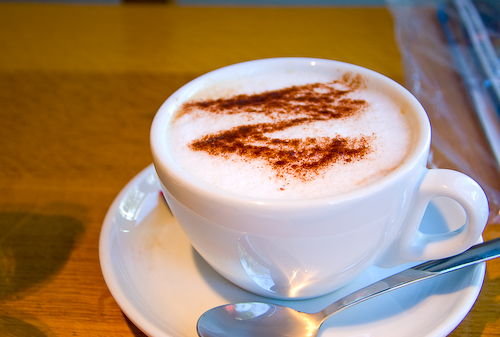 I thought I could do it, but in the end I couldnt. The pancake was deceptively large, I was completely stuffed and just didn't have space to squeeze in a sweet one. I was willing myself to digest it, because the sweet pancakes are a real treat. If the savory pancakes were warm and hearty, the sweet ones are light and cheerful. Instead I settled for a small cappuccino and sank into my seat for the Sunday Times.
Folks, if you are looking a nice, chilled out spot for a sunday lunch with the other half, give my old dutch a try, share a sweet and savory, marvel at some new aged art at the Saatchi gallery and end your day with the food market outside partridges. Be easy on sunday morning like Lionel.
Did you enjoy reading this post? Why not subscribe to my feed updates for free. Alternatively,  You can subscribe via email.

Basics
My old dutch
21 Kings Road SW3 5EJ | 020 7376 5650
more branches at High Holborn, Ealing Broadway and coming to High street kensington soon How to get there: Sloane Square tube station How much: Cheap, a tenner will have you grinning cheek to cheek http://www.myolddutch.com/contact.asp