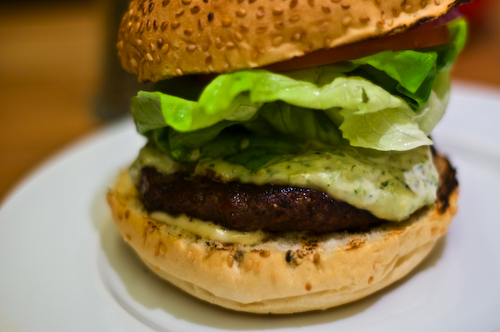 The original Gourmet burger kitchen started it's first outlet in Battersea and since then, their super-sized burgers have exploded across the country with far too many outlets for it to be countable. If you're looking for a great meal on a shoe-string in today's crunch-induced environment then GBK might just interest you.
The best burger debate rages on
This is part of a loose series of burger write-ups which I'm running here at London Eater. You will noticed that I recently paid a visit to burger shack and also to hache burgers. This is still an open debate as to which one is the best burger bar in London. I still am yet to come to a conclusion, because there's still a couple more 'big names' which I haven't tried yet. Oh yes, London is entering a golden age of burger bars, it's gone mainstream, it's gone gourmet and I'm loving it.
Burgers, burgers and more burgers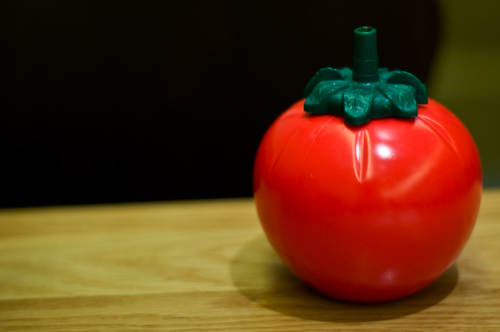 The most recognisable part of the restaurant surely must be their ketchup bottles which are these little red tomatoes. Be careful though, cos the green root opening where the ketchup is squirted from easily comes off and can be quite a messy affair.
The food here is so straightforward, more burgers and more combos than you can shake a stick at. The beef burgers are made from 100% aberdeen angus, which is in my opinion, the most flavoursome beef currently available in the UK. The sheer variety of 'configurations' are what makes the menu stand out. They have stuff like the pesterella which is pesto, mozzarella with beef, or the kiwi which consists of an egg ( sunny side up ) , beetroot and a pineapple ring. And how about that jamaican which sees its burger smothered with a mango & ginger relish.
Apart from it's fairly extensive beef burger menu, they also do a variety of specialty burgers such as lamb & buffalo and I should also point out their vegetarian burgers which include falefel , puy lentil and an aubergine & goat's cheese option. Something for everyone.
Shaking it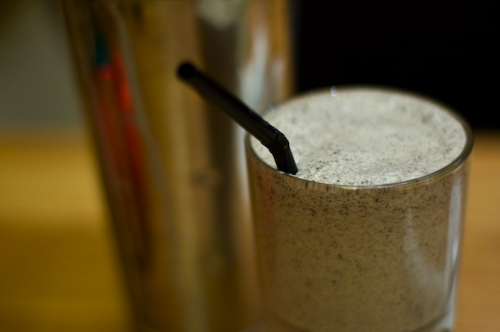 One of the hallmarks of what makes GBK so successful is definitely it's supersized milkshakes that match the supersize burgers. They come in huge steel cups (glass?) , roughly a pint and a half , which can easily be shared by two with huge appetites. By far my favourite is their oreo shake, you can still see the oreo chunks in the shake, and sometimes it gets stuck while you drink from the straw, but that's what makes it so good.
the garlic mayo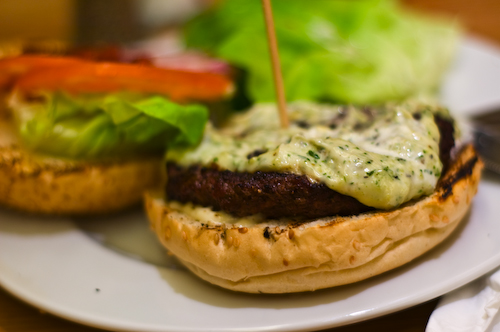 I'm a regular at GBK, been going there for years and I've pretty much tried everything on their menu. If you want to keep it simple, then go for the cheese burger. The melting cheddar and beef is just… wow. Part of the reason it's so good is the fact that their burgers are grilled to finger-licking perfection. I normally have my burgers medium, ( don't think it's hygienic to have it any less than that) and it's just so good. On this occasion I went for the garlic mayo, which is exactly what it is on the box. You can clearly taste the fresh garlic infused with the mayo and that burger is beefy, sizzling with a chewy bounce and the taste is appetizing and flavorsome. Just think about the best burger you've ever had, yes, the one that makes you salivate and that's how good burgers here are. Another thing I should point out is they don't actually use run-of-the-mill ketchup as a garnish in their burgers. In it's place, is a lovely tomato chutney/relish which is refreshingly sweet (instead of just being sharp and tangy) and it goes down so well with the beef.
Three down … a few more to go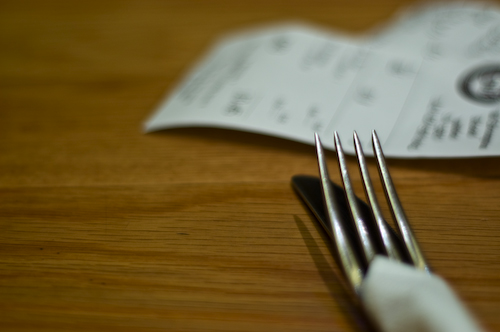 There's still the fine burger company, ultimate burger union and byron (which I believe are the new boys in town) to try before I proclaim a burger champ. But you know, GBK is definitely a contender, I should also mention that the prices here are a big plus, with burgers starting reasonably at £6, an atmosphere that's so chilled, you could be mistaken to be dining in new zealand and burgers which are not only large in portion, but big in flavour. They have outlets all over the country now, so it's easy to get hold of one, look for the closest one to you here. If you haven't been yet, you are a minority, if you are a regular (like me) then maybe it's time to go again. I know I will.
Did you enjoy reading this post? Why not subscribe to my feed updates for free. You can also subscribe via email too, and for free.