Fish and chips is a national symbol. The reason I say so is because everybody has their own personal experience of it. If you ask someone where their favourite chippie is, you'll get this long gaze (like he's going down memory lane), with a lowered voice, they go 'i know this place…'. You can tell from their facial expressions how much they enjoy it. 
The story usually ends with a polite nudge to pay a visit and proclamation that you wont be disappointed. Oh the joy of having found that dish.
my chippie story
I grew up in a really small town on the other side of the world and as far away from england as can be. But you know, I still remember my first brush with the old fish and chip combo. It was in a 'western restaurant', as they are call it in asia, that served steaks roast chicken and the like. I ordered a large haddock and chips. 
The beauty is its simplicity. It can taste so good, when the batter is crispy, the steam gushing out on first cut and silky smooth fresh fish.
geales and tradition
As someone who doesnt have first hand experience with a real chippie, its all abit new to me, so I dont really have a stance over reinventions of this old tradition. But as you will read from AA Gill's and Matt Norman's reviews, its caused quite a stir. Both good and bad.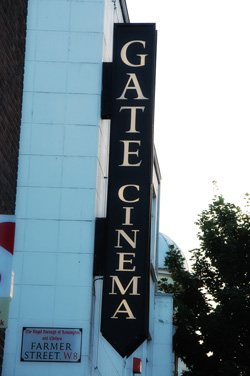 Established in 1939, according to esteemed crtics, it was a regular spot for old colleagues to unwind for a long, lazy lunch. Last year, this place was taken over by the genius team of mark fuller and andy taylor with gary hollihead applying his michelin starred skills in the kitchen. Geales is about a 5 minute walk from notting hill gate tube and is conveniently tucked away behind the cinema.
rise of the posh chippie 
Hollihead &co will not be the first to reinvent the national symbol as many places, such as these in liverpool are attempting a similar thing. You can even find an excellent example at belgo's in covent garden. Though, I think the main difference at geales is that fish and chips takes centre stage. This hardworking dish has seemingly been given a slick makeover, abit like how a nostalgic tv show gets the silver screen treatment. Think charlie's angels, erm, mission impossible? Another great chef, Tom Aikens of chelsea attempted it in similar fashion at tom's place, it would have been nice to try it, but sadly, the neighbours very recently brought about a shock closure.
Gasp.   
Can our world weary heroes save the day?
fish, chips and mushy peas
Lets get straight to the point, this review is about the main event. If this doesnt work, everything else doesnt really matter. Although, if you prefer, you can jump to page 2 to read about the co stars and if its added sparkle to the mix. So on to the food. We order double portion chips, double mushy peas on the side. I had the cod and Nic went with the haddock.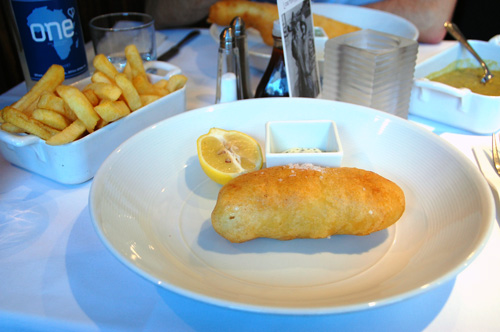 We skipped the alcohol and only had an hour with the table, since we turned up sans booking. Me and nic, we go way back.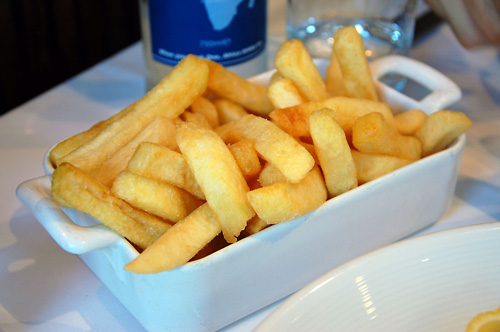 I believe the secret to getting really good chips is to double fry them, so they are crispy on the outside and use top quality spuds like maris piper to make them soft and fluffy on the inside. Just look at the chips, they are an absolute beauty and they taste great. But there's the issue of price, that's a double portion that costs £6. Its abit steep, granted they do taste good, but is it justifiable paying a £5 premium to get chips that taste marginally better than burger king?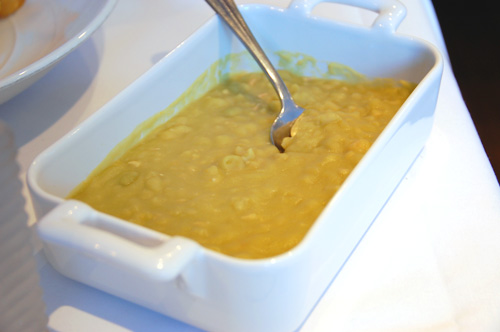 Im no expert on mushy peas, but again its a double portion that costs £6…except this not very good. It was lumpy and rather bland; my canteen at work (yes, i have a real job) does this for free with the friday 'fish of the day' option. And that taste alot better than what geales had to offer.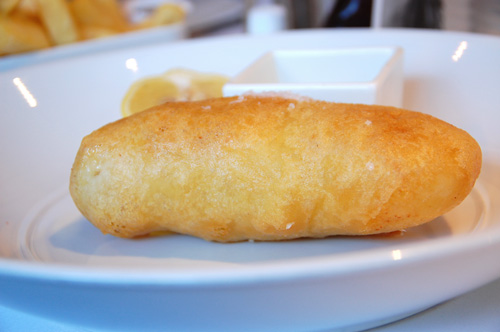 So one out of two, how does the fish fare? It certainly photographs very well, served with sprinklings of sea salt on top, a slice of lemon and tartare sauce on the side.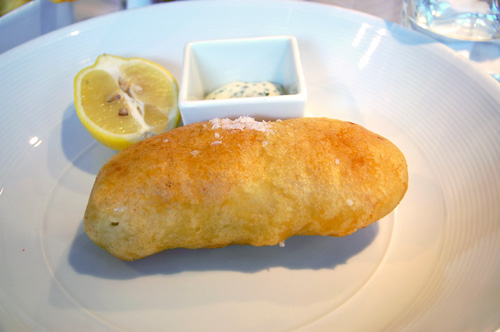 It didnt work for me. I really wanted it to blow me away, but it just didnt. Where was the gushing steam? I found a measly portion, covered by a thick batter with large pockets of air. Gaps so large, I suspect the chef blew air in through a tiny hole while he was frying the fish. At first i questioned the seasalt, but my first bite confirmed my fears, the fish was bland. It really needed the salt.
The batter was not up to scratch. According to some of the critics, they say that because it wasnt fried in beef tallow, it's not going to be great. Well, they were right. I was expecting the fish to be moist but it was a tad on the soggy side for me. I was sorely disappointed because it just looked so good. Im trying to convince myself that maybe mine was just a rare slip up and the next time I return it'll be a much improved.