pork dumplings, fish fillets and cheesy chinese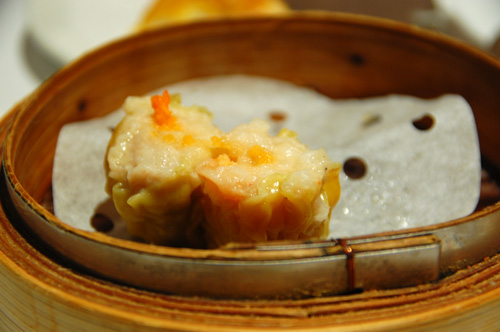 This is my favourite dim sum dish of all. By the way, most of the steamed items are served in the bamboo steamers that they were cooked in. Also part of the experience for me. I love this stuff, but a very health conscious friend of mine once told me the reason shui mai is so tasty is because it's made with alot of pork fat. The fat gives it the nice rounded flavours. Fresh prawn give the little cubes alot of bounciness when you bite into it. The springs are also enhanced by the pork fat (boing boing..). The shui mai is probably one of the best in london, perhaps, even rival some of the top restaurants in asia? It's really that good. Good enough for me to eat two and not realise I hadnt photographed it yet.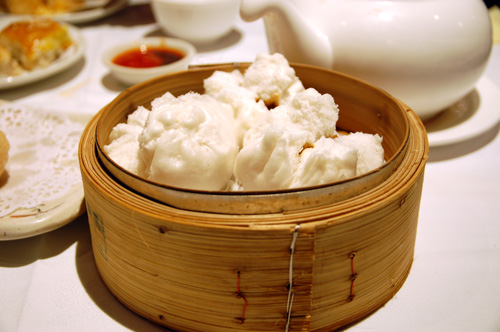 Next came the char sau bao (bbq pork buns). The idea of making white buns that look like fluffy clouds, is so that they taste like fluffy clouds. The texture of the bun is very light and dissolves when you eat it. There is a slight sweetness to the bun, accompanied by the sweetness of the bbq pork paste inside, it really is quite an elegant and lovely dish that does the job very well.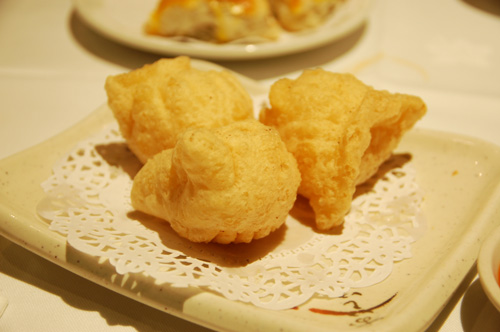 As I mentioned earlier, restaurants tend to like experimenting these days, royal china is no different. They feature a short specials section at the front of their menu which changes every so few weeks. As of writing, they have garlic and cheese prawn dumplings… yeah I know, garlic, cheese, chinese? Well, it is the 21st century, foodblogs sit nicely next to cheesy chinese. I just realised it would have been great to have a picture showing the cheese inside the dumpling, but alas, Im still not savvy at this yet. The cheese tasted like processed cheddar, it had a deep orange hue, I believe the prawns were rubbed with garlic. This dish is a bit on the heavy side, as it is rather oily, it taste alright, not great. I would say that there is a superior version of this dish, the fried prawn dumpling – sans cheese. Try that instead. Otherwise, avoid altogether.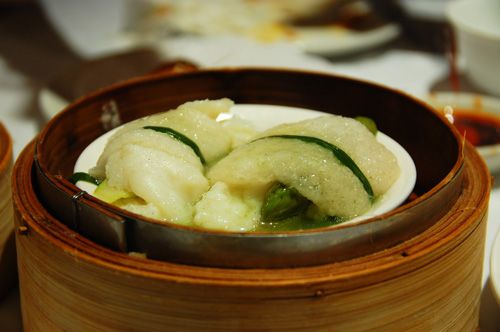 Another one of the specials is fish fillet, stuffed with asparagus, wrapped in bamboo pith. This was a hit with me. The best part of this little gem is the kind of soup-like sauce that keeps the whole thing moist. The sauce has that great seafood taste, I imagine comes from the fish itself, coupled with the flavours of the seasoning produced nice results. This is comfort dim sum. 
pudding and last thoughts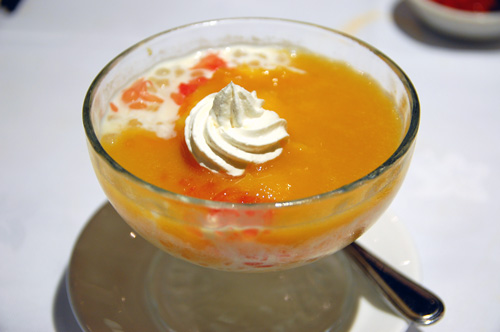 My brother made the comment that mango pudding is not really that visually interesting, I think he was just annoyed with me impeding him from eating his pud while I was taking pictures. It's a nice way (albeit abit heavy) to finish dim sum. The mango puddings are pretty simple things, i mean, its really just milk, sugar and some pudding mix to bind everything together. It's served with condensed milk and some sago and a few 'fresh' pieces of mango. You either love it or you don't. My brother loves it.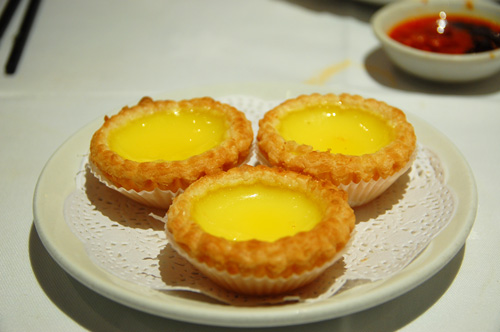 I went back to basics with the egg tarts. Some say you only eat the egg custard and the pastry bit is only for decoration. I gobble everything that is edible because it just tastes so good. 
In closing, royal china is a great place for dim sum. Its affordable and has a great atmosphere, its every bit the bustling and noisy chinese restaurant which kind of represents the pulse of the city. Take your friends (lots of them) or even better, take you entire extended family for a spot of sunday lunch, chinese style, you won't regret it. 
Did I find 'that' dish?
Order the shui mai, prawn cheung fun and some chrysanthemum tea, it's one of the best you will find around london. Stay clear of the ha gao (steamed prawn dumplings) they are abit on the soggy side.  
Should you bother?
It can get very hectic at weekends, so either show up early when they open, or go for a late lunch to ensure you get a swift table. Each dish is around £3/£4 and a table of four can easily manage 10 /15 dishes without breaking the bank. Good value for money and fresh food.  
Details
Royal China Queensway (this restaurant is part of a chain) 13 queensway london w2 4qj | 020 7221 2535 Service: mon-thu 12pm to 11pm | fri-sat 12pm to 11.30pm sun 11am to 10pm (dim sum to 5pm) How to get there: queensway or bayswater tube stations How much: Good value. £15 per head++ Accepts all major forms of payment
http://www.rcguk.hk/rcg03/RC/RCHome.html
The word out there?
Positive
Timeout guide showered the royal china club with lots of praise. Read here
Mixed
Tracy Macleod, for the Independent, had a so-so time at the royal china club in baker street. Read her review here
Eating out in the Capital thinks that royal china queensway are resting on their laurels. Read here
Worldfoodieguide is not happy that standards are slipping and is considering taking it off her excellent dim sum shortlist. Read here
Negatives
Images: Chinese tea cup by frostnova, everything else is by me 🙂