Photo by rightee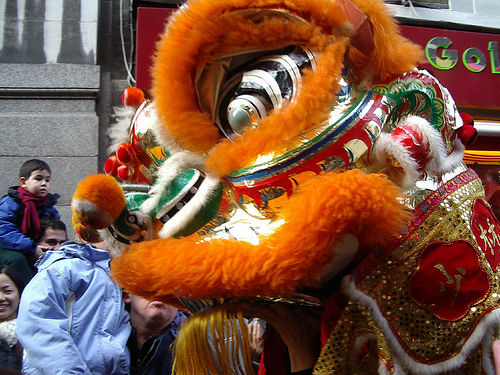 Nian Nian Yuo Yu, Mom and Dad.
Happy Chinese New Year to you folks. I'm not doing much this year and I'm not going out to China Town – at least not on the first couple of days, I'm sure it will be packed to the brim with people. I haven't been home for CNY in gosh, seven years now; I could remember mom's abalone and broccoli – her CNY eve special.
Personally, I would advise against eating chinese on CNY simply because restaurants will be completely packed out. Although, if you don't mind the queues and you want to feel the CNY buzz, then there is not better time to go eat chinese than now. I'll be honest, I'm not a big fan of London chinese food, I think it has dipped in quality in the last couple of years. Royal dragon used to be quite good, the har kao was spot on and their mandarin style steak was really great ( alot of wok heat ) , but ever since they refurbished in '05, it has been converted into a karaoke spot serving bland food.
Yuck.
Heck, even Hakkasan has dropped it's standards. I know it's still got a stellar reputation but the Hakkasan of today is NOT the Hakkasan that was owned by Alan Yau. They used to serve these great big scallops the size of my fists in a claypot … now it's turned into some sort of mangled fish ball. And I will not for the life of me understand why they took the lobster tail wrapped in cucumber slices and served in a clear lobster broth off the menu. Now it's just stuffy, overpriced and horrendous. They've even replaced the melon creme brulee with some azuki bean filling. Sigh. Yes the decor is still very chic and cool but the food is pretentious, expensive and their sweet and sour pork (£15.00) tastes worse than wong kei's ( £4.00 ). If they keep cooking the way they are, they will soon go the way of Lee Ho Fook.
Anyway, enough bashing, I really shouldnt be doing so since it's CNY, if you really want to go chinese, then here's are some places to check out:
I'll be honest, I haven't really been trying that hard to find new places to eat chinese, I'm sure there are more ( maybe you can recommend a few for me ) and maybe I should be doing a review on one during CNY.
I still have 14 days to live up to that, till then Happy Chinese New Year!!
Did you enjoy reading this post? Why not subscribe to my feed updates for free. Alternatively,  You can subscribe via email.