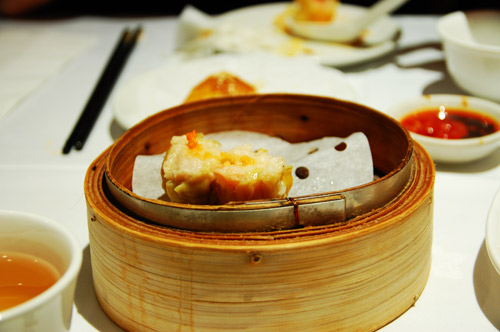 Royal china is a popular destination for those wanting to experience proper dim sum in London. Located just round the corner from queensway tube station, one could also manage a brisk walk through hyde park,weather permitting of course.
a brief history of sunday breakfast, chinese style 
For the uninitiated, dim sum is a specific chinese cuisine which is usually served in the mornings till lunchtime in chinese restaurants (this doesnt seem to apply in London). It is normally a weekend affair where families and close friends gather. It can be rather hectic as most chinese restaurants come to life with all the hustle and bustle. A bit like the chinese version sunday brunch. It is also a tradition where the elderly gather to chill out (not sure if they'd call it that..), read the paper and engage in lively debate. That's also why some people also refer to dim sum as yum cha, which means drink tea. (you might have realised alan yau's yautcha is a play on the words so you are drinking alan at his joint) 
Dim sum (in cantonese) roughly  translates to 'touch heart'. Depending on whom you speak to, 'touch heart' can mean that the food is just so heart-touchingly good, or that the food comes in small bite sizes, they are like little gifts to touch your heart. Both are valid interpretations in my opinion, especially when you are eating at Royal China.
Typical dishes come in easily manageable bites (generally speaking, four if is tiny, three if its a big bite and two if its a mouthful). They can be broadly split into steamed, fried and sweet categories, although, the varieties are endless. There are the safe dishes such as ha gao (prawn dumpling), cheung fun (rice noodle rolls), shui mai (pork and prawn dumpling), steam spare ribs in black bean sauce (pai kuat), steamed chicken feet (kai giok). I will state now that, personally, I'm not a big fan of chicken feet, but you can't go wrong with everything else.
These days, restaurants are taking more liberties in terms of creating nouveau dim sum which tend split diners into two camps, one championing the traditional stuff, and the other leaning more towards the new. Im a nostalgic kind of guy, so I tend to fall into the former camp, though, it doesnt hurt to try new things every now and again. (yup, it's all about balance)
first things first: arrive early
My brother was just coming back to england after being away for quite a while, so I thought it would be a great idea to catch up with him on a sunday afternoon, nothing beats quality family time.
A word of advice on weekends – go early. They open at 11 on sundays, and a long queue will slowly start appearing half an hour before they open. If you show up on the hour or quarter past, then you should be ok getting a table, the restaurant is pretty large and can accommodate quite alot of people. If you show up at noon, chances are you'll be waiting about an hour for a table. My brother and I rocked up at half past one and the waiting area was absolutely packed with people! Lots of families, was nice seeing grannies holding their grandbabies too. If you do happen to show up where there are lots of people, make sure you push past everyone and get a ticket from the head waitress. And then, just stand back and wait for your number to be called.
"no. 84", and some flower in my pot please
I usually treat dim sum as breakfast so I go on an empty stomach, we waited half an hour, not bad, but I was ready to eat the table cloth if they hadnt called us sooner.
Ordering tea is part of the dim sum experience and there is alot to choose from. The only problem, its all on some sort of secret menu because Royal China (like most chinese places) don't advertise this selection.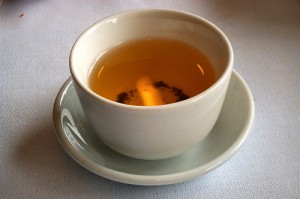 If you ask for chinese tea, they give you the cheapest leaves, so whenever you can, try something that's not going to burn your digestive tract. I never really understood the secret menu concept, but anyway, the ones that I know about are 'tie guan yin', which is the 'iron goddess of mercy', is a balanced tea that does the job. 'hiung pin', which I think means, 'fragrant' is a lighter version, good for soothing after an oily meal. For the fiery among you, you can try 'Po-li' (so strong I don't know what it means), which is a type of black tea with strong flavours.
If you dont trust my dodgy chinese pronounciations then I recommend you try chrysanthemum tea (with some rock sugar if they can manage), it is made with the flower of the same name. Fragrant, light and sweet, it tastes of fresh flower nectar in tea form. Lovely, now you know what bees are attracted to.

finally, we get to the food, it's great by the way
Yeah, it really is. Ive eaten here lots of times over the years, and also in their other branches (Canary Wharf and Baker street) but I still think this branch produces the best stuff. Don't get me wrong, the others do it just as well, but maybe it's the first love effect, you never really forget the first time. Psychological or otherwise, being consistently packed out on weekends (for years and years) must mean they are doing something right.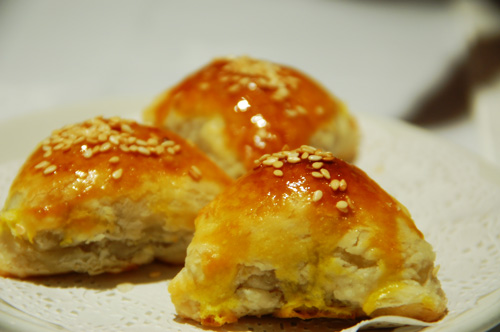 I hadnt eaten dim sum for a few months now, so I went with the more traditional stuff. I forgot to mention that pastry dishes are part of the cooking style too. We ordered the 'char siu sow' (bbq pork pastry). Good pastry is meant to be crispy on the outside, but light on the inside. The perfect char siu sow should melt in your mouth and you notice the distinct bbq sauce carries a slightly sweet edge, that marries nicely with the savoriness of the meat. This place does it spot on. Really appetising. Next, my favourite, pork and prawn shui mai. Next page, more photos, more food…