It's a wonderful thing that in 2017, the cult of Le Chef is pretty much consigned to history. Restaurants today work harder to make the dining room, a place in which the punter can feel truly at ease. In London, at ease also sometimes means queuing, sharing little plates of food, and new restaurants are still reliant on introducing the next greatest exotic cuisine to joe bloggs, rather than do classic cooking well. Talk about diversity though, there's heaps of that in the way we eat these days, Londoners can easily pinpoint a regional ramen broth, as well as they can tell a great tarte tatin from a merely good one.
In my 9 years blogging about London restaurants, I've been a witness to this liberalisation of eating out, and all of this is good. While we are moving from year to year hopping from one cuisine to another (Jerusalem today, Bangkok tomorrow), it does worry me that gastronomy in London is in danger of being watered down with the myriad of concepts and business plans. More quality in the mid range is always welcomed, but I wonder if someday the industry might feel the opposite of the trickle-down effect which it currently enjoys. Where else are our future James Knapetts going to hone their craft?
Yes it is true the 'scene' is business after all, it's a marketplace and restaurateurs (thanks Pete) are at the mercy of you and I voting with our wallets, so its only natural that it adapts to the popular taste. Of course if something tastes good, it rightly deserves to be celebrated. Who am I to say that the Cod Black isn't as iconic as the Tagliatelle of oysters and caviar?
Perhaps some of this was at the fore of Clare Smyth's mind, when she pondered her solo restaurant. It's been nearly 2 years since the great Chef announced she was going it alone and I'm both excited and glad it has finally arrived. Here is the premise of Core, a calibration of luxury and casual – the high low game. A real kitchen brigade that takes its gastronomy seriously, yet masquerades as your friendly neighbourhood restaurant, in an effort to pitch itself to a fickle city spoilt by choice, and at times averse to a little culinary ambition. None of this is new of course, Yves Camdeborde started his over 20 years, David Chang made his name on high-low dining, Pascal Barbot the epitome of a 3-star casual, and over here the likes of Mchale, Lowe are the poster boys of modern, relaxed, high end British haute cuisine, sans table cloths. Even Phil Howard has got in on it.
If you're reading this, then chances are you need no introduction to Clare Smyth. Yes, she is the first (and only) woman in Britain to hold 3 stars, no small feat in her testosterone charged profession, but it is important to say that Clare is the real deal, with mastery of her craft. It helps to have Ramsay's name above the door, but the Bib have rightly recognised that it is under her leadership, that the restaurant has retained those 3 stars for the good part of the last decade. Eventually Gordon made her Chef-Patron, and latterly she played a consultant role to Matt Abe, her then right-hand, now in charge at 68RHR, for the past year or so, while she got Core off the ground.
My last meal at Restaurant Gordon Ramsay at 68RHR was in January, and I felt the restaurant is held back by its over-refinement, and has become old-fashioned by today's standards in its lack of generosity. As suave as JC Breton is (and he is one of the best maître d's in this country), he can only do so much with the miniscule portions, of which London has moved on from years ago. But the restaurant is an extension of Ramsay more than anything, watching the GP like a hawk, as the Petrus experience is very much the same. It's a business and the margins at the top end, ironically are tighter than we are led to believe, especially in Britain, where we (myself included) are driven primarily by price (some of you by the cost of a bottle of house wine), rather than by fair value of ingredient and have no sympathy with the overheads associated with a London restaurant.
The one thing I cannot fault at 68 however is the cooking – it really is top notch. Clare created a fair number of her own signatures during her tenure at 68RHR, such as her suckling pig many ways, which for me a symphony of joy. Put that up against any of the greats in Paris, Bernard Pacaud to her (other) mentor Alain Ducasse, and her dish is worth every bit the three stars as their signatures are.
—–
TD;LR Core opens in a London that couldn't care less about the alters of the Rouxs, Koffman or MPW graduates.
Naturally, a few of Core's key guys have come from 68RHR to join Clare including head chef Jonny Bone and Restaurant Director Rob Rose. Head Sommelier is Gareth Ferreira, previously Launceston Place, who I did not meet at this lunch.
First of all, I think the ambiance is fantastic. A noticeable high grade finish on the cosy decor, linen free and decked out with a shiny kitchen, in full view behind the floor to ceiling glass wall. Service is gentle and gingerly. If you recall the feeling at The Fat Duck, that homely charm, Core's ambiance is much like that. I've no idea what it was like when it was Prue's, but right now, this is a little sanctuary in the city. I feel I need to mention Clove Club as those guys are the benchmark in the ambiance department (Luca included), but Core is every bit the match, so all credit to Rob and his team.
There are two taster menus that vary in length and price, starting with 5 for £85 and 7 for £95. On the surface, the QPR looks low, especially if you consider that Core eschews luxury produce and instead focuses on humble ingredients (i.e. let the carrot shine) elevated by cooking technique.
I opted for the ALC, it is presented as a three course menu (for £60), but immediately here, Core is already a friendlier place than 68RHR's rigidity, as Rob – dare I say – slicker than JCB in this area, informed me that Chef allows diners to pick and choose whatever they wish from any of the menus. They cost it up accordingly in the end of course, i.e. take 4 instead of 3 courses, and they will supplement the £60 bottomline. And so I did, I asked for an extra course of Clare's potato dish. Rob recommended I take a half portion, of which they charged £15. So 4 courses selected.
0. Canapes
A touch of Clove Club with the impressive spread of canapes, both a visual delight and also a showcase of the kitchen's house style. Clockwise from centre, parmesan gougères filled with pumpkin puree; jellied eel, toasted seaweed and atomised malt vinegar ('released' at the table); Crispy smoked duck wing, burnt orange and spices (presented under a smoked clotch) and this…
…Cep and foie tartelette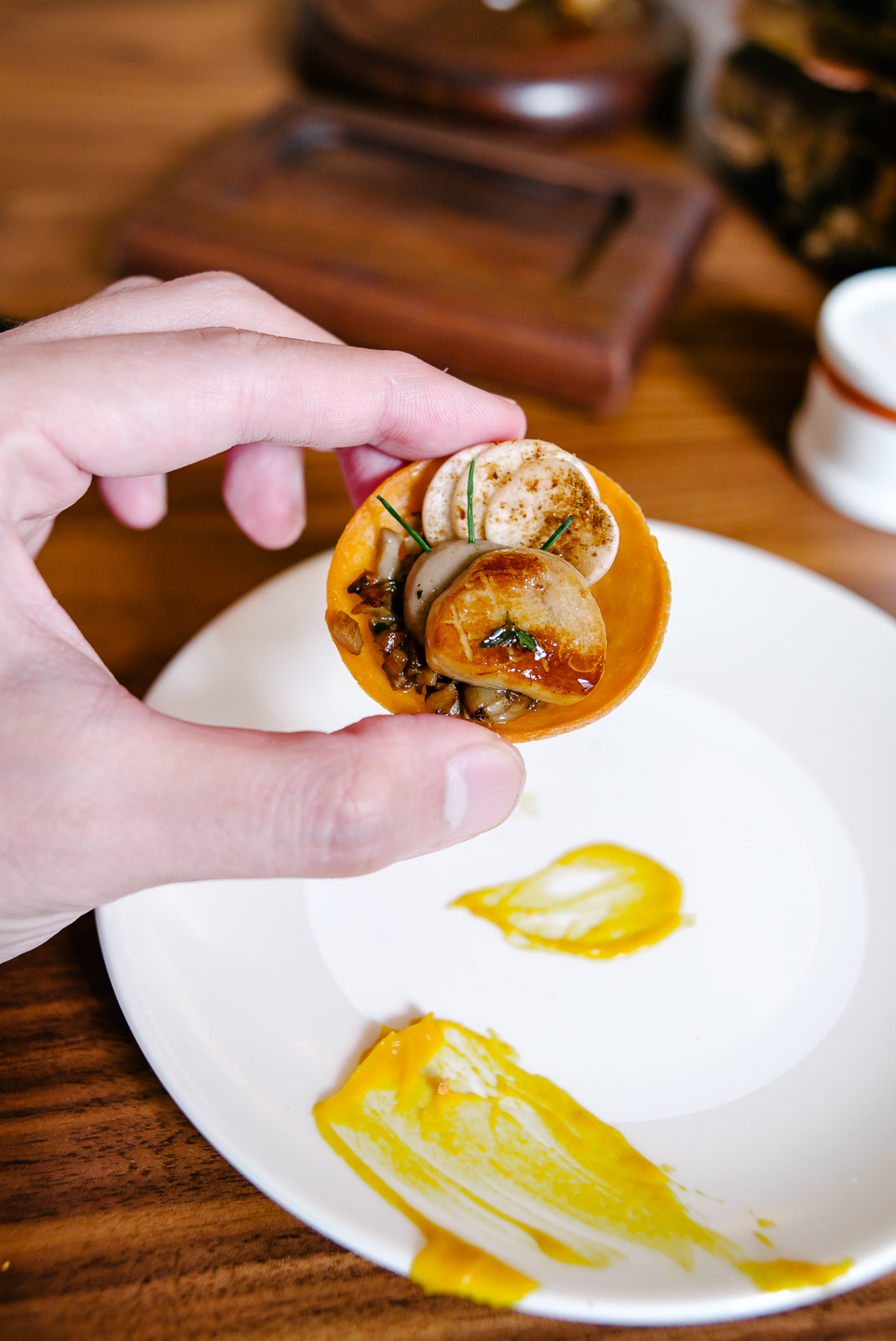 Shortcrust if memory serves and not potato, a taste of the Autumn. I took the lunch in mid October, so this must be the seasonal amuse bouche.
Classic techniques, 100% deliciousness. The real deal and a great start.
1. Crab royale, steamed Colchester, crab doughnut and consommé
While there are similarities to MJ's modern a la minute classic, Clare's celebration of Colchester crab is very much her own, and it is absolutely stunning. A triptych of a starter that harnesses the crab's shell to shell deliciousness.
The claw is gently steamed and sits on a brown crab royale (video here, very slick custard) , a luxurious flan with a slick of crab essence, that is noted for how soothing and balanced the flavours were. Crafted umami !
Then to the hot donut, a mini crab Benedict so to speak. Topped with picked white meat and plopped on an exceptional crab hollandaise (presumably with butter drawn from shell), a frictionless sabayon impossibly airy, matched by the equally puffy donut.
Finally, a hot crab consomme served in a spirit glass to wash it all down. They mentioned a citrus foam, though I speculate that granny smith is in the mix as well. The effervescent fruit, freshness, its like finishing on a bubbly of crab and apple.
The cuisson is precise and polished, the dish is harmonious and generous, and in my opnion, this is 3 star caliber and without question, one of the best dishes I ate this year.
2. Charlotte potato, dulse beurre blanc, herring and trout roe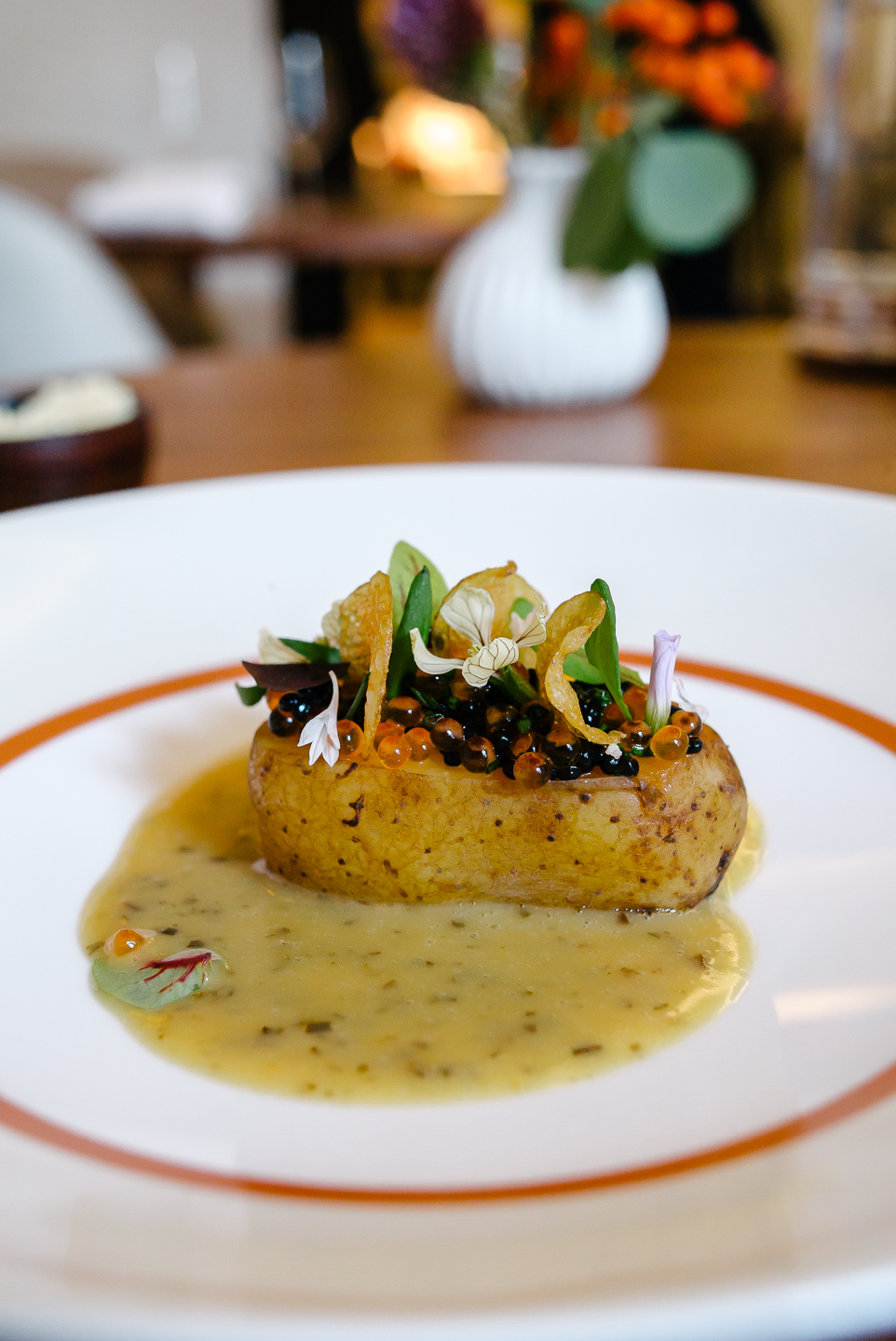 The spud is close to Clare, being that she grew up on a farm in County Antrim, and my guess is this dish is the torchbearer for the thin line of informal gastronomy that Clare now walks.
Cooked in seaweed, it retains its waxiness, but is imbued with umami, an a-ha moment, then again who doesn't love a bloody delicious potato, which this is.
The vinegar chips gives both texture and acidity, sweet trout roe pop in the mouth, and a textbook beurre blanc adds the final flourish of luxury. A good dish, but in my opinion, well behind Passard's various preparations of Belle Fontenays that re-orientate your mind about the potential of vegetables taking the lime light on the plate.
Whilst I admire Clare's elevation of humble products, however in this style, I think the dish would benefit from sturgeon caviar, as the herring roe somewhat ruins the overall palate for me. She does not shun caviar, as it is part of the Chicken dish, and I would happily take a supplement for a little Exmoor or Oscietra for this dish, if it were an option. This isn't a luxury vs substitute product thing, it is simply that caviar is the classic pairing to potato. Besides, if you're going to celebrate the spud, do it in style innit.
3. 120 day old chicken from St Brides farm, pickled spiralised kolrhabi, clam, razors and caviar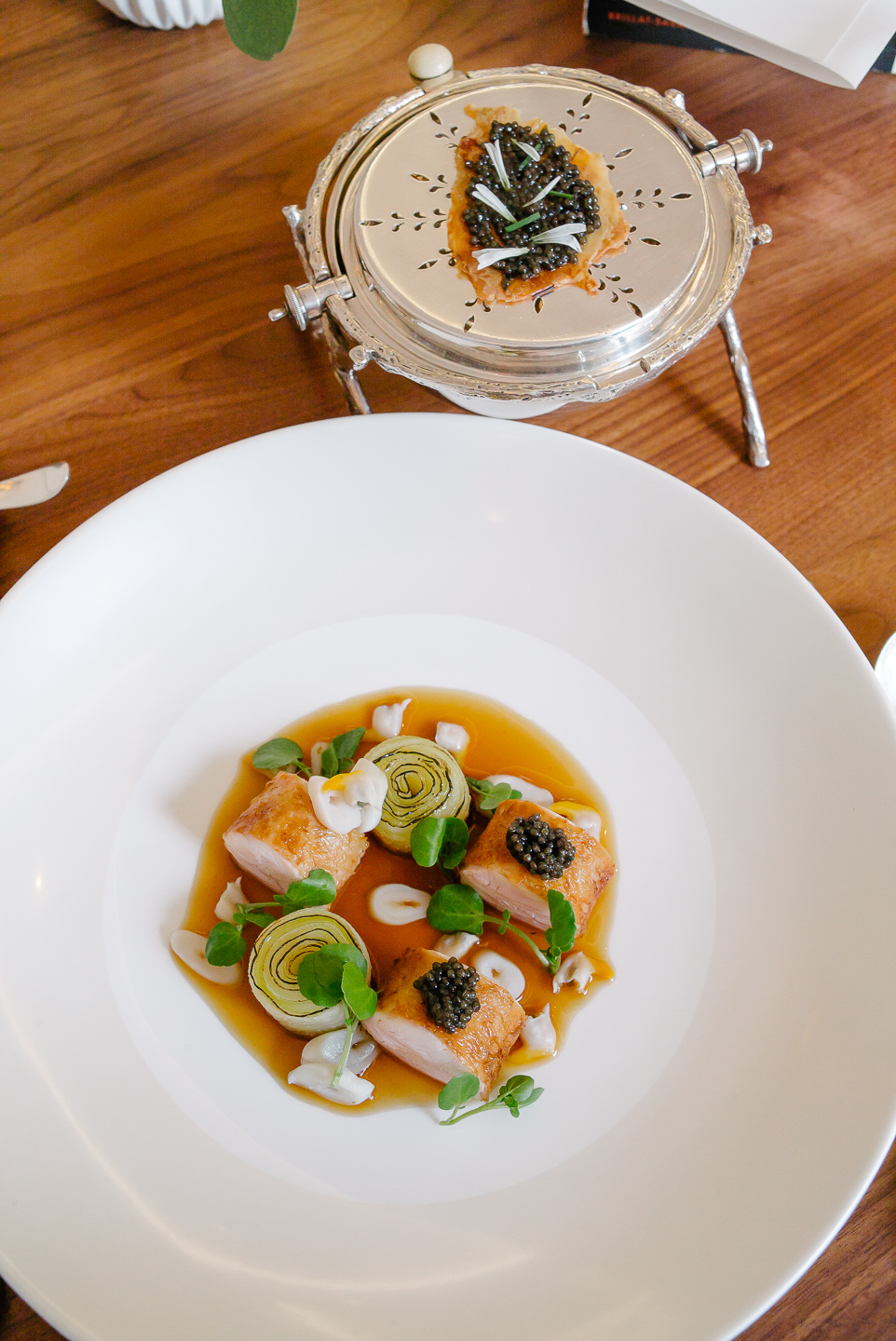 Older certainly means more flavour with chicken, these from St Brides are definitely up there. Of course they are still behind the gold standard Bresse birds, but perhaps not by much.
I speculate that rolled breasts suggest sous vide followed by high heat to crisp the skin. For me, the cooking is spot on: silkened, moist and full of flavour. Of course, chicken roasted on the crown is always going to be more impressive but this was very good, and I thought the sea flavours certainly worked with the chicken. Especially the caviar pairing, as others like Dufresne, Chang have also done.
Where the kitchen really showed their quality was with the jus. Stunning depth of flavour, redolent of say Chicken double boiled soup, of shaoxing and ginger, maybe some brandy or sherry tipped in I wonder. Perfectly seasoned, that's both over and under at the same time, to borrow David Chang's Unified theory of Deliciousness. Superb work.
I thought I'd love the high low skin and caviar, but to my surprise, I found it incredibly salty, all that flavour (and fat) from the crispy skin a little overwhelming. I would have preferred a neutral base, bread, brioche, … the potato… or maybe Chang's less refined battered chicken skin really is a better fit. So it turns out there is such a thing, as too much of a good thing.
Pre-dessert: Cherry Bakewell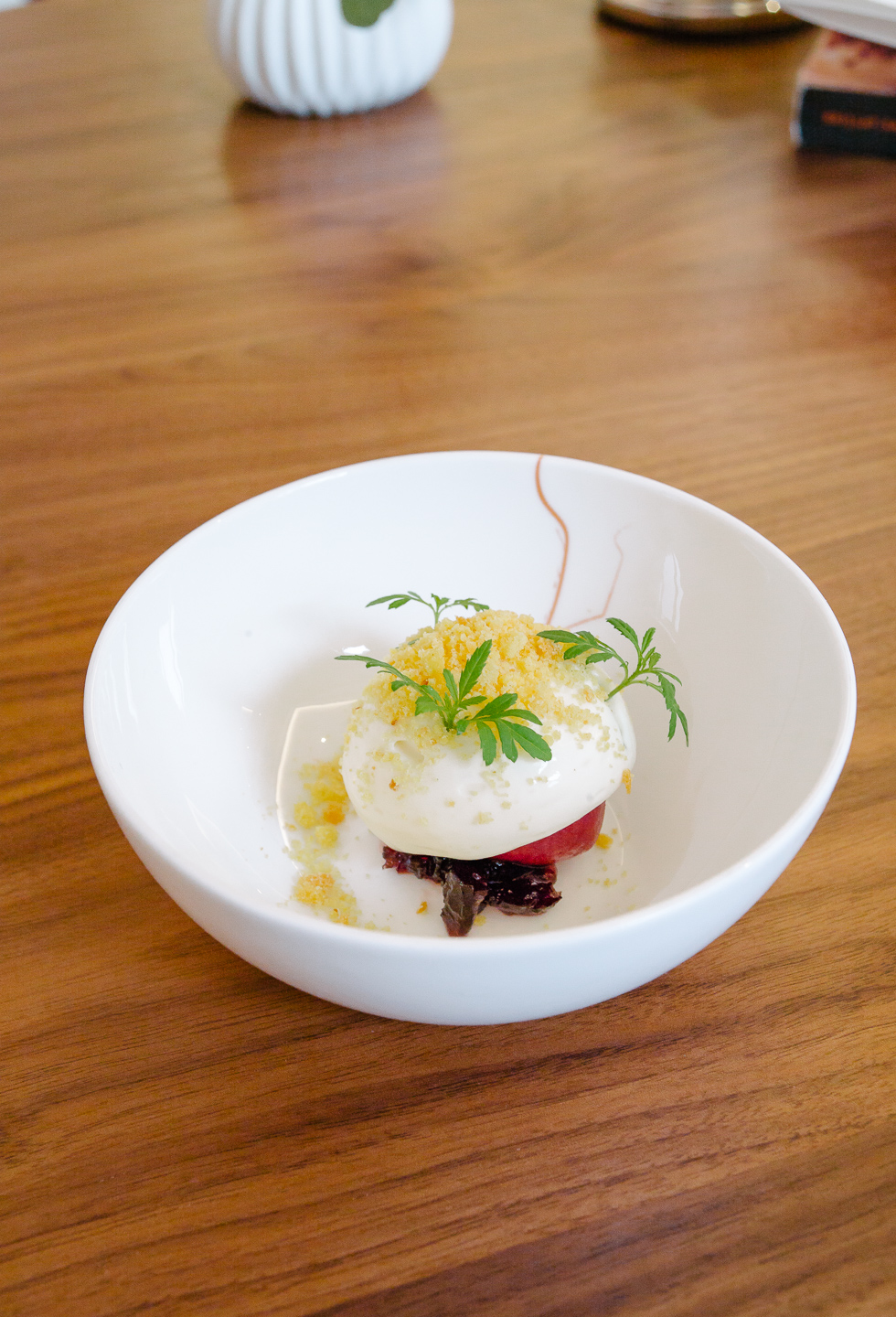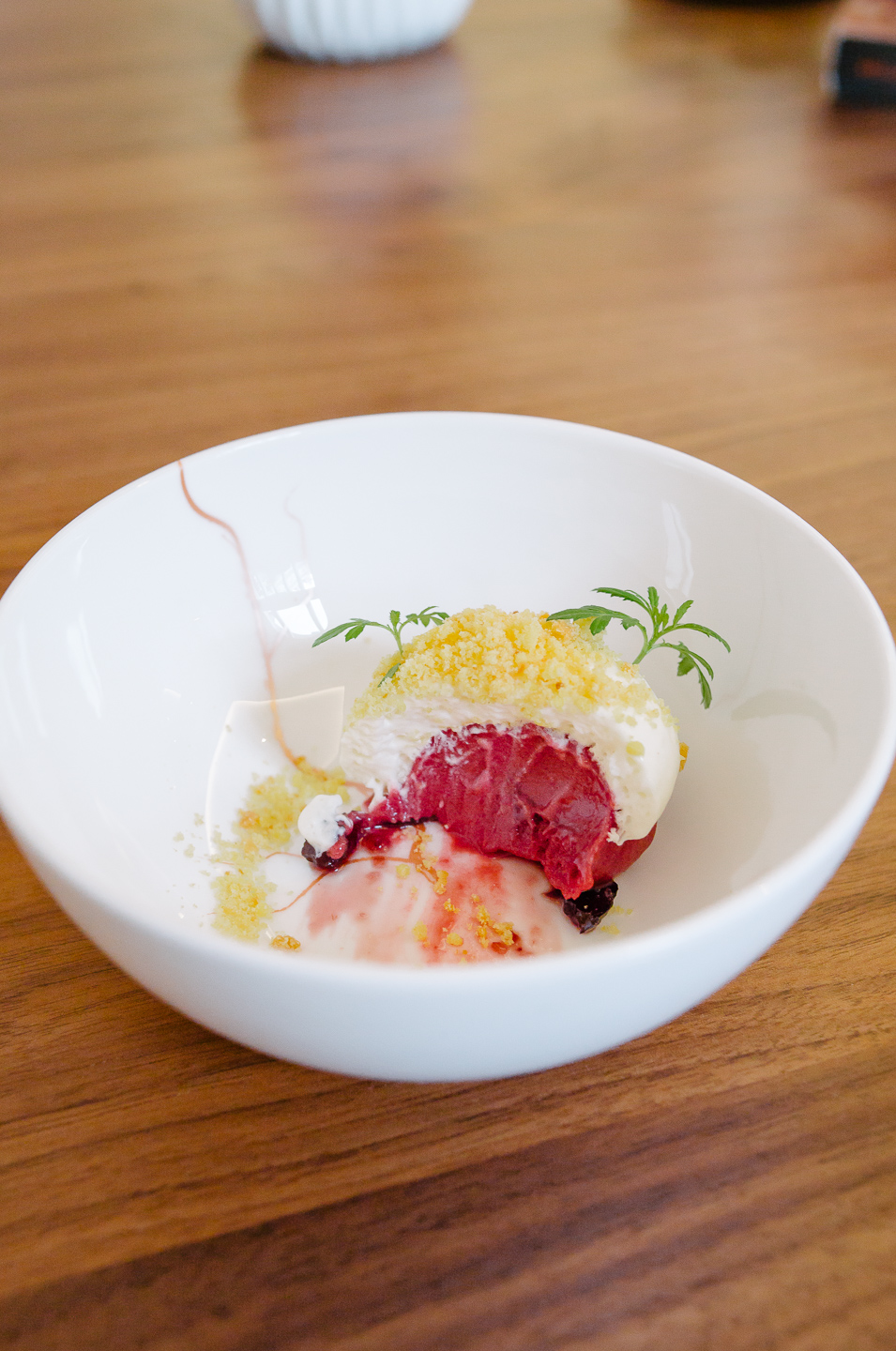 An inverted bakewell, with cherry in sorbet form, a light lemon mousse and crumble. Reserved, smart and a good interlude before the finish.
4. Pear and verbena, poire Williams sorbet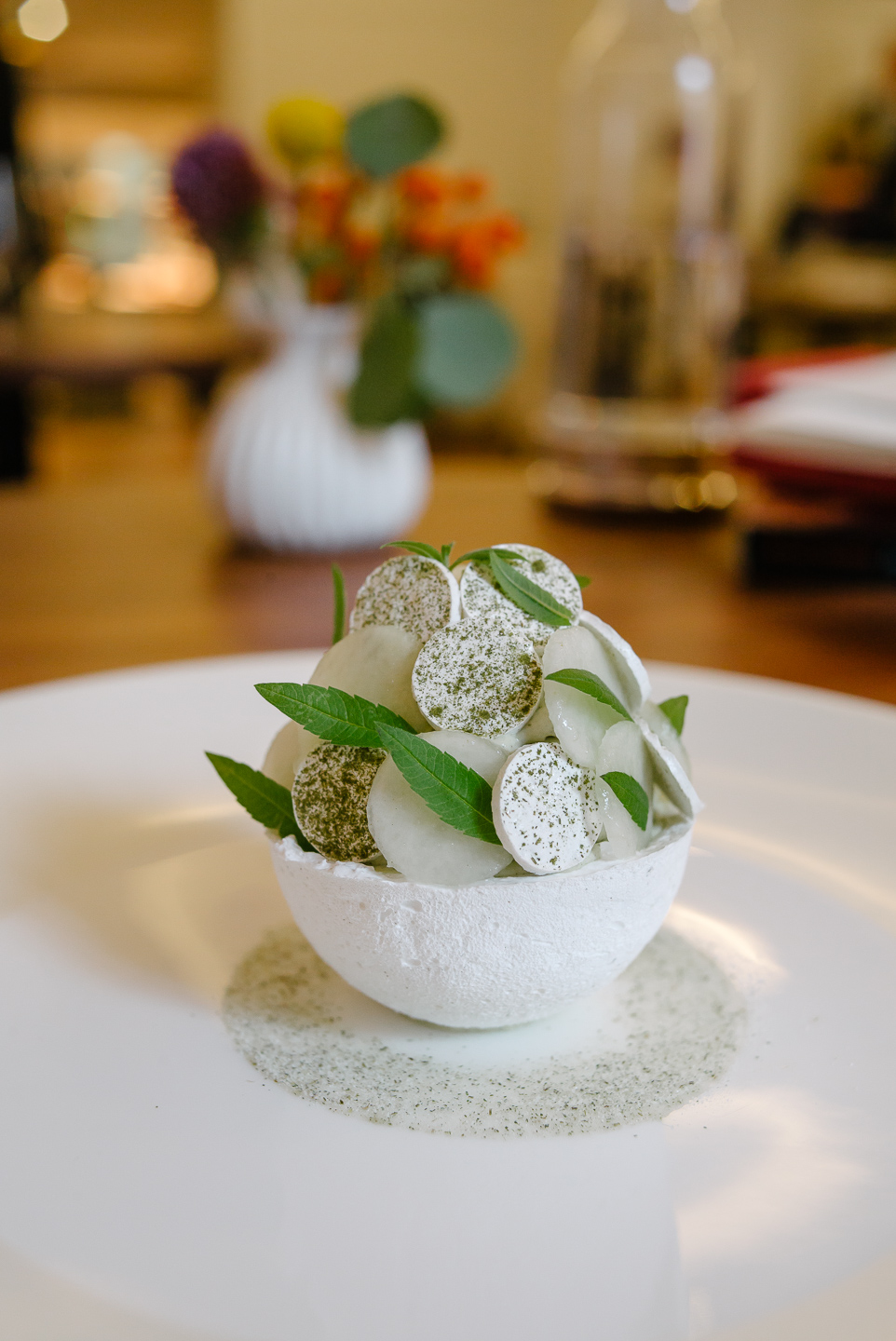 Beautifully assembled yet simple and absolutely gets the business done. A vacherin of meringue cup with a refreshing pear sorbet centre, creme pat and interchanging aroma of pear sweetness and lemon verbena acidity. The entire pudding cuts cleanly and straight through with little pressure (video here). Marvelous pastry section.
—
I drank only a glass of wine, Spatburgunder, a good one, from Rudolf Fürst, embodying the virtues of German pinot noir – sleek, forward, jammy but balanced with freshness. A middle-weight red that can bridge the gap between white and red meats.
I paid £113.62 for all food, 1 glass of wine, double espresso and service, table for 1.
I get the feeling that Clare is playing it safe in the opening menu for Core. Simple dishes, made well. I found luxurious, frictionless textures and well-balanced flavours and I think this is fine cooking in equilibrium between classic and modern. It is in the less obvious things that I notice all the hard work, the sauces, the seasoning, the bread, strong fundamentals and a strong basis to build an eventually great restaurant.
As it stands, I think the quality of the cooking is in the 2 star bracket, though there is no doubt this kitchen is capable of turning out 3 star dishes. But I feel Clare is conscious of costs and kitchen experience and is running her output conservatively in the early days. There were certainly moments of grail greatness during my lunch, and it is always admirable when Chefs apply craft to elevate cheaper produce, though I would be very interested to see what Clare will do come next Spring. Asparagus from Galis? After all, it does take time and the right season to develop something truly special around vegetables that hasn't been claimed by somebody else. Case in point Ledbury's beetroot/smoked eel dish. Paris may already be fully in tune with high end vegetable cooking, London still needs a bit of time to get there, but if Simon Rogan can find a market, then I'm sure Clare will as well. I also feel that it is only natural for her to work in better quality produce as Core establishes itself with suppliers in the market. A fabulous debut, the food is delicious and above all, it is accessible and an enjoyable place to eat. Definitely worth visiting, and myself I look forward to return visits in the near future.
Details
Core by Clare Smyth
French
ALC 3 for £60
Taster 5 for £85
Taster 7 for £95
92 Kensington Park Road W11 2PN
Tel: 020 3937 5086
Tube: Notting Hill Gate