Since last year's visit, I have come to think of Hedone as a 2 star. I suspect I am not the first to think this. This meal in late Spring 2017 , my sixth in as many years it has been open, has served only to solidify my thoughts about this discreet restaurant in Chiswick. Since its reduction of covers in late 2015, Mikael Jonsson's cuisine has leapt into the next realm. In another era when the bib was relevant and handed out stars according to the standard of cooking, I am certain that he would have been promoted, once if not twice.
I doubt this will bother Mikael Jonsson much, he has shaken loose of the grip of guidebooks and lists. Hedone doesn't cook for adulation, Hedone cooks for its return customers, and as you are no doubt already aware, there are a few (very frequent) regulars. What does it take to engender this kind of loyalty, in an era where Gastronomy is increasingly presented as a form of one-off tourism, I wonder.
I think it is for his regulars, coupled with the fact that Mikael is so obsessive about his work, that has continually shaped and re-shaped his cuisine. I must admit I was a skeptic in the beginning days, but I have been intrigued enough to return year on year. Today, I join the Jonssonites in singing his praises. What was once a hunt, or perhaps even a dream for the best of (British) produce, has now matured into a reality of sourcing (at times exclusively) the best. With seasoned Chef's hands, the ability to amplify the true character of the most noble of ingredients. This approach in its stripping away of frivolities is -to my mind- more Japanese than French. Kaiseki-Nouvelle then is what I will think of MJ cuisine.
And every year is like a vintage here. MJ polishes his cuisine, sharpens his craftsmanship and then renews his canvas. Each year something completely unique emerges and each year the food inches ever closer to the reality of ultimate deliciousness.
The carte blanche is £135pp in 2017, and I visited with Chris who is a long time regular of Hedone. Pairing wines with every course, outside of a request for no pigeon, it was an Omakase by Mikael.
We started with a few Hedone classic canapes; a cornet of vineto tonnato, then to fish & chips in the form of a densely packed monkfish encased in a fried potato cigar (fish in, rather than with chip) and finally to the lightly poached rock oyster with sweet granny smith apple emulsion.
And then to a new bite, a striking and light beetroot casing filled with a parfait of beetroot and foie gras with a puree of black garlic.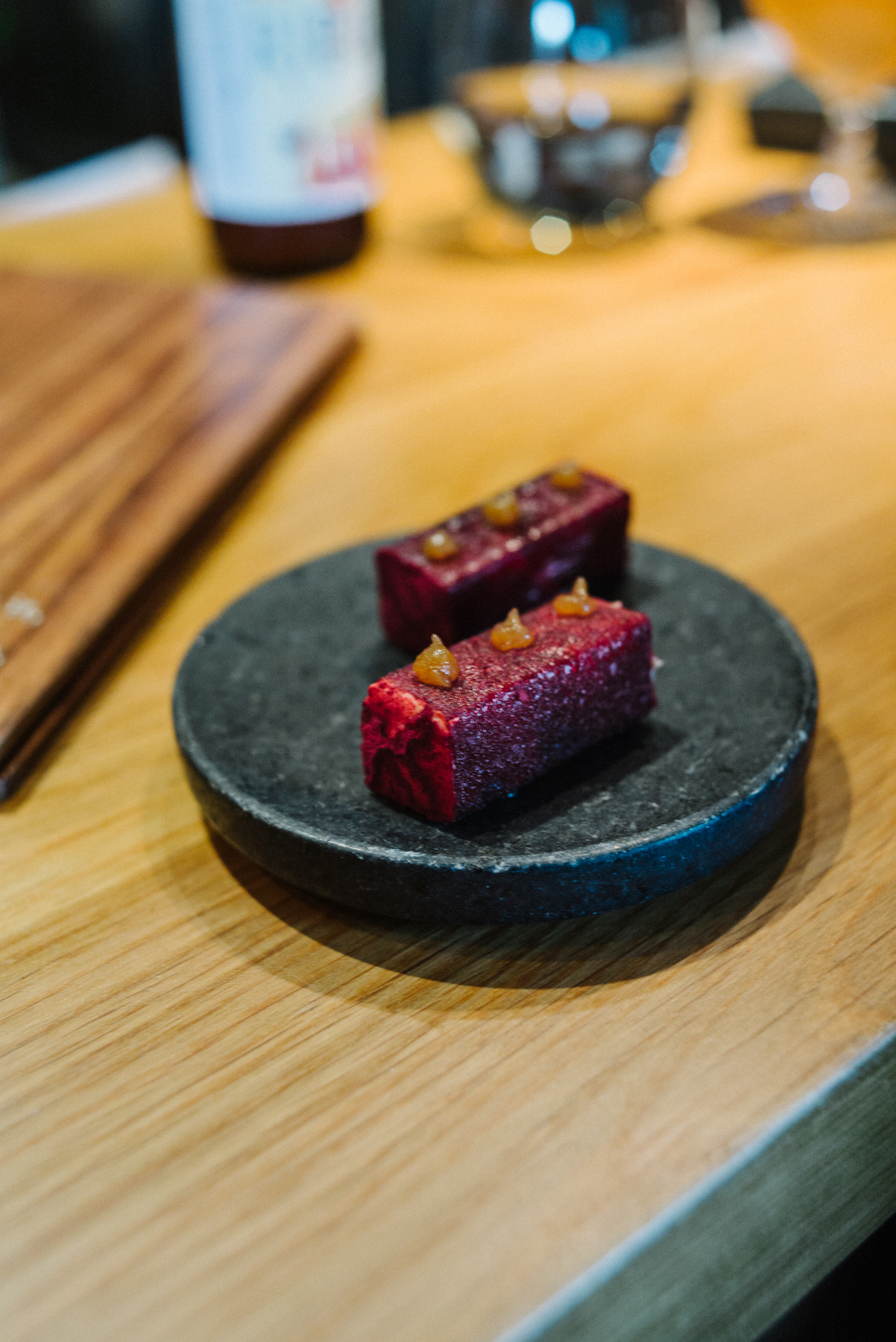 Candied savouriness, densely packed, delicious.
1. Plankton tofu, smoked eel, sea urchin jelly, Imperial Oscietra caviar
with 2014 Bouzeron Domaine A&P de Villaine (as in 'The' Domaine)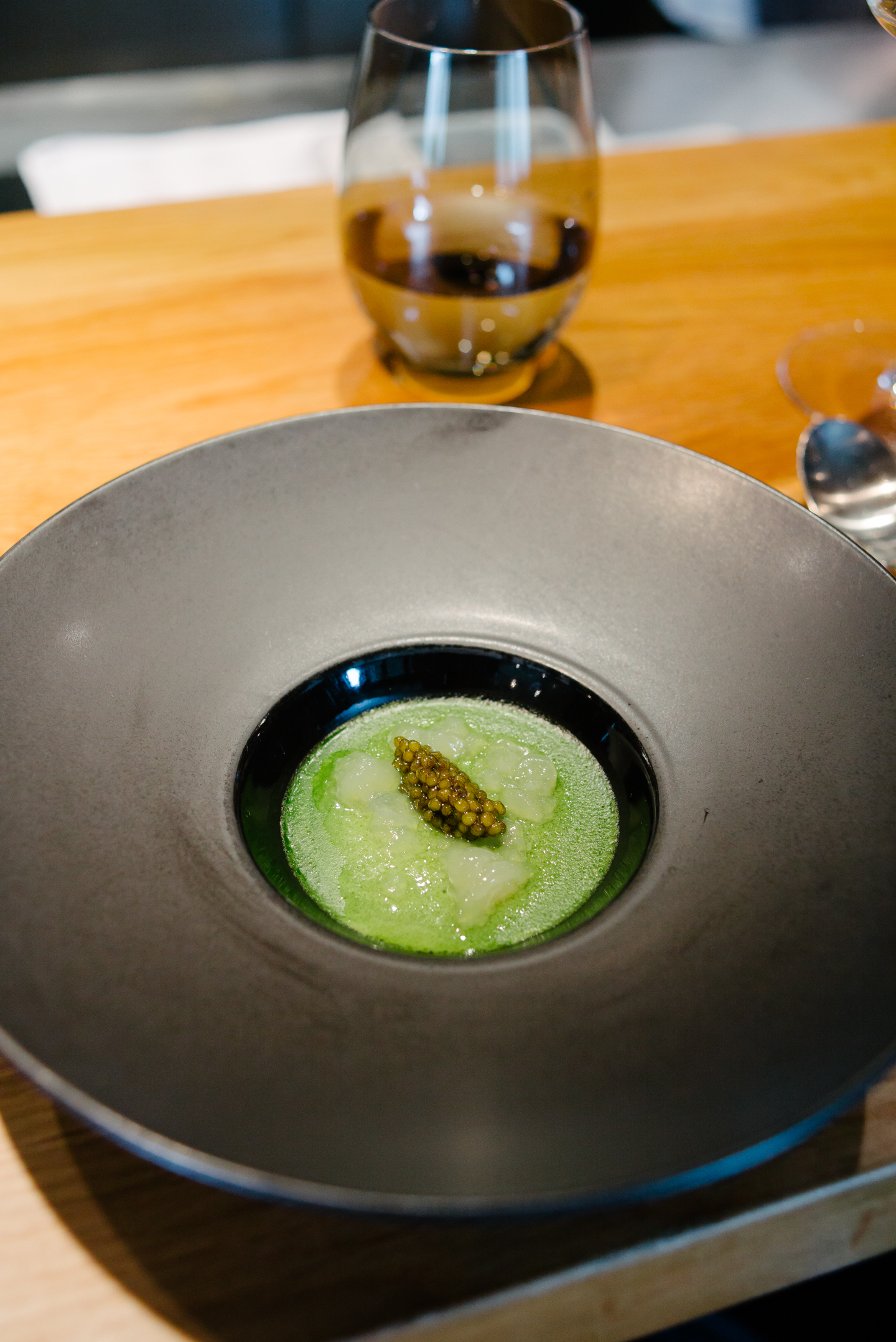 What once were flans (already best chawanmushis in Europe) is now is a plankton royale (a tofu? A custard? How does he do it?), adorned with smoked eel jelly and caviar. Imagine Hakodate uni on this, it would just blow your palate to kingdom come. This is incredible, the sheer depth of flavour, this is 100% deep sea umami.
2. Warm crab, velvet crab consommé, hazelnut mayonnaise
with 2011 Chateau de La Roche en Loire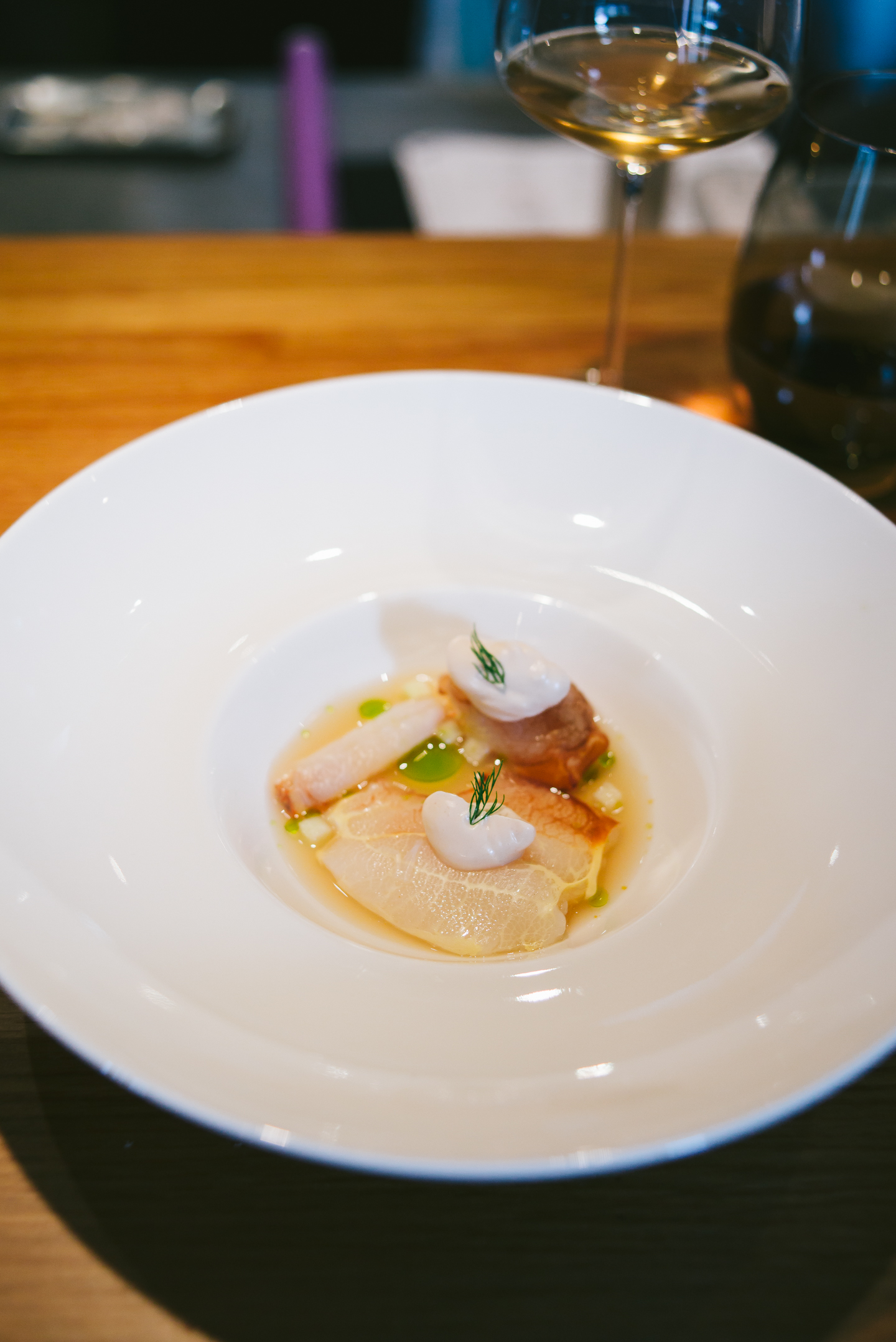 I was so glad to have this again this year, it is a top notch dish, and is completely Hedone on a plate. It pays the ultimate respect to one of Britain's best ingredients, and for me is the best crab dish I've eaten in this country, if not ever.
Devon (cock) crab claw, killed/cooked to order, with a light hazelnut mayo (if not mistaken made from whites instead of yolks), the flavour of hazelnut harmonising perfectly with the sweetness of crab, with just a touch of acid from the granny smiths lifting the warmth of the dish. I can never tell if its dill or fennel leaves.
3. Spring vegetables, hay hollandaise
with 2014 Clos Floridene, a White Graves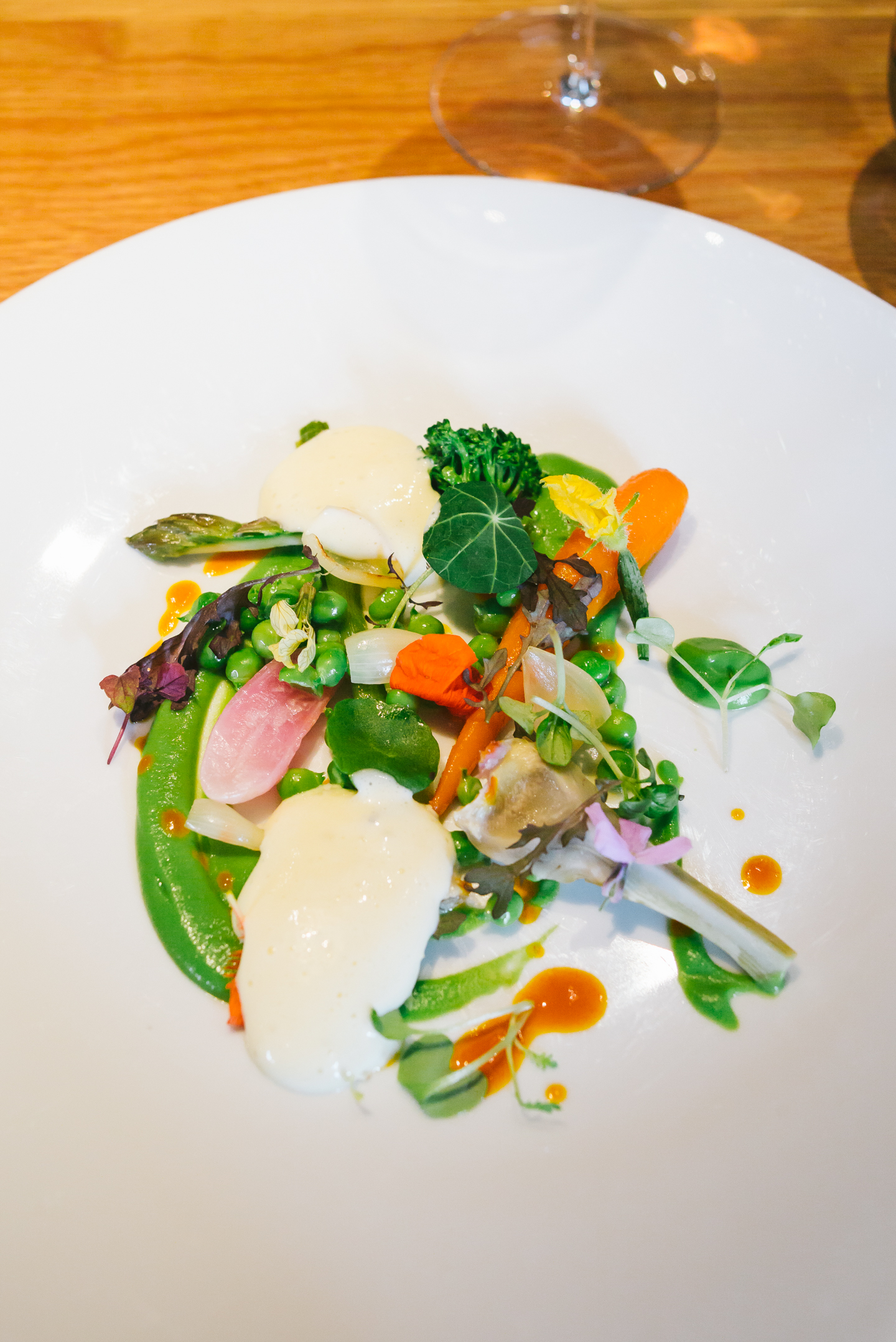 The spirit of Bras. With an airy hay hollandaise that's likely been charged in the foam gun. I see asparagus, carrot, peas, shallots, (Italian) chokes, nasturtium, courgette flower and beyond this, my knowledge of shrubs fade. The sweetness of Spring. This also demonstrates MJ maturing into a seasoned veteran, able to compose a dish like so.
No need to head to Athenee or Rue Varenne for new season vegetables, when we have Ledbury and Hedone over here.
4. Isle of Mull hand dived scallop, scallop dashi, stonecrop, rocket flowers, sea aster
with 2012 Rheingau Riesling, Schloss Reinhartshausen, Schlossberg
Shucked to order, steamed, brief kiss of heat. This is the best Hedone scallop I've had. I have been miffed in the past with the in-shell slow cooking, but I think here this shortened cooking time (I speculate) has produced something spectacular altogether.
Mi cuit, yet firm and retains all of its natural sweet qualities. Analogous to L'Ambroisie's warmed scallops, except this is a pure expression. The sauce eats like a luxury scallop version of Chinese oyster sauce. Reduced, viscous, a pure extraction of natural brine flavour, and is superb. The scallop version of the Devon crab dish.
5. Dorset wild turbot cooked on the bone, Chinese broccoli, cockles and parsley emulsion
with 2014 Pugliny-Montrachet (village), Domain JM Boillot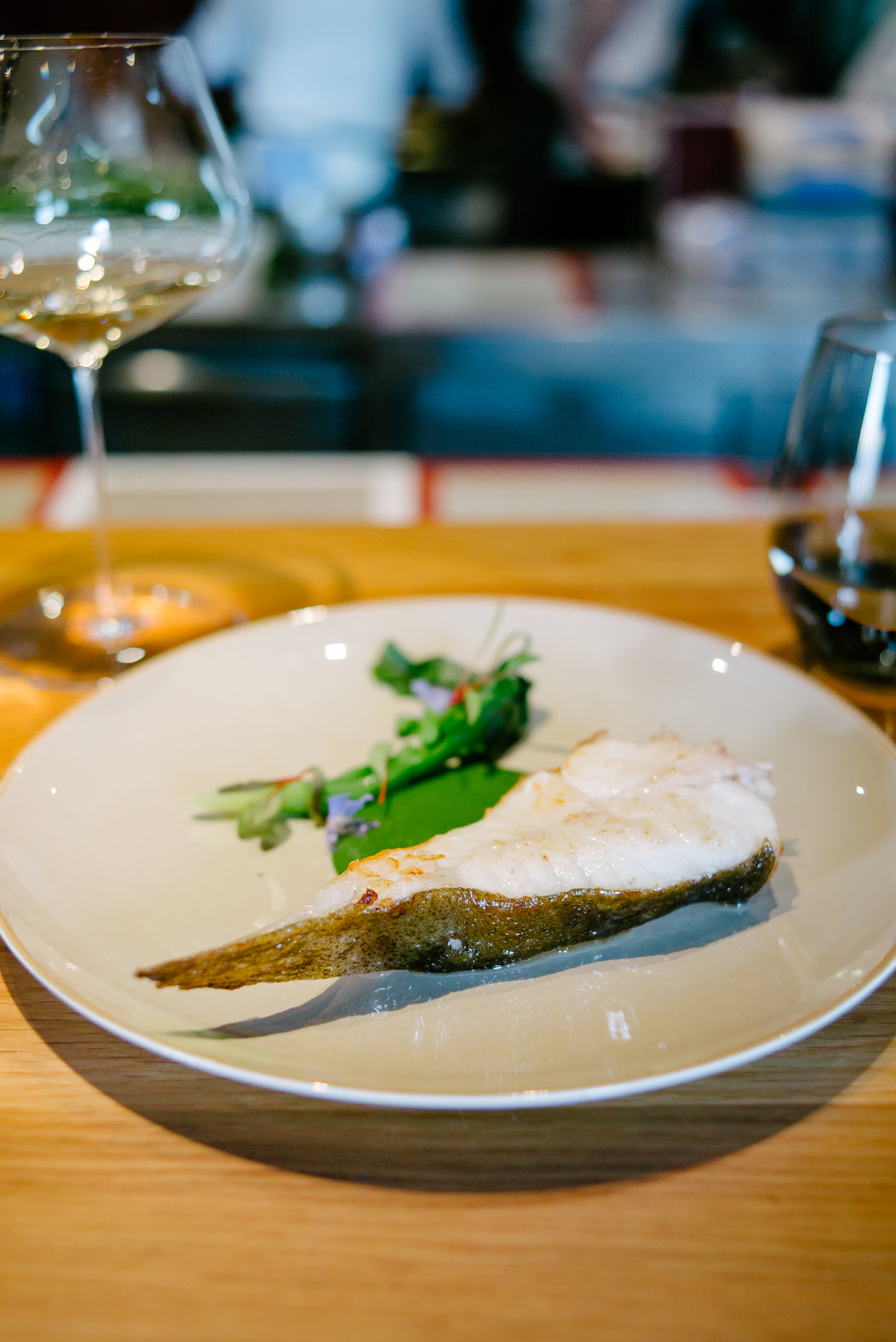 This turbot. Tranche, on the bone, aged a few days, from a big guy, 5kg maybe more, the thickness of the fillet, woah. I saw MJ finish it on the salamander, and I speculate that it's been previously slowly raised in the steam oven. Perfectly cooked of course.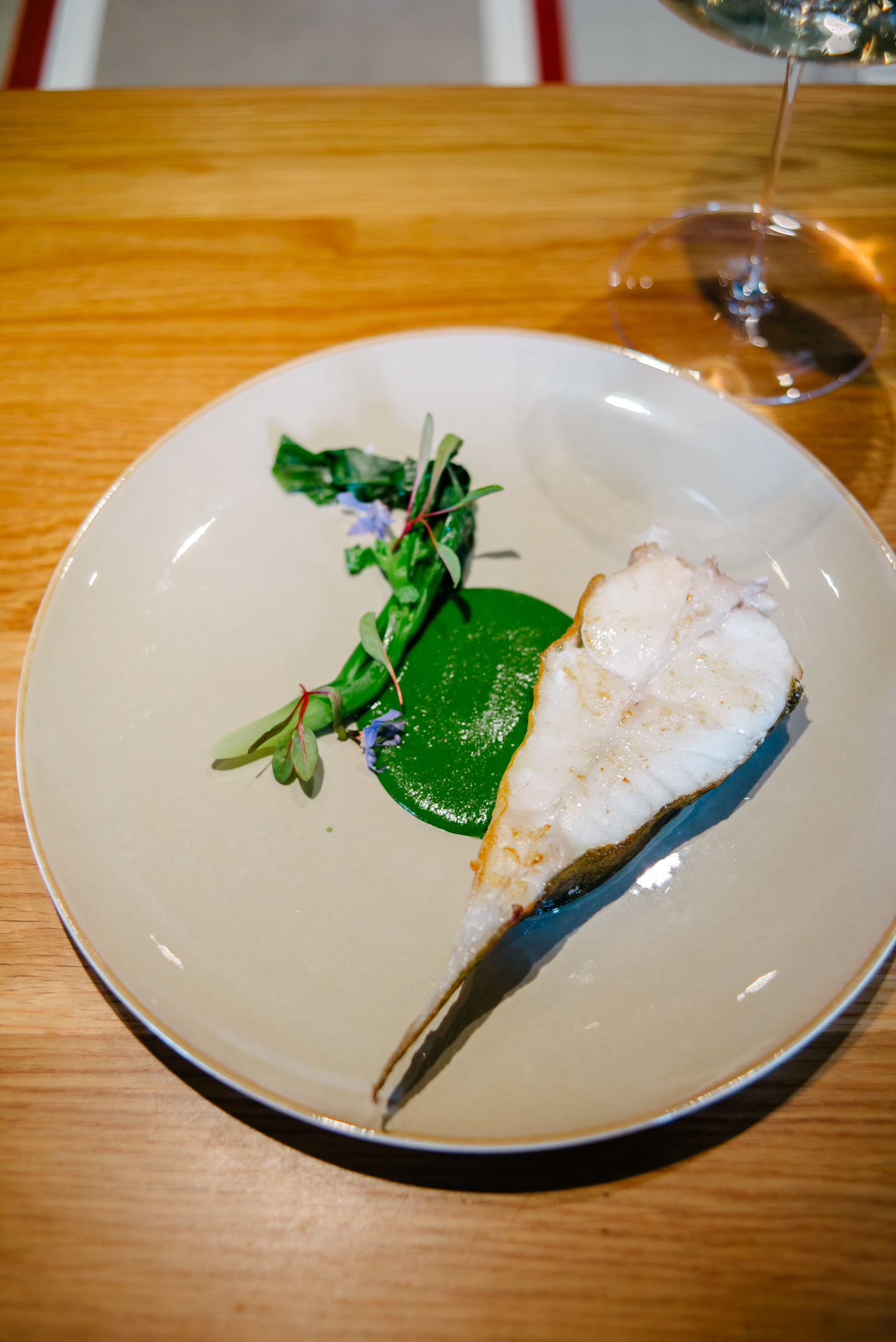 The glistening skin and flesh all around the bone to the fins are the best parts for me, gelatinous and gives so much pleasure, racy and primal.
The fillet itself is firm, flakes, is so moist and glimmers with certain pearlescence. This really is a top notch turbot, that has been handled well. The sheer depth of flavour, and also a beefiness, like a 'steak'.The sauce of chervil, parsley and cockles for colour and liquid, but really such a fine specimen doesn't need anything else. You want the pure flavour and you get the pure flavour. When Hedone is on, my word, it leaves you speechless.
Or in my case, one paragraph too many to say 'fucking delicious'.
6. Milk-fed veal heart sweetbreads, Turkish morels, wild garlic, paprika
with 201? Grillenhugel Pinot Noir, Johanneshof Reinisch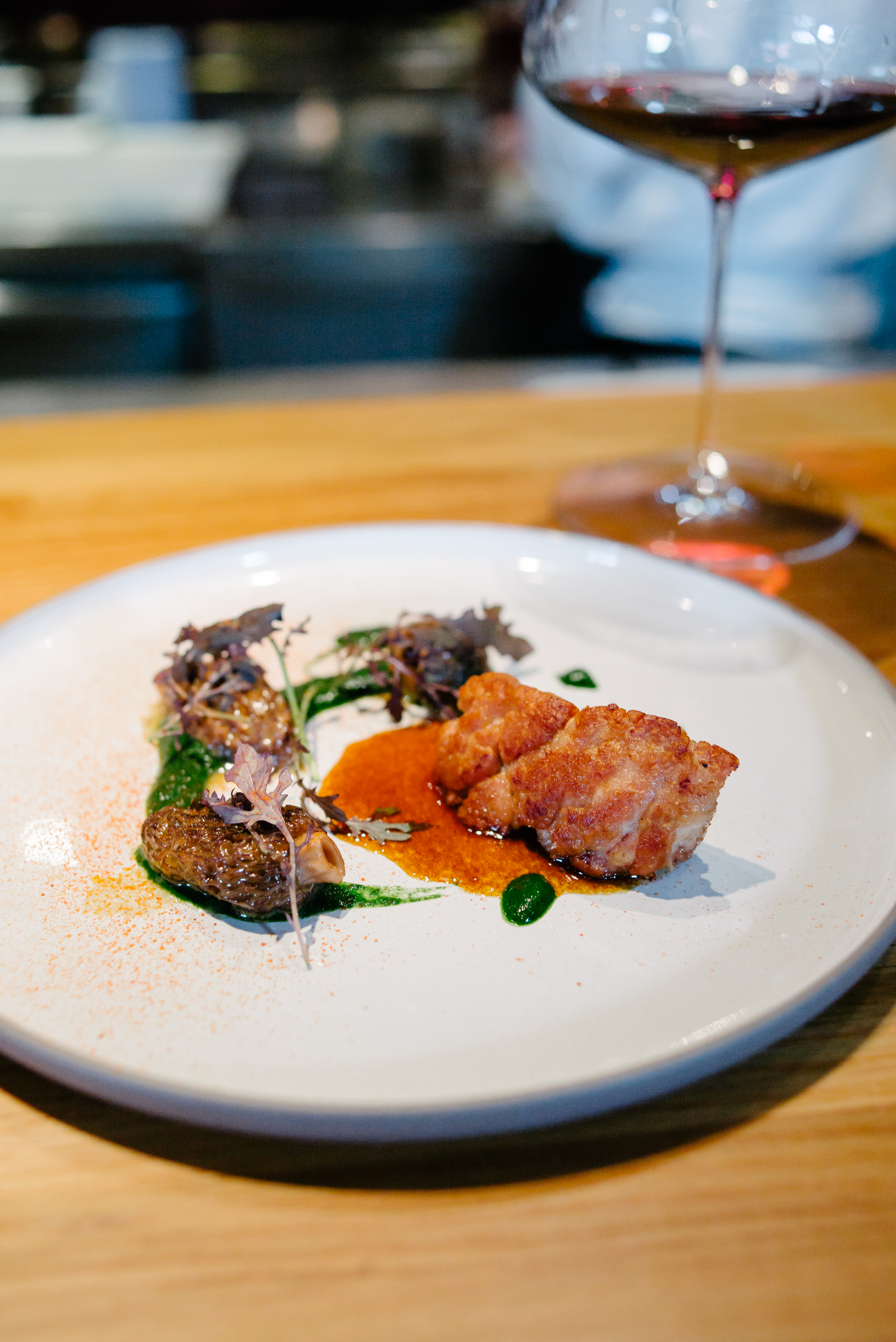 Only the best of course. Creamy whites in the centre, but for me the best part is that it was served piping hot with a crispy crust on the outside. Dare I say it eats like a posh popcorn chicken and provides pleasure in a fundamental way. There is no fuss here, just bloody delicious food.
7. Roasted breast of Duck, turnip soubise, radishes, kale, mandarin gel, sake sauce
with 2014 CdP, Old Vines, Domaine de Villeneuve
Presented as duck, though this intrigued as the breast looked too shallow, as Chris remarked. It doesn't look like a small bird, lean meat but has a healthy cap of fat.
We initially thought there to be some clever trickery, but turns out is a (blood) male duckling, caneton, hung for a few days, from the Gironde, if I heard right. Bordeaux bird. Hence the unique ratio of fat to meat.
Talk about produce, a beautiful Cornish (or Dorset) turbot is relatively easy to access in this country, this on the other hand is not so commonly seen. A first for me.
Crispy skin, tasty rendered fat. Breast was tender, full and juicy, rather sweet in fact. The jus made with sake makes sense for the young flesh and I like the mandarin gel, its duck l'orange, MJ version. This was also superb.
8. Rhubarb, lemon semifreddo, rose meringue, sorrel and oxalys
with 2014 Münsterer Rheinberg, Riesling Auslese, Weingut Göttelmann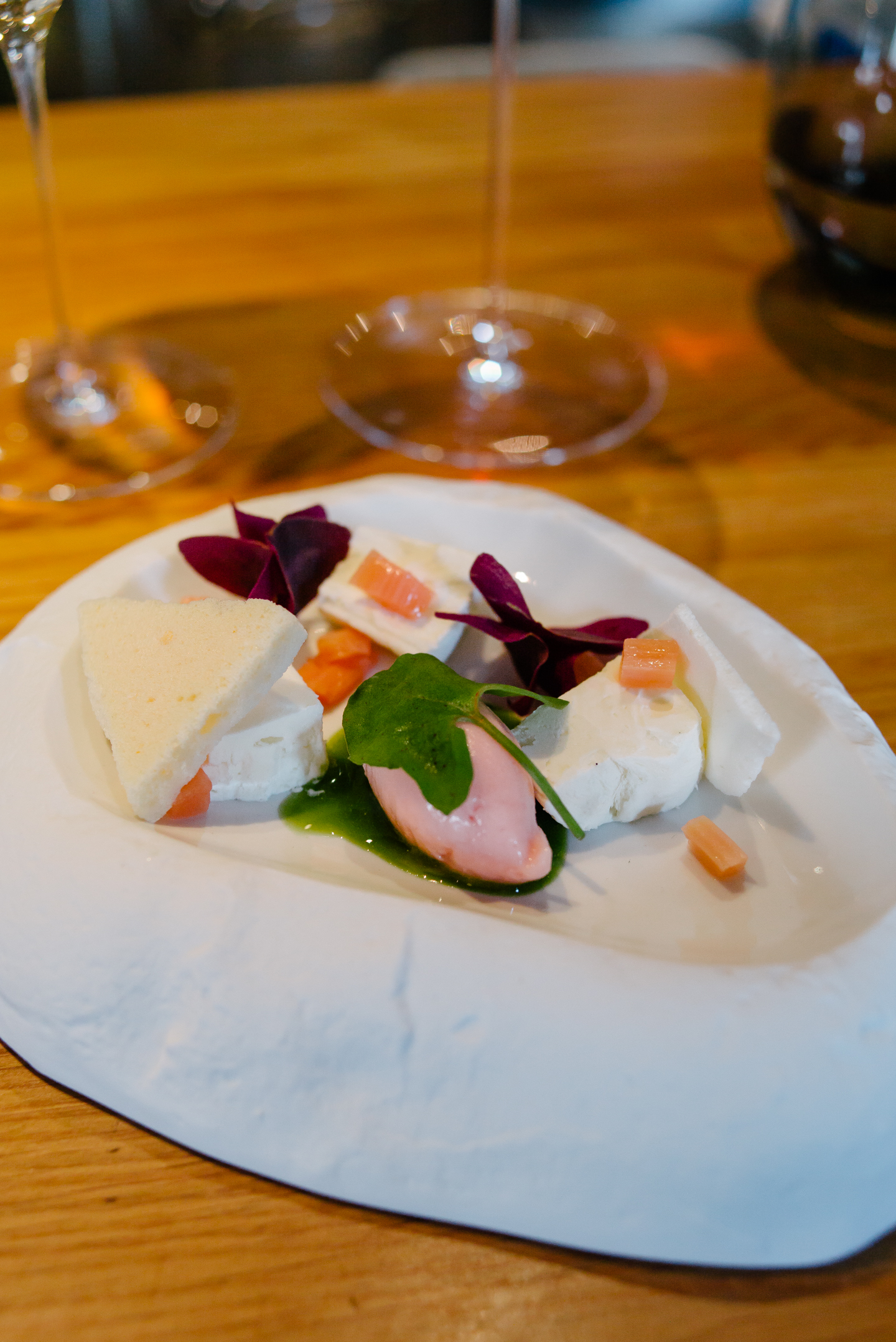 This was a nice palate cleanser, but I think stacked ones with the sugar tuiles and meringues – such as the citrus variation, the strawberry fiascos – are better.
9. Vanilla Millefeuille, traditional balsamic vinegar of Reggio Emilia
with 2015 Jurancon Moelleux, Domaine de Souch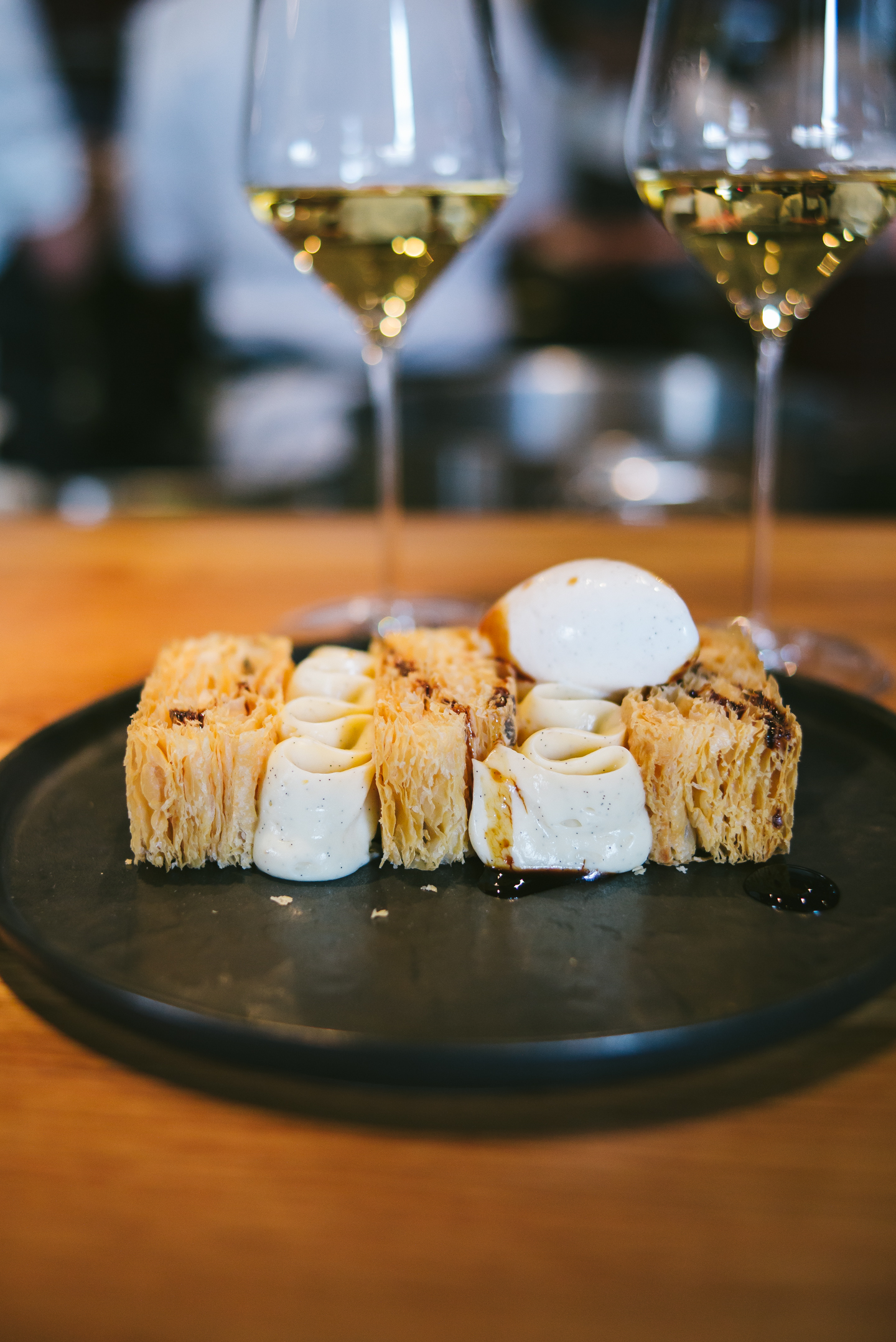 Finally we end with Hedone's pièce de résistance: The millefeuille. With aged balsamic vinegar, vanilla creme pat and melt resistant vanilla ice cream.
This puff just blows my mind. The lamination is ridiculous, and yet it is so light and airy. It looks like it gained more layers since last year's visit. It's weightless when you pick it up. Mind boggling. Totally cloud pastry, as the interwebz has proclaimed. If you know the secret please tell me. An incredible pudding that's better than the best.
—-
We paid £582.19 in total. For all food, pairing wines, water, a beer and service. At £290pp, the meal is not inexpensive, but if you consider the quality of his ingredients, there is much value to be had. That's what you're paying for, and that is entirely the point of Hedone. The top notch produce.
The wines really are an integral part of Hedone. MJ pours his own wines, and his knowledge is deep enough that he doesn't seem to need a Somm to uncover gems, which at face value are inexpensive. If you love your tipple like I do, you should go with the pairings. We were charged £115pp for 9 glasses of wine, if you look at the margins, you might find the typical 3x mark-ups. I decided not to bore you with tasting notes, and all I will say is that it is worth it, since both food and drink are Mikael's. This is what we drank.
The best meal at Hedone yet. The progression in six years is startling. It goes beyond the matter of procuring the best products, of which let's say can be 'matched' in certain circumstances by the multi-stars in London.
Kaiseki-Nouvelle. I don't know how else to place MJ's cuisine, it is classic, it is natural, but it is also very much a unique extension of the Chef's palate. In the same way you would say of Pacaud's seabass or Passard length-cut lobster, you can point to a picture of one of his and say 'That's an MJ dish'. A little crude summation of the work he has accomplished in his time at this restaurant, but such is the substance of his cuisine.
I like that MJ still chooses to keep his various cooking methods a relative mystery from joe public. There is a lot of labour in controlled (low) heating times but his cooking is rooted mostly in classical methods (that is to say, no pickling and gloves instead of tweezers), whilst his pastry section remains a black box to me. The key to Hedone's profundity however, lies in the fact that he cooks most if not all things to order. The idea is a simple one, though a challenge in a restaurant environment to execute on a daily basis. Nevetheless, he persists with this vision, distilling the output, toward perfection. What has changed over time is the impact of the delivery. And when Hedone delivers its purest dishes, there are few in London (and probably only a small group of tables in Europe) that can match the experience.
If there are certain ingredients you love, especially (wild) seafood, you will rejoice at this restaurant. He gets in the best lango tails and scallops from Scotland, beautiful West Country and Breton fish and lobsters, and on odd occasion abalone. I have seen Japanese wagyu and Mont St Michel pre-sale pop up on IG. Personally, I'd love to try the new season salt meadow lamb, which is likely after July.
I recently bought in a fiesty Dorset blue lobster, knife down the head, twist off the tail, and I cut a little piece of sashimi to taste. The sheer cleanliness of the lobster, was incredible. Drop in boiling water for a few minutes to set the tail meat, to parboil, and then shell it. That first bite of the sweet semi-transculent flesh with the depth of the ocean, is simply gobsmacking. Such is the nobility of this fine crustacean, outside of butter drawn from itself, that any other adornments merely taint its grandeur. This experience I equate to the thrill of MJ's idea of Gastronomy. The pursuit of Pure Hedonism.
Details
Hedone
Modern Euro ( Kaiseki-Nouvelle? )
Tasting Menu £95 + drinks + service
Carte Blanche £135 + drinks + service
301-303 Chiswick High Road W44HH
Tube : Chiswick Park