Daniel Clifford has been knocking it out of the park on TV ever since his debut on the Great British Menu in 2009, displaying a firm gasp of classic cooking with a touch of modernist creativity and above all, this guy seems a genuine lad, cooking with his heart on his sleeve. That chicken and corn dish still looks so amazing on the interwebs today. In recent times, other Midsummer chefs – in particular Mark Abbott, Daniel's head chef – has roundly wowed the judges, as well as long-time viewers such as you and I, showered with 10s for his transformation of humble tatties into something a little extraordinary. Though it is a little worrying that the show has had to reward visual spectacle over precision cookery with each successive season to keep things fresh. For those of us who still fondly recall Bryn Williams' turbot, cockles and laverbread days that is.
Daniel has worked hard to bring exposure to his restaurant (he also owns the gastropub, Flitch of Bacon), gaining a stellar reputation over the years, and if you use GBM as a barometer, it certainly looks like his kitchen is also incubating some special talent.
So I thought to finally make the pilgrimage to Daniel's humble house, situated on the banks of the River Cam, at the end of Midsummer common in Cambridge. It seems the perfect setting for the perfect English restaurant.
Woah, and it is a house. Cosy little place, it like one of those pop-ups, except the conversion of living rooms are permanent. Our coats disappear upstairs and one of the first things we notice is the rather French front of house, visibly under the firm control of Baron Jean-Francois Imbert (ex-Waterside). And so it appears that this perfect setting for an English restaurant with the English garden is actually French.
It does feel like we've wound back the clocks, a startling contrast to London which (save for the few at the top end) has all but abandoned Classic restaurants. In Cambridge however, there appears to be no such danger as the larger than life Frenchman is rocking like 1997. Through to the conservatory, lots of linen, don't get me wrong hey, I love this stuff still, and reasons why I think Ledbury is at the very top of the tree.
Only taster menus here, no ALC. Perhaps this is more telling of Midsummer's clientele and one-off special meals (graduations I offer), than of the Chef's design. £56.5 weekday lunch and for this Saturday lunchtime, an 8 course menu for £120pp. We booked our table in early May, 3 weeks prior to the visit and stated a few dietary requests. To my surprise, the taster was more inflexible that I had thought – they basically swapped the meats, the better half did't eat (in this case, both quail and pigeon) for the vegetarian options on the vegetarian menu. Because, as Monsieur Imbert emphasised to me "We cook everything we buy. There is no other meat in our fridge.". Nevermind the fact that I felt patronised with an answer like that, but I find this inflexiblity entirely peculiar, considering they have two michelin stars. Oh well, anyway. We start.
Canapes 1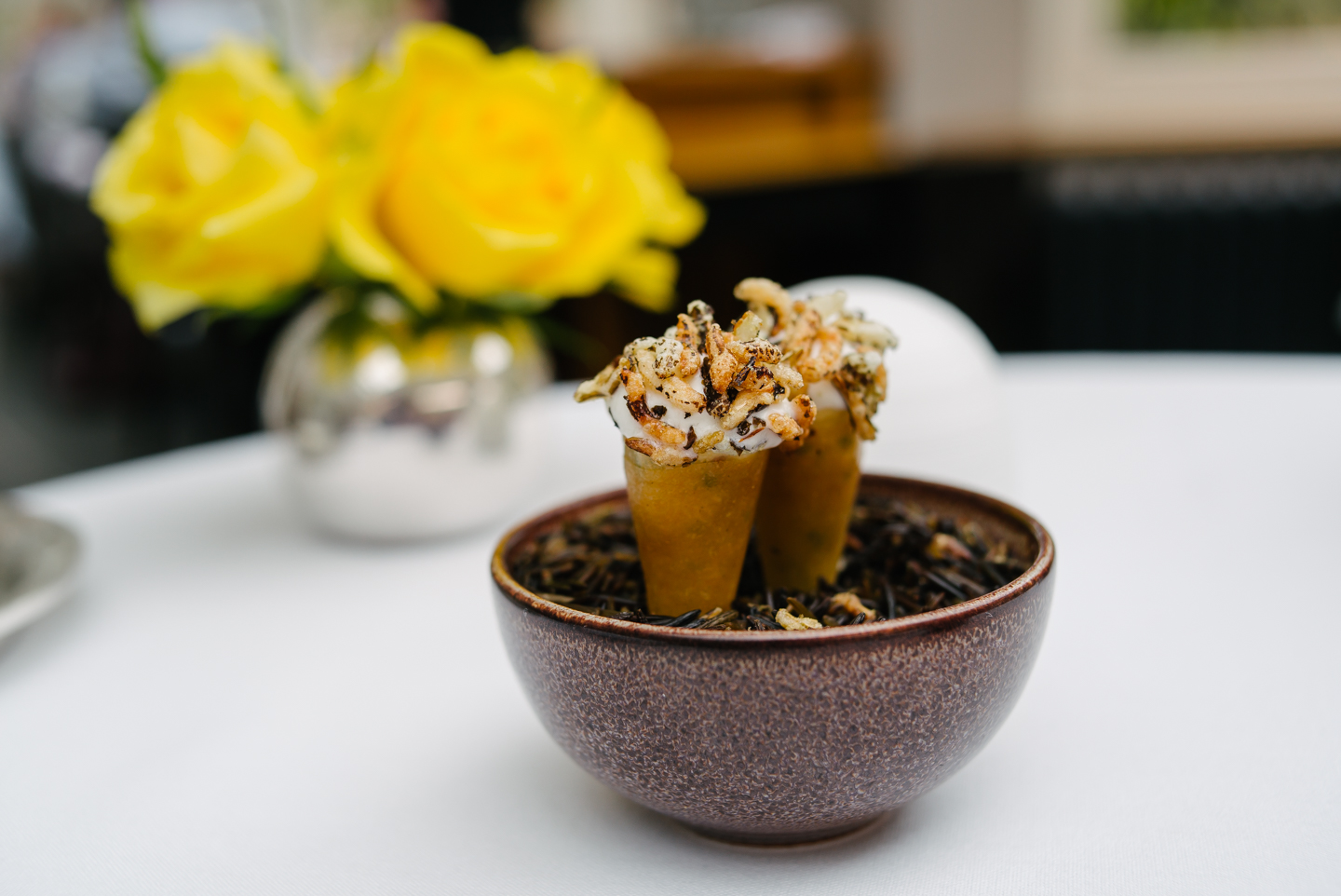 A cornet of smoked eel, grain mustard, horseradish and popped rice. Yeah pretty good.
Canapes 2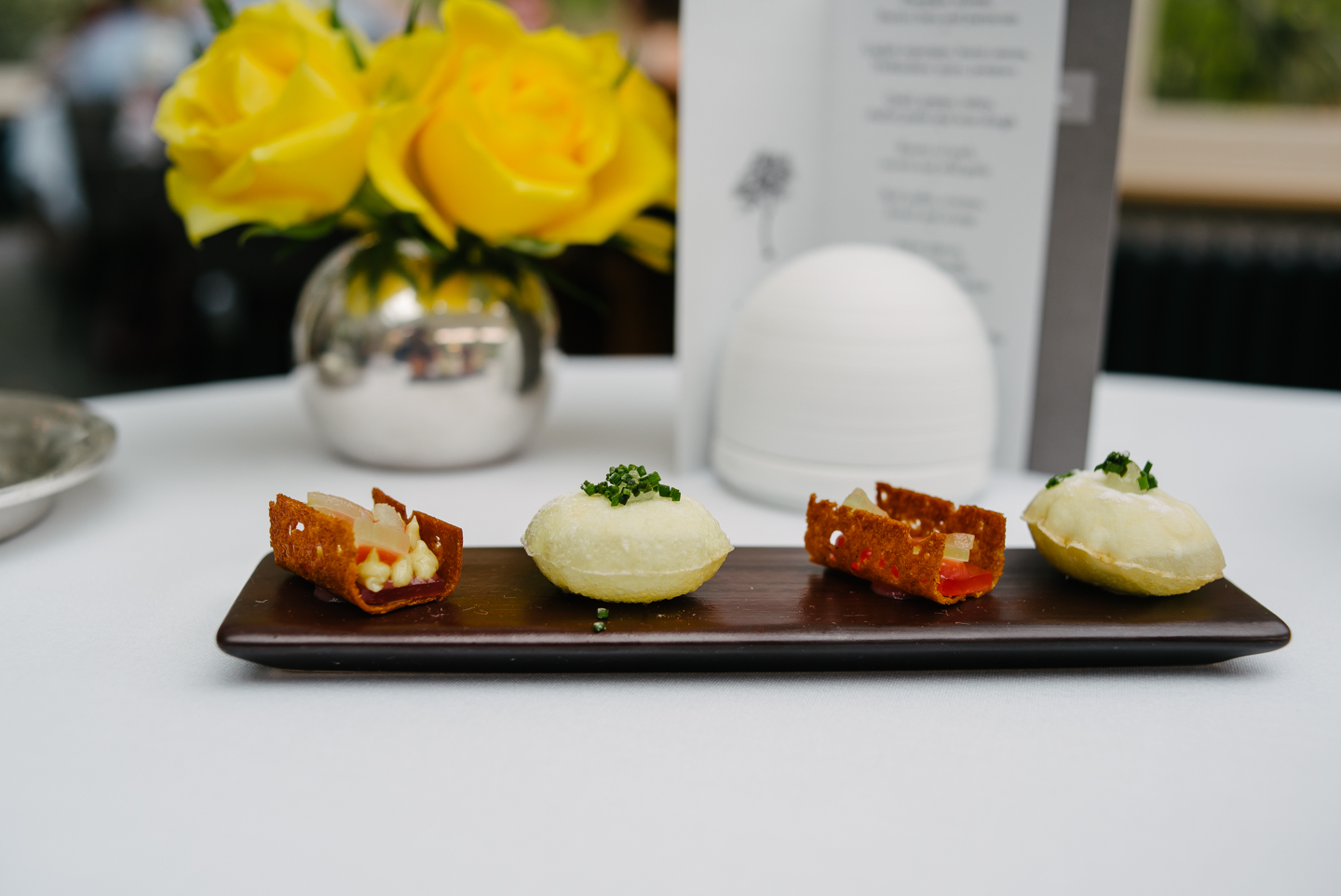 A tuile with rhubarb, ginger and chicken parfait and a potato souffle filled with sour cream. Both good, perky.
Amuse Bouche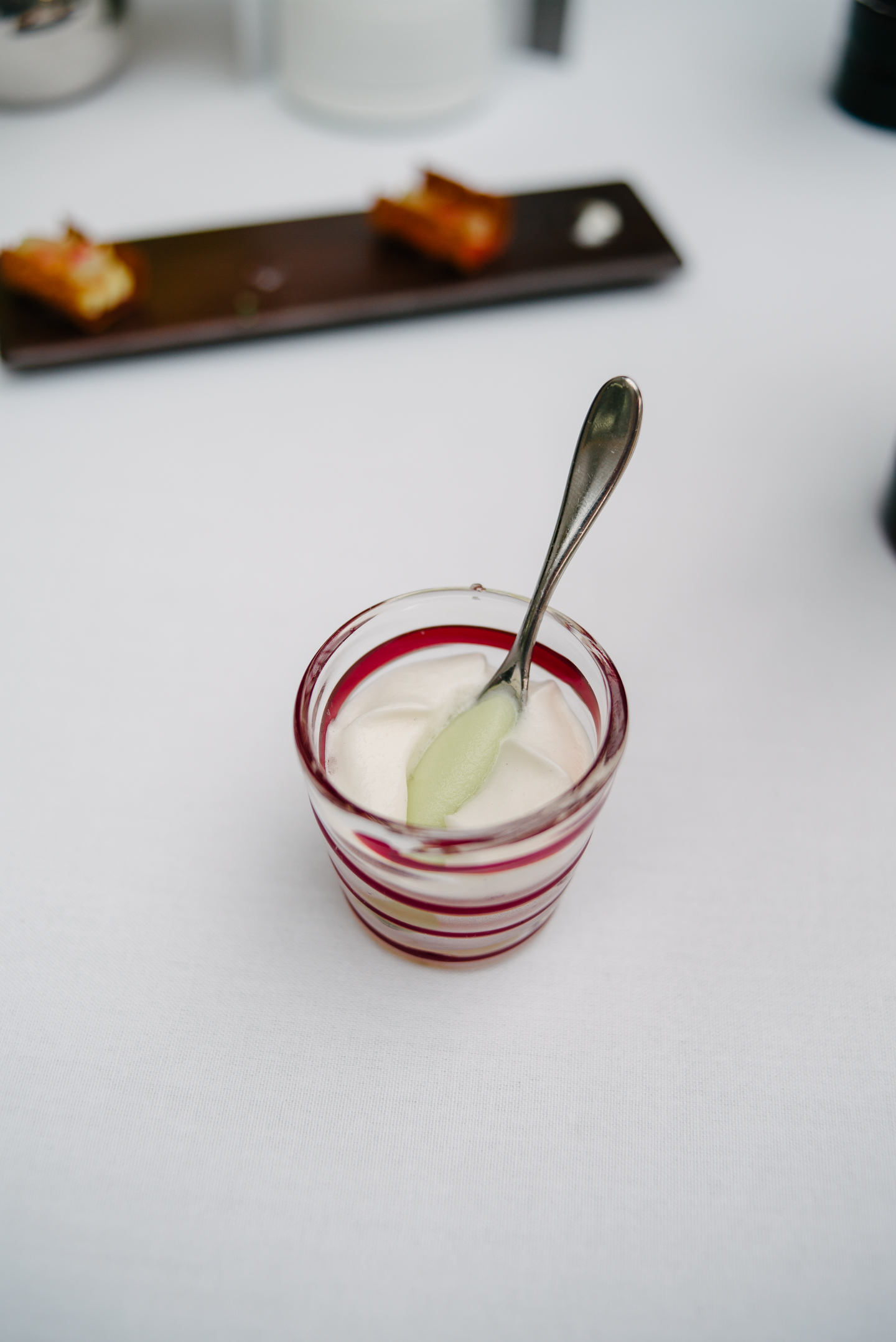 A bloody mary, pickled celery and tomatoes, with foam and sorbet, textures and temperatures flipped. Thought nothing of Akelarre's modernist twist on the same drink, it is nonetheless refreshing. Good start here. Simple and effective appetisers.
1. Pumpkin veloute, iberico ham and parmesan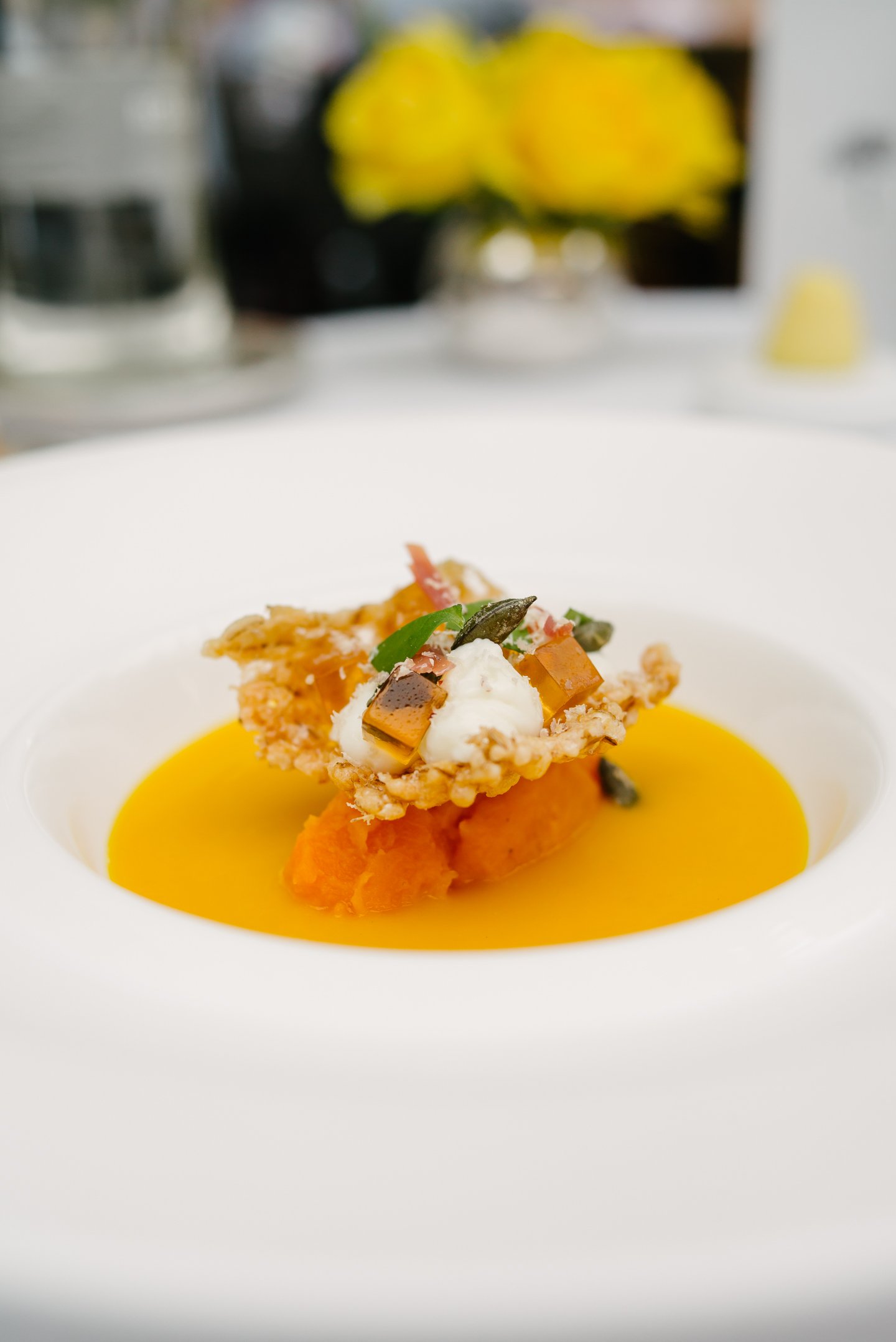 Not a bad soup, but pumpkin in the Spring? Hmm… anyway, the quenelle is cold, and I think they need to fill the bowl to warm it all up. It may be better to have served a shot, because they did a touch of soup, like a sauce, and we were scraping the china. We asked for a spoonful more, JF initially said no and then proceeded to sarcastically reprimand and remind me that there are 8 courses to go. And then he brought out a small jug of the soup, all in jest, but I did feel a jot of demonising (me, the punter that is) at play here. So much fuss, all I wanted was a little more soup. There is a very fine line between agressive humour and plainly making customers feel small. He was right on the edge there.
2. English asparagus, burnt onions, Hollandaise sauce and potatoes
Classic asparagus and hollandaise, with tekkers. I like the crispy potato cannelloni, filled with chopped asparagus, eats like a sort of clean potato salad. Looks finnicky to make, but ultimately it is a simple if clever idea.
I'm not sure about the paris mushrooms dusted with onion powder, and feel the modernist touch is wasted with the vacuum aerated hollandaise – it disappears as soon as hits the palate, and this doesn't seem to be designed with eating pleasure in mind. I like aero chocolate, but here the luxuriousness of butter and yolk is sorely missed by the crunchy spears. Too much messing about imho. Seems like they should have stopped with foam from the siphon gun. It would have gone much further.
3. (Pescetarian) Tagliatelle of beetroot, dill pesto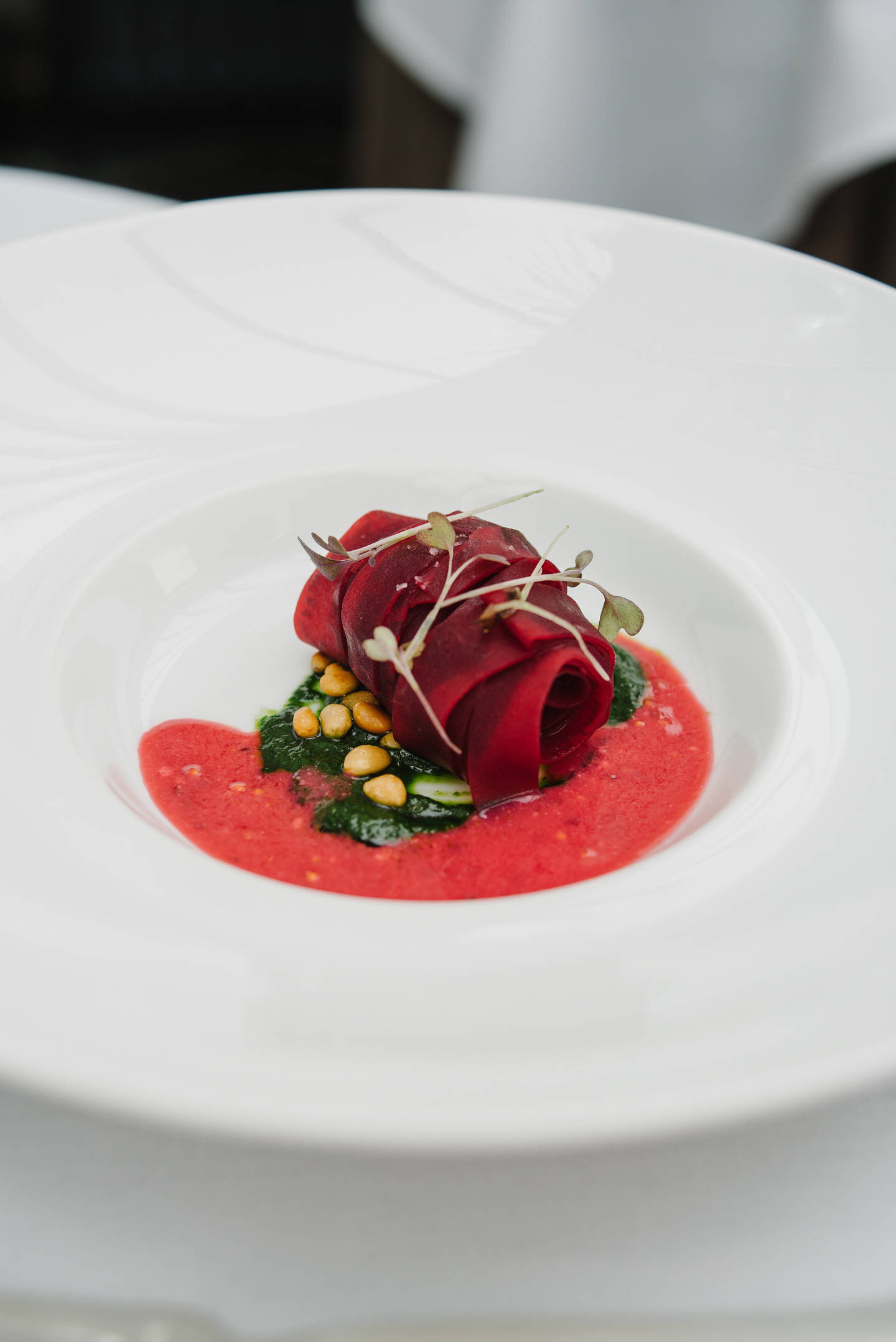 Spiralised beetroot, and pesto? Honestly, this just looks lazy. Put this next to Brett Graham's clay baked beetroot and they are legions apart.
The main problem however is that it doesn't eat well. It's a confused dish, as the tagliatelle isn't a transport medium for sauce, as there isn't that emulation of a pasta dish here. Tom Kemble's celeriac carbonara, as case in point.
If beetroot can't pick up the pesto what's the point? Chewy ribbons of beetroot is not all that fun and it becomes a chore. I'm no anti-vegetarian guy, I love Passard's beetroot sushi for example. This looks clever… but.
3. (Standard) Roast quail, shallot purée, grapes, celery and sour dough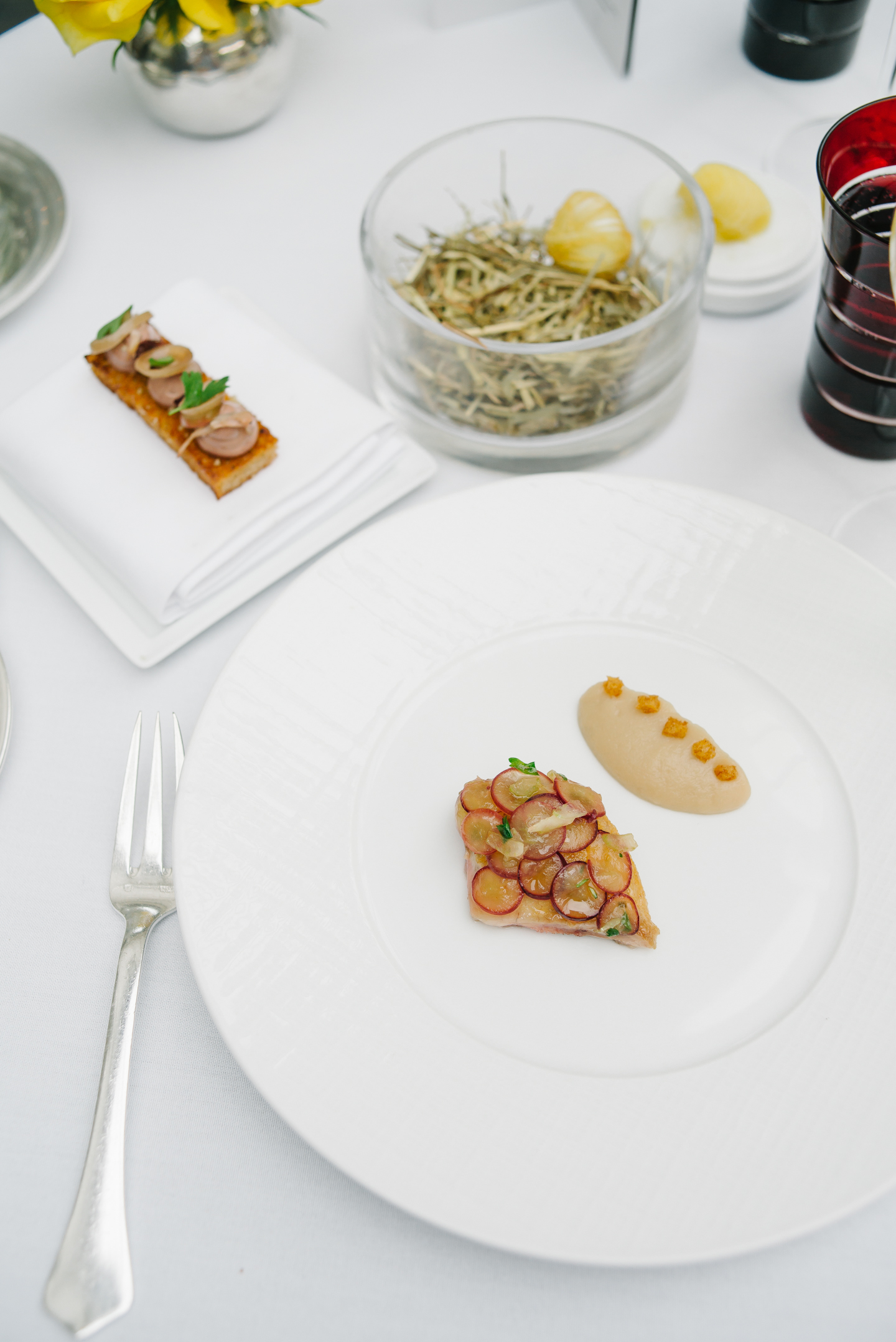 Crispy quail egg comes in its own glass container with smoked twigs. Although, the entire dish could easily have come smoked under a glass clotch. The plating is a little sparse.
But it does taste pretty good, a classic pairing of grape and quail, delicious parfait on toast and a runny yolk. I would have preferred a pink breast, but I hazard that the meat temperatures are adapted to the local crowd. Grape and shallot is a little too sweet for me, and I think the quail is yearning for a potato puree instead. Quail and potato worked just fine for Robuchon.
4. Risotto of spelt, morel and wild garlic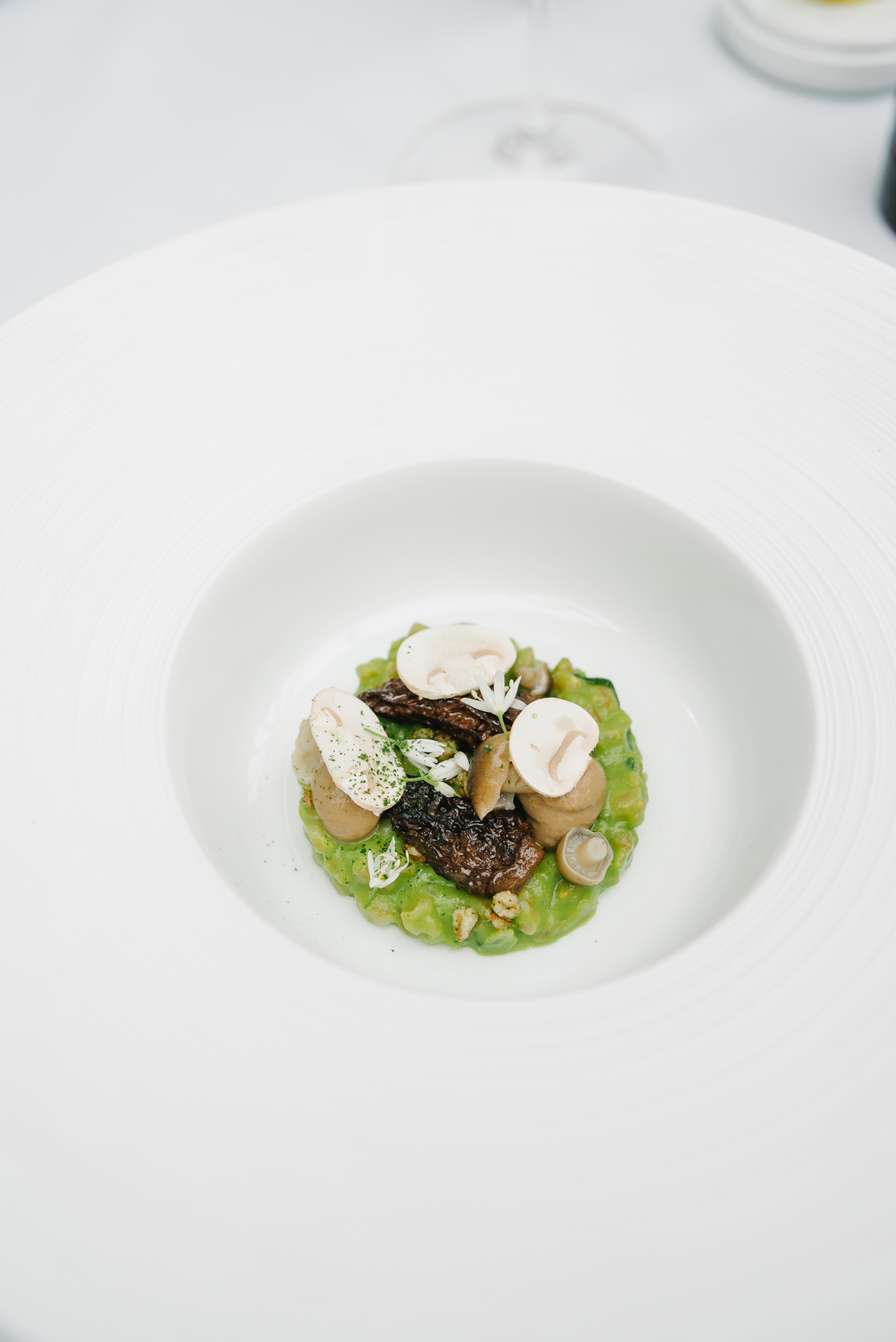 The vision of Spring. Good but the risotto lacks intensity. It is somewhat telling from the lightness of green, there is no vibrancy like this for example. More stock, I offer, or a jus to finish perhaps? The pickled mushrooms were brighter than expected, and they drowned out the wild garlic (and morels) almost completely. Considering the simplicity and portion size, I think this could gone further with the rich and buttery, parmesan in place of the pickled mushrooms. Seems to me the acidity was the wrong turn.
5. Red mullet, octopus, fennel and orange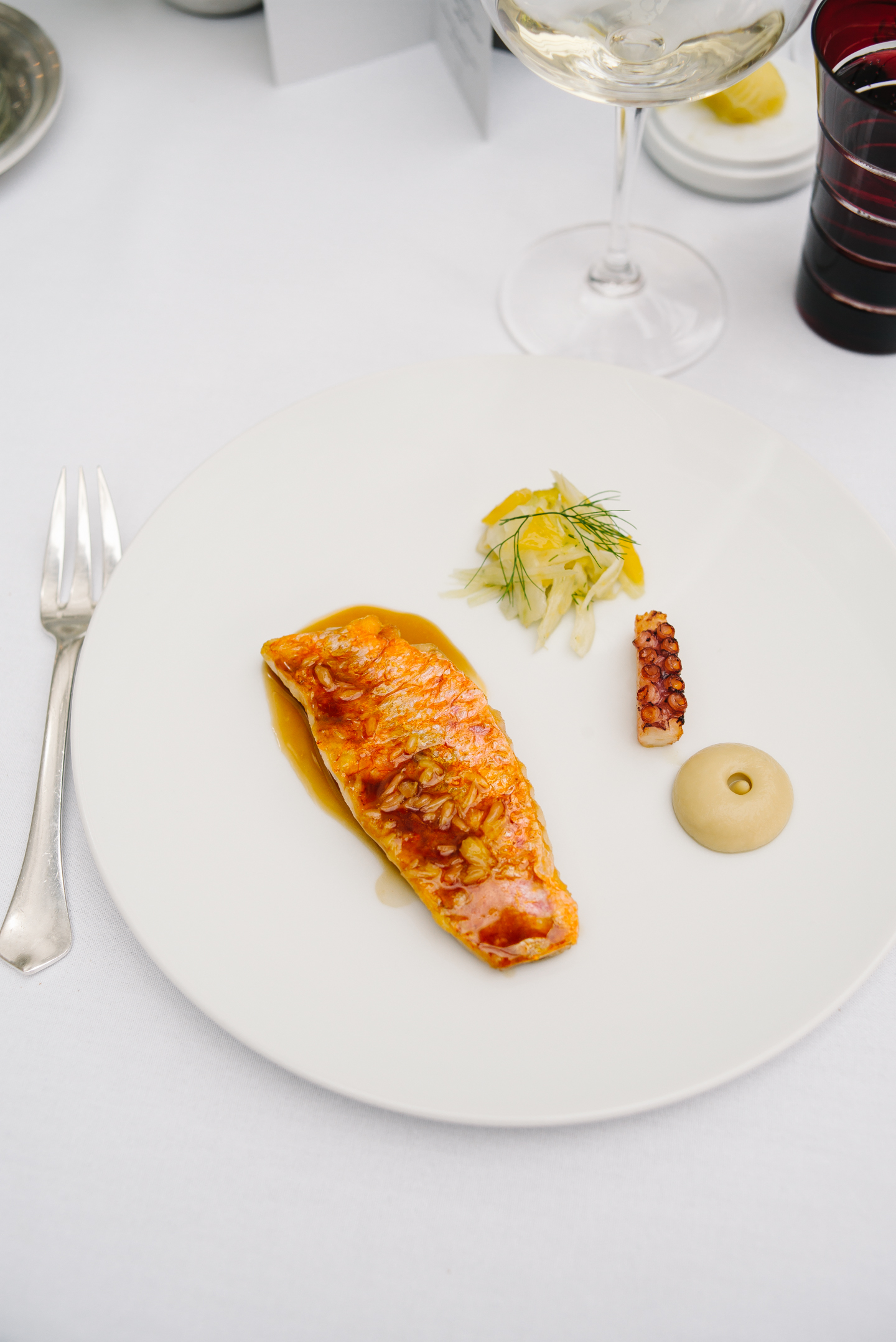 Both fish and mollusk were beautifully cooked, albeit, a laughably tiny octopus tentacle, that makes a red mullet fillet look huge. It's red mullet, it's not huge. I love this fish, firm, wonderfully rich and oily, of all fish, this is one that absolutely flies with a proper sauce. Which is why I wonder if Mark forgot to send the bouillabaisse? All that flavour bursting from the fish, nothing to catch it on this bare white plate.
That fennel and orange salad does looks lazy. The composition does not reward the eating, at all. I struggle with this one, if they were gunning for minimalism and max wow factor, why not serve a piece of turbot collar? Or better yet, a whole native lobster tail. I don't get this one. Especially since this is the sole fish course, served in between two courses of birds.
6. (Pescetarian) Pithivier, seasonal vegetables, Soubise sauce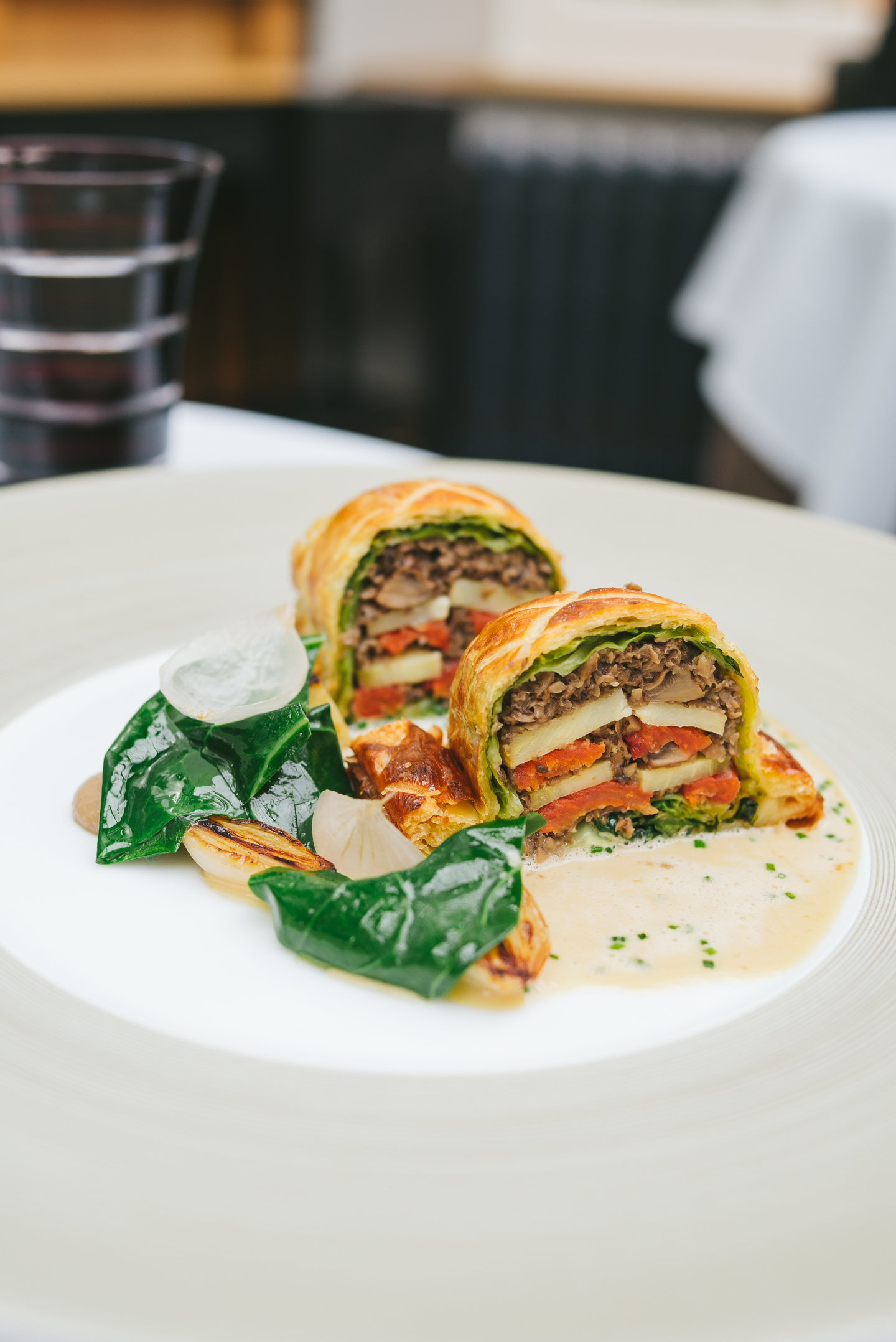 In the Spring, but you can't tell – where have all the colours gone? Comes pre-sliced, not all that warm, chopped mushrooms, kind of dry. It's fine, I suppose, but it is a curate's egg. Where's all the effort gone?
I feel it necessary to include a comparison to another 2 star restaurant in Tokyo, L'Effervescence, which happens to have pies on their menus.
L'Effervescence's "Pie no.20" with salmon, ama ebi, ikura, 43 ingredient salad, mushroom sauce.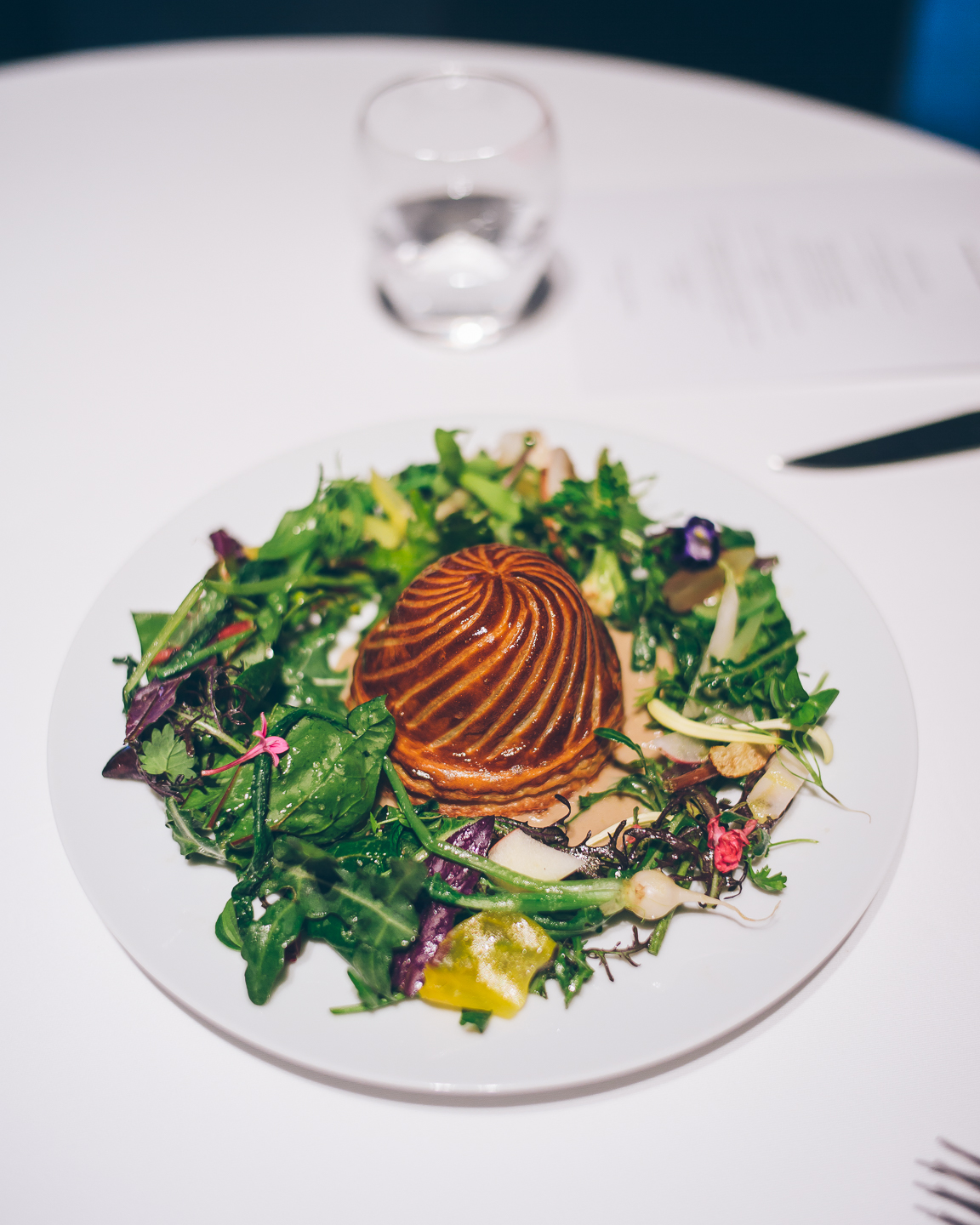 The meal at L'Effervescence took place in the Fall. An individual pie, baked a la minute, piping hot when you cut in, wholesome, delicious, on point, love it. Part of a £70pp 6 course lunch menu that ends with a matcha tea (ceremony). L'Effervescence's chef, Shinobu Namae is ex Bras, hence the salad. Now that is a proper pie.
6. (Standard) Roasted Anjou pigeon, confit leg pastilla, beetroot and horseradish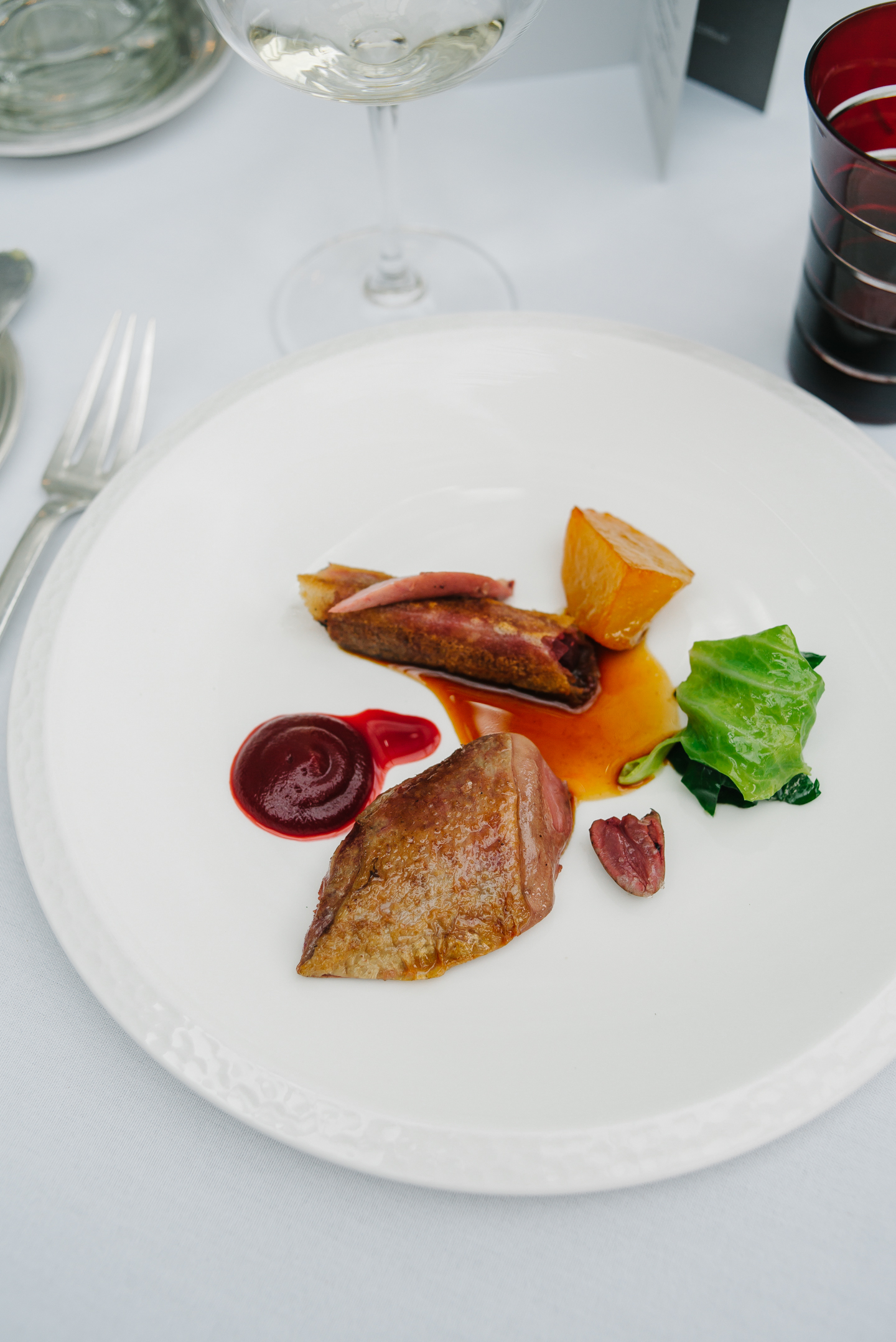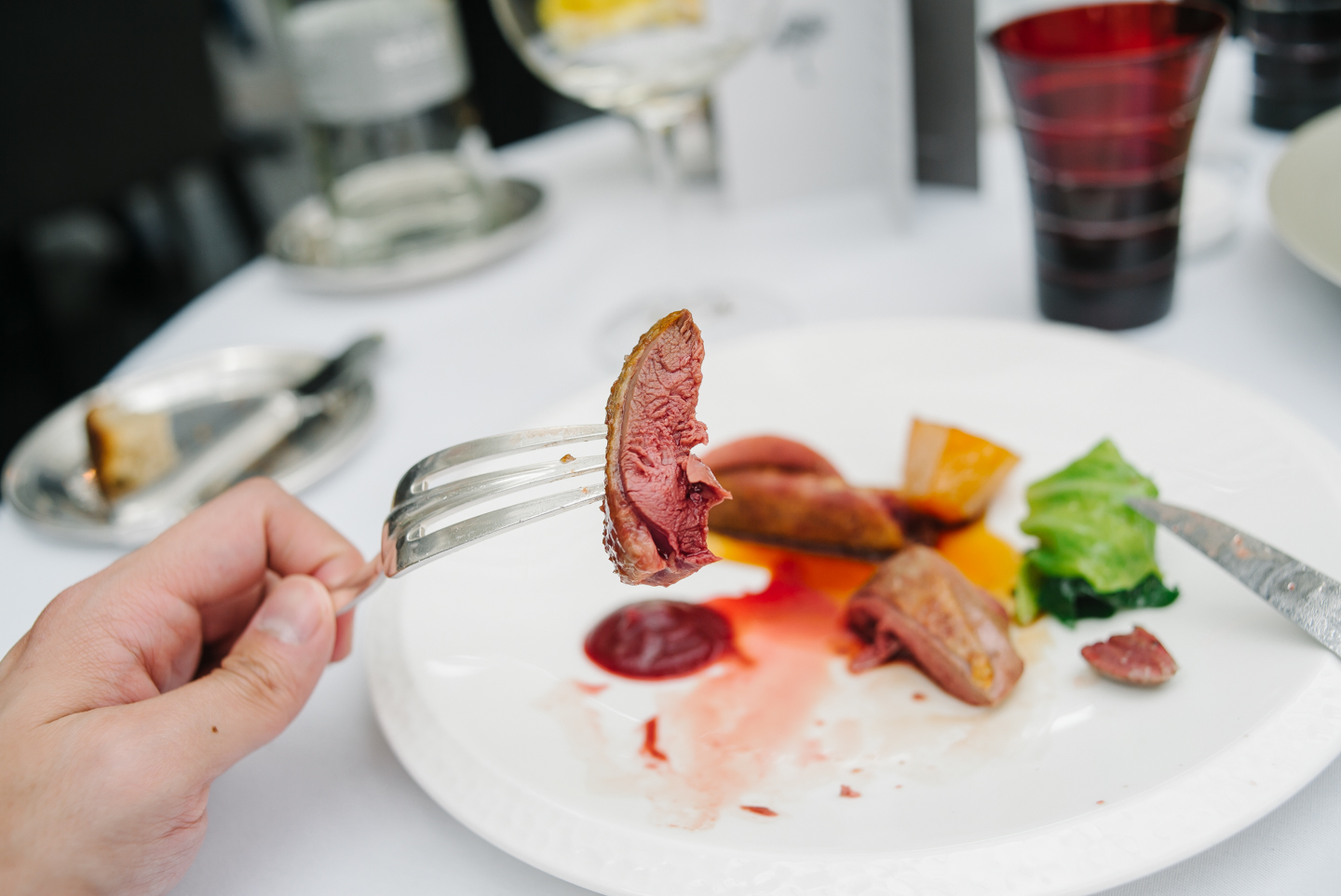 Completely boneless. Not bad, but the skin is not crispy, for me, I think a little over as the meat is going grey. The thing about minimal is that the bird needs to be 100%. Anything less, and it feels like a half baked effort. Look around at Ledbury, Hedone, Fat Duck, Bonhams, to name a few and their multi stage cooking for pigeon. This is not enough.
Half a heart. I think of Medlar's glorious duck egg heart tart, this is … sigh. I am miffed about the lack of effort in Spring, beetroot, 3 slices of green, lettuce and chard, sigh. This pastilla seems oversold, as it looks like a repeat of the stuffed potato canneloni that accompanied the aspagarus, a few courses earlier. No Ordinary to Extraordinary here I'm afraid. A little potato puree would have been nice.
I get that its a fixed taster with no ALC, and fully symphatise with restaurant overheads. Presumably that means lots of chefs in the kitchen, but this effort doesn't translate to the plate. This is where it confounds.
Fat duck has a fixed taster but even they are able to accommodate swaps. And I remember swapping out the powdered anjou pigeon for pork belly. Here the better half had to settle for vegetable pie. At this level, I think a little expectation is not unreasonable….
Pre-dessert. Pousse Cafe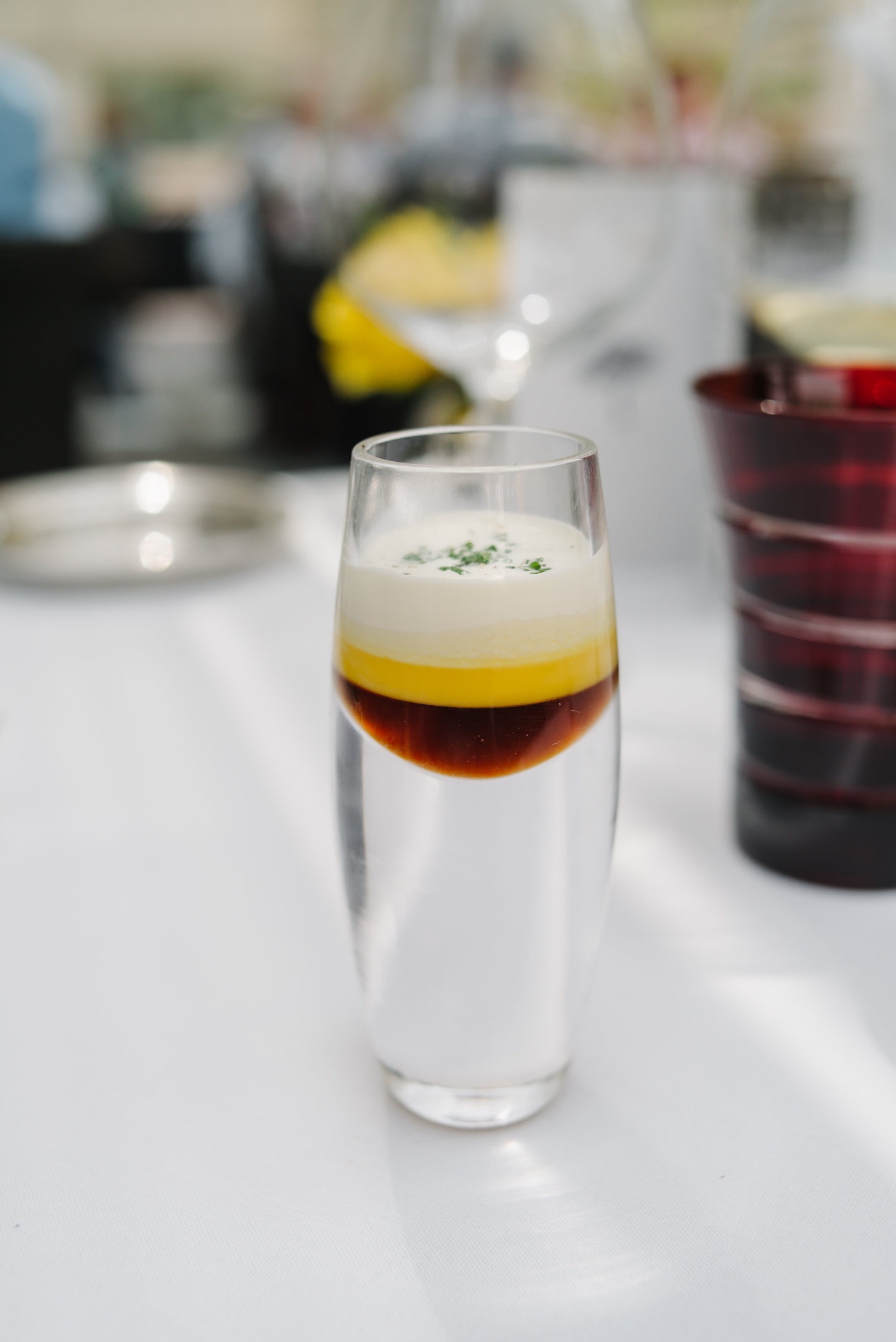 Layers of maple syrup, egg yolk and a soft Chantilly spiked with whisky and lemon.
Yeah, quite a nice drink, very nice in fact. Althought this hardly cleanses the palate. Seems like it should come at the end, and seems like a reverse take as a 'cold-only' L'Arpege egg.
Look, I'm saying. At L'Astrance, you get egg nog to finish. After the puddings. It's more logical….
7. English strawberries, Ewe's curd and lovage from the garden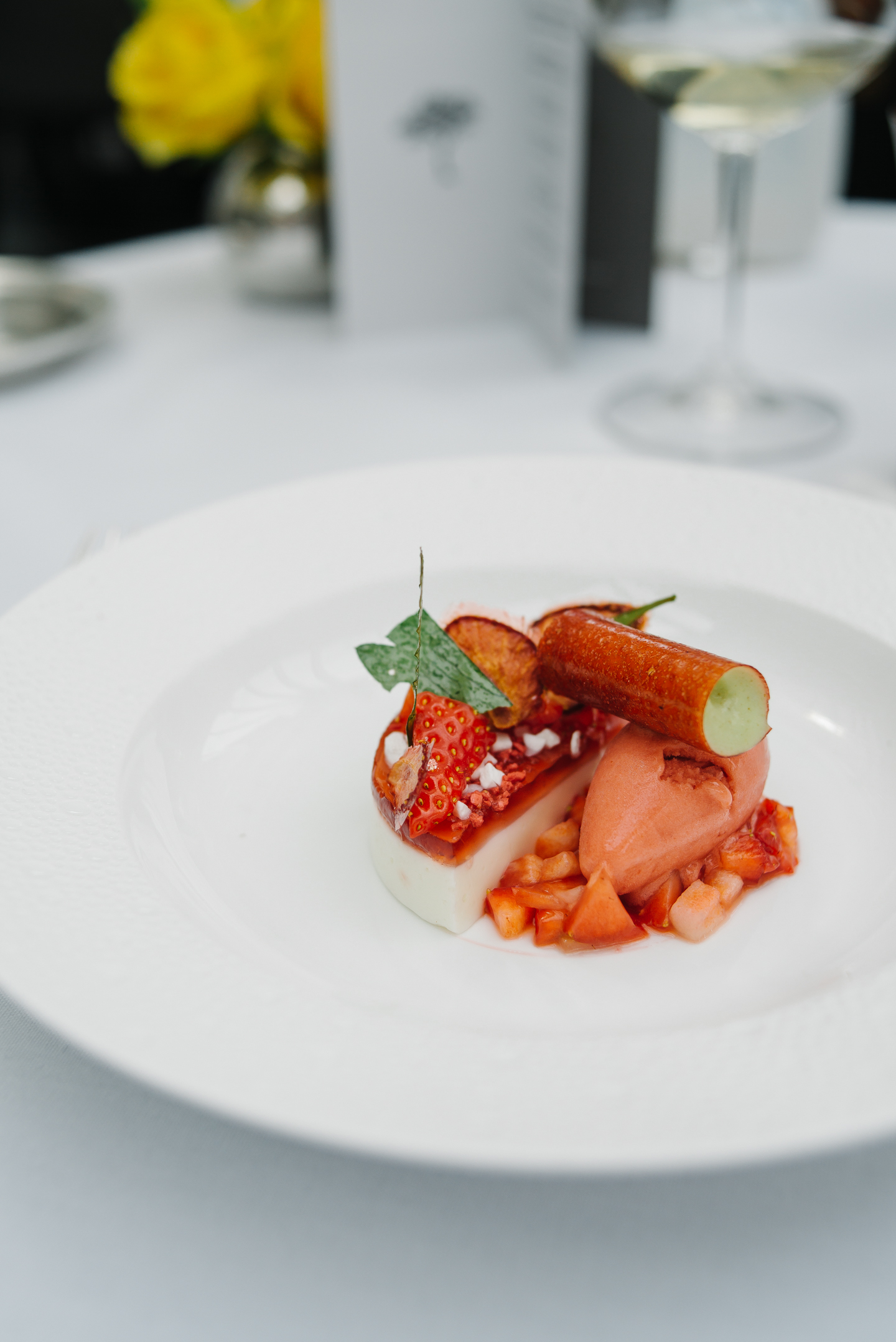 Thank goodness for the pastry section. The only dish with substance. I can even overlook the imperfect rocher (hole, under the cigar). The sheep's milk quite potent, but well balanced with the strawberries.
8. Passion fruit, yoghurt sorbet, dark chocolate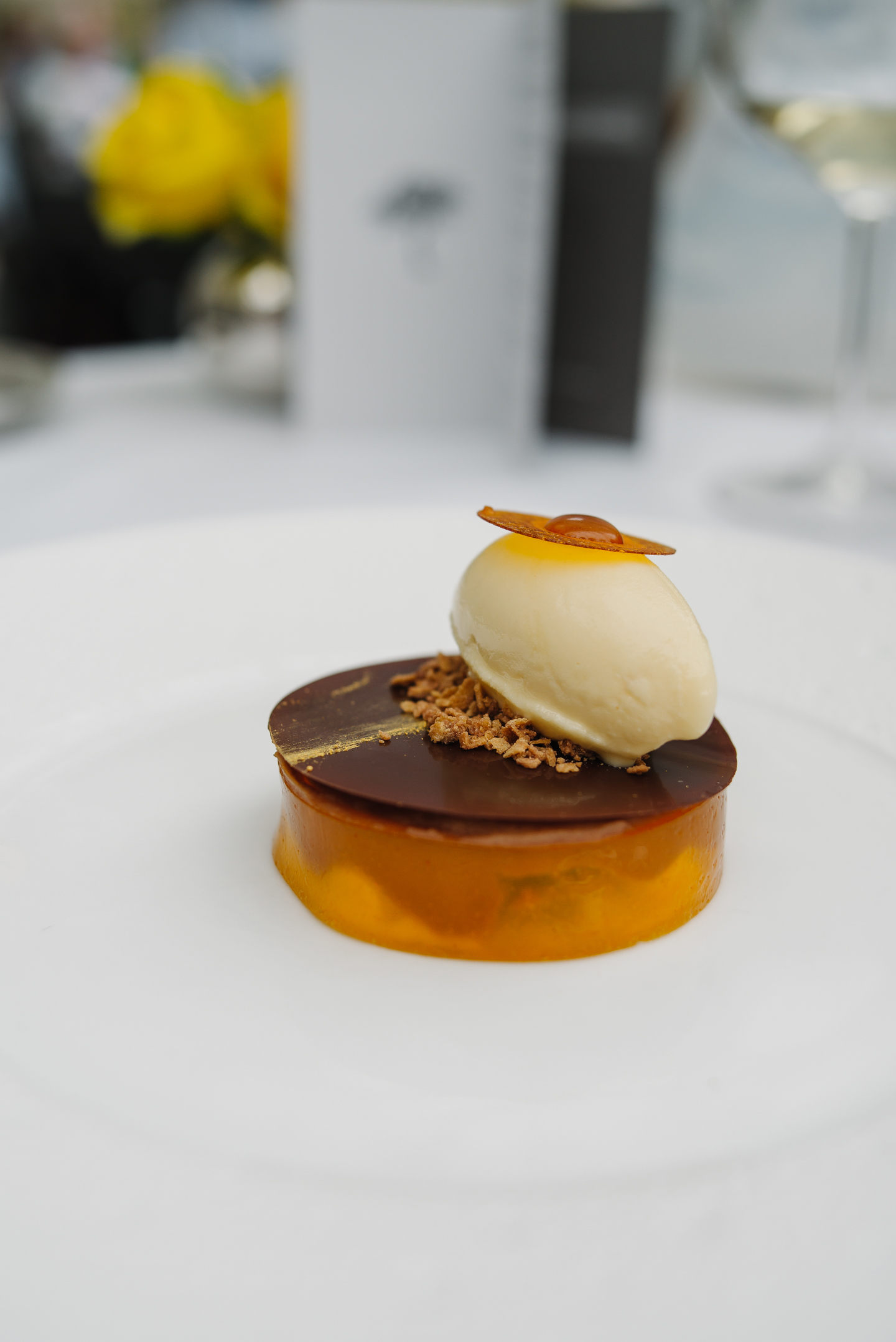 With popping candy. Chocolate and passionfruit flavours perfectly balanced. Fantastic end.
Petit fours of house-made chocolate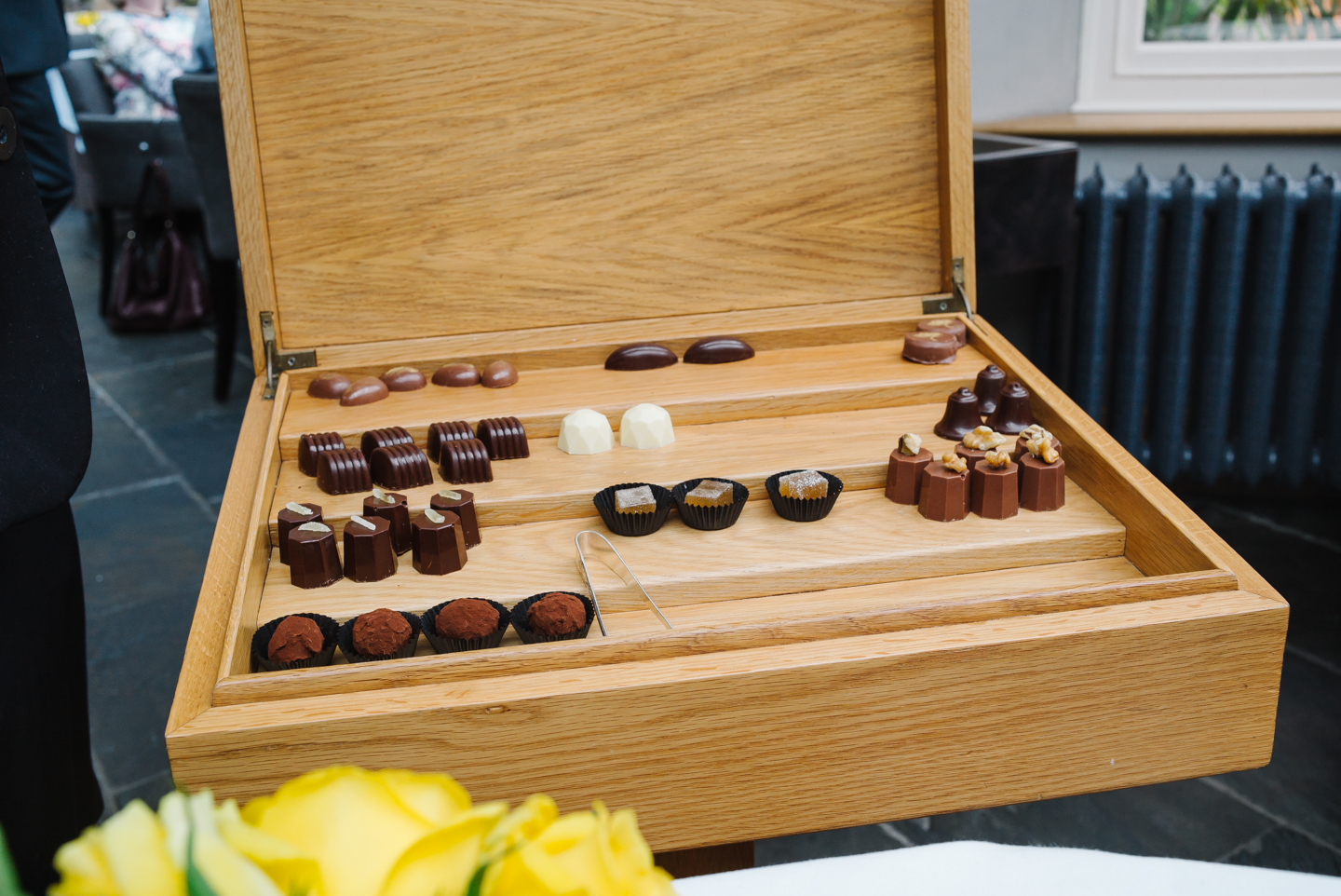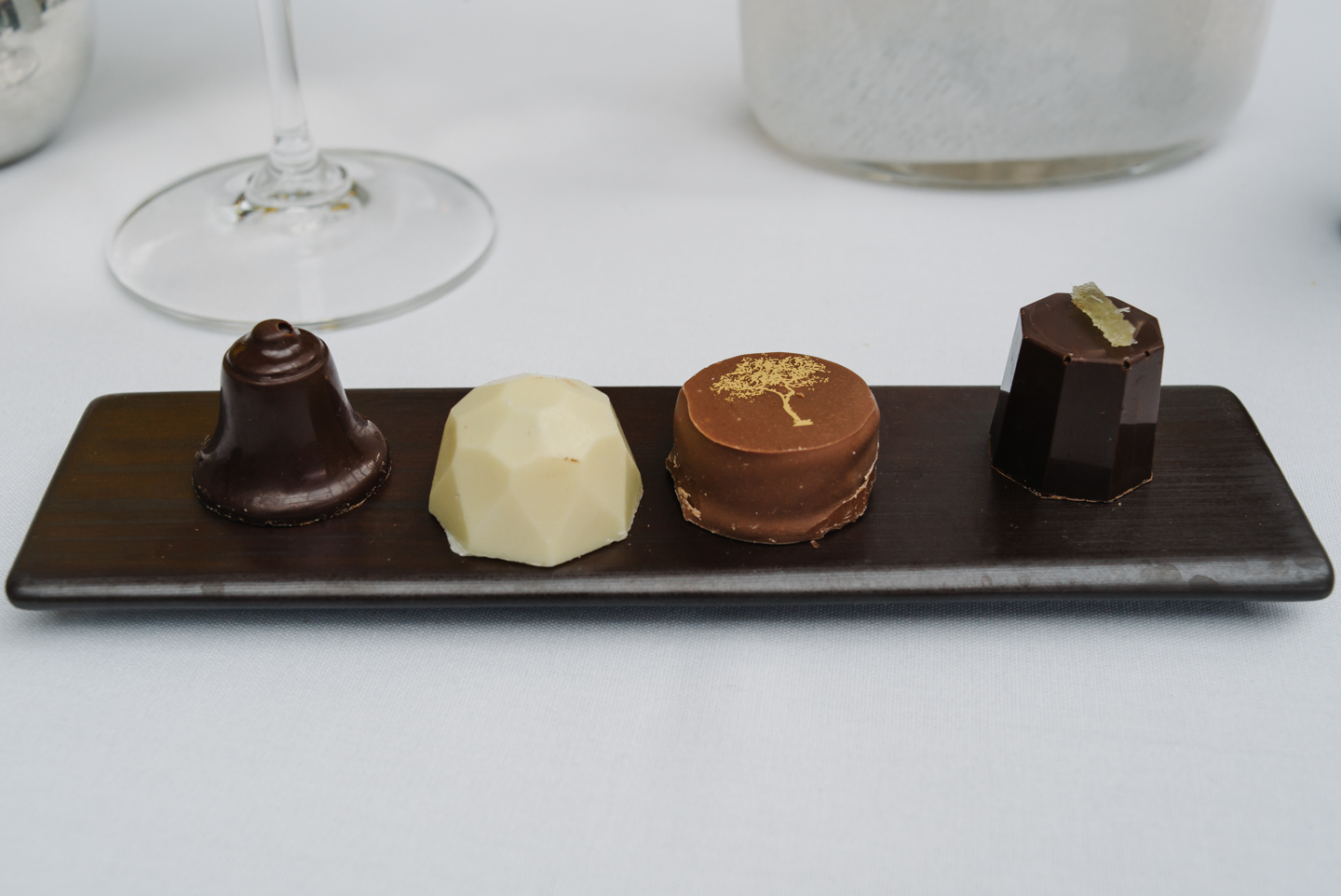 All made in house, and all good. The pastry section is top notch. They make the house sourdough too.
—
We paid £342 for 2 taster menus, 1 glass of champagne, 2 glasses of white burgundy, 1 bottle of water, service.
If you read my blog, you know it's not solely about the bottom line. Price is relative and it is about perceived value for money. And then there is also expectation and the competition. Nobody wants to walk away from a special meal feeling shortchanged. As I am reminded time to time, the bulk of restaurant costs are in the overheads, ingredients rarely ever peak above the 20% mark (Hedone, Bonhams aside), but here evidently, overheads are drowning Midsummer's costs. The number of hands on the floor, and I can only wonder how many in the kitchen, it has apparently put plenty of pressure on what Daniel can afford to put on a plate. £120 is a lot of money, even by London standards. If there could have been at least one noble ingredient, his signature scallop, apples and celeriac perhaps?
Restaurants are a tough business for sure, but look around at other French multi-stars Ledbury, Greenhouse, 68RHR, Dorchester and look at the substance of their menus. Your money goes further, and service is just as good. I fully accept that it is also about what you do to transform the ingredient, but the restaurant appears to have caught the minimalism bug and there is little in way of wholesale transformation. For sheer purity of flavour, red mullet can only go so far, it will never be as profound as say, turbot.
The cuisson is mostly good, I have little doubt that Daniel and Mark are able chefs, but as a meal, it was a challenge to pin-point anything particularly exciting. The strawberries perhaps, that's pretty good.
Maybe Daniel is just not that into the Spring larder. Too much work shelling peas, seeding tomatoes and keeping edible flowers fresh. The season of colour, and yet here, the plates refused to budge from the dull tones.
Then again, perhaps this is what Midsummer's clientele prefers – To be neither experimental, nor exotic, to be pleasant in taste and plain in appearance. A good chef must cook for his crowd. Have I visited too late in the restaurant's 19 year history? The time for progress and invention behind them, this is a restaurant that has plateaued. I remain a fan of the mystique of Daniel Clifford in the box, the passionate chef bursting with ideas, it is a shame that his restaurant is far stricter than his persona. This is not a restaurant for me. Reality and the sensationalism of television. Oh well.
Details
Midsummer House
French
Weekday lunch 5 for £56.50pp
Weekend Lunch/Dinners 8 for £120pp
Midsummer Common, Cambridge CB4 1HA
Train: Cambridge Station + very nice stroll to Midsummer common