Here's the follow-up to my first post on my home-cooking adventures, otherwise hashtagged #scrambledkang elsewhere. I thought it would make sense to do them one ingredient at a time (since it is how I do the procuring), and make each one a discreet project.
In the season of abundance and colour where there is so much to choose from, there is one vegetable that stands shoulders above the rest and that is of course the mighty Asparagus.
They come in all sorts, White spears (from Landes), wild stringy little things, purple but for me, I covet the green asparagus, for the sheer cleanliness of flavour and its crunch.
For this, I tracked down the noble Pertuis green asparagus, grown in the South of France.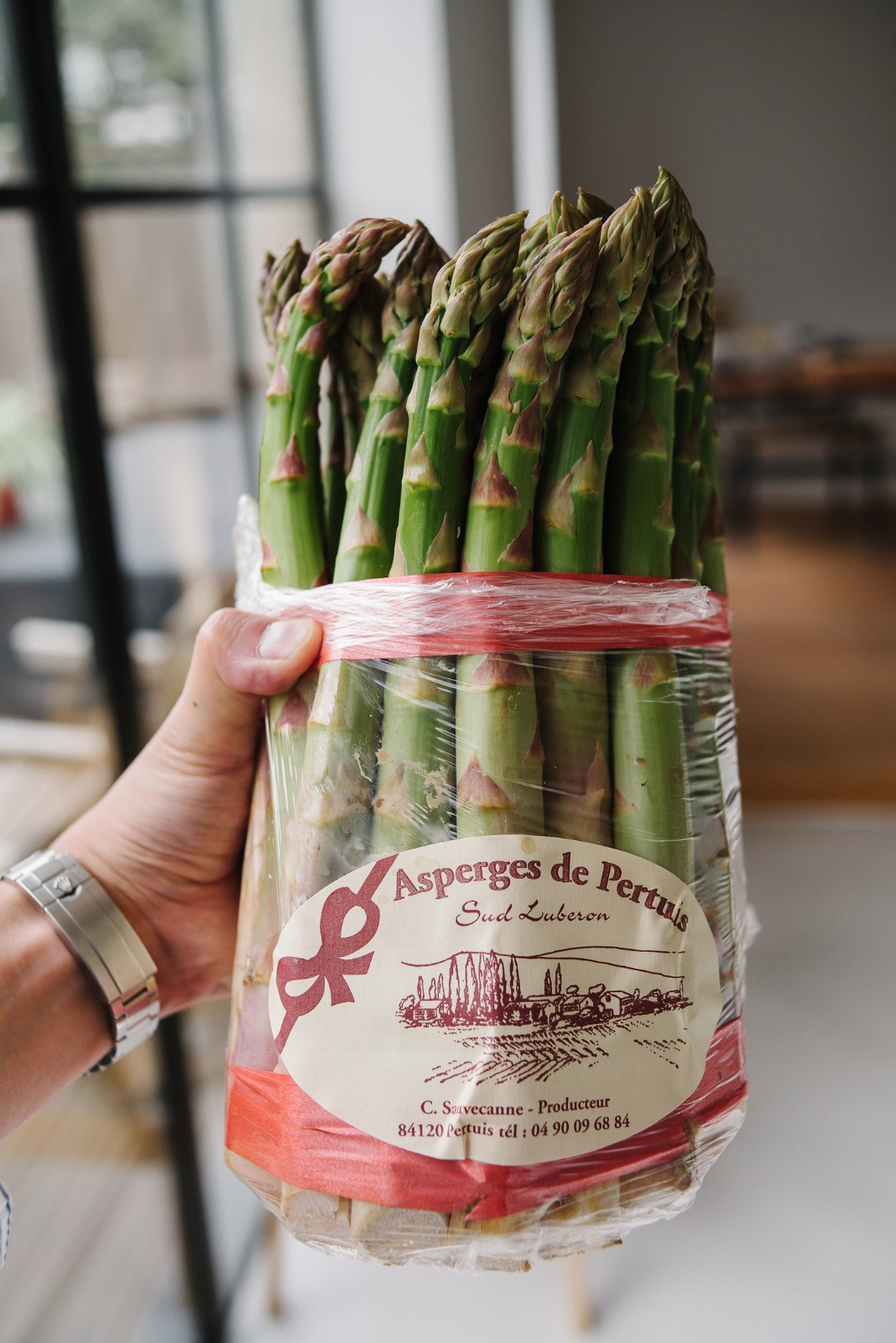 They go by many lavish nicknames, and is generally accepted to be the bee's knees in today's world of green spears. They are massive things and chock full of flavour, especially the tips, with a sweetness like none other.
Both Mikael Jonsson and Tom Kemble serve them, though if you have a nose around the 3 stars in London and over in Paris, you might also find equally impressive thick spears from the Provence, sold by the likes of Jerome Galis and Robert Blanc.
Yes, I do think French spears are very good, if not the best, but at the same time, if you are buying them for home cooking, you must be careful to inspect them when purchasing. If they've been sitting around the shop for too long, they will have roots that tend to go (white) woody and dry up quickly. It travels upwards as the asparagus languishes, and there will be a lot of wastage if you are unlucky. If you're lucky however, and the spears are fresh as daisies, they'll taste fantastic, even raw and thinly sliced, especially the sweet tips.
To preserve them, I cut off the bottom dried bits and keep them upright submerging the spears in a cup of water and then throw a plastic bag over it, in the fridge. This was a fairly heavy bunch of Pertuis spears, and they ate well for 5 days.
Conventional wisdom then is the best asparagus are probably are the ones that travel the least in between pulling out of the sandy soils and when they land on your kitchen top. For this reason, accessing British spears is not a bad thing. Of course, the Wye Valley stuff from the Chinns are impressive and have already been embraced by restaurants for years now, and this season, I have also had asparagus from Norfolk and Kent, which I thought to also be rather delicious.
These from Shropshire I thought were pretty solid. Below: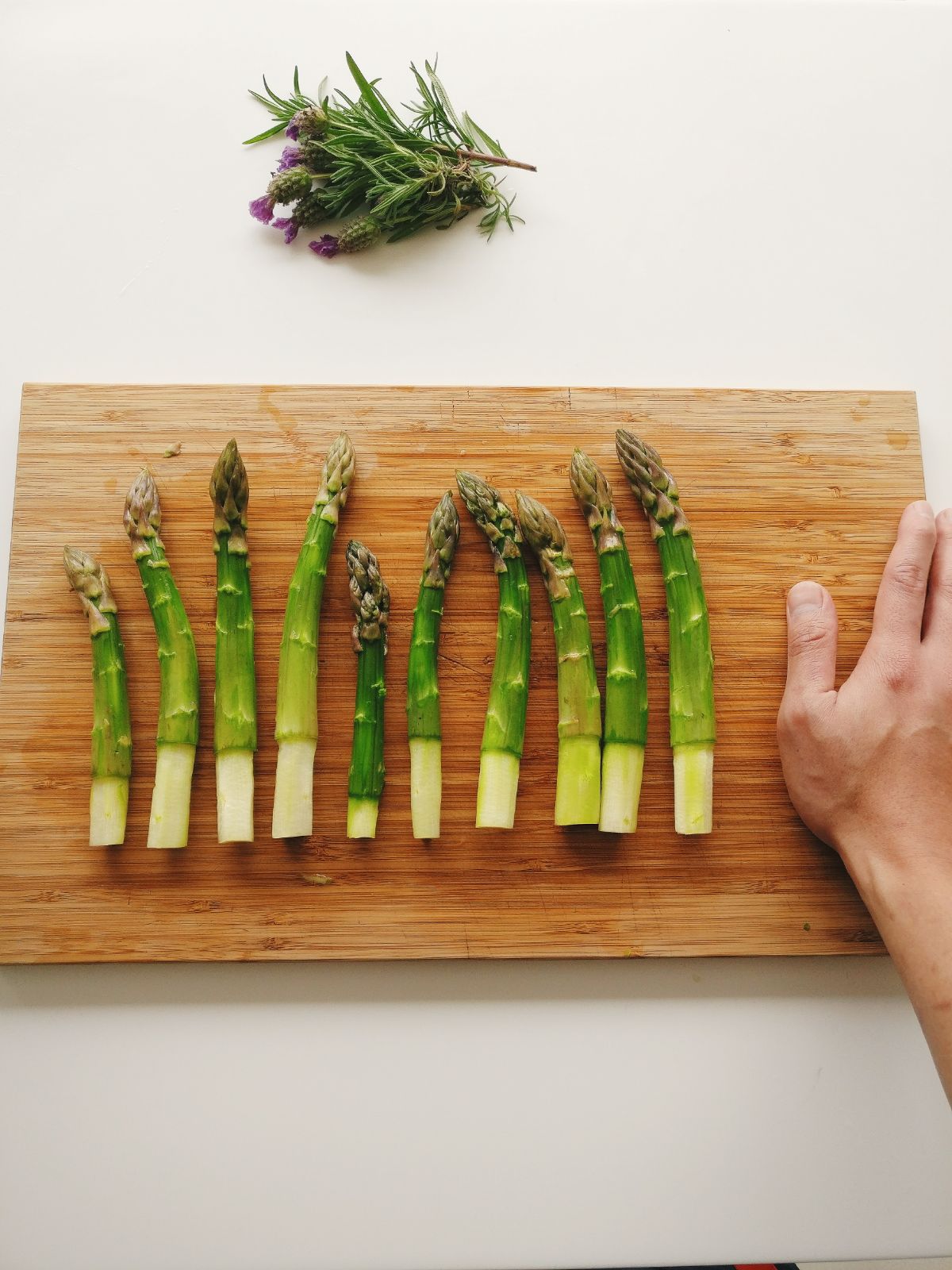 Decent sized spears. I gave these the full circumcision treatment. If your spears are fresh, aside from trimming off the woody ends, you needn't peel them. Everything is edible when cooked and softened.
There are many ways to cook asparagus, though I am hardly the right guy to speak about the 'best' ways to do so. But I can tell you how I like to eat them. For white spears, I think they do well in a slow baste in beurre noisette, mainly to mask their bitterness but also to soften their textures until they fall away at the knife. For greens, I like steaming. They retain flavour, moisture but importantly, it is the crunch of fresh green spears that is part of the joy of this vegetable. I coat in olive oil and salt before hitting the steamer. I like classic flavours when it comes to asparagus, nothing fancy, and I gravitate towards boiled egg and hollandaise, which is in essence egg, butter and a touch of lemon.
1. Steamed Pertuis Asparagus, soft boiled egg with crab-shell infused hollandaise, lemon, Cornish crab claws, and flowers from my garden.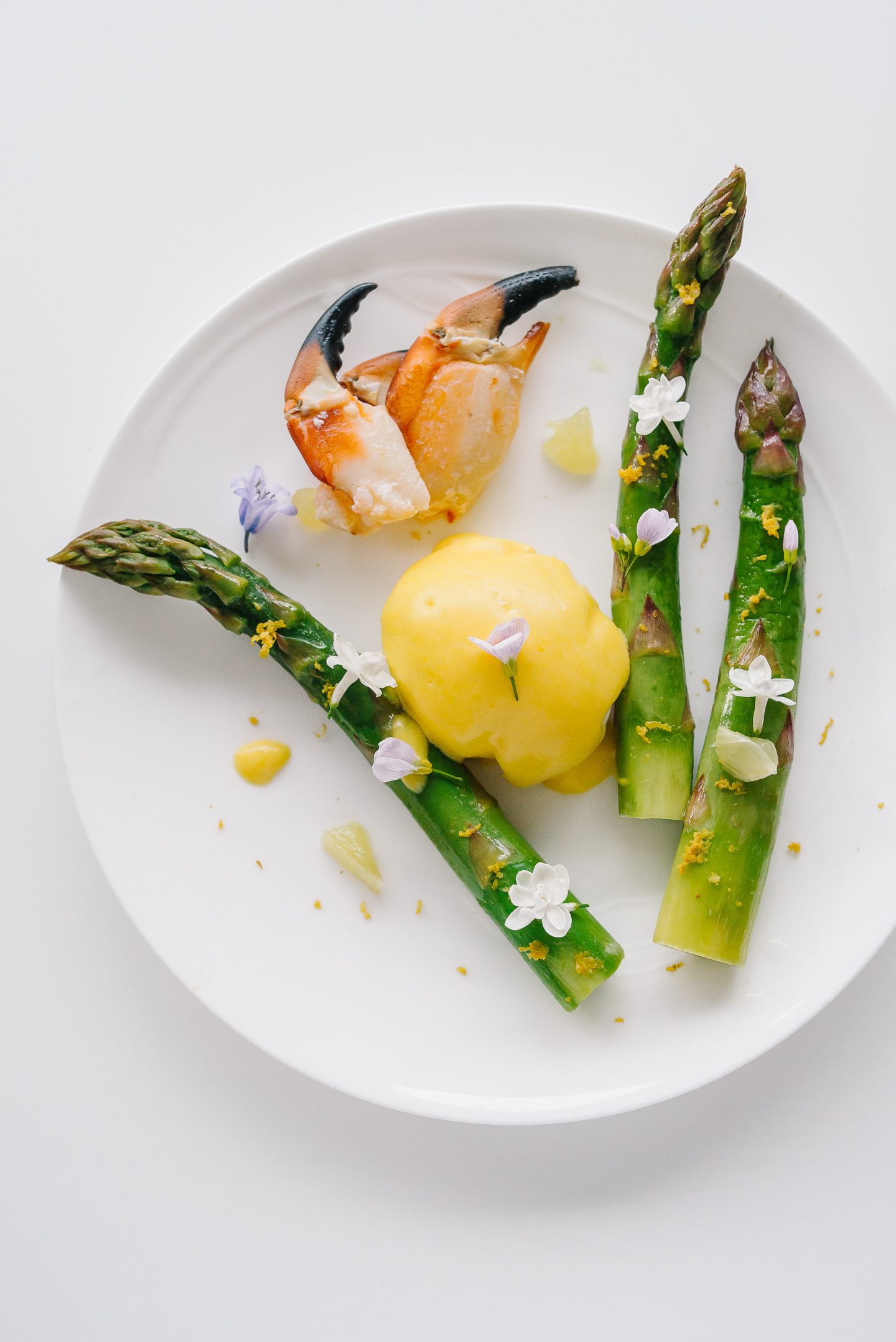 The infusion is simple – cook shells in clarified (but not brown) butter, sieve and then whisk into egg yolks. Lemon, salt, pepper to taste and you pretty much have the crab hollandaise.
The zest of lemon, the brine of crab, the sheer sweetness of the Pertuis spears, all of it tied together with the soft egg and (stiff) hollandaise. And the thing about Pertuis is that it has so much flavour that it can stand up to push and pull brine and acidity of the crab and lemon. For me, the lemon is the key element in keeping the flavours in check.
I must admit, if I had nasturtium flowers, I'd throw them on, but it was late April when I made this, and my garden had lilac and bluebells in full bloom at the time. So I thought why not for posterity.
2. Eggs Benedict. Burford brown soft egg, hollandaise, english muffins, steamed Shropshire asparagus doused with pea sauce, and smoked porchetta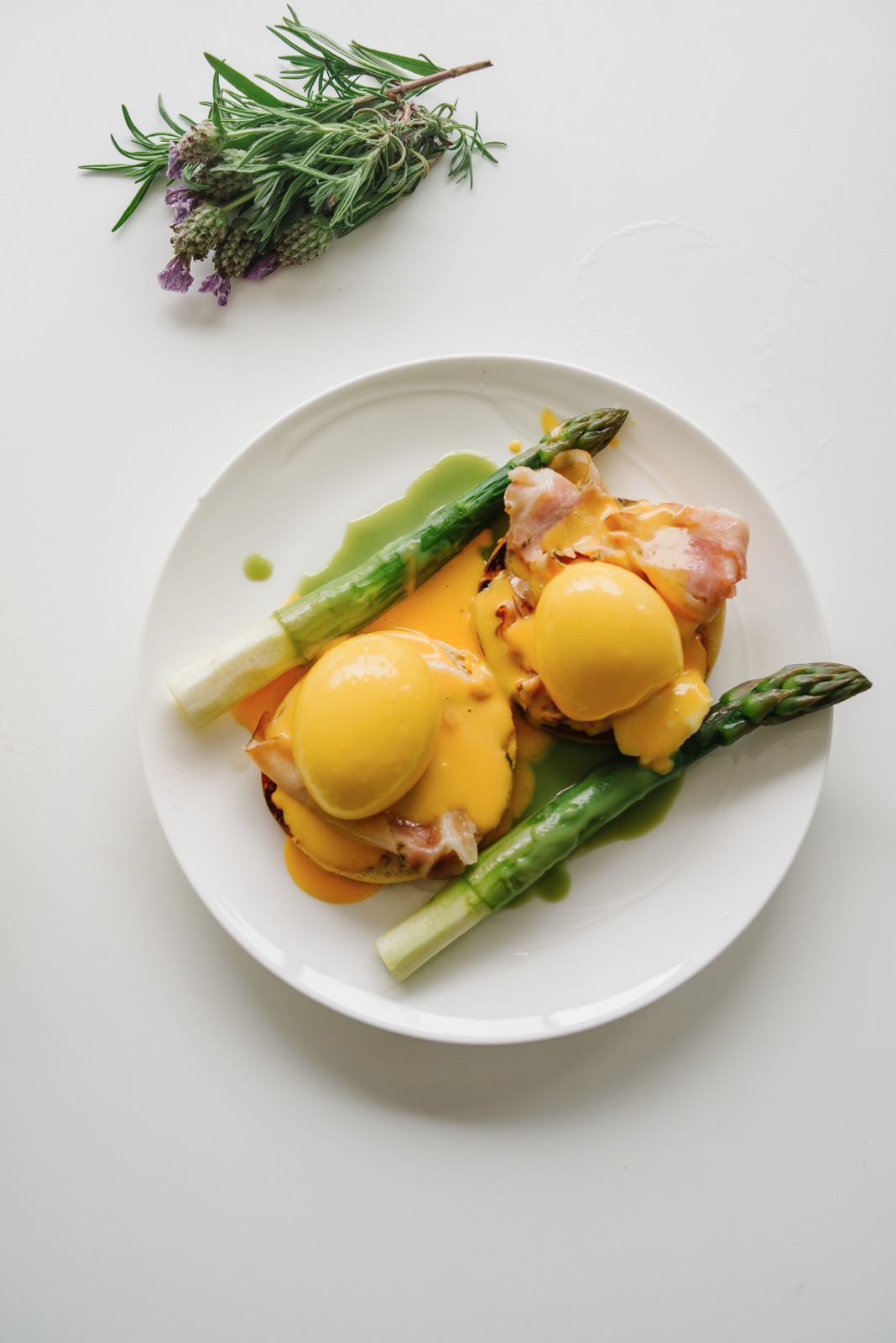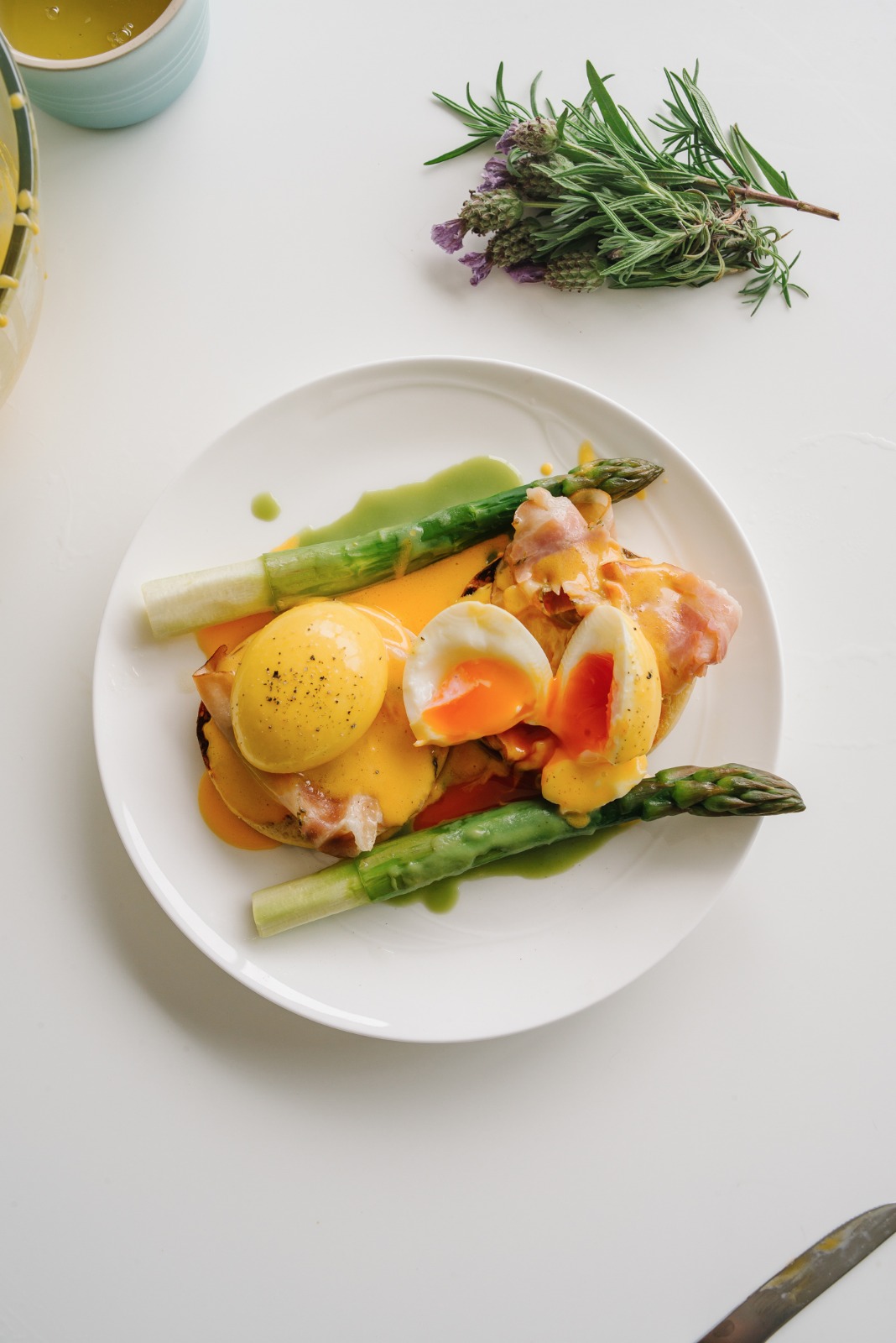 Brunch. Comfort food. The classic benedict, with minor adjustments. The smoked porchetta is shop-bought, and I warm it up in the pan gently before serving up. Melts the fat and opens up flavour. I think it works better than crispy bacon.
I love Burford browns and as you can probably tell, the colour of the hollandaise is a deeper hue of gold, as a result of its omega3-rich yolks. Peas are simply pureed with some beef stock, touch of salt and they help accentuate the sweetness of the asparagus and counter the overall richness.
I prefer soft boiled eggs to poached eggs. For me 5 minutes is the sweet spot, they hold their shape well, are not watery (or tainted with vinegar depending on cooking/freshness of egg) and deliver that satisfaction of running yolk when you cut down.
3. A simple soup of Pertuis asparagus trimmings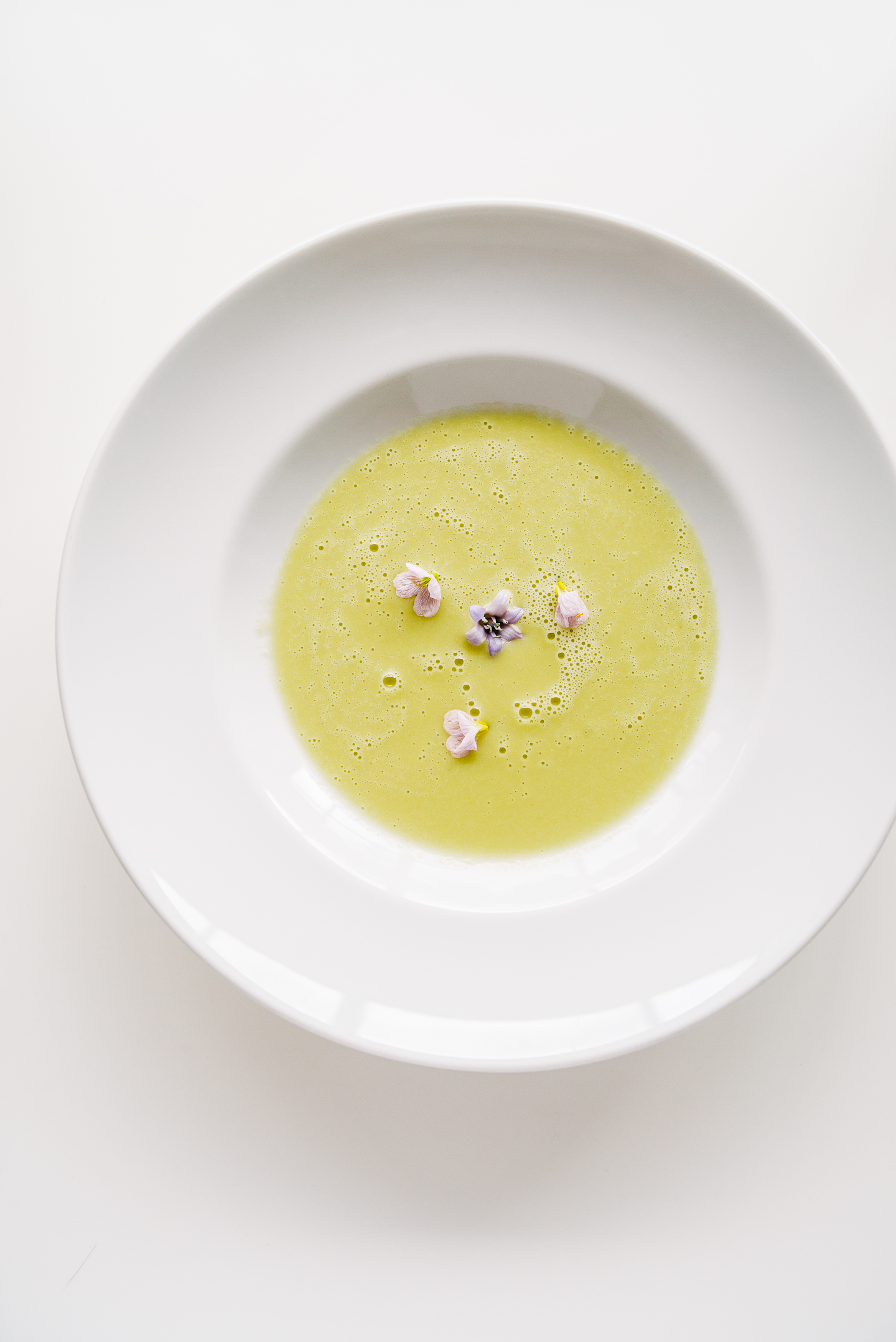 Nothing to waste of course. All the trimmings into simmering water, salt, some vegetable stock, some milk, et voila.
Wine
To pair with eggs, butter and asparagus, I think a decent bottle of White Burgundy will do just fine. So I got my hands on these.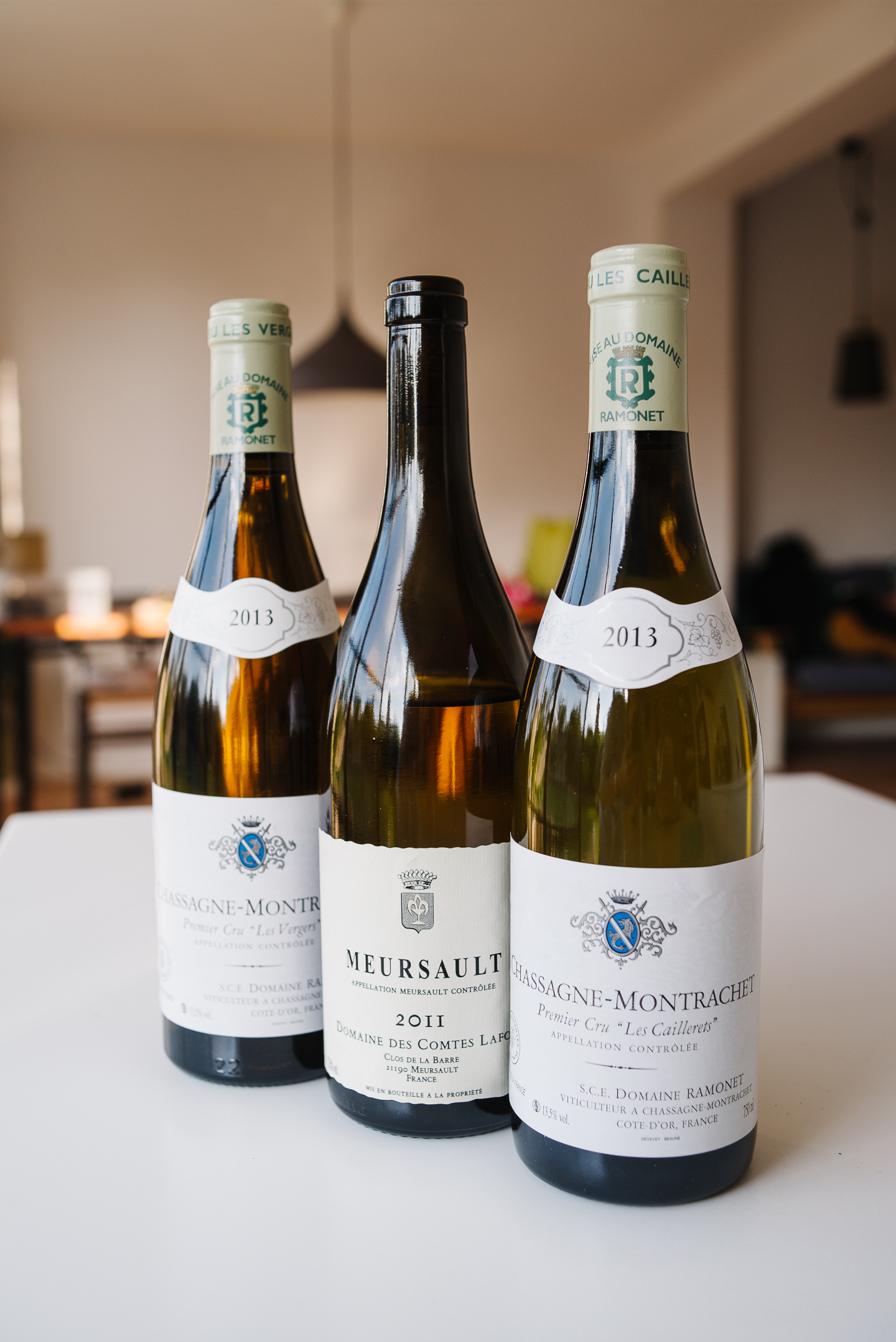 The 2011 Comte Lafon village is pretty decent, and though young is ready for action. Though to be honest, for Mearsaults, I think it ranks behind Coche-dury and Roulot. Personal preference I guess.
Can't go wrong with Ramonet, the 2013 Les Vergers was quite blousy, oily and brash in its youth, very Chassagne. A little disjointed today, an obvious assessment I suppose, but as a food wine, it works fabulously well, untangling its ackwardness as it meets air.