I have it on good account that this is not a mere carbon copy of the great Chef's Parisian offshoot, also called Dame de Pic near the Louvre, rather it is the more ambitious of the twins. The great chef is of course Anne-Sophie Pic, she inherits a gastronomic dynasty so to speak with a long standing association with the bib, that stretches all the way to when they first revised (and introduced) their multi star rating system.
Thought not her originally chosen path, she follows in the footsteps of her grandfather Andre, her father Jacques and eventually took over the kitchen from her brother Alain in 1998. She received the coveted 3 stars in her own right in 2007. She also owns another eponymous restaurant in Lausanne which currently holds 2 stars. No small feat considering there are not many female chefs in pro kitchens, let alone ones who have reached the pinnacle of their profession. We do have Clare Smyth over here, who will hopefully open her own doors, in the Summer. Much in the spirit of the great Eugenie Brazier and Marie Bourgeois.
And that will be enough wiki sleuthing, as we look to the present and the future with this latest venture, Pic's first in Blighty in the brand new and very impressive Four Seasons at Trinity Square in Tower Hill.
This is my first visit to a Pic restaurant, she does have many well-known dishes floating around the web that identifies her style as her own, with the incorporation of ingredients where you may, lets say, not expect them in a classic sense. Not to mention her striking puddings, and I think particularly of the chocolate lattice and also the all-white millefeuille.
Some of her top-end stuff (including the MF) as well as her family classics makes appearances at Dame London, and for this, she has entrusted it to an Italian, Luca Piscazzi. He has La Pergola (Rome's only 3 star), Amber HK and Apsleys, the previous occupant restaurant at Lanesborough before Eric Frechon moved in, on his resume.
The wine list is… expensive. I note that they do Latour BTG, on this visit, 2004 at £185 for 125ml. This translates to a bottle price of £1110, which would be at least the 3x mark-up (to be optimistic). Bottom line is one thing, but value for money (compared to market price) is another, but I think this is a little too much for a relatively young Latour and especially considering the private club in the hotel is organised around the first growth, I expect more of a deal. For that money, at least a 2000 perhaps. The wine list (and the Latour discovery room) is looked after by somm Jan Konetzki, who has joined from Gordon Ramsay RHR.
Meanwhile in the restaurant – in keeping with London – they have laid out a brasserie-like room that walks the tight rope of being gastronomic business and gastronomic casual. Brown leather banquettes, towering pillars of stained glass and triple height ceilings.
We visit for friday lunch, and ordered a 3 course meal. My brother ate from the lunch concessions (£39 for three) and I ate from the ALC.
We start with the house appetisers, prior to the 3 course lunch.
Canapes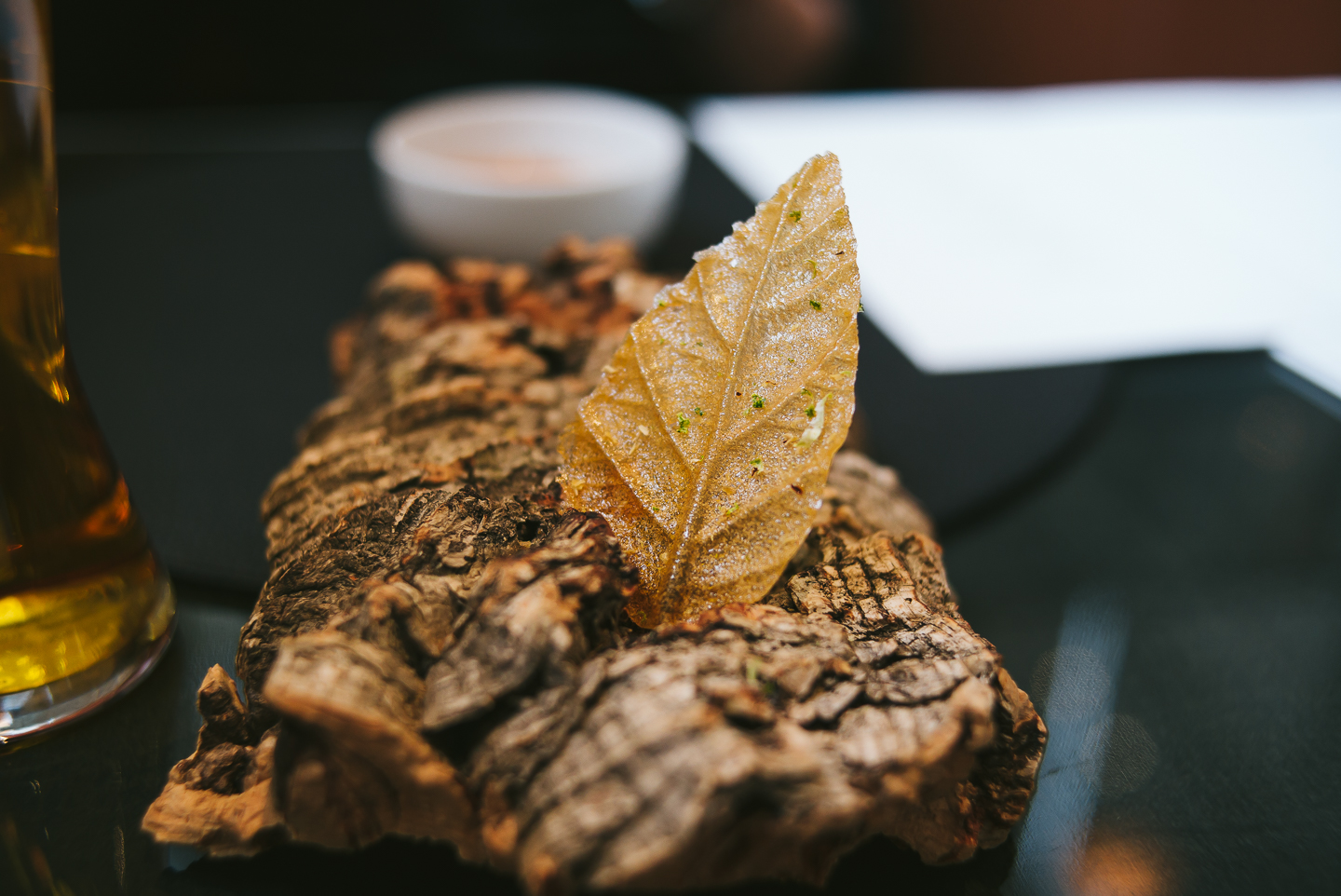 A decorative 'leaf' (in the shape of artichoke leaves), and a little cup of tomato consomme. A refreshing start.
Amuse Bouche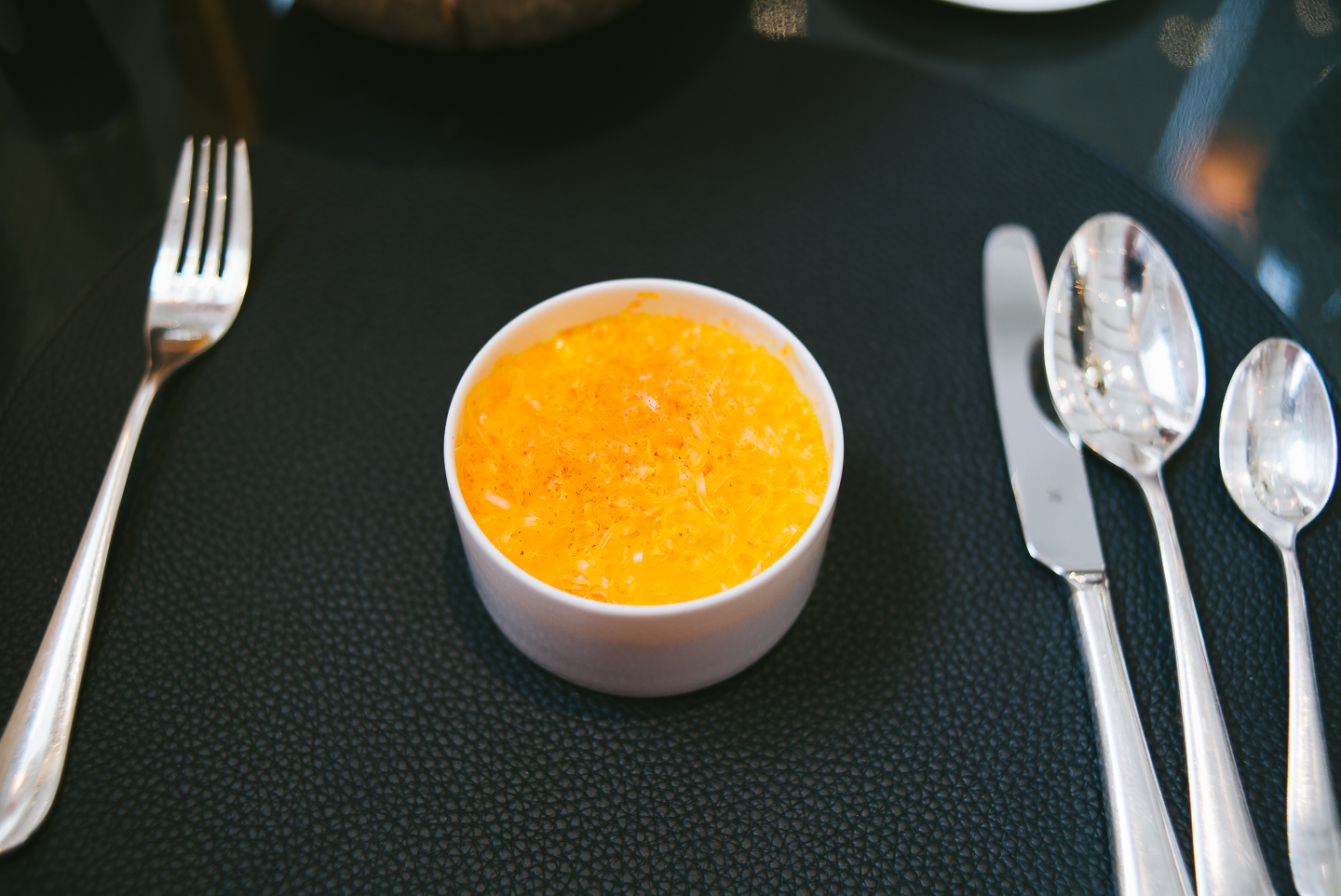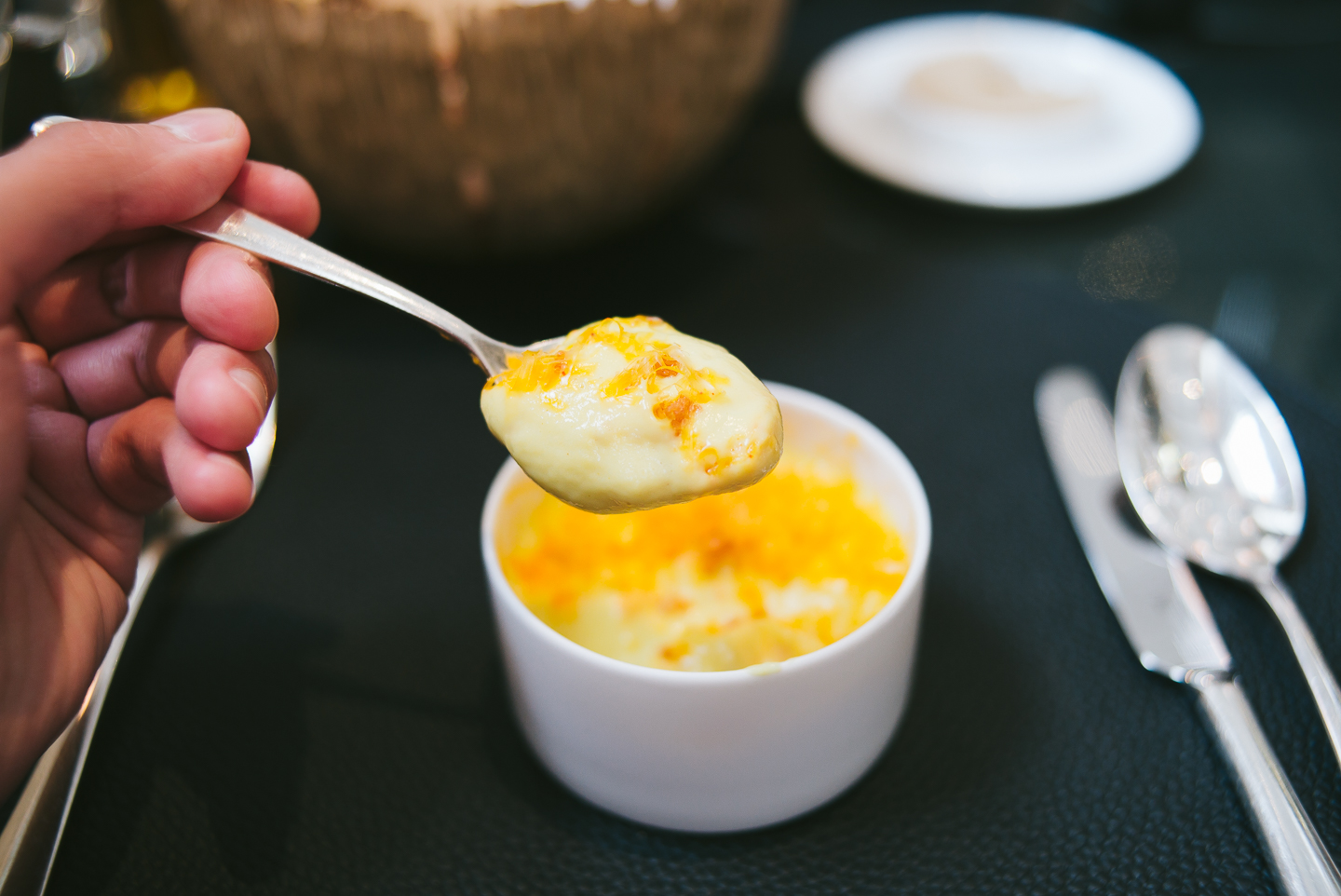 A siphoned cauliflower puree midly spiced with ginger and generously topped with shavings of mimolette cheese and esplette pepper. A simple but very delicious umami concoction.
Starters
Set: Serignan white asparagus teppanyanki, coffee and curry hollandaise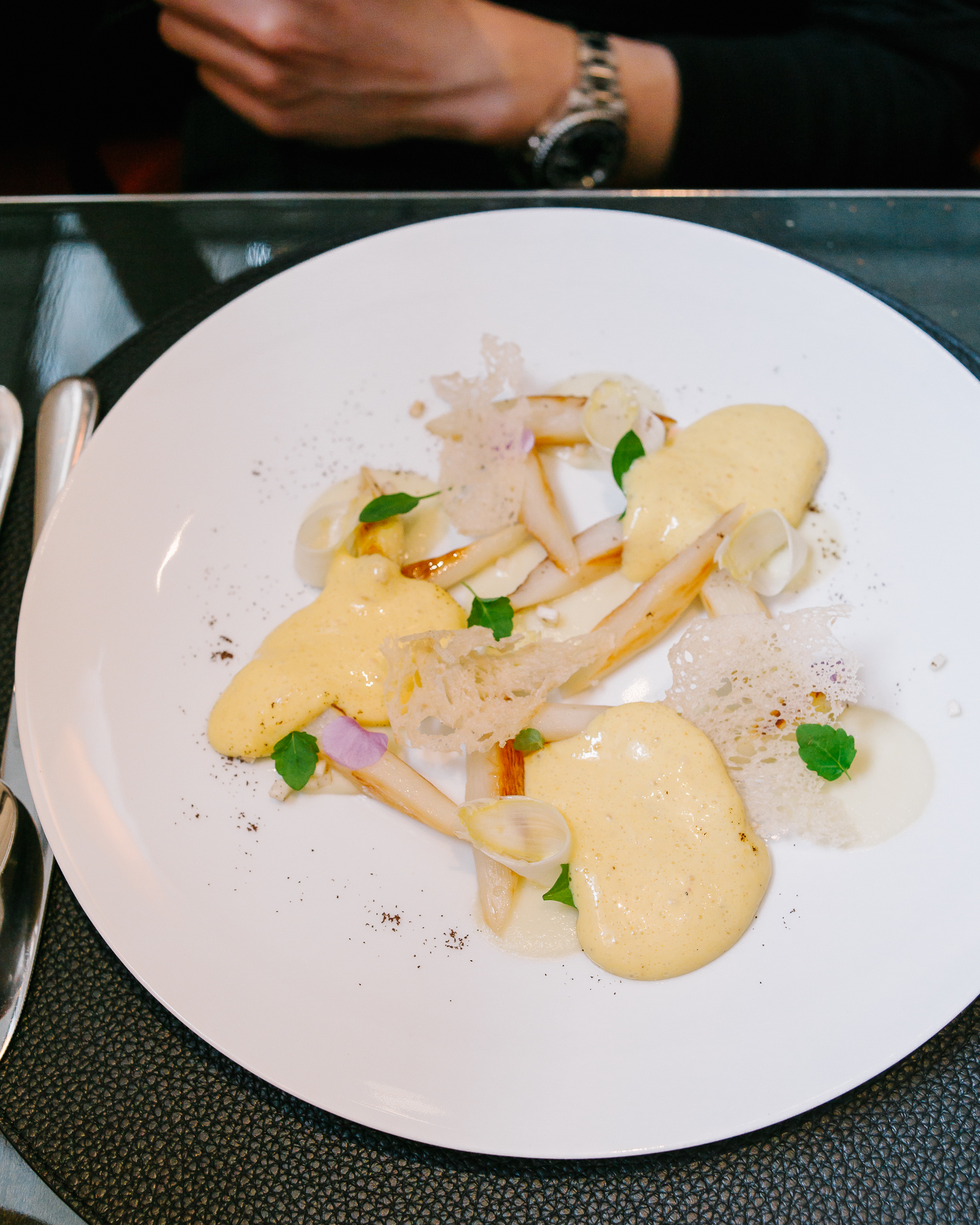 Grilled to golden brown crust and soft centre. Classically paired with a hollandaise, albeit mildly infused with curry. Yes. Lovely work really and a good shout to stick these spears for the lunch set menu. The white asparagus from the south of France now starting to come into peak season, that is to say quality and also a dive in prices.
ALC: Breton wild abalone, lemon balm and geranium rosat, sage infused dashi, £32
Live and wild. I couldn't resist not ordering this dish, very happy to see another restaurant in London offering this noble mollusc.
I asked our waitress to bring out a live one and was rather impressed that they did. A beauty and such a precious thing. Pretty big, looks about 150g, so I will say 4 head.
They "massage" before cooking a la minute…
Meuniere I think, and to a rare centre. It's very tender, retaining all of its natural briny sweetness. The citrus provides freshness, and the deep (deep) dashi gives seasoning. A hearty style for abalone, almost "rustic", especially with the smoked potato puree hiding in the sauce, but the handiwork is excellent. Generous portions, looks like a whole one in here. I'm over the moon.
Tom Kemble's purer style is awesome, but of course, Pic's preparation is equally a quality treatment for the noble product. For those who bang on about quality produce, this is one such specimen. In fact outside of Hedone and Bonhams, I don't know if any other London restaurant offers Live abalone. I hope you guys eat more of it, so more chefs over here will offer it. They're not as glamorous as Ise or Australian, but Irish and Breton abalones are pretty decent, in the right hands.
Mains
Set: Challans chicken, salt baked turnip, umeboshi and Tasmanian pepper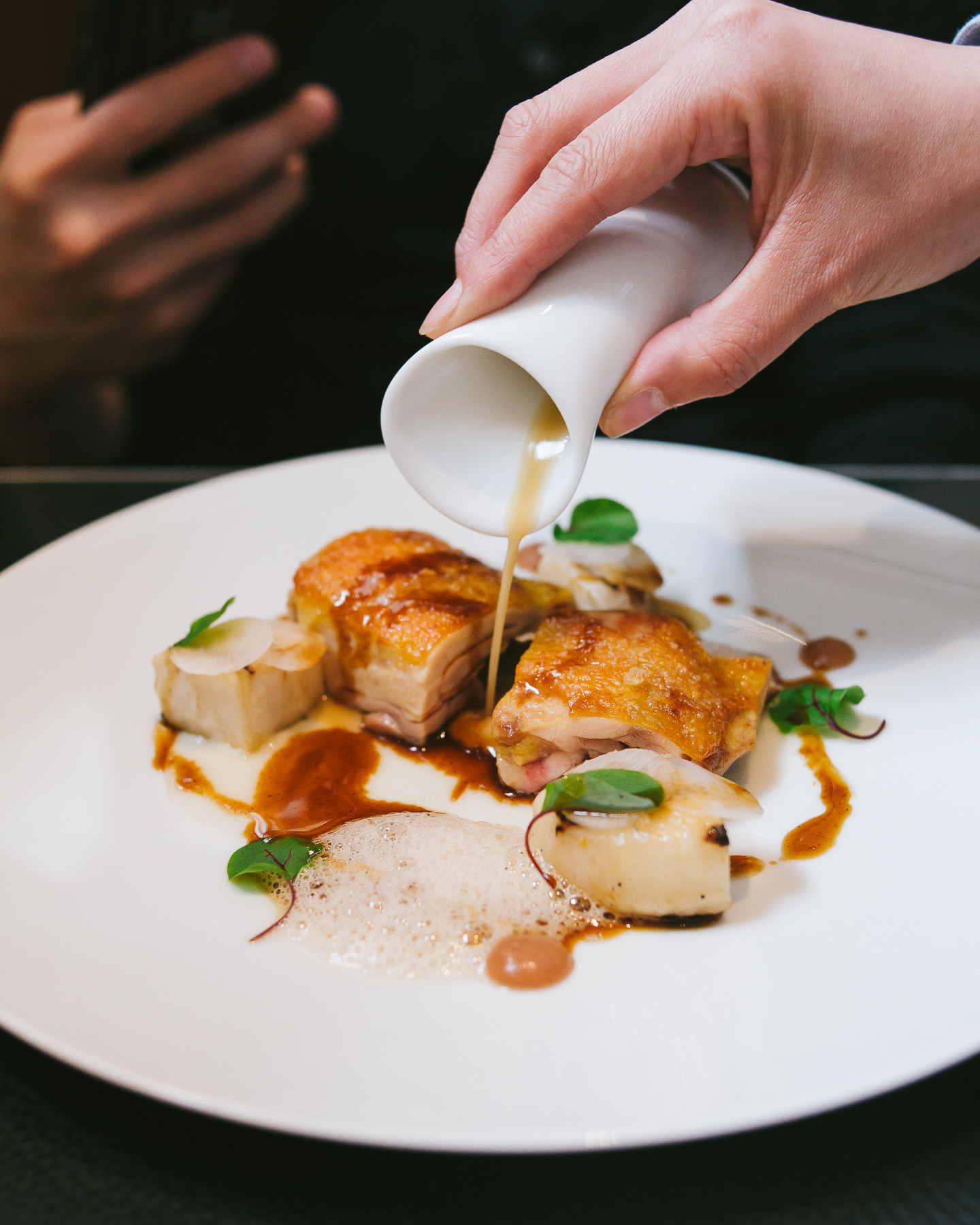 Thighs on the lunch concessions set. Works for me, the best cuts on the bird. Presumably, the breasts go on the ALC plates and so it means the set lunch is both cheaper and the better choice! Beautifully roasted by the way, succulent and juicy.
ALC: Dover sole, Asparagus teppanyaki, with emulsion of apple, celery and anise, £39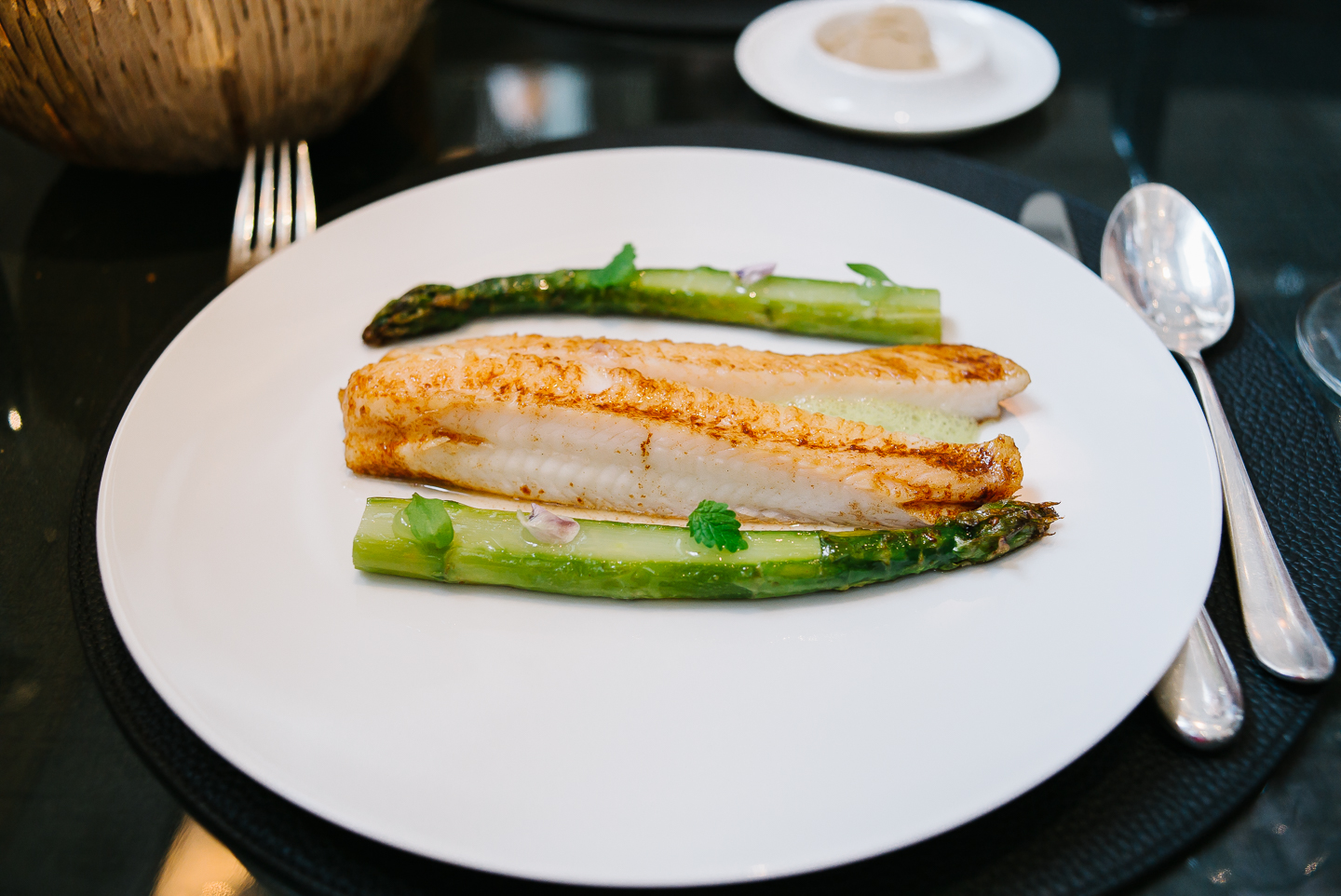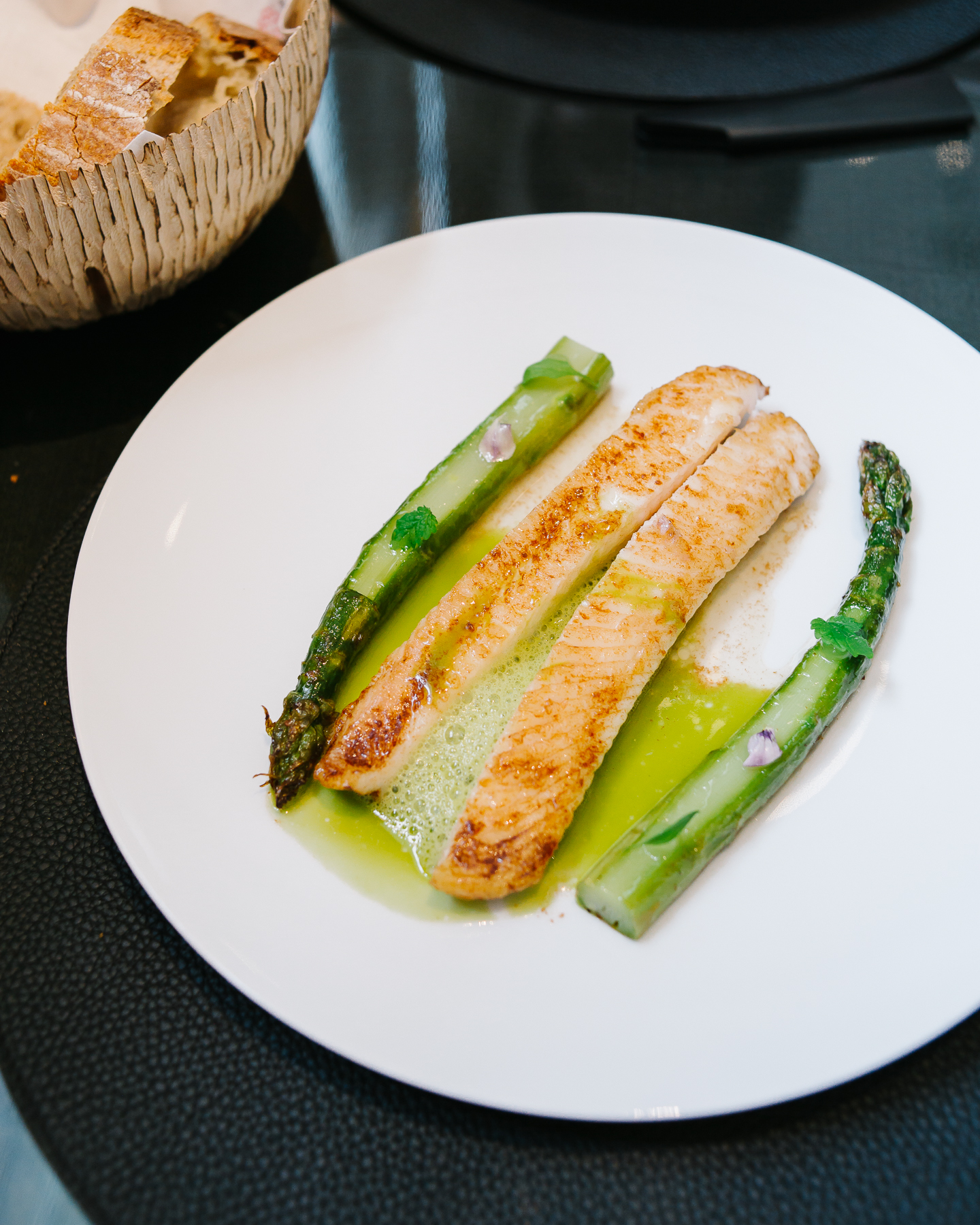 Perfectly cooked sole from Brixham, with a superb sauce. Freshness of green apple rises to your olfactory (not unlike when you peel one) and ends with a subtle spectre of anise in the finish.
I really like the sauce, it lifts the dish rather than interfere with the inherent quality of the fish. Nothing clogging up the palate here, clean and clear cooking. Solid * territory.
Given the price tag, I would have liked Wye, Pertuis or perhaps even Roque-Hautes, used at her other restaurants. These Kent ones were tasty nevertheless.
Pudding
Set: Baba au Rhum, gariguettes and mint cream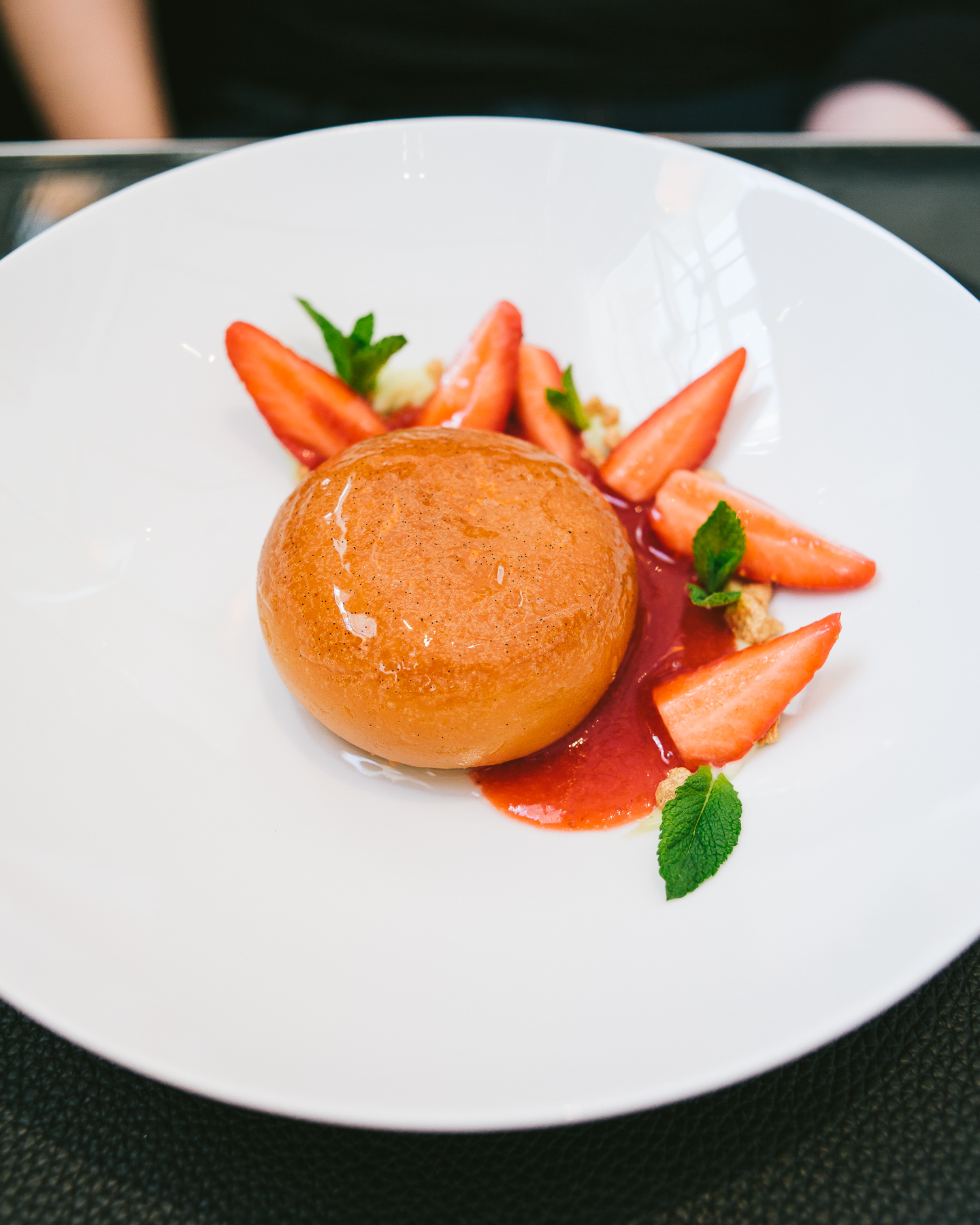 Of course the reference point is Alain Ducasse, specifically Monaco, thought I have never had it before, so I won't be able to add my value to it.
For what it is worth, I thought the sponge was merely ordinary. I like the seasonal addition of the gariguettes, as I have written recently in my last entry, they are beautiful and this very time of the year. Superior fragrant, so much so, I think it almost a waste to manipulate them, as they are best eaten as they are.
ALC, The White Millefeuille. Tahitian vanilla cream, Jasmine jelly, Voatsiperifery pepper foam, £14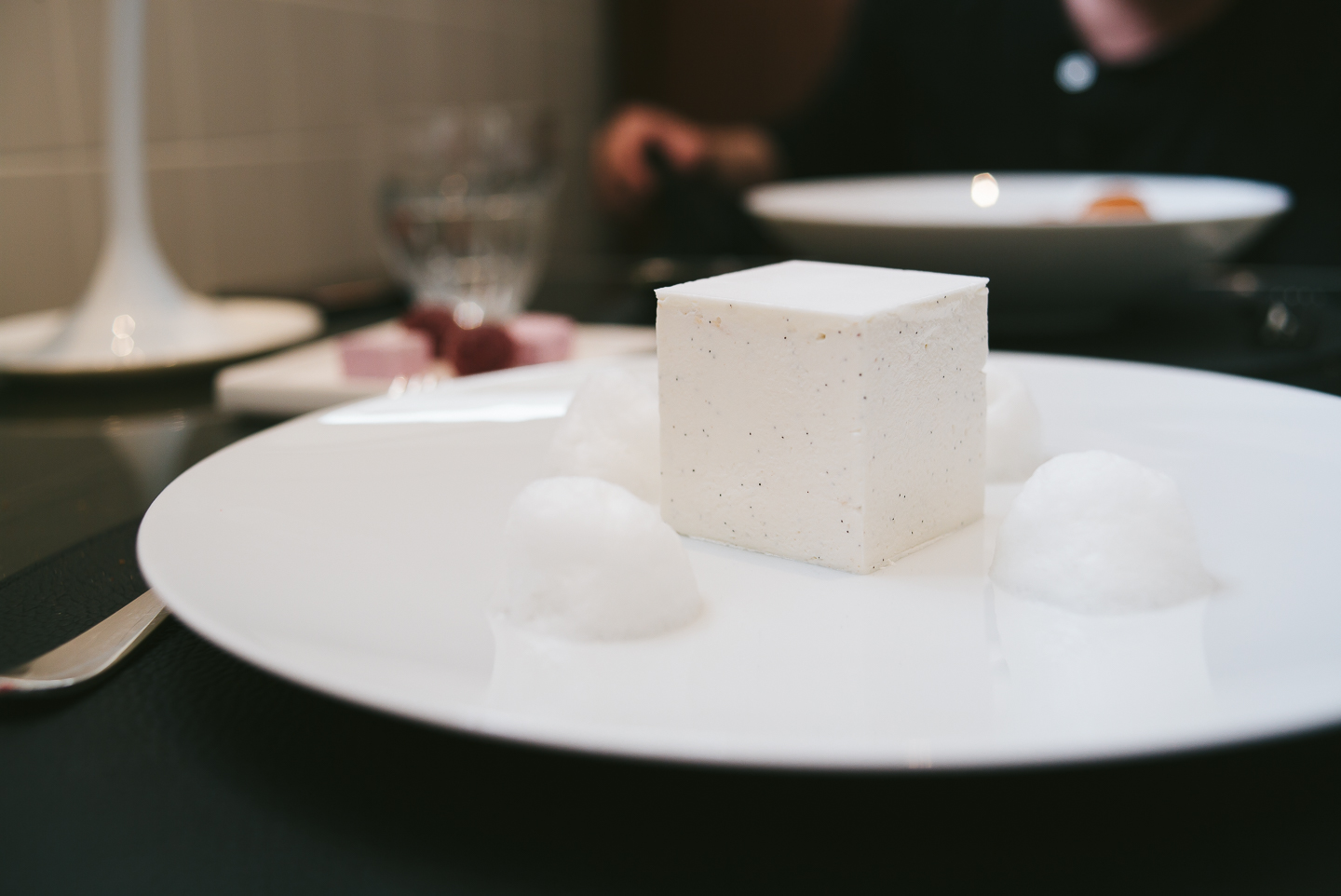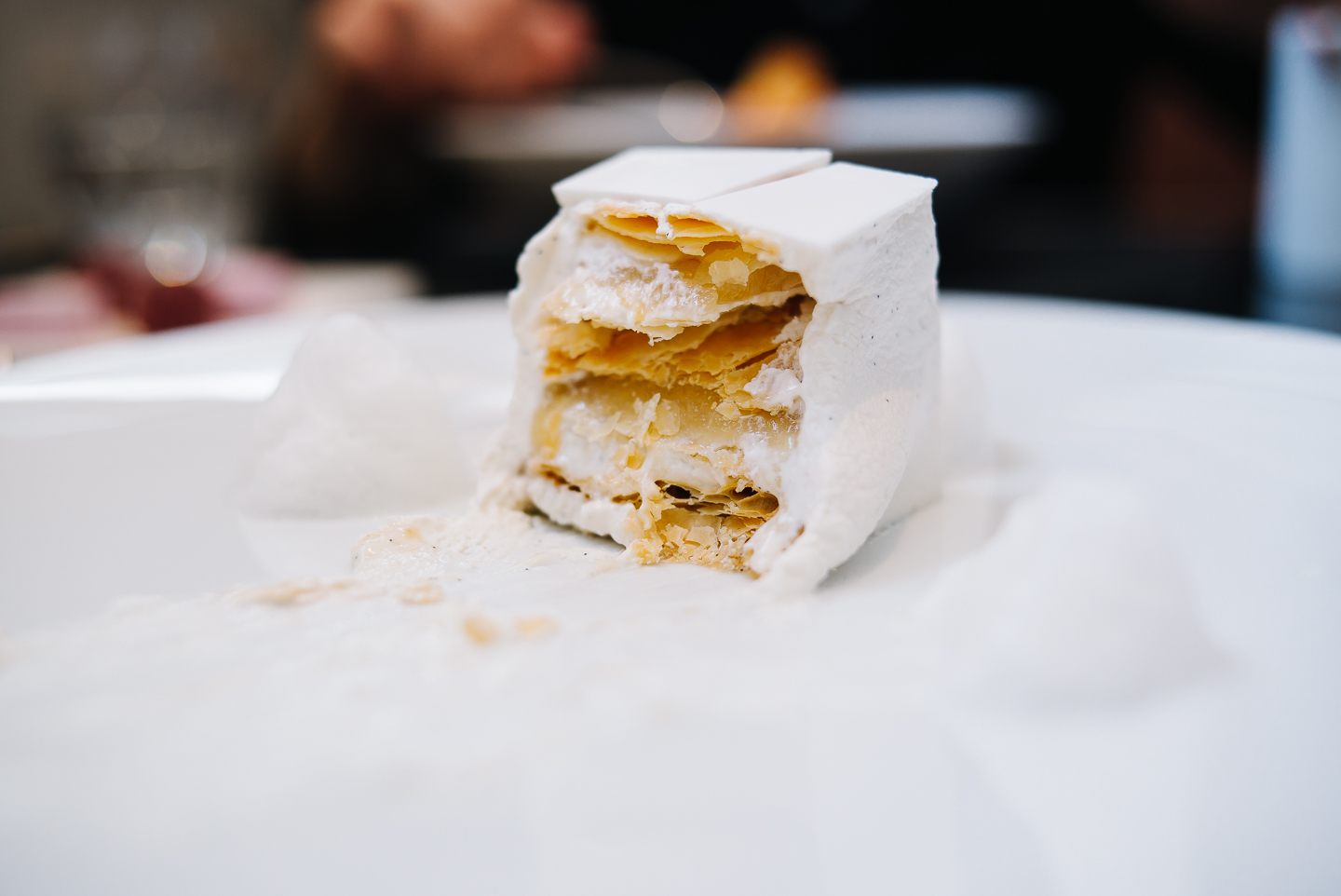 An atypical MF and very striking in its construction. The ultimate homage to vanilla. If not mistaken, it is not a creme pat enveloping the exterior, rather it is a whipped vanilla cream (with yoghurt), topped with meringue based icing. Inside the puff, is a jasmine jelly, served ice cold, it is more like a sorbet layer. In its entirety, there are textural, flavour and temperature gradients throughout. The milk foam is subtly infused with pepper, emphasis on the subtle, and works well as a 'finish' on the palate. A little interesting that this pepper (Voatsiperifery) is from Madagascar, and yet Pic has elected not to use Bourbon vanilla. I would have thought that ingredients from the same terroir would have more affinity for one another, but well, maybe not, who knows.
Master pastry work, very delicate and also I think a smart (and practically simpler to assemble that it looks!) idea to change up the classic pudding with the cream plastered around the pastry. And in London too. I won't list the top-tier MFs we now have in London. Some are tall and traditional; others lay flat and impossibly light, with ice creams that do not 'melt'. You know where they are.
—
The bill came to £162.32 for 2 people for all food, 1 beer, 1 glass of Alsatian Pinot Blanc, a bottle of water and service. The set lunch half of the bill was around £50, and an ALC meal came in at £110.
The cooking is very good here, easily in the 1 star bracket IMHO. If this is truly a reflection of Pic's palate, then I would say the Chef has a great one. The cuisine is of course very French, but it is her use of subtle non-traditional flavour pairings that really brighten the recipes. I like that the cuisine is quite compact, allowing main ingredients to taste naturally as they should. There is nothing over the top here and nothing is out of control – which is testament to Luca's management of the team.
Their sourcing is good, especially for fish, featuring the best of the West Country, Scotland and plugging the holes in British terrior, with French produce. I would liken this to Les 110 somewhat in 'conception' and in terms of the relaxed ambiance. Though the reality is that DdPL is a more ambitious outfit (it is the Four Seasons after all), and this is obviously reflected in the difference in bottom line. Over time, I am keen to see the menu change up and to see more of Pic's signature dishes pop-up here. It is nearly the summer, might we see soft-shell native Cornish lobsters in Pic's red fruit dashi perhaps? It would fit in quite well with what DdPL is about, I think.
The full prices may make you wince, but I must say that they have put quite some effort into their lunch menus and provide ample value for money, considering what's on the plate. The weekday 3 courses for £39 is superb, but the next time I return, I will be looking closely at the Weekend 4 course lunch for £55. Both the sole and millefeuille are on the weekend lunch set. Well worth a visit.
Details
La Dame de Pic London
French
Weekday Lunch 3 for £39++
Weekend Lunch 4 for £55++
ALC 3 for £100++ (ave)
Taster 6 for £105++
Four Seasons Hotel, Ten Trinity Square EC3N 4AJ
Tube: Tower Hill