It looks like the critics called this correctly.
I'm certainly encouraged with the last couple of visits to new London tables, JC at EC3, BM at Perilla and now this. After years of trendy concepts, it looks like the market is maturing in 2017, with restaurateurs rolling out new projects that have more substance.
The substance comes by way of Chris Denney, the Chef is no spring chicken, in that he is a seasoned veteran who brings a wealth of know-how having cooked in top notch kitchens including those belonging to Nuno Mendes, Phil Howard, David Thompson (in Bangkok not London), Eric Chavot and the maestro Enrico Crippa. Previous to this, Chris was head chef at Four to Eight in Covent Garden.
A pretty diverse background, and I think his experience is reflected in the style of cuisine at 108, a delightfully blurry, multi-blended concoction of modernity and classicism. If I had to though, I'd probably put this in the same category as Brunswick House. Though Jackson/Andrew's style is not exactly the same, but nevertheless creatively free-wheeling.
The man who recruited Denney to the fold is Luca Longobardi, self-styled 'Founder & CEO' of 108 Garage, who has a colourful backstory. You can read his book (you probably have, though I have not) or read about him elsewhere.
As the name suggests, the space is a converted garage. Completely open plan with an exposed kitchen table, so you can directly interact with Chris. Standard tables, long tables, Barcelona-type lounge sofa near the reception. This works. It's chillaxed and I like it.
I visited for lunch where there was a 5 course set for £35, accompanied by an ALC that ranges from £33 – £48 for 3 courses. I did ALC.
108 sourdough, whipped lardo butter £3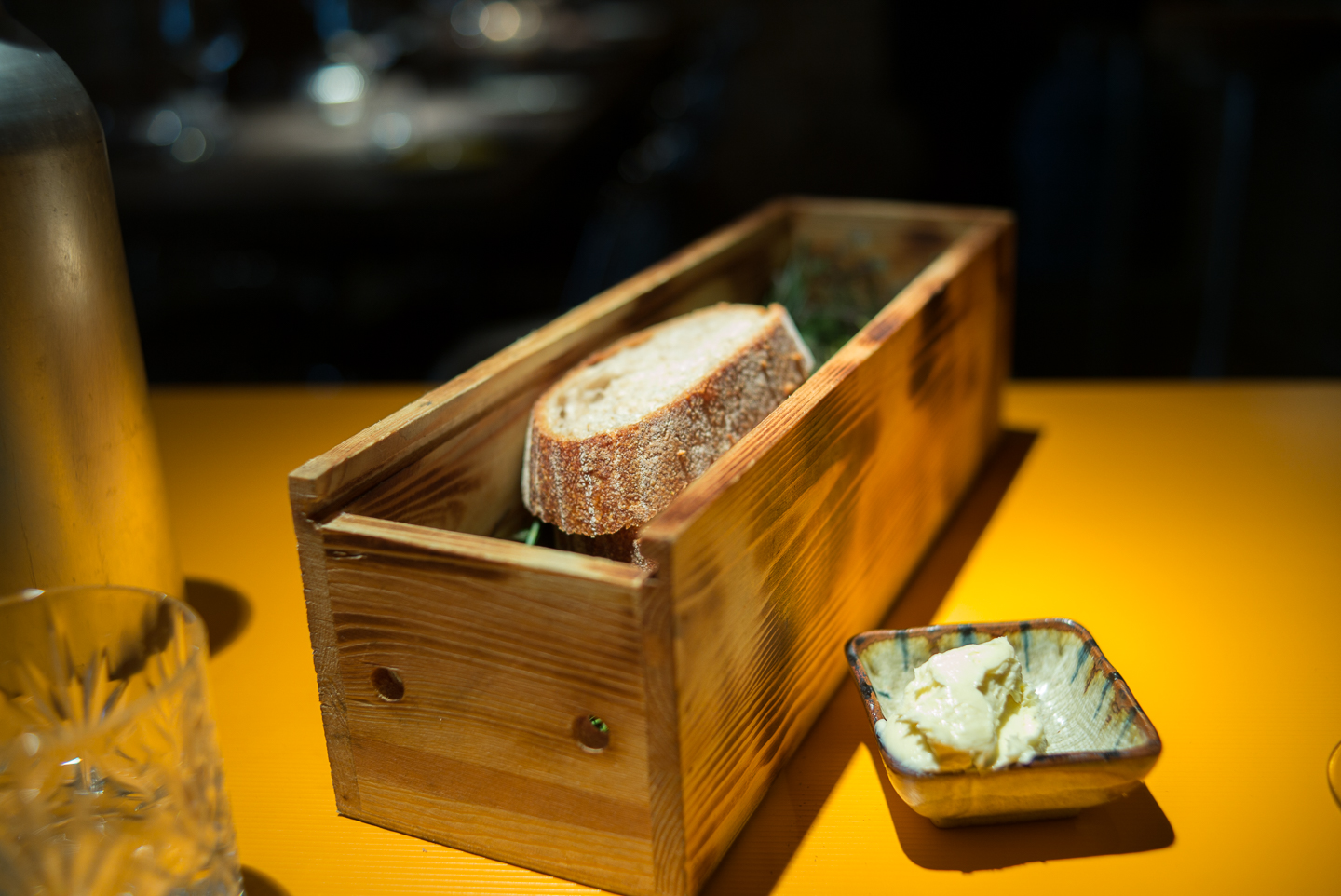 Pretty good sourdough here, house-made and rather light.
Isle of Skye scallop, blood orange, fennel £14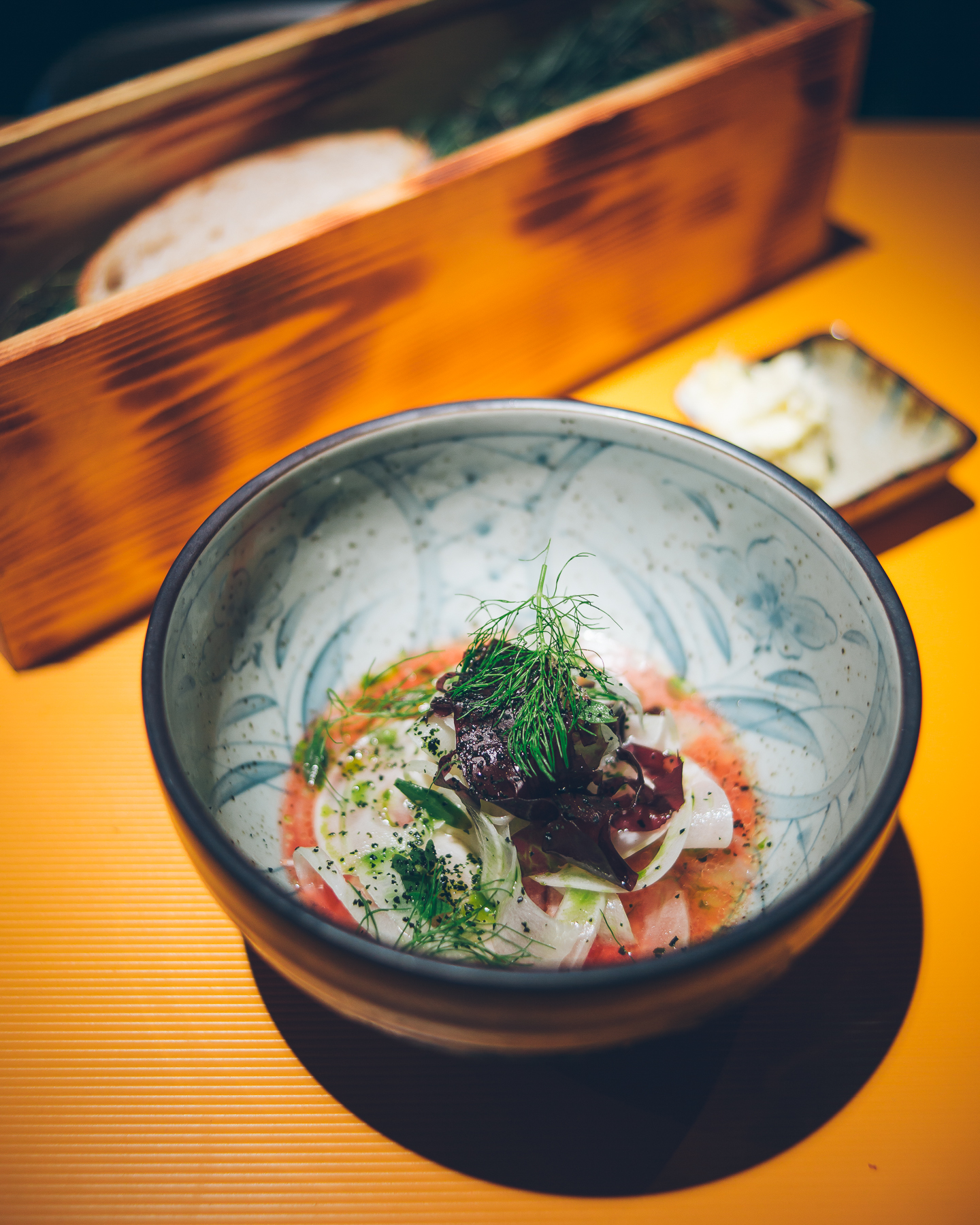 Buried under the mandolin slices of fennel are carpaccio slices of raw scallop. A rather large one too, judging from the diameter. Fantastic seasonal pairing with the blood orange, a proven combo in which both have great affinity for one another (Brett Graham pairs them together too). Sweet and refreshing.
La Latteria burrata, pecan, wild strawberries £9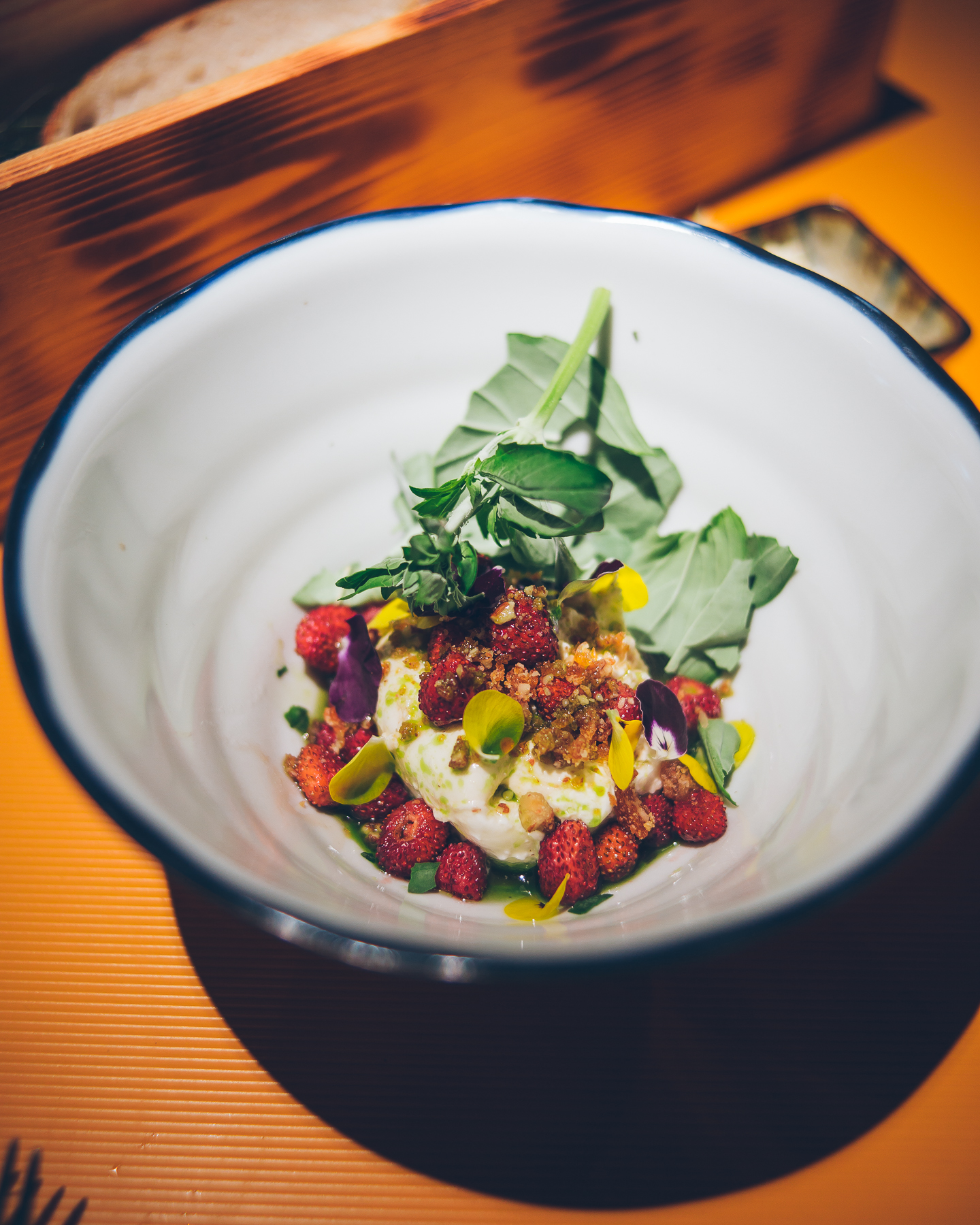 With an added dose of freshness with basil freezed in nitrogen at the table, and 'smashed' into bowl.
Simple yet really effective use of the fruit coming into season – these would be woodlands I suppose, the garden variety that you probably grow (mine usually bear fruit in the summer) and usually features shooting acidity. This acidity paired with caramel sweet nuts, olive oil, fragrant basil makes for a fantastic balance of flavours. All of which is binded together by the creamy cheese. The eating experience is also redolent of cereal with dried strawberries.
I really like this dish a lot.
Veal sweetbread, green asparagus, miso, yeast £10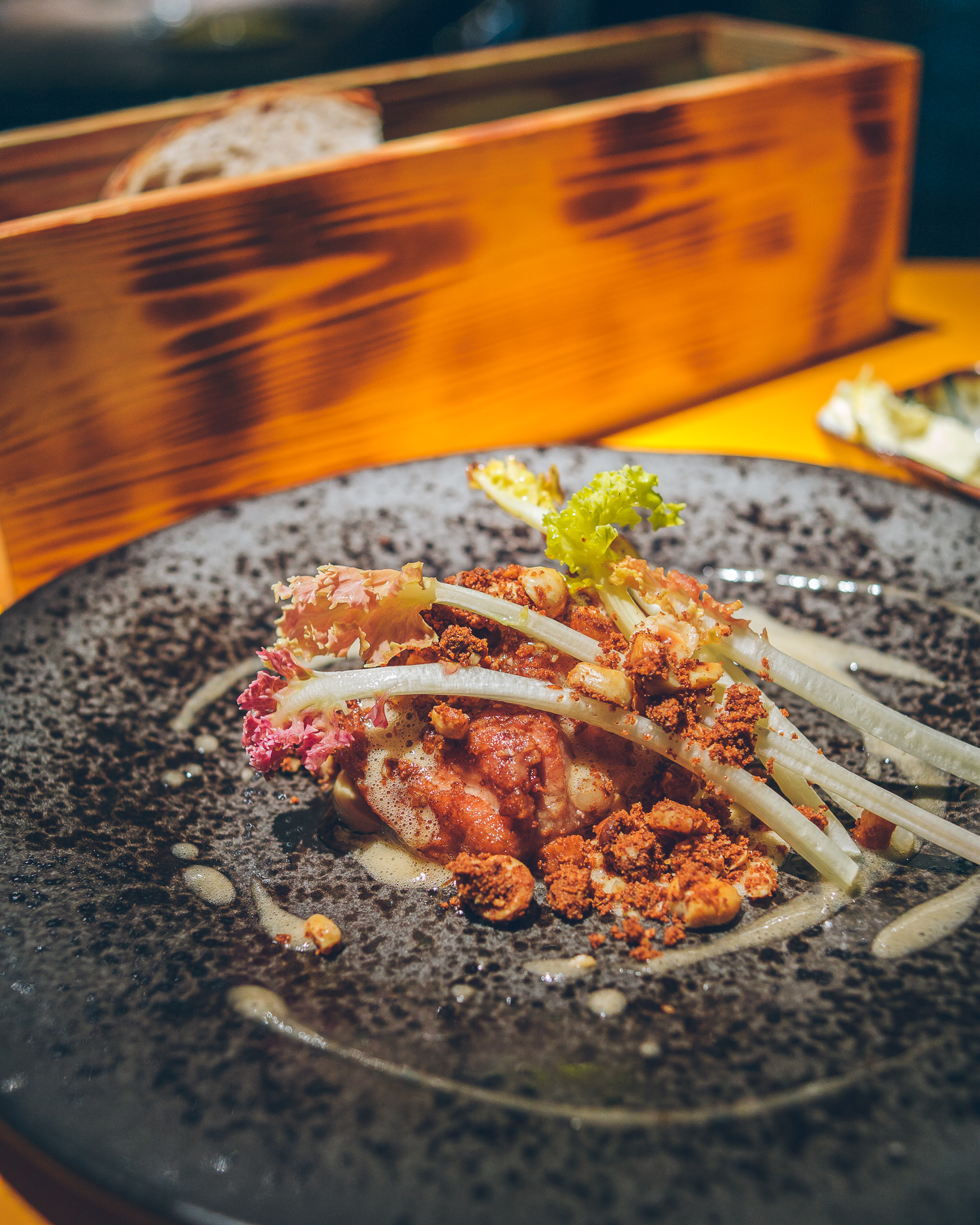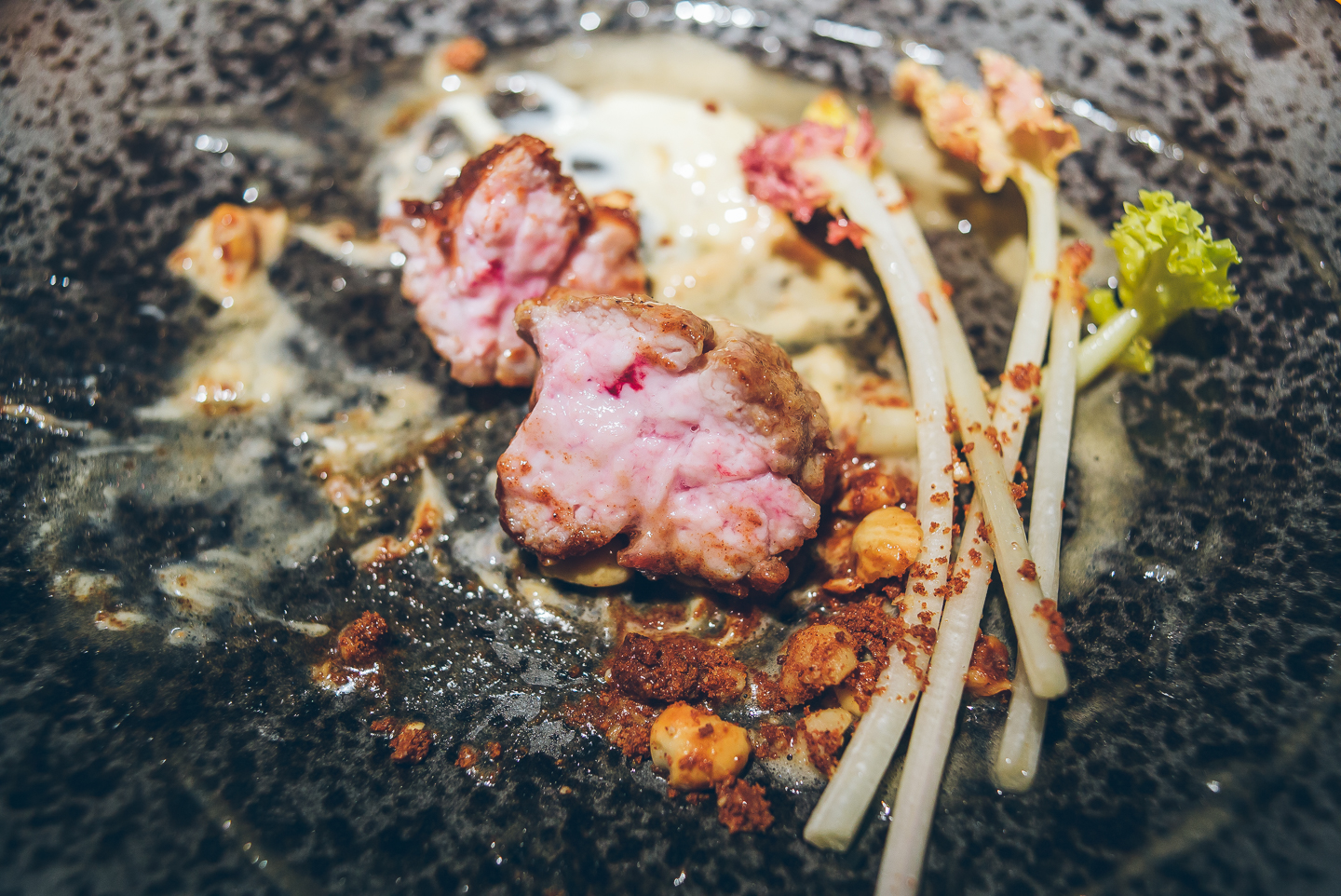 Excellent cooking on the sweetbreads. Everything nicely calibrated and balanced, nuts providing both aromatics and textures, and a punchy acidic-saltiness which I gather is from the yeast and miso. Pure speculation here, I would guess he has left the sweetbread to marinade in a miso paste not unlike say Nobu's black cod recipe. I didn't manage to work out where the asparagus had gone. Maybe whipped into the mayo underneath the sweetbread?
Pretty spectacular dish.
Presa iberica, black garlic, hispi, lardo, green apple £19
A small green egg (mini max?) sits on Chris' stoves. The other meat on this visit's menu was Fallow deer and he appears to finish both in it, full flames going. I love it, I love it, I love it.
Slow cooked first to nice 50ish (53C maybe?), so it's uniformly pink, before hitting the flames in the green egg (I saw whole loins go in, not single portions).
As you can imagine, full on charriness, smokiness, almost violently so with a slight bitter taste of carbon, like well, a BBQ innit, which I enjoy. I also think it was carefully done to seal the meat, and correctly timed so that the temperature inside was not compromised. Really good meat cookery going.
As a foil, there is a mound of what looks and tastes like sauerkraut. Is this house pickled hispi, I wonder? The piercing acidity a perfect contrast to the smoked meat.
Buttermilk, chervil, gariguette, meringue £8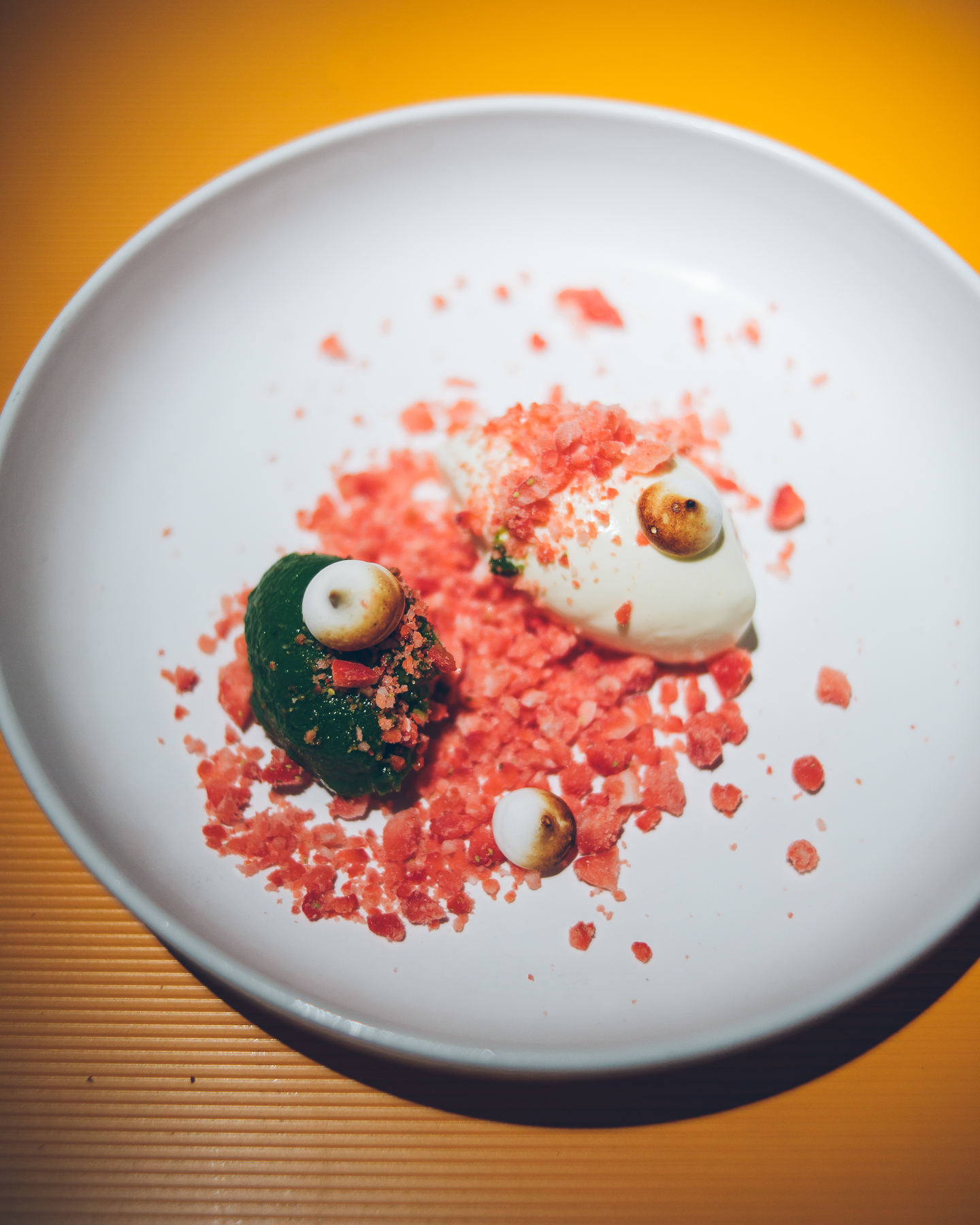 …. and then it all falls down. Yes I think the textural switch out is interesting, and the flavours work (maybe not the chervil ice cream, pretty full on), but everything from the freezer (apart from torched meringue) here and I suppose patisserie is still a work in progress. An opportunity for a budding pastry chef perhaps?
Lunch for 1 person, I paid £81 for all food, wine and service.
I am always delighted to see Veneto wine on menus, and I am of the opinion that a gastro-trip to Venice is more about amarones and ripassos than ciccheti, Anice Stellato aside. Anyway back in 108, I drank a 2013 Valpolicella from Latium Morini -Veneto wine- which was quite decent.
The wine list is very brief but does top out with two supertuscans, 09 Sass (£330) and 09 Tig (£220) and Latour's 3rd wine from the lush 09 vintage, a little dear at £140, suggesting the industry average of 3x mark-ups. House wines start at under £30 a bottle.
So yes an impressive lunch, the first of many I hope as this will go on my must-return list. Chris' indefinable cuisine already has a unique ID and I am rather impressed with his palate and compositions, which I found worked well. This would all be for nought if not for the underlying fundamentals, and there at the sharp end, his cookery is careful where it counts the most. You can tell Chris' heart is in the job and it is easy to see why 108 Garage has garnered the praise it has. Well-deserved I think. A solid addition to the London scene and worth your while if you've not yet been.
Details
108 Garage
Modern Euro
£35 to £50pp + drinks + service
108 Golborne Road, London W10 5PS
Tel: 020 8969 3769
Tube: Ladbroke Grove + 7min walk