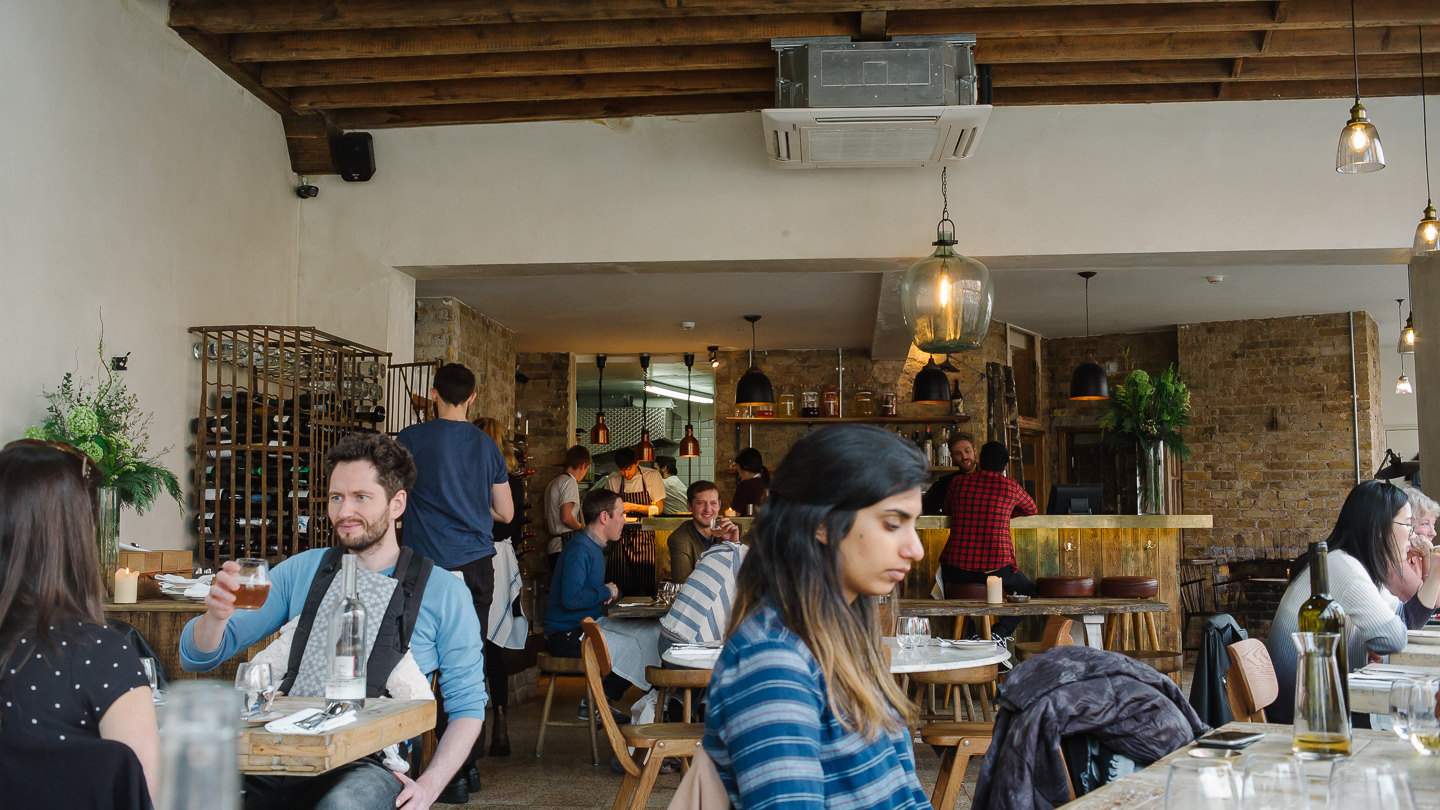 Here is the latest pop-up fairy tale of a promising young chef spreading his wings early in his career to own his own. Some would say a little too early, evidently not to his heavyweight backers who must think he's ready. One of them is a certain Mr Howard, who would have been around the same age when he opened The Square in St James' in 1991 (before Ben was born?). Although times have changed as footfall and a glamorous London post code no longer dominate site selection, as it once did.
And the man on Perilla's pass is Ben Marks, barely 24 and now living the dream having opened his own restaurant in the neighbourhood where he grew up. He is joined by business partner and FOH, Matt Emmerson.
I feel encouraged about this opening, as there looks to be some ambition, rather than another trendy concept. Ben lists incubation periods with Martyn Nail at Claridges and Phil Howard at The Square (essentially time spent with his backers), as well as a stint at Noma.
And it seems to me that there is something of a Noma in Stoke Newington, by the looks of the menu. Seasonal, local, pickled, a little foraging. All speculation and observations, from where I stand, and that is to say that I think that is where Perilla shows its real ambition.
There is a £25 4 course set for lunch, and dinner is £38 for 5 courses. ALC is available for those of you who cannot stand being stripped of choice. During this visit, a mise en place consisting mainly of vegetables with a couple of alternative proteins keep the bottomline ultra competitive.
We were a table of 3 for Saturday lunch, there were 6 savouries and 2 puddings, so we ordered one of each dish on the menu.
Seaweed bread brushed with roasted lamb fat £3.5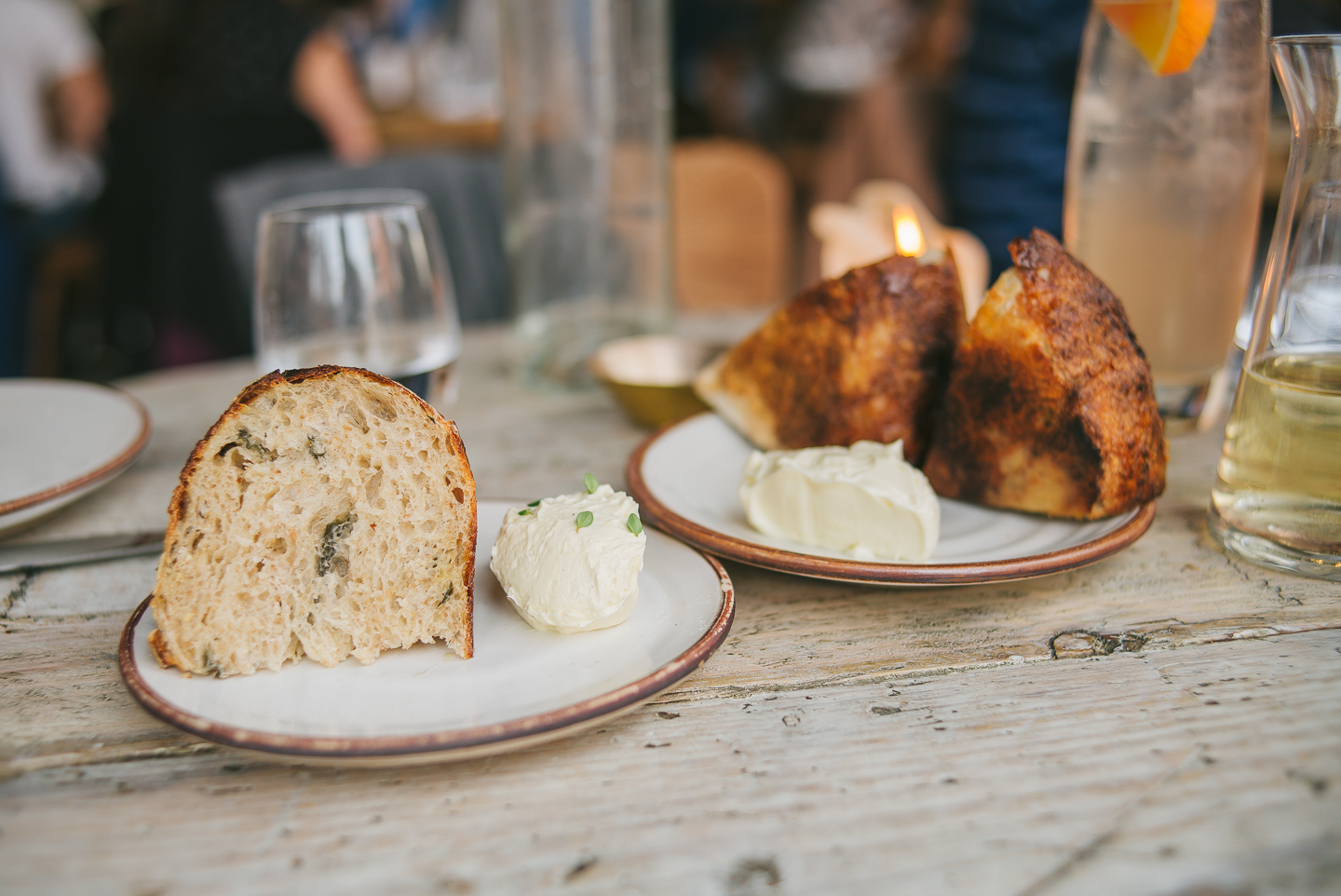 Made in house, swirls of seaweed mixed in, fluffy, pretty good actually. It may be 2017, but I still like the whipped butter very much. Not sure of the need to brush bread with oil if it is served with butter however.
Grilled leeks with comte and bladderwrack seaweed £10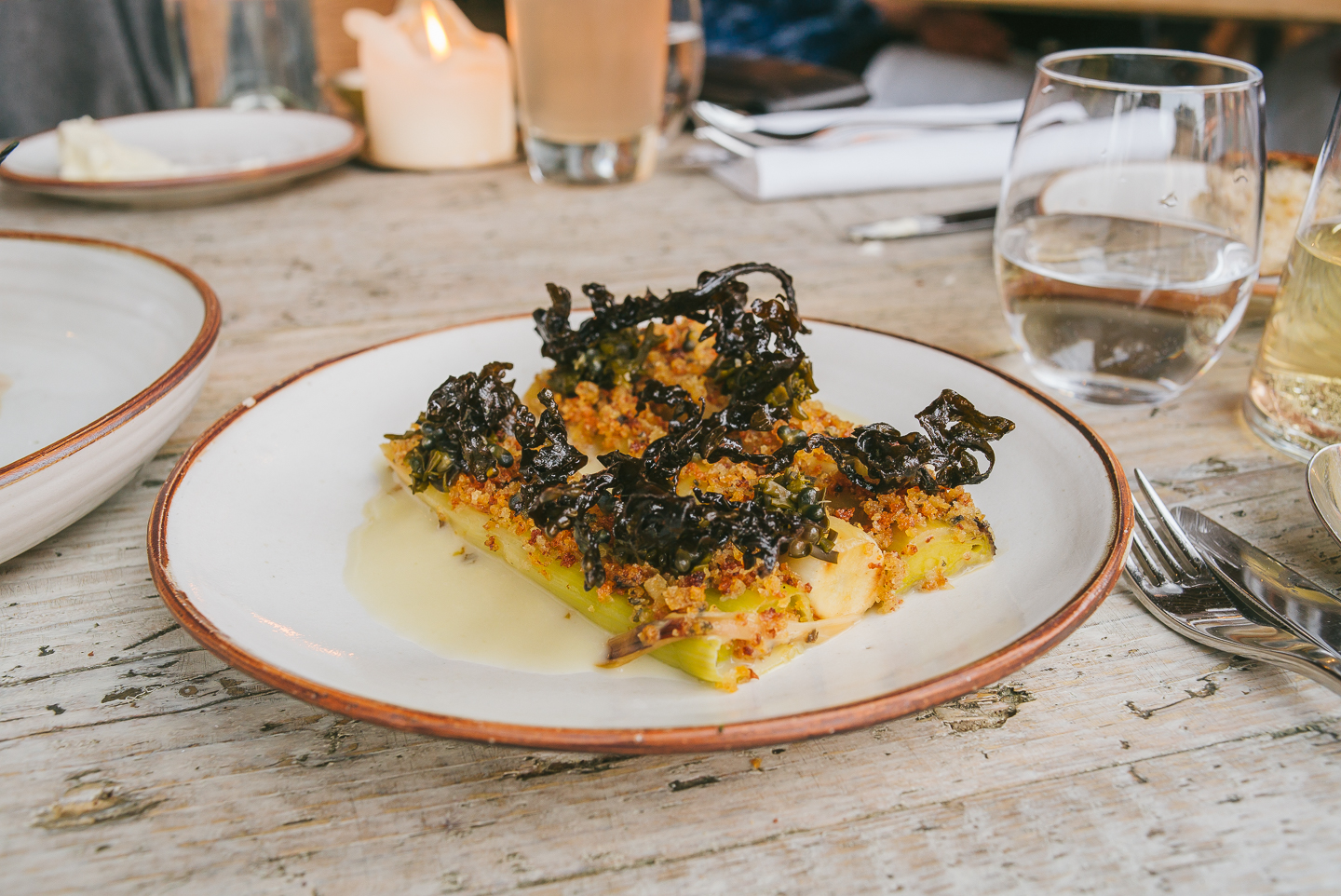 Impressive – grilled like this, they work like substitutes to white asparagus. Robust in flavour, boosted by the umami-laden cheese and crispy seaweed. Crumbs for texture. Pretty solid transformation of such a humble vegetable.
Pot roast broccoli with hung yoghurt and pickled cucumber £13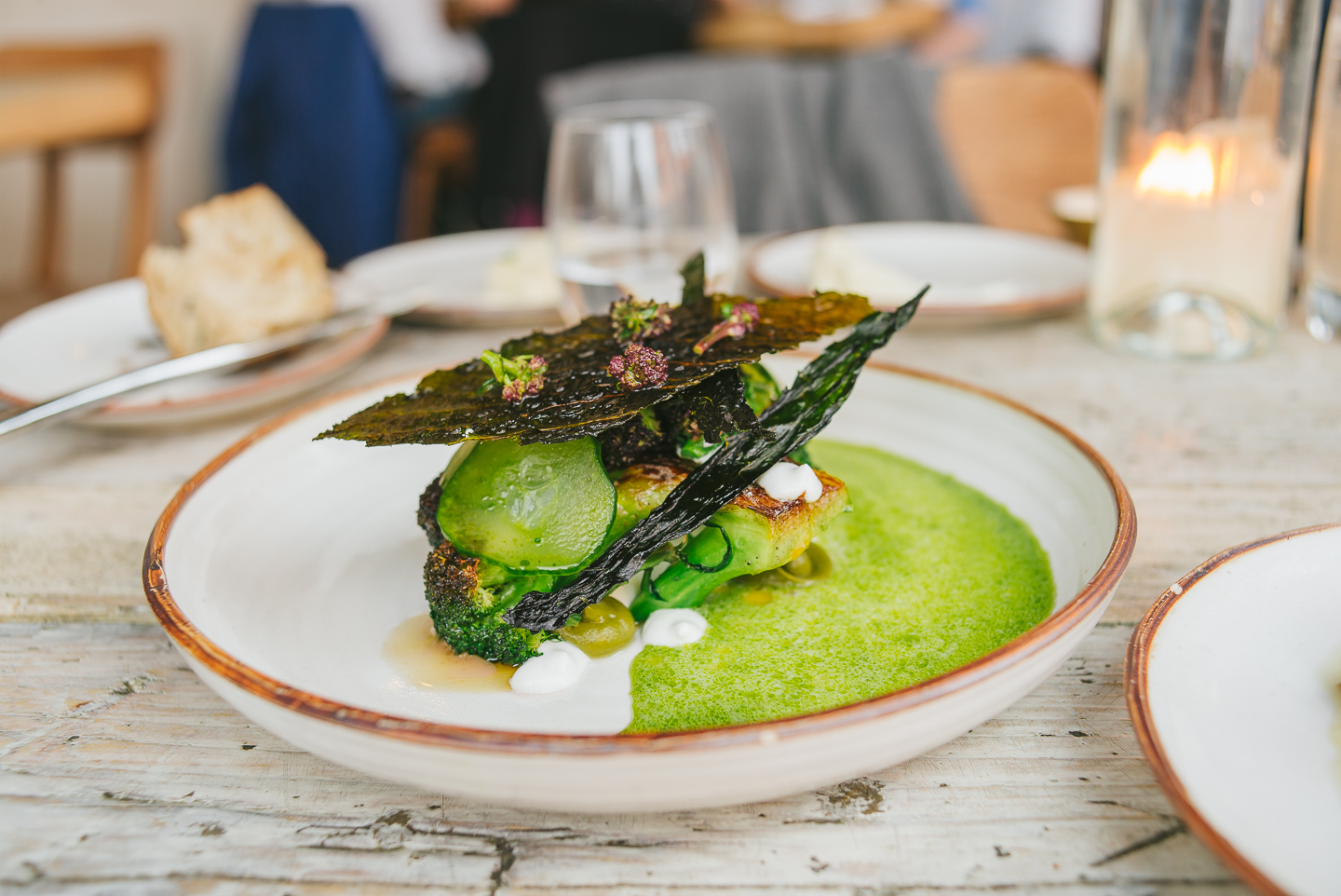 Can't say I have ever knowingly eaten hung yoghurt, here made into a sauce, with acidity to lift the dish.
If I were to make comparisons, then I would say Lee Westcott's cauliflower is better (and a better vegetable to brown off) and I think the broccoli could do with a little more caramelisation. Otherwise, fantastic effort again with another humble vegetable.
Cuttlefish bolognese, monk's beard, bottarga £11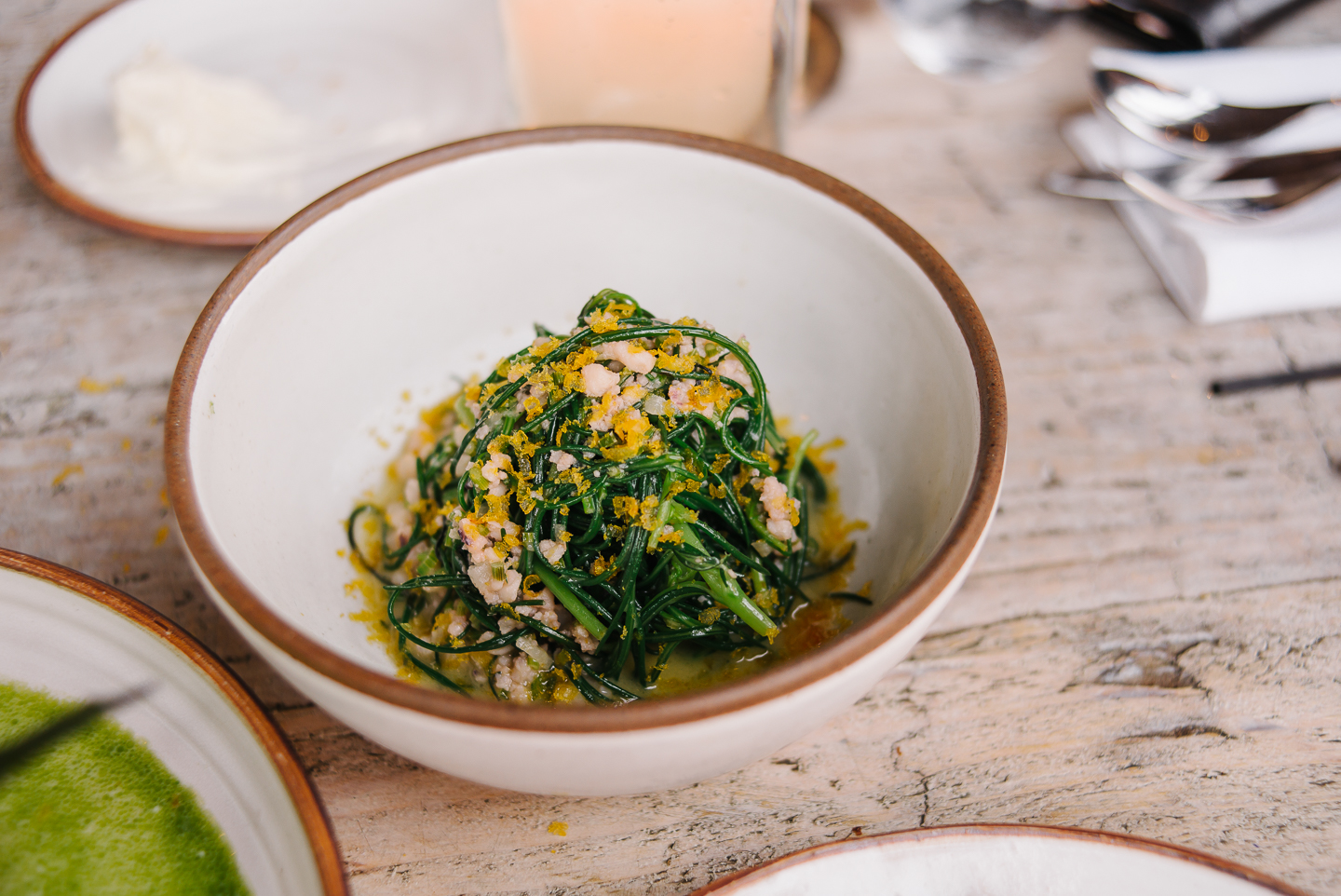 Beautiful sauce at the bottom of the bowl. Like a minestrone soup with chicken stock, lemon and butter, appetising to dip and soak the bread in.
Sadly the rest of the dish for me didn't work out too well, as I really was expecting something else. This is a million miles away both from Koffmann's beloved classic with its ragu prepared from tentacles and Tom Kemble's interpretation with the squid ink, cockles and chorizo in his cuttlefish ragu.
Too much monk's bread, and a few measly pieces of cut cuttlefish, hardly a ragu. I found this dish to be lazy, in its substitute of monk's bread for cuttlefish/squid ribbons (itself a replacement for pasta noodles) as I think the vegetable doesn't have the same ability to soak up sauces. Cue the bread.
Pan fried gurnard, crab, jerusalem artichokes, cured egg yolk £18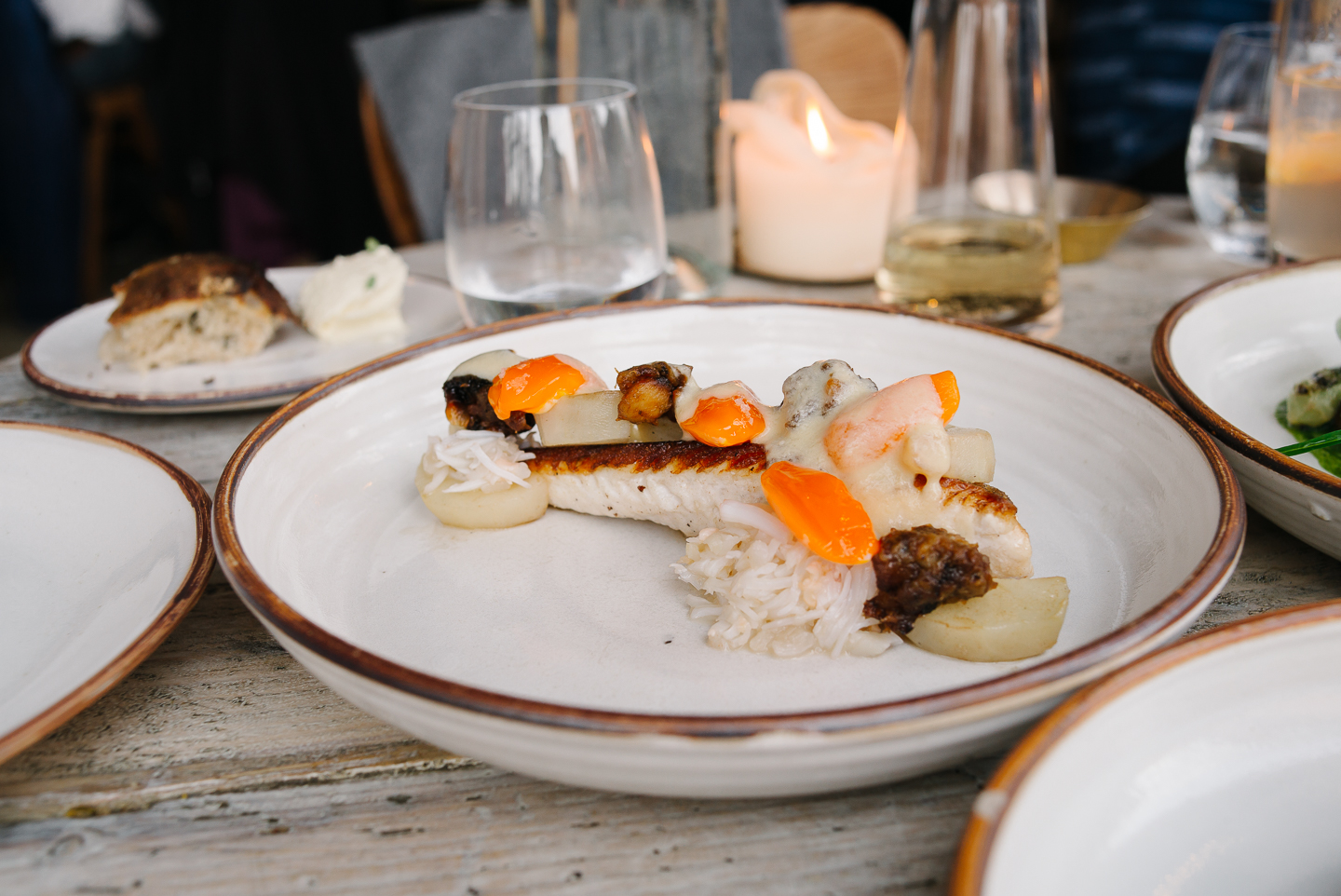 Odd looking plating aside, the combo works very well. I am always glad to see this fish on menus, it is ugly and cheap, but is every bit as meaty (when you take all the tiny bones out, as is the case here) as nobler brethren. Here however, it is perhaps cooked a little too hot and too fast, a touch over with some of its flakiness and inherent oiliness lost. Other than that, a good dish.
Cod with mussels, lovage and braised greens £18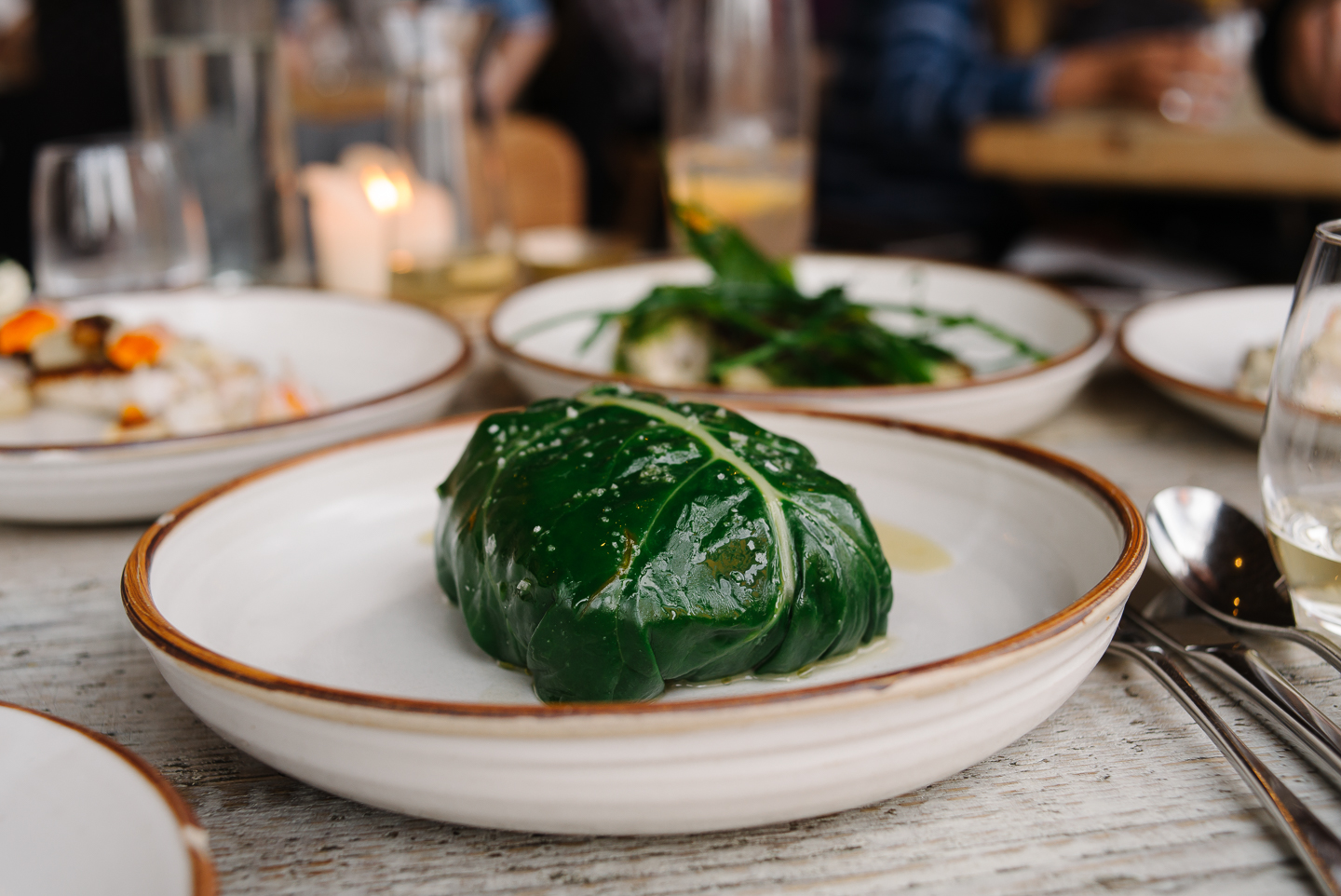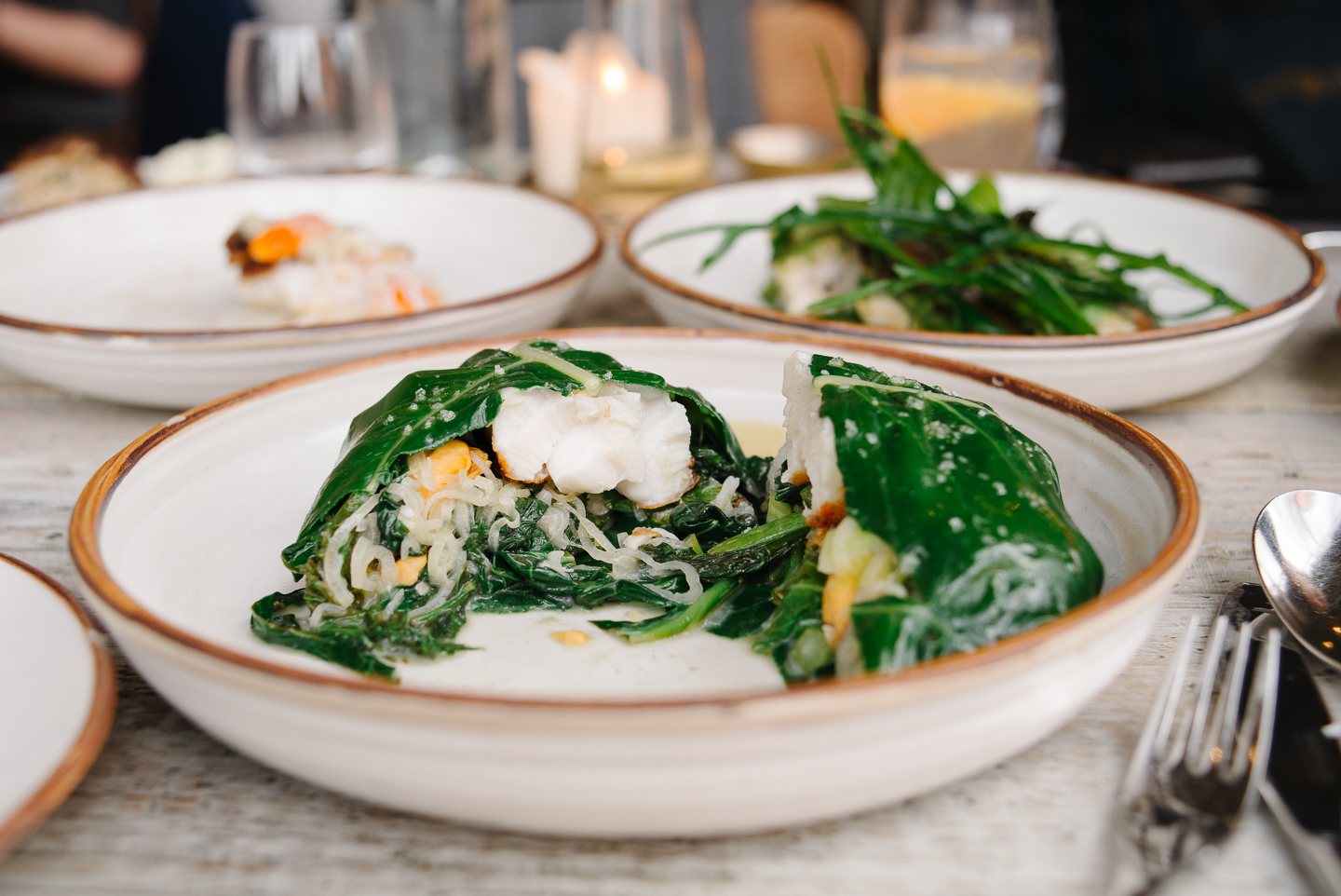 I think a simple butter poach for the fish would have worked better with this chard wrap. It seems like wasted effort to achieve the roasted, golden crust only for condensing steam to take away the crispiness. Still, pretty tasty dish, especially the greens which have been braised in mussels stock.
Grilled chicken with wild garlic and puntarelle £15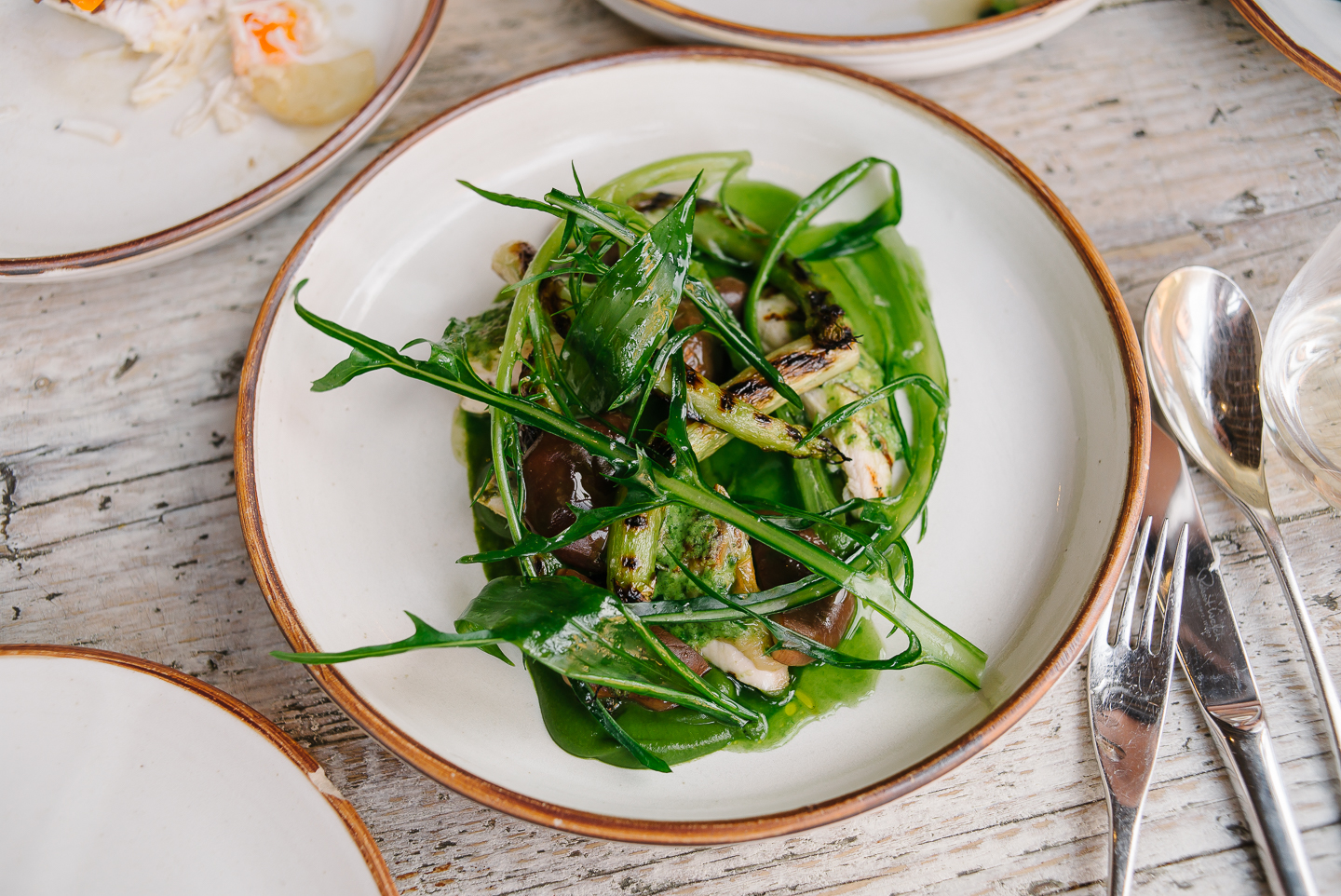 The admirable vegetable cooking continues, this dish showing the Chef's admiration of the Season's gift of ramsons. Completely delicious sauce from wild garlic, full chlorophyll retention. The best of the dish were the shiitakes, meaty and dense, full flavoured like rehydrated kind and comprehensively delicious.
Chicken seems almost like an afterthought. Violently finished on the grill, and drying out.
Poached pear with sour apple and soft herbs £7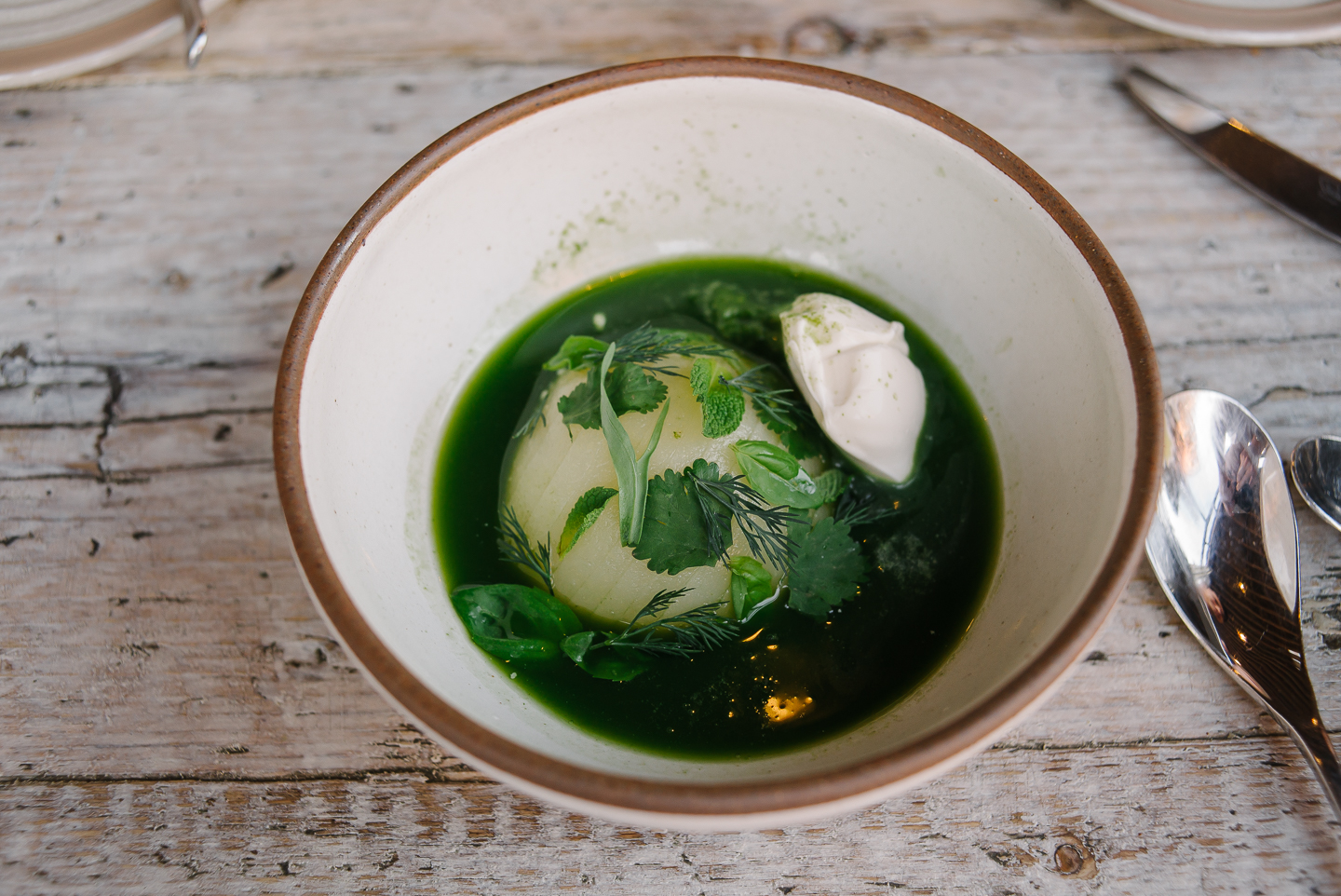 The puddings on the other hand were genuinely classy. The pear appears quickly poached (in sour apple juice I think), served sliced and it retains much of its natural texture and sweetness. This herb soup is like 糖水 with British terroir, that is to say, the herbs are indeed soft and work with the sweetness.
Blood orange custard with olive oil £7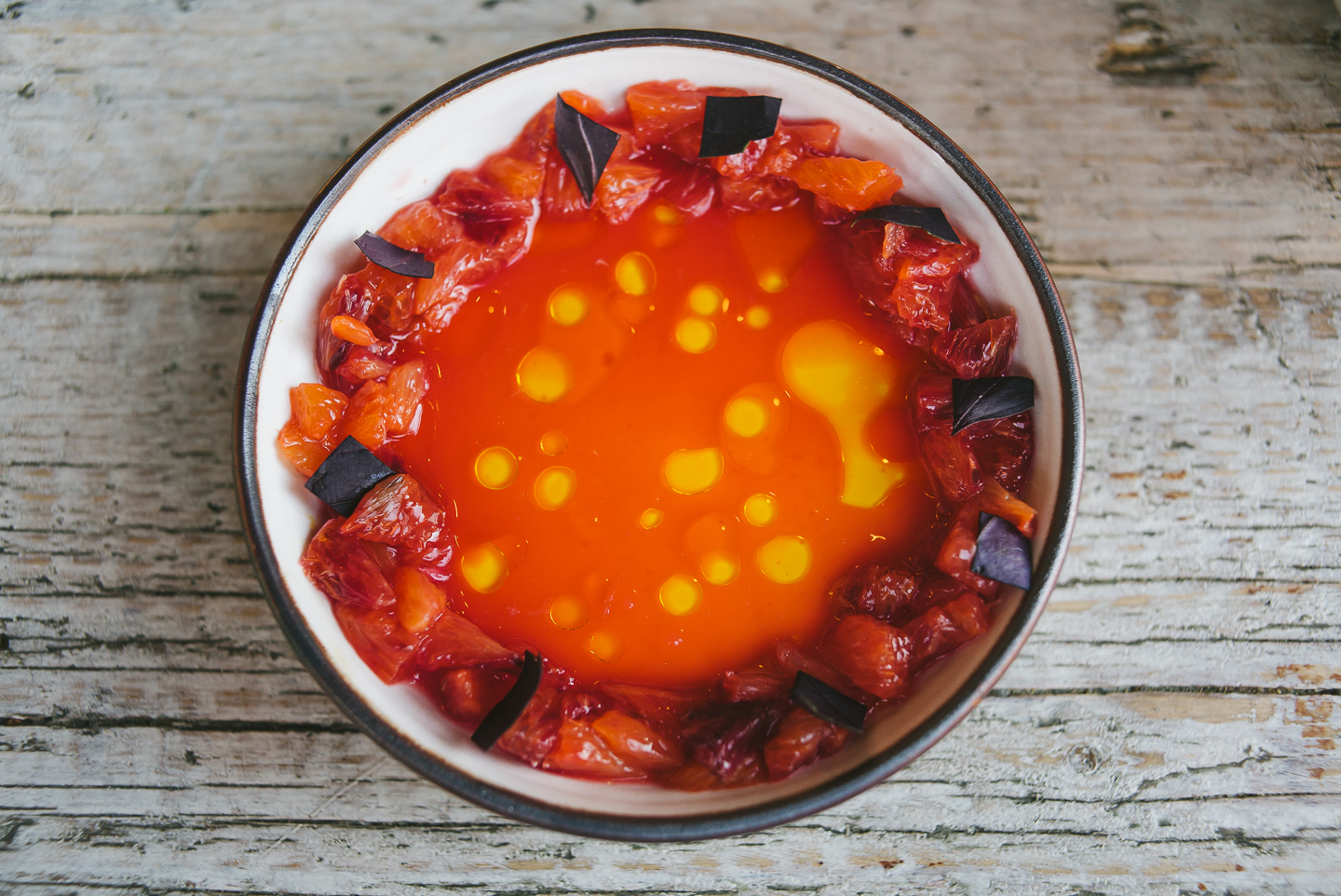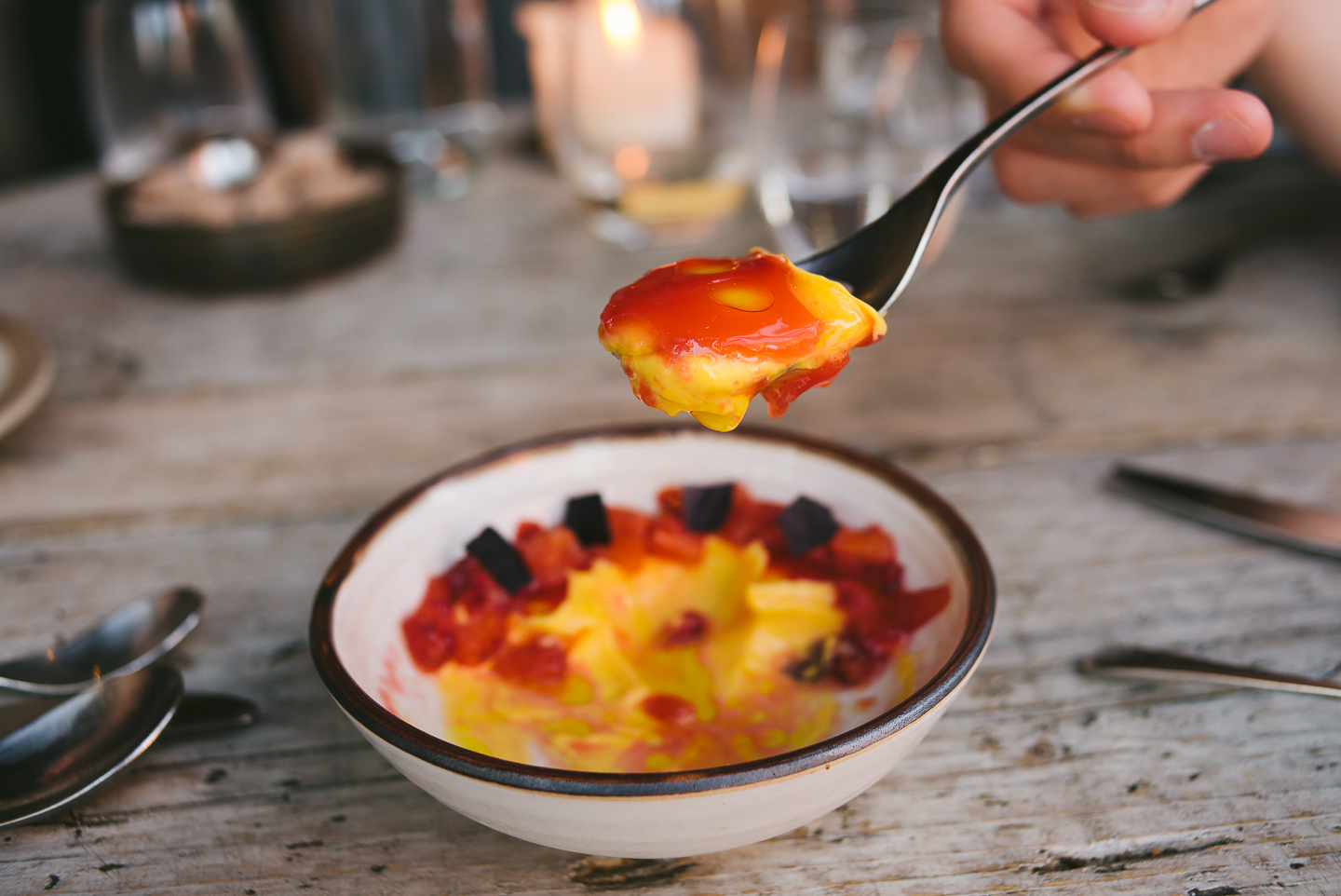 Trinity of harmony. The blood orange and oil liaise to create this astringency, like the skin of grapes. And then the custard itself, butter smooth and hugging the spoon. Superb. One of the best new puddings this year for me so far. Simple, seasonal, balanced and well made. I ordered another.
We paid £163.12 for lunch for 3 people including all food, drink, coffee and service.
There were enough moments in the meal where I thought Ben's cuisine was knocking on brilliance. I like the way he respects his vegetables, though at this stage, perhaps a little less so about his fish and meat. It is clear that he possesses a good palate as flavours were balanced across all his dishes. His skill set can probably be completed later and perhaps this is the danger of going it alone while he is still so young, where his handiwork is not yet the finished product. Then again whose is really. So long as Ben keeps topping up his knowledge as he eats out more, I am certain he will get better with time. I'm keen to follow his evolution. For now, Perilla might be a little rough around the edges, but it nevertheless delivers a satisfying meal at a sweet price point. When he gets round to polishing his technique with experience, we could be looking at a sparkling diamond some day. Time will tell.
Same can be said of Matt's FOH. I found a shard of broken glass next to my napkin when we sat down. Puzzling how they missed it, thankfully it was a fairly large piece, so it was easily spotted and sorted. As it is the latest in decades-long bistronomy types to reject the 'fuss' (which I suppose translates to overheads) of fine dining – therefore 100% linen-free – it puzzles me further why they bother sweeping wooden tables (that have deep natural grooves) with a crumb collector. If you're going to though, don't sweep the crumbs onto your customer's lap. Was it a piss take? If so, haha, very funny. Casual should not be an excuse for sloppy service. Early day kinks I suppose and an easy fix. I'm sure they will soon work out actual hospitality from the pomp they want to get away from.
Details
Perilla
Modern Euro
Lunch £25pp ++
Dinner £38pp ++
1-3 Green Lanes, Newington Green, N16 9BS
Tel : 0207 359 0779
Tube: Highbury and Islington