Aside from Clare Smyth's solo debut (slipped to 2017) and Phil Howard's takeover of Elystan Street slated for the fall, this is the opening that I am most excited about this year.
As you well know, Azurmendi is currently floating on cloud nine. Top spot in OAD Europe last year, 2nd this year to Mr Passard who is celebrating Year 30 at L'Arpege. Azurmendi is likely to come out tops alongside Arzak (well, Martin B..) for Modern Basque purveryors holding three stars, as you avid gastro-tourist know and as you also inhale Etxebarri and Elkano on the way there. Chef is Eneko Atxa, 39 and in his prime. His roasted lobster dish likely to enter gastronomic hall of fame someday. Big guns. Thus the regret of missing first hand experience when I was in Bilbao last year.
You would think that an eponymous restaurant is an indication of his London outfit's ambition, though on deeper inspection, this really isn't Azurmendi London, nor the equivalent to Ametsa. It does a mammoth 110 covers, and so any gastronomic intentions will need to be kept well in check to keep up consistency. Instead Eneko lies in between Azurmendi and his concept restaurant, Bistró Prêt À Porter (38euroes weekly menu).
Obviously Eneko doesn't cook here, he's picked Edurne Martín Delgadoto to run the pass. She's been with Azurmendi for a decade prior to this role, and therefore expectations are high.
I should mention that they are publicly soft-launching throughout August – food at 50%, drinks at 100% – and so this is an early peek inside something likely still working out the kinks.
A la carte only, 3 courses plus sides. I visited last friday night, dinner for 2.
Starters
The starters land in near record time. Probably 2 minutes tops after ordering. I didn't even get a chance to sip my wine. Either they work at lightning speed or the starters menu is pintxos transposed. Not a lot appears to be a la minute.
Memories of the Bay of Biscay, £17
Oyster, crab, wild prawn tartare
French rock oyster (don't know why they neglected Cornish) , Scotch prawn tartare (forgot to ask what caviar), and judging by size, I think this is velvet crab. Dressed, and though small, it is very densely packed. Makes me think there's more than a single crab in here. Brown meat whipped I think. This was good. Txagurro feels for sure, though perhaps because of supply constraints, this is merely a silhouette of a memory.
Dry ice in 2016 looks dated, but I get that the point is to connect the 'memory' side of this dish, like Fat Duck's oak moss dish for example. Sadly though, the details require finessing. The smoke didn't last long enough and the aromatics – its main objective – were non-existent. Even our waitress seemed disappointed this didn't achieve the desired effect. Nice try though. Abit of fun, I get it.
After all the smoke blew off, what remained was raw seaweed floating in a puddle of water. It looked unruly, reek creept in as it warmed to room temperature. This is not a good look. No pretty green moss to run your fingers across here.
Traditional Talo, £11
Crispy corn talo with heritage tomatoes and fresh herbs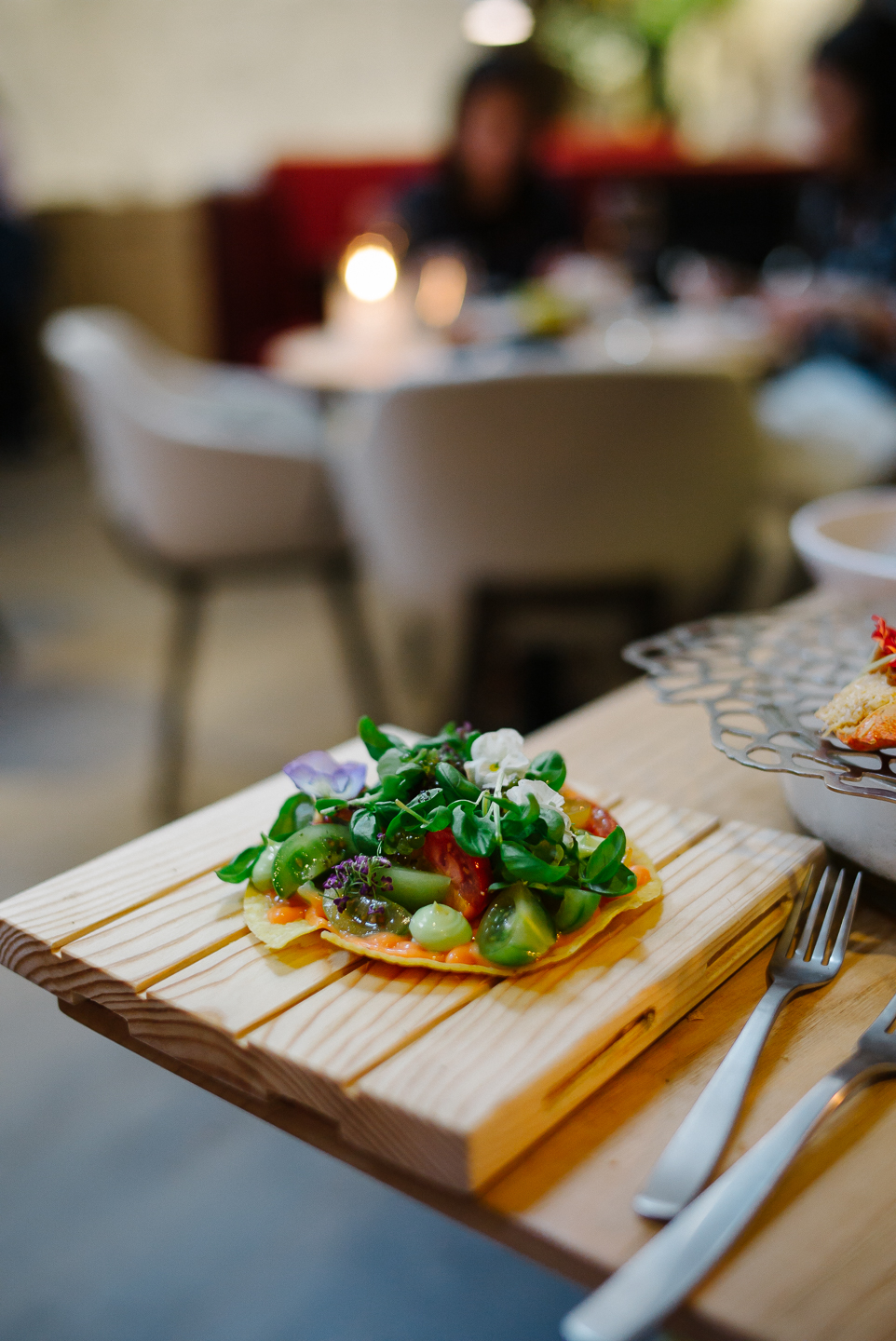 What do you call them? Mousselines? They were well made, luxury smooth so you can certainly taste the technique. Tomatoes are nature's umami bombs, don't really need to mess about to achieve flavour. A modernist technique is revealed as you pick up the talo portioned four ways – spherification of truffle infused olive oil into a 'caviar'. These didn't enhance flavour nor raise textural gains to a noticeable level. I mean to say that the tomato salad on its own was good enough. I think simply dousing with olive oil is probably more effective in this case.
Vegetables ought to be a highlight. Afterall, at the start of the meal at Azurmendi, they take diners around their gardens.
My main grip is with the tortilla, as it was soggy not crispy. Either it has spent too long being plated up, or too much sauce is piped over it or likely both. Pretty to look at for sure, but not so practical to eat.
Mains
Fast mains too. Incredibly quick turnaround.
Patatas in Green Sauce / £16
Potatoes in herb and txakoli sauce, fried crisp egg yolks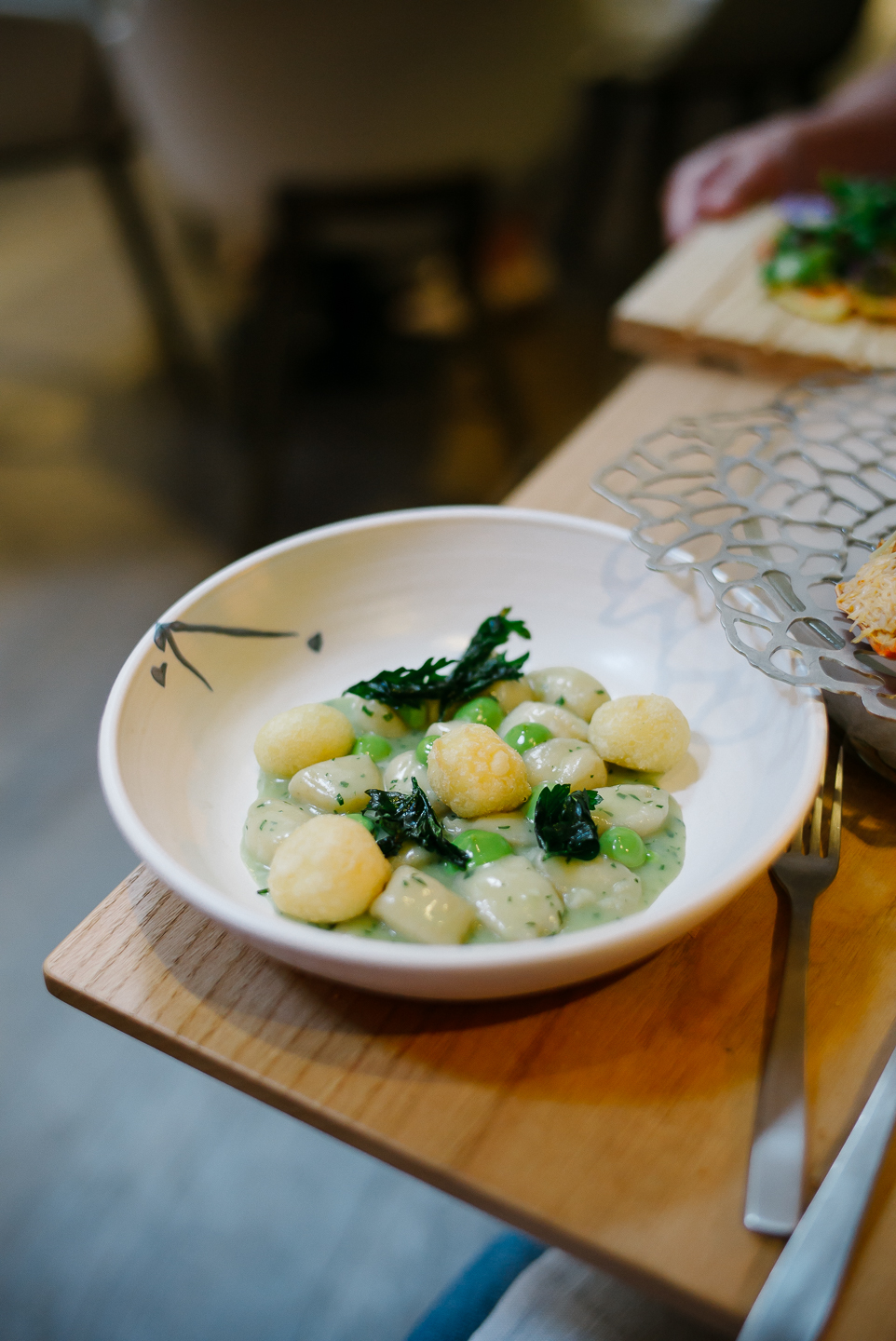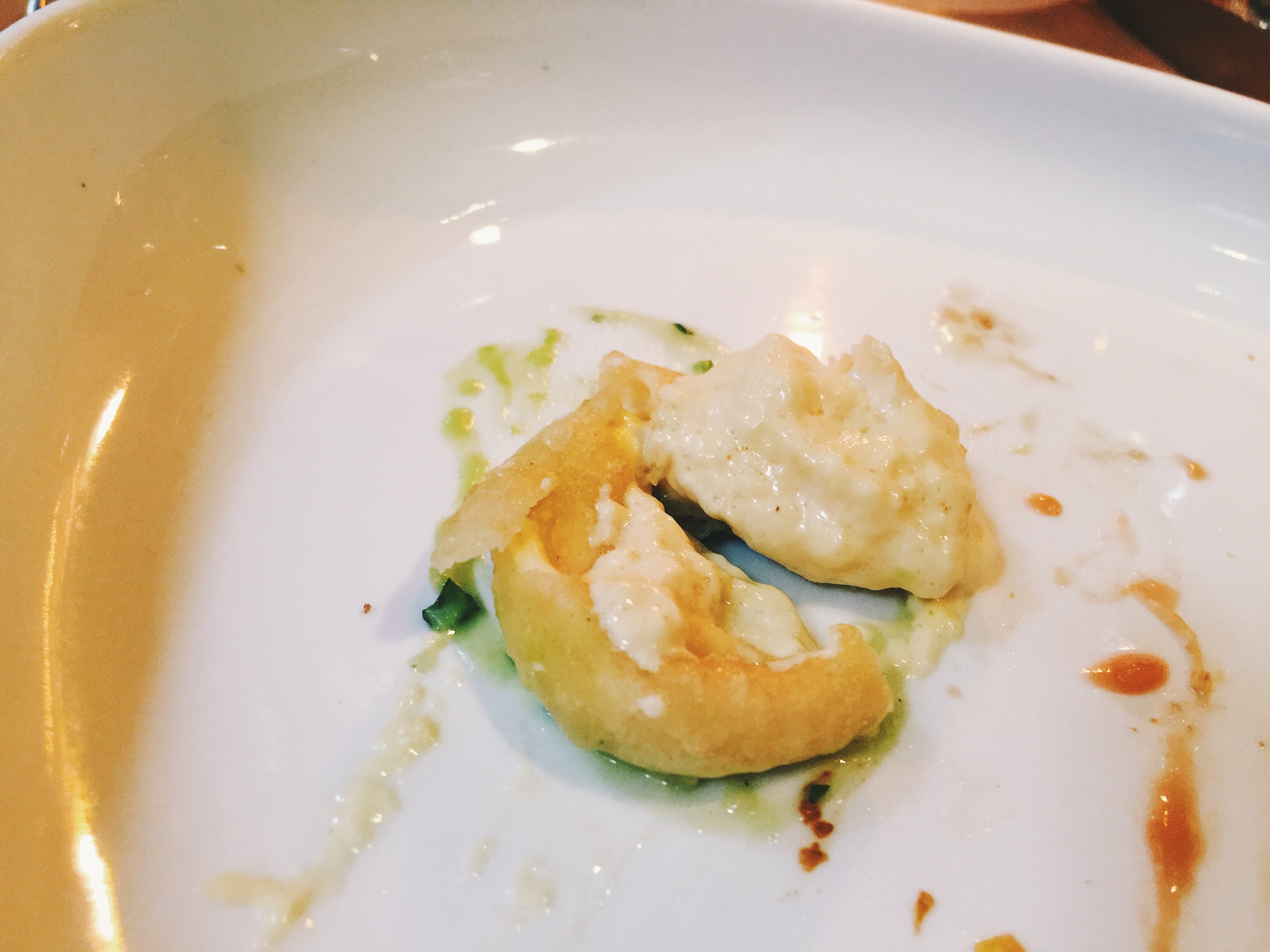 No dramatic txakoli pouring going on here seems, well at least not yet. The sauce is very good, a thickened texture similar to a pil-pil emulsion, so I can only guess that this was made from a base of olive oil. With a splash of that lovely slightly sparkling wine from the region.
Technique continues with the egg, very thin crispy exterior and inside a near-perfect scramble, incredibly airy with no hard edges. I surmise that this is the result of very low heat and lots of whipping. Good work.
Sadly however, the potatoes resembled uncooked gnocchi, the taste of flour, like raw dough, made gummy with the sauce. A little queasy. I don't know if this is the intention, a stab at a vegetarian version of Kokotxas I hazard? A little time in the pan wouldn't hurt.
Roasted Iberico presa, wheat in chickpea sauce, garlic cream, £24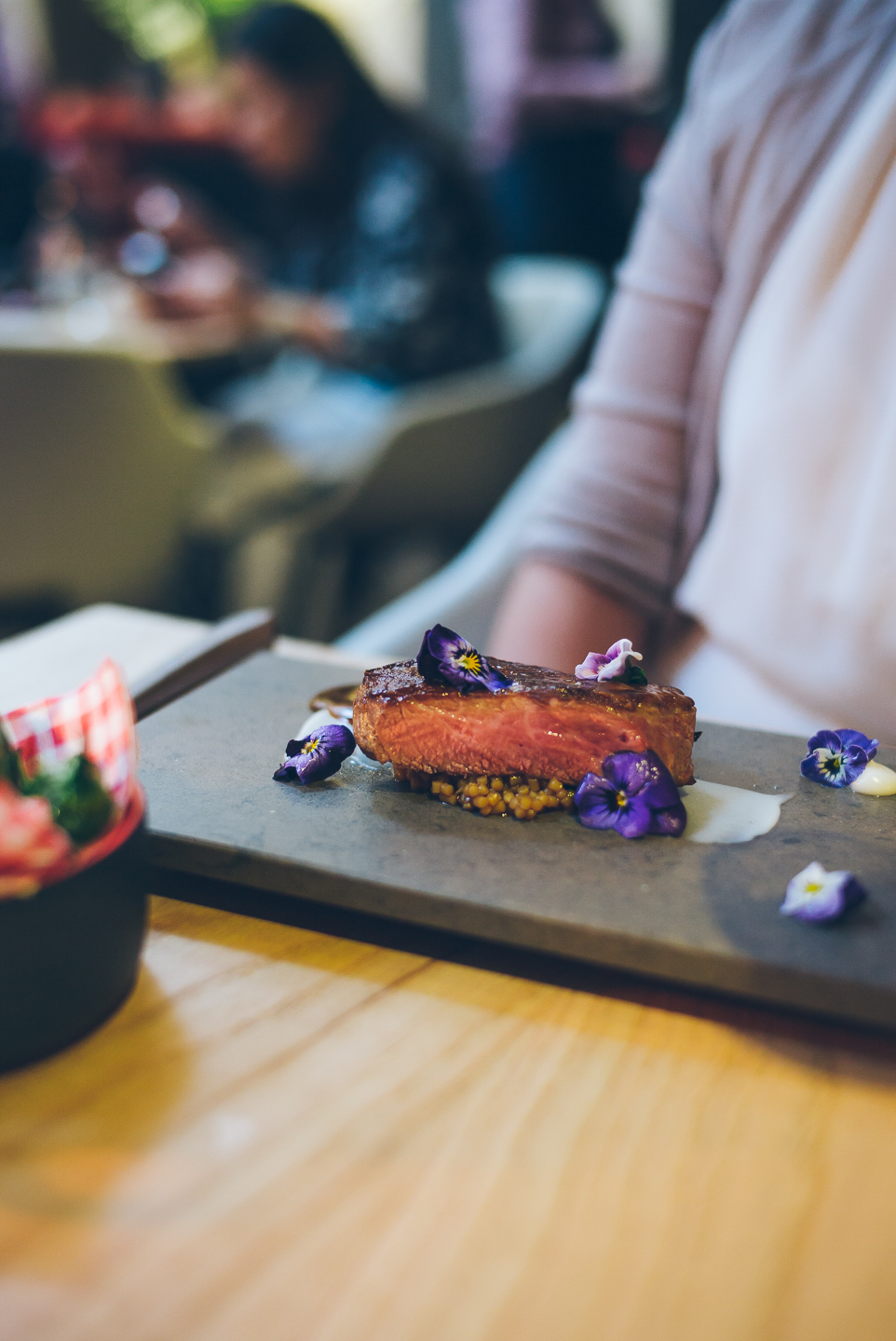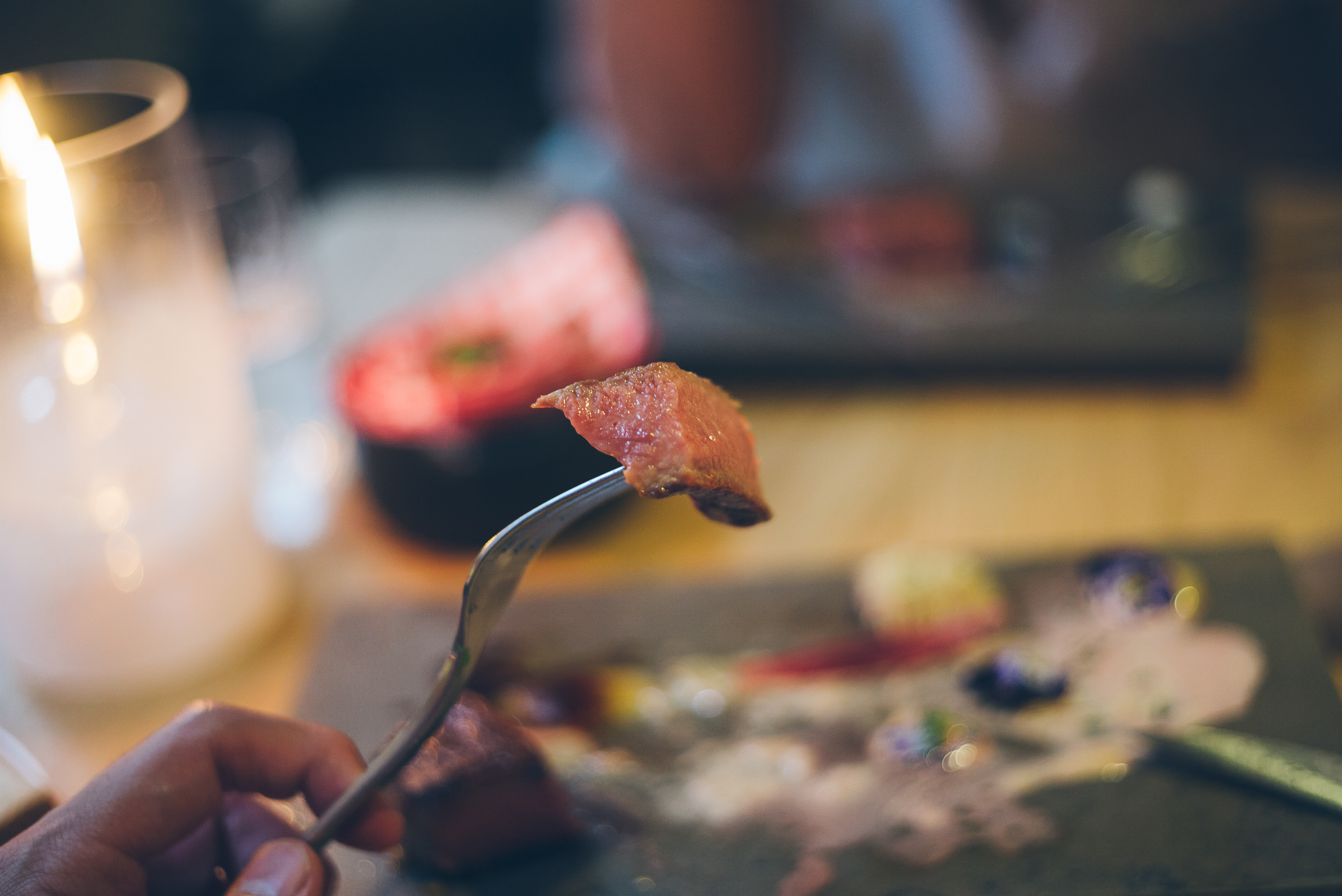 The meat dishes are straight up, portions could be slightly bigger at these prices.
A good pan-roast, pretty in pink, as it should be and as you expect from a kitchen of this calibre. It's decent for sure, though not quite the best version of presa in London. Eyre brothers and Pizarro do this better I think.
Seared duck breast, julienne of king oyster mushrooms, pickled red onion, £25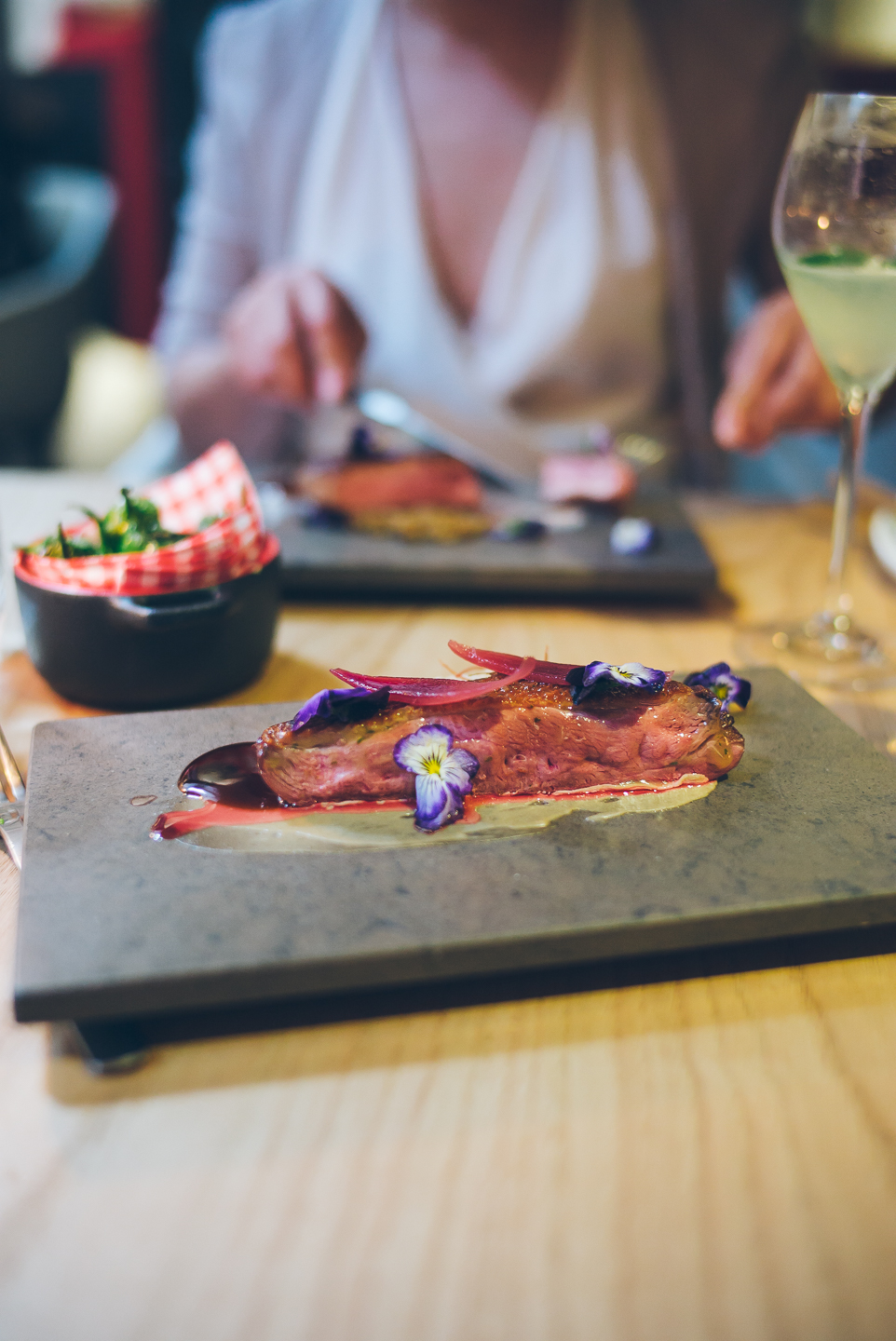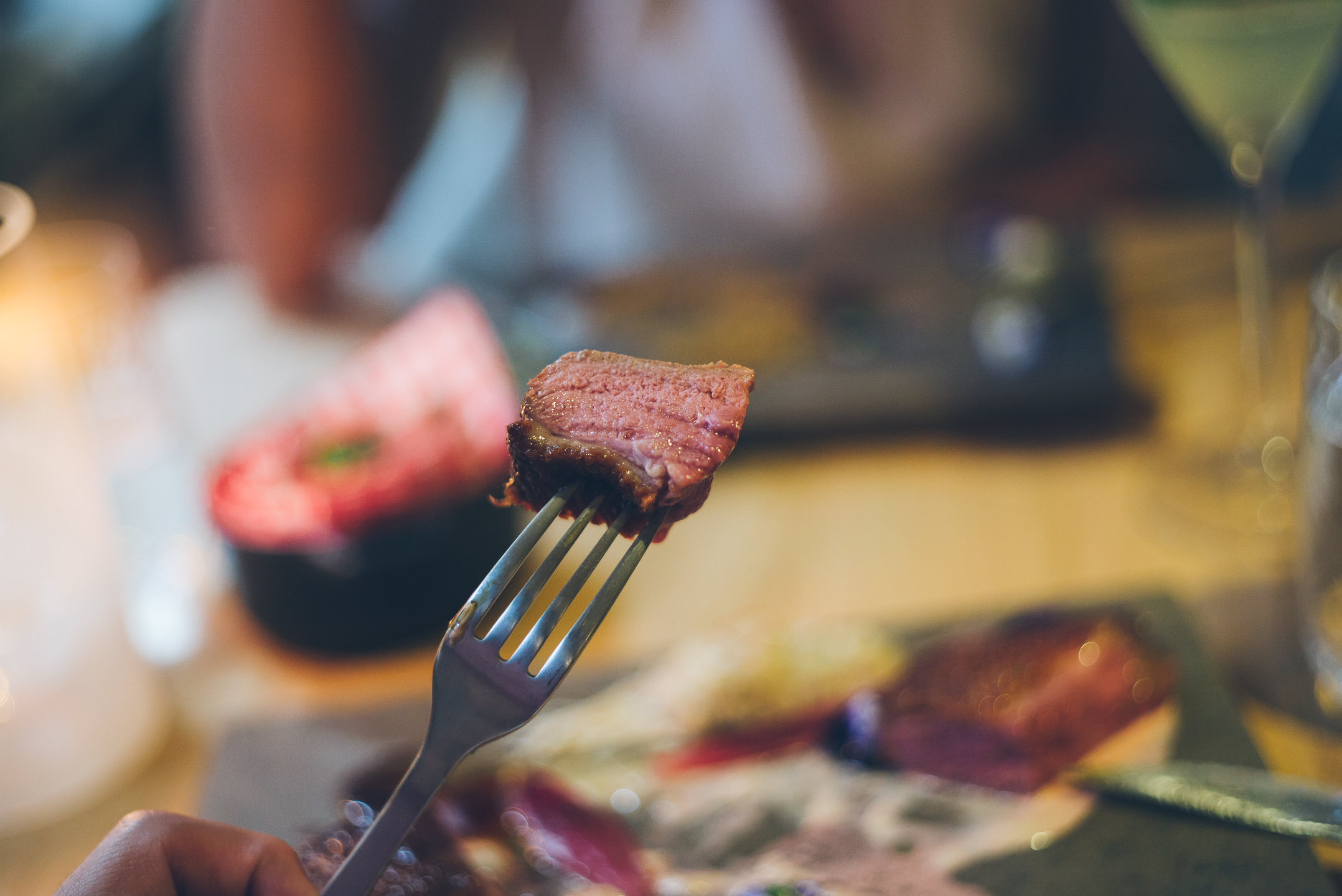 Duck from Brixham, I'm told. Again good pan-roast and perfect pink. Succulent. The julienne mushrooms were nice, rolled up like tagliorini. Good duck. Not much else to say really.
Starters are heavier in technique, meat dishes are a contrast. They throw a spotlight on the protein, but meats were not of note or particularly aged and so the feeling here was one of indistinction. In fact both pork and duck looked, smelled and tasted rather similar. Sourcing may be still a logistics struggle working out supply locally and from Spain perhaps.
Pudding
Basque vanilla pudding with basque ice cream, £9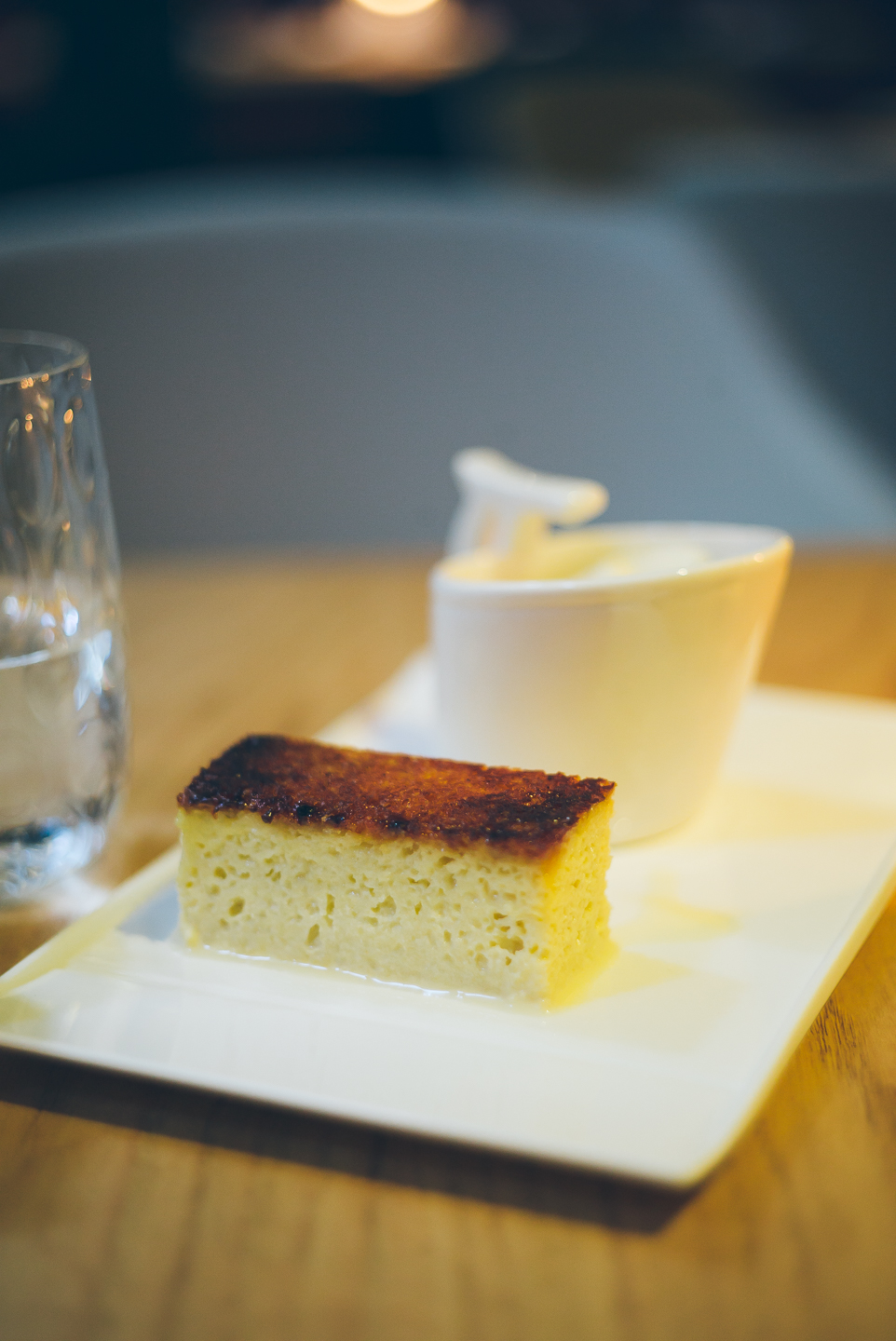 Bread soaked in custard and brulee top by looks, the insides were cold. I'm sure you've had better bread pudding elsewhere. Some of you know that I love anything with eggs and vanilla, and even I had to concede the pedestrian nature of this pudding.
Bodegon Alejandro's torreja in San Sebastian does a nice classic on this classic. Here in London, there are plenty of good examples of vanilla and/or bread pudding. Take a look at Cambio de Tercio's smooth vanilla custard and Jun Tanaka's excellent pain perdu. Its been a few years now, Duck & Waffle does a solid take as well right?
The ice cream was very good though. Pacojet smooth, milky like fior di latte. Pure.
Pudding is underwhelming because they have a proper pastry chef here, Alice Serafini, also ex-Azurmendi. I hope this is simply soft opening jitters. Most people would like to see a little more effort for £9. Good luck to her.
Though, I probably should have picked something from the trolley. It is immovable and the waitress walks you to the trolley. I've no problem getting up from my seat, but I noticed that it was a little awkward for her to present in this way, and she sold none to me. Easily rectified with some wheels on that cart.
—-
Food, 1 glass of red (£14), 1 soft cocktail (£7 for little more than glorified lemonade), 1 double espresso (£6, gasp!), service and 50% off on food (-£58) came to £96.13. Seems expensive even with the discount applied. For this level of offering, the full prices are a touch above its bracket. I get it. Central London is a tough place to open a restaurant these days, especially one with so much capital sunk in.
All things considered, the meal was unexciting. There were clearly good elements, but too many other things were ordinary. Too safe. I hope they tinker with the menu over time, some lobster out of shell would be nice. I get that it's soft launch and this is a big restaurant, but there is a lot to fix ahead of full launch. Good luck Edurne.
Details
Eneko at One Aldwych
Basque
£45 – 50pp + drinks + food
One Aldwych Hotel WC2B 4BZ
Tel : 020 7300 0300
Tube : Covent Garden