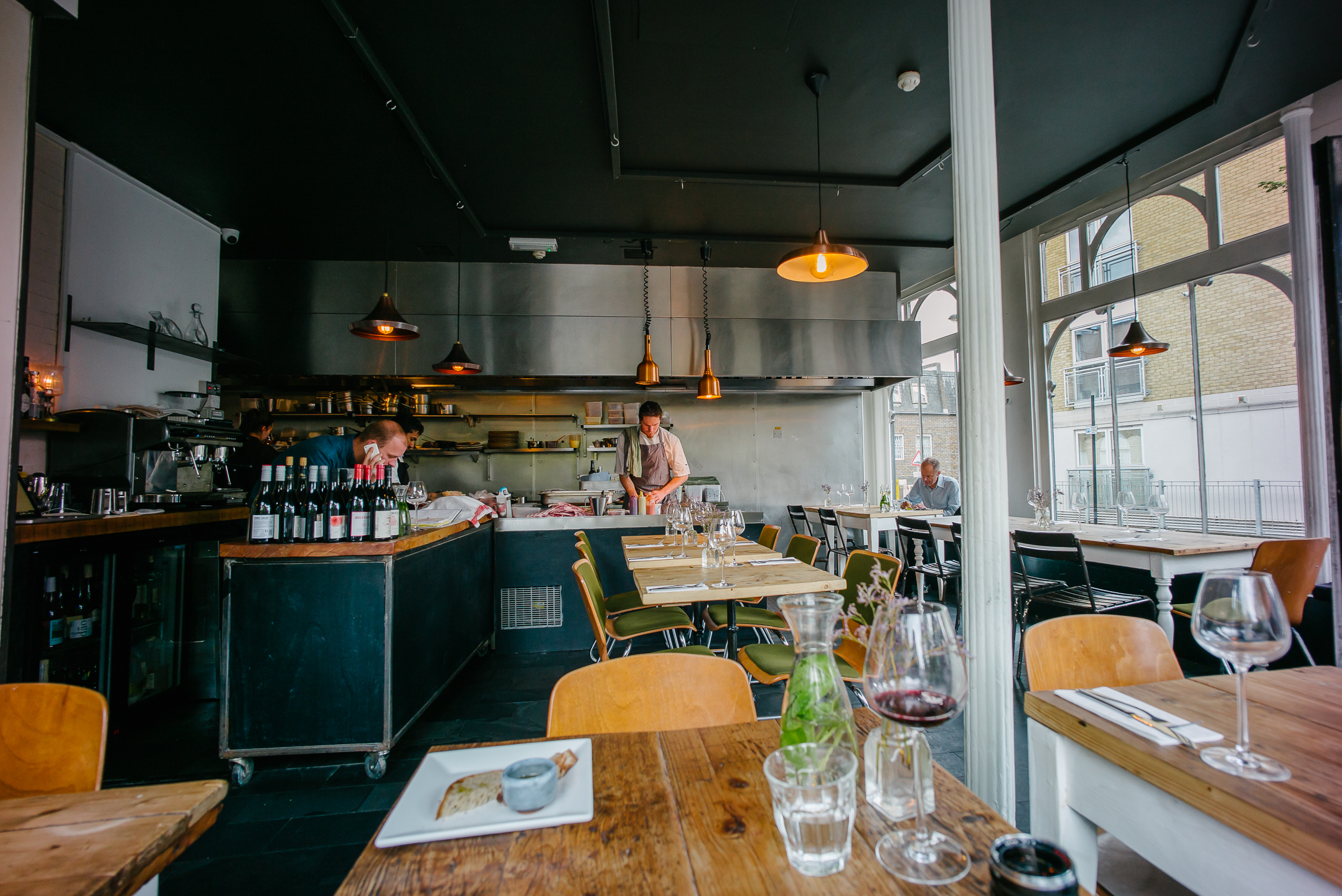 After reading TO's five star review of this restaurant, I decided to venture out in search of something small and beautiful yet again, this time to North London. Islington as you know is already laden with gems. Great Italian, fantastic fish and chips, my favourite wine shop is here, awesome Chinese, rock & roll kebabs and you know I still think the world of Neil Rankin's pork roast.
Even though I make mention to those places above, I do not know what previously occupied the space which Salut now takes up, as this part of London is still largely unfamiliar territory to me. But I do like the ambiance – a canteen feel and especially the wooden tops for tables as well as the long bar. It's all solid too, rather than engineered, knots and natural bends in, oiled up, imperfectly natural and organically beautiful.
Salut! just about straddles in between Islington and Dalston and is opened by two brothers, Martin and Christoph Lange. They grew up with restaurant heritage and continued the family tradition by attending catering school in their teens. Christoph is one with the chef chops, claiming stints with Maeeomo and Noma. After seeing through the initial run, Christoph has returned to Germany to open his own and so this restaurant firmly belongs to Martin and his better half.
From what I gathered, Allan (or Allen? I'm sorry I did not get full names) is Salut's head chef. However on my visit, senior sous chef Otis was manning the pass, and it looks like these two are still working out their creative influence on the menu, alongside Martin who is doing a fine job running front of house.
It may seem ironic to say about hospitality, but it is a rare thing to come across someone who genuinely knows how to make people feel at ease as guests at a restaurant and I think Martin has the makings of great FOH. Whether he is conscious about it or not, he has cultivated a very relaxed ambiance and this seems to emanate directly from him. He was visibly beaming, all smiles and this carries over to the rest of the team. It is obvious that he loves his restaurant. This spirit will take him and his restaurant far I am sure.
I asked him if this was his and he told me he shares this labour of love with his better half because they both enjoy and love the neighbourhood (he lives in nearby Dalston) and so it is why they decided to open a restaurant here. This is their neighbourhood and their home. Salut indeed.
The menu is small, 3-4 dishes in each section of a 3 course ALC plus a few plates of brunch too. This is indeed a restaurant vying to be your friendly local diner. The generosity is reflected on the plate. Decent servings for the money.
King crab, avocado, roasted tomato sauce. With pea shoot and fennel salad, £8.20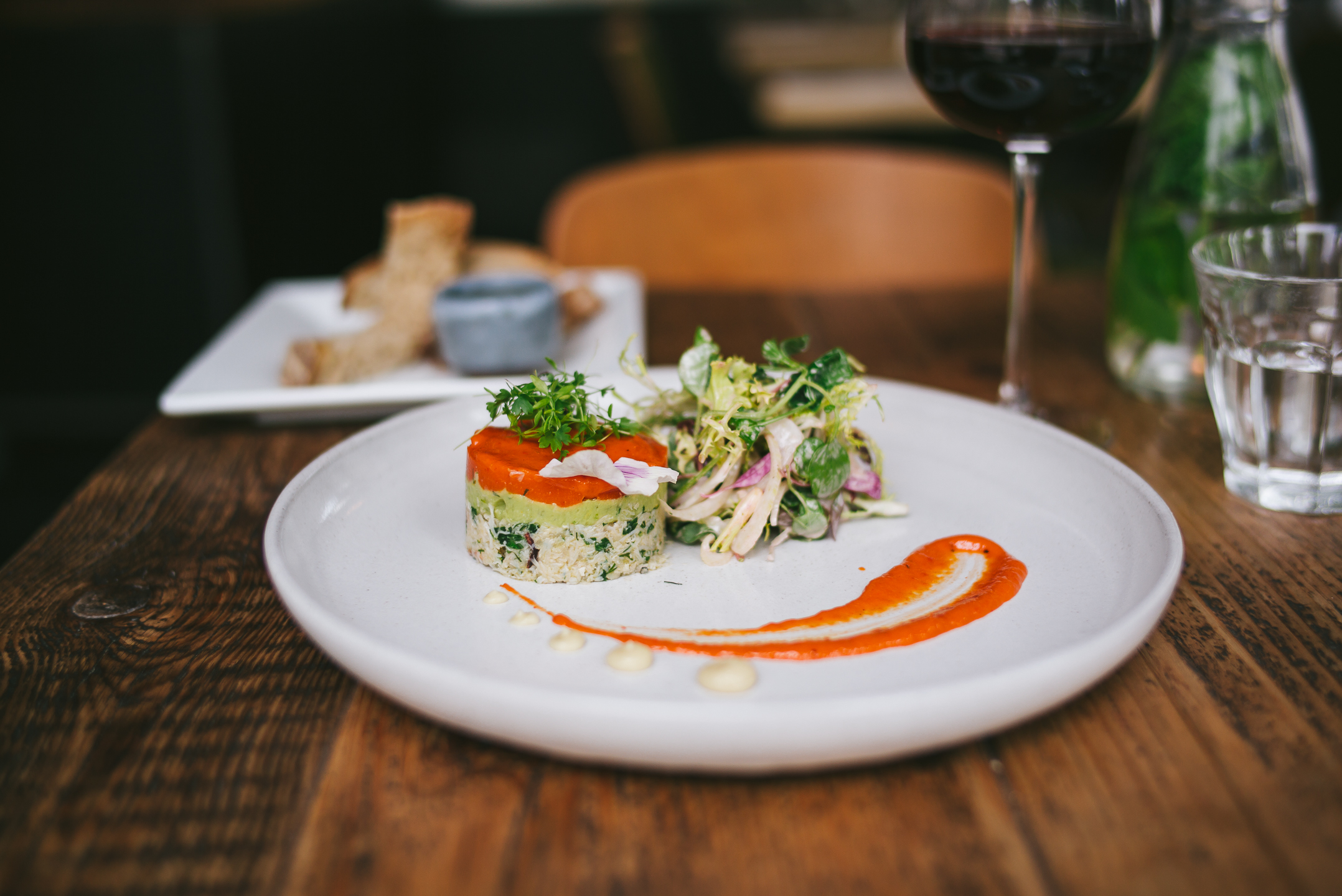 Served cold, it is refreshing and briny. Nice citrus acidity, the tomato puree is a beauty.
Tartare of 45 day aged short horn rump, quail egg and hazelnut crisp bread, £11.20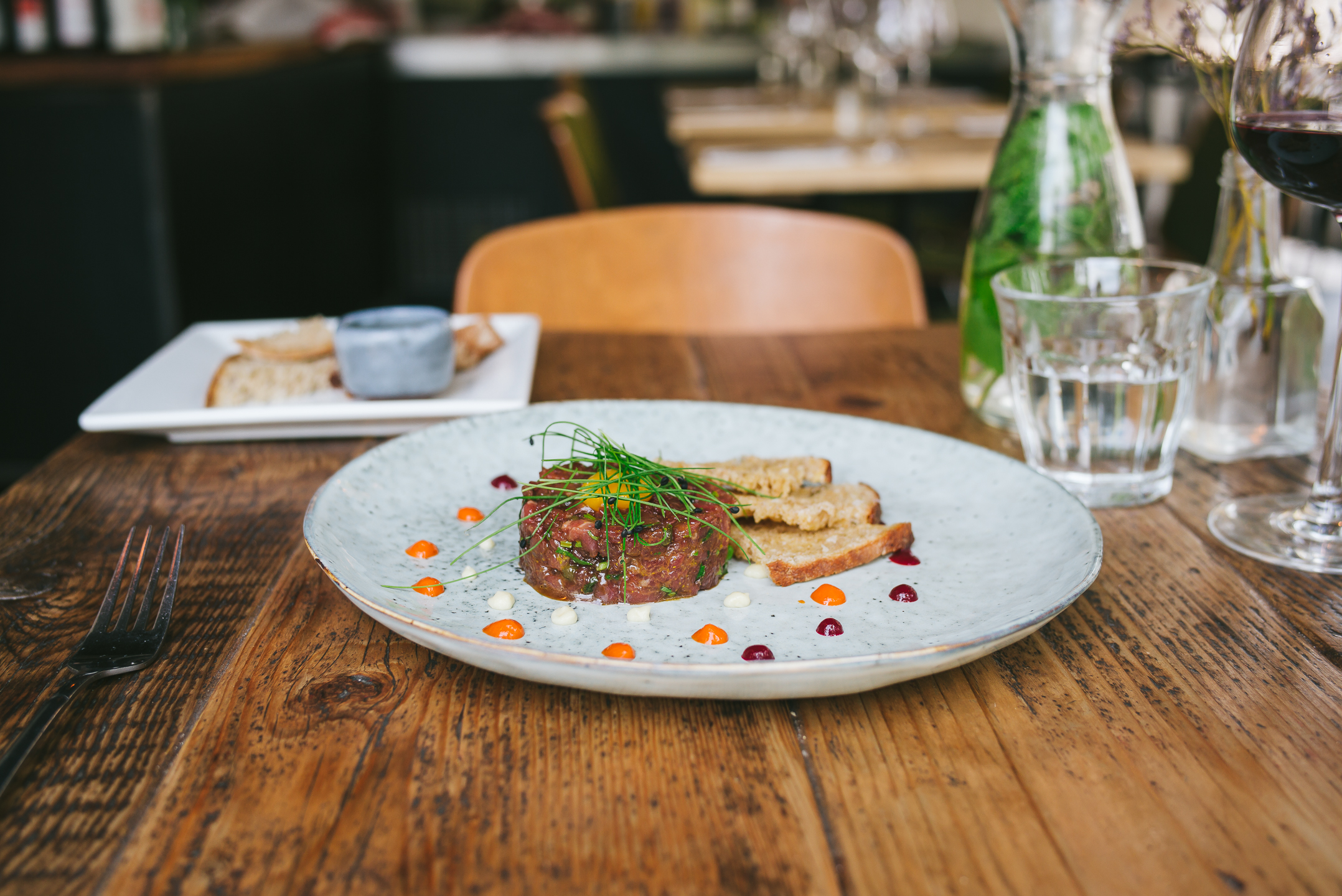 Beef comes via the dry rooms at Paddock Farm who specialise in breeding Tamworth pigs, but also age and sell beef from neighboring cattle breeders.
The tartare is a classic recipe of peppers, capers and yolk but there is a sweet twist in here. What I wonder, beetroot? Tomatoes? The sweetness was a little distracting at first, but I discovered the salt on the toast, after I spread the tartare on it. Balance achieved.
Tea smoked hake finished in pan, spinach, confit tomatoes, potatoes Parisienne, bacon sauce, £17.20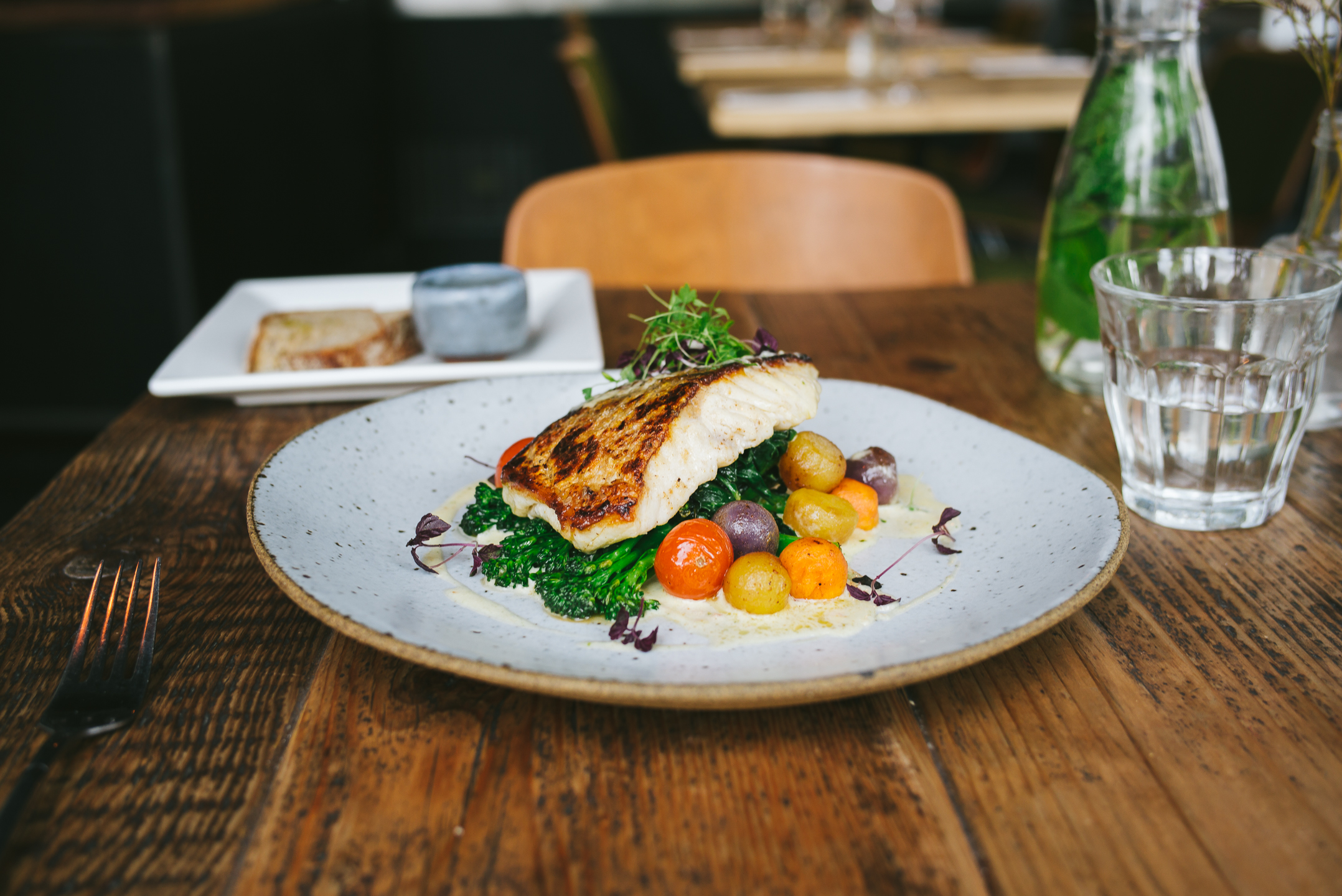 Very lightly smoked (over hickory if memory serves), this was great. In the pan, I personally would have preferred a touch under, but I think it is cooked correctly in the book of many others. Potatoes, sweet potatoes and purple potatoes by my guesstimates, finished in a creamy bacon sauce. Comfort.
Chocolate spheres with liqueur creme, brandy marinated cherries, caramalised hazelnuts and nice spun sugar work, £8.30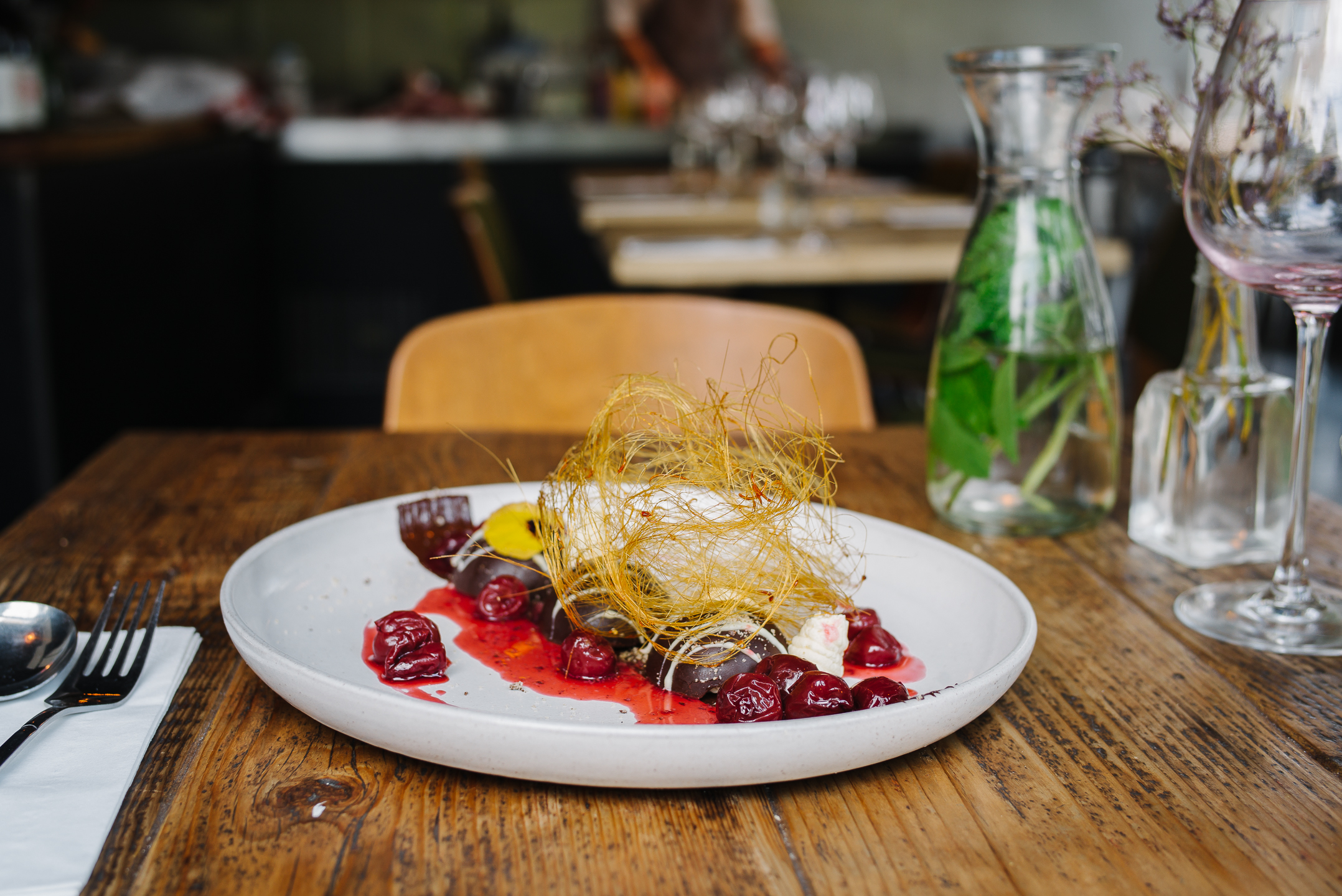 Beautiful cherries here, rather like griottines. Personally I would have liked to have had a liquid chocolate rather than this whipped cream centre. The spun sugar is slick and a nice touch.
—
I paid £60.24 for all food, 1 glass of red, 1 double espresso and service. I ate enough food for 2 I reckon, so a meal here likely to be closer to £35 ++ mark. Decent value for sure.
Martin urged me to come back at night, which he says is their A game. Lights go down, a bottle or two, though he didn't give away the game in terms of food. I am certainly tempted to return to see what dinner is about. This is a humble, independent restaurant serving generous and genuine food. I know you like these places too. Positive feelings and worth a go especially if you also share the same post code as Martin.
Details
Salut!
Modern Euro
35pp + drinks + service
412 Essex Road N1 3PJ
Tel : 020 3441 8808
Tube : Highbury & Islington