[ TL:DR Taka is good but Honten is obviously better. Saito san himself will be in KL for 1 day only in August this year. Best to call to check, if you want to catch him… ]
What was once was part of the mystique of uncovering hidden gems in random basements in Ginza has today exploded on to social media's global appetite for precious Edo-mae sushi, paving the way for master Itamaes to slowly give in to the lucrative business of spreading their wares throughout Asia.
Shikon by *** Yoshitake has the most critically successful model thus far, duplicating the 3 stars in Hong Kong (though HK Bib standards seem a little lax like NYC, IMHO). Shinji(s) by ** Kanesaka (now also in St Regis), Singapore still going (no red guide in S'pore), Kanesaka san a former cohort (or mentor?) of Saito san as both are of the Kyubei lineage. (PS: was there any truth to Kanesaka san part owning Saito san's shop?)
And now this by the hot-hot-hottest *** Itamae today, opening his first branch at swish St Regis in KL Sentral. A surprising but also shrewd move, considering it is the other SEA cities which have the established markets for high end sushi.
I was lucky enough to have been to Sushi Saito once in 2012 when Saito san was still in his garage location opposite the US embassy, in Roppongi. This was a time when you could still get a seat by calling on the 1st of the preceding month of visit. Today people say that list stretches to a 6 month wait and become something of a closed ecosystem, entirely sustained by his regulars. Hard to come by, but newcomers can still score a seat at his 8 seater (now in Ark Hills) if you try hard enough or have a very good hotel concierge. I am not in Japan frequently enough for food, there are many yet to visit, Tenzushi, Tokami, Harutaka, so no rush to get back to Saito san's just yet.
All fish is flown in from Japan, three times a week and I am told they use the same suppliers, to keep the recreation as faithful as possible. Importing fish to feed a sushi-ya outside of Japan is becoming an established thing, in addition to the aforementioned spreading of wings by Ginza top guns, I know Tatsuya in Singapore (not bad but they should tone down the aburi) and SASA, Taipei (they can get Oma blacks in the winter), who import from Tsukiji and manage decent ingredients.
Due to geographic proximity and colonial heritage, I think there's good sushi (and fantastic gastronomy in general, see Shi Yang) in Taiwan which does not see much light in English social media. Taiwanese karasumi mostly goes to Japan after all.
The Araki here in London is not of the same form, in fact it is an oddity as Araki san himself is the Itamae. He has to work with local fish with plenty of caviar and truffle to substitute the lack of range and to make up for the scary bottom line. Thus on balance, Tetsu looks like the smarter sushiya in London, in my view, and he is popular since the best way to get a seat at his counter is to monitor their twitter feed for daily cancellations. (Psst, Endo san when will you open? July? August?)

Taka shares the 3rd floor in the St Regis with Ginza Tenkuni, itself a derivative of a tempura restaurant based in Ginza as the name suggests. After passing through the luxurious reception with the silver veined granite floors, I am directed into one of the rooms behind tall ceiling height sliding doors. Inside, I am greeted by two Itamaes, Kubota san and Maruyama san who introduced themselves as I settled in. Both of them are good lads, friendly and accommodating.
This sushi bar is huge, looks split down the middle, with each Itamae each serving up to 8 people in their corner. I counted 15 seats in total. The hinoki wood counter is very impressive, I don't know all my stones but those golden veins suggest Italian granite as the backing material for the grilling station. And that ceiling goes on and on, perhaps 10-12 feet in the air. I've not seen such a well kitted out sushi ya before. It's totally antithesis to Saito san's humble car park days.
3 menus were available for lunch, third thursday of May 2016 :
MOON, RM330(£55) – 1 appetiser, 8 sushi, 1 roll
FLOWER, RM550 (£92) – 12 sushi, 1 roll
OMAKASE, RM1400 (£235) – 5 appetiser, 1 grilled fish, 12 sushi, 1 roll (RM150/£25 to swap fish for beef)
I asked Kubota san if the sushi selection is different if I entrusted it to him, and he said yes and basically you get more tuna and uni for the Omakase, and so the Flower set apparently is not Omakase sans cooked starters.
And so with that, I decided on the full works (1400RM+150RM). Kubota san then got to work with the appetizers but he handed over sushi duties to Maruyama san after the grilled course.
-Appetizers-
1. Shiro Ebi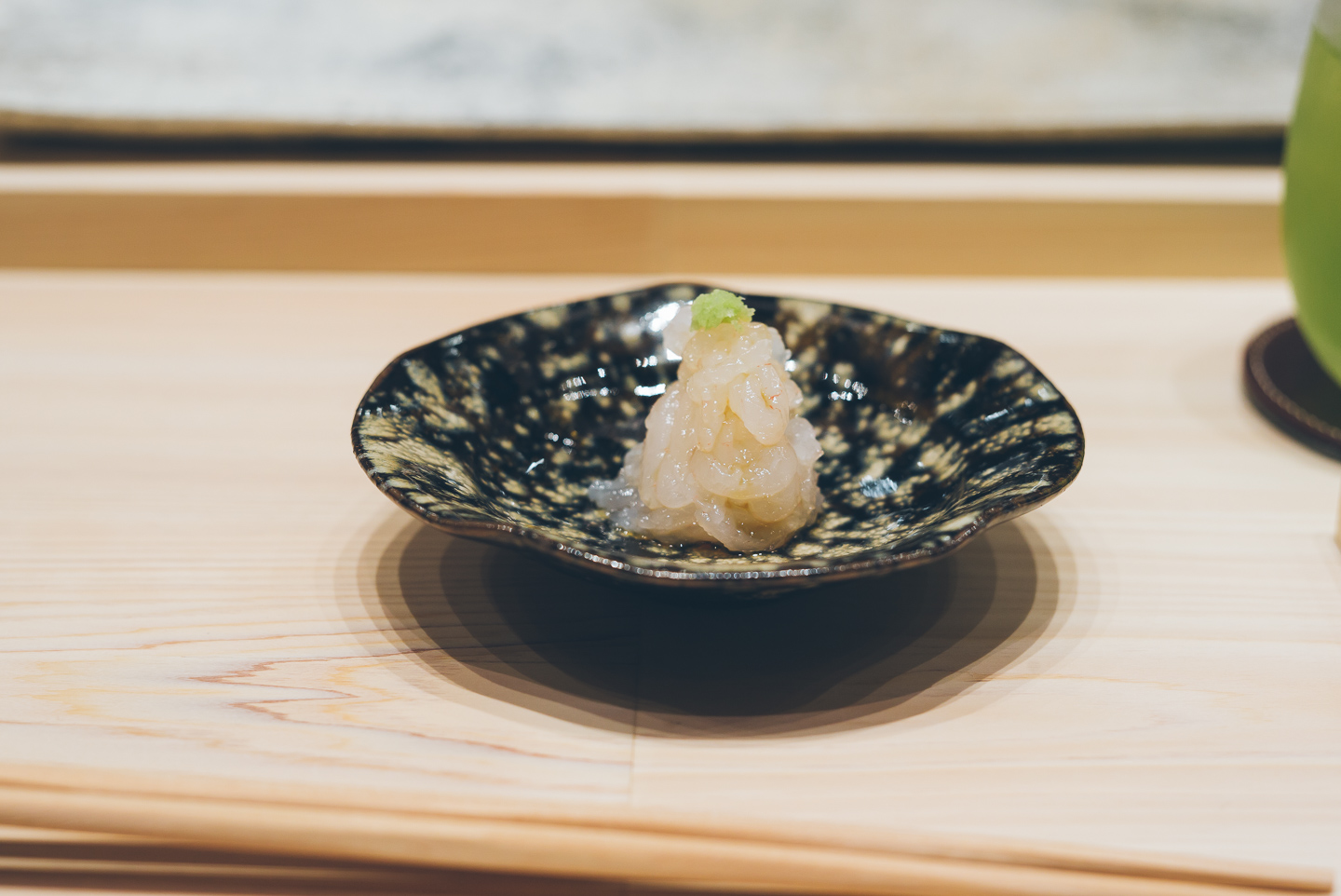 Toyama white shrimp. Sweet as they should be, good but not great. I remember this being a very pure sensation in Tokyo. Here the textures were a little dull. This maybe affected by the plane ride.
2. Abalone and Octopus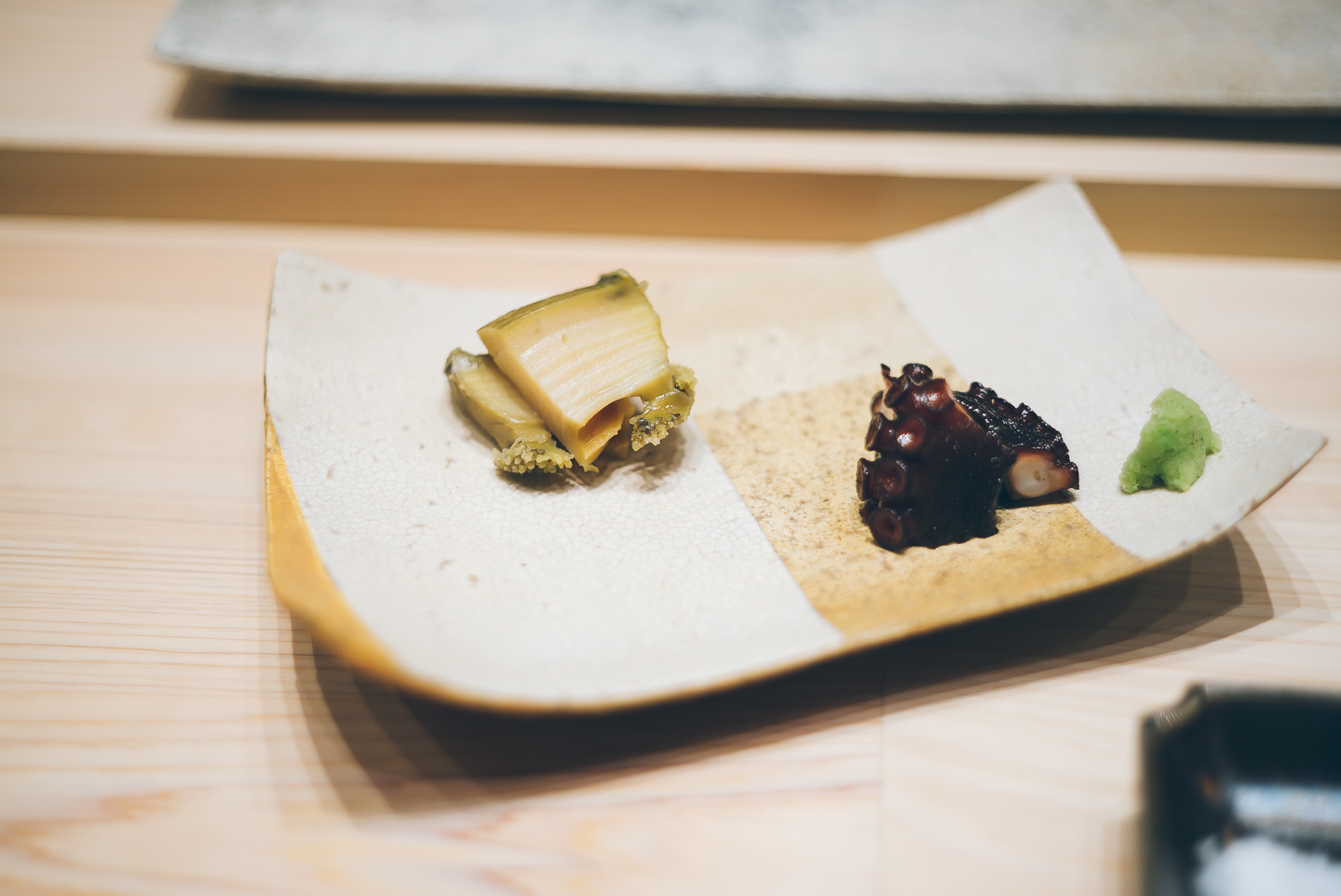 Awabi from Chiba, well seasoned, to my surprise, however, it was tough rather than tender. Totally disappointing.
Octopus from Kanagawa on the otherhand was good. Sweet, tender and slimy like the best Galicians.
3. Firefly Squid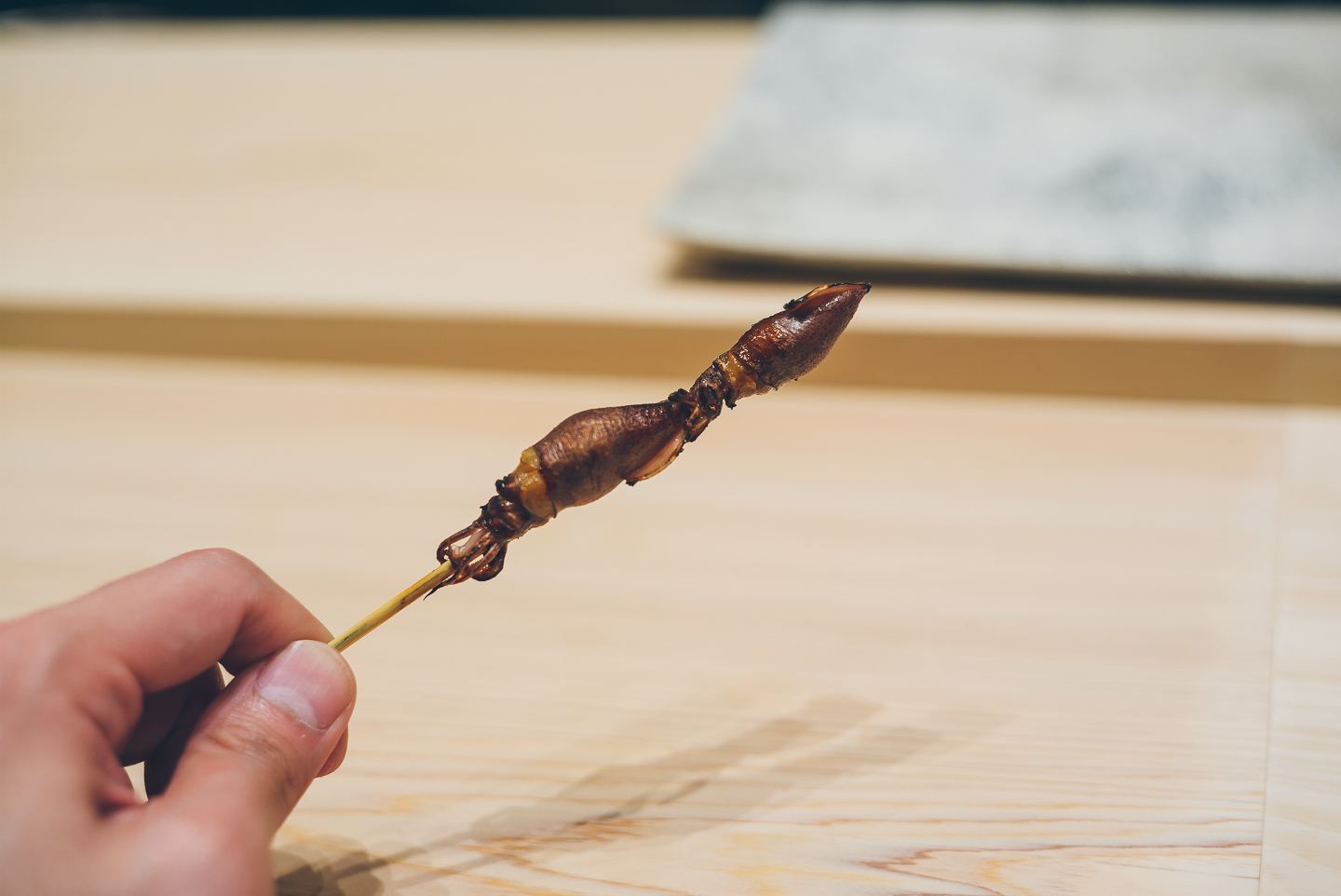 Also from Toyama. This was great. Nice lick of charcoal with a sweet, creamy, brown-meat funk.
4. Japanese Grouper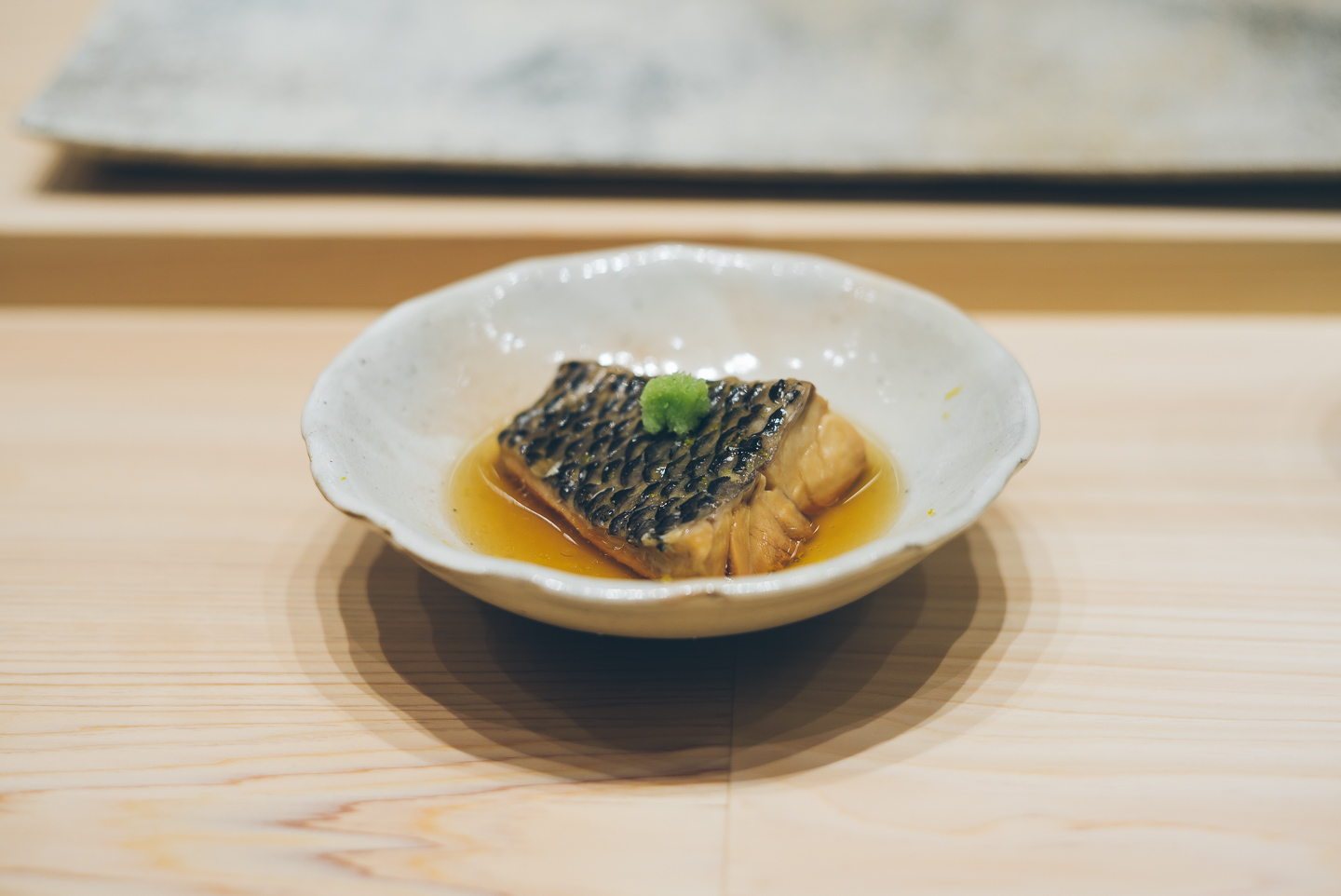 I forget the Japanese name so apologies, but Kubota san did tell me that it's a kind of Japanese grouper (check the scales) and is landed down south in Aichi. The broth is simply gorgeous, thickened and honey sweet with full umami. I forget to ask, but it tasted like it could have been derived from the boiling of the abalone. Speculation. Fish itself was perfectly steamed. A beauty. Dad would love this.
5. Chawanmushi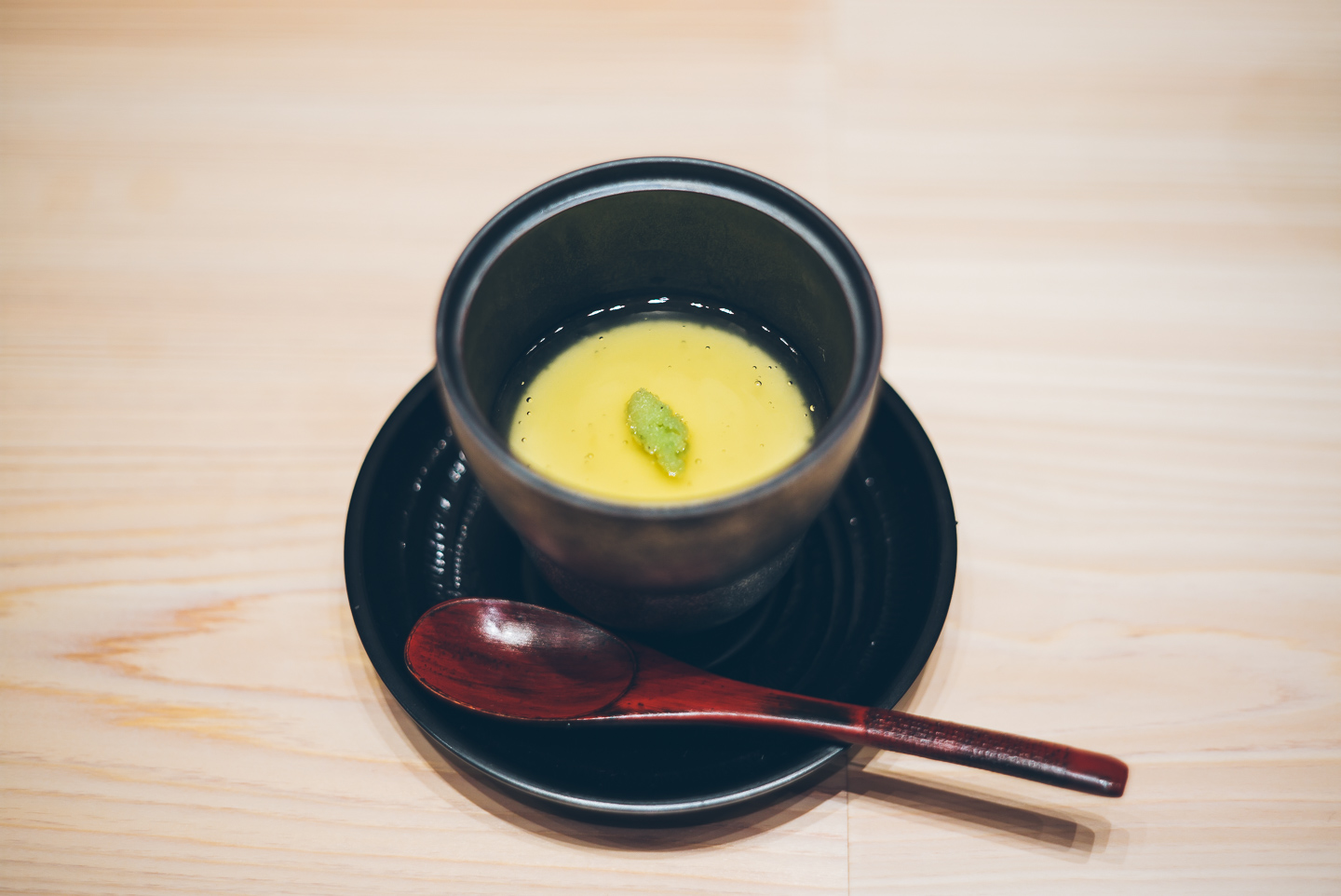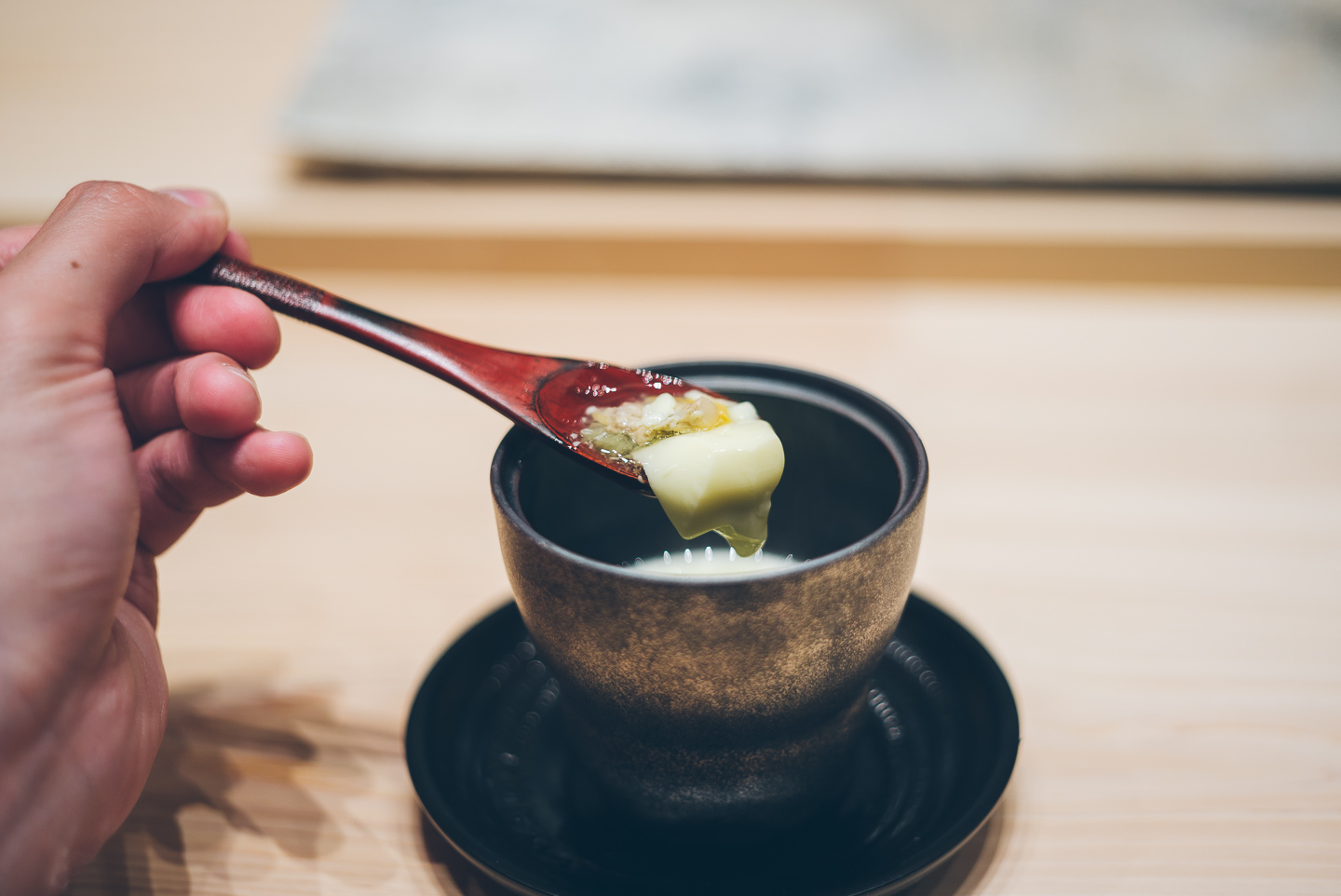 With cockles. Perfect chawanmushi with unbroken and totally silkened textures. The purity of flavour from that dashi. Love a good steamed egg.
6. Grilled Mizayaki Beef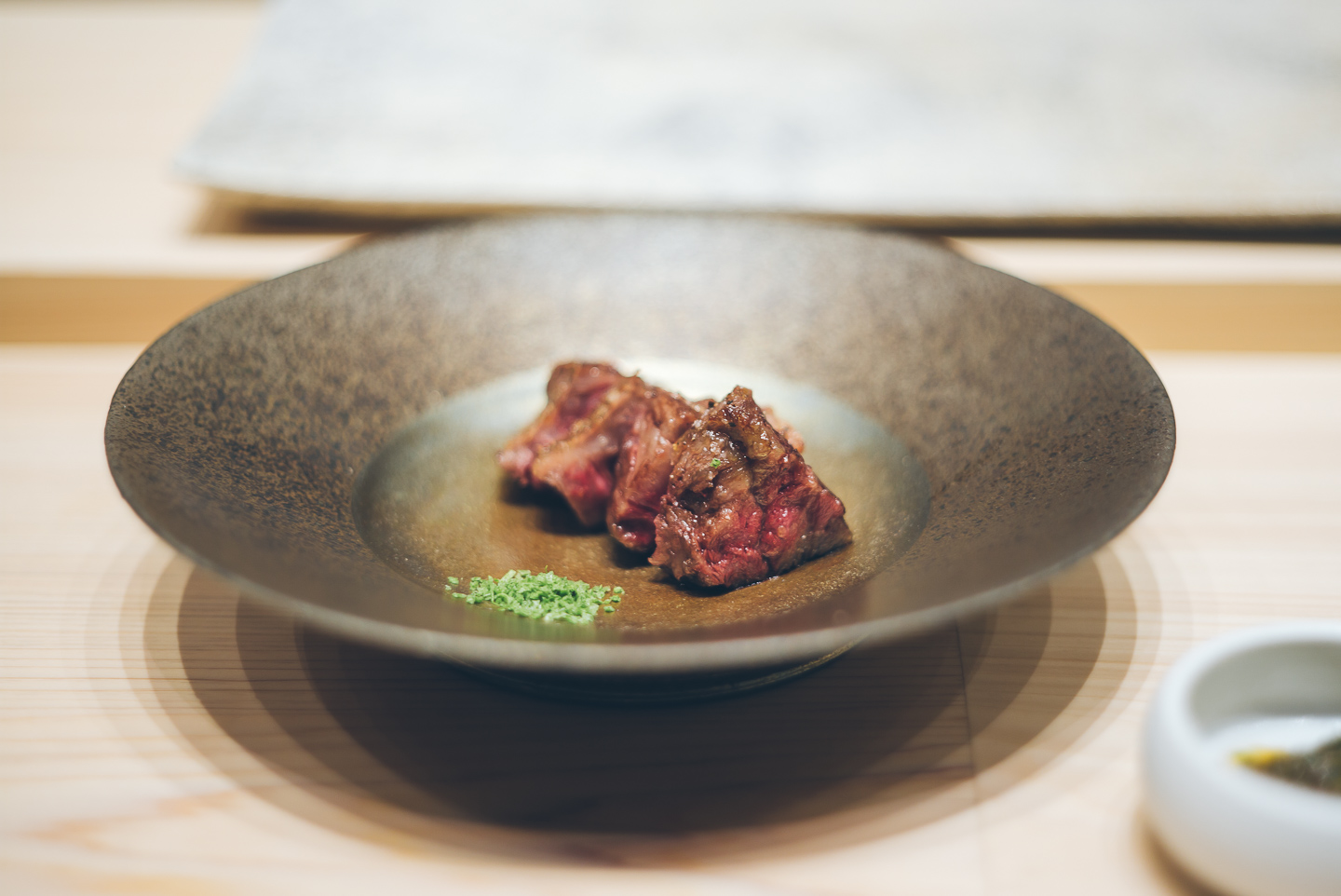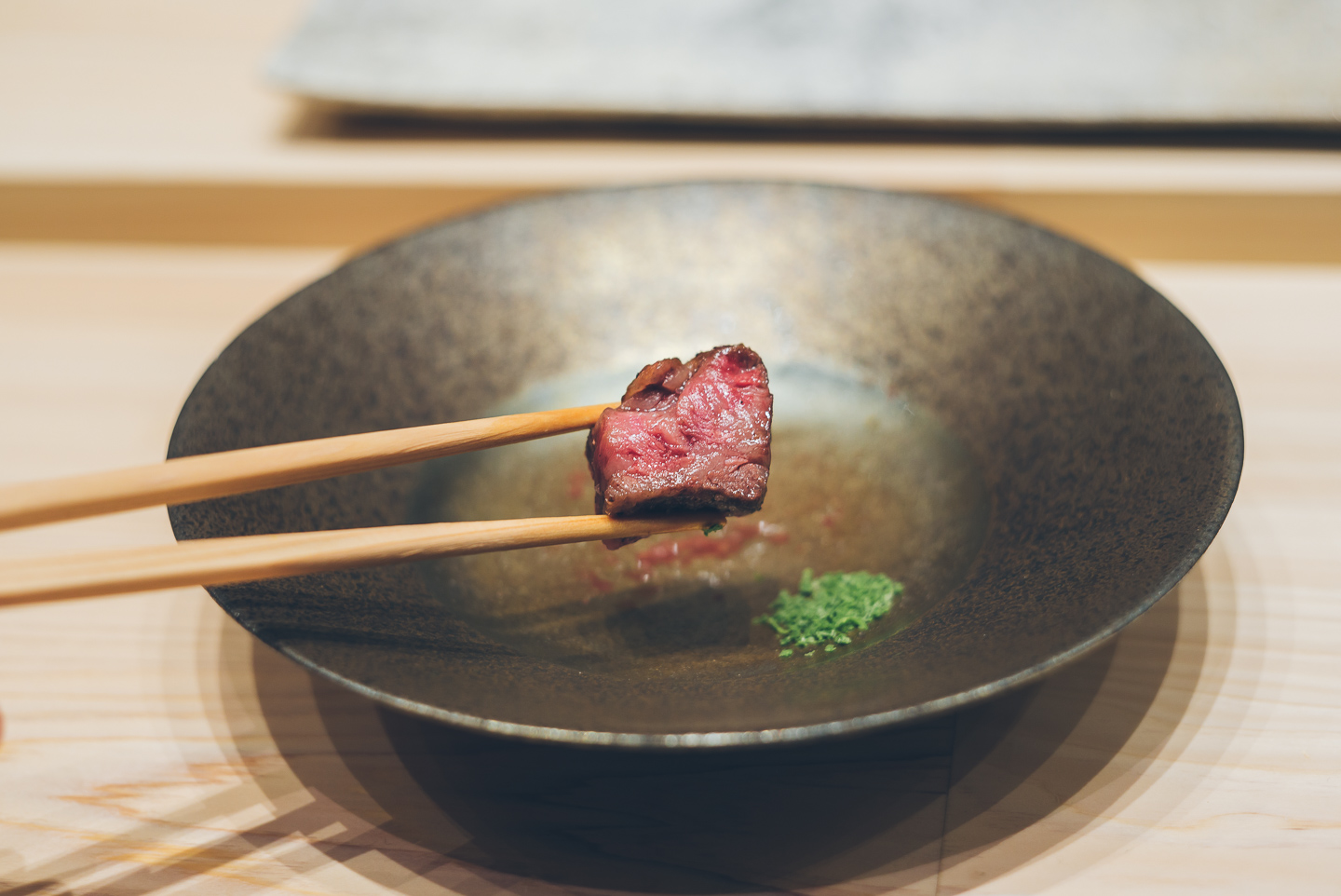 Kubota san said A5, but would not reveal the marbling score. Tender by not 'mousse-like' which leads to think this is no more than A510. Still delicious though.
Appetizers were good, not great. Handover to Maruyama san from this point forward.
-Sushi-
7. Mako garei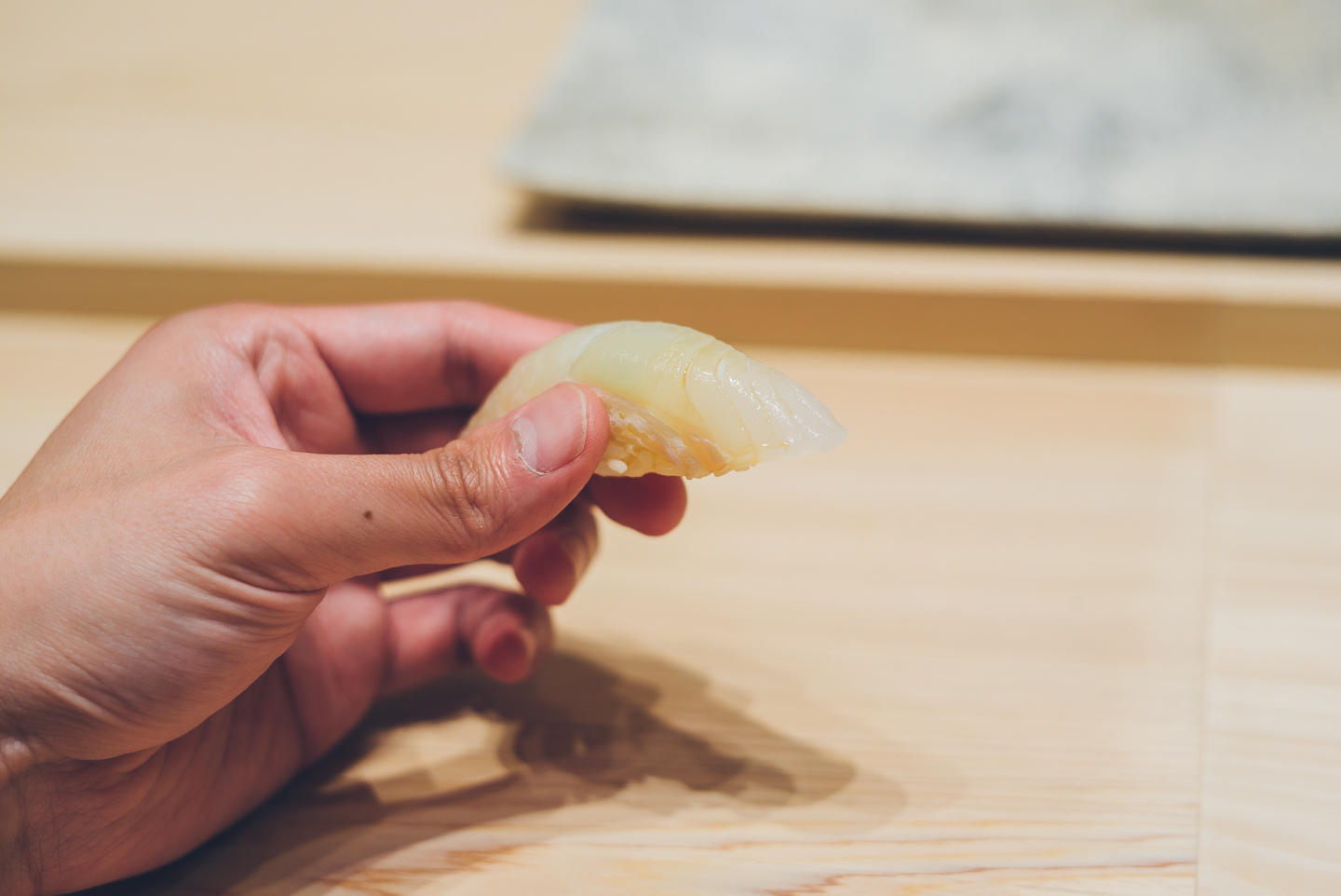 Flounder, or a flatfish, could we say ala turbot, plaice, halibut? Taste the red vinegar in the shari. Well salted. Tastes like Sushi Saito alright. Neta is mellow, soft and sweet. Clean. Good.
8. Shima aji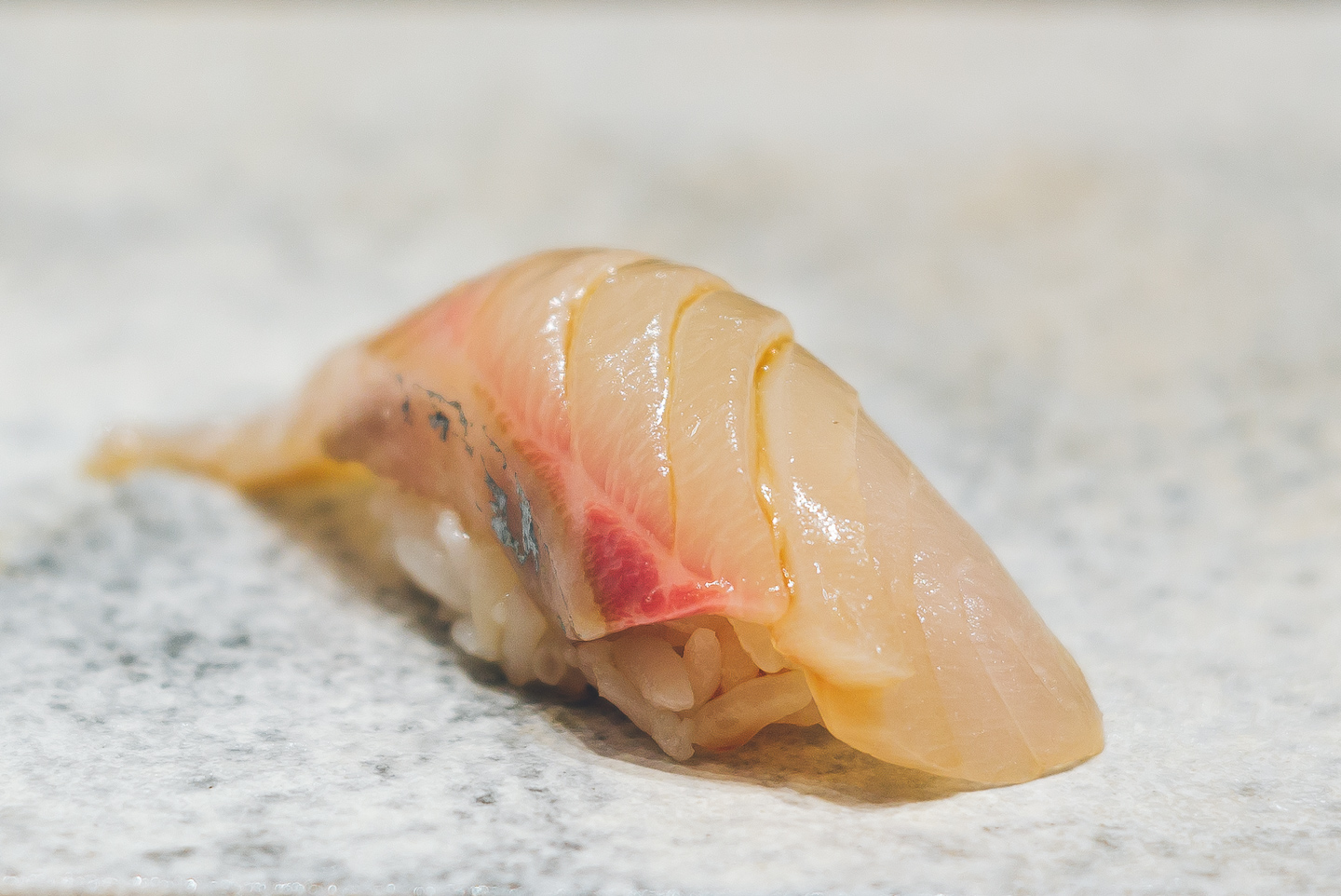 Yellowjack, or stripped horse mackerel, I think. As Maruyama san says this is "summer yellowtail". This was the best of the meal. Texture has a slight crunch, and nearly like lychee. What makes it great, is the fattiness, like butter that melts on impact, but also it is quite clean in flavour at the same time. Paradox innit. Must be the season for it. This produced the head-in-hands moment.
9. Kohada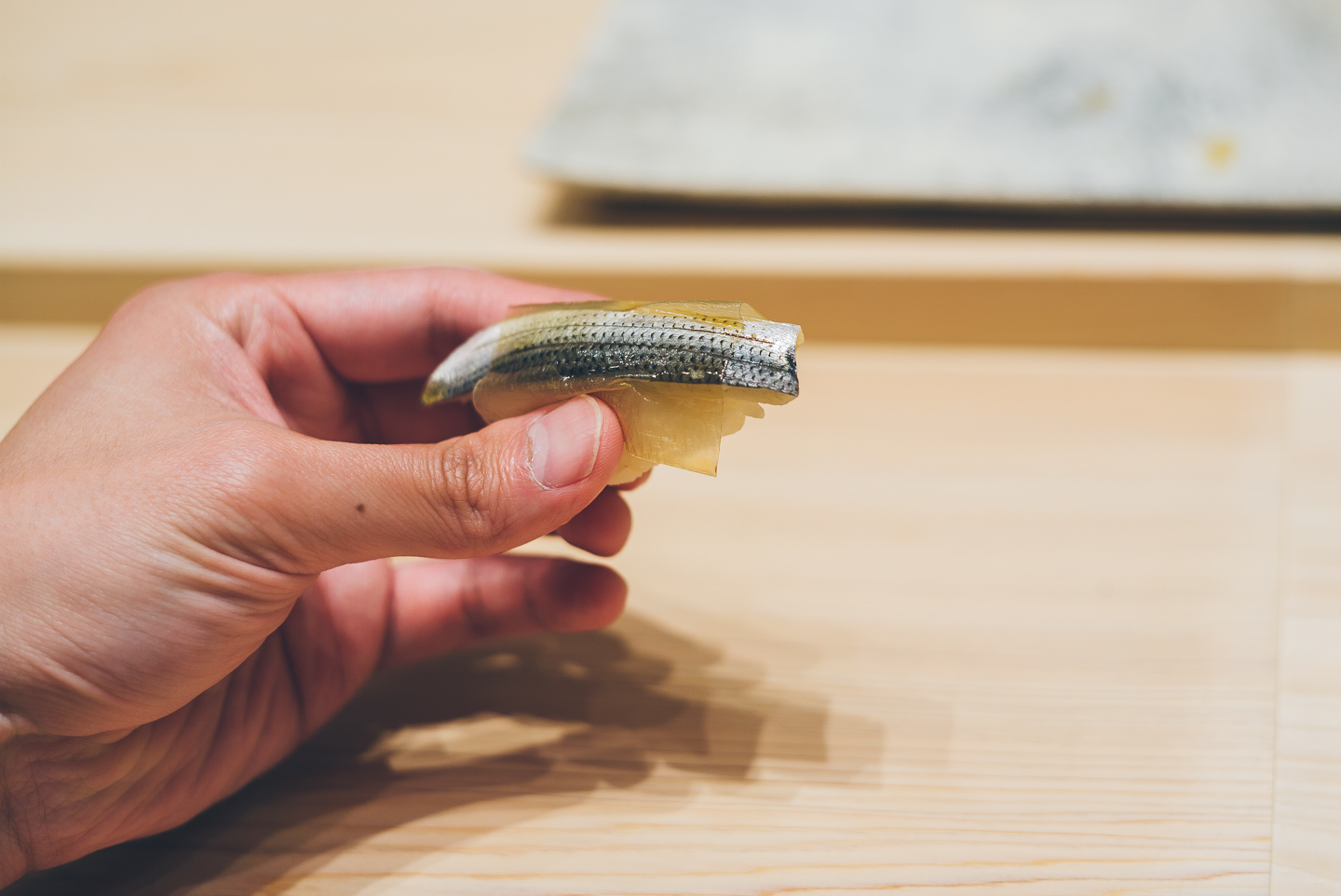 A full pickle, the konbu is rich, sharp and sweet. Almost abit too much so, but the entire morsel is very full and juicy. Very good on reflection.
– Hon maguro, Wakayama, aged 1 week –
10. Akami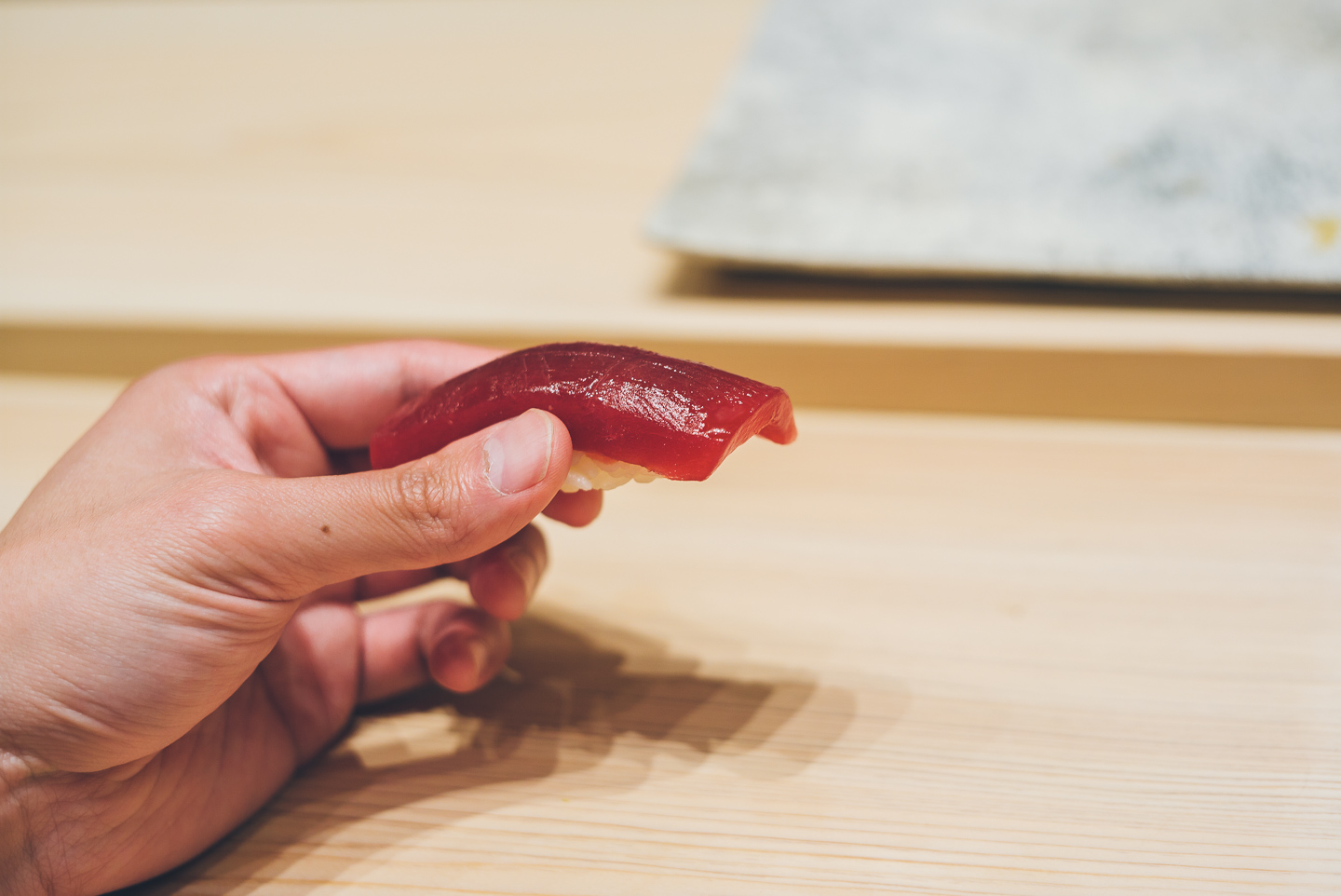 Perfect zuke. The texture is like jelly with a crunch. Love the thick cut too. I think the wasabi is a little fierce here, it burns. The shari is a little too sticky as it may have been a little too warm, but overall it was good deserving of Saito's reputation for great tuna. This was a fine reproduction of Saito's incredible ruby coloured morsels. Tuna quality is very high to my underexposed palate.
11. Chutoro, medium fat belly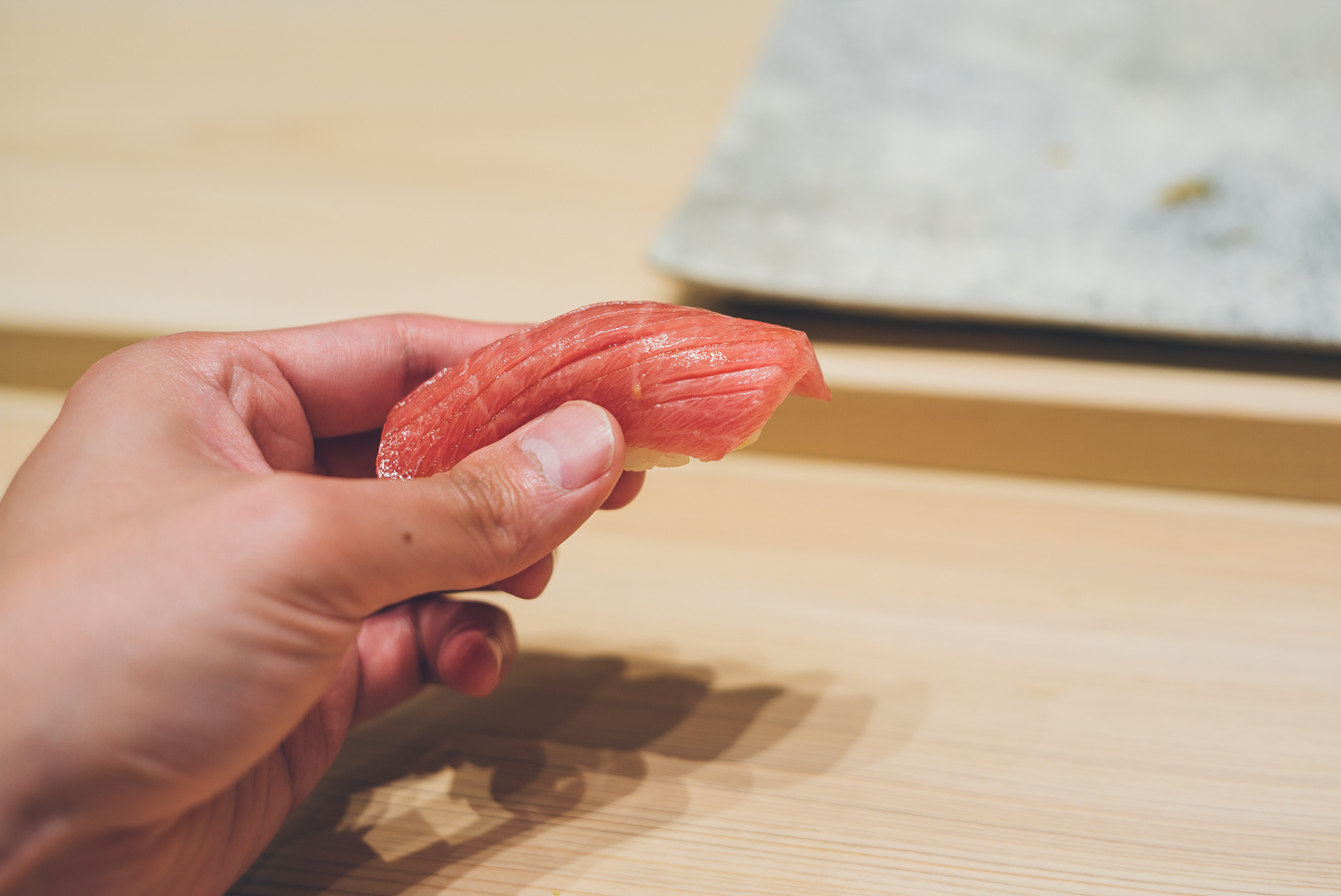 Jewel-like and rather sweet fat. Shari here is more controlled than the lean one. Good.
12. Otoro, the stuff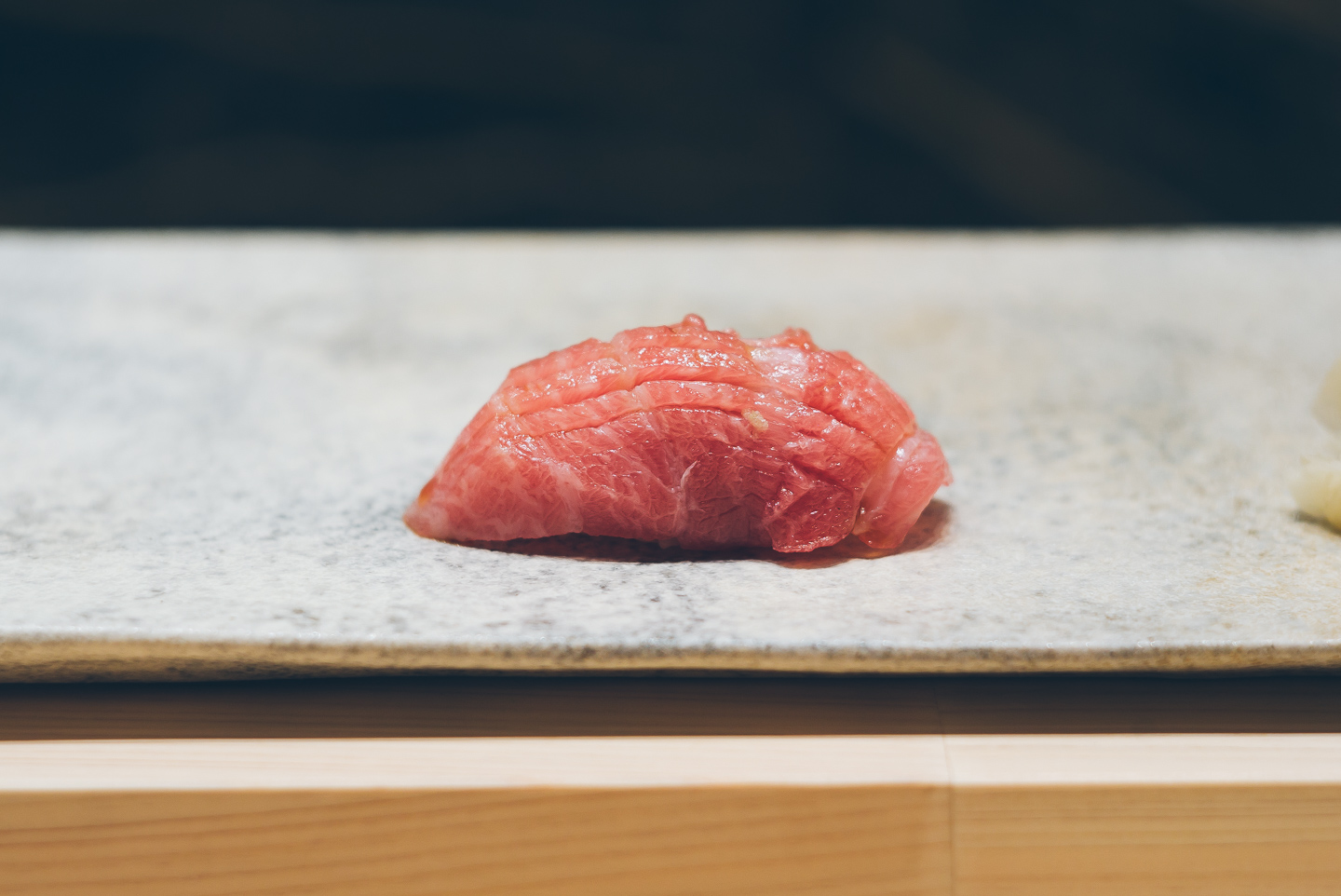 Totally sweet fat, not intense sensory overload, it however did not produce that totally melting butter on impact effect. It was still good, though belly is probably better during winter months for obvious reasons.
13. Ika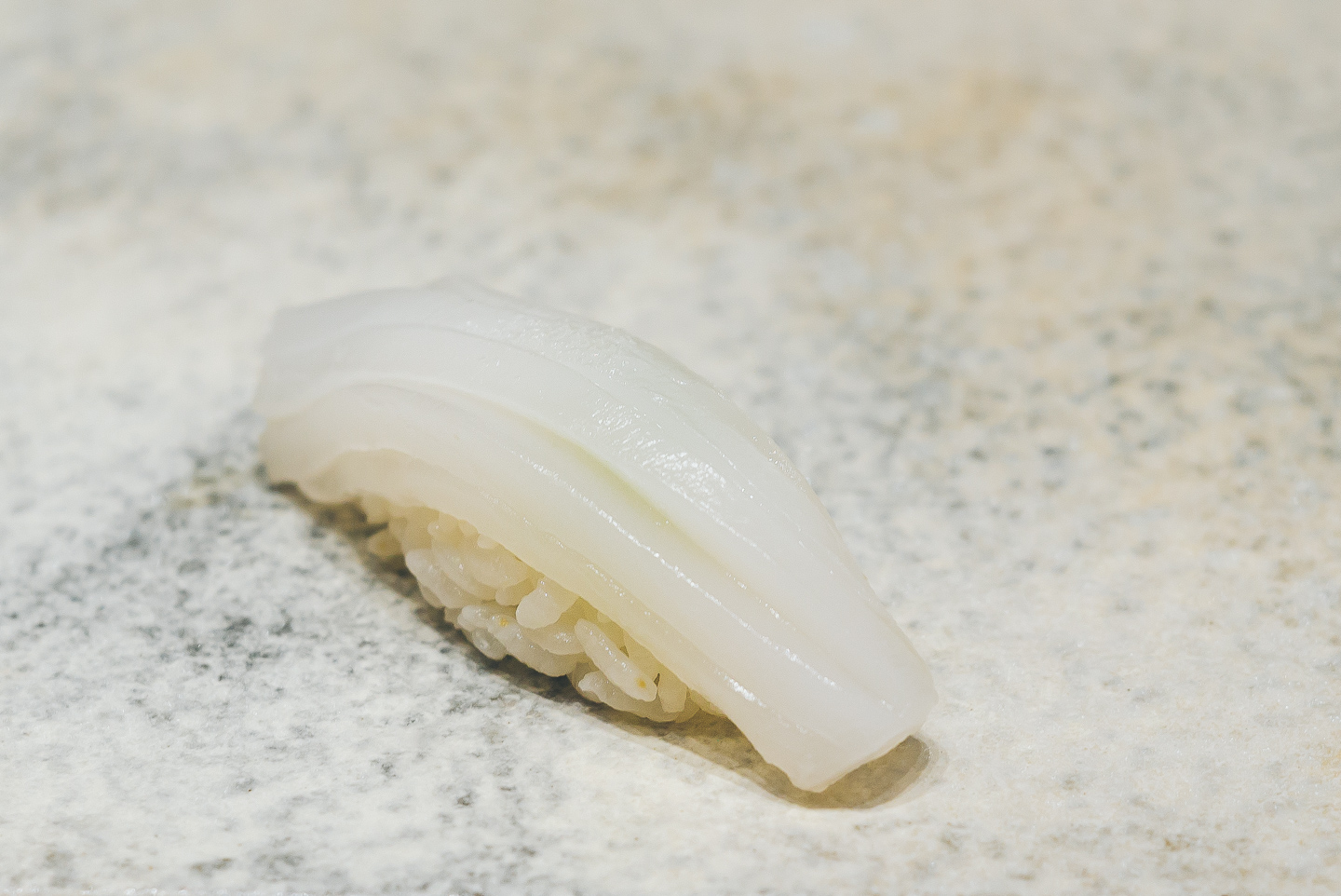 Squid. Sudaichi, salt, wasabi. A bit of a crunch, but.. not transporting! Another surprise, as I had excellent Cornish squid the week before at Umu, in which the texture was incredible, which I thought was like taffy. This was not.
14. Kisu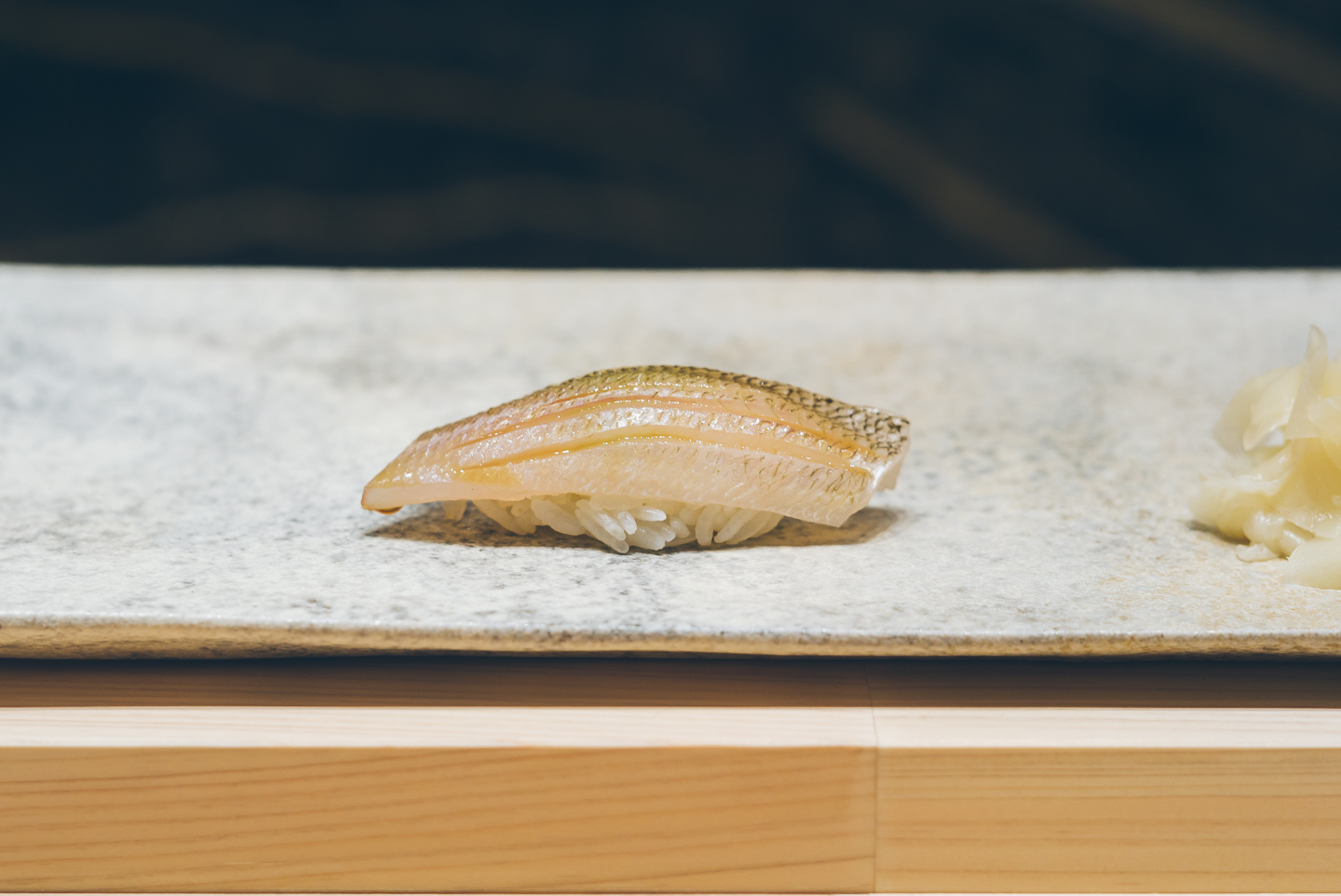 Whiting. Crunchy neta like rowing a boat in choppy waters. For whatever reason, the shari was all over the shop, mushy and just flaccid, as if Maruyama san just lost control for a moment. I think this fish may be better as tempura, across at Tenkuni.
15. Saba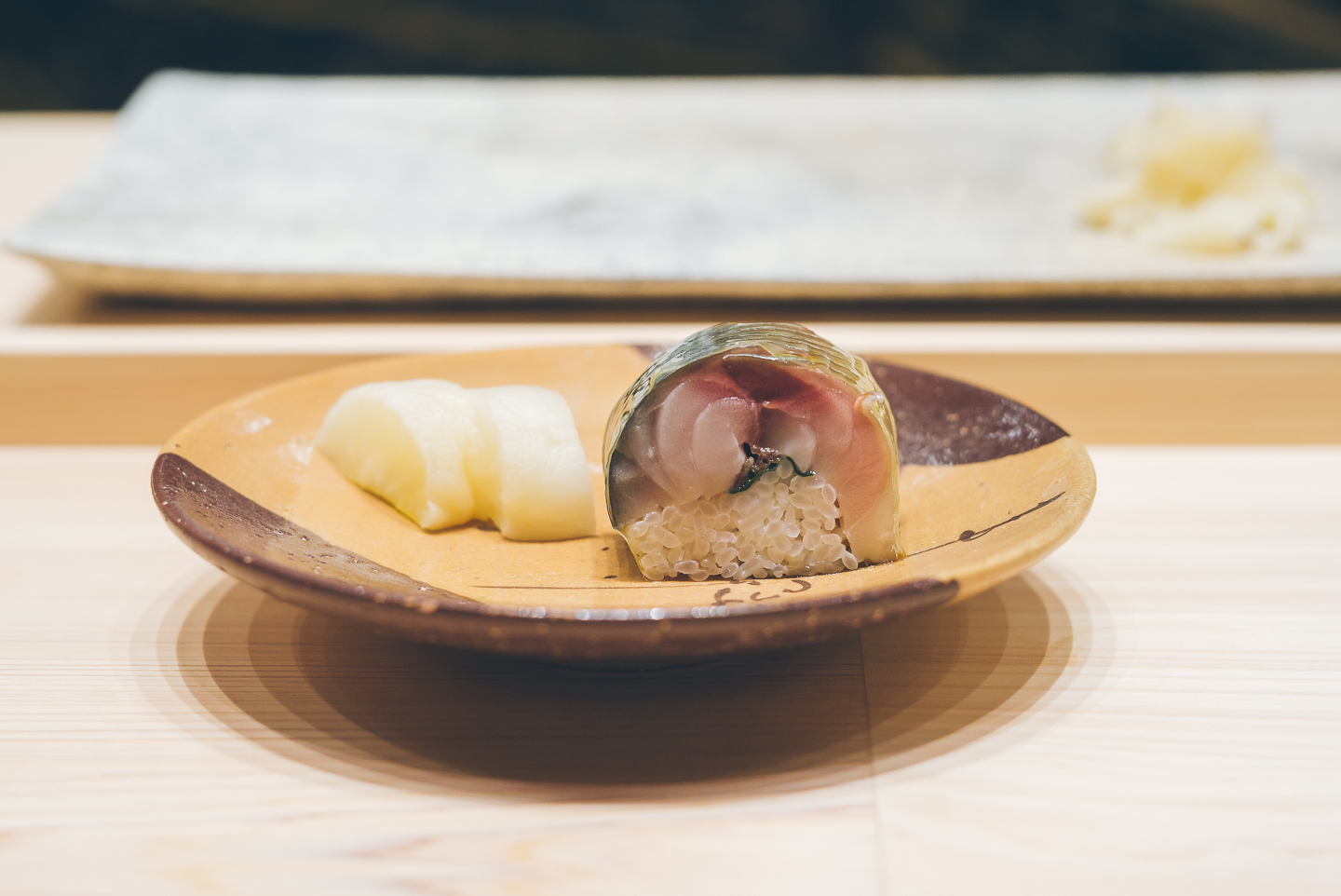 This was excellent, a perfect cure. Check the very thin layer of shimmering kombu and the individual beads of rice. Such fragrance and rich flavour, yet it is also delicate, the balance of sweetness and acidity, just great. This is my speculation, but I imagine it is the gentle curing which has tenderised, but not denatured the original textures, fleshy, oily, it's superb. Can taste the shiso which wipes the palate clean. Very attractive. The daikon are beautifully pickled too, like a bonus after eating the mackerel.
16. Aji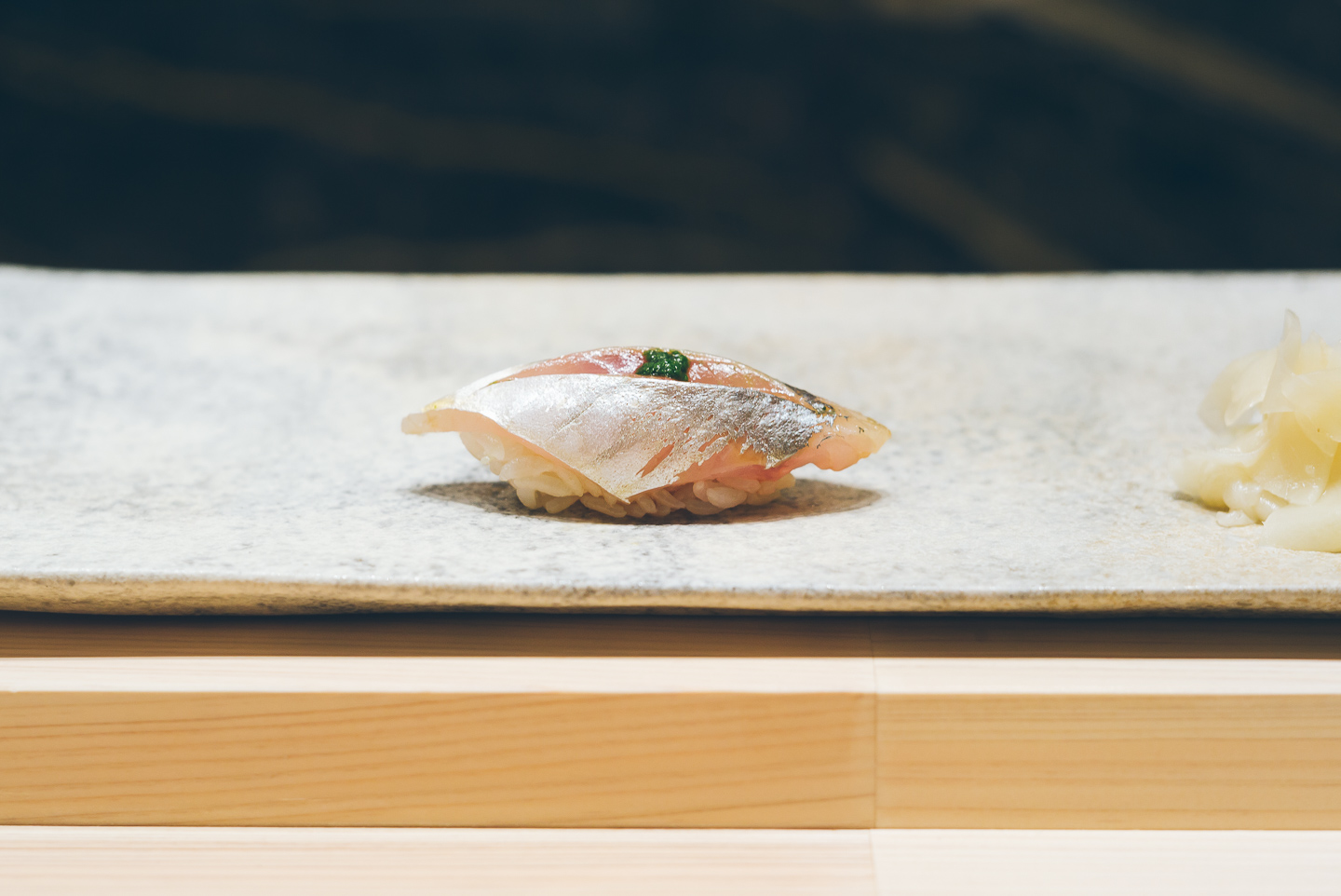 The neta is perfect, warmth, ginger, but shari is choppy, don't know, good start, rocky finish.
17. Akagai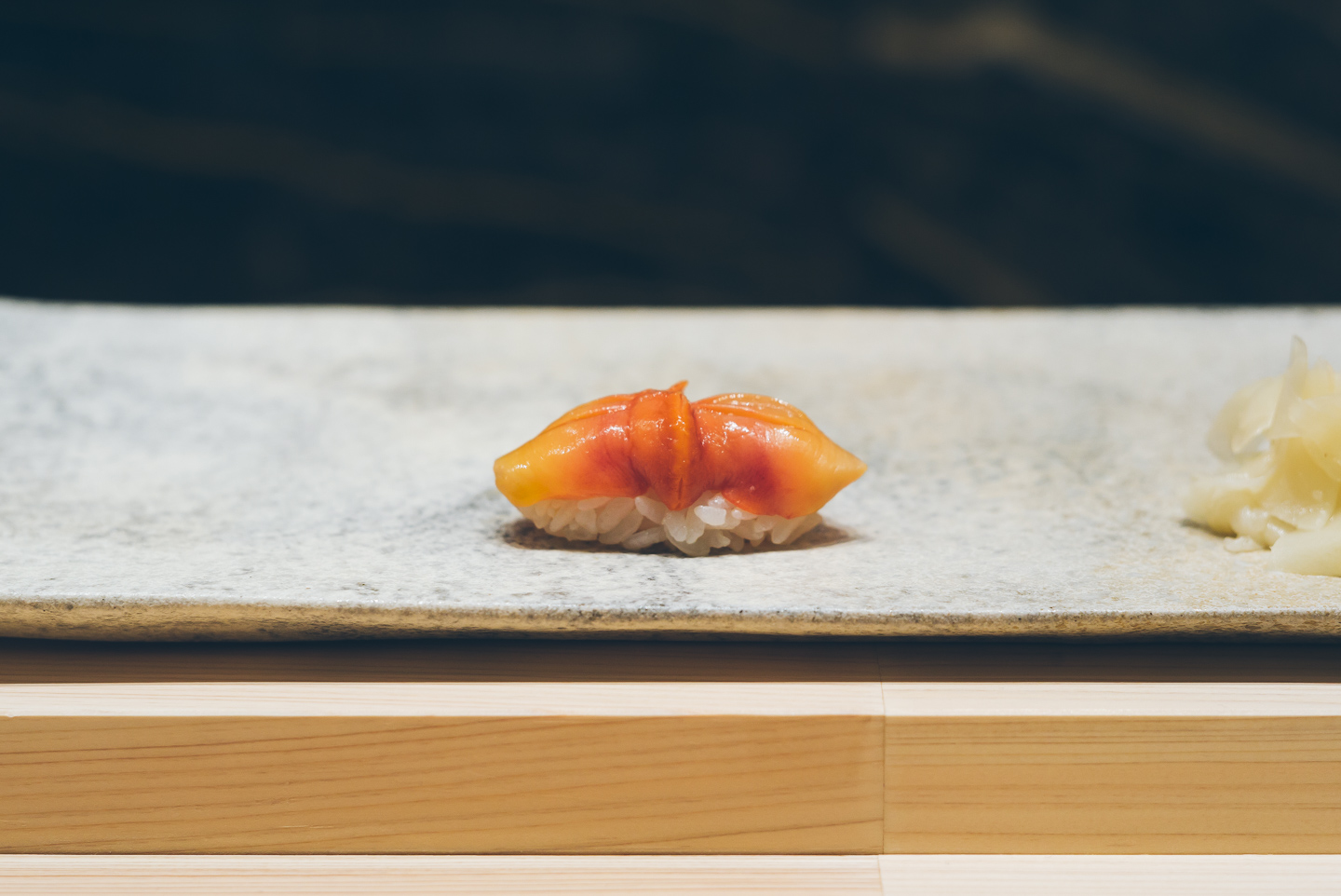 Ark shell clam. Southern Japan also I suspect, Aichi again. Is this the one they usually 'throw' onto the prep area? I thought this was great, crunchy texture and then sweetness. A little too much wasabi punch yet again, but was good.
18. Ezo Bafun Uni, Rishiri Island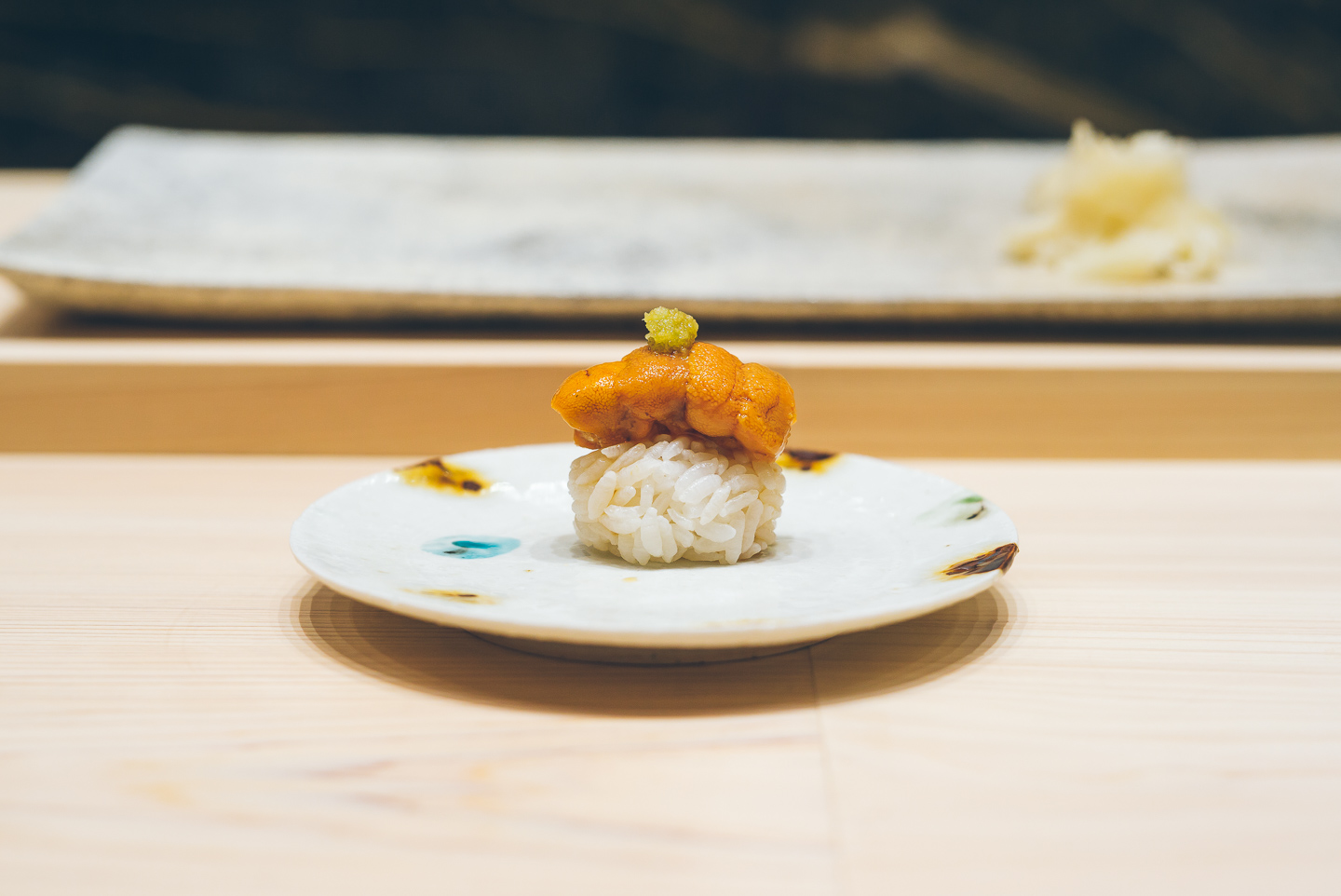 Hokkaido. West vs East.
West. This is from Rishiri Island. Boom. You know it. The rush of rich sweetness. This was the more intense of the pair, deeper in colour. Better kelp forests in the west of Hokkaido?
East. Bafun uni from Nemuro. I asked for this as my extra piece, after the end, and Maruyama san made into a gunkan. The Nemuro was milder but the rush of sweetness was purer if that makes sense.
Both i think were a little affected by the plane ride to KL as both left a hint of bitterness in the finish. Both were good though, Rishiri was more interesting. Hokkaido Uni just the best in the world.
19. Anago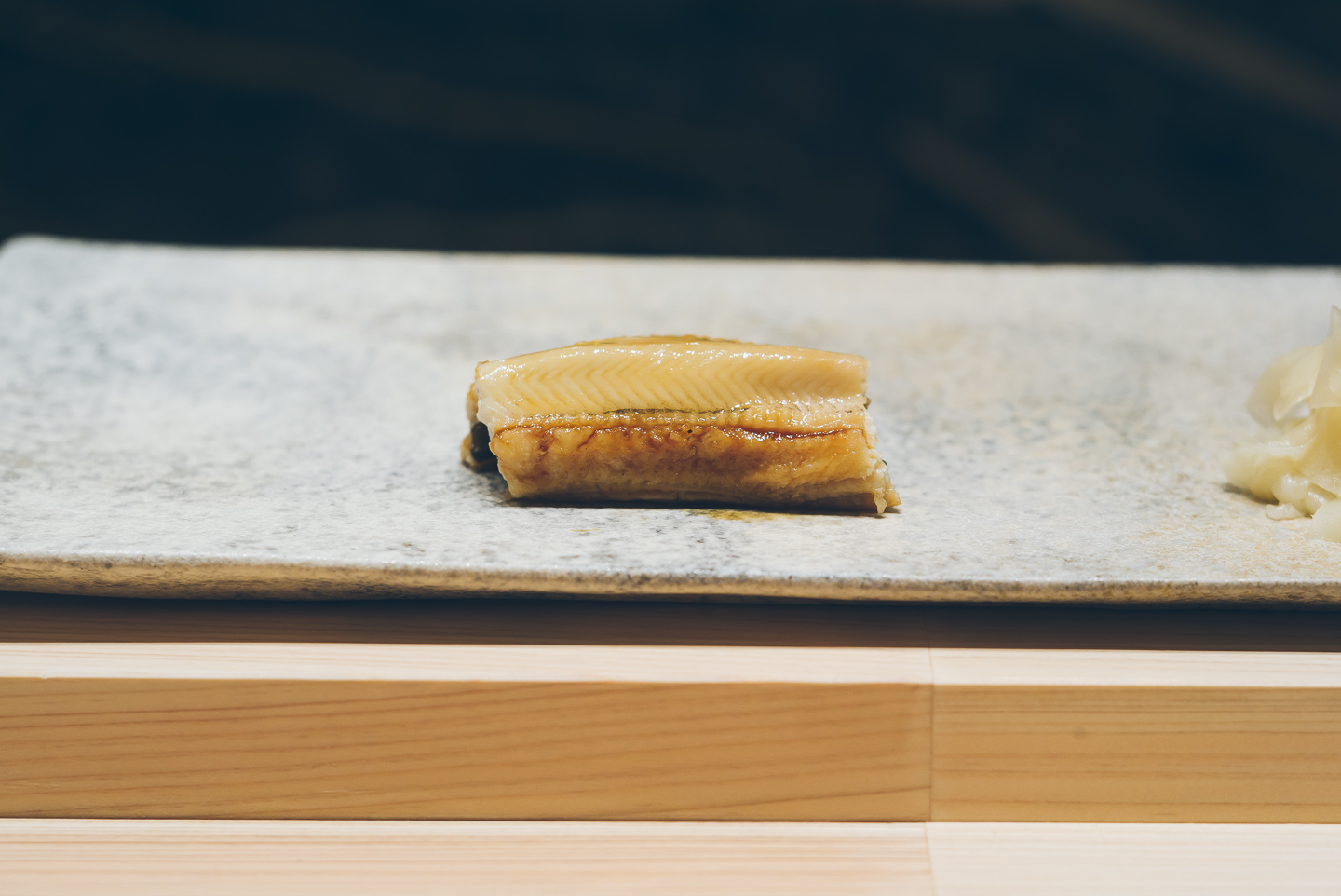 This was a little too 'wet' for my tastes, missing the toasted buttery exterior. I was expecting to finish on the duo of anago and unagi. I always liked the sweet and salty contrast which seems a Kyubei lineage offering. So anyway, this was just ok.
– Finish –
20. Miso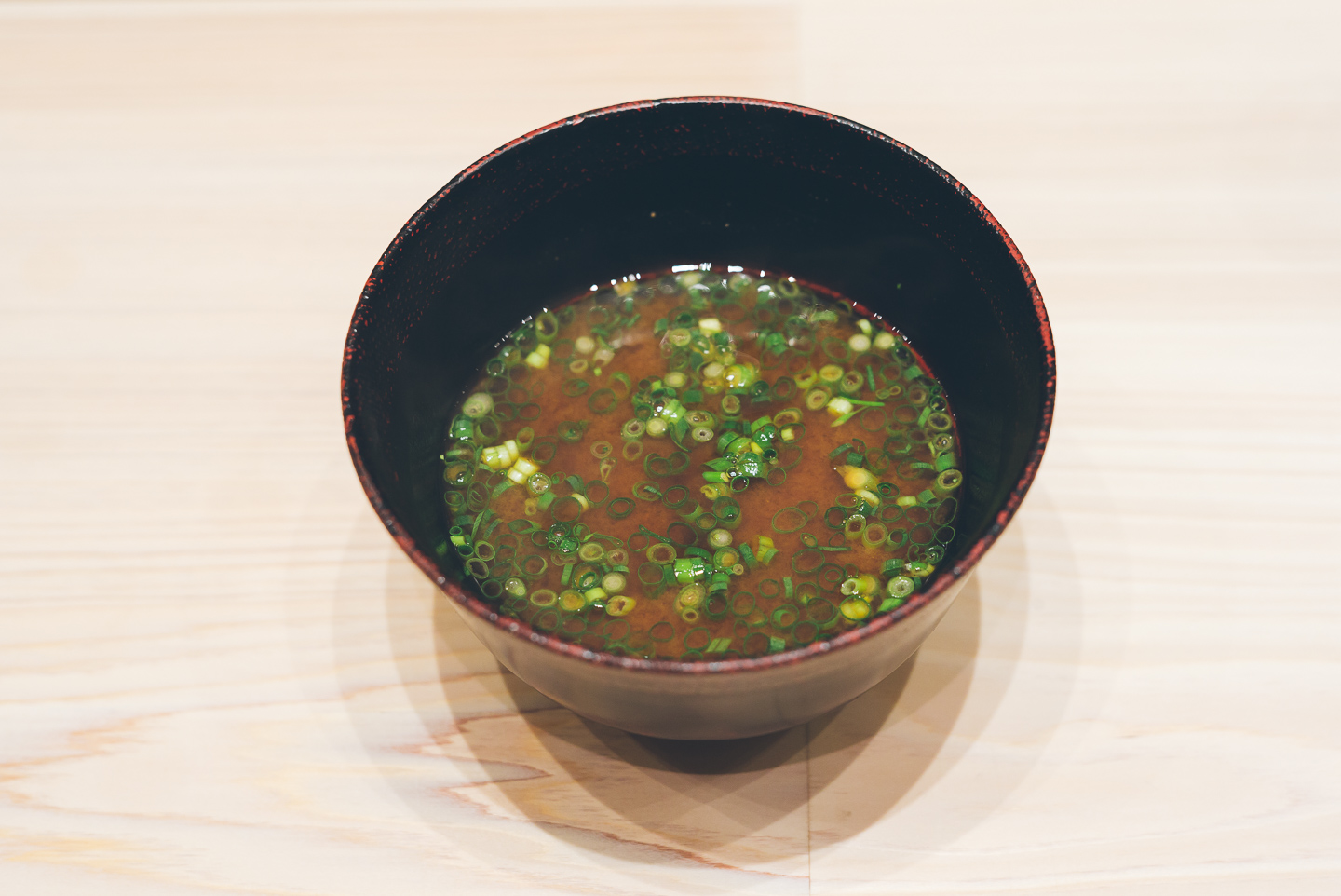 Slurp.
21. Negitoro Maki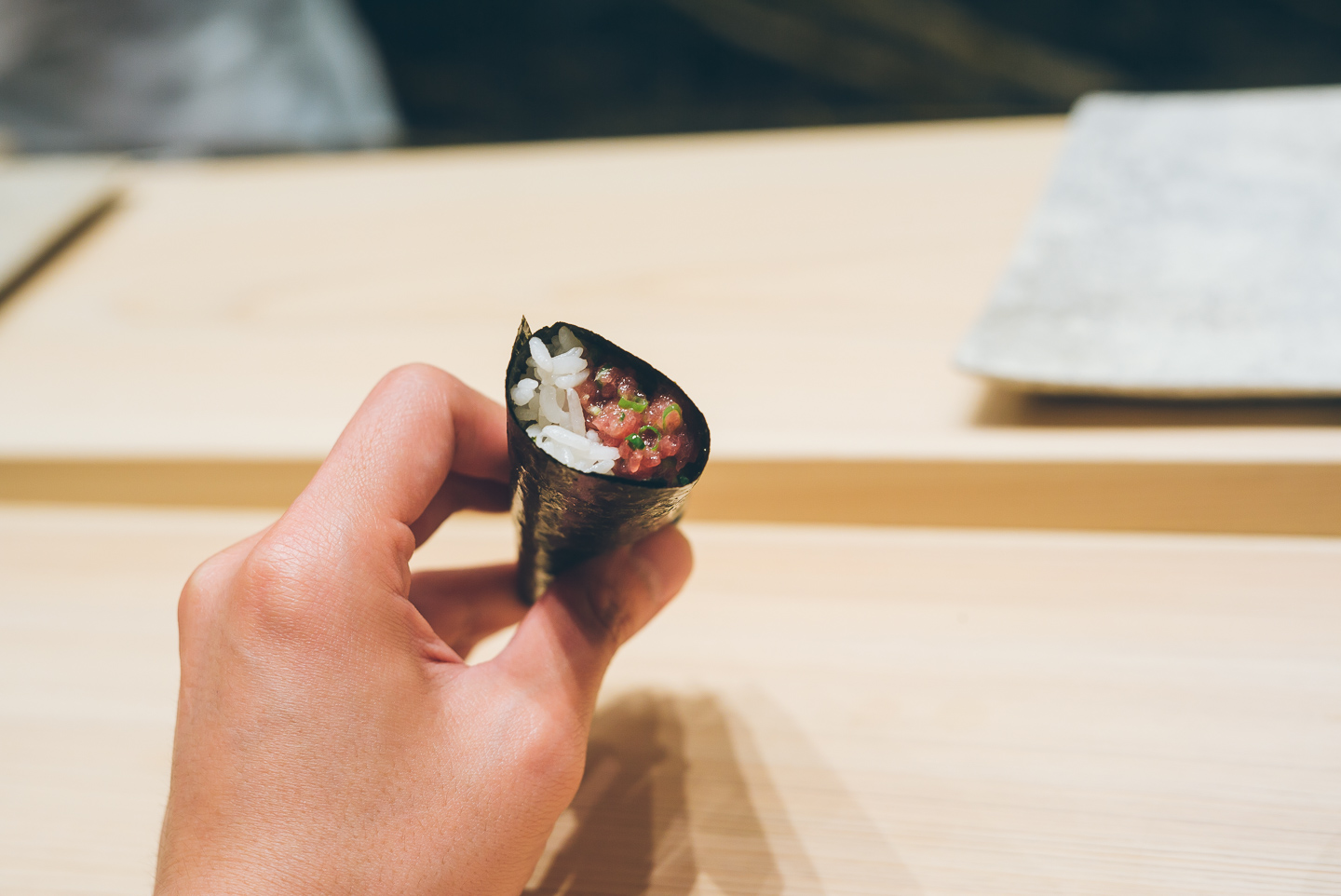 Not so obvious from the photograph, but generous chunk of chopped tuna and spring onion rolled in. Excellent tuna really. Loved it.
22. Tamago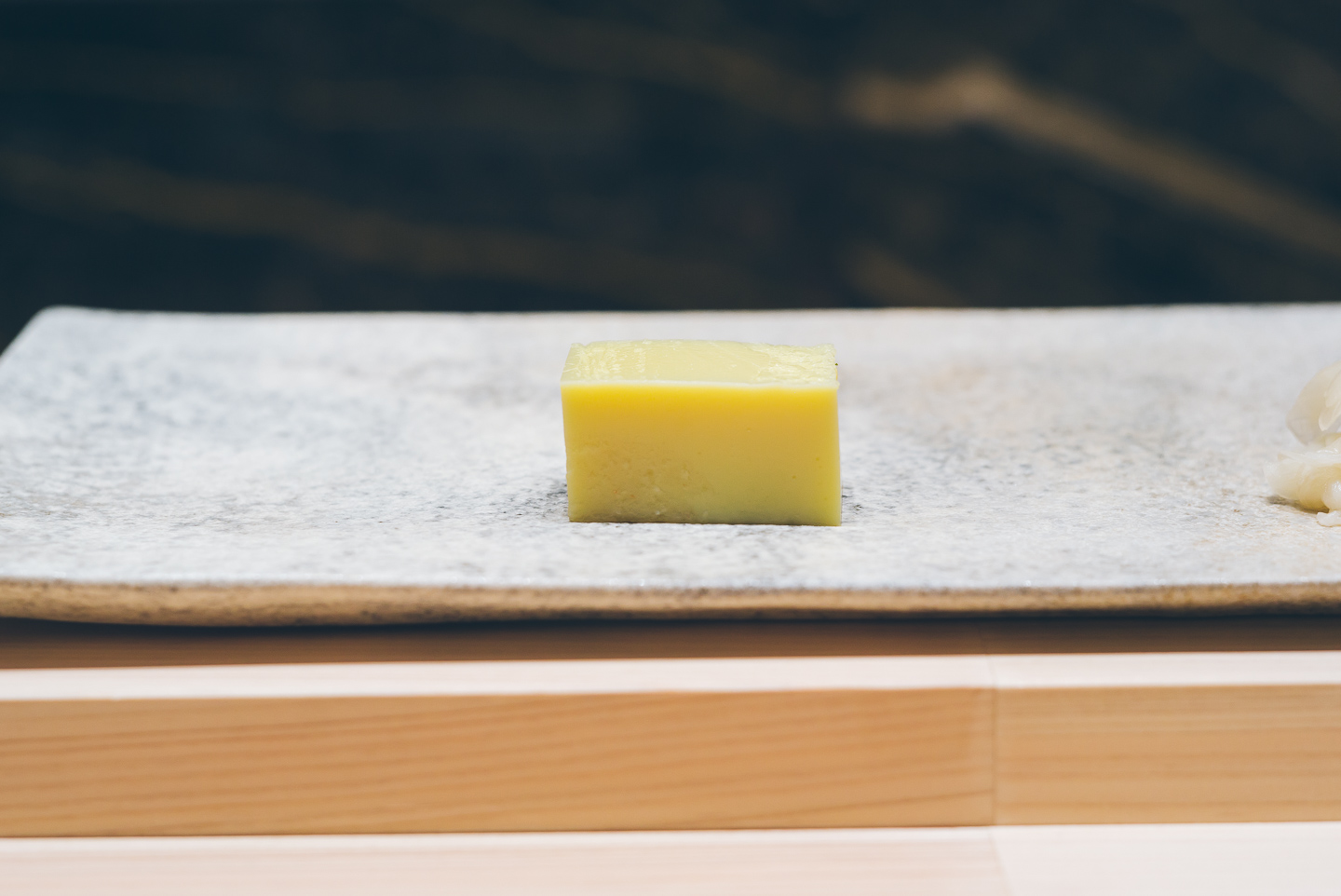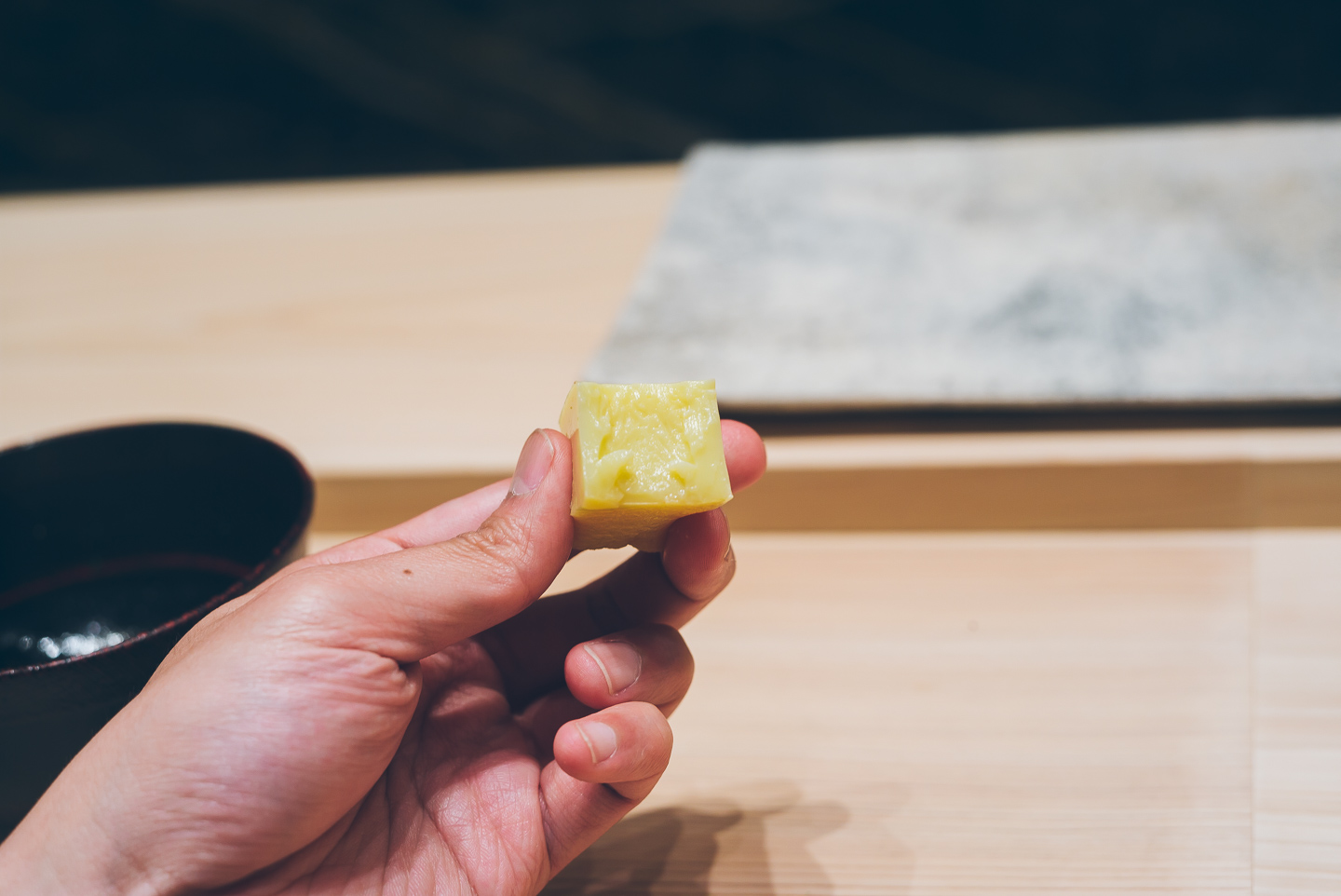 Egg custard. Pudding. Intensely sweet mirin with saltiness, like salted caramel. Should have asked for another.
-Enough?-
To which my answer is "It never is."
23. Ezo-Bafun Uni, Nemuro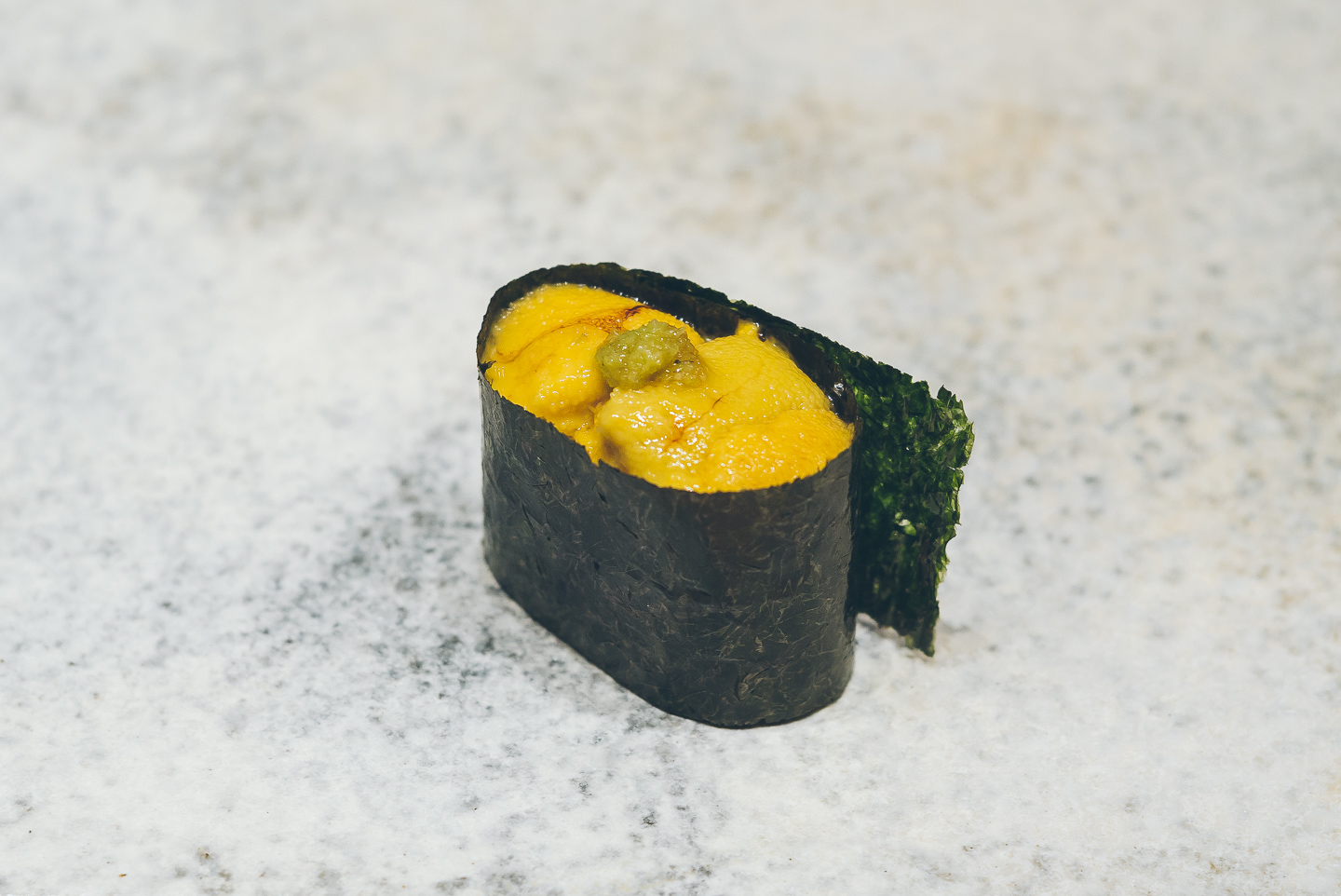 East Hokkaido. Ditto notes from No.18 above.
—
I paid 1550RM (£260.26 at 5.955RM/£1) in total. Service and green tea already rolled into the listed price, so no added plus pluses. I wouldn't do Omakase at this branch again, as I think the asking price is too high, relative to a plane ticket to Tokyo, and that you can eat for about same or less in Tokyo. Having said that, the next time I'm in KL, I wouldn't hesitate with the cheaper lunch deals. £55 looks attractive for the quality on offer (but sheer range in Tokyo and cheaper, so…). As for dinner, I think they start at 800RM (£133), hmm.
Overall, I found the fish quality to be very good, as expected. The stuff that benefit from ageing are all as good as Tokyo. However, the more delicate pieces seemed to have suffered from the journey to Malaysia. Just a little dull as opposed to the pure rush of sweet brine.
On the execution front, Saito san is obviously the superior Itamae to both Kubota san and Maruyama san. The incredible balance of Saito san's sushi hard to match, though on this showing, Maruyama san does his boss proud.
Unfortunately I thought shari, whilst similar in taste and deep seasoning, does not compare in texture to the ones moulded by Saito san's in Tokyo. For my tastes, I felt they were served a little warmer than at Tokyo, which I think has caused the rice to go juuuuust a little mushy. Later in the meal, it seemed rice had gone a little too cold and gave this choppy sensation. Mostly good don't get me wrong, but it just did not possess that ethereal airy, sponge-like luxury of Saito's rice, which is what makes his sushi so attractive.
I have read Kenneth's post which he pointed out the air conditioning being the root cause. Perhaps something they will adjust to soon enough as the operation settles down. This is still only month 3. I wonder if it's to do with the water too. Is KL water harder than Tokyo? Who knows, well I certainly don't.
My closing thoughts are obvious. Taka is good, but nothing beats a trip to Tokyo for the real deal.
Details
Taka by Sushi Saito
Sushiya
£55 up to £260pp
Level 3A, The St. Regis Kuala Lumpur
No. 6,, Jalan Stesen Sentral 2, Kuala Lumpur Sentral, 50470
Tel : +60 12-330 3600
Train : KL Sentral