Coming here is like coming home, my first visit was 2003 and predates my bloggero shindig, during which they were a group of two, Cambio de Tercio and Tendido Cero across the road. This is my longest relationship with any restaurant in London. I am a loyal kind and I enjoy (re)writing about them (as you have gathered if you read me) and I find it exciting to follow as restaurants continue to add to their repertoire over the years.
There was a time when I lived in Gloucester Road and I rewarded myself with a meal here on pay day every month. I reckon I've come here about 60 times in 13 years and have included Cambio as part of every single iteration of my Favourites list. These days I return less frequently, though I make space in my calendar to visit at least once every six months and whenever family come to London, we always include CdT as part of their trip.
Now that tennis is soon returning to West London, Cambio will be back in the frame. No doubt you have seen some of the Spanish contingent come here after the sun goes down, partly because Cambio affords a true feeling of Spain in London, and also because historically players stay at the Millennium close by. When I have been lucky with the public draw, I always come here after the day spent in Southfields.
The dinner ambiance is a breathless thing, the sheer pace of service, the energy that gathers, you will feel those Canizares bullfighting paintings come alive in the middle of service. Some people think it's too frenetic, in which case, lunch is a better fit but I feel that it is something worth experiencing as you wouldn't think London can rock this way. They open up the front bi-folds during the summer, round the back, you have more privacy with a skylight to the stars.
Abel Lusa, the owner is the heart and soul of this restaurant, the people loving restaurateur who knows a few things about having a good time. Together with his head chef Alberto Criado, they continue to change the pace with new dishes along with subtle tinkering of their classics every year. Soon this restaurant will celebrate its 21st anniversary and this meal showed their continued form and passion for hospitality.
And Jamon is 5J.
Weekend lunch is £27 for 3, the full taster is £45 for 7 courses and a good place to start as they usually keep their latest innovations there. Or you could do what I do, ALC a mixtape of their classics and new things. Abel portioned some dishes 3 ways for us, others were tapas and natural to share.
The wine list is exclusively Spanish, a tome that's been curated over the decades. A lot of decent Ribera del Douro, indeed if you can afford to love Vega Sicilia and Pingus, you can do them verticals here. After Abel expanded his mini empire to include a sherry bar, Capote y Toros, two doors down and a gin & tonic bar, C.Tonic, adjoining the restaurant, there's also extensive sherry and gin (and all sorts of water) lists, likely the longest in town. They do live flamenco at Capote too, so go there after the meal. You'll have a crazy time. And this is still South Ken of all places, you wouldn't believe it.
For this meal, I eschewed wine and drank exclusively sherry, starting with a glass of Tio Pepe En Rama (fino), then an Alegria (manzanilla) and finished with sherry brandy, Cardenal Mendoza. I'm hardly a cognac guy, and just wanted to try something different. I found it to be pretty decent. From a slightly warm brandy glass.
The Bib has a funny way of dishing out the stars, I don't see why Cambio is denied after all these years, when Barrafina and Ametsa each have one.
This is still my favourite Spanish in town. Ask for this foie gold bar when you visit.
We paid £170.94 for three, including all food, 3 glasses of sherry, 1 sherry brandy, 2 coffees and service.
Detailed notes below.
Cod and olive oil brandade, tomato water, Cristal bread, £3.75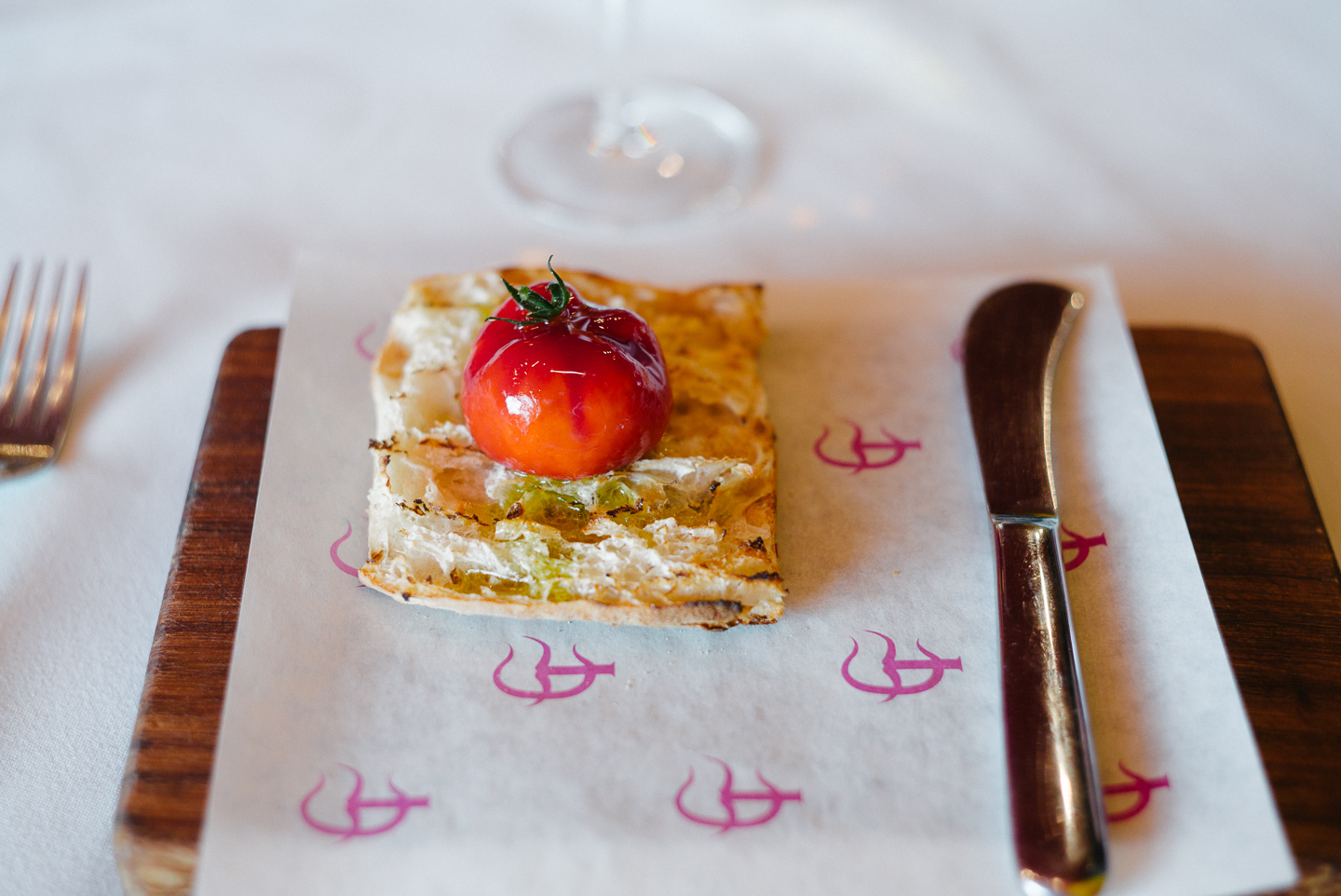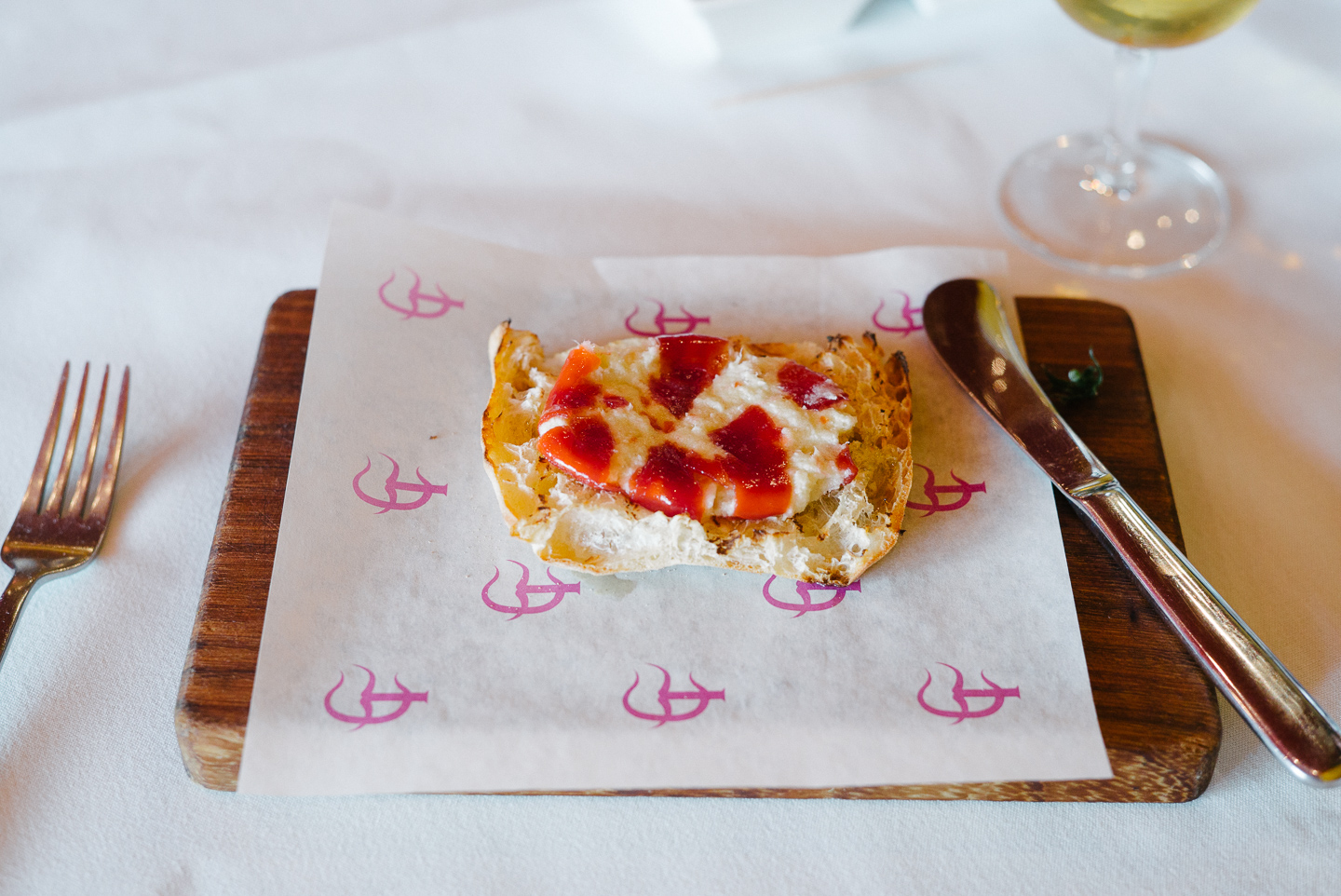 Tomato or is it? In fact, it's a cod brandada, with a (gelatin?) skin made from tomatoes on top of Pan de Cristal, that breaks into a thousand little crispy pieces. Spanish olive oil drizzled all over it. Flatten the 'tomato' and spread the cod brandada all over it, it could even be masquerading as a kind of a Pa amb tomàquet. A simple pleasure but what a beauty. Abel, you continue to surprise me after all these years.
Their famous Andalusian gazpacho, king prawns, cherry sorbet (free)
-classic-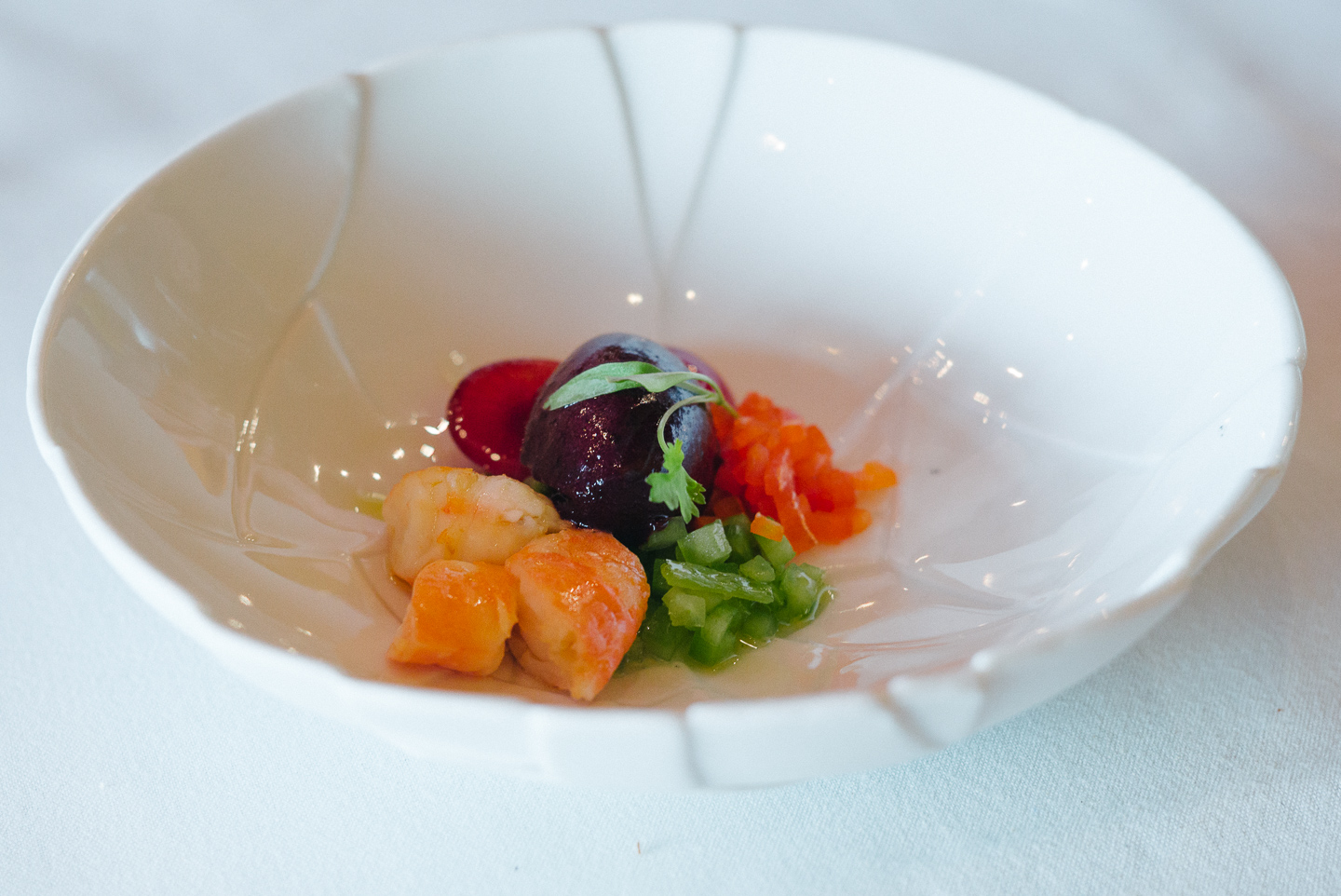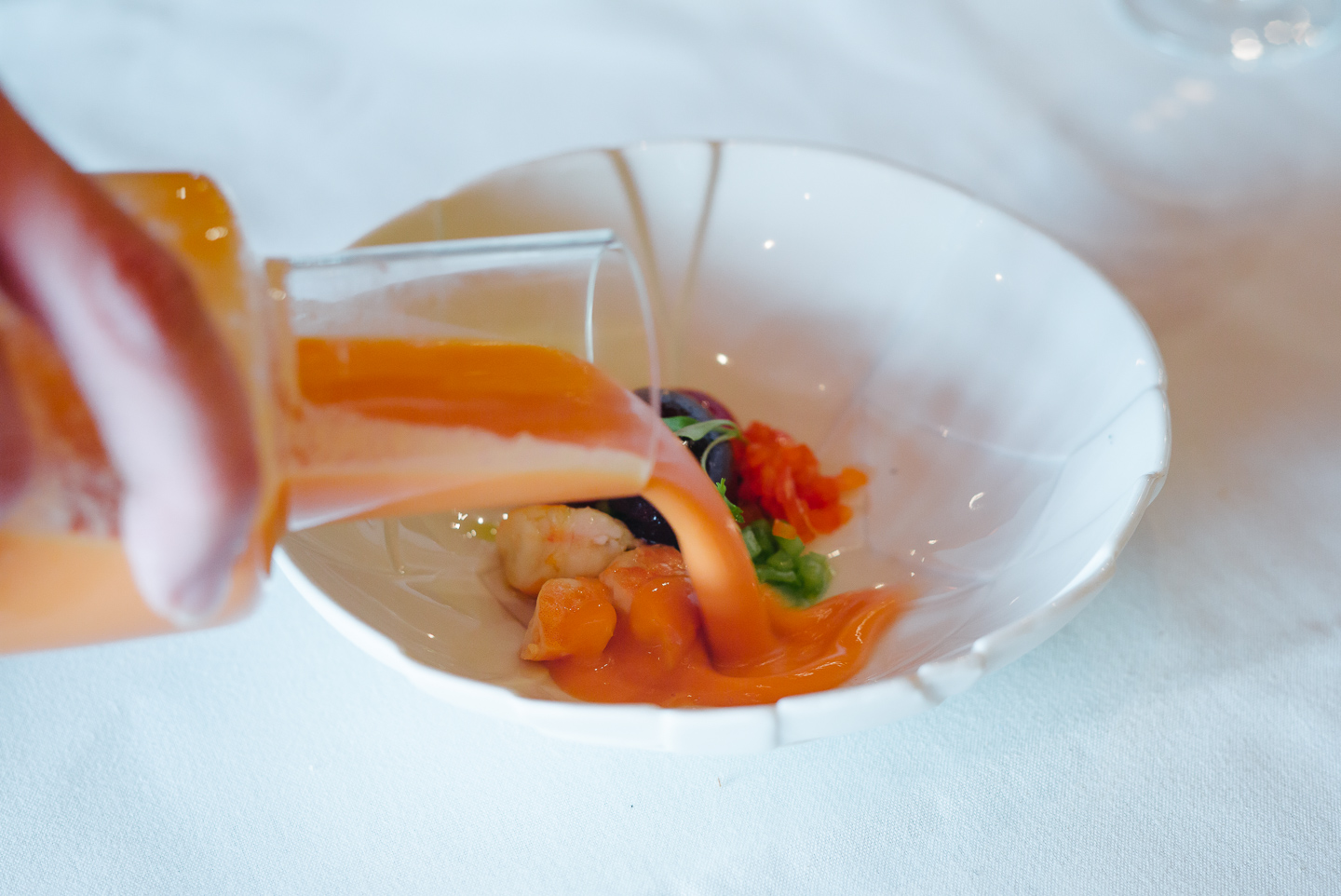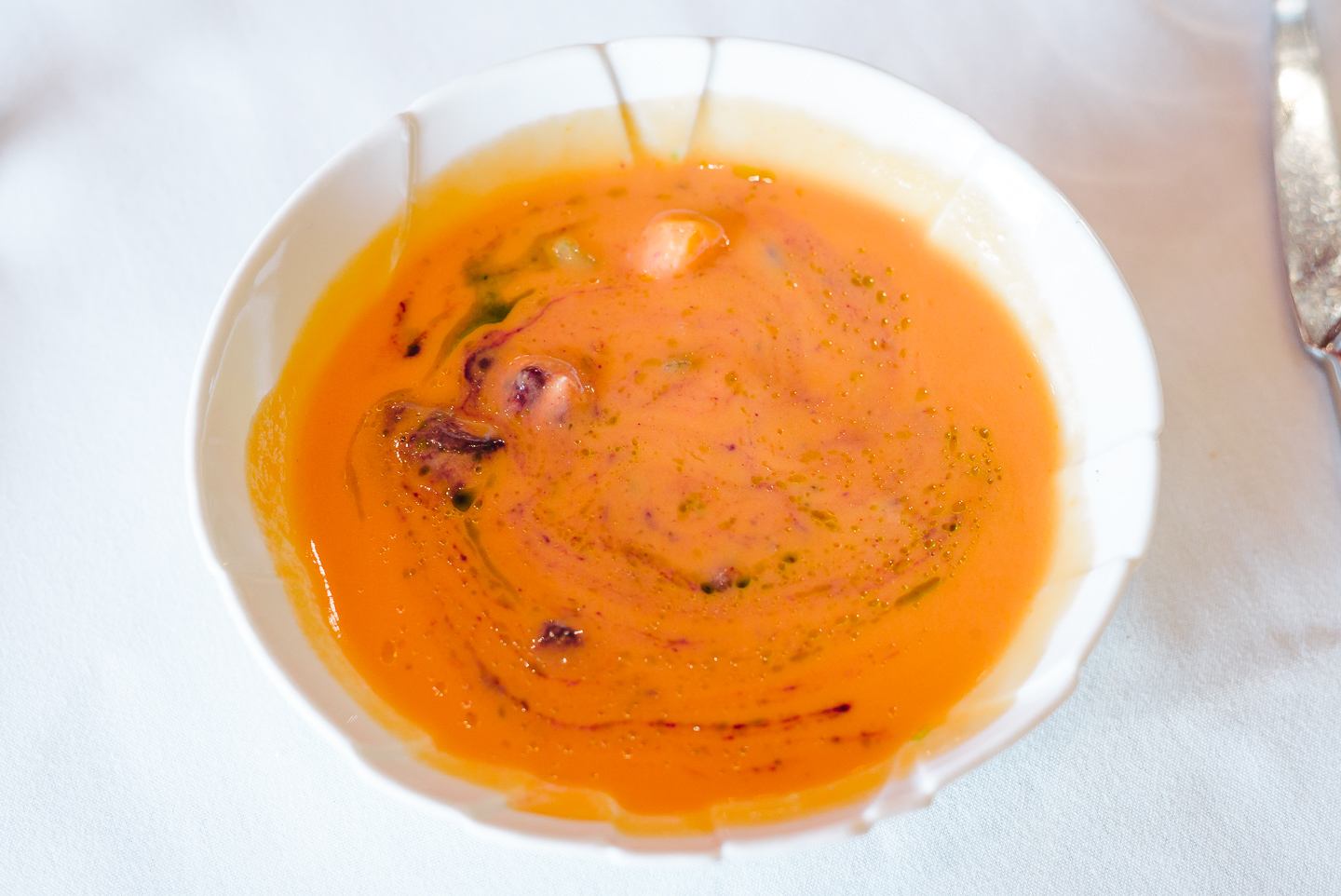 This restaurant's perennial classic, this has stayed on the menu for years, at least in all 13 years I have known this restaurant. It is a fabulous recipe and to this day, I think it remains as one of the best gazpachos in the city.
The tomato flavours are fresh and full, rich in umami, tempered by the cold. The genius is the icy sweetness of cherries melt on your palate whilst olive oil gives a lubricating mouthfeel and chopped peppers a fresh and slightly bitter edge.
Depending on season, they sometimes use Dorset crab and also lobster tail, carefully poached and that, I think, is the perfect pairing as the soup intensifies the crustacean's natural flavour and textures. For this meal, the king prawns are a capable ingredient swap, sweet and steamed perfectly until taut in texture.
Grilled white asparagus, tarragon foam, chardonnay vinegar, £12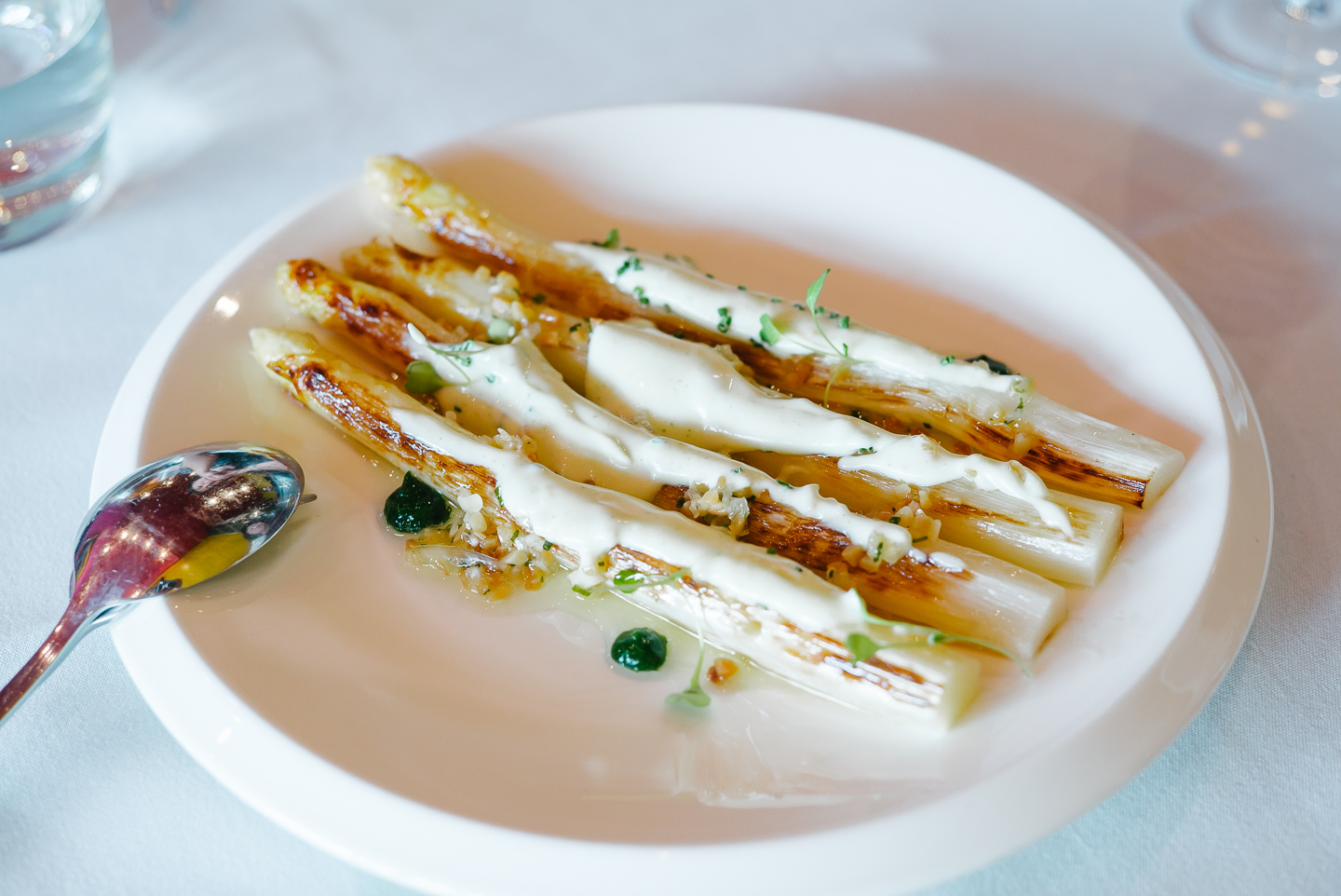 Today these spears are French, though not the thickest even though we are bang in the middle of the season. These are just sweated and still sweet inside. The tarragon foam, light but creamy is not unlike mousseline and beautiful with the vegetable. Vinaigrette with chopped garlic was a tour de force in acidity. A beauty.
Flame grilled Spanish octopus, potato & cauliflower smooth puree, £13
-classic-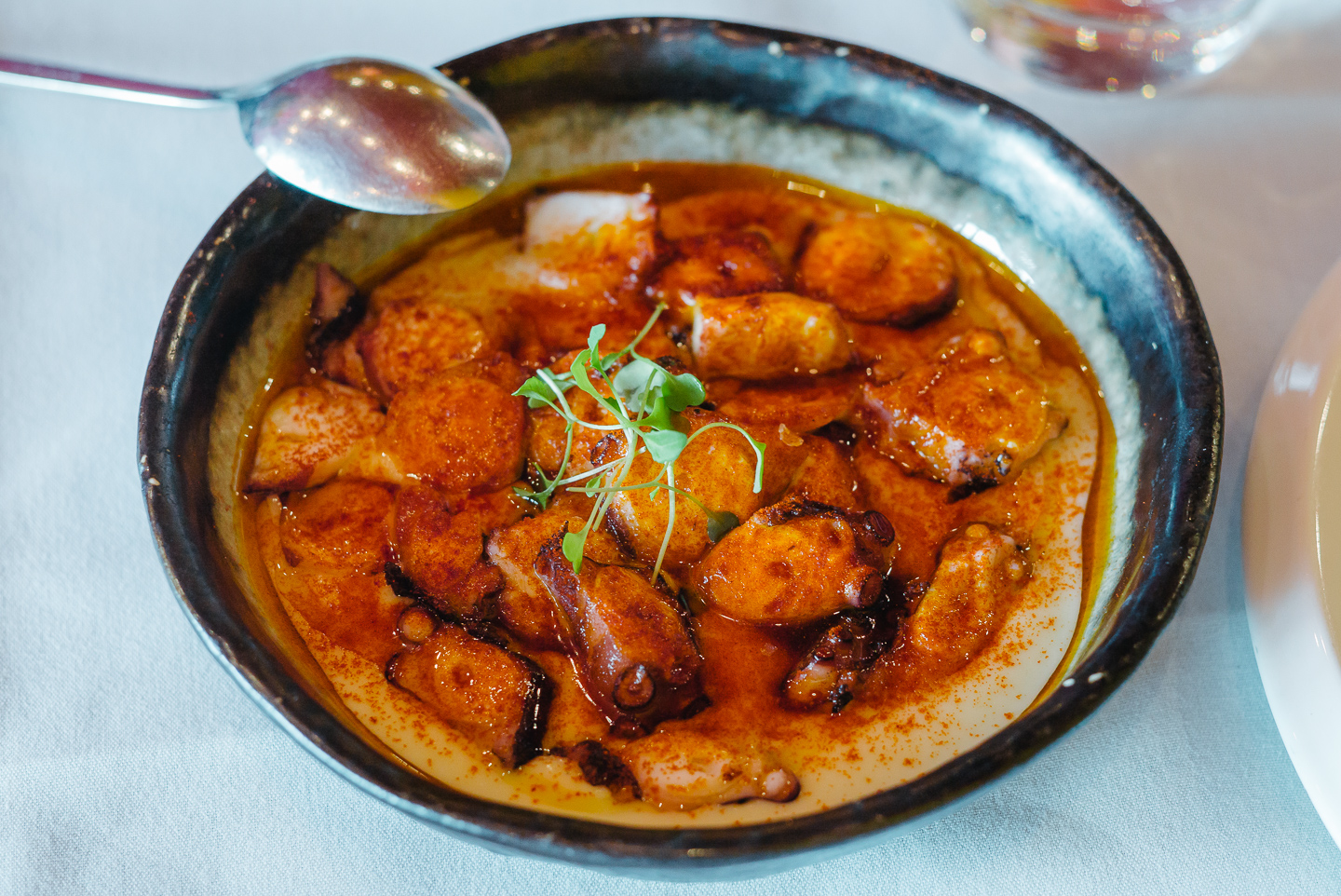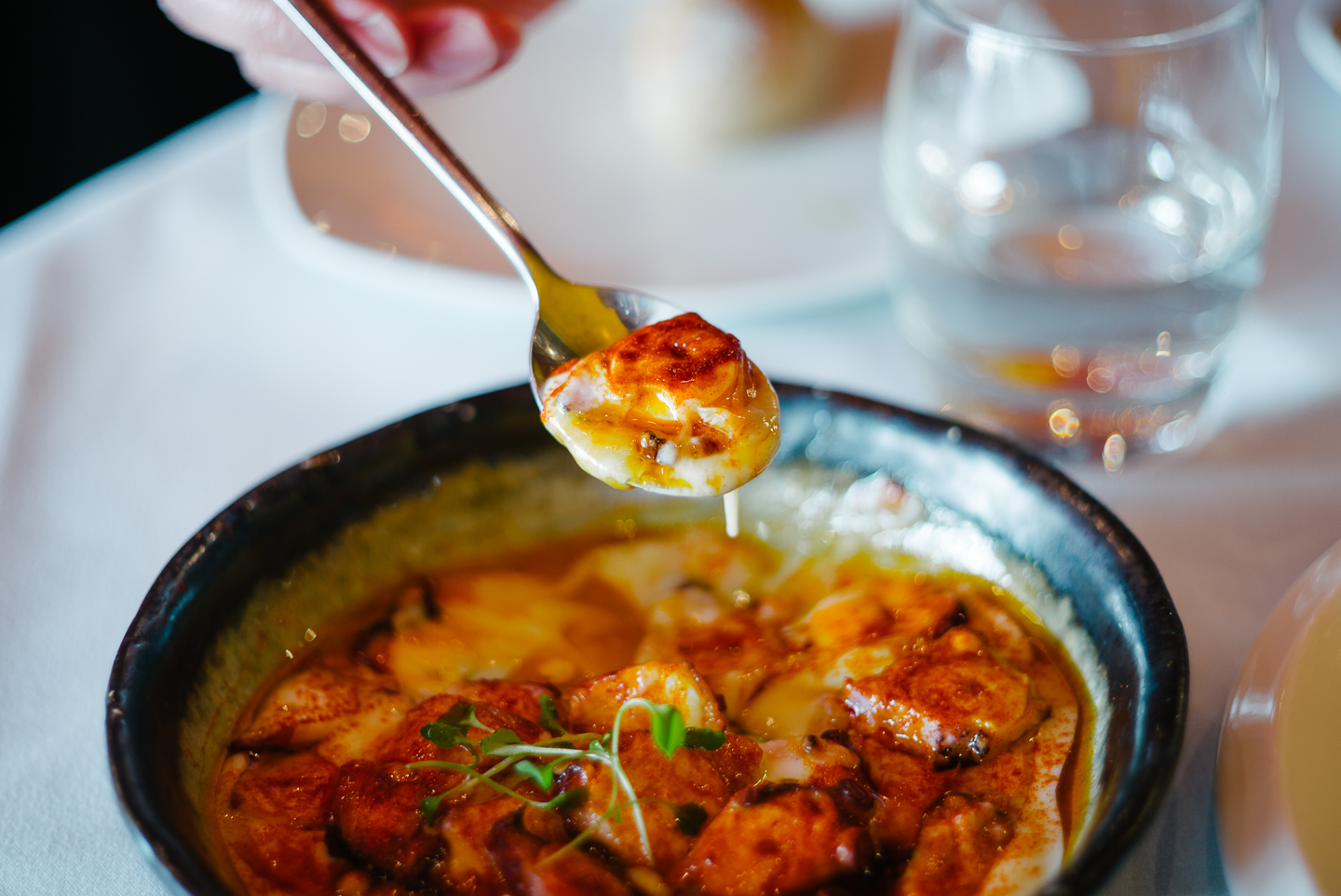 Paprika for colour and spice. One of my favourite things to eat in London. As delicious as the first time I had it years ago. The parmentier is fondue smooth, each gooey spoonful containing the fullness of potato, which I usually eat with bread. People tell me the puree is a little too rich, but I love it, though today, it appears that the restaurant has addressed this with a slight rejig with the addition of cauliflower. This adds sweetness and serves to lighten the starch of potato, a minor but seemingly significant evolution of Cambio's classic dish.
The octopus flamed until a charred flavour appears, but inside the natural tender squidgy textures remain intact. This is always a beauty to me. Do not miss this when you visit.
Morels stuffed with foie and truffle, cooked in Palo Cortado with 'Fake' pasta, £16
(portioned 3 ways)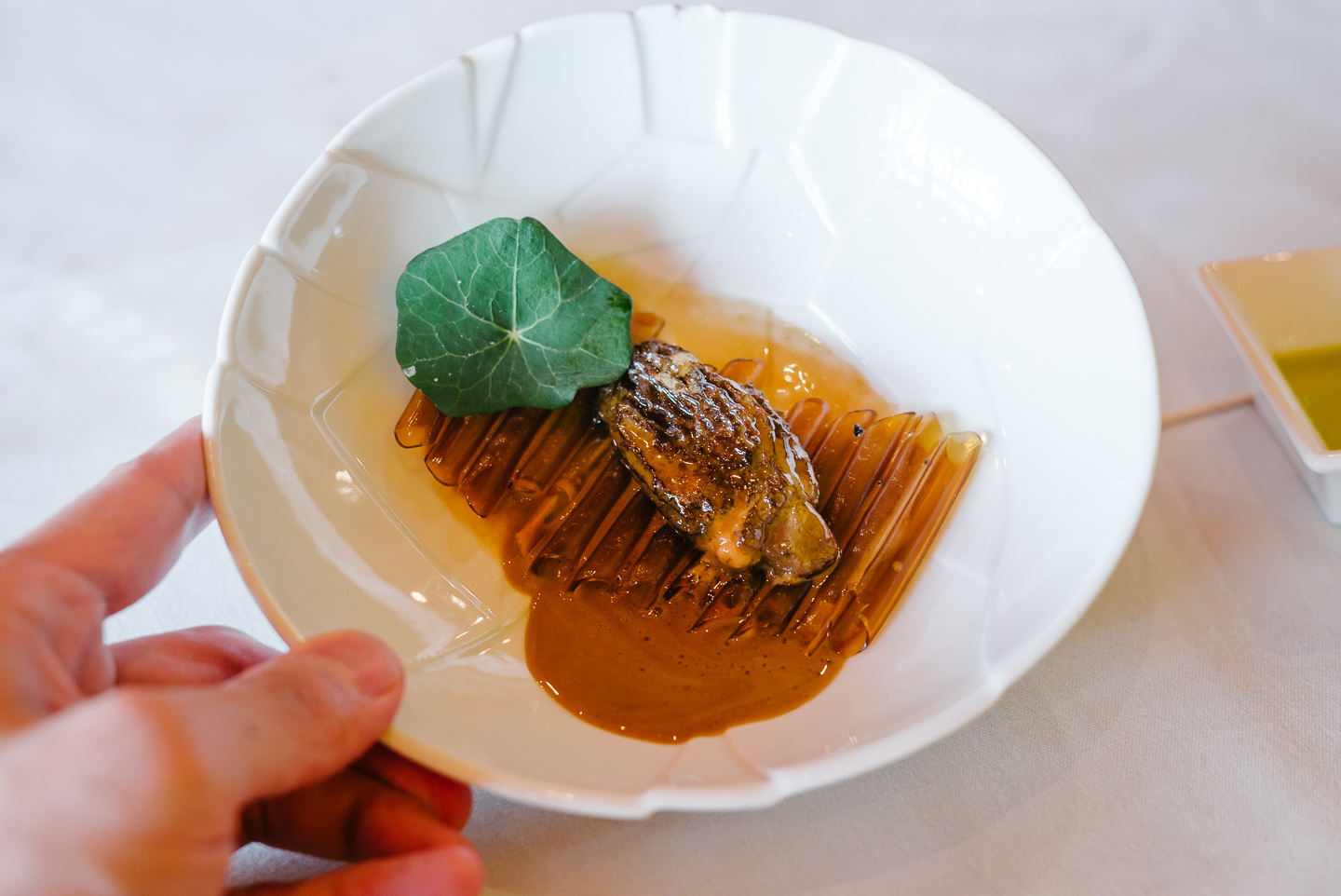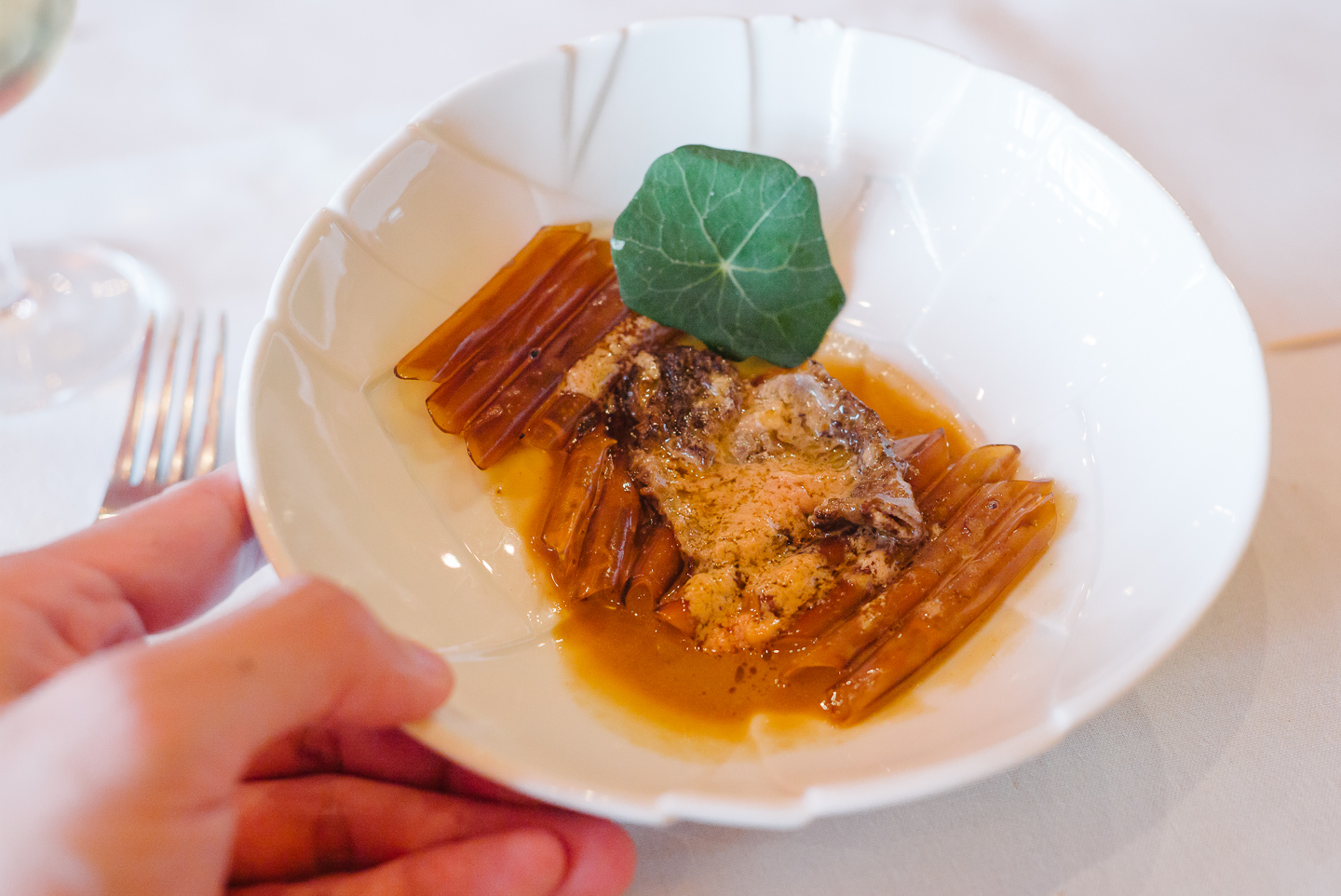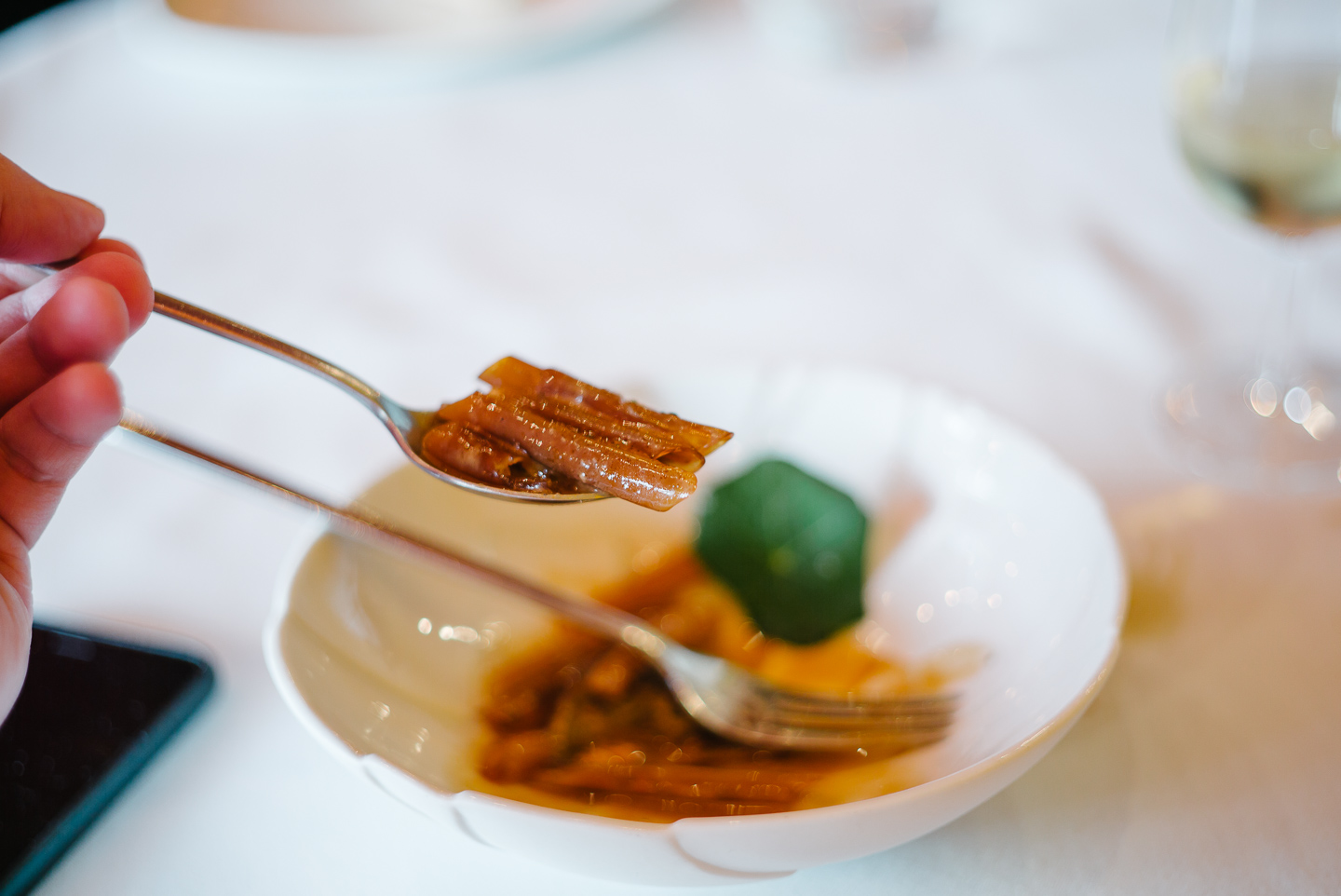 For the season, and a new dish (which appeared in 2015) I've not yet tried. Stuffed morel with foie & (summer?) truffle, cooked in Palo Cortado, imbueing sweet richness. The "pasta" tubes made from soya, very delicate, so much so that with a little heat, in this case your 37C, melts it away when you eat it. It tastes like jellied soya sauce, the foie stuffing is cooked into a rich creamy liquid. This is a umami bomb that bursts apart when you pop it in. Very satisfying indeed.
Cornish wild turbot roasted with sprouting purple broccoli, black olives & tomato, £28
(portioned 3 ways)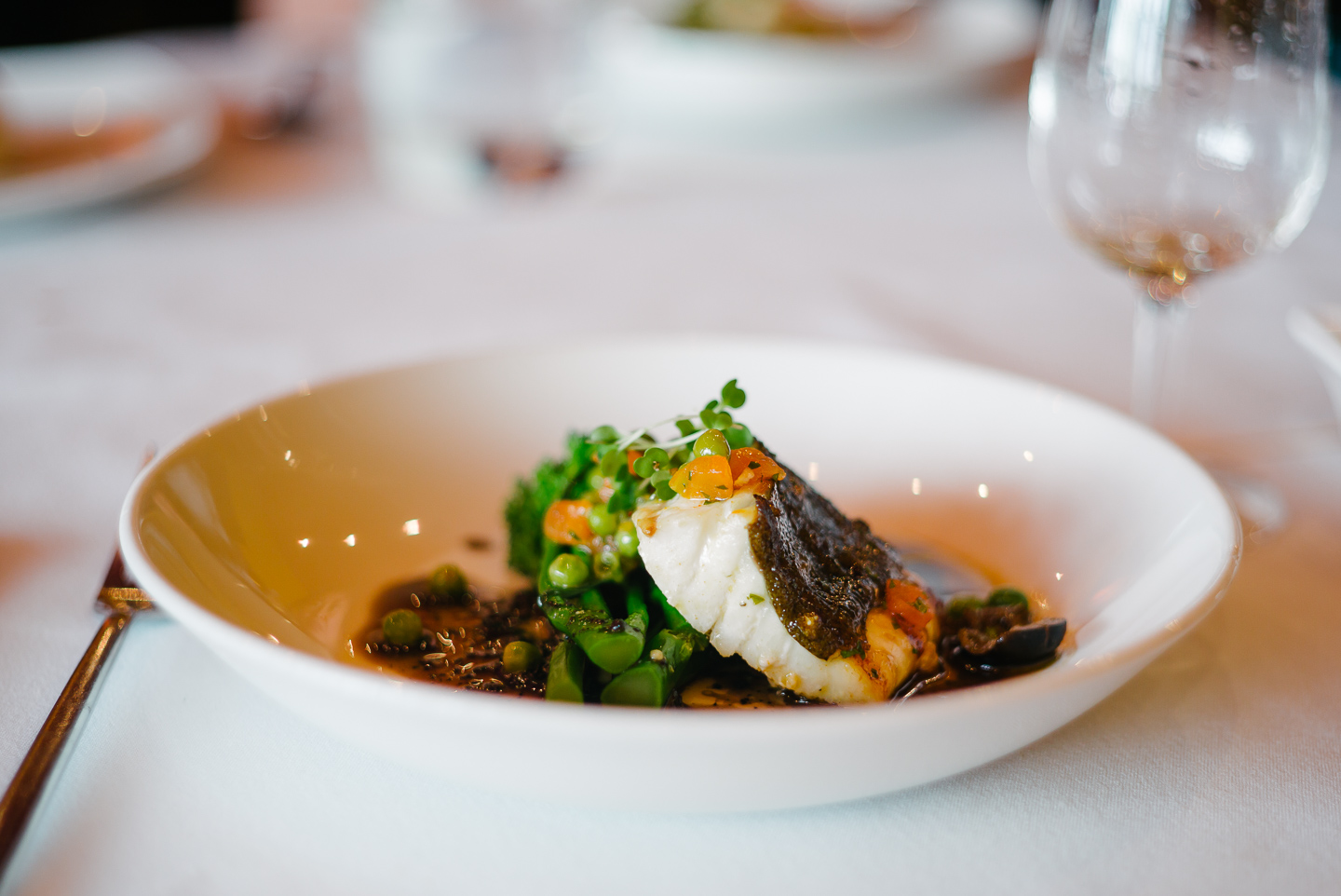 Should be plentiful in Cornish waters right now. The fish was cooked well, the olives were like a tapenade with a subtle spice edge to it, though for my taste, it was a little ferocious for the flat fish. Also, I had Bonham's delicate a la nacre a couple of days before this meal, so this dish was not so transporting as I hoped.
Crispy roasted suckling pig from Salamanca, pickled kumquat, caramelised shallots, roast parsnip, £25
(portioned 3 ways)
-classic-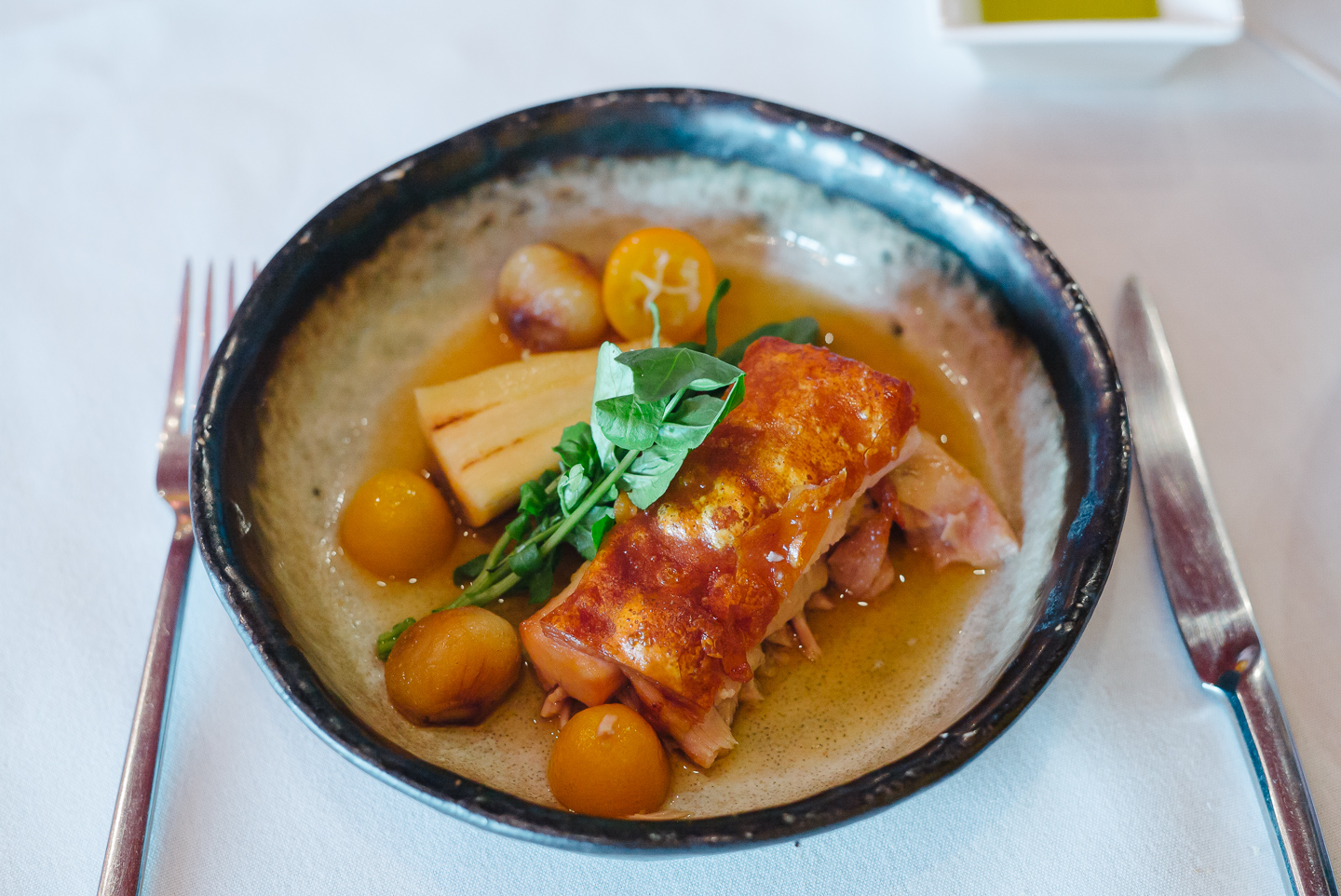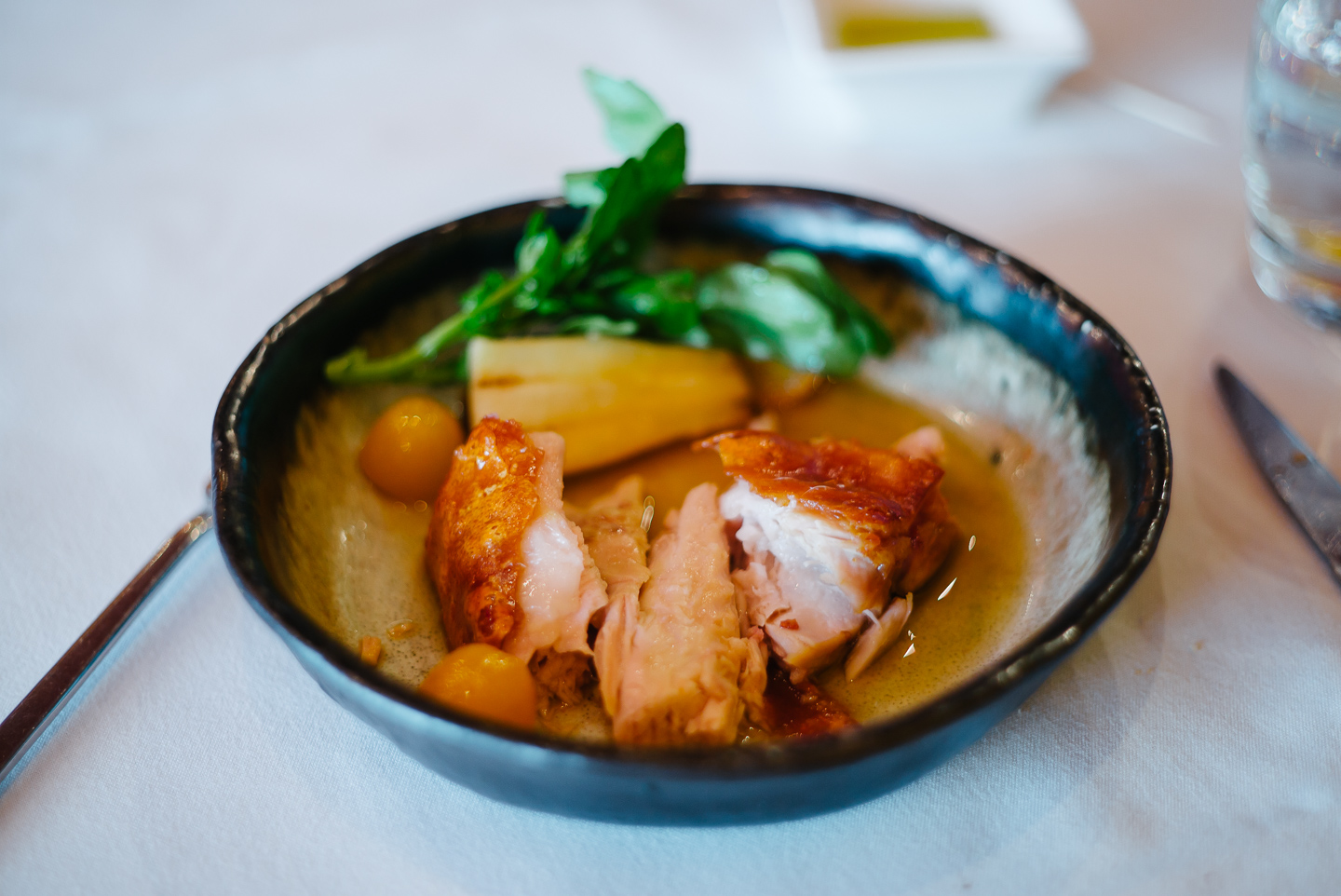 This is always a stunner, alongside the lamb cutlets, the classic Cambio dishes which are not to be missed. Check the crispy skin – crispy but also light, it may as well be tuile made from pork fat. The meat is always carefully just cooked. The juices are pure, as Abel explained to me once, the 'water' from the pan. For the season, it is served with shallots, parsnip and sweet pickled kumquats for lifted acidity.
Ultra smooth '4 hour' baked vanilla custard, £7.75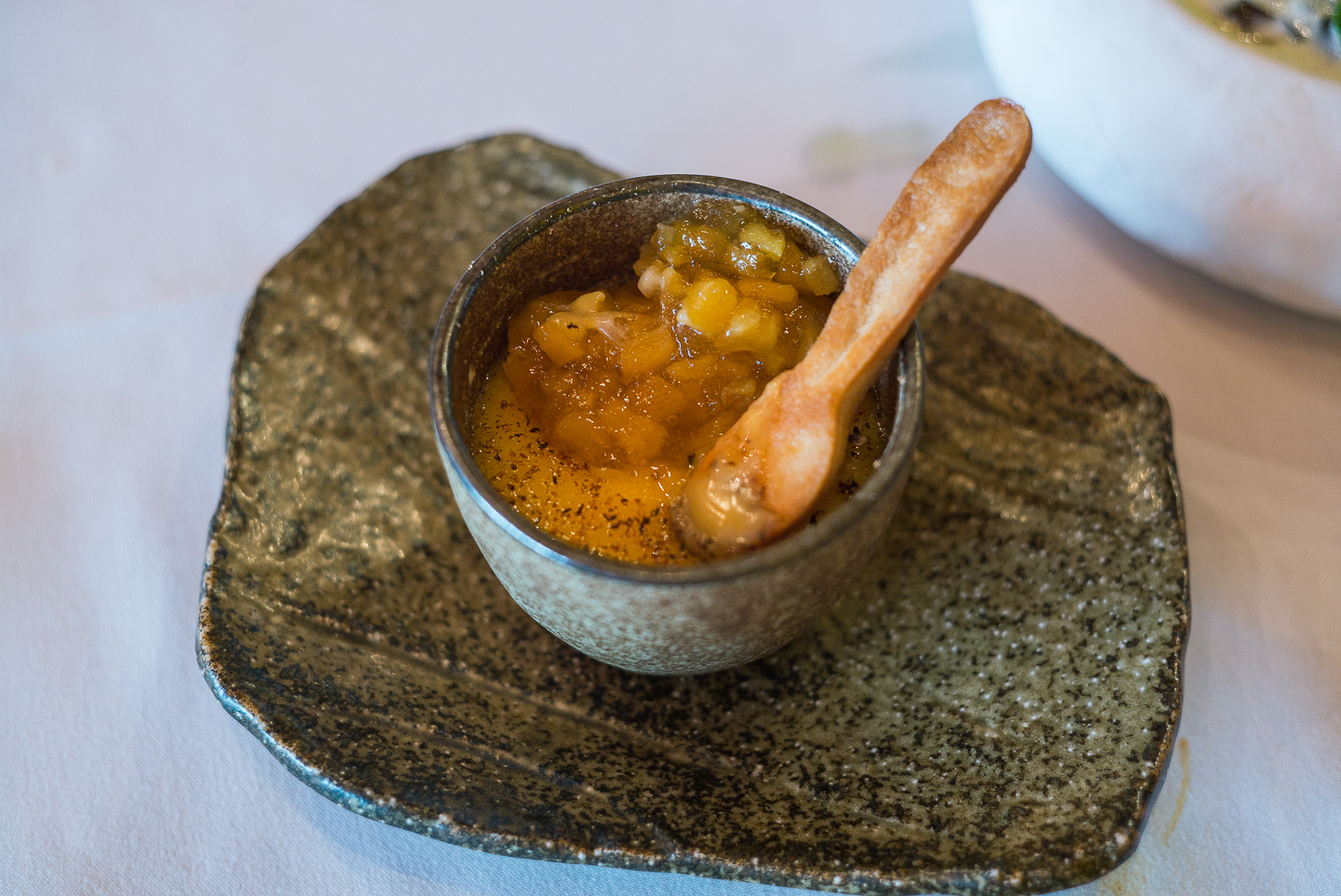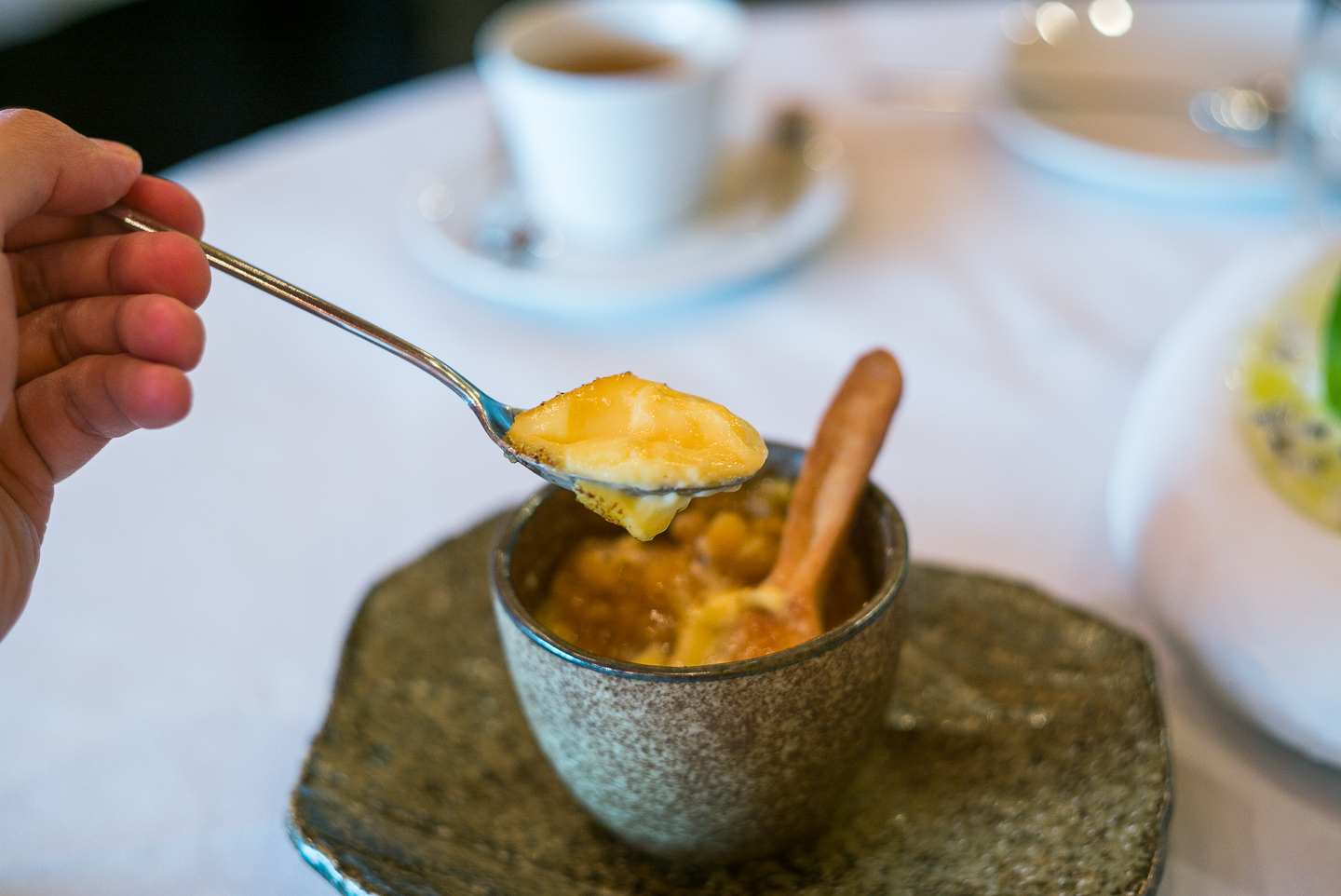 If you love egg custard and nutmeg, do not miss this. You will love it.
Mojito cocktail in a shell, £12.5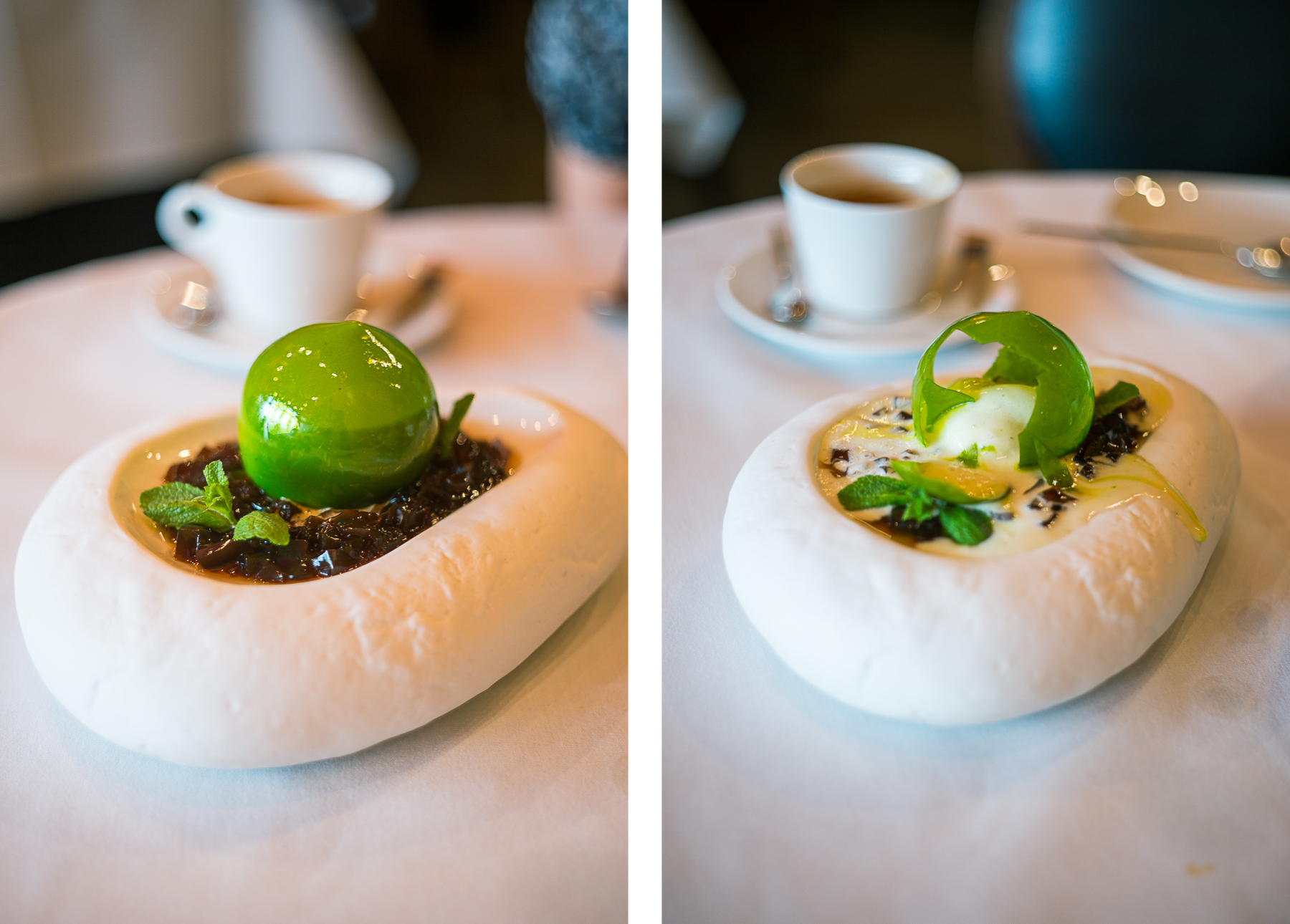 The blown caramel ball is a joy, cracks with the slightest knock. Inside is a mojito ice cream, mix with the rum jelly, et voila. Always a winner every time.
Petit Fours : White chocolate and passion fruit bonbons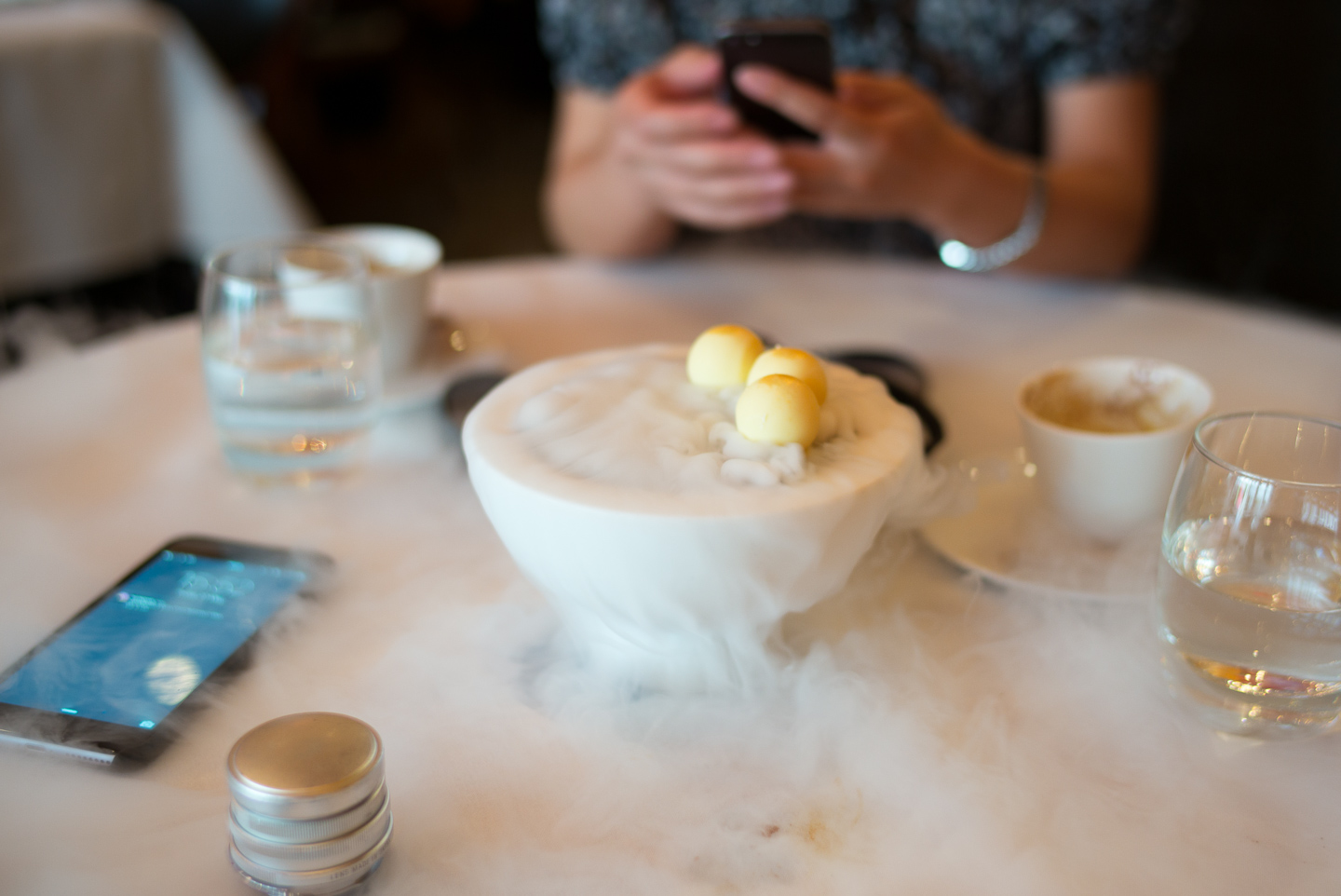 Details
Cambio de Tercio
Modern Spanish with real ambiance
Open Everyday
ALC £60pp (ave) + drinks + service
Lunch £27pp for 3 courses + drinks + service
Dinner £45pp for 6 courses + drinks + service
163 Old Brompton Road SW5 0LJ
TEL : (020) 7244 8970
TUBE: Gloucester Road or Earls Court