MAY UPDATE: The blog post below was just from one meal, but unfortunately I do hear some bad feedback from my friends who went there. This restaurant appears to be inconsistent in their offering. I will update as I return but for now, don't say I did not tell you so.
—
Are you also lamenting the quality of dim sum in London today? I posted a small guide 6 years ago, but time has eroded away the quality, perhaps due in part to the opaque nature in which chefs change shop in Chinese restaurants. Pearl Liang and Royal China have been on the downward slide for the past couple of years, Bright Courtyard a little unsteady but most worrying is that the once dependable Princess Gardens has undergone massive change.
I still live in the past when it comes to Chinese food in London and cannot forget those Royal Dragon days, this is going back 15 years now. Even HK Diner has closed after rent rises have savaged our beloved Chinatown. Remember Alisan in Wembley? Those were the days hey, hence the need to re-cast the net.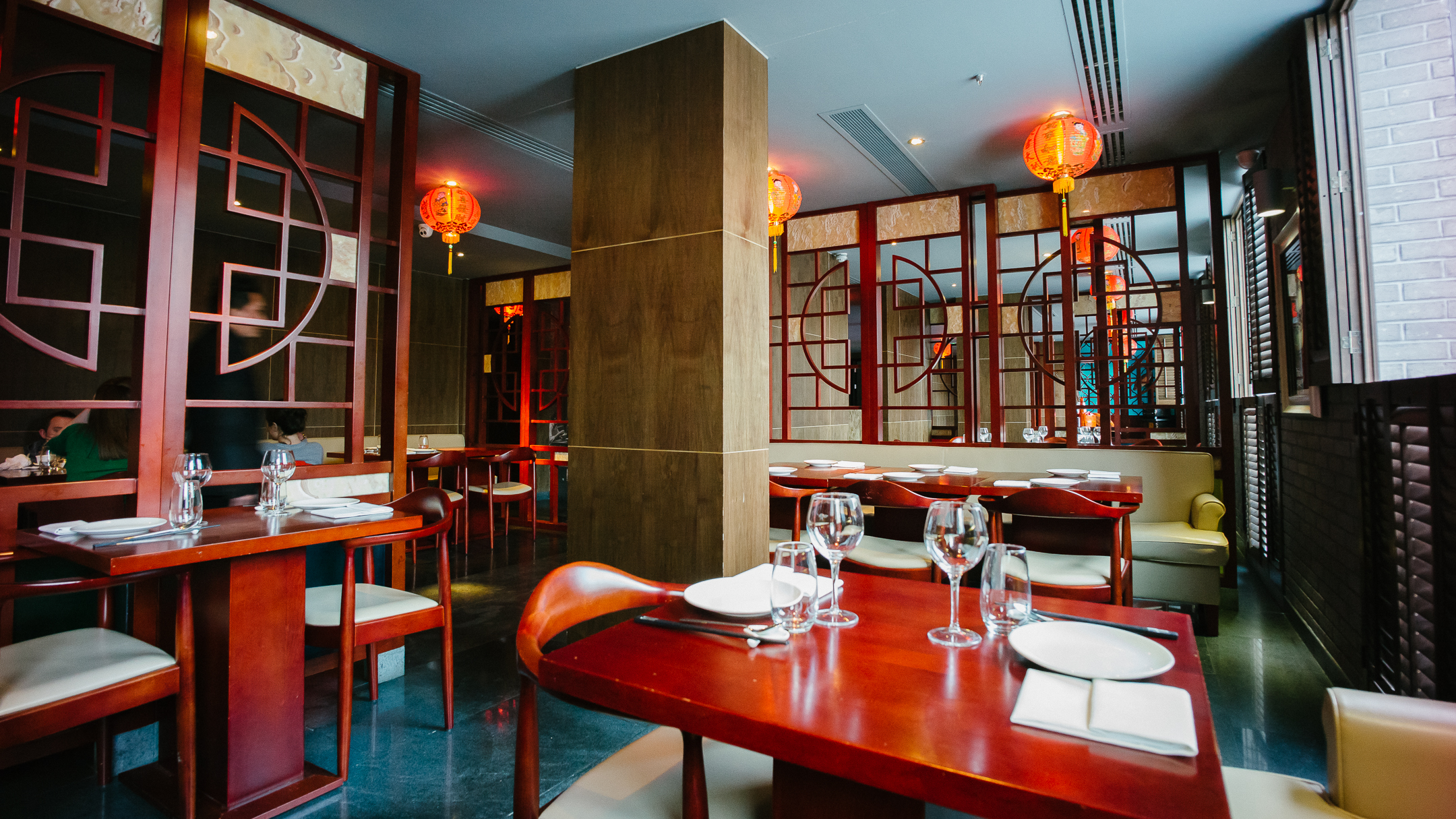 Thank goodness for those that remain. Goldmine's siulap game is stronger than ever, best roast duck and charsiu in town for years (ex-Four Seasons afterall) and my favourite soya chicken is Reindeer Cafe all the way out in Wing Yip Cricklewood. I do like Alan Yau's output, now thriving as an entire international brand after a successful sell-off years ago, they have always been consistent, but for those prices (and those really are bruisers for his dinner & dance), I'd rather fly to Ho Lee Fook.
While it is Hakkasan/Yauatcha which hold the stars, so they should for the bling-bling operation, in the real world it is Andrew Wong who deserves an upgrade to full macaroon status for both his dim sum and dinner menus – itself no small feat – and in my book, remains the best Chinese restaurant in London. At least he is recognised as bib gourmand and shares this status with the curious Shikumen. It has two locations, both attached to Hotels, one in Ealing, I went the main branch in Shepherd's Bush.
Shikumen refers to a particular period of townhouse which dates to the turn of 20th century in a time when Shanghai was the 'Paris of the East'. An era frequently romanticized in celluloid, partly also because it was the birthplace of Chinese cinema. I rewatched In the Mood for Love recently and was truly astounded by how gracefully it has aged. Mr Wong, your film is sooo beautiful.
Back in Shepherd's Bush, a lot of the surfaces are indeed hard stone and whilst all this rosewood-ish furniture is meant to signify luxury from another time, I am 80% certain this is ambitious lacquering rather than the real deal. Too red, no fragrance but you know I have been wrong in the past.
I'm no dim sum police and I firmly believe it is only etiquette to order what you want, even if you seem to only want it at night. I do not, dim sum is weekend family breakfast/lunch and indeed I have visited Shikumen with family for lunch on Saturday. Eating har gao at night is strange because I didn't grow up doing that.
That upbringing (Hainan/Cantonese-Hakka if you must know) also passed down some things I look for in dim sum, which is not exhaustive but is perhaps essential. Generally I want most to be made in-house, use of fresh ingredients as opposed to stuffing every dumpling silly with pork fat, or god forbid frozen dumplings and we love a pot of freshly brewed chrysanthemum with pu-er leaves (called Guk-Po) to aid our digestion. Restaurants that do decent dim sum usually have a dedicated dim sum chef to oversee this menu, likely the case at Shikumen. They don't typically work both services, except for specialists such as Yauatcha, and so my opinion will only be valid to dim sum and not the dinner menu, which to my mind is almost always mutually exclusive.
You most likely know all this, in case you didn't, it is why I've organised my notes below into two sections, starting with the core stuff and followed by rest.
The Fundamentals
Penang Beef Ho Fun, £9.50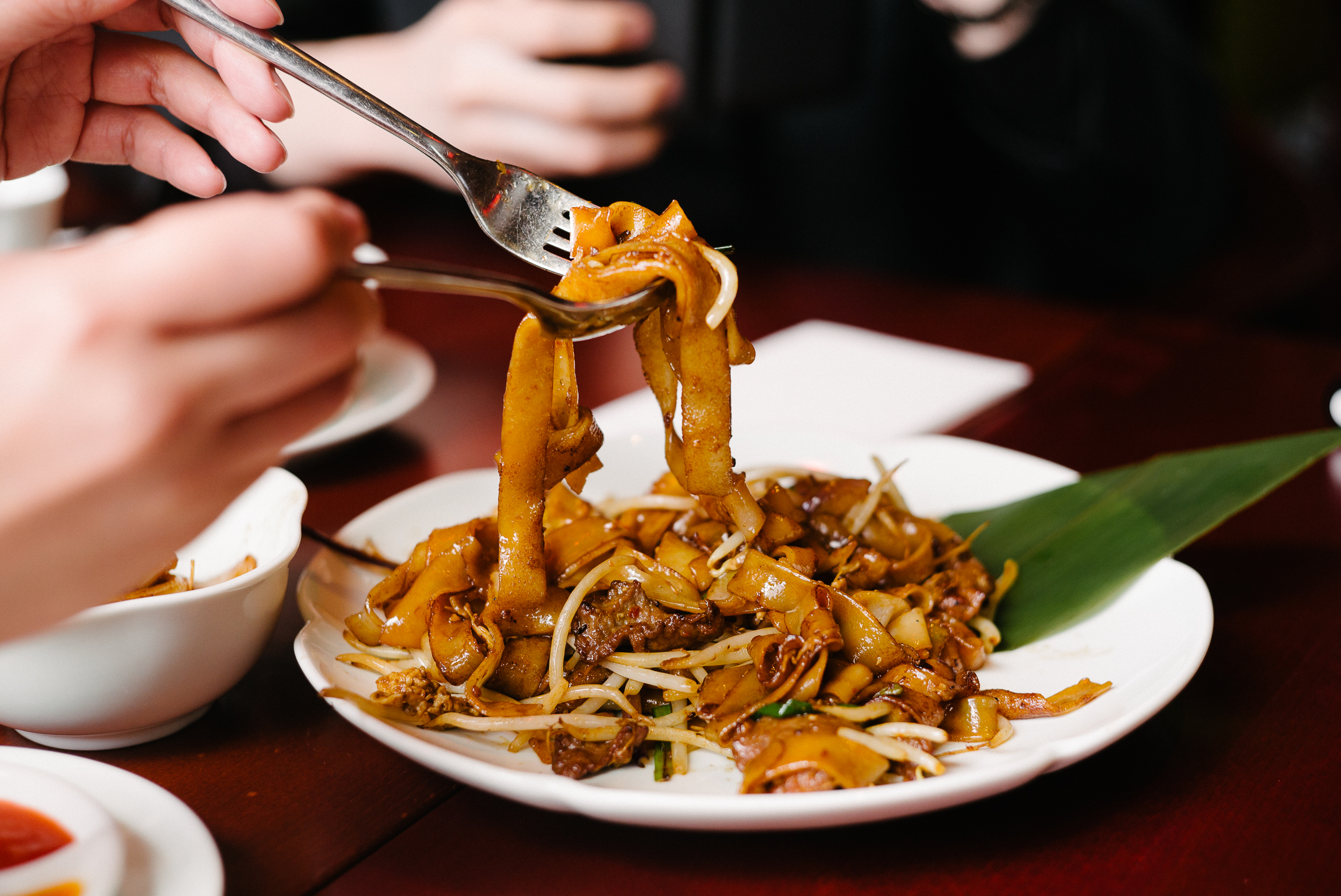 A vague semblance of Penang from what tastes like a pinch of belacan and the decorative banana leaf. Otherwise, this is classic HK dry-fried beef ho fun with use of thick flat noodles and beansprouts. As opposed to thinner ones used for char kway teow where egg is usually stirred in. I love fried hofun/kway teow in all forms which can be found in Chinese and Malaysian cuisine in all sorts of combos, my IG account fills up (here, there, home) with this whenever I go back to Asia.
Some prefer the wet version with egg sauce (or 'wat-tan') but I think this dish is the perfect test of the kitchen's wok skills. Like a good pan-roast, the best ho fun are imbued with smoky, seared energy, otherwise known as 'Wok Hei'. There is some but not enough wok hei, still a little too wet, perhaps a hotter wok or more time in it. I did find the noodles to be well-oiled and correctly seasoned with the soya sauce. Pretty good actually, but A.Wong still does the best beef ho fun with a nice lemon zest twist to freshen things up.
Jook with seabass and asparagus, £5.90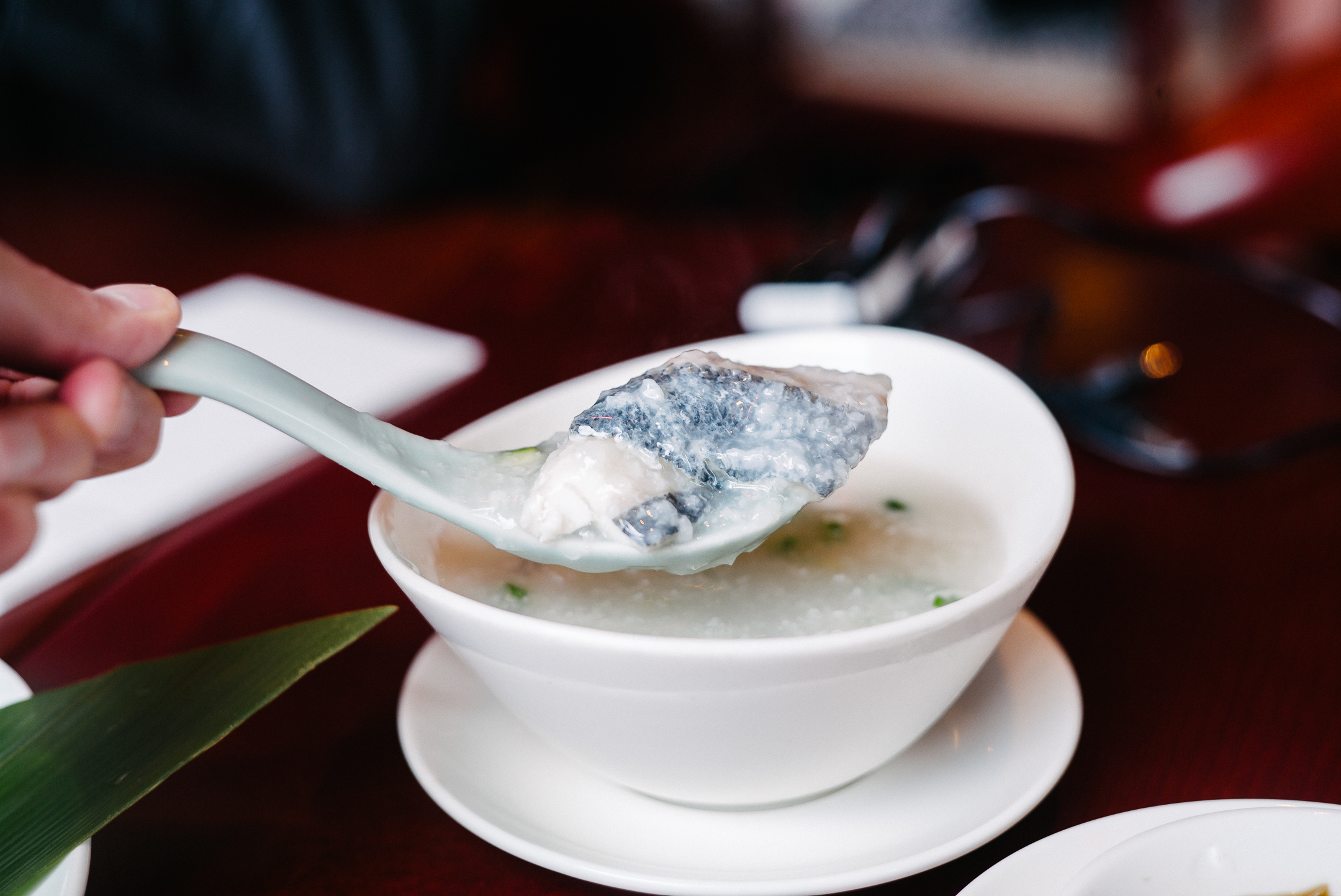 This isn't the classic breakfast, for that it would be century egg and youtiao (literally greasy stick of dough). But we do like fish, and check the way the seabass glimmers in the light. Ain't that nice?
The congee has good flavour, I prefer deeper chicken stock and a gloopier texture, but it is worth me mentioning that my better half and my brother thought it was ace.
Har Gau, £3.90 (for 3)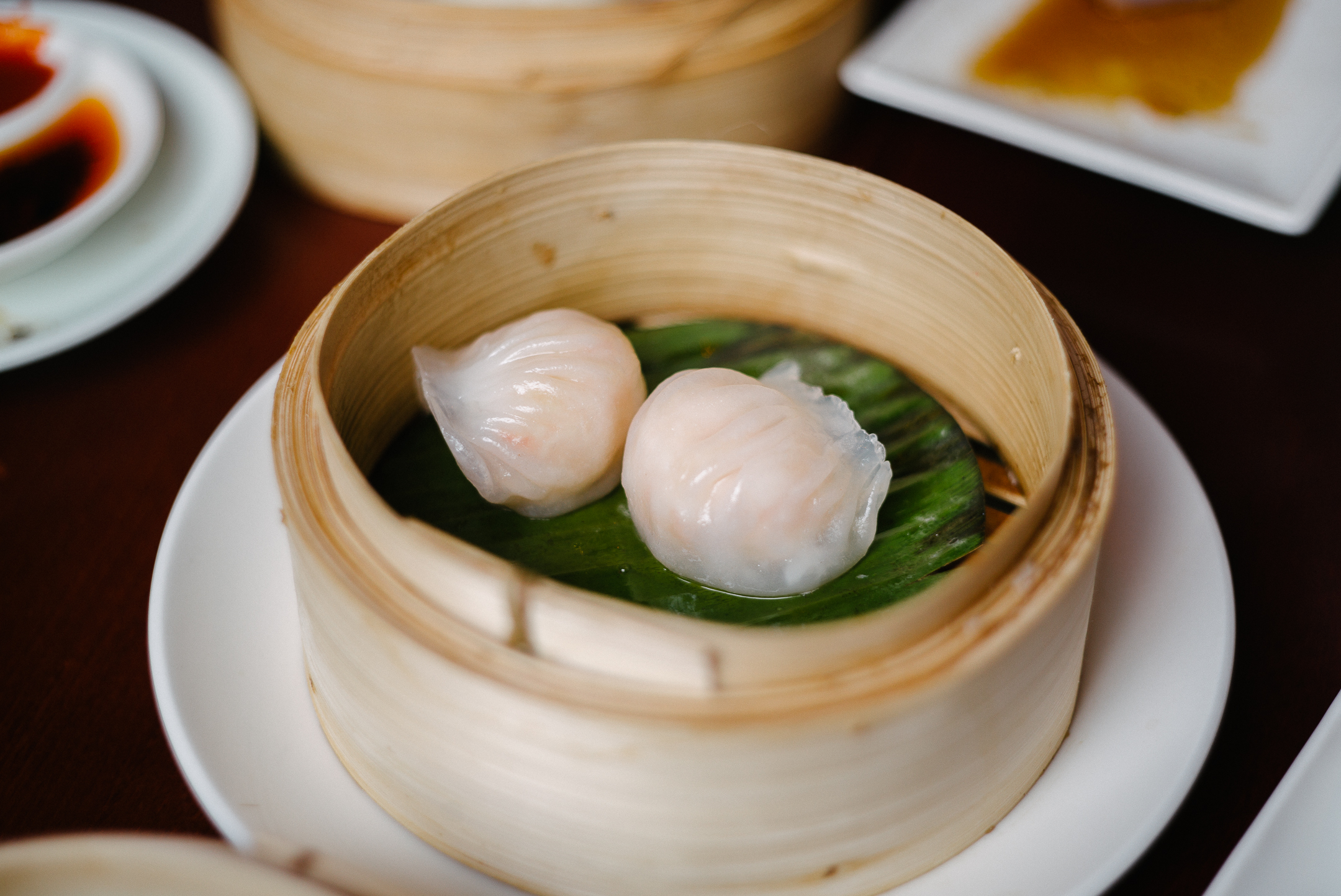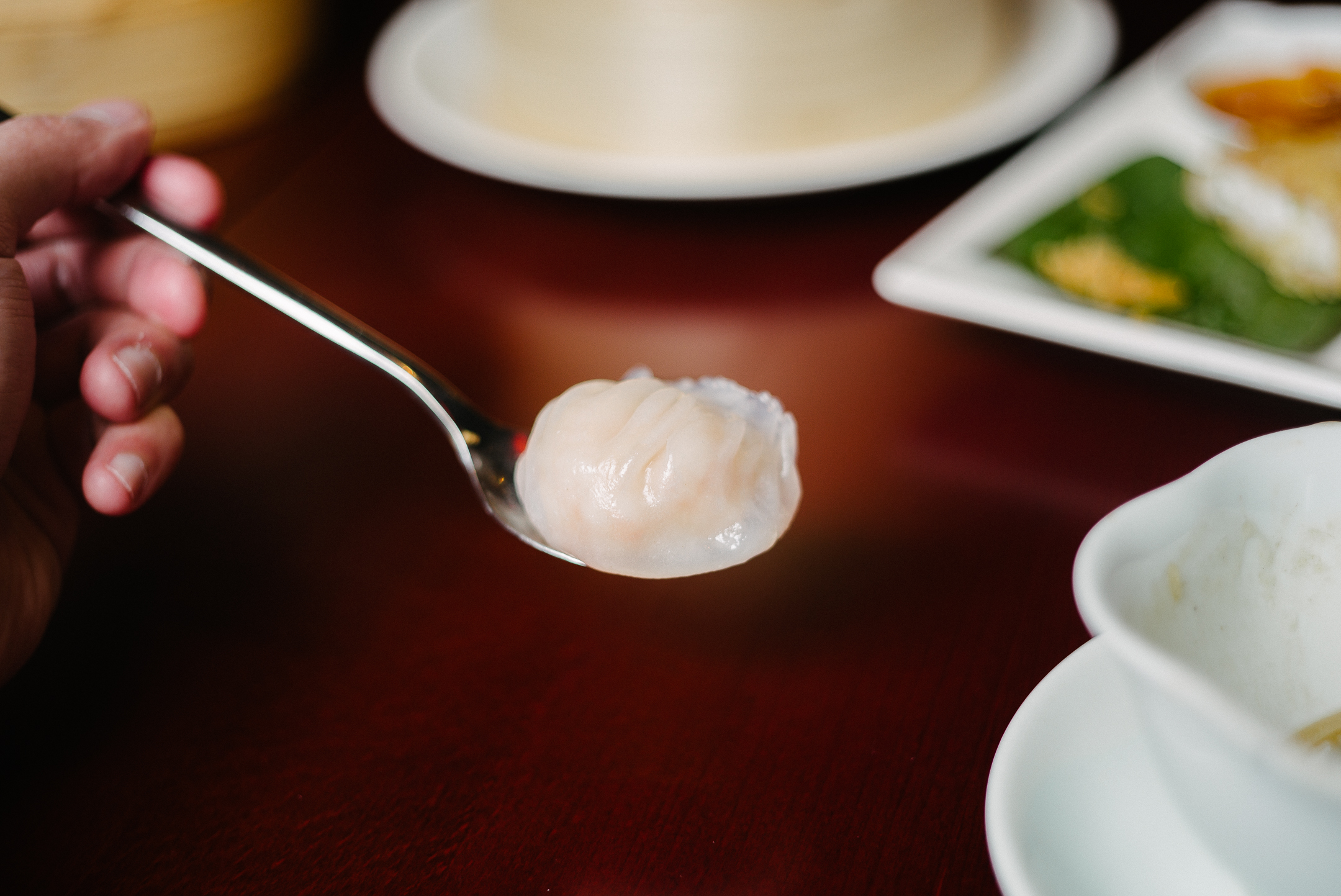 Don't know about you, but to me, the har gau is spot-on. The skin is translucent, the right thickness, holds well, juices have formed inside after steaming. It's a good size. Whole rolled up juicy prawn inside, some seasoning, no chives or bamboo shoots to clutter up the palate. Pure. A dabble of soya sauce. Nearly perfect.
Shiu Mai, £3.50 (for 4)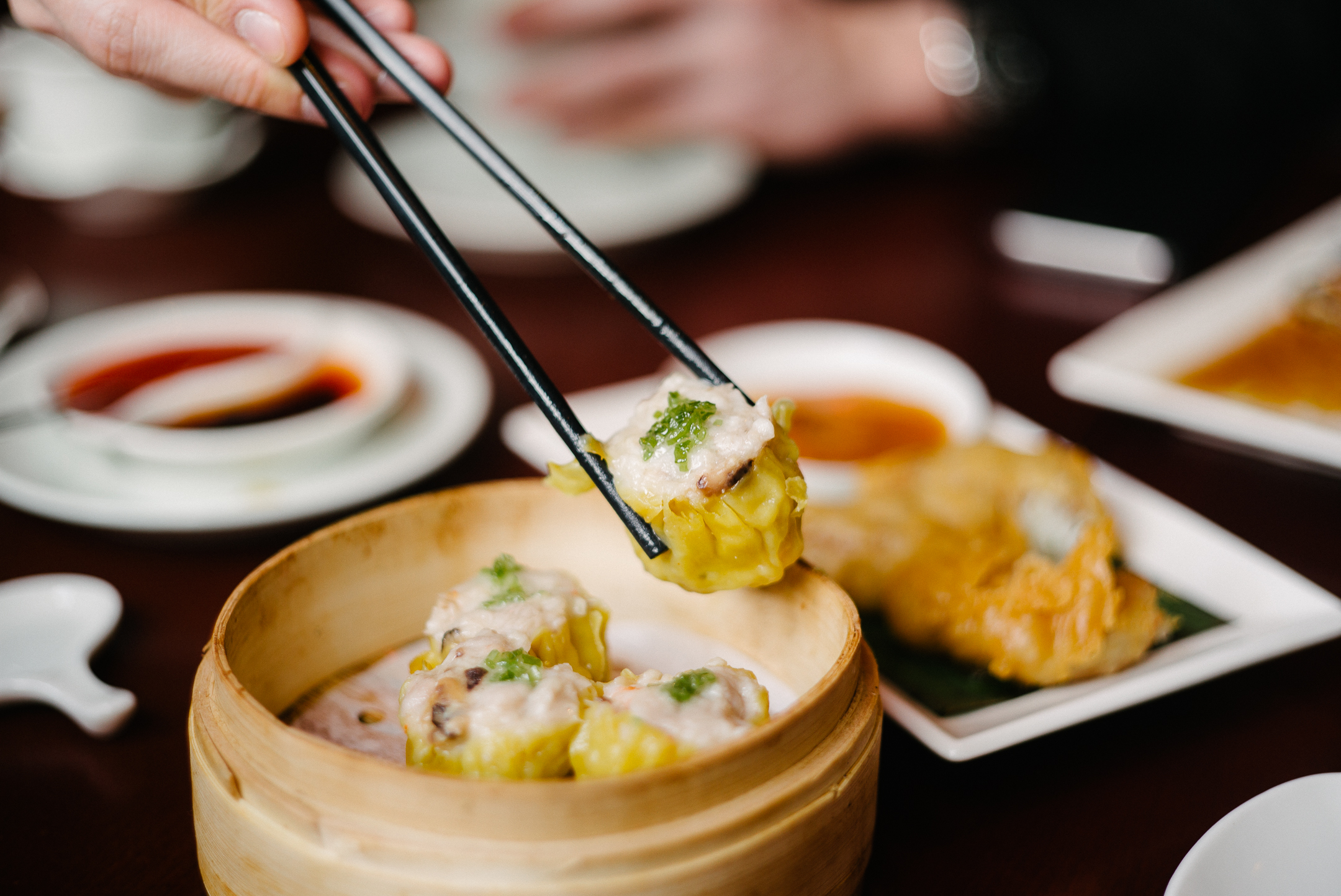 It's all mushroom and prawns, fleshy, bouncy and the aroma of pork fat does not overpower the palate. You'd be surprised how difficult it is to get the balance right. Doesn't even need to be dipped in chilli. This is very good indeed.
Prawn Cheung Fun, £4.90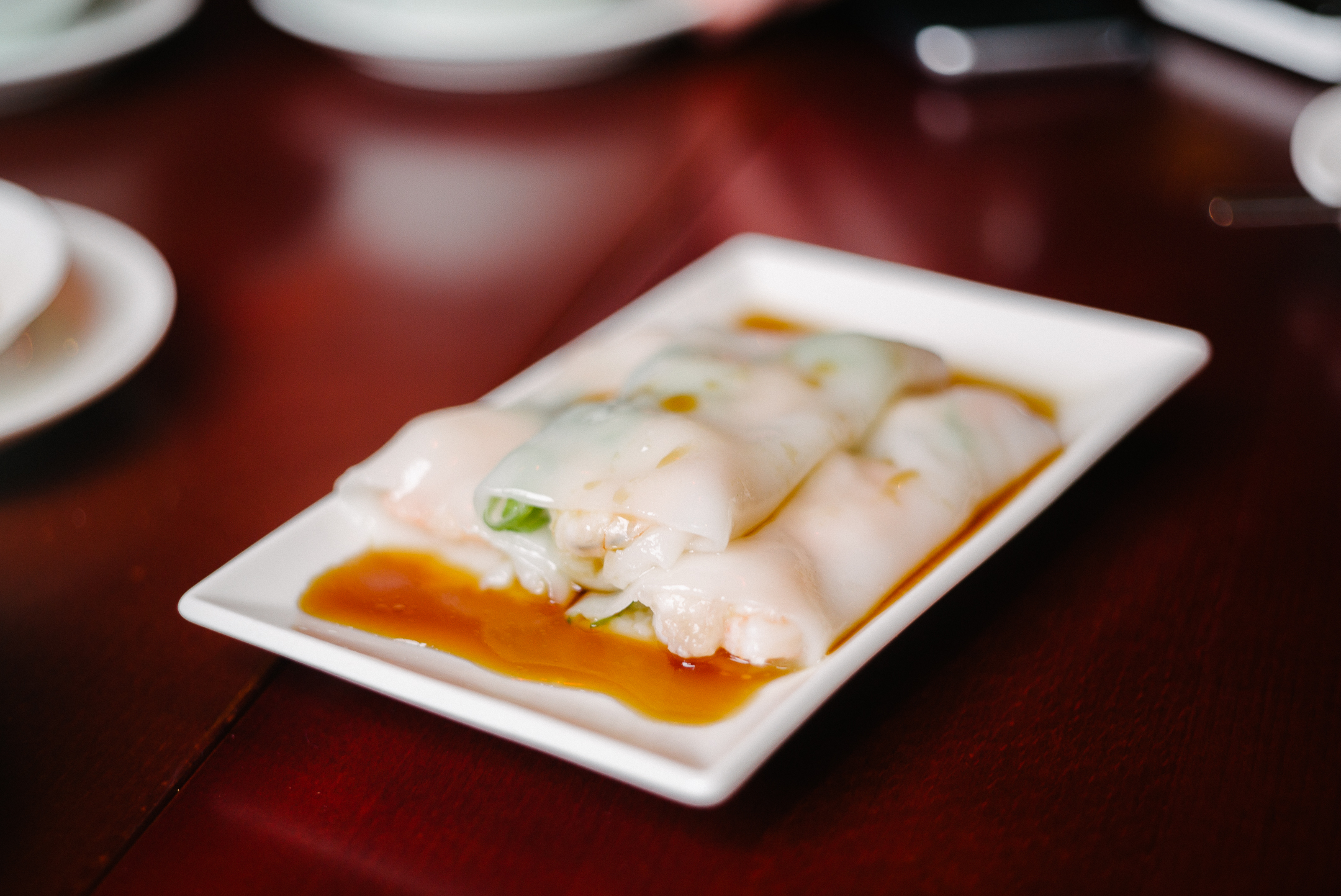 I like the cheung fun – it glistens, sticky without sticking to the plate, holds firm and silken. The prawn is good. All that scallion does ruin things for me, otherwise, all the fundamentals are there. Correctly made. Good.
Charsiu Bao £3.90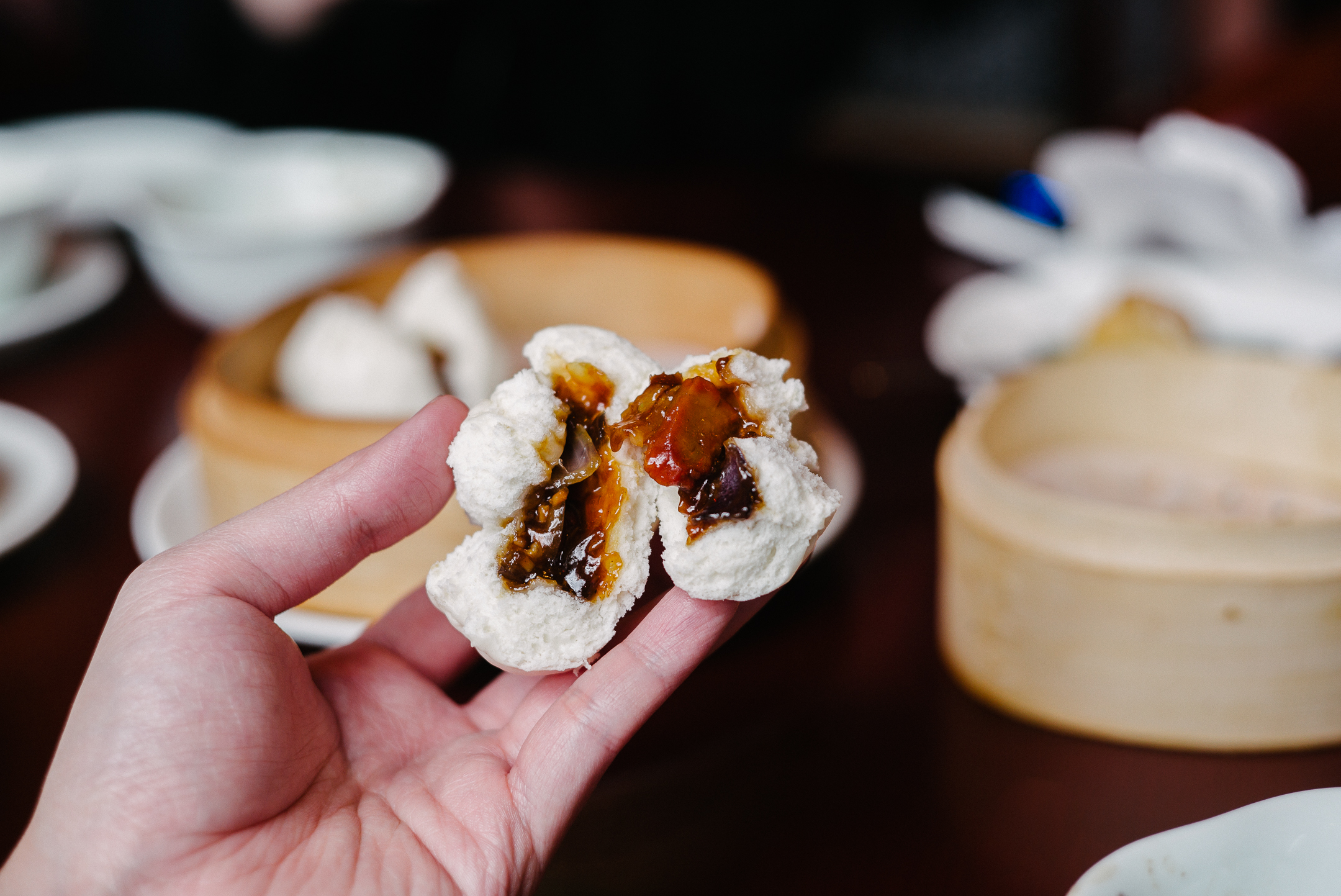 The dough mix is decent quite neutral, personally I prefer sweeter and I think it is just very slightly over-steamed, just losing out on that fluffiness. Filling is good. Good but could be better. For sheer luxury of lightness, a Yau restaurant is still to beat in this department (for London).
Custard Bao £3.50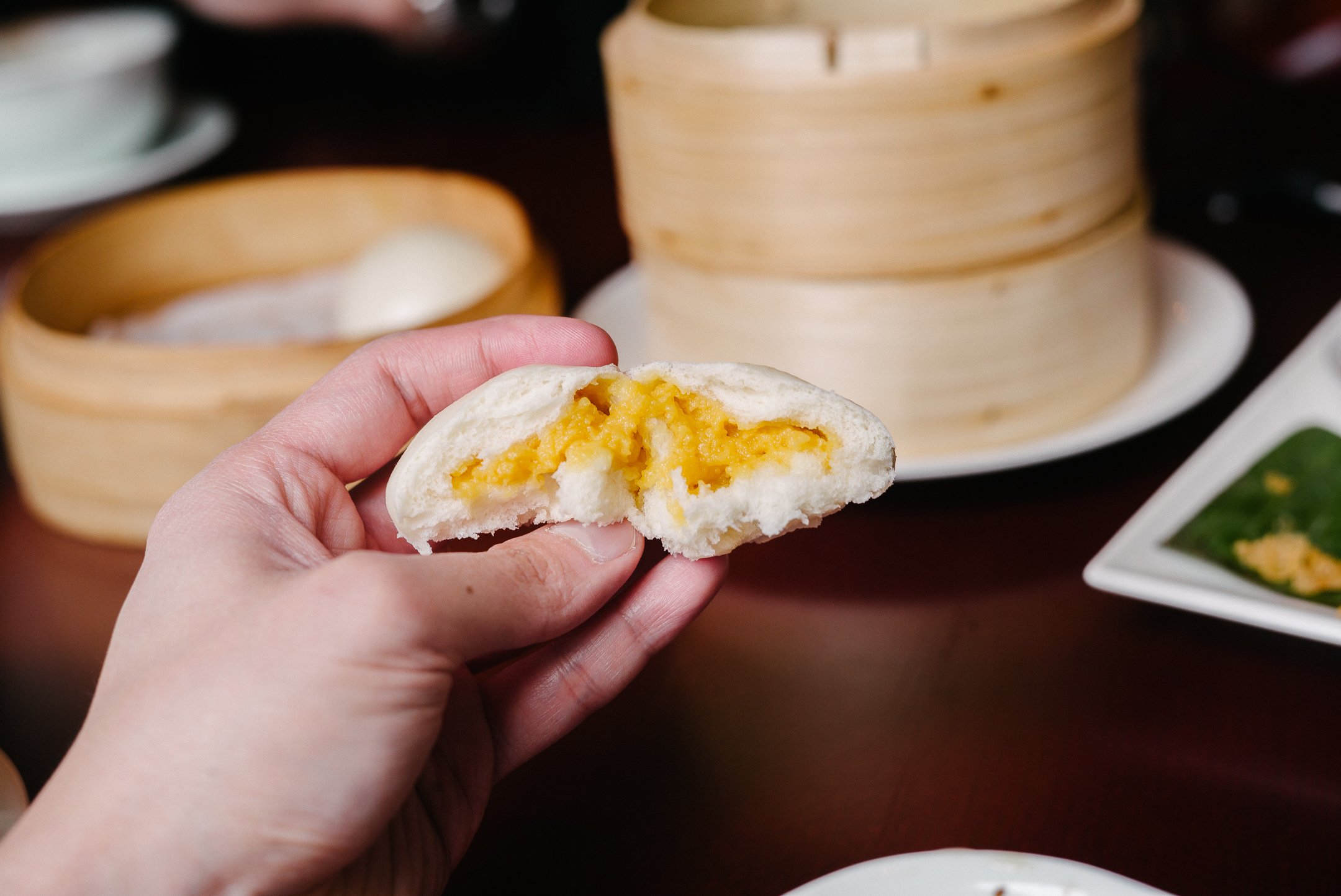 On the otherhand, this is perfectly steamed, squishy and airy. I do like when it is 'molten and flowing', whilst this texture was not, the flavours did turn out well. Salted egg yolk bao often tend to be too sugary and angry. I found this to be mild mannered which is the reason why I think it is pretty good.
The Rest
Xiao Long Bao £3.90 (for 3)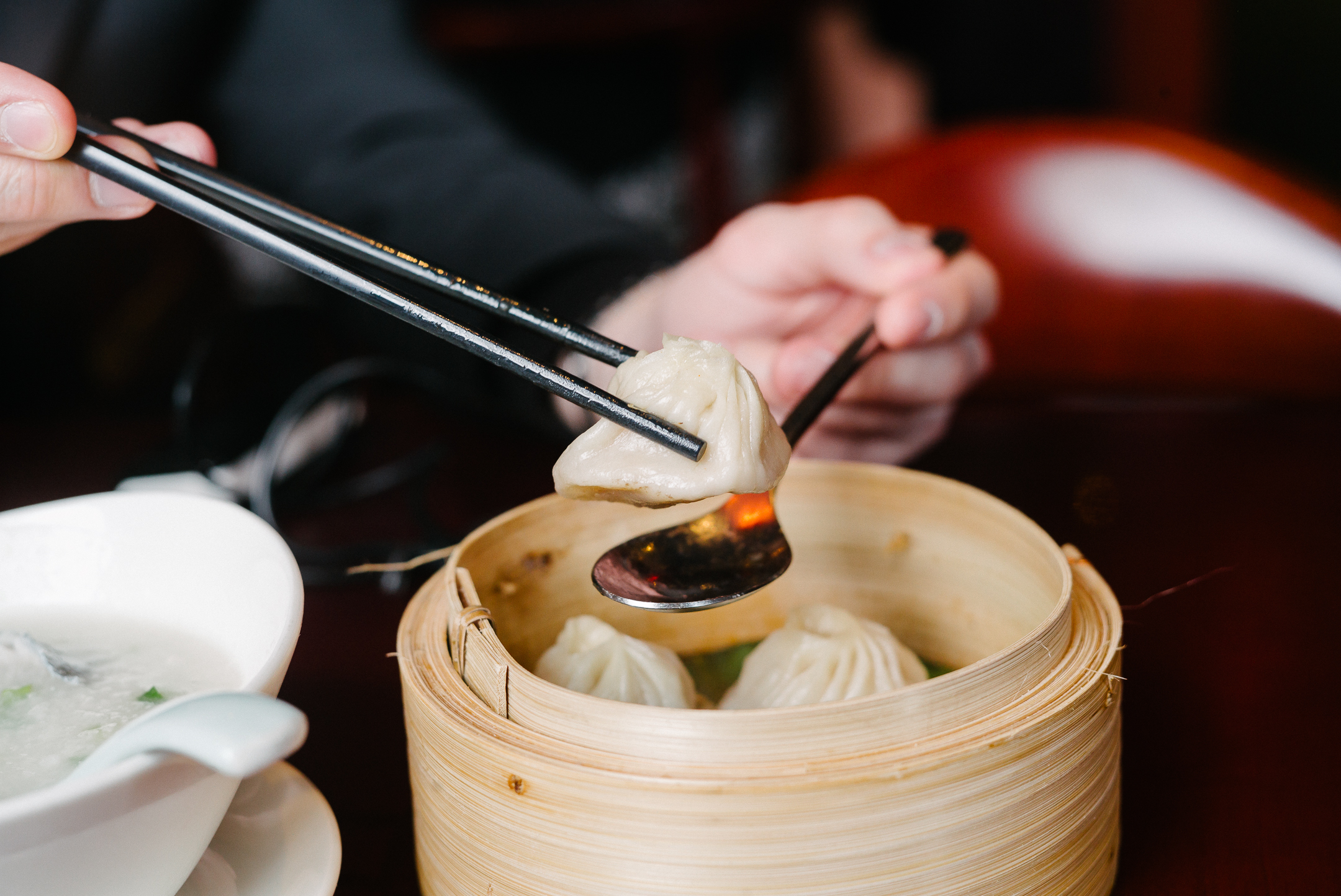 Perhaps because of what DTF started all those years ago in Taipei, XLB is now near ubiquitous on dim sum menus the world over. It never used to be like that when I was a kid. Pretty sure. I have been to that Xinyi shop (incredible porkchop rice), but today, there are so many that do the humble dumpling justice (Hey is Paradise Dynasty's colourful dumplings still killing it in Singapore?).
Honestly, I am not the biggest fan of XLB, because to fully experience the 'burst', you have to eat the damn thing whole, when the broth is near boiling and it invariably burns off all my tastebuds (This is why I think Alvin Leung's cooler versions are quite excellent).
Anyway, I waited a little bit before I dabbled in vinegar and swallowed mine, yummy, good soup in there, amazingly it did not burn. Good filling too and you'll notice there is no belly bulge. It's not overfilled and the skin is quite thick, which I actually prefer (though some of you prefer finer work), analogous to al dente tortellini. Good XLB.
Scallop Shiu Mai £5.90 (for 3)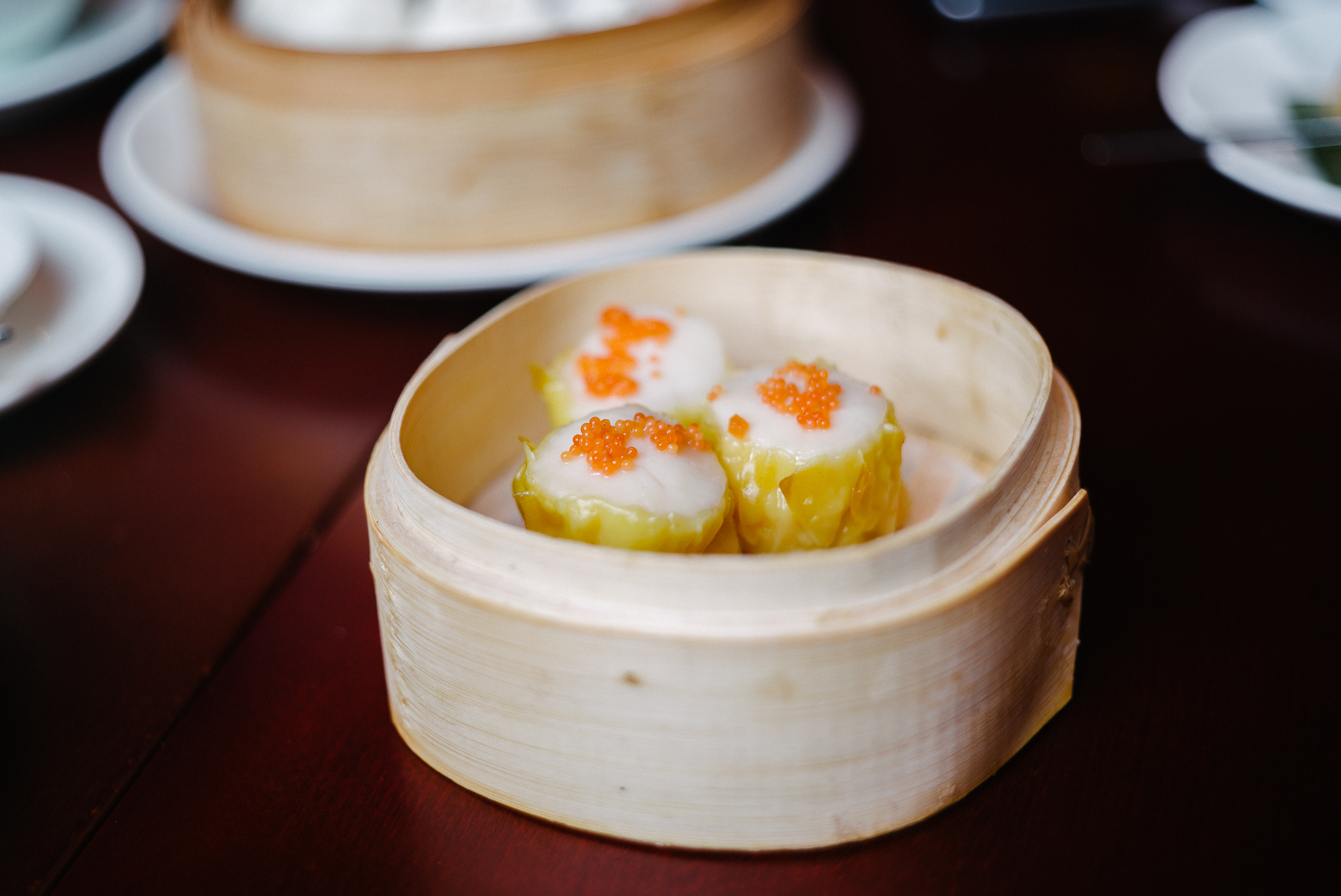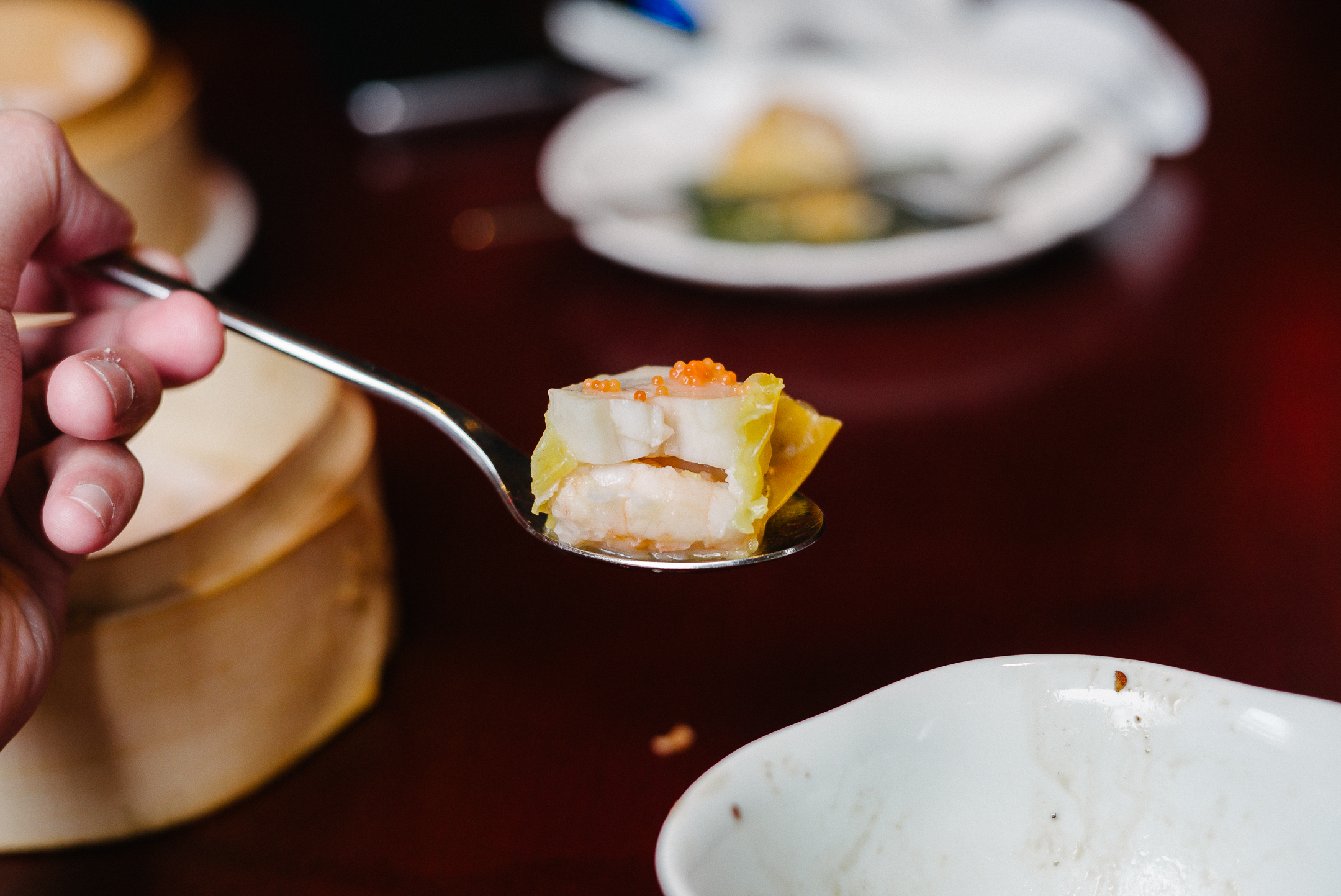 The preferred alternative for the health conscious. I like my shiu mai with plenty of pork fat, but there's something very satisfying having sweet scallops thrown in the mix. Check that cross-section. Textbook. The scallops and prawns are perfectly steamed. Good work here.
Crispy eel and nori cheung fun, £8.30
Boom. Order this when you visit. This is like a more interesting version of the classic youtiao cheung fun. The eel is fried with a crispy exterior, so you get the same sensation as youtiao with the added surprise of unagi. A marvel of a recipe. Don't know who came up with it, but that guy deserves a pat on the back.
Cuttlefish cake with lotus root, £4.90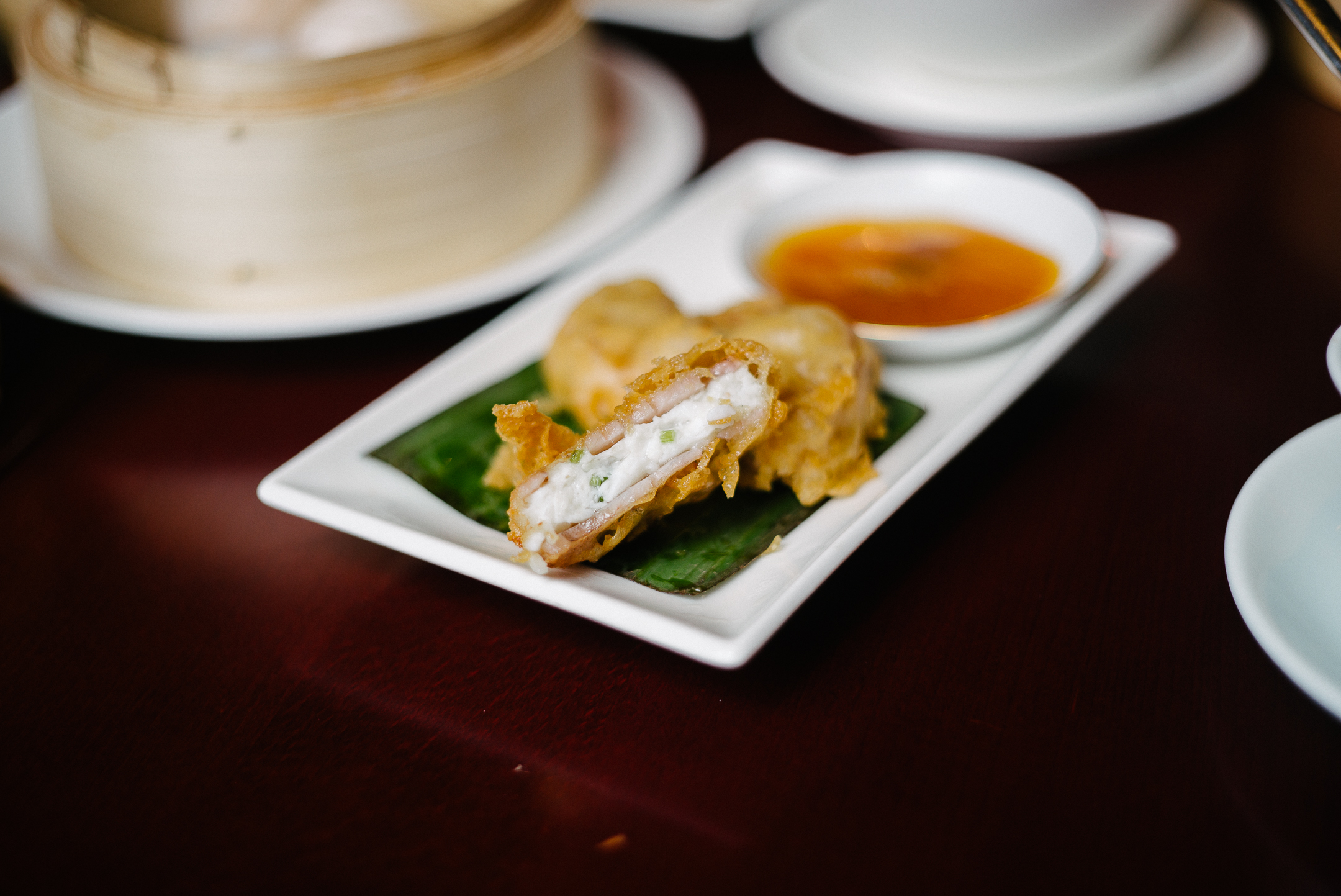 Nah. Skip this.
Roasted duck pumpkin puff, £3.90 (for 3)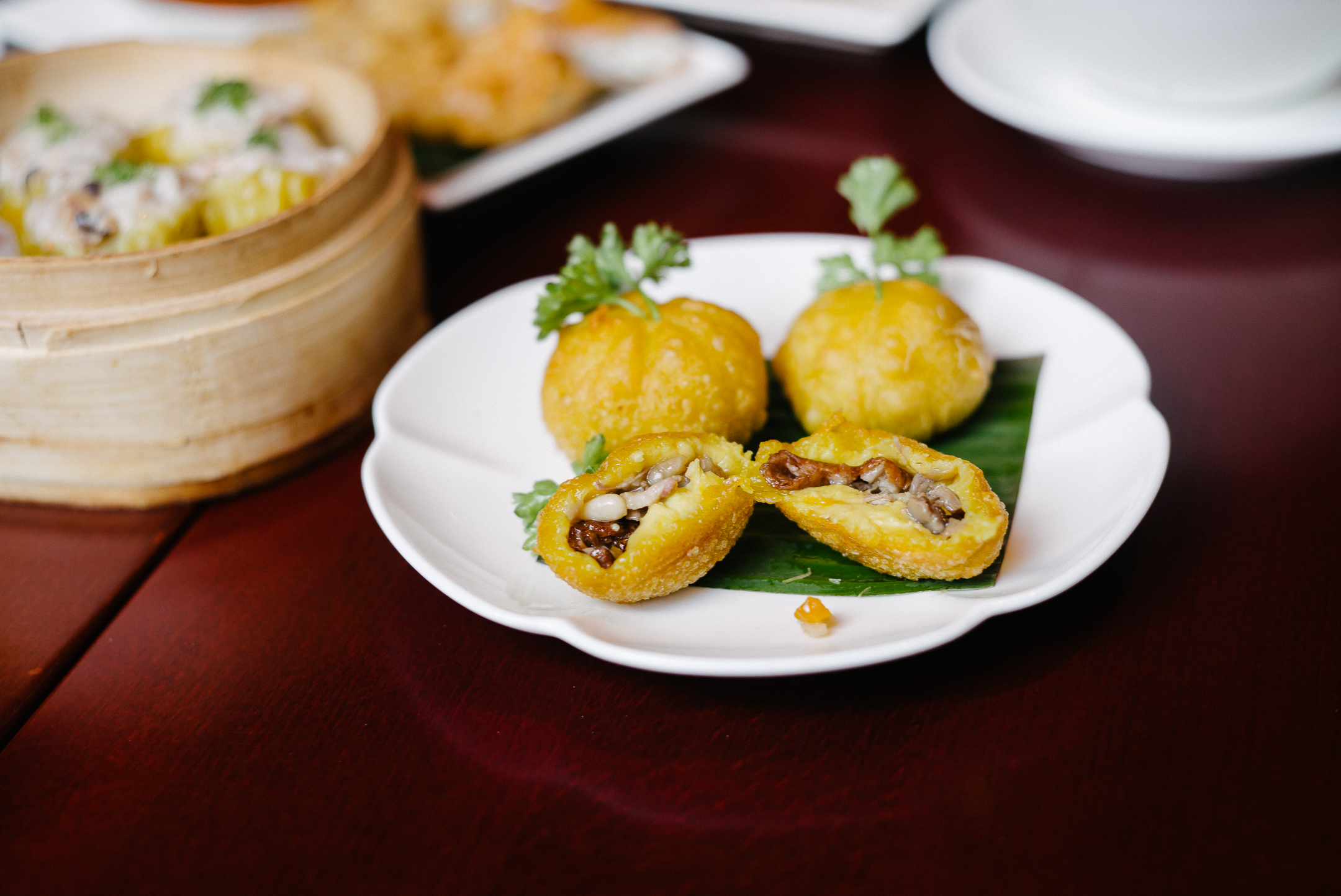 With mushrooms too. Pretty good.
King Crab dumpling consomme, £6.50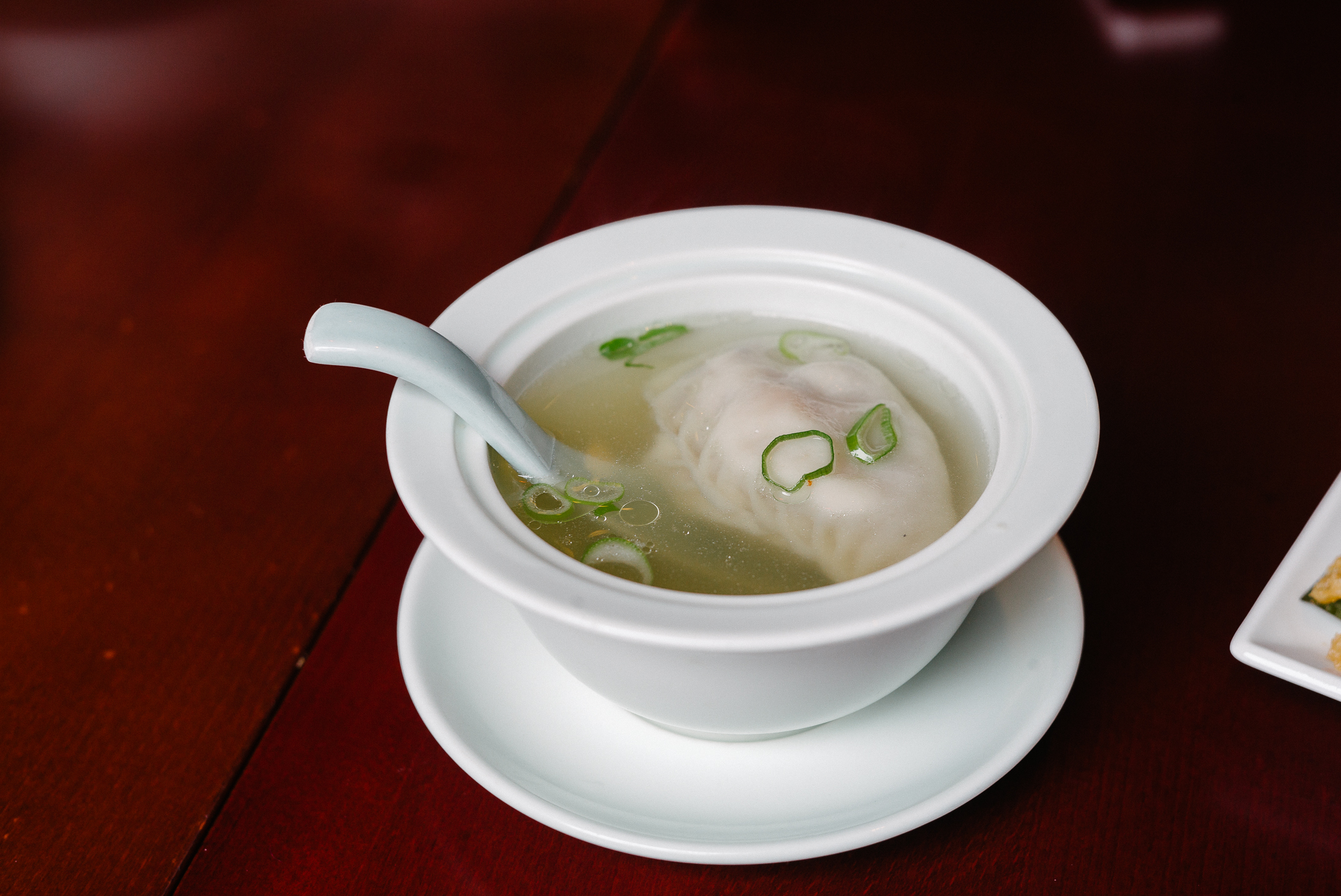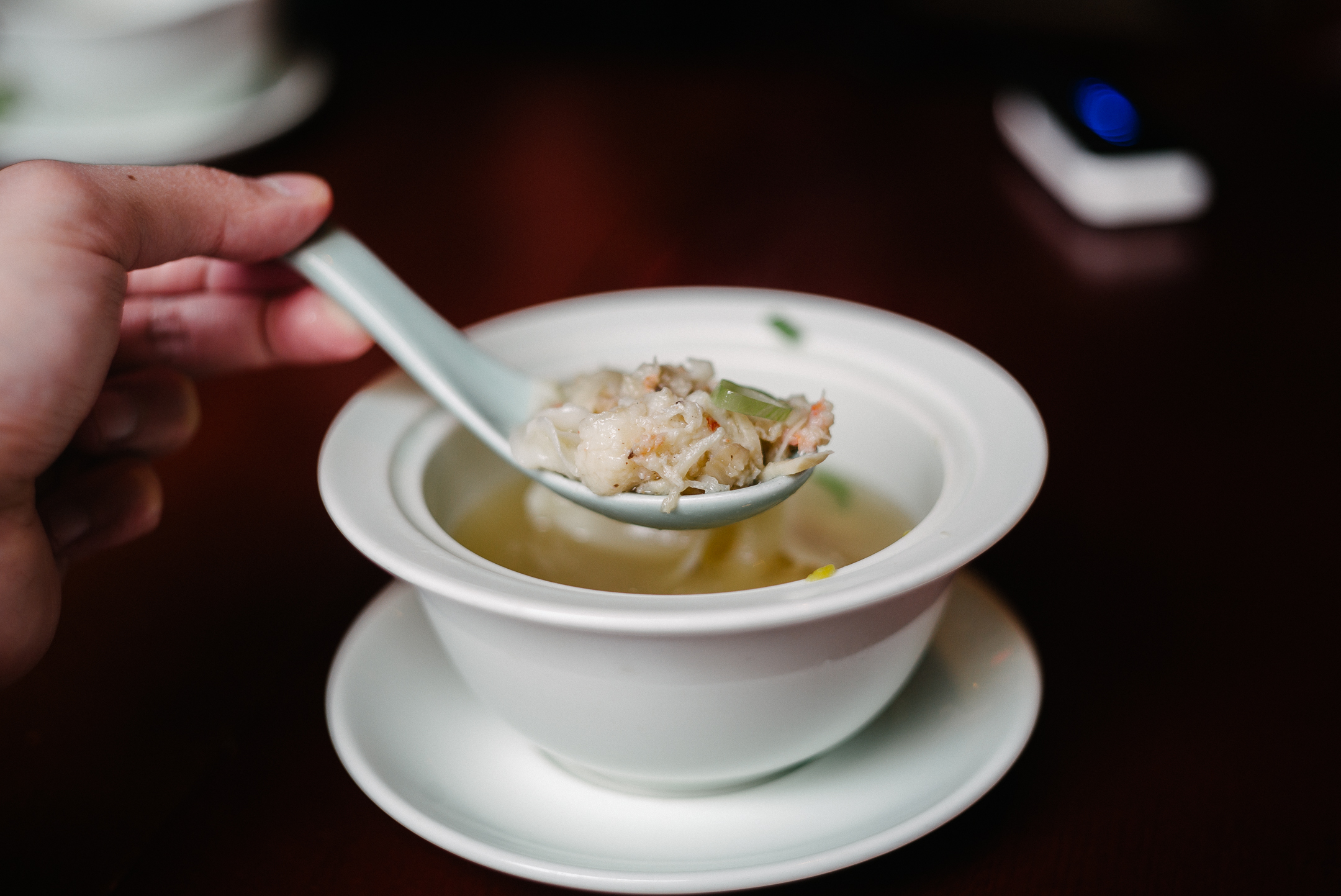 Beautiful broth, full of seafood flavour. The dumpling is the size of a baby's fist, generously stuffed with crab and is almost a steal for the money. Order this too.
Musang King Durian Puff, £5.20 (for 2)
I was dreaming and of course this is not the D197 butter king I was hoping for. You can't get that stuff in London, in the same way Hokkaido uni only travels about as far south as Singapore. There is little by way of filling and you can hardly smell it, which says alot (or very little) about the king of fruit, infamous for its aromatics. I love Monthong but cannot turn away D24 and D197 when it is in season. It really is incredible. To my nose, it's like egg custard mixed with epoisses, washed in good brandy.
For reference, puddings made from fresh durians are supposed to look like this.
Mango and Grapefruit Tapioca Pearl, £4.50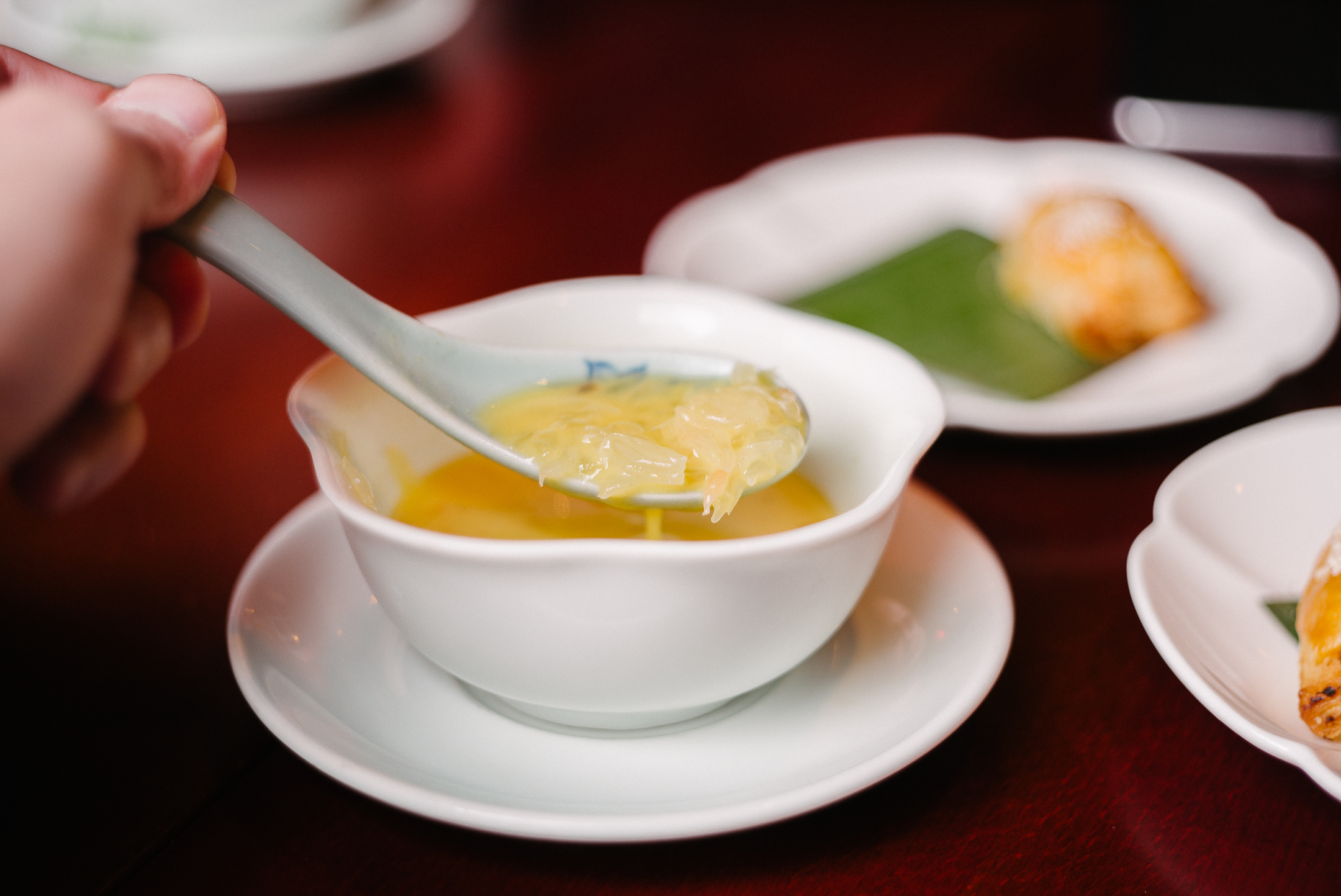 We're always told not to order this relatively simple pudding, but my brother can never help himself. Sago, milk, typically with honeydew but the acid from the grapefruit is well-paired with the creamy mango (powder I hazard a guess). Quite good indeed.
All food seen above, plus 1 beer and tea for three and service came to £101.70. £33 each.
I really am quite so impressed with the quality of dim sum here. I found a lot of the work done correctly and quite well, there is a lot to like and is reasonably priced for what you're getting, for London. Nothing is quite as alluring as the moody blues of Yauatcha but for my money, I'd rather come here for a real meal. A.Wong remains the best Chinese restaurant in London, though a meal at Andrew's is more about exploring the cuisine's boundaries. Shikumen on the other hand is all about the Sunday feels and I am quite surprised it does not entertain queues. This is my latest go-to recommendation for classic dim sum in London. Don't miss it.
Details
Shikumen Shepherd's Bush
Chinese
£30pp
Dorsett Hotel
58 Shepherd's Bush Green W12 8QE
Tel : 020 8749 9978
Tube : Shepherd's Bush