My first visit to Dock Kitchen was back in 2009, originally a pop-up that spun out from he and Joseph Trivelli's (River Cafe head chef) Moveable Kitchen project. He was fresh off his River Cafe stint and was an early adopter of pop-ups, after MML, when it was still a novel thing in those days. He's always cooked with freedom and personality which reflected his love for the colourful cuisines that he encountered in his travels. DK still operates today from the 1st floor of the Wharf Building, shared with landlord Tom Dixon who has his design studios in the ground floor. I recall a subsequent visit in late 2010 (fantastic porkchop) at which point, Steve's reputation had been pretty much cemented after OFM made him top new chef of 2010, then at the tender age of 25.
I am very happy for all his continued success, although I haven't visited Rotorino, I was determined not to miss his latest restaurant, Craft London, which has been met with largely good feels from the critics when it opened last year. Tom Dixon is all over the interiors, with 360 views of surrounding Docklands area. The fundamentals of Craft appear similar in spirit to Dock Kitchen, though now he's added lots of strings to his bow including curing, pickling, churning, ageing and any other craft of making/manipulating ingredients that can be practically conceived is done in-house. A coffee roasting machine and a dry fridge (with hung duck breasts) greets you at the entrance. Such ambition is quite the rarity in a London restaurant.
Earlier this year, he started offering #testkitchentuesdays menus (on Tuesdays) to the public, for £28pp allowing you to sample 6-7 new and/or developmental dishes and ultra seasonal ingredients. They are very open about feedback, so you can fill up the sheet afterwards or just tell them what you liked and didn't.
This particular meal is not quite fair game to write about as there will inevitably be some car crashes, but when they roll the dice the right way, sparks sure did fly. I decided to put this online because I thought it was really good fun, I ate some delicious things and it is absolutely worth the £28. By design, it's different week to week and you should take a look at other meals on IG.
We paid £98.55 for two menus, 3 beers (£5 each), 1 glass of excellent 2008 Castello Ama Chianti (£12) and two espressos (only £1.8 each).
I was really quite impressed by this experimental stuff and on this form, it gives you a glimpse of what the real menu must be like. I can't wait to go back. That clay baked duck looks good…
Notes and pictures below.
1. Pepper Sausage, Lavender.
Freshly made naan, in-house sourdough, house churned butter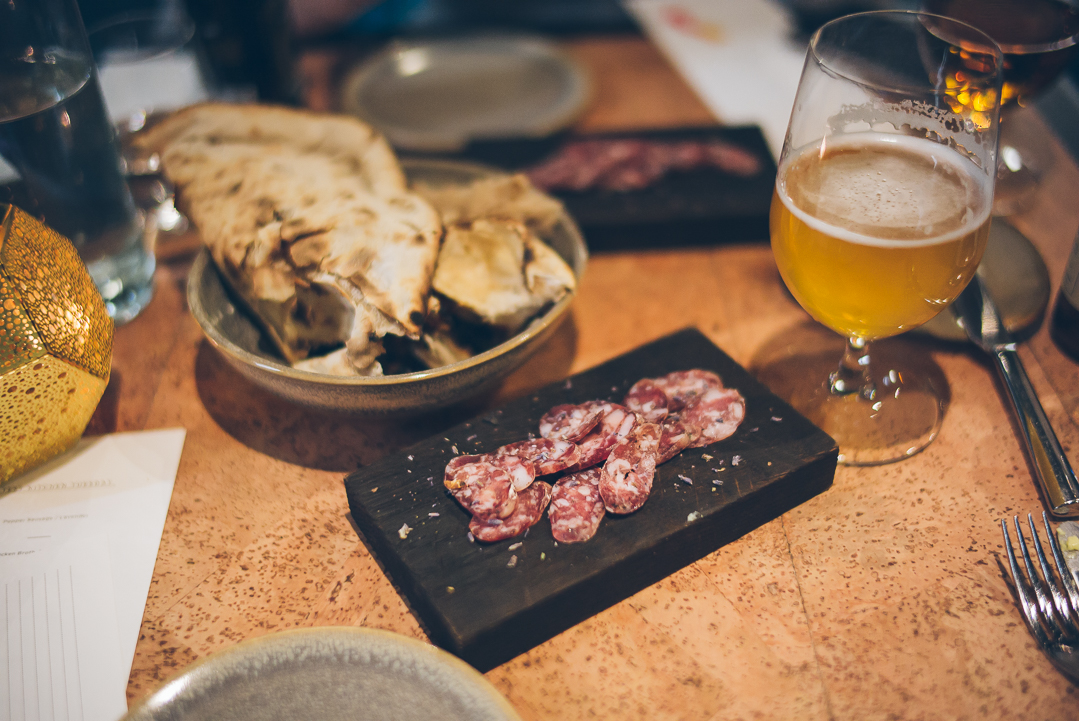 HIT.
Really strong bread and butter game. Wet and bouncy sourdough, freshly made piping hot naan – almost as good as *insert your favourite curry house*.
The butter is crazy good, they churn it in-house and has this amazing depth in flavour – almost cheesy, like the Bordier stuff. They did explain the process to me, I didn't really pay attention as I couldn't stop spreading it on bread.
Salami is sweet and loosely packed, good idea on the lavender for some floral qualities.
2. Chicken broth, goats curd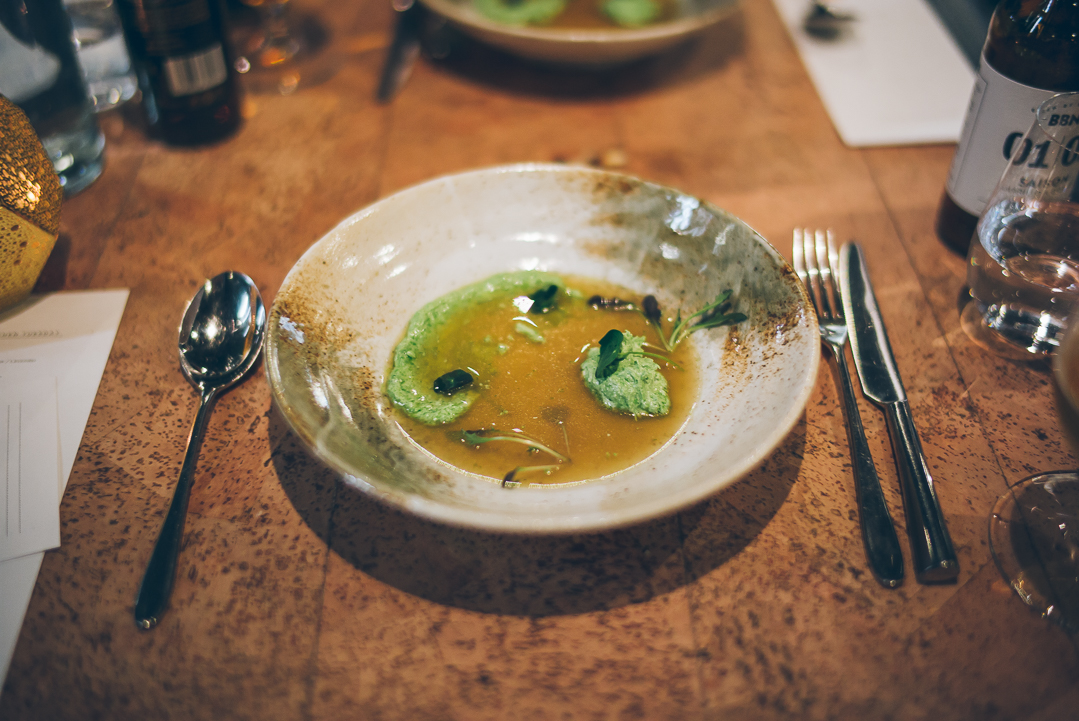 HIT!!
Cold and creamy goats curd that's totally infused with the aromas of wild garlic scent. It melts into the hot chicken soup, which is just a pure stock. All about the aromas.
3. Purple Sprouting Broccoli, cods roe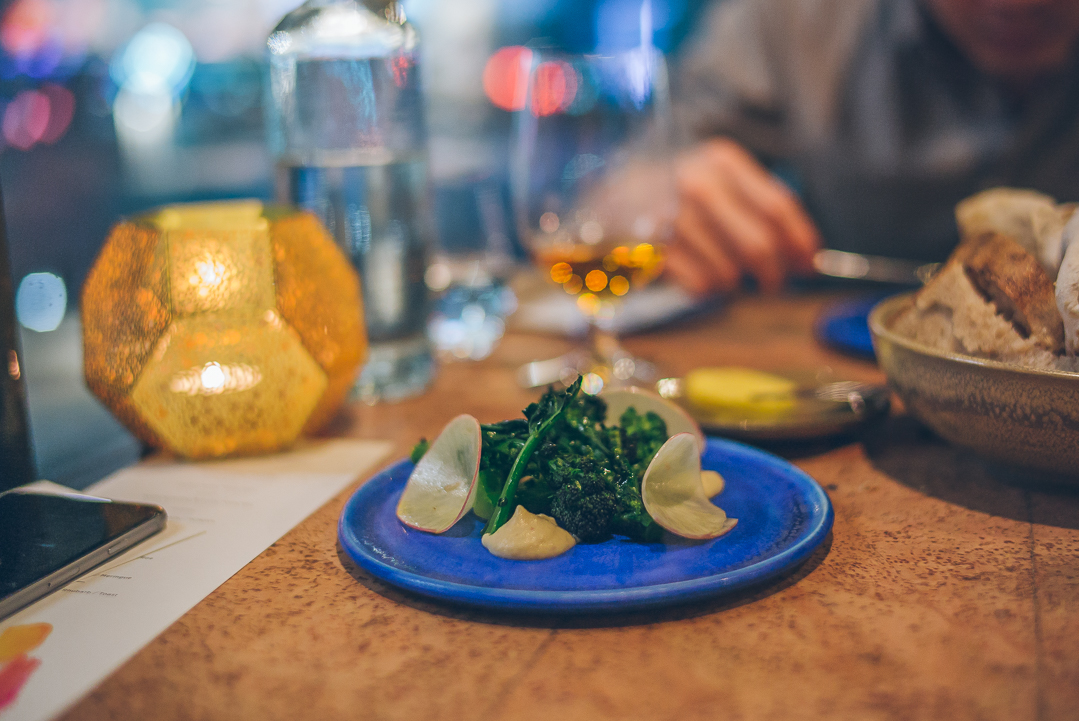 MISS.
Cod roe puree, zesty, a faint whiff of bottarga, but broccoli was served cold, where I think it could be steaming. Don't get it.
4. Spelt, wild garlic and pumpkin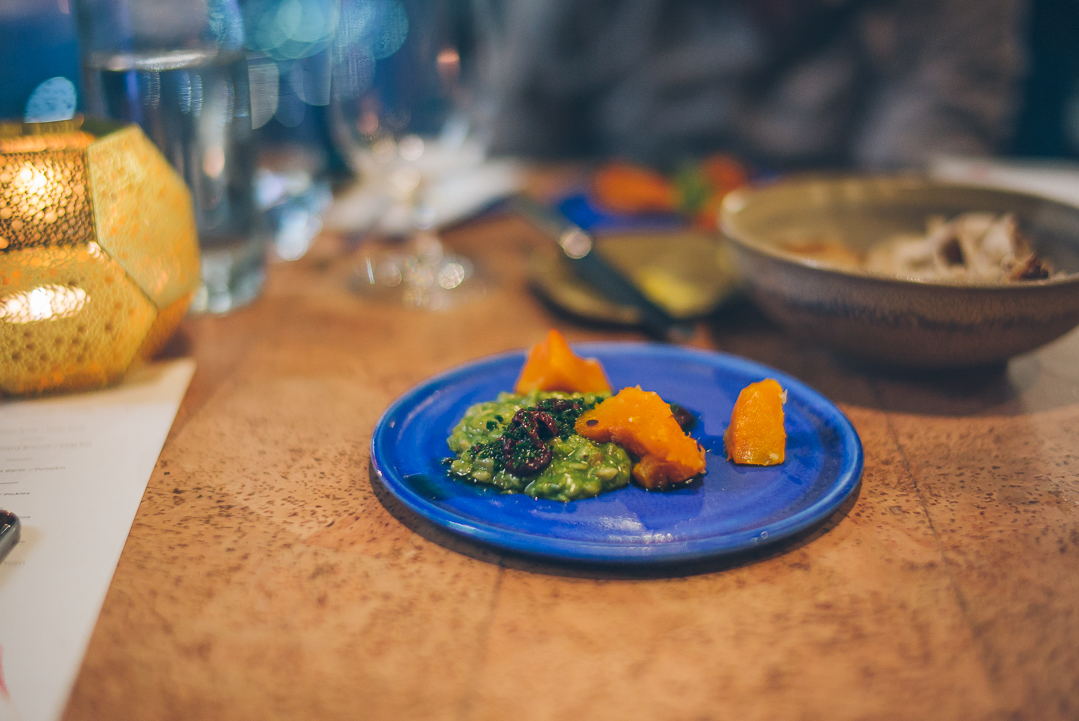 HIT/MISS
Wild garlic aromas again. Beautifully made risotto, with these slovies, pickled sloe berries & olives, that offer zest to lift the creamy spelt.
Pumpkins are so sweet, off the scale, great on its own, but an incredible failure when eaten with the spelt.
.WINE.
08 Riserva Chianti classico, Castello di Ama.
Great nose, fresh, flowery with subtle sous bois. Palate is mineral, crystalline almost with cedary, sweet red fruits. Vanilla even. This is like vanilla ice cream cake with cherries. Good swill. Drink this when you visit.
5. Gurnard, garam pickles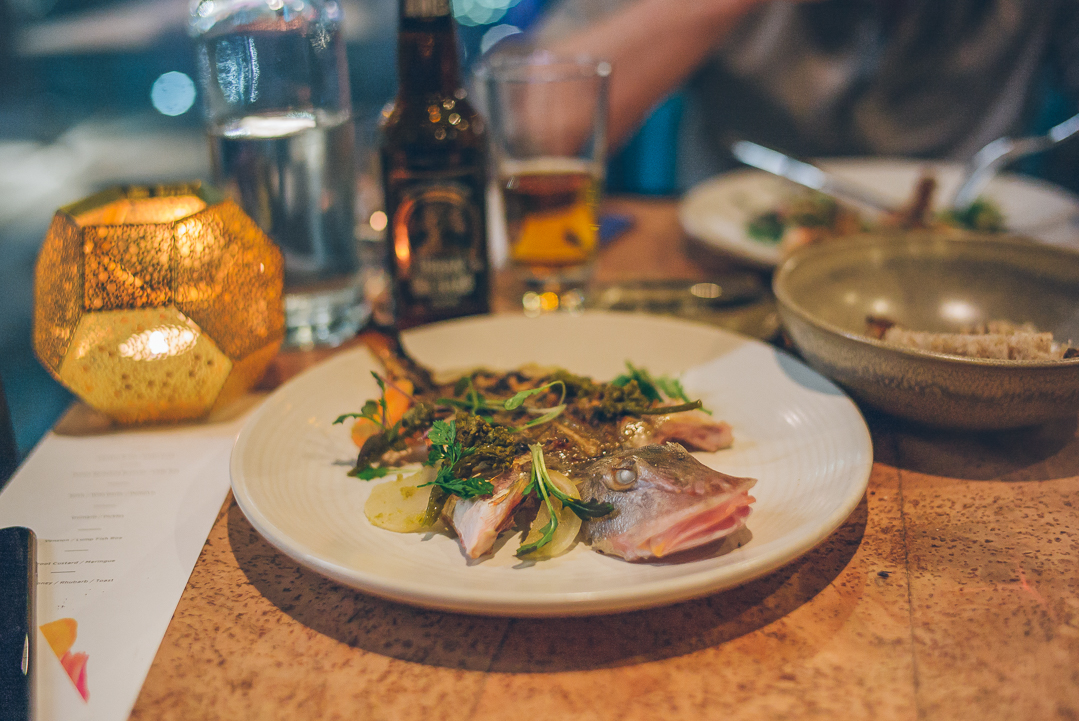 BOOM.
The pickles are spot-on, vegetables soaked in a 5% salt solution and left to fermented for 10 days. Just adds complexity to the fish. Salty, sour and sweet accents, and is redolent of mei chai, Chinese pickled vegetables. This reminded me of 'Meigan Kou Rou', the famous Taiwanese (Hakka to be exact) pork belly recipe and its specific umami character.
The gurnard has been evenly salted throughout and then gently sweated over charcoal to create this lovely juiciness. Gurnard is such a great fish to use, its inherent oiliness and bouncy texture imparts this natural savoury quality. It's more than capable rival to monkfish but thank goodness that its ugly mug keeps its £/kg relatively low.
Strong dish. What a dish. Love it.
6. Venison, lump fish roe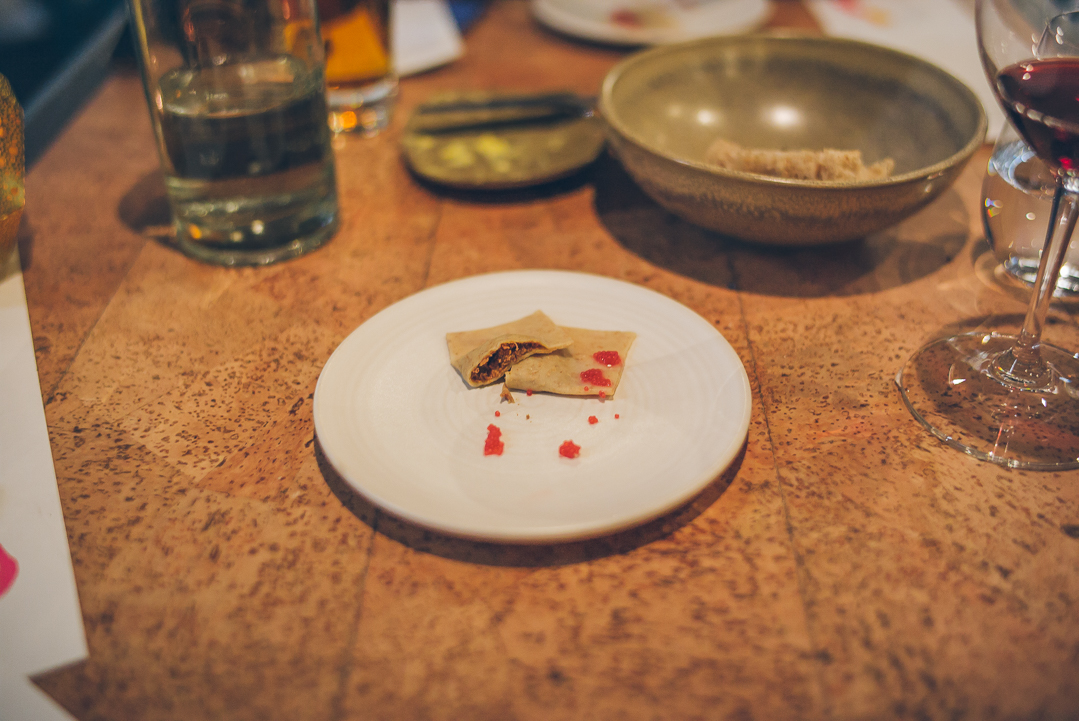 XXX.
Sourdough ravioli with venison haunch and leg blitzed.
Bitter like black pudding, livery almost and sourdough reminds me of buckwheat. It does not however go well with the lump fish roe. The entire palate is tainted, fishy and livery, abit of a car crash.
7. Beetroot custard, meringue
Interesting.
Like a beet mousse. Very earthy herbs..sweet. Could do with those pumpkins here. hmm.
8. Whipped honey, rhubarb, toast
Good. Hoppy malt ice cream. Brilliant whipped cream honey and stringy rhubarb. Sour and sweet with honey aftertaste.
Details
Craft London
British Modern
£28 test menu on tuesdays, 7pm onwards
PENINSULA SQUARE
GREENWICH PENINSULA
LONDON SE10 0SQ
Tel : +44(0)20 8465 5910
Tube : North Greenwich