This will be Matt Chatfield's sixth year since he started bringing together a handful of Cornish producers to supply the London restaurant market, as well as taking over three pubs (this one, The Three Crowns and The Adam & Eve) in London as means to open up a steady stream of orders for those suppliers. It is a brilliant idea and is a direct (and transparent) way to access some of the best Cornish produce. This particular residency at the upstairs dining room of the Newman Arms (a watering hole for George Orwell that dates to 1730. It's widely claimed to be the inspiration for the Proles pub in 1984) has received a ton of good feedback since it started last summer, so I was more than looking forward to lunch.
The kitchen is headed by Eryk Bautista, who is a relative unknown, that is until his current stint at Newman Arms. Chris Johns is also connected to The Cornwall Project and based on what I've read, he helps with the food in an executive capacity. I'm a huge fan of Chris's cooking during his time at Antidote, really good memories of the poached turbot and suckling pork belly, so if he's in the mix, it's music to my ears.
The lunch menu is very short, 2 starters, 3 mains and a choiceless pudding, extremely well-priced at 2 courses for £15 and 3 for £19. On my visit, there was also fish pie for £9. Dinner time adds a couple of savouries and dishes priced individually.
Cotswold Egg, smoked mash, wild garlic & toasted buckwheat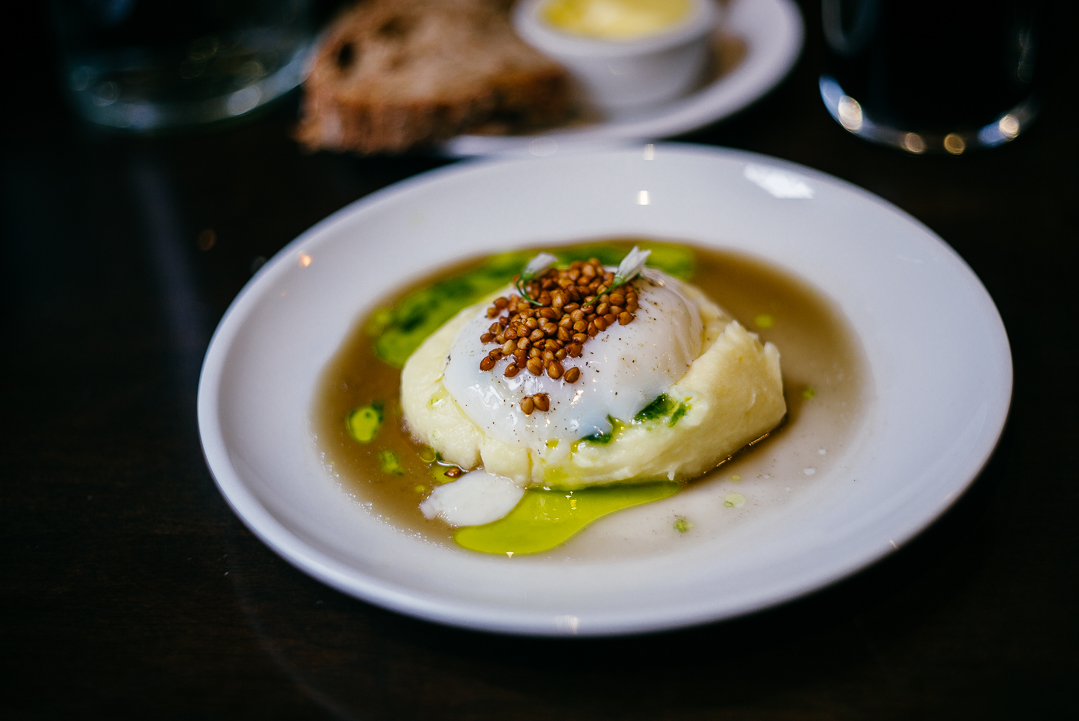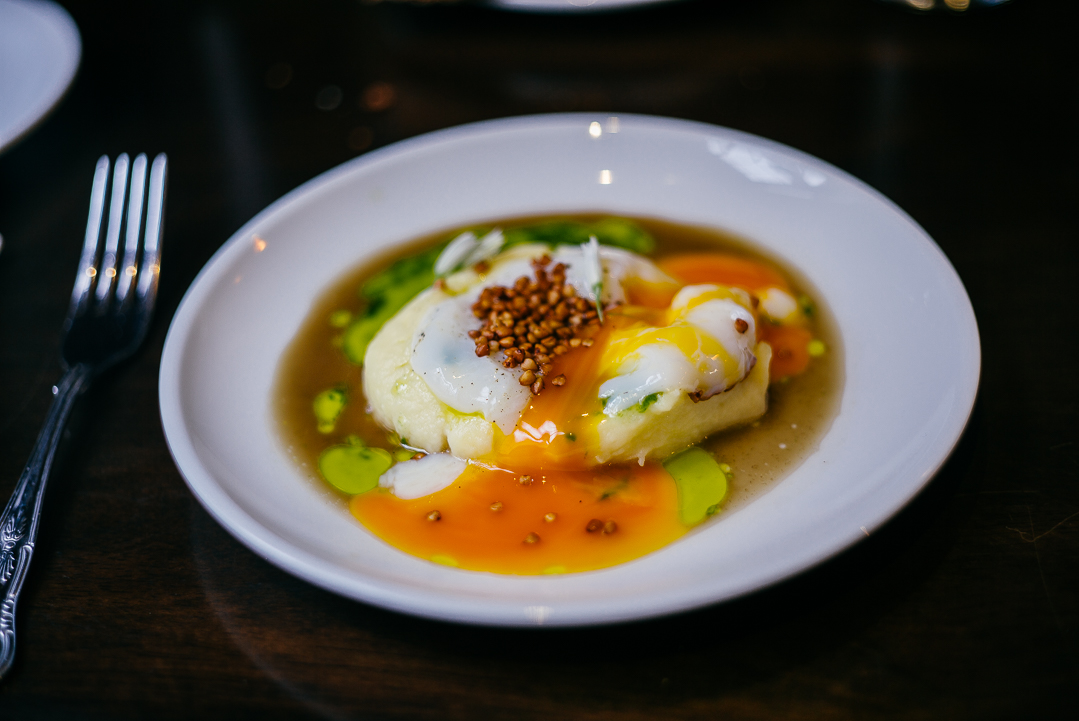 The egg is perfectly 63 degrees. The entire thing is so fragile, it jiggles around with this porcelian sheen. Yolk comes rushing out when you poke the egg white. Though I'm not sure it needs all that olive oil and buckwheat. The extra bells gave it this bitterness on the palate. Maybe less is more, but this is still good eggs and mash.
Crispy pork belly, grilled leek, pearly barley & sauerkraut puree
with crispy pink fir and herb mayo (£3 extra)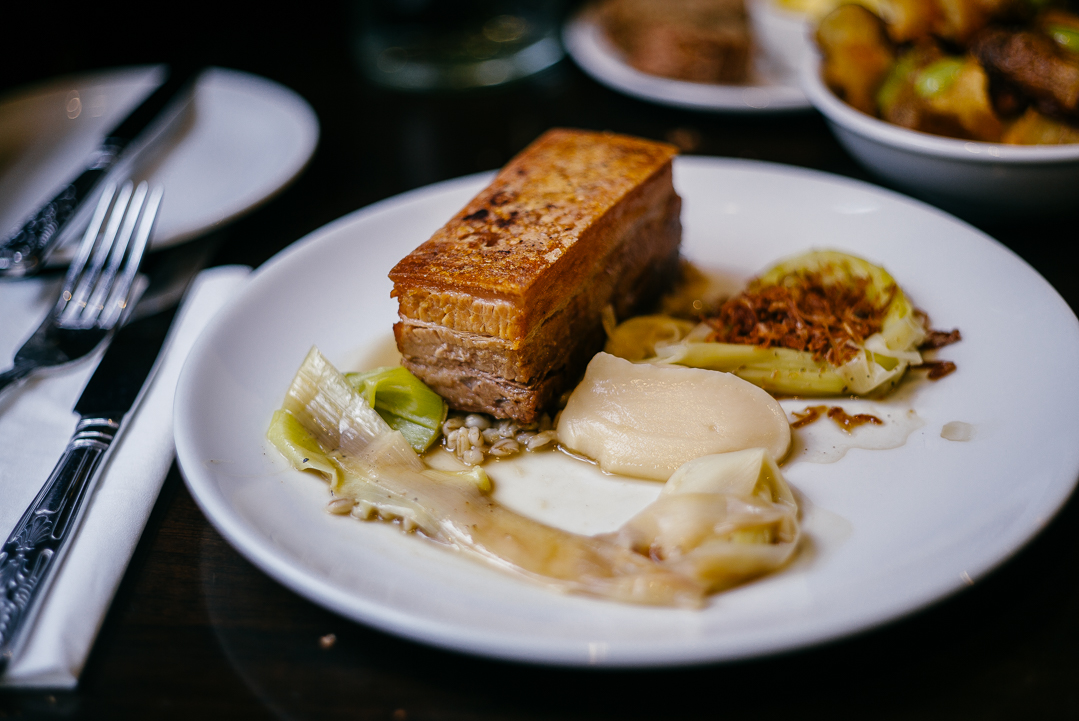 The crackling was good, clean snap and properly seasoned, but unfortunately the meat seems overcooked. The fat has all but gone, leaving this dense, tough and chewy texture that's crying out for some wetness. It was chore trying to finish the meat off. I was hoping for Antidote level of careful cooking of meat, but this wasn't it. The potatoes on the other hand were gorgeously crispy and fluffy.
Rapeseed oil cake, honey ice cream, pine nuts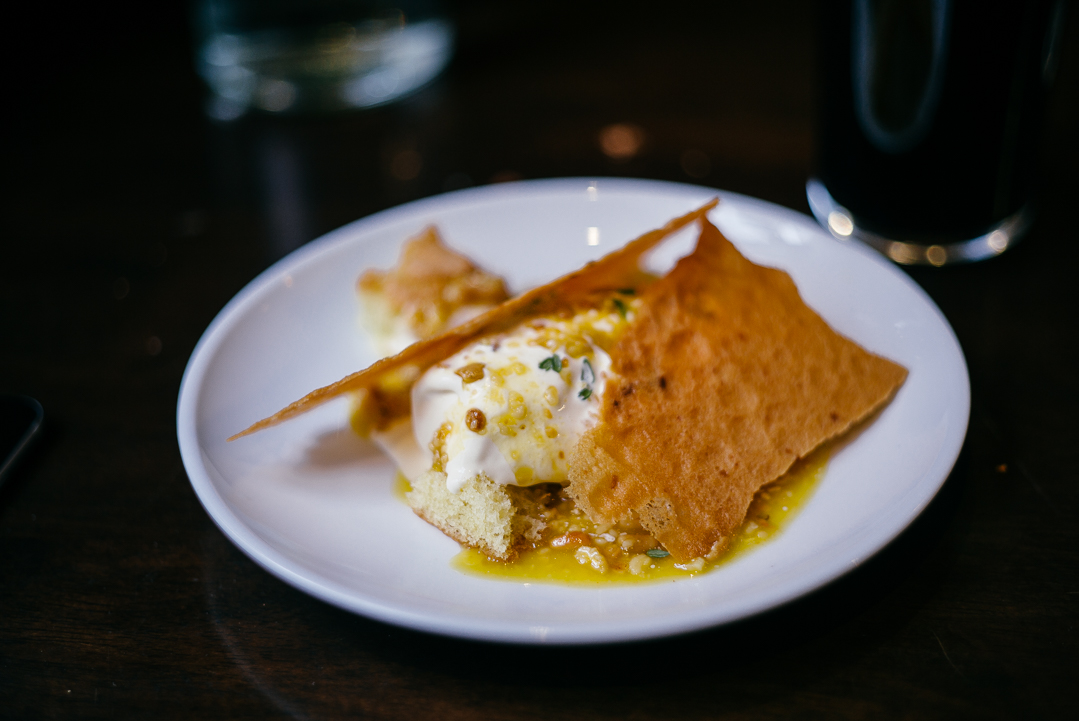 That honey ice cream was the bomb, having this full creamy custard flavour. Ice cream and cake was a winning combo, redolent of Bird's eye arctic rolls, albeit a freshly prepared version of it. I liked this a lot.
3 courses, 1 side and a pint of Murphys Stout came to a mere £30.16. It's hard to knock it at this price point, but that aside, this lunch was underwhelming. I'm not sure what I was expecting, tighter cooking I suppose. Lots of good pubs out there (Bull and Last springs to mind) and I really don't see what the fuss is about on this form as food seems quite ordinary.
OK I hear you, only one lunch and there wasn't any fish on this lunch menu, so it can be argued that I hadn't yet glimpsed what The Cornwall Project is truly about. Well I'm not giving up, direct access to good produce deserves championing, so I will update this post after I get a chance to try some turbot for dinner.
The Gist of It
Newman Arms
British £30pp
23 RATHBONE ST W1T 1NG
Tel : 0203 643 6285
Tube : Oxford Circus