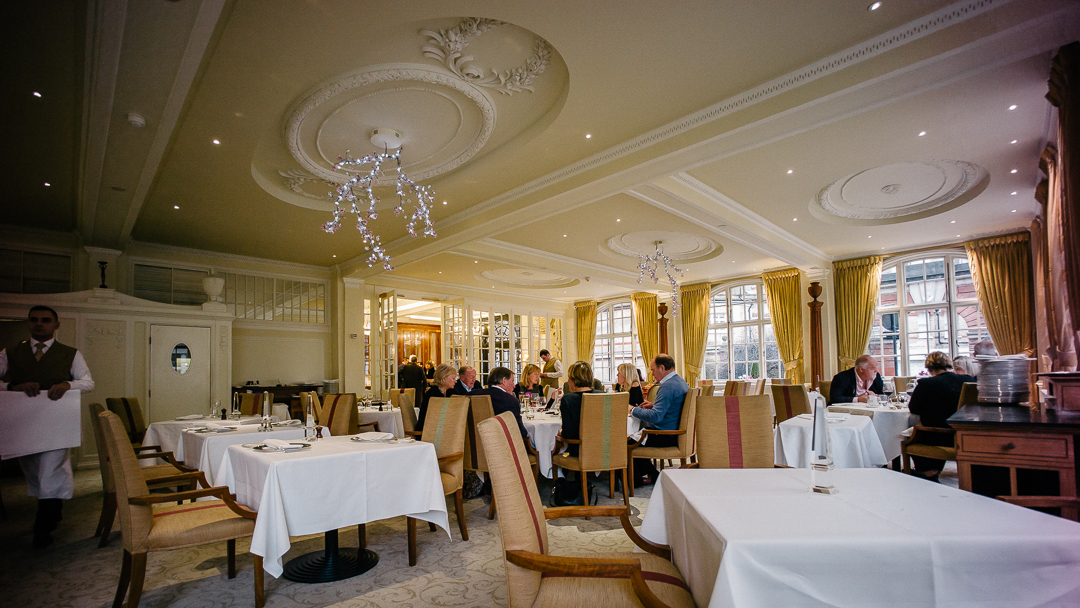 The hotel was opened in 1910 by Otto R Goring and remains a family business today, itself a rarity. Situated just a stones' throw from Buckingham Palace, it has a long association with the Royal family (and a royal warrant since 2013), Queen mum who was a regular, according to folklore, had particular affection for the food. The kitchen has kept Eggs Drumkilbo on their menu till today.
The dining room is fresh from winning its first ever macaroon in its history thanks to the man on the pass, Chef Shay Cooper. Now into his third year with the Goring, he has come by way of the Bingham, where he also held a star.
I do like the room, glorious but also kind of low-key. Big but not palatial. Check out those plush drapes, the pristine white table cloths, all these people working on the floor in their perfectly pressed uniforms. It's stuck in time. Better than Lanesborough's Celeste (because windows), but maybe not The Ritz. It's got that international idea of British culture as seen on TV (or a stereotypical view of Establishment dining) and could be the picture perfect experience that gastro-tourists are looking for.
The menu is a 3 course prix fixe, priced at £45 for lunch, £56.50 for dinner, and a Pre-theatre at £33 for two courses. The cuisine is classic British of course, with a commitment to sourcing British ingredients.
There's also a dish du jour served from a silver trolley that's wheeled to your table. During my visit on Friday, it was a whole roasted suckling pig and I watched the waiters carve two inch thick slabs for our neighbouring diners. Regretfully I didn't order it.
That daily dish is probably what keeps the clientele coming back. To my surprise, a full room on this visit. Half look like regulars, retired couples out for a decent spot of lunch. The other half look like expense account holders. not a shabby place to get the deal done. We were the tourists, I took Tim, lover of old-fashioned things in his country, but I passed on the oeufs because it came with a £13.75 supplement for luncheon.
Roast quail, pig's trotter, seared foie gras, cider vinegar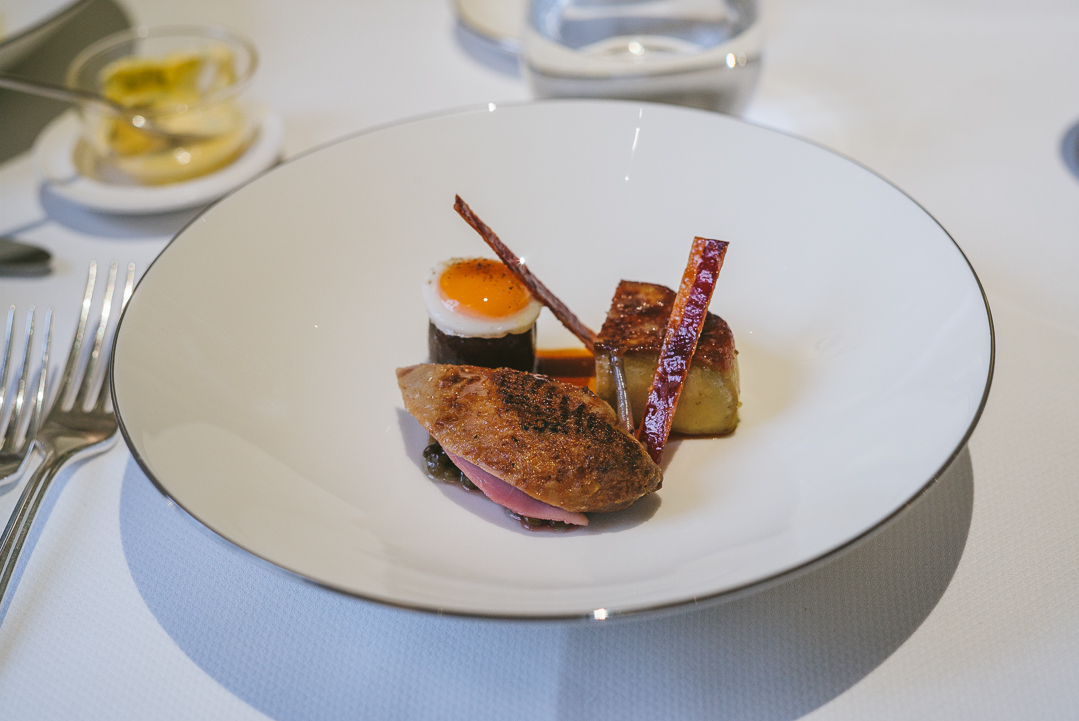 No messing about here, just good ingredients that work together. The style is immediately apparent, classic, straightforward, smart-looking dish. An enticing sweet and salty flavour profile going, the foie, the vinegar, the almost candied streaky bacon that's snaps perfectly. French trimmed, pan-roasted to medium, good quail, with lentils for texture. The best thing on this plate were the trotters, looks like it's made into a sausage, it had this distinctly creamy flavour.
Dorset crab, leek and potato salad, rye breead, sauce bearnaise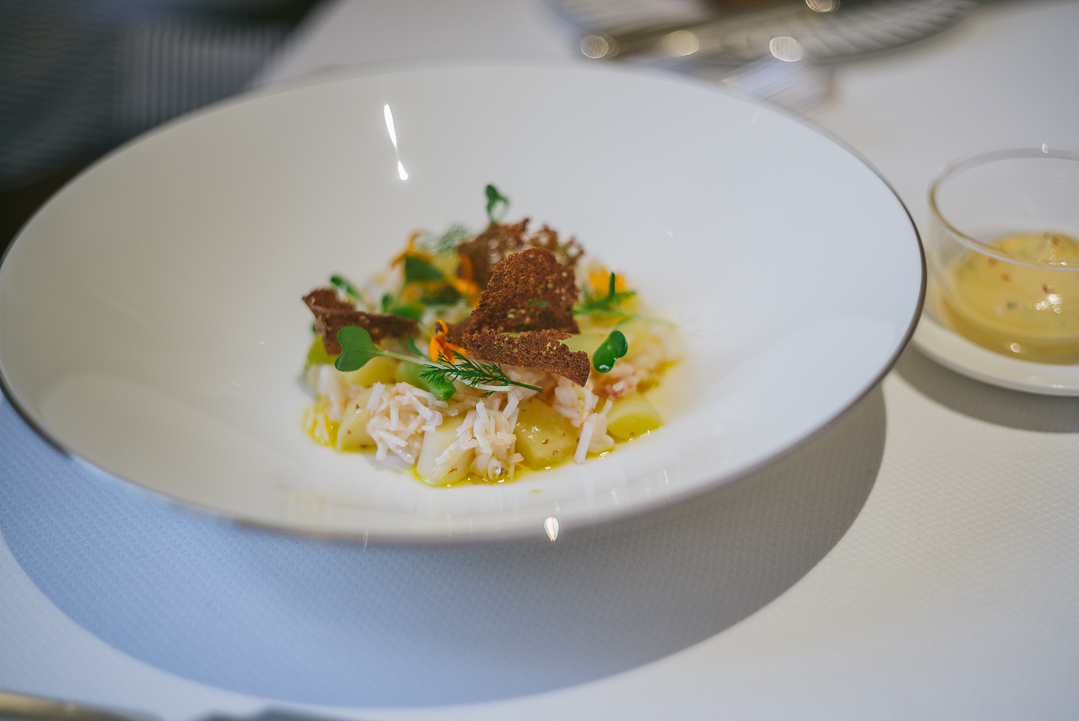 Over on the other side, Tim lapped this up very quickly, so I didn't try this. It must have been good.
Roast Cornish cod, deep fried oyster, horseradish and cucumber, stichelton puree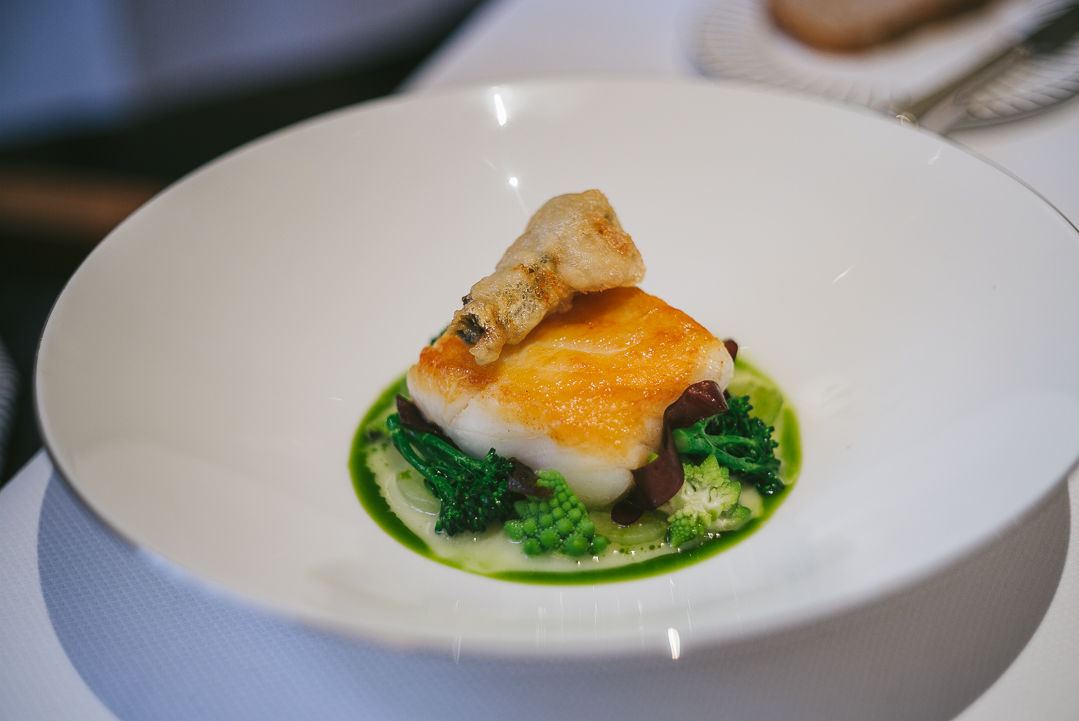 Before Tim tucked in, I asked for a tiny sample. Yep good fish. Perfectly crispy golden crust, translucent juicy flesh, nice execution. The chopped cucumber brings extra freshness. Another no-nonsense recipe, a little severe, but tasty.
Glazed lobster omelette, duck fat chips, lobster caesar salad (and extra bearnaise)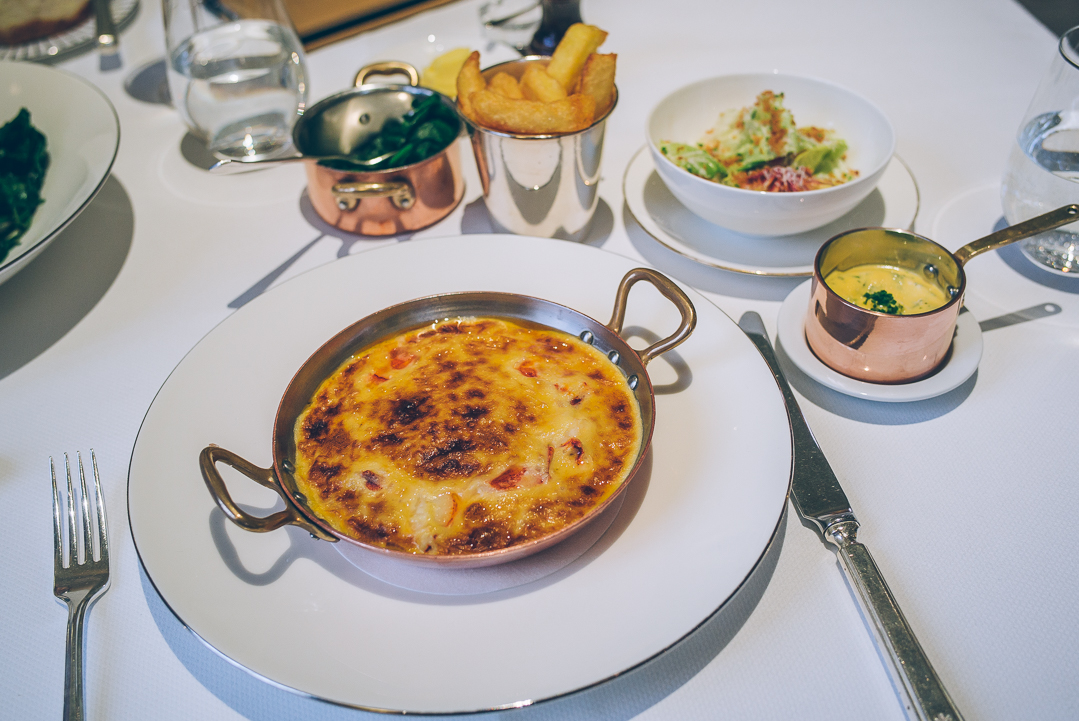 A posh omelette Arnott Bennett, or a luxe alternative to Rankin's fritata at the Smokehouse, depending on your POV.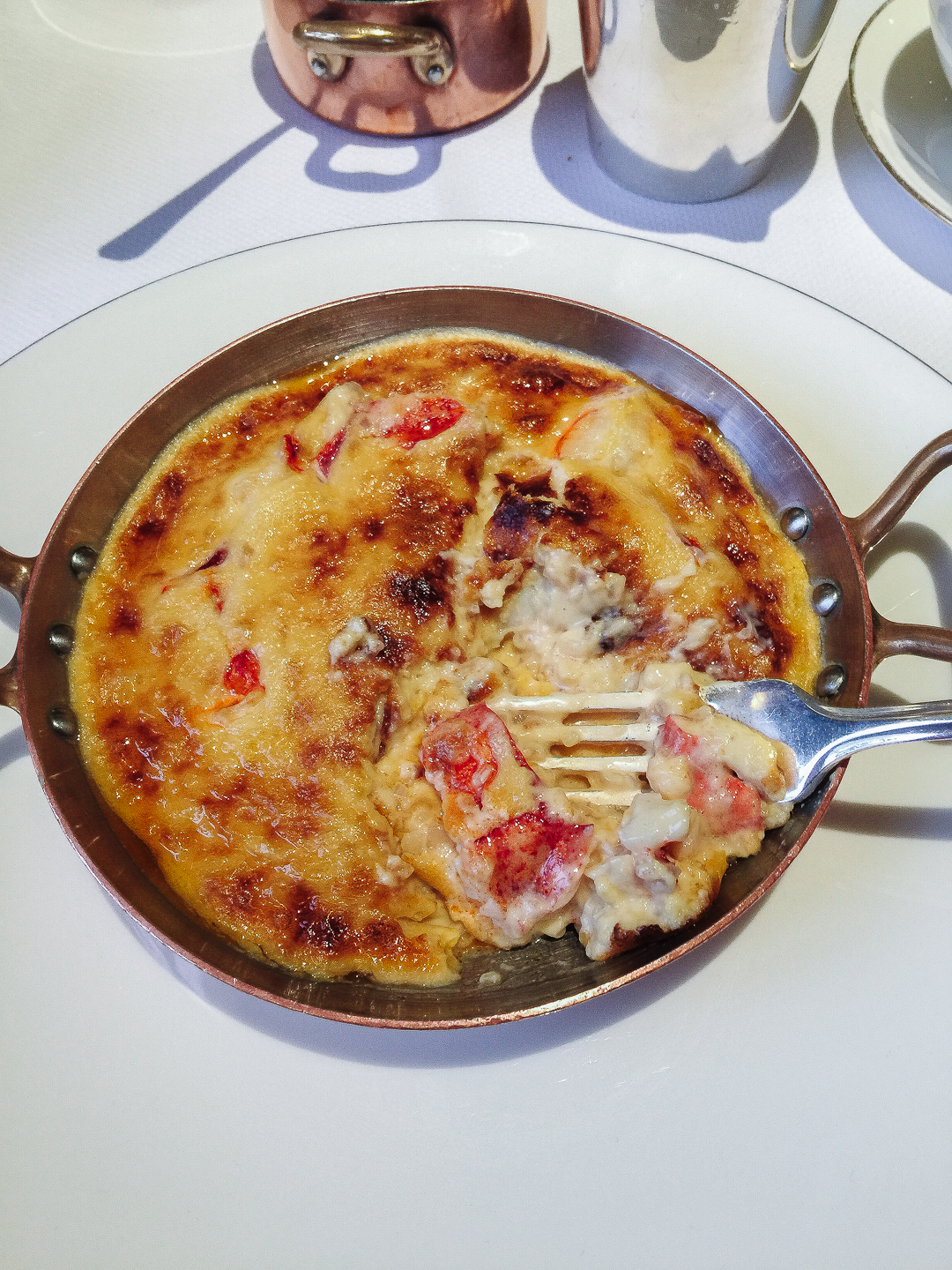 This dish was created by Goring's former head chef Derek Quelch and I understand that Shay has updated it with the salad (feel free to correct me). I asked for the extra bearnaise because I wanted to compare to Medlar.
Really good chips, lovely crisped & golden with this powdery, bubbled texture. Inside all warm and fluffy. Bearnaise was buttery smooth and balanced between zest and eggs, an almost lightness of touch in whipping this up. As good as Medlar …perhaps even better…
I can only assume the lobster is Scotch. Good eggs. Perfect even. Inside it was lusciously creamy, more scramble eggs than omelette. Each spoonful is better than the last and it is all over too soon. Shay's modernised take on classic is wonderful gastronomy, but this particular dish feels rationed when there should be more of it.
Don't get me wrong, it's fabulous eggs and chips, just small as a main. That salad (while good) seems decorative to make up appearances. More lobster & eggs please. I'm greedy, what can I say.
Lemon meringue parfait, pink grapefruit sorbet, cashew nut praline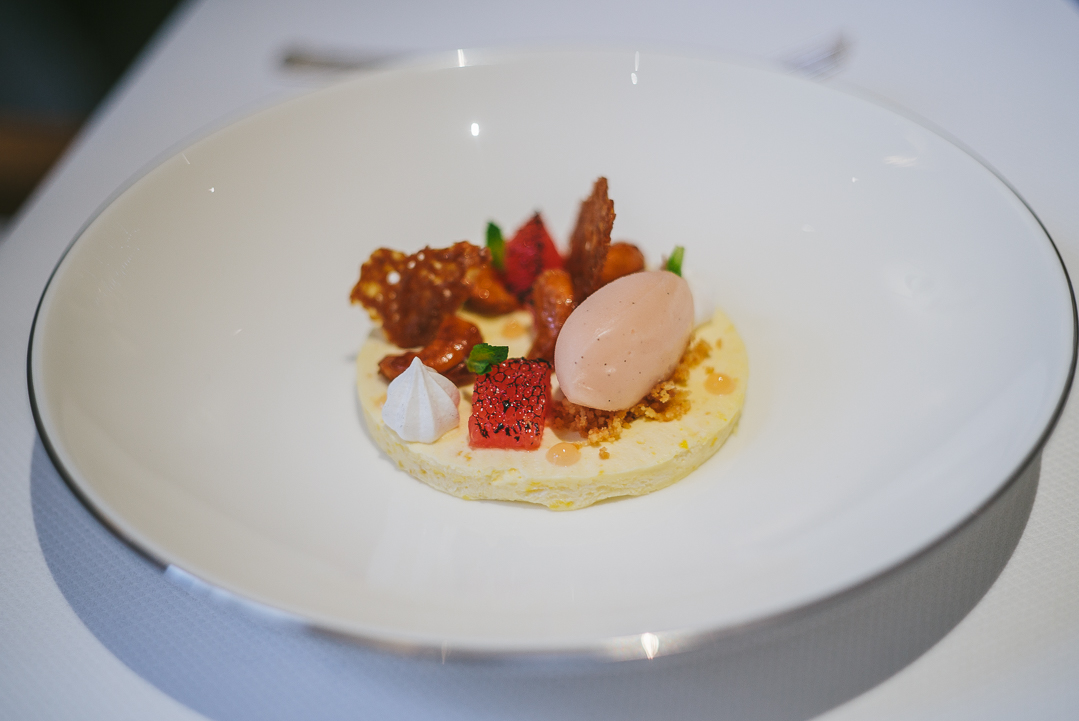 Great puddings. They taste as pretty as they look. The minimalist touch really works brilliantly here. The parfait base, the acidity, the burinished grapefruit, the plating, class.
Cornish clotted cream mousse, apple sorbet, caramelised hazelnuts, crumble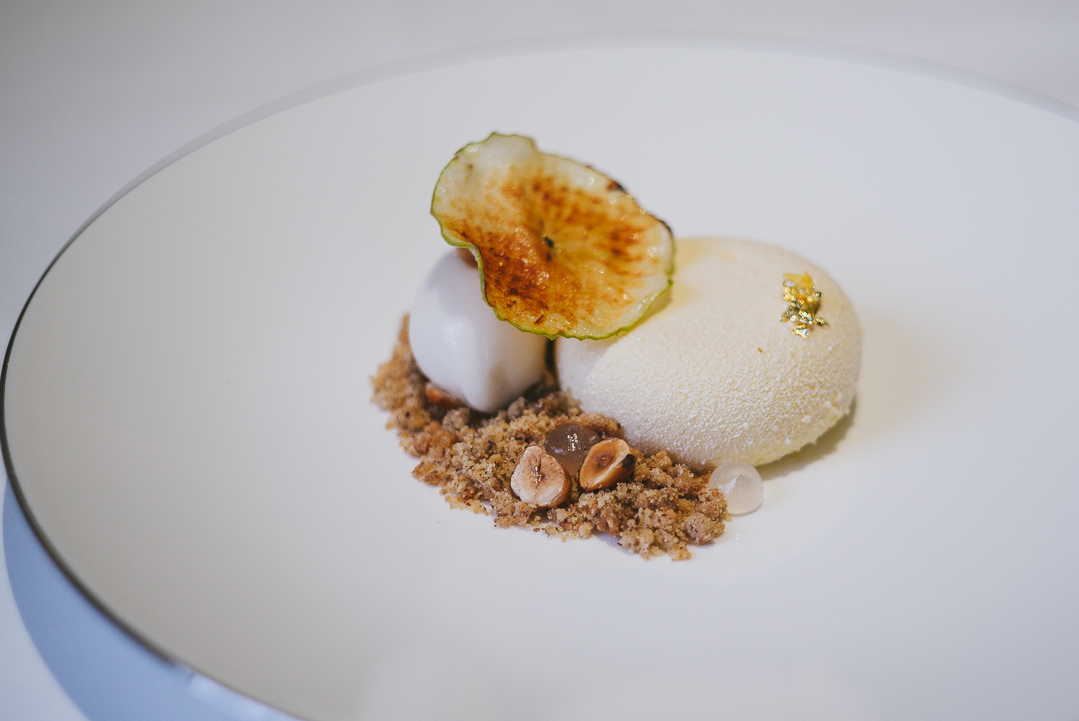 That sorbet is so good, tart almost like a frozen puree, the cold imparting extra sense of freshness. A fresh apple turnover. Oh but then there's that mousse, shaped like a powder puff. The textures were rich and regal as only clotted cream can be. In the centre, there's more apples, confit I think, sweetness for balance with the cream. Sweet nuts for texture. Clarity. This is an excellent pudding, it sums up the style of the restaurant's cuisine.
2 lunch menus, spinach, 2 glasses of white Rioja, 2 bottles of water came to £146.25 for 2. Lunch feels just a touch expensive and portions could be larger. Did I mention the slick service? Fit for Queens, for sure.
Shay's cooking does remind me somewhat of Adam Simmonds', during his time at the Pavilion (which is now superseded by The Ivy). It is the opposite of extravagance, but I suppose it has to maintain a semblance of reservedness. There is smart tailoring by Mr Cooper to keep things buttoned up, but there are conscious limitations by design. I'm down with that, so long it tastes good. A pretty meal.
Details
The Goring Dining Room
British
Breakfast £40pp, Lunch £70pp , Pre-show £60pp, Dinner £85pp
Beeston Place SW1W 0JW
Tel : +44 (0) 20 7396 9000
Tube : Victoria