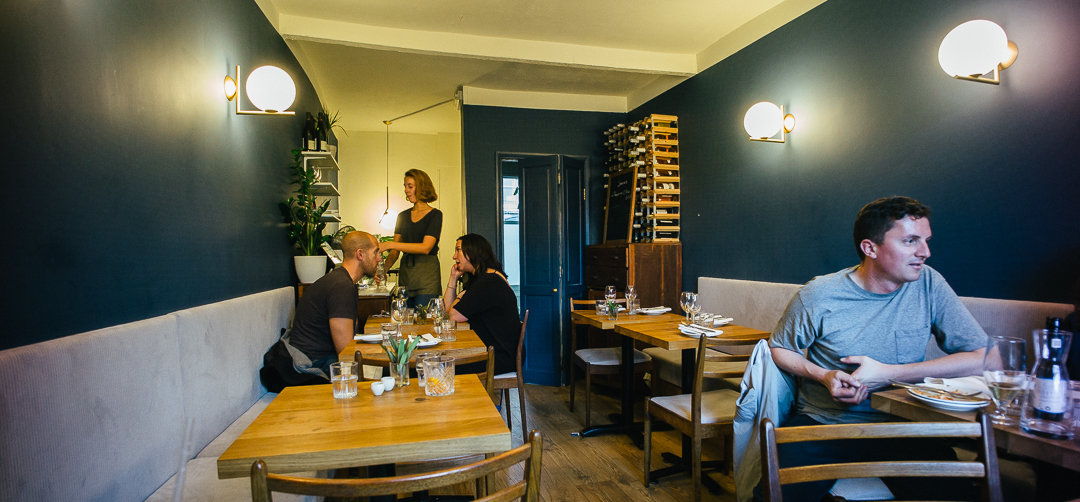 I was reading this old interview of Tom Oldroyd where he mentioned about how he'd model his own restaurant after Bocca di Lupo, the same place he stinted before his tenure at Polpo. As is well known, Polpo was a runaway success and eventually Tom went on to open 7 (or so) restaurants with Russell Norman. After 6 years with Polpo, Tom has struck out on his own and put his name on the front door.
Naturally, Tom's restaurant is an instant reminder of Polpo. Many things such as the front window half curtains are immediately familiar. The seasonal menu is also entirely fashioned around small plates and easy-going recipes. It does differ in the way it covers more of Europe, so it is not an exclusively Venetian affair. (No Ripasso here, I think.)
The space is cute. It's two sardine boxes stacked on top of one another. An upstairs dining room for bookings and downstairs for walk-ins, where the kitchen/bar is also located. The original Polpetto at French House feels like a mansion in comparison. I like the saturated blue walls – like the sea – and the mid century dining chairs (teak I guess) are total beauties.
Cornish crab croquetas, rouille £5.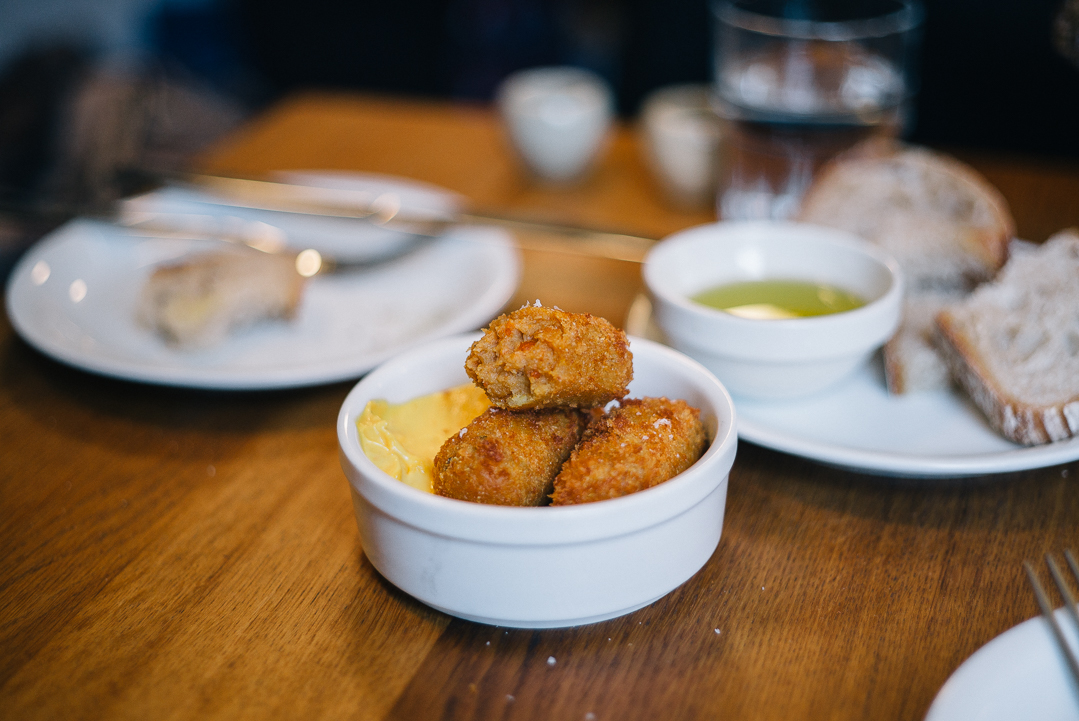 Nice crab filling and appetising rouille, piping hot. Easy food. Nice nibbles.
Grilled trevisso radicchio, red wine & somerset cardo risotto, £11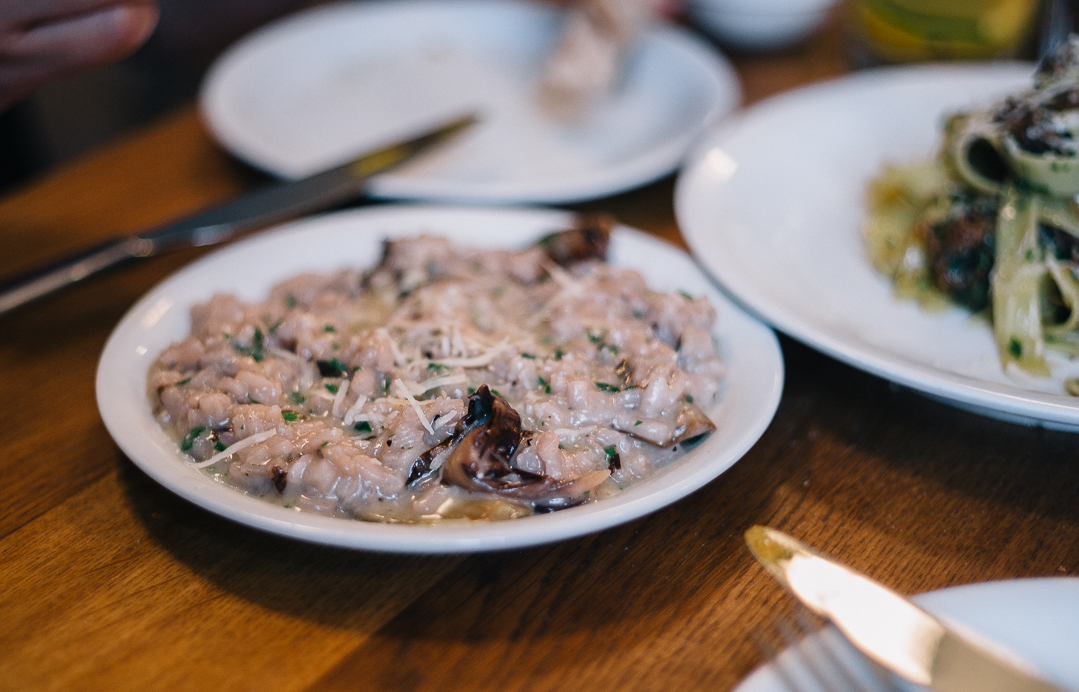 Gorgeous aromas of toasted radicchio. I suppose it also imparted the pale thistle colour to the risotto. Warming stuff, al dente rice with just the right bite. That comfort feeling.
Oxtail, black olive ragu, fetuccini, £9.5
Full flavoured, rich slow cooked gorgeous winter warmer of a ragu. This was just superb. Olives give the ragu this alternate riff. I liked it a lot. No tricks here, just damn good pasta. Another plate please !
Roast pork belly ala Normande, apples, bacon & crispy sage, £15.5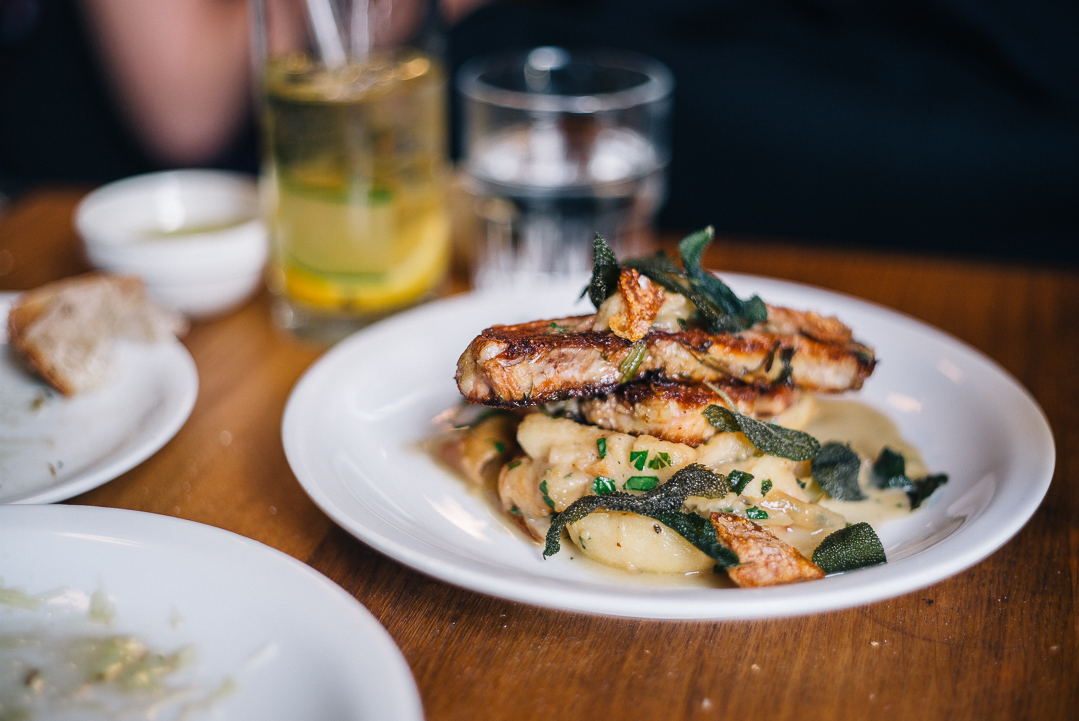 Really good apple sauce and cracking crackling, but upon reflection, I didn't remember much of it. Nothing wrong with it, just nothing spectacular I guess.
Rice pudding, creme brulee & brandy soaked prunes, £6.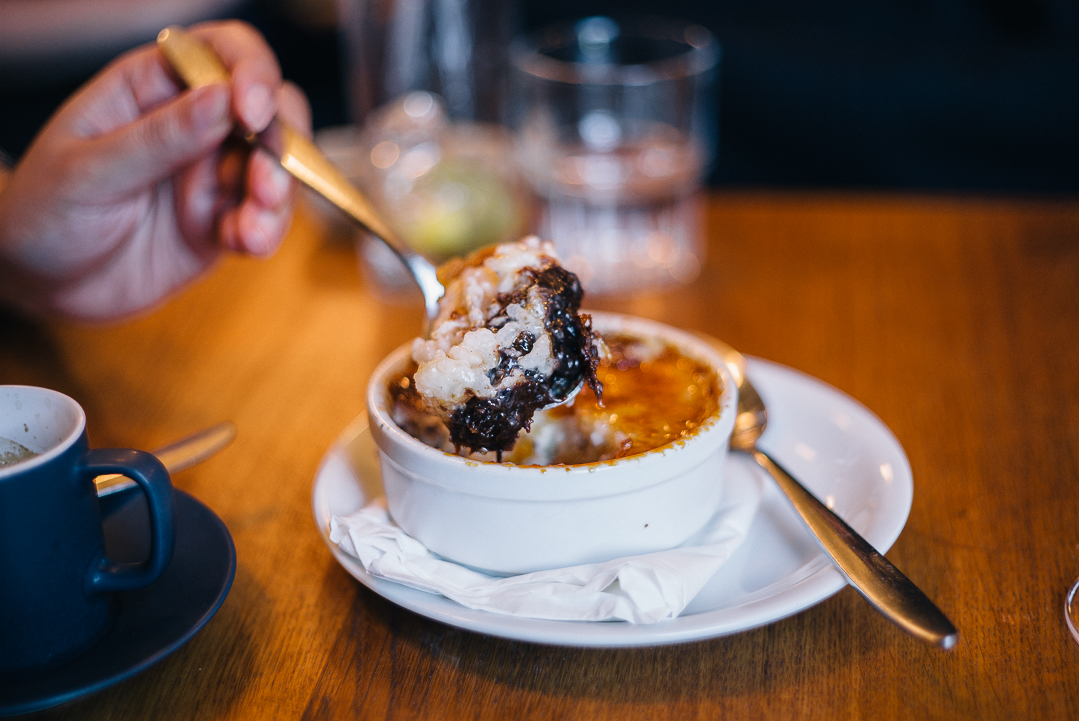 This was a little confusing. The rice pudding itself was delicious with these gorgeous prunes, but the brulee was unnecessary. Warm and gloopy sensations were ruined by the sugar crunch.
Food plus coffee, an ice tea (not great and for £3, so avoid it) and a beer, the bill was £61.87 for two.
Just like Polpo, the dishes here are so apparently simple that it's a complete surprise how delicious each spoonful is. The product of good cooking and ingredients, I suppose, though the recipes here feel more personal. Recipes from Tom's secret cookbook. Food he makes for himself in private time. Homestyle. The better half wants to attempt the radicchio risotto over the holiday period. She loves the recipe.
The spirit of Polpo is obviously present in Tom's solo act, though the menu is quite different from the former. It's only been a few years since the fashion of Polpo was all the rage, even so, visiting Oldroyd gave me this oddly retro feeling. Fashion never quite matches up to its memory I suppose. Still, there are some loving plates of food flying out from this delightful outfit and it is another lovely local for you lucky North Londoners to put on the list.
Details
Oldroyd
European. Small Plates
£35pp
344 Upper Street N1 0PD
Tel: 020 8617 9010
Tube: Angel or Highbury & Islington