What can I tell you about Nuno Mendes that you don't already know? He has come a long way since his Bacchus days and his restaurants are an integral part of the fabric of London gastronomy today. His latest voyage takes him to Spitalfields Markets with a totally down to earth setting that could not be further away from the glitz of Chiltern Firehouse. This is almost like a caffe, a mellow, inviting ambiance that reminds me of Bread & Wine, but also reminiscent of coffee shops in Macao. I don't know. I'm reaching for the Portuguese connection. Wooden Rabo de Bacalhau chairs, white marble table tops, varnished original plank floors, egg-shell painted brick walls. Open all day and unhurried.
The menu is easy like that too – a love letter from their formative years that took them on the road to toward professional cooking (stardom). They referring to Mendes and Taberna's head chef Antonio Galapito, who has been with Nuno's last few projects, plus a stint at the (also amazing) Lyle's. This menu is relatively brief, a small selection of charcuterie, cheese, sandwiches, daily grilled chops and tinned fish done in house.
Service here is fantastic – they do their part in creating the relaxed atmosphere – , a lovely bunch who love talking about their food.
Monkfish with Fennel, £7
Scallops, brown butter and walnuts, £6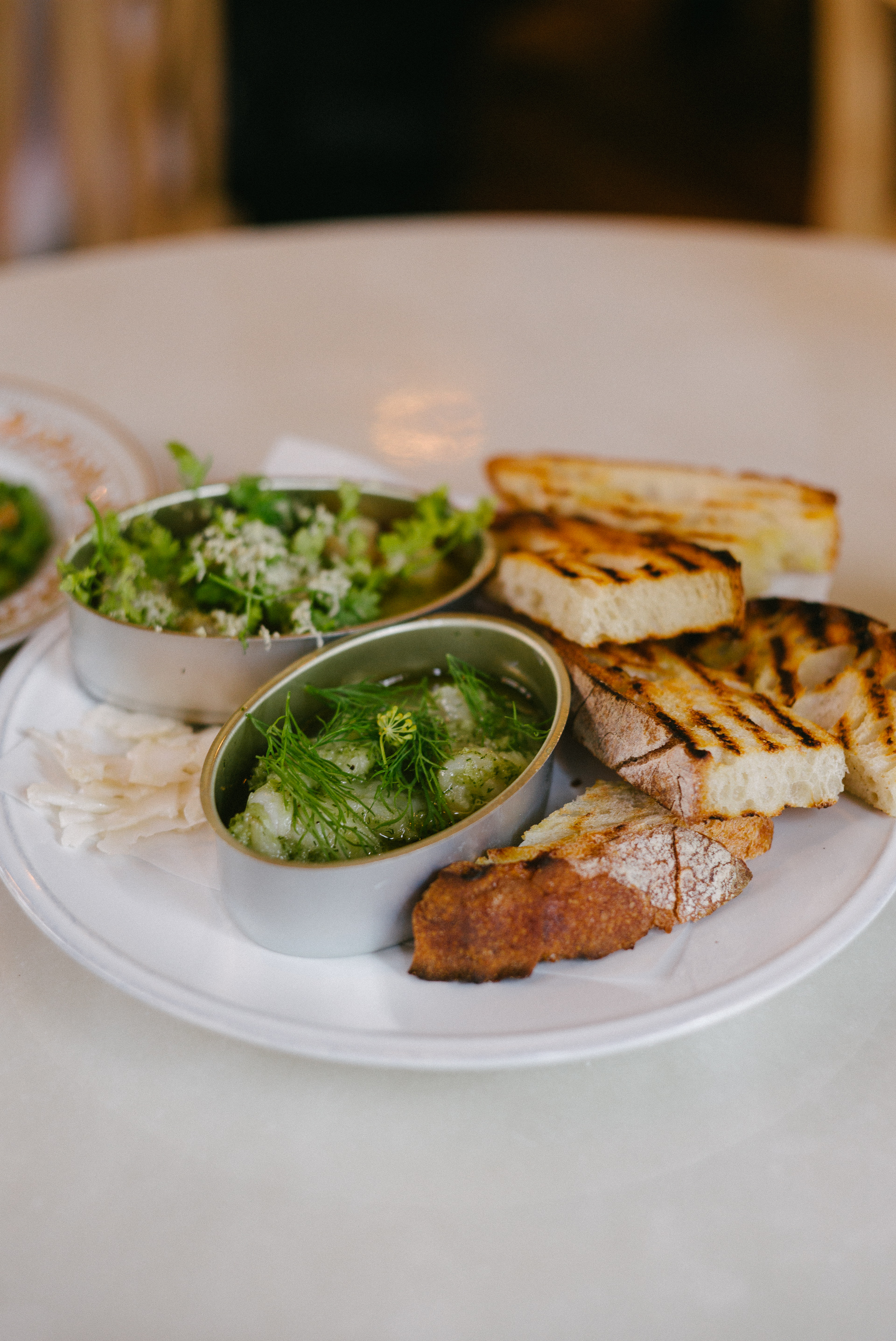 The seafood came with succulent and mellowing textures with its natural flavours just hanging on the fringes of this zesty, salty olive oil. Presumably, the seafood has been marinated in it for an appreciable length of time and then sous-vided to protect the natural textures.
A simulation of canned food, but better, fresher (livelier?), tastier. It is very salty though, so you'll need to get the grilled bread soaking with the olive oil to capture the full effect. Delicious by design.
Peas, egg yolk, broa de milho, £8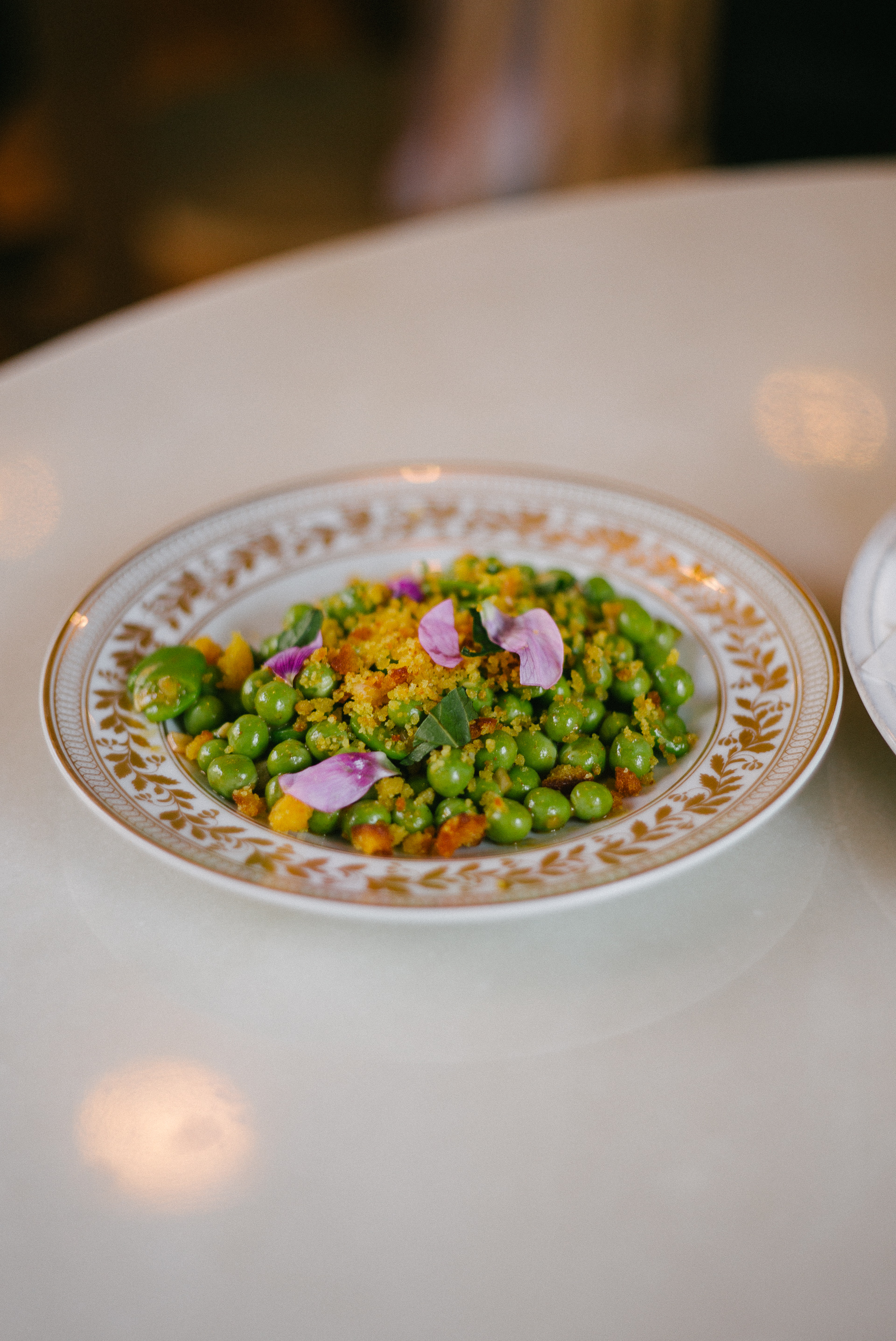 Crunchy peas and beans – seems quickly blanched – with fried cornbread crumbs, but not much sight of egg. Just simple and sweet, like a natural version of the breakfast dish.
Pork Bifana, yeast mayo and fennel, £8.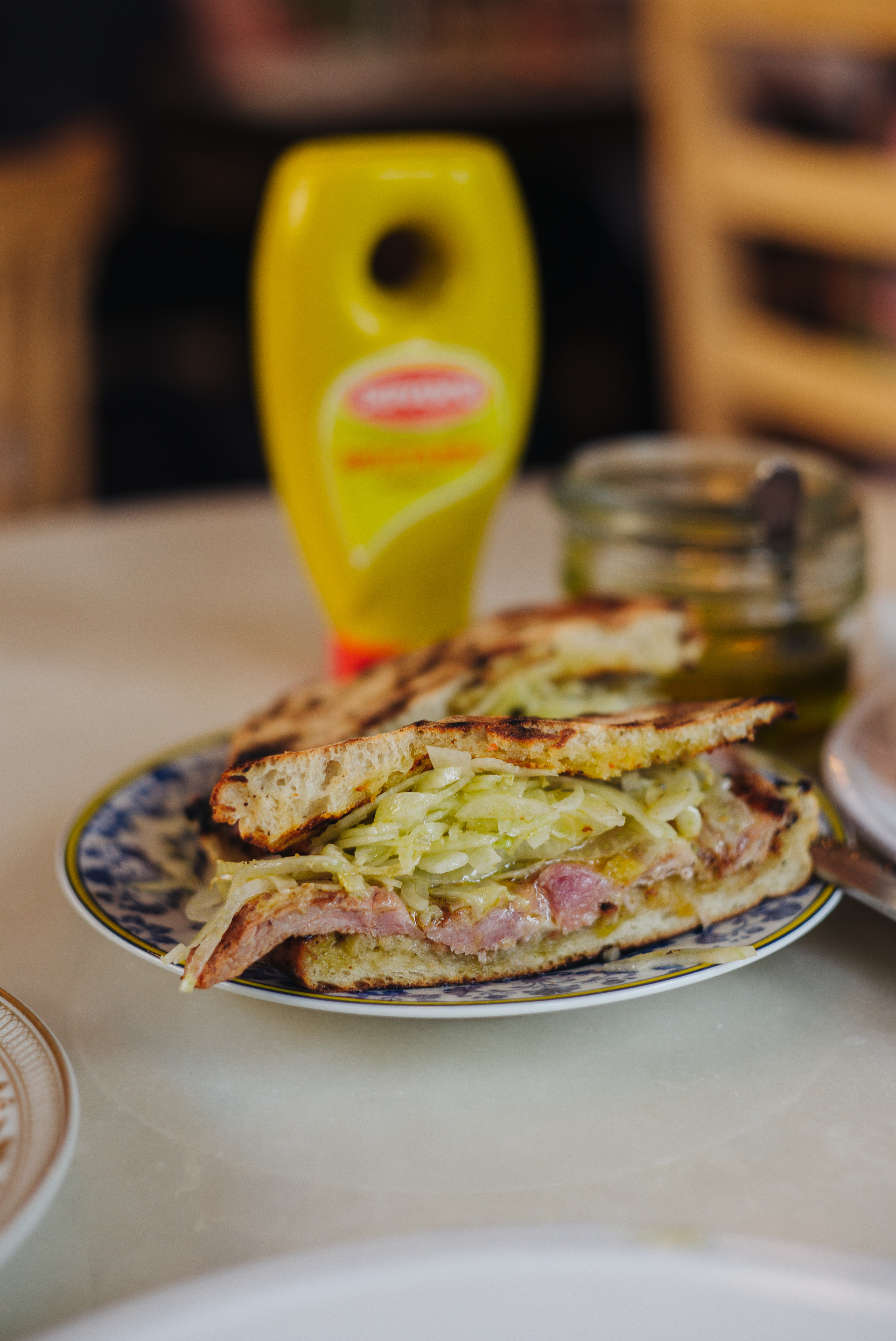 Nothing precious here, a decent sandwich prepared with decent ingredients. Delicious, just like the internet says. You'll love it. Inside the toasted doughy ciabatta are crunchy fennel, well seasoned pork, grilled to a juicy pink center. A swift rub of the savora mustard just completes it.
Farofias, £5
Coffee, £2.60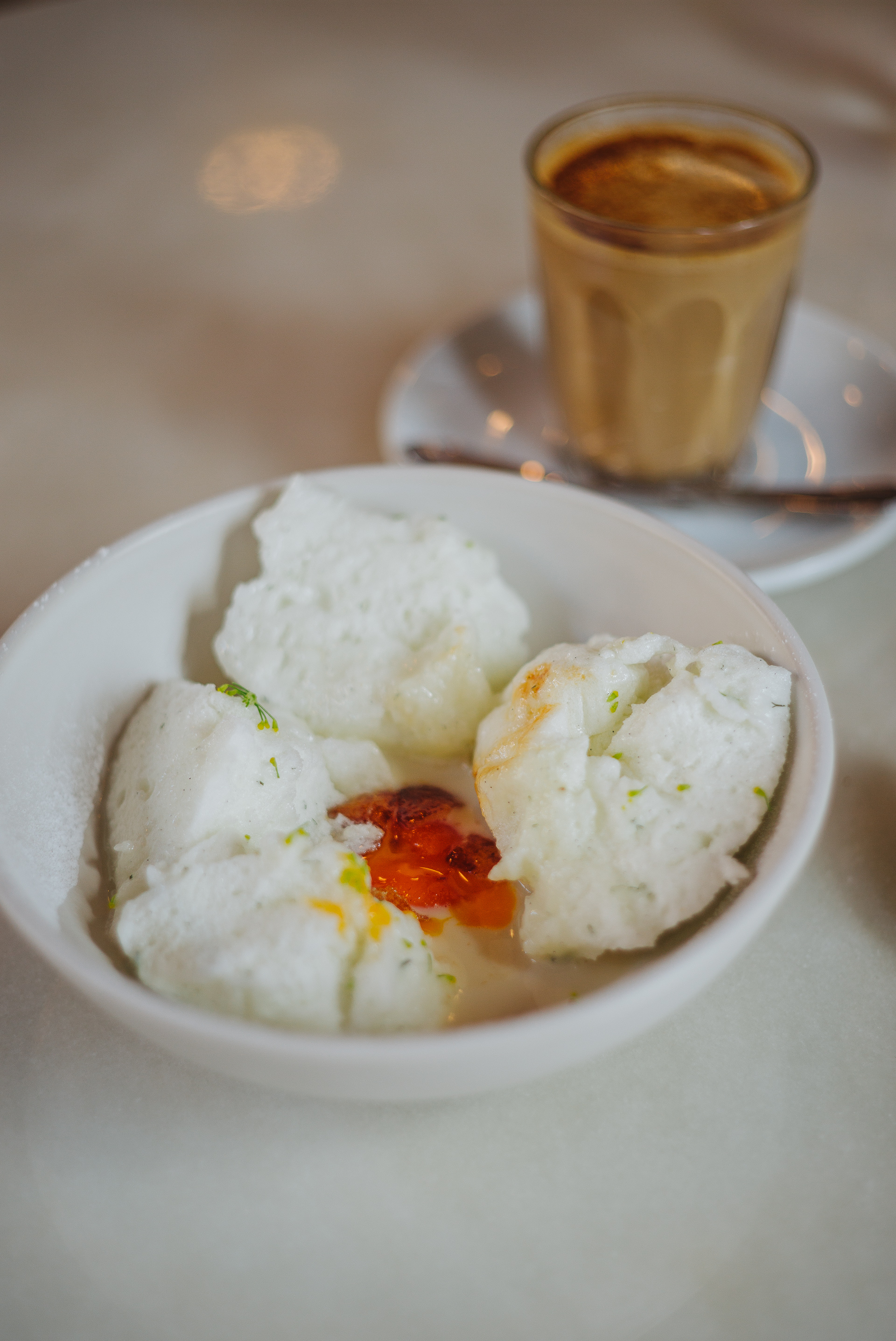 Poached meringue floating in a fennel infused milky soup. My waiter explained it all to me, especially the skill involved in coaxing the yolk to form, but admittedly, I was enjoying the meal too much and didn't write any of it down. Sugar, eggs, milk and fennel. Nice take on the classic pudding.
I paid £43.32 for all food and a beer. This breezy setting is not cheap, but there's so much quality everywhere you look, a lovely spot, especially for lunch. On my visit, I noticed some interesting grilled specials too such as very-old Barossa Ox aged for 100 days, and so I think a table for 4 seems like the best way to try the variety of sharables, and specials. Just take a look at all the variety on instagram. Beautiful stuff and worth a visit, if you haven't already been.
Details
Taberna Du Mercardo
£40pp
Portuguese
Old Spitalfields Market
107b Commercial Street
London
E1 6BG