I remember meeting Alexis in person for the first time at his eponymous Gauthier, brimming with optimism and energy, his love for his profession and his name above the door really coming to fore. I love the cooking, I think deserves to be at the 1 star level (even if the bib hasn't restored it yet) and this is only reinforced in subsequent visits last year. I still think it is one of the best value fine dining menus in town where you can eat four courses (supposedly any dish from any section or all from the same section if you like, in whichever order you wish) for £50.
So I was more than a little excited when I got wind of his 2nd restaurant in London which opened last Spring. Aptly named, perhaps as a homage to his favorite fungus, it is located within a boutique hotel in Chelsea, 11 Cadogan Gardens, with the same kitchen also catering to the rest of the hotel's food needs.
Tartufo is more Italian than French, or perhaps it's Italian with a French accent – A reflection of the head chef's recent career profile, the young and very talented Manuel Oliveri. Manuel had his formative years with Andrea Berton, Paulo Teverni and Nino Graziano and eventually landing in the Gauthier kitchens in 2010, prior to this assignment.
Much of the Gauthier ambiance is present at Tartufo, the glitzy old-fashioned fresh white-cotton comfort level, with same slightly off-kilter but light-hearted service delivered through a couple of familiar faces from ex-Gauthier & Roussilon front of house teams. The only exception for me is the basement location, so while it's cosy & private, the windowless room is a bit of a bummer to sit in.
Tartufo is even better value than Gauthier, £25 for 2, 3 for £30, £40 for 4, with the menu arranged in the traditional Italian structure. This meal was way back in May 2013 when it first opened and the menu has evolved slowly through the months. I've been back for 2 further dinners, both subsequent visits as positive as my first.
Primo.
Wild Rocket and lovage ravioli with flowered thyme, veal jus.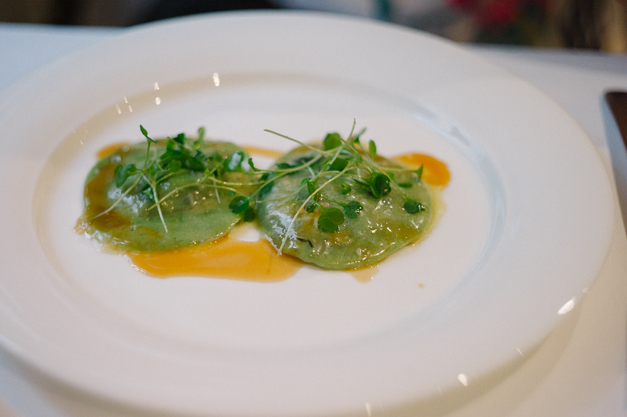 Fresh and light, the recipe and execution just positively shimmers. Excellent stuff.
Grilled scotch scallops with crunchy fennel & orange. Long radish salad, pine nuts, coral jus.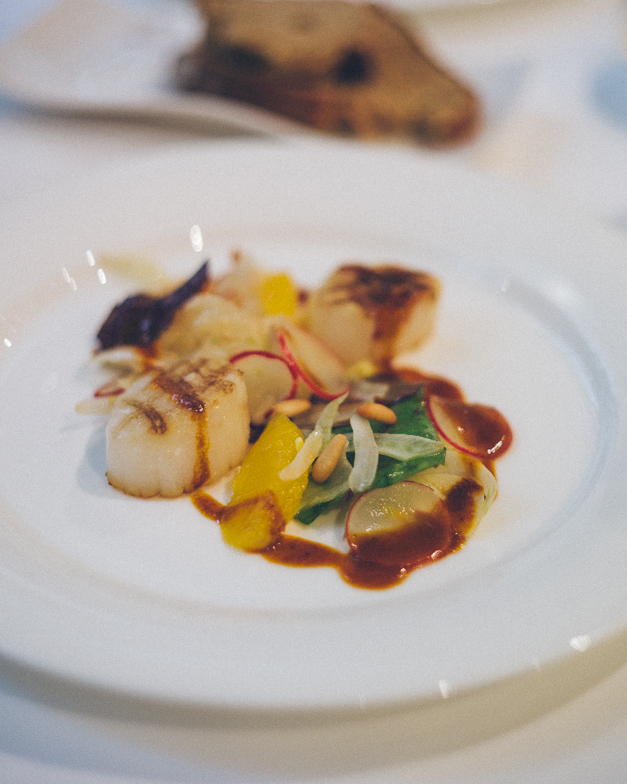 Crusty on the outside, pearlescent and semi translucent on the inside – nicely cooked. Lovely seasoning and brought to life with the vibrant fruit & veg medley it's served with. Spring personified, during the time of the visit.
Secondo.
Black truffle risotto, brown butter, roasting jus.
Of course, we order the Gauthier classic, which Manuel obviously delivers the goods on. The fresh shaved truffle smells awesome, the risotto cooked very al dente as Gauthier, on the chewier side. A singular recipe, well executed, that pure aromatic expression. As good as this this, it is the following truffle which truly delivers the knock out punch.
Black tartufo tortellini, walnut, mascarpone.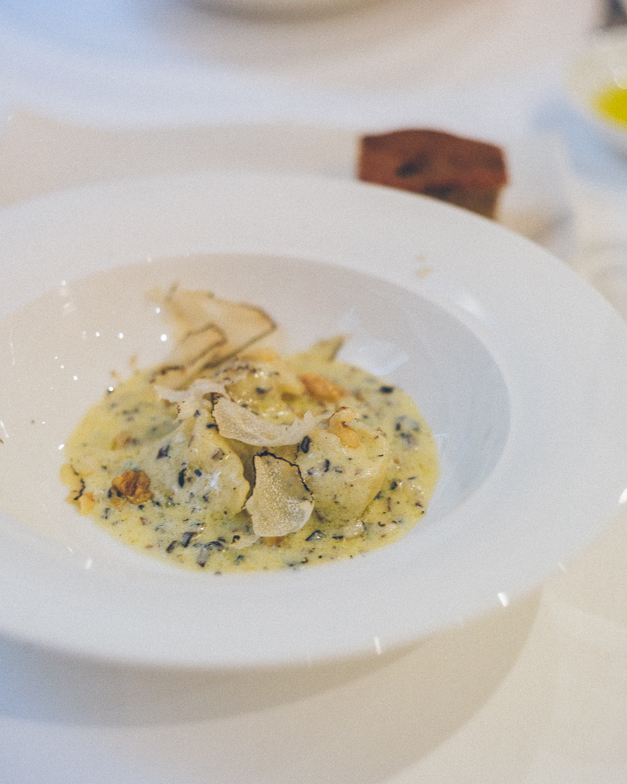 Gorgeous dish, dare I say, a true upgrade to the truffle risotto! Similar in spirit to the previous dish but in place of a calming wash of rich stock-flavored rice, one is greeted with these delicate bubbles of truffle & cheese. The slippery, thin pasta quite literally bursts with warming, rich, nutty truffle-laced juices. What a satisfying experience.
The fresh shaved truffle on a hot plate simmers and fills the air around you (as well as the entire room for that matter) with all the regal aromas of the vaunted fungus. I ordered this on the 3 separate occasions I visited and it's my favourite of Manuel's dishes. I suppose that's the magic of Gauthier's handling of truffles and Manuel's is furthering his boss's talent in showcasing the ingredient to its fullest.
Terzo.
Loin & belly of black spotted pig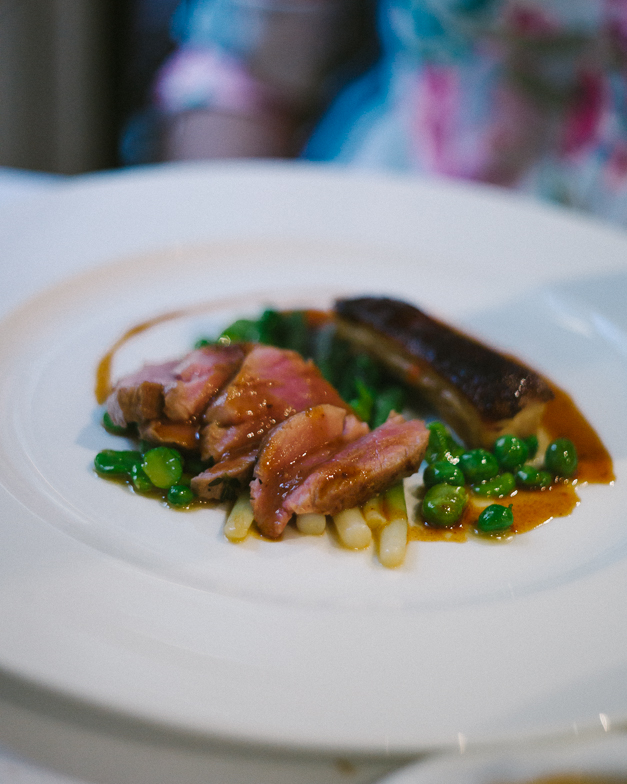 Like Gauthier, meat is handled carefully, always plump and pink, then wetted with good sauces. Beautiful crackling, pork belly and just a nice dish to polish off.
Neck of Lamb, fennel, courgette & peas with thyme & parmesan gratin, garlic & parsley jersey potatoes.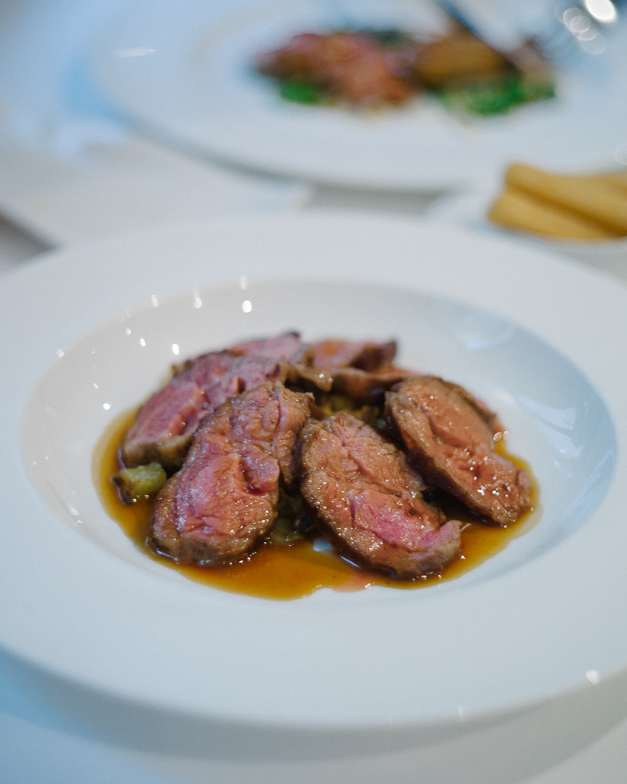 The same extends to the lamb, a plush brush of pink, so juicy, tender but with a nice chew to the texture and just beautifully seasoned. Well done indeed.
Dolce.
Conte Di Cavour
It is only apt to finish the meal with Tartufo's take on the Louis XV. The famous Ducasse dessert is disguised as chocolate bar, with walnut, praline and crystal-free, pacojet made lemon ice cream on the side, to wash down the decadence. What can I say? The rich liquid chocolate layer, the chocolate ganache and praline feuilletine is every chocolate (or KitKat?) lovers dream. While the bells and whistles are nice mods, I still prefer the unadulterated original.
While I show my reverence for Gauthier perhaps a little too heavily in this blogpost, Tartufo does stand apart in its own right as a massively good restaurant. The recipes walk the line between the two cuisines which Alexis and Manuel practice and the best recipes are really excellent. Across the three visits, the quality seems consistent (most recent in mid Nov 2013) and I find little to fault. Manuel certainly good at his job and Tartufo is a great addition to the city. Afterall, you can't go wrong with a dining room that smells of shaved truffles every night.
Details
Tartufo
Italian-French
£30pp Lunch / £50pp Dinner
11 Cadogan Gardens, London SW3 2RJ
Tel : 020 7730 6383
Tube : Sloane Square
Did you enjoy reading this? You can subscribe to the Newsletter. Alternatively, you can subscribe to the RSS feed.