…in my dreams, they are delivered through sealed message tubes passed directly from the Arzak to Ametsa kitchens, through an elaborate infrastructure of pneumatically controlled subsea pipelines underneath the Bay of Biscay. On one hand, it should be obvious that quality of food is controlled by proxy by those wizards in Donostia. On the other, perhaps there is substance to this rumour of self-sabotage. The Arzaks may not wish for it to do (too) well lest it eclipses the original.
A 'celebrity' restaurant then is what Ametsa is, like those operated by the Marina Bay Sands in Singapore, which attempt to transpose those culinary experiences – so rooted in its locality – to an alien environment.
Securing a booking was difficult and a late Friday lunch in mid April was the earliest I could manage. So I was a little surprised by the empty lunch service. May this be due in part to the rush of lukewarm reviews that has flooded the internet so far? It's only been open for a month and yet it's already been shot to death by the London media. This social proof has definitely coloured my expectations, in contrast to before it opened, though some part of me still thinks that any spinoff by the world's most famous culinary family could only produce nothing less than greatness. While it is possible that I will someday visit San Sebastian, right now, Ametsa is the closest I will get to first hand experience of Juan Mari & Elena Arzak's hallowed cuisine.
The tasting menu isn't 'too expensive' or at least it is not out of step with the competition. It is £52 for lunch but has been expanded to cover four rather than three courses with petit fours and amuse bouches (in mid April 2013). Add £16 for 3 glasses of (decent) wine to pair with the food and the damage doesn't seem so bad. The dinner taster is double the money (which seems quite bad), with a few extra courses. ALC, on the other hand, is hideously expensive at £12/£30/£30/£12, so I went with the taster.
Chorizo with Mango; Rice with Fish Mousse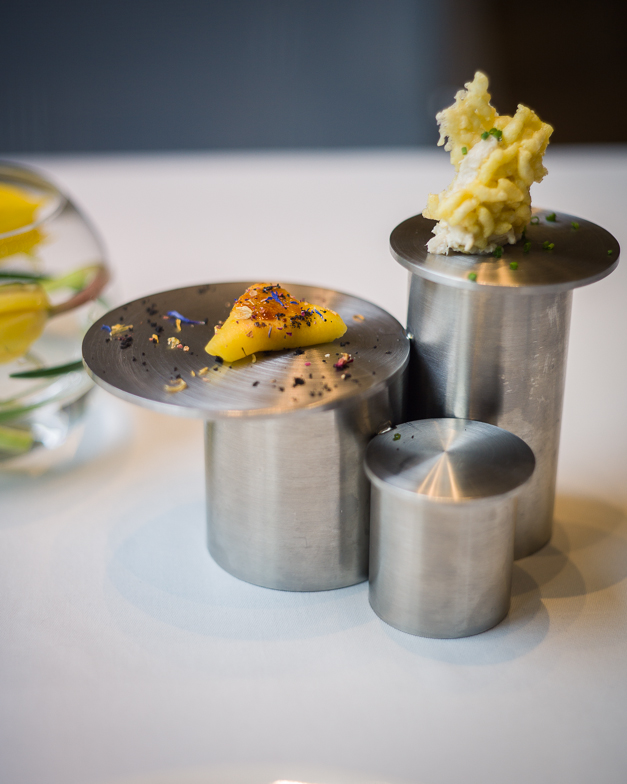 Chorizo wrapped in sliced mango and another rice crispies fish mayo sandwich… yeah seems nice, but nothing overly exciting.
From Egg to Chicken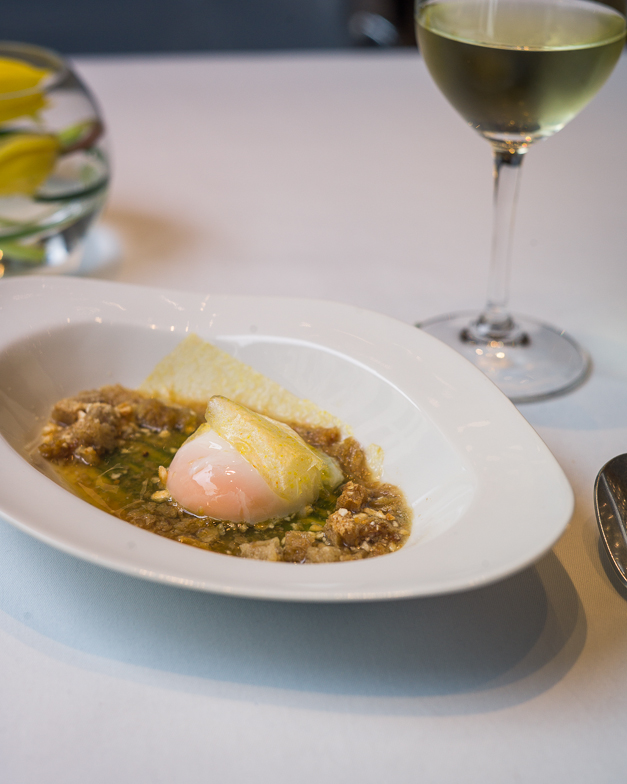 So …softly boiled eggs, with chicken-skin flavoured muesli yes?
Apparently there's high level trickery going on here, with paper made from yolk or something placed atop an egg, delicately coaxed to readiness at low temperatures, with a warm chicken broth poured over it by the table, supposedly to complete the poaching process. For all its complexities, the egg did taste quite special. Especially the egg white, so delicate in a polished, opalescent-like manner, almost unworldly, unnatural, a little baffling but delicious. Chicken skin bits were nice, and so too the gentle broth, that tasted very balanced. Good egg. But still, just an egg.
Mackerel Green and Black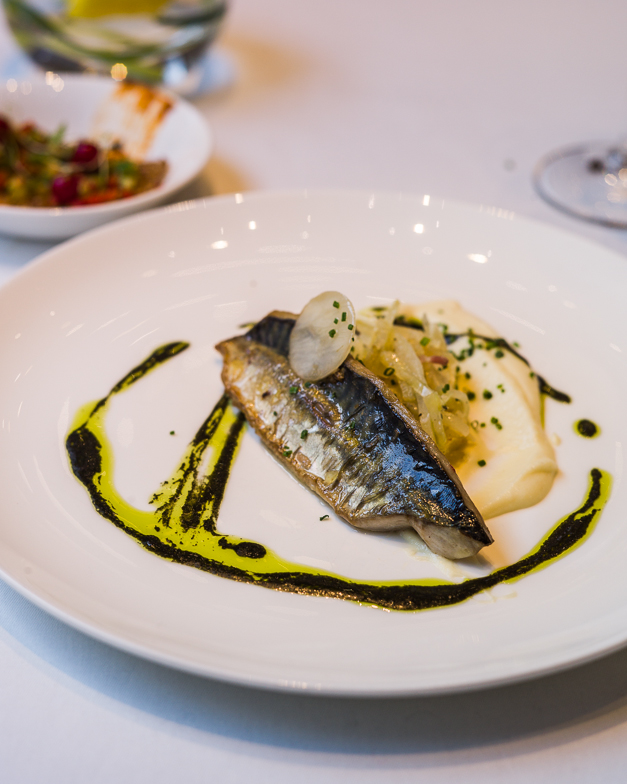 I hazard a guess that the fish was pre-marinated, grilled to apparent perfection. The textures were unnaturally great, so juicy, so flaky, plump and tenderly silken. Such sweetness and deep brininess. Almost as singularly precise as Hedone's version, though this is arguably better. The celeraic cream was good and an orthodox compliment to the fish, but I was most impressed by the sort of over-stuffed, Rivita multi-seed wafer with a surface area made up of more seed than wafer. I felt this seedy, oily richness did enhance the flavours of the fish. Only problem was how small it was – I could've done with at least another fillet.
Really tremendous cooking here, perfect even, but as the previous dish, it's something a few other London restaurants can do just as well, so it doesn't break new ground, even if I would be quite happy eating this again.
Beef Fillet with Aged red wine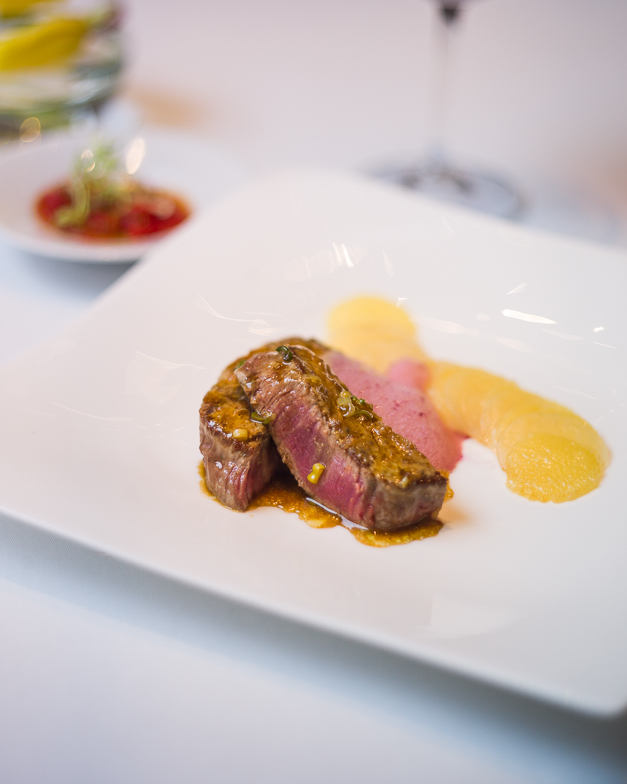 Tender steak, simply pan-fried, that tasted perfectly fine. The chicken sauce that was poured over it too smelled fantastic and also tasted fine. But then, it's a good steak that smells like a good roast chicken that I felt clashed badly with warm pineapple. Not entirely sure if 'aged' red wine refers to bottle age or vinegar? Either way, the function of the foam was not obvious. Nice individual elements, but the flavour combo didn't work for me.
French Toast with Mango and Coconut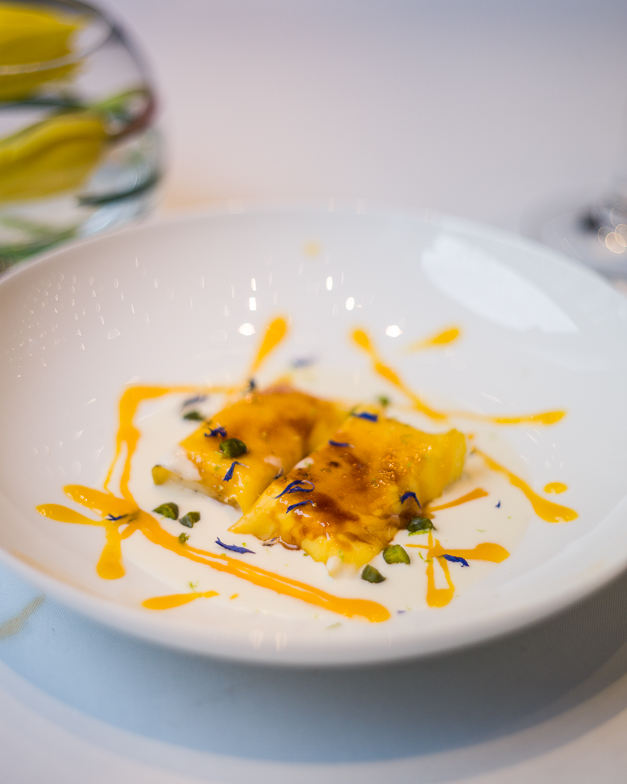 Wow, I liked this. The smell of fragrant mango & coconut from the warmish brioche soaked in custard or egg or something like that, and I think wrapped with mango. The custard 'soup' if I can call it that, was reminiscent of a really good mango lassi. The flavours were all in the right place, it's certainly a very nice pudding, but like the other dishes, it didn't seem all that surprising, exciting or unique.
Petit Fours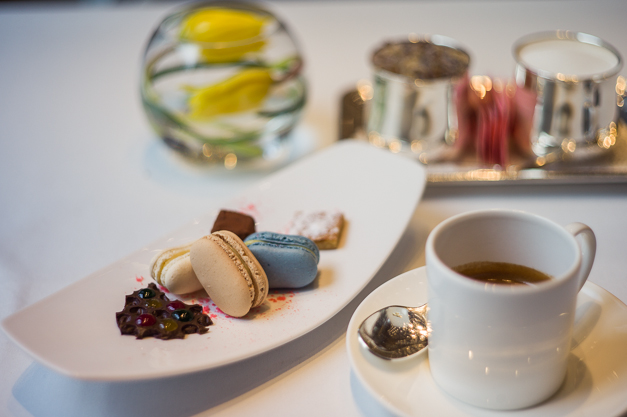 Really nice macarons here. Pillowy consistency, like Pierre Hermes.
I paid £76.50 for one.
Ametsa isn't bad actually, in fact, the cooking is rather decent, so good that in some dishes, it seemed to me like the model of eerie perfection. The problem is, the experience as a whole, isn't great. Maybe it's unfair to expect a meal to be able to rewrite the rules and it should be enough that a restaurant cooks decent food. This would probably be fine if it were any other restaurant, but this isn't and unfairly or not, it looks nothing like the real deal.
Maybe it lacks passion or personal touch or perhaps they have trouble adapting their recipes to local produce. Maybe a paltry set of instructions is an inadequate substitute for the presence of an Arzak in the Ametsa kitchen. It just seems like this project is too much like celebrity restaurant franchising and far from the chiseled Arzak in London we were hoping for. The parallels to Murata's Chrysan (which I never tried) and its eventual fate may (or may not) linger over Ametsa.
The spice test tube ceiling may win design awards, but it gives an ambiance that has more in common with a modern art museum than a cosy restaurant. Like Nahm before it, I feel that too much of the unfortunate stereotype of a hotel restaurant remain for which some of you will have reason to avoid. It is antithesis to the joy of eating out. It doesn't possess the convivial energy of say, Cambio de Tercio. For what it's worth, I think Ametsa is perfect for business meals, but not so much for leisure.
I don't know what the arrangements behind this restaurant are but as it stands, it seems like success or failure may be irrelevant. Either way, the fact remains unchanged, that the only way to have the full Arzak experience is to fly to San Sebastian.
Details
Ametsa with Arzak Instruction
New Basque
Lunch £52 ; Dinner £105
The Halkin Hotel
Halkin Street
SW1X 7DJ
Tube: Hyde Park Corner