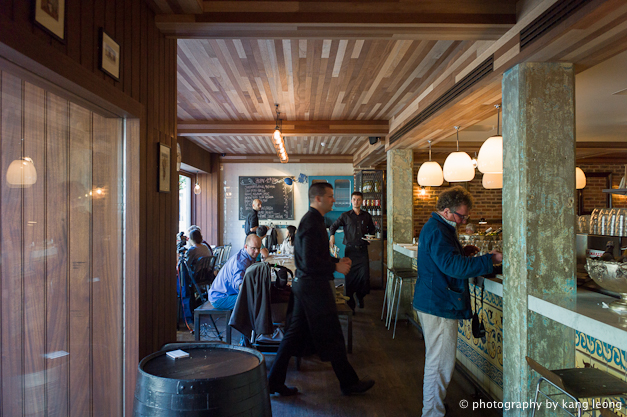 I decided to revisit Jose Pizarro's flagship restaurant which I still believe was one of the best openings last year, along with its sister sherry Bar Jose just a few doors down in Bermondsey Street. The massive weekend queues appear to have completely died down now, as we arrived just after midday on Saturday to an empty restaurant. I had spent the morning queuing up for a book signing with photography legend Daido Moriyama at the Tate. He signed my copy of Record 1-5 (2008 reprint).
The Pizarro way is a simple premise. Sparse selection of ingredients but of high available quality. Classical, accurate and orthodox, very correct and dare I say 'safe' cooking.
I think it's probably why the Brindisa restaurants still thrive to this day, allowing the quality of ingredients to stand out. His food always manages to taste fresh and vibrant, in contrast to all of the innovation Spain's cutting edge chefs have generated recently.
On this visit, those basic recipes have taken on greater complexity with its pairing of flavours and food has achieved even better balance. The ingredients still appear to taste very fresh, of high quality and I think Pizarro a better restaurant today, than when it opened almost a year ago.
Sardines, aubergines, toast, £8.
So here's a prime example of the amazing ingredient combo at work. The sweet aubergines complimenting the oily plumpness of the sardines, whilst cancelling out any residual fishiness. It was redolent of the umami of unagi with teriyaki sauce. Juicy, lively and fleshy. It's just so good. Really nice starter.
Girolles, Idiazabal, truffle oil. £6.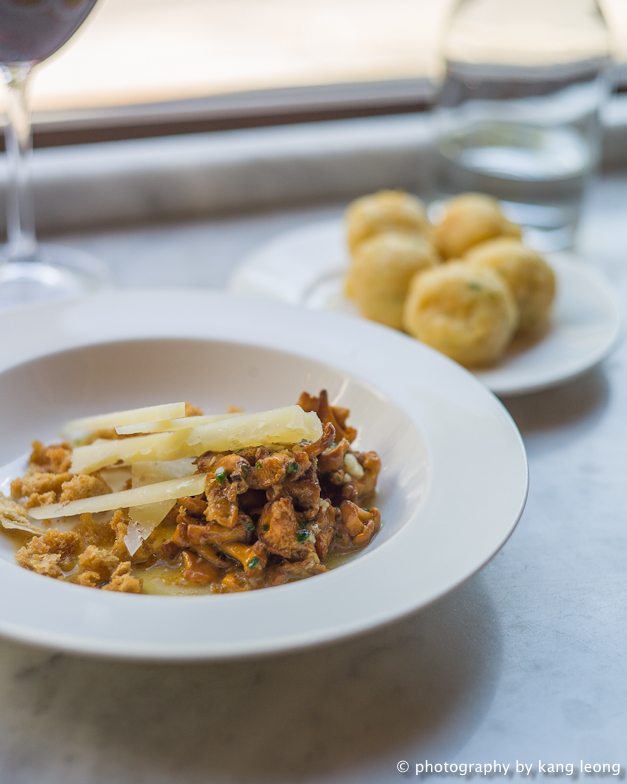 A touch heavy handed with the salt since the cheese itself was sharp on its own. Otherwise the rich mushroom flavours were very pleasing. It needed to be mopped up with bread.
Cod fritters. £6.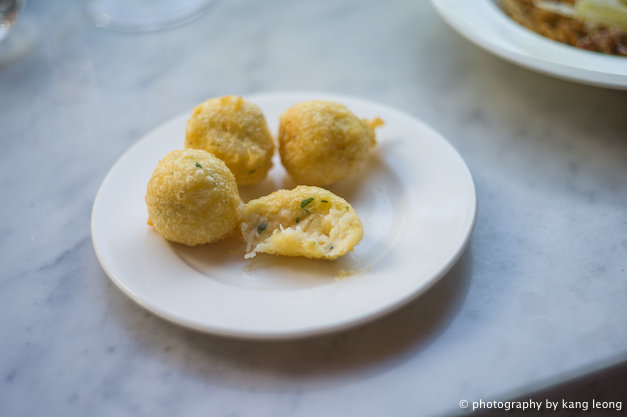 Light and puffy with a rich, air filled potatoey brandade. Yeah nice.
Prawns, garlic, mushroom. £8.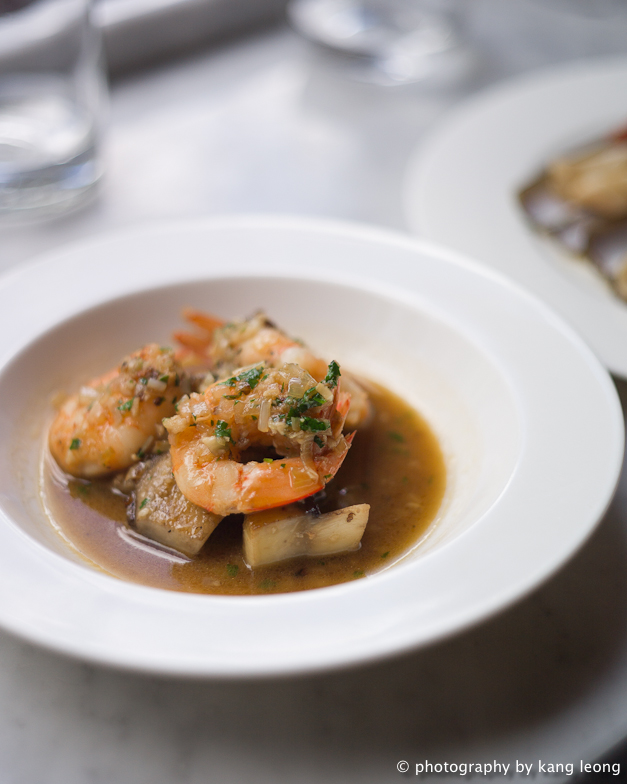 Just slightly undercooked, with an appealing semi-translucent jelly-like texture. Moisture retained, with more rich vibrant flavour. It almost seems a little overwhelming and yet still manages to taste fresh. Kaboom.
Razor clams, chorizo, mint. £8.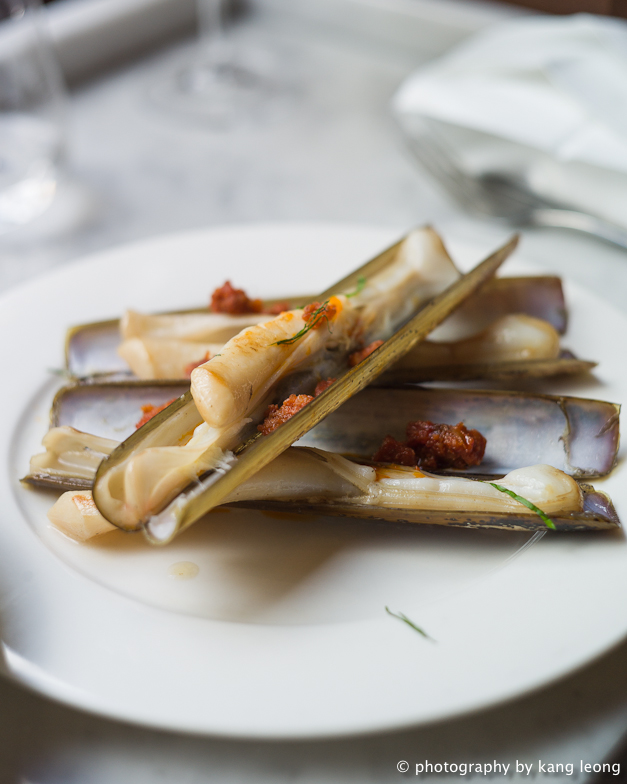 Served as they should be with its shell still on, simply gorgeous stuff here.
Iberico Pork Presa, Jerusalem artichokes, pear puree. £17.50.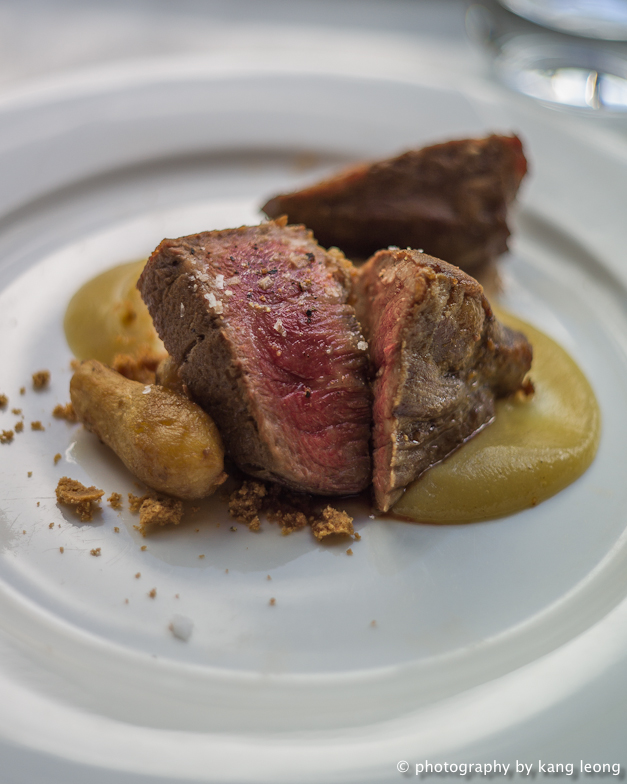 From the Eyre Brothers version to Jose's eventual renditions; Jose has certainly added extra polish to his beloved rare pork recipe. While the the Eyre brothers dish has (probably) become a little old fashioned with its heavy white wine and garlic jus, this updated recipe employs a pear puree that cleans up the palate considerably. It doesn't even feel like eating pork, rather it felt more like wagyu beef, what with all the marbling, tenderness and intensity of flavour. The artichoke gave this nuttiness, working to enhance the pork's inherent buttery flavour. Incredibly satisfying dish, very light for meat which doesn't leave you feeling queasy. For me, this kind of flavour pairing is Jose's genius. He made this dish appear so simple.
Food plus two glasses wine came to £65.50.
I hope Pizarro continues to refine his style of classically delicious food. Cooking may appear minimal but it also comes across with much confidence and clarity. This is the kind of food that invigorates but doesn't mess about with concepts and yet it leaves you with a wide gamut of deep flavours to savour. Easy going, well priced, if you haven't been, I highly recommend you give this a whirl.
(PS: If there happens to be a queue and you become too hungry to wait, try Jose and failing that Zucca, which I suppose is its Italian parallel.)
The Gist of It
Pizarro
Spanish. £40pp
No reservations on weekends and evenings.
194 Bermondsey Street, London, SE1 3TQ
Tel : 020 7378 9455
Tube: London Bridge
Did you enjoy reading this? You can subscribe to the Newsletter. Alternatively, you can subscribe to the RSS feed.