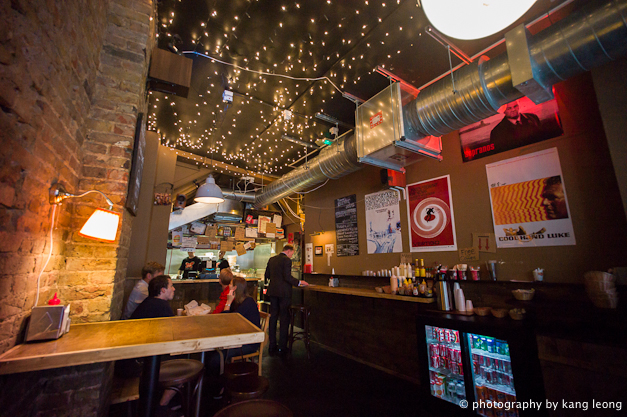 It's not the best burger in London, not gourmet or blockbuster, but it is good. Especially with their house bearnaise.
This London pop-up (so I've heard on Monocle Radio) comes by way of long time Icelandic burger-joint owner Tommi Tómasson who has ported it from his (current) Hamborgara búllan chain in his native country. And who has eaten a burger every day for the last 8 years.
Things are kept very simple here, a standard burger with standard fixings (and American cheese). The patty is made from chuck and this can be upgraded to the steak version, a hache mix of rump, ribeye and fillet.
The cheeseburger costs £5.80 on its own, £9.40 with fries and a drink, while the steak burger is £8.75 with cheese and a small pot of bearnaise. Beef is supplied by HG Walter right by Barons Court tube who specialise in oft-forgotten Scotch Angus beef, which may not be the tenderest of them all, but certainly has good flavour.
The cheeseburger.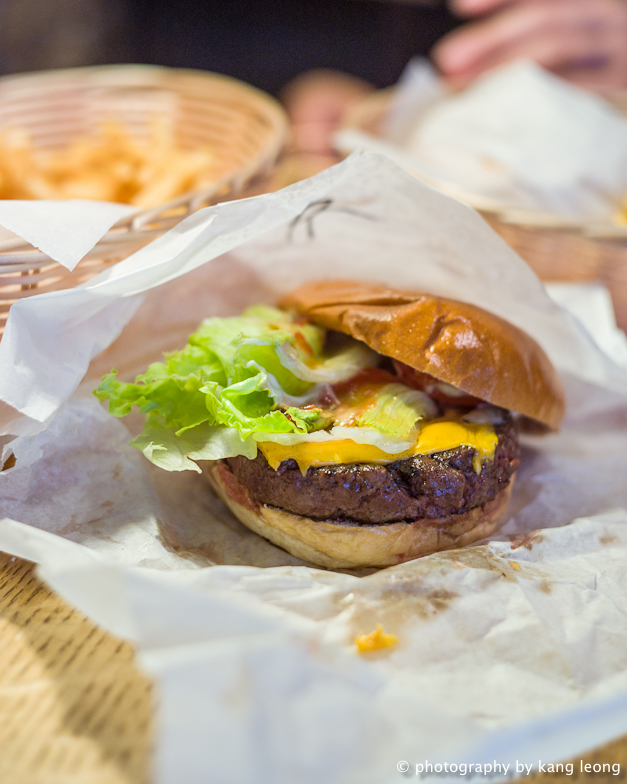 The cheeseburger, dissected.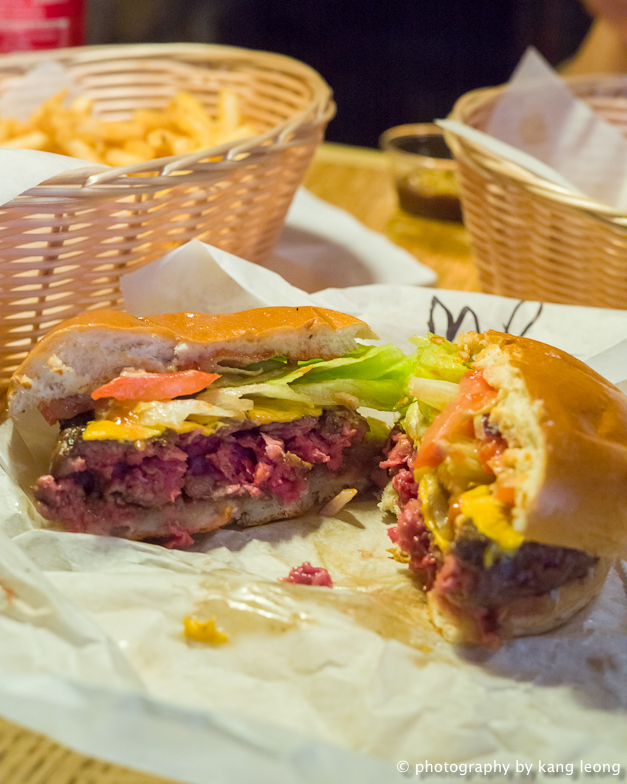 The steak burger.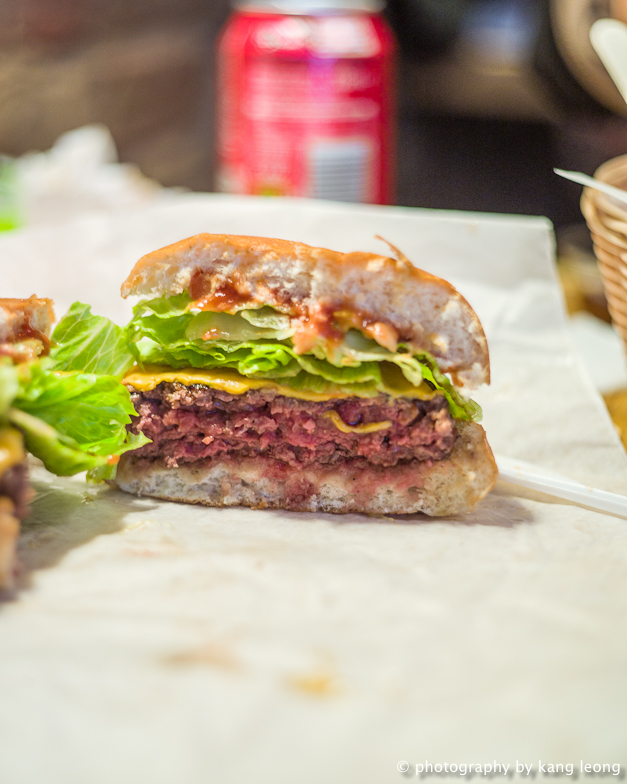 I've been on two separate occasions now and had both versions of the patty and think that both are really quite delicious. The first time it was jammed packed over lunch hour and I think I waited about 10-15 minutes for my order. On the 2nd visit, the place was real quite, maybe one or two tables, and the wait for two burgers was down to maybe 7-10 minutes.
Cooked to medium rare, the standard mince has that dizzying grilled beefy flavour which you and I identify good burgers with. It is adequately seasoned and has a certain greasy juiciness too. The steak version was much of the same but just that bit better. It was chunkier – almost like diced steak, or even cooked steak tartare – and beefier. The patties are clearly the highlight here and of notable quality. It just tastes great.
The glazed bun was sweet, had a nice doughiness about it and is similar to the one used in Byron's recent special burgers (like say the Uncle Sam). I've read that this is made by Millers which already make buns for all the reputed burger places in town including Ad Cod, Byron and Hawksmoor.
I used the bearnaise like a dipping sauce for the burger …and I thought it worked incredibly well to compliment the steak-like flavour and diced beef texture of the patty. Incredibly satisfying.
The space is really quite brilliant. It does have that faux-Americana feel interpreted through European heritage, but then again, that could just be projected from the background story. It's small but not overly narrow, each table is spacious enough and during quite times (with the easy listening tracks in background) it is a comfortable place to enjoy your burger (as opposed to abattoir-like screamfest of Meatliqour). On my 2nd visit, I noticed they offer free filter coffee and (free) house sauce that tasted very much like Thousand Island dressing.
…I've read that they are also BYO, so if you wanted to channel Miles Raymond and have a spare bottle of '61 Cheval Blanc lying around, this could be the place to pop it…
As I mentioned earlier, Tommi's burger doesn't have that mammoth effort feel (like say Ad Cod or Honest for example) nor does it try to reinvent the wheel. If there ever was a London burger competition, Tommi's probably won't finish near the top. It's just so modest in comparison. However, it feels exactly like what burgers are meant to be: fast food, diner style, Joe Bloggs idea of perfect nourishment. It's like the anonymous global franchise before it went global. And this is exactly why I like it.
Details
Tommi's Burger Joint
Burgers. £12pp
58 Marylebone Lane W1U 2NX
Tube: Bond Street
Did you enjoy reading this? You can subscribe to the Newsletter. Alternatively, you can subscribe to the RSS feed.