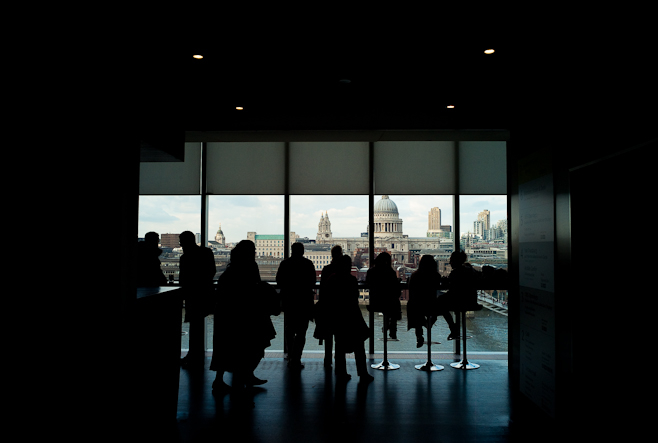 The last time I went to the Tate Modern, I was completely baffled by one of the exhibits. A slab of wood, painted white probably no bigger than 10 x10, jutted out from the similarly pearl white wall. On this wooden plank sat a large jug of what appears to be water. It was placed high enough than I had to stretch my neck. Had my taste in culture been so utterly sucked dry from my now hollow mind after years of watching Simon Cowell produced television shows that I no longer have the capacity to understand modern art? What's going to happen next? The ground opening up with a large crack perhaps. That visit was well over three years ago, I felt a like a complete arse after the completely unsuccessful visit, modern art was lost to me. It was however a memorable experience, the hum of the old transformers, the heart of the former power plant still apparently beating, the iconic erection of it's chimney which so strikingly titivates the London skyline; Modern will always be a museum that intrigues and intimidates. At least for me. I had been pining for a revisit primarily because I feel that my appreciation for art has increased by leaps and bounds in the last three years, and am now able to at least recognise artist names. The current collection is interesting, spread over four wings and two floors and each section of the collection explores the different styles which has come to shape 20th century art, from the surreal to the minimal. I was especially estatic when I saw Ed Ruscha – I know that name, heck I even watched his interview on gas stations. Monotonous man, just like his pieces. Oh but then, the photography geek in me jumped around in joy – an entire room dedicated to Robert Frank. Robert who? Only the greatest photobook maker in history. I was mesmerised with a collection of Frank's original contact sheets beautifully laid out across four panels – the raw images which would eventually become his most seminal work: The Americans. It also happens to be my favourite photographic narrative of all time.
The ultimate plan was to give the Tate to Tate boat – a dedicated ferry linking the two Tates – a go. As It was St Paddy's weekend, the sun had come out to play and it lengthened our journey time so much that the Tates-by-boat trip had to be deferred to later occasion. Instead, we made up our extra time in the museum with a trip to the Restaurant on the 7th floor. Naturally the restaurant has a stunning panoramic view of the Thames, and of the St Paul's dominated skyline. The stunning panaromic view was really only on the river side of London, the other side was frankly quite dull. I wasn't surprised at the busy restaurant; the mess was completely packed to the brim near mid-afternoon. So we stood by the observation deck tended to by a long bar on the opaque end. I spotted a rubbish collecting tug boat trawling the river. The wait wasn't too painful, a quarter of an hour till our vibrator announced that our table was ready.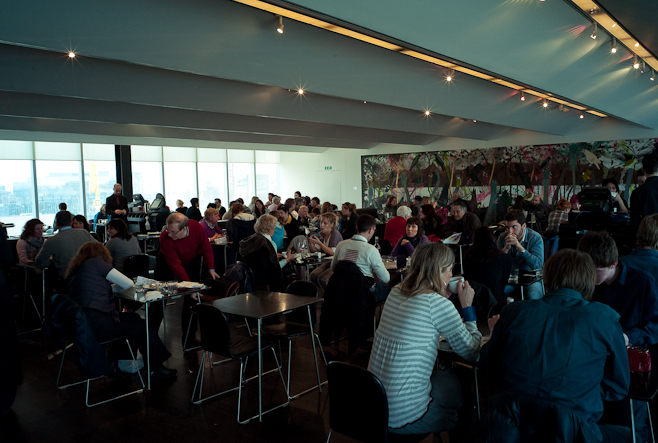 Of course I was hopeful that we would score a table which would let us breathe in the river view and was happy we came close. We were not given one of the tables flush against the glass panel, but the next row down. Oh yes the view, it was good, especially when the sun was brimming with uncharacteristic zealous. Equally a good view was panaromic painting that spread itself across the back of the restaurant. "Cold Mouth Prayer" – an especially commissioned piece for the restaurant – is James Aldridge's exploration of the natural world and extreme heavy metal music. I liked the silver themed backdrop.
Service was personable, if a little slow, and it looked as though the over subscribed restaurant was taking its toll on the staff. The kitchen is headed by Bruce Wilson who's mission statement involves turning the spotlight to great produce, both locally and from the continent. Starters was Grilled Monte Enebro cheese with honeycomb and rocket (£7.50) and rather embarrassingly, a glass of Australian rose – Turkey Flat.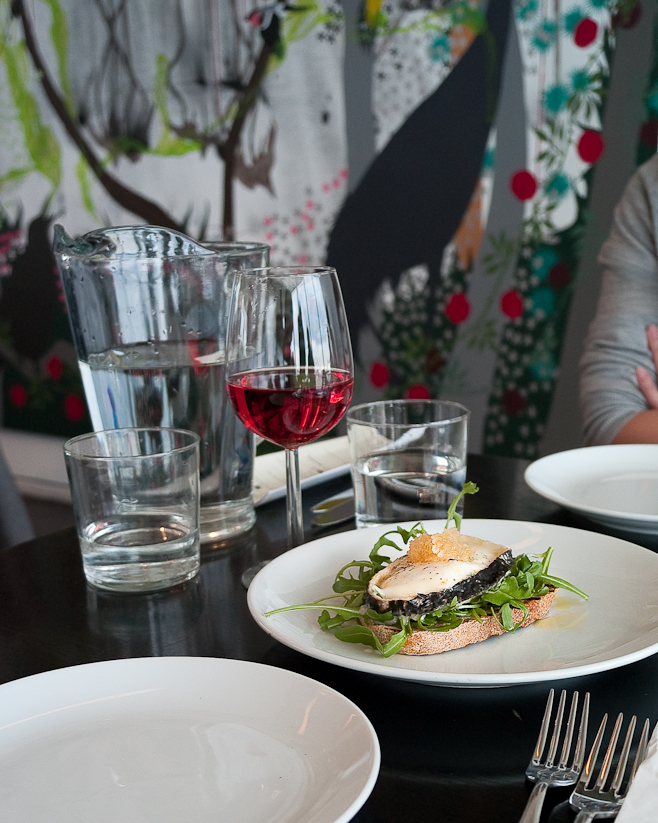 The grilled goats cheese was a revelation taking on the texture of a rubbery soft cheese when hot. It's rind was a striking greenish mould, I dare not eat it. Serious flaming sensations pulsed through my tastebuds, the toasted sourdough did much in absorbing the sharpness of the cheese and the full-bodied barbequed curdled milk was satisfying. Most interesting was the dollop of sugary hit in the form of a honeycomb which sat on top of the cheese – the nectar that presented a fruity balance to the cheese. I googled Monte Enebro, and it turns out it's Spanish and is made by Rafael Baez. It is meant to be a complex cheese that matures rapidly from a creamy lemon flavour to becoming intensely pungent. (source)
I was surprised with the quality of the starters, I have to admit, I thought I was going to eat piss-poor tourist food and feel rip-offed by the time I was done with coffee. I did feel that the menu is a little overpriced though, a paltry piece of potato bread casually broken off from the ends and served on a side plate was charged at £1.55. What, no complimentary bread basket? You got to be joking. We resisted the temptation of nibbling on the bread, crumble by crumble as we waited for the mains to arrive. Forty five minutes, an eternity. It is no wonder the queue was so long. It was just two human beings and bread, no butter even. What utter sadness. Though, I must commend the waiter for noticing the shift in my body language, I had pushed back my chair to cross my legs, and he rushed over to give assurances that our order was no longer on the backburner.
Hell froze over, and our mains appeared. Organic Rhug Estate pork chop, bean & Iberico ham cassoulet and green sauce (£14.50) for me, and grilled whole lemon sole with fennel and brown shrimp butter (£14.50) for the better half. We ordered our coffees straight away, just in case.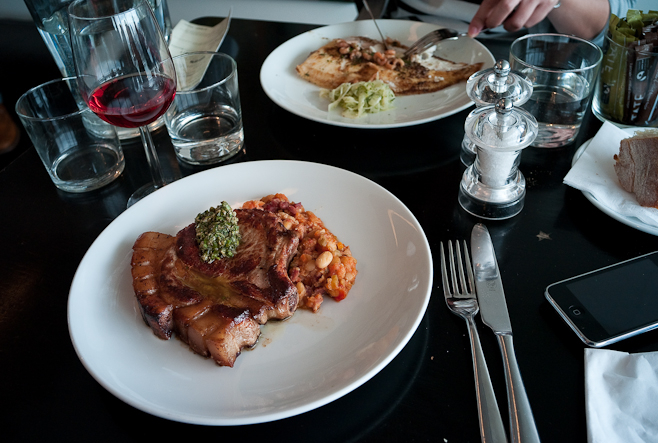 Oh gosh. It was worth the wait. All my incessant whining was positively silenced with the excellent pork – perfect pan-fried heatiness, with a juicy, soft centre. The large rim of fat bursting with buttery flavour, just the edges of it burnt and slightly crackling. A pesto-like concoction layed on top of the mighty chop, I appreciated that it was garnished with capers. On the side, a bastardised version of a cassoulet completed the dish. Tomato flavoured, bacon & beans style – a welcomed change from a standard potato puree side dish. A little reminiscent of a bolognaise and maybe even a ragu on the palate but which I felt complimented the pork well in any case. All in all, I found the dish to be a muscular and colourful rendition of pork chops.
A simply citrusy fennel salad accompanied the grilled whole lemon sole, finished with potted baby shrimps; the fish, another example of a well executed if basic recipe. Our coffee arrived almost too soon, and by the time we finished our meal, it was going cold. Our final bill came to £52 – perhaps the major disappointment in that the meal was not exactly cheap. I wasn't just surprised with the quality of food, I was impressed. Maybe I've had one too many bad experiences of being caught out as a tourist in strange lands, that I have a generally dim view of food aimed at mass markets. On this occasion though, I was happy to see my preconceptions challenged. The next time I am at the Tate Modern, I'm heading up to the top floor again. The view is an added bonus. Food was cooked well, seasoned well, hearty and filling. I could not ask for more.
The Gist of It
Tate Modern Restaurant official site £30pp
Tate Modern, Top floor.
Bankside SE1 9TG
Tel : +44 (0)20 7887 8888
Tube : Southwark or St Pauls
About the Author Kang occasionally creates mouth-watering images for his clients, mostly restaurants. His last commission involved lots of steaming pho and his next project involves shooting plates of fruit, health concious cou-cous and quinoa all to be bathed in a flood of sunshine. He loves food and cameras equally, and his growing photobook collection boasts a copy of "The Animals". Visit his portfolio at kangphoto.com.
Did you enjoy reading this post? Why not subscribe to my feed updates for free. Alternatively, You can subscribe via email.