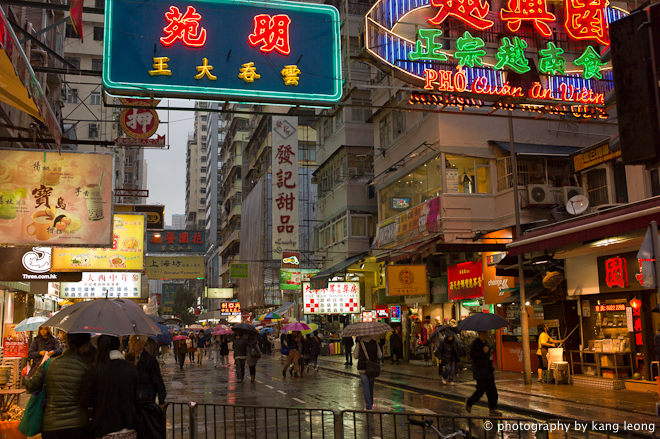 Rain washes down the windscreen. The cloudy, darkened skies forcing the afternoon traffic to dance the immobile jiggle of halogen lamps. As we inched closer toward Mong Kok, I piped up and said to the taxi driver : "You can stop here …I think". He threw a disconcerting gaze into the rear view mirror. Holding his stare, he acknowledged my naive tourist sense of direction with the slightest of nods. The silence was palpable. His cold, dead pan demeanor indicated an explosive character only simmering underneath. The traffic eases ahead, he engages the first gear, and off the car pounces toward the curb. Above us in great neon heavens read "Pho". And other chinese characters.
"$24" He said. Rather curiously, taxi doors in Hong Kong are equipped with self-opening hydraulic mechanisms which (we gather) are controlled by an eject button near the driver. We were now in Mong Kok. Every other shop sold either bicycles or air-operated BB guns or both. Streets were named after vegetables and it is this part of HK which holds the not so coveted reputation as the world's most densely populated area of land. Talk about the atmosphere, this IS the HK Cinema, from the Young & Dangerous franchise to WKW's only surrender to linear storytelling in As Tears go by. I savoured it as a life experience and really it was only fitting that we were to find one of the more unique Michelin restaurants in the world.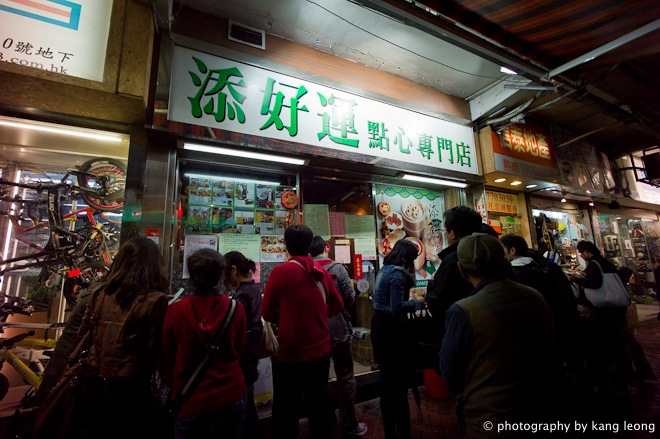 Restaurant may not be the right category to pigeonhole Tim Ho Wan (translating directly as Add Good Luck), considering it really is more of a cafe that serves all day dim sum. Given its rather modest setting, it's a surprise to find it actually has a Michelin star, and by that regard, probably also the cheapest Michelin restaurant in the world. Perhaps because of this novelty it makes it more of a tourist attraction than most of its peers in the same club. However, few actually entertain 40 minute queues at 4 in the afternoon.
My dad and my better half were with me for this one and we decided put our names down for a ticket to join the queue and stood around for a few minutes. We decided on a stroll around the neighbourhood to take in more of the dense ambiance, but really we were just starving as we hadn't eaten since 10am. So we set out to find some piping hot egg tarts in the area…
…and that's when we stumbled into this shop just refilling their stock with fresh tarts straight from the oven.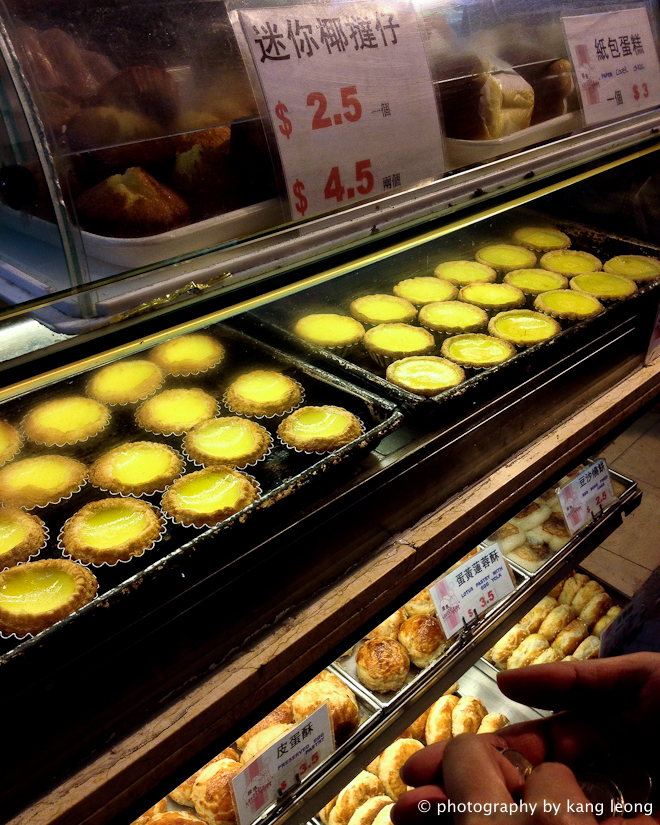 $2.5 Hong Kong dollars is roughly 20p, say 30p each, but oh my stars and squirrels, these were fantastic. True to the former colony's reputation which mightily conquered the egg tart, it tasted like the best I'd ever had. Warm, yolky, creamy, rich rock sugariness sweetness. No tart in Blightly is quite as delicious as this. OK, maybe The Sportsman.
Meandering our way back to Tim Ho Wan, half an hour later, we noticed the queue had elongated, but thankfully we were just in time to have our number called. That was five o'clock, making it a 45 minute wait.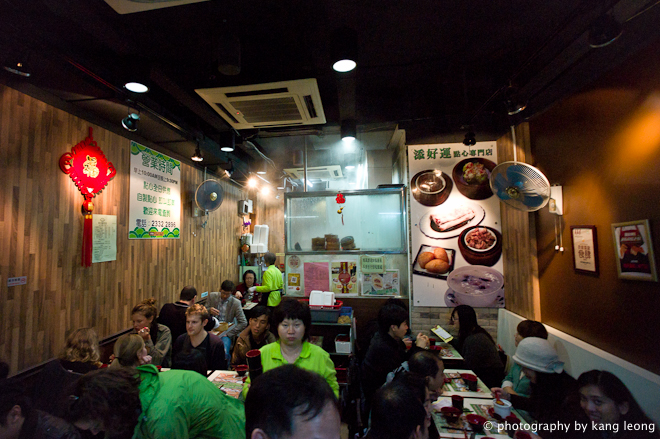 They really weren't kidding when they said you'd rub shoulders with neighbouring diners, it really was an overly small footprint to squeeze 14 or so tables (30 or so humans) into. Tables didn't have millimeter s between them, they had zero space. For the tables positioned against the walls, waiters had to pull the table out to insert the inside person and push the table back in to lock in the diner. Mongkok may be the most densely populated region in the world, but one cannot help but see the irony in this translating inside the restaurant. We didn't just rub shoulders, we were rubbing elbows, and knees, occasionally knocking heads, and I was certain I could detect body odour emanating from the stranger beside me.
Ah but in a sense, this felt like exactly what the tourist in me was looking for – a sense of truly slummin' it with the locals, I relished the grittiness of this experience.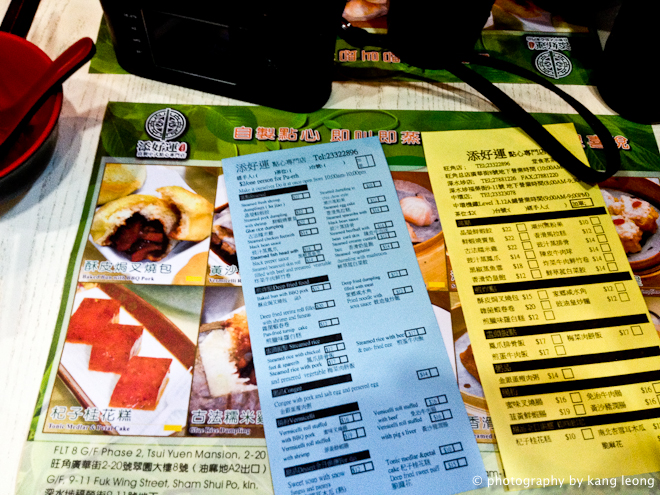 The menu was very short even for a dim sum place, with about 25 items in total. A blue one in English and yellow (hmm) in Chinese. Tick what you want fancy, each dish was about £1.20, the priciest was around £2.
Baked Char Siu bun, HKD$15 (£1.25)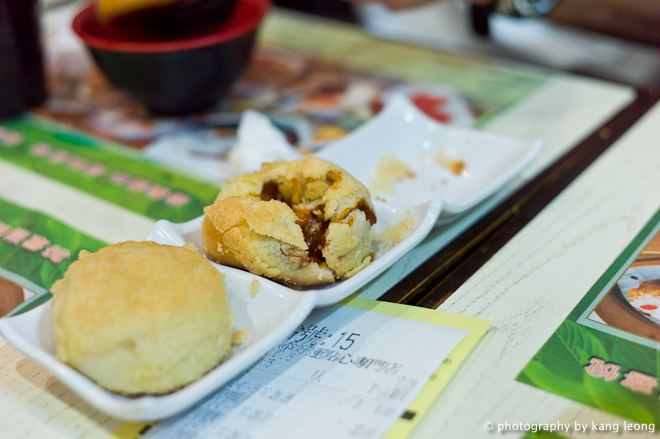 We started with their signature char siu buns, which is nothing more than 'bo lo bao' (a kind of sugar crusted Chinese 'brioche' bun shaped like the skin of a pineapple) stuffed with char siu. As you can probably tell, the exterior was crispy, but underneath it was pillow-soft and deliciously greasy. Almost like sugared and buttered toast stuffed with honeyed bbq pork. I can't say I didn't enjoy it, because I did, but you know that food snob in me thought it was a little bit of a cop-out for a supposedly dim sum specialist to shun the classic steamed char siu bun. Which in itself takes tremendous skill in getting the classic fluffy, cotton-candy consistency of the bun.
Steamed creamy custard bun, HKD$12 (£1)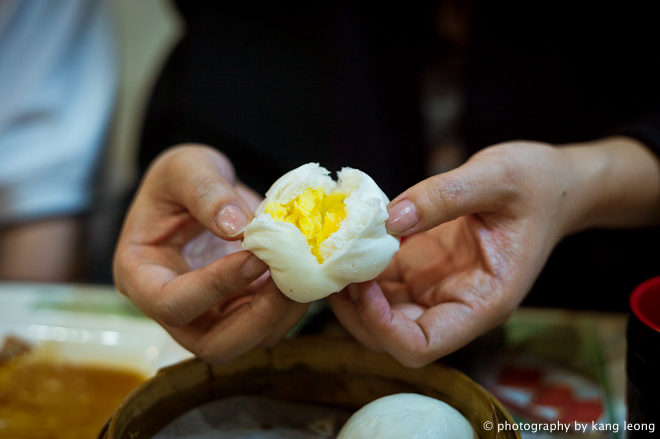 The steamed bun did eventually make a cameo but with custard instead of pork. It was evident that while the effort was not bad, it certainly did not even come close to the fluffy cotton candy perfection I thought it may do.
Congee with pork, salted egg and preserved century egg, HKD$14 (£1.17)
Good juk. Piping hot (as it should be), had great creamy, blobby consistency, well-seasoned. Nothing overly spectacular however, not better than the CCTs around HK I think, but still it was nostalgic.
Prawn Cheung Fun … 'Stuffed vermecelli roll' , HDK$19 (£1.60)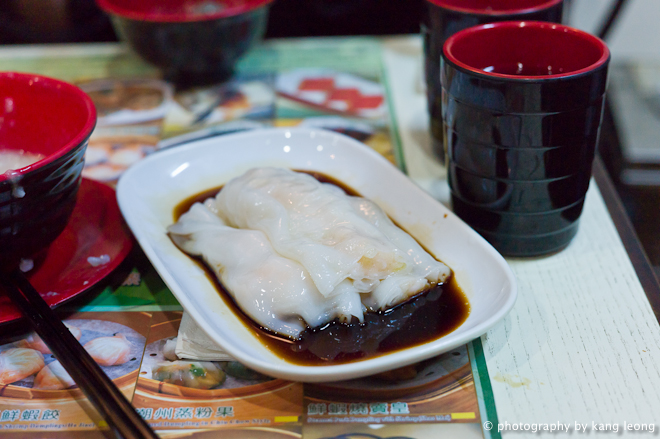 Yeah these were textbook. Chewy bouncy rice roll, fleshy shrimp and a schweet soya sauce.
Pan-fried turnip cake, HKD$12 (£1)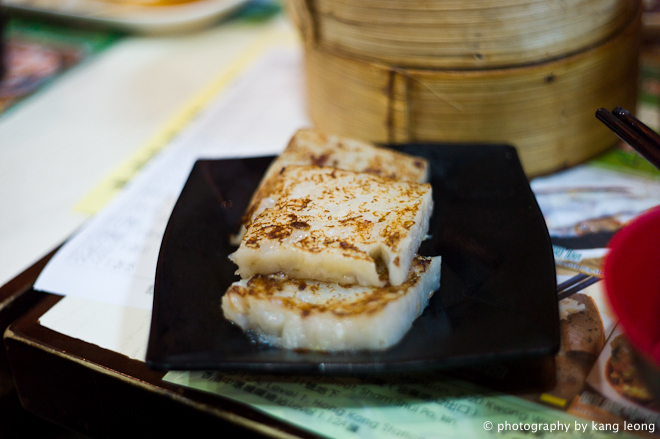 These were really great. Sizzling, starchy and rooty.
Steamed vegetable dumpling with mushroom HKD$14 (£1.17)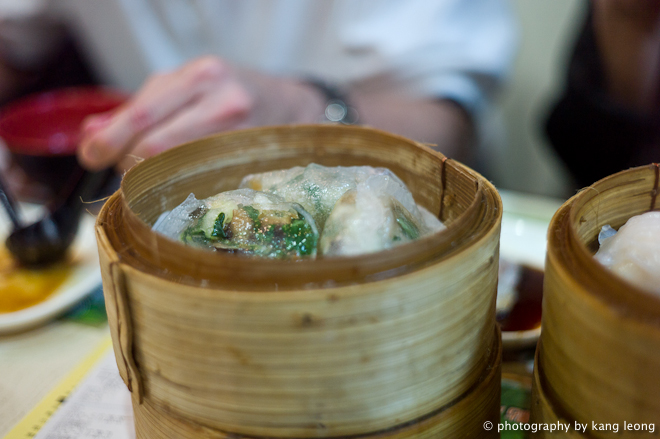 These were criminally bad. Too bland and flavourless. It felt as if the kitchen were dissin' vegetarian dishes. Major fail.
Steamed egg cake, HDK$12 (£1)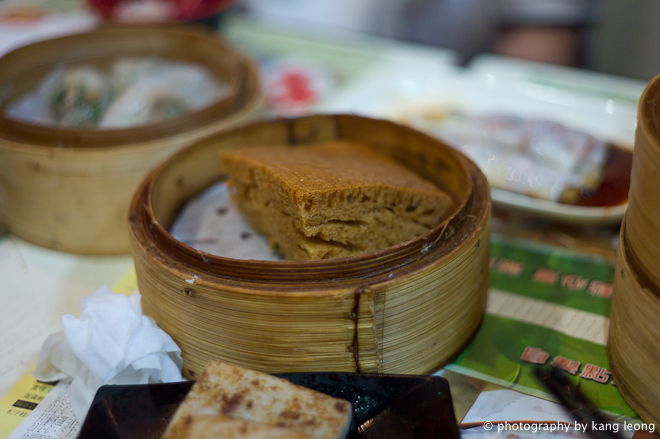 …. nothing to say really, I was bored by the time we got to the Chinese Chifon. Like the rest of the meal, I thought this was good, but certainly not great.
Steamed beef ball with beancurd skin, HKD$14 (£1.17)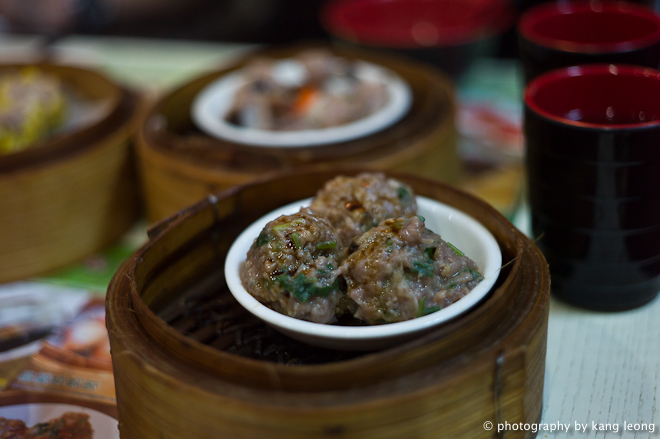 Chinese meatballs, sesame oil and soya sauce in the place of pomodoro. Meh.
Hargao, 4 for HKD$22 (£1.83)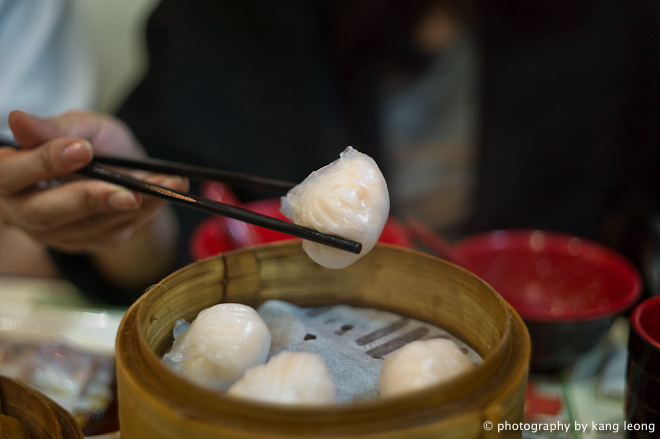 Before you can say '3 for life, 4 for death', that superstition is rubbished here – they serve 4 in Hong Kong see, and it's 4 for value for money. Right then, this must be the acid test and my verdict is…
…it wasn't better than Princess Gardens (in London), in fact it was distinctly ordinary.
Shumai, 4 for HKD$22 (£1.83)
On the other hand, we thought the bland-looking shuimai were delicious and the only dumplings which showed pedigree. Rich pork and rich mushroom flavours fighting against the buttery flavours of pork fat with every bouncy chew. Artery-busting. Applaud.
Steamed spareribs in blackbean sauce, HKD$14 (£1.17)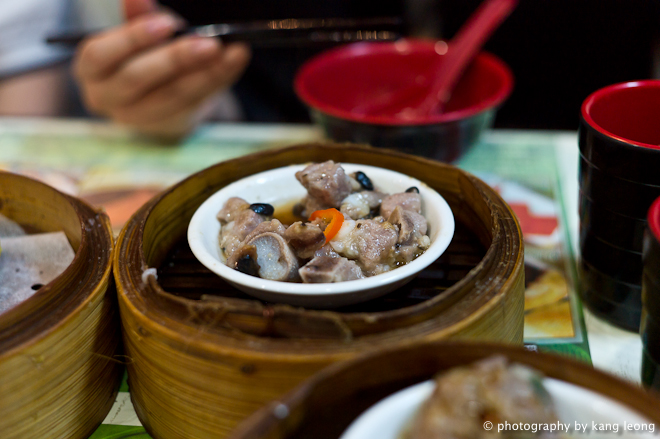 Oily, piping hot, fatty and a highly addictive way to end a meal sucking on bones. Good spare ribs.
We also had their much publicized medlar cakes (same as Lung King Heen) and another extra delish plate of charsiu cheung fun. All in all, it set us back HKD$221. That's £18.4 for three or just about £7 per person. Tea was probably free. Considering we ordered half the menu, this was definitely the cheapest michelin starred restaurant in the world.
As we finished, I asked my dad if he thought the meal was 'excitable'. Firstly, he said I was a shitty blogger who had hyped up too many disappointing meals for him, and then he followed by saying that it can't be exciting when it's such a torturous eating environment.
Hah.
The day before we were at Super star restaurant and I had this gem of a shumai, which I thought was brilliant: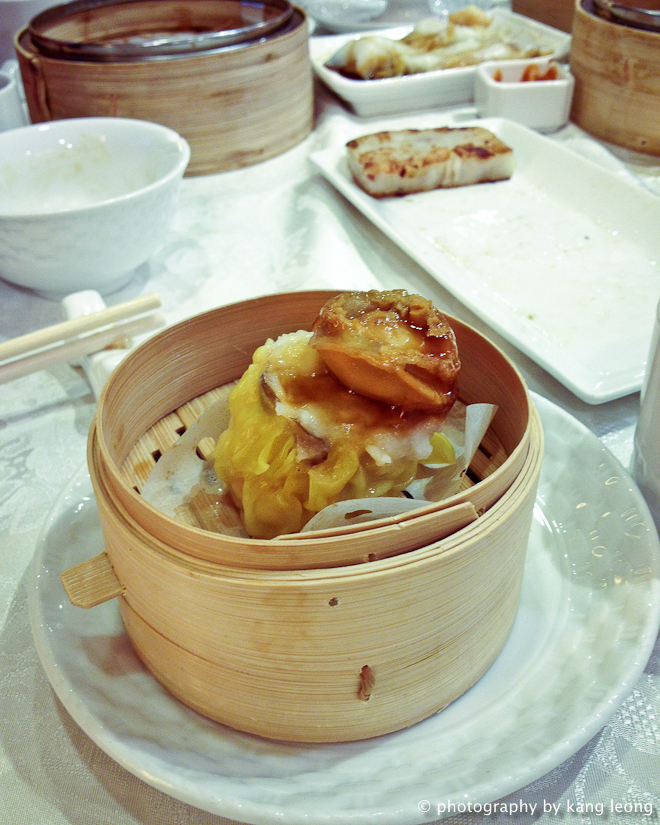 Don't beat me up for being old fashioned, but I havent been back in 15 years, and the sight of this baby abalone topped shumai, was to me, a kind of dim sum heaven. Chow Yun Fatt used to eat at this restaurant, his photographs hanging by the entrance.
In truth we thought the quality of the food was pretty good, but the same could be said of most dim sum in Hong Kong. Of course, the issue is with expectation, that because of the macaroon, we had expected Tim Ho Wan to better its competition. Sadly it didn't. It's probably rated because it is cheap, but definitely not the other way round. It was certainly not worth queuing up for.
Maybe at some point in its history, it once deserved its reputation as a dim sum specialist, but in 2012, it looks like they have sacrificed quality to take a bigger slice of the pie. This 'michelin restaurant' has expanded with two branches carrying the same name and looking dangerously like it is franchising to capitalise on its aforementioned vaunted reputation. Of course, there is absolutely nothing wrong with restauranteurs wanting to expand their business, but as the gastro-tourist, I can't help but feel the mystique dilution when visiting this modest star winning dim sum cafe in a neglected corner of Mong Kok. Word of mouth can be a powerful missionary for great restaurants, but it can easily become its nemesis too. I note that Chef Mak is ex-Lung King Heen (the only 3 starred Chinese restaurant on planet earth) and do wonder why the HK red guide is so fascinated with the talent (both past and present) at the Four Seasons Kitchens.
If you think you're gonna get the dim sum moment of your life after a painful (because you're likely to be hungry) queue, then you might be a little disappointed.
What you save on the bill doesn't really justify the wait and the eating conditions. You'll have to be quite careful with the soya sauce spillage, cheung fun can be slippery business after all.
But it is ridiculously cheap and for that alone, it probably deserves its accolade. But the next time I am in Mong Kok, I know I won't be trying to get into Tim Ho Wan, I would be stuffing as many egg tarts as I can from a few doors down instead.
The Gist
Tim Ho Wan
2-8 Kwong Wah St, Mong Kok, Hong Kong.
10am-10pm
MTR : Mong Kok
Links
Tansuann , CNNgo , Mark Wu , Half Eaten , Hand picked by Ron and Chris , Telegraph
Did you enjoy reading this? You can subscribe to the RSS feed.