Yay, I visited the world's very first 3 Michelin starred Chinese restaurant.
First things first, check out the much advertised view from the Four Seasons Hotel restaurant (let's face it, this is the view that has won it the coveted third star) :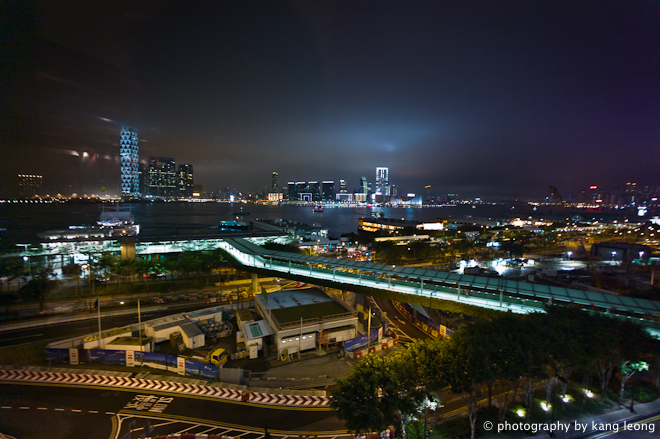 Hong Kong has long been considered the gastronomic jewel of South East Asia. It is home of the well-travelled Cantonese cuisine as it is in nearby Guangdong.
For the latter half of the 20th century, Hong Kong flourished become a powerful economic beacon – and one of the last bastions of British colonial power – in Asia. Perhaps the greatest gift the Brits gave to the lands which surround the fragrant harbour was free trade.
Eventually, Britain's 99 year lease hold on HK expired in 1997, and as you know China couldn't wait have custody of their beloved lost port returned to them. Today, Hong Kong still plays the major part of the 'One Country, Two systems' structure of governance, which in many respects is in place to preserve HK's sustained prosperity.
I was 13 when I was last in Hong Kong (my Cantonese never progressing past that time) but my food memories of the city of islands are as fresh steamed fish. Blue-boned 'swimming' garoupa, piping hot egg tarts, chewy-bouncy prawn cheung fun and the 'dissolve-on-first-bite' char siu buns. We visited my uncle who has been living in Hong Kong for 30 years. He's silvered into gentle folk since I last saw him.
The standard of food in Hong Kong is very high, cuisine is the pride of Chinese culture. Certainly when it comes to Cantonese cuisine, really, you're not gonna find better Cantonese food in the world.
Ok now for my ill-informed bloggero insights. Here's how I see it right – Cantonese food in HK is revered because of two very important cultural outlooks on eating:
1. HKers are obsessed with super fresh produce, especially seafood, hence the colloquial to insist on 'swimming fish' when ordering at a restaurant. Which is to say that the fish is alive and flopping and not frozen before cooking. This is why you see fish tanks greet diners at the entrance of Chinese restaurants. Plus its good Feng-Shui. So I think.
2. 'Eat it while it's hot'. Personally food that is served piping hot burns my cat tongue, but in HK cuisine, it leads on from the fresh produce. Cook it while it still flops, and eat it as soon as it slides off the sizzling wok. When food goes cold, it goes in the bin.
So.. for LKH to beat the standard HK cha chan teng to three stars, Chef Chan must have had to pull off some amazing feats.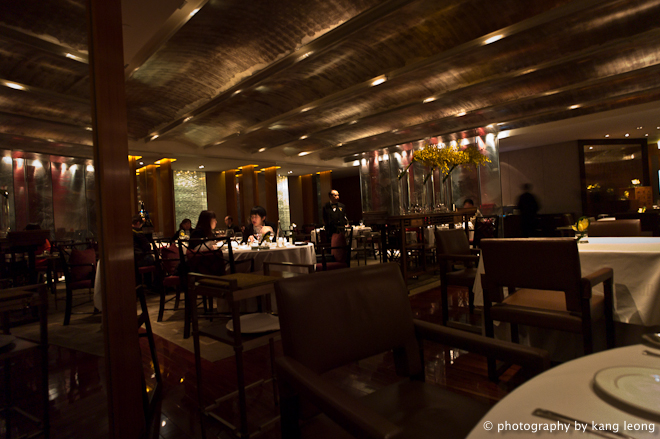 Say what you like about hotels in London, but personally I think hotels in London are too old. South East Asia's hotels are overly luxurious in comparison. These days they aren't exactly cheap, but still they are more affordable, considering the scale of luxury. I stayed at The Langham in Tsim Sha Tsui (itself hosts T'ang Court, Michelin-starred Canton restaurant) and I was blown away by the luxe, and excellent housekeeping.
Anyway, so we take the lift up to 4th floor to LKH. The restaurant is massive. Low-lit, with low wavy brass ceilings, huge bouquets of flowers. To be honest, this is just another anonymous high budget, high brow, money-money ambiance. Probably look goods on film, but really its devoid of character. This is where the guy who employs your dad's boss's boss would take his client to keep his employees employed.
Except for the view of the most famous fragrant harbour in Asia of course. At night with all the Kowloon lights glowing, and high speed vintage junks jetting about the water – I have to say, I was impressed.
The menu – oh man it's long. Too long, you best read it yourself. It reads like any Chinese banquet menu with 'big fish and big vegetables' such as abalone, fish maw and birds nest. However, the old world premium ingredients which get the bib all excited, like foie gras and truffle are also present. To me, that kind of thing is a little unnecessary, from a cynical point of view, it's just the chef fishing for brownie points. And wasabi. I know its permeated Chinese restaurants, but I still find it weird. Wasabi is Japanese, dare I say, it's a contaminant.
The chef who has achieved the 'historic' 3 star win is Chef Chan Yan Tak.
Amuse bouche : Pickled beef shin with pickled lettuce and oyster sauce.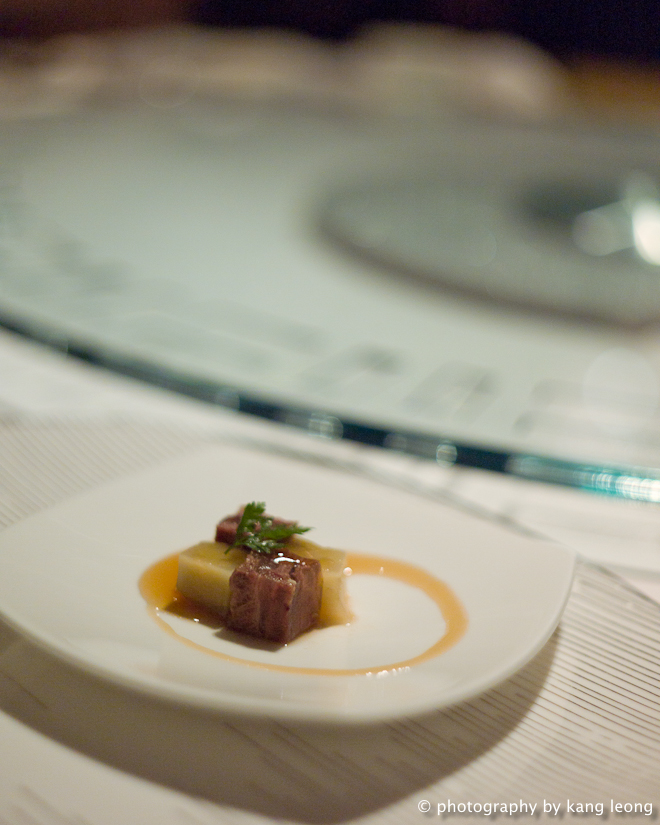 Served cold, it was perfectly sweet, salty and a little pickled. Sort of like pickled brawn. Amusing.
Stewed Frogs' Legs and Chicken Casserole with Taro in Coconut Milk HKD200 (£18)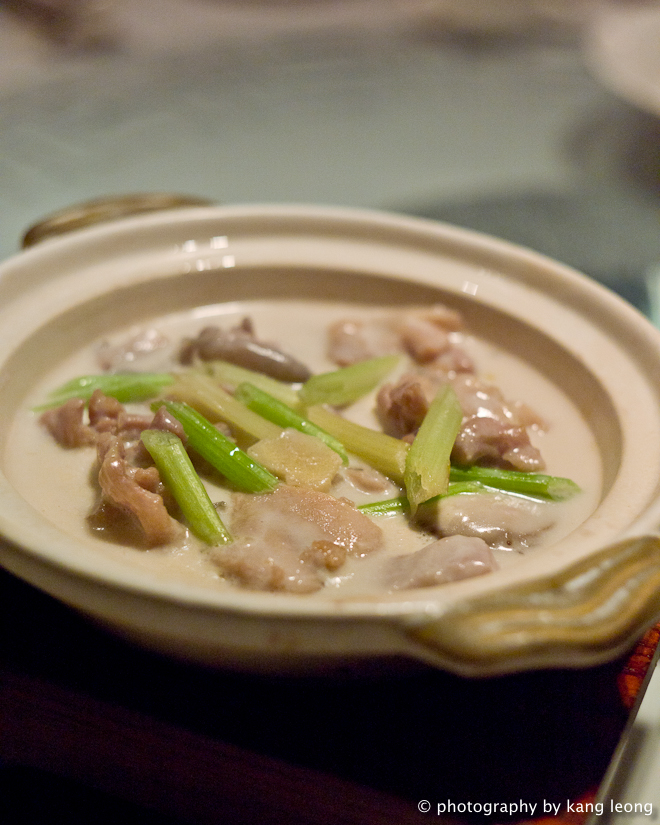 Huh? Coconut milk and Taro in Cantonese food? In a self-styled purveyor of the finest Cantonese food? In what world.
This is skidding into the Pan-Asian curb, maybe even a little Nyonya and I think it so dangerously easy for restaurants to fall into this trap. I mean, stars means continual innovation yes? Or at least a commitment to creativity and an effort to carve signature dishes.
Tradition aside, the first dish showed that this was a capable kitchen. The dish was well cooked, flavours were balanced and it was nice dish of food to eat. The coconut soup was a little like a mushroom soup, a salty coconut elixir. Nice. Umami, calming, hearty, soothing. The little bulbs of frog thigh muscle were incredibly delicious.
They must have selected the athletes. We couldn't tell the chicken from the frog legs apart from that the chicken were so perfected sliced, that these chefs could in fact qualify as successful itamaes. I could find little fault with the dish, in fact I quite enjoyed it.
It was definitely seasoned perfectly and the produce was certainly of a high standard. But was the recipe ground-shatteringly memorable? I wouldn't say that my local Thai restaurant's green curry is better, but it's not far off. For £18, completely overpriced and in its ***, fine dining hotel setting, and as one of Chef Chan's specialties – it felt out of place. I can appreciate the creativity but I can't shake the feeling like it was borrowed from another Asian cuisine. Having said that, let's not take away from the fact that it was cooked well, and tasted nice.
Wok-Fried Prawns with Shrimp Roe, Ginger and Spring Onions. HKD360 (£32)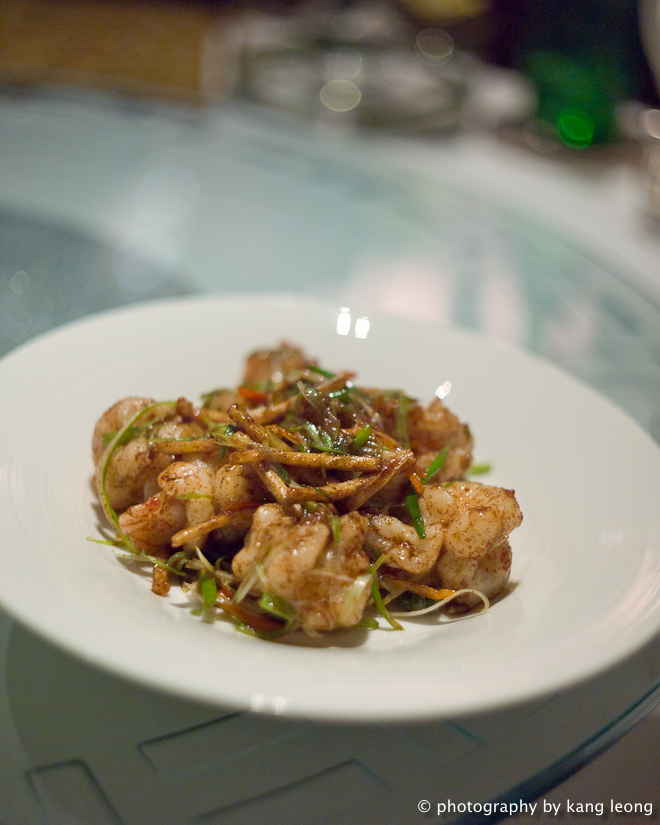 This was definitely wowzers for me. The prawns were muscular and bouncy, superior, fresh buggers. There was pleasant 'wok-hei' , a gentle caramalised crispness to the exterior, and that texture, it was so good it may as well have been black magic. I thought the roe covering the prawns (now fried and grainy like texture, akin to sand in cockles) made for an interesting texture. The smell of grilled roe. Mmmm. Yeah. Classic Hong Kong cooking here, and perhaps the best stir-fry prawns I've yet had.
Braised Australian Wagyu Beef Cheek in Gravy. HKD300 (£27)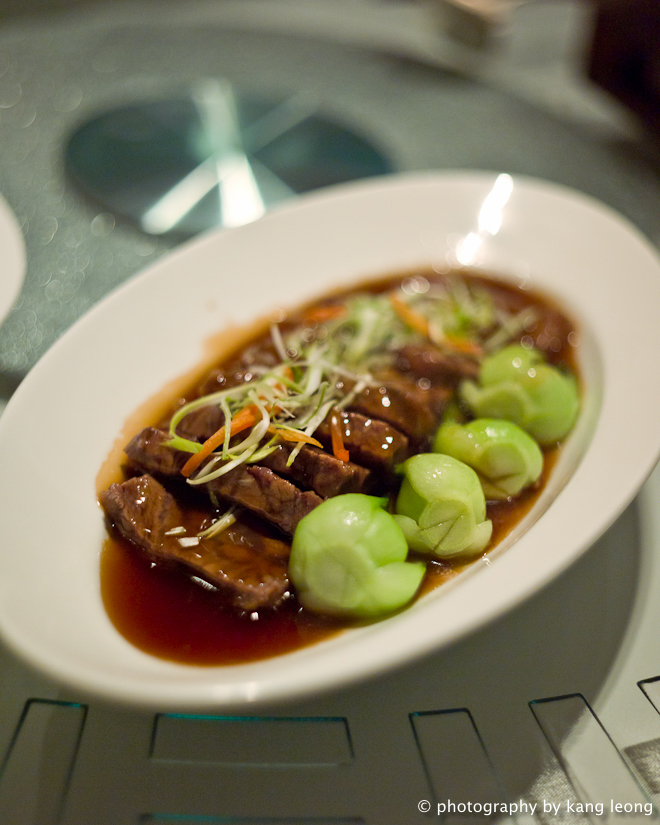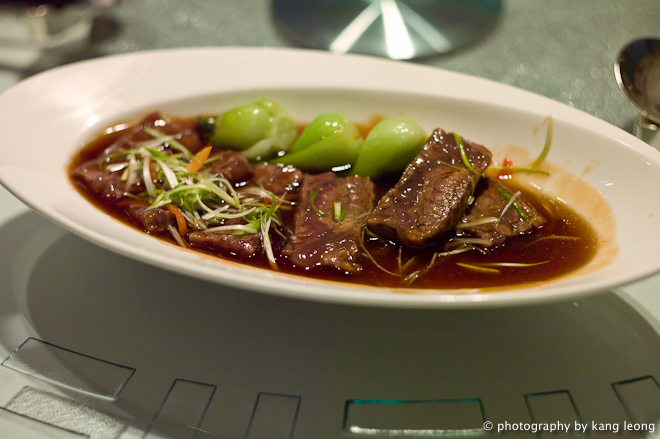 Can you see the tendons? These melted in the mouth tremendously as beef cheeks should. The melty texture was another sign of a really an extremely able kitchen. The sauce was very sweet and fragrant. Like vanilla ice cream mixed with oyster sauce. But perhaps, a little too sweet, and it exacerbated the already mature flavours of cheek. So it was nice, but the more I ate it, the more I thought it was a little overwhelming. It's a departure from the concept of 'purity of original flavour' as this was quite a heavy dish. Good but no dice.
Wok-Fried Iberico Pork Loin in X.O. Chili Sauce HKD220 (£20)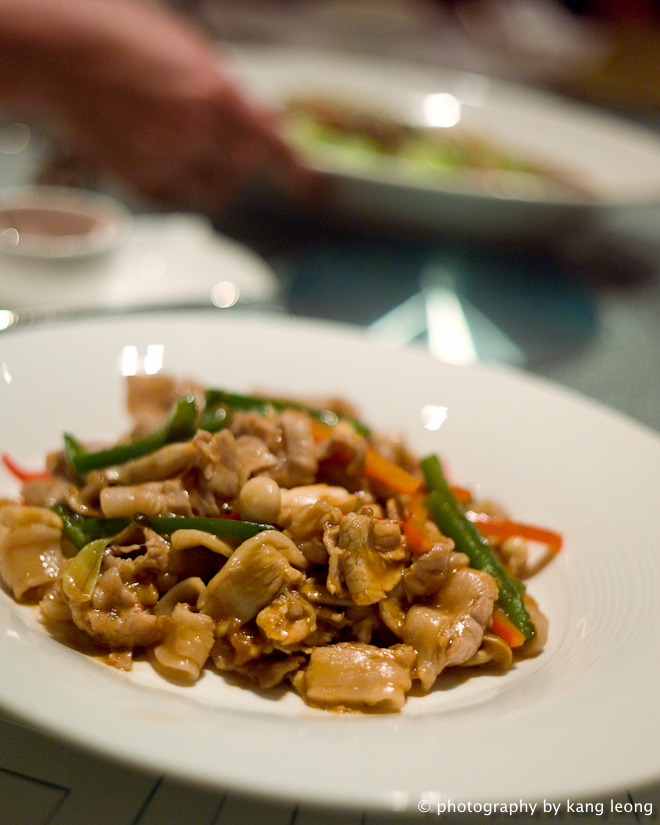 Our Maitre'd tells us that they usually use Japanese black pigs (Kagoshima's which in turn are descended from Berkshires – an English rare breed) , but apparently they are a little hard to come by this time of year. So we had to make do with Ibericos.
Pork were expertly filleted, every slice was pillowy tender. A little chilli, a little peppery, a little bit of wok-hei. Yeah this is classic wok-fried pork, dare I say, it's more Hakka than Cantonese, more Taichung than Hong Kong. It was good but no more.
Wok-fried Kai Lan with garlic HKD120 (£11)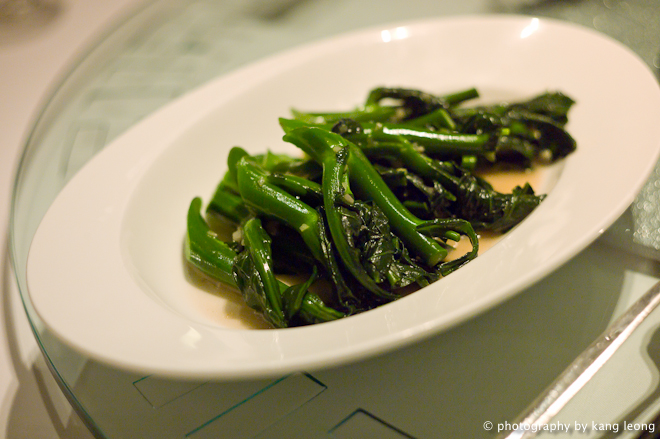 Some vegetables to ease digestion. It was soggy and terrible. It was as if the kitchen thought it was beneath them to stir-fry some vegetables, as opposed to cooking more premium ingredients. Considering having a plate of vegetables are the very heart of any Chinese meal, this was really disappointing.
Lung King Heen Lobster Fried Rice with Seafood HKD260 (£24)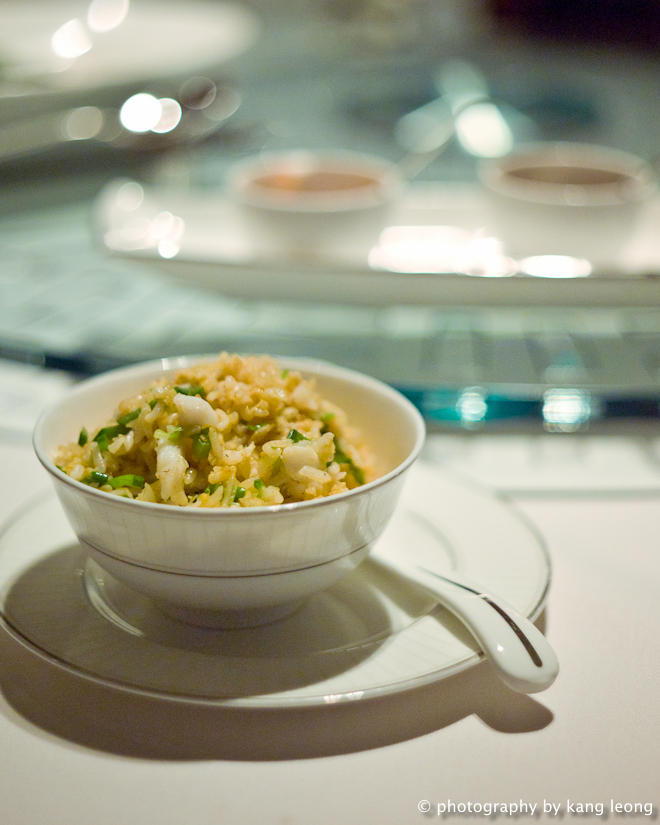 I was looking forward to this, but it was awful. Given there was lobster, the flavour was surprisingly flat, save for the sharp after taste of shellfish. The rice may have been too fresh, that is to say, a little too sticky. Good fried rice is all about the individual grains. You can only achieve that kind of consistency with overnight rice that's been 'aging' in the fridge. In terms of presentation, I was expecting more gold than green and dull yellow. The missus gave me a perplexed look, my dad put his chopsticks down. We all thought it was a bit of a joke, and an expensive one at £24.
Look, I'm old fashioned and a little romantic. A good Chinese cook is defined by how well he manages the fundamentals. Fried rice is a fundamental. Fried Ho Fun is a fundamental. Stir-fried fish fillet is a fundamental. Char siu rice is fundamental. Stars apart, what separates the true greats from the merely good ones are guys who have the innane knack in measuring the exact amount of sweet versus the salty to achieve a rare clarity of flavour. This holy grail of balance is the essence of Cantonese cooking, if not the crux of cooking in general. This fried rice wasn't it.
Double-Boiled Egg White Milk Custard with Bird's Nest HKD130 (£12)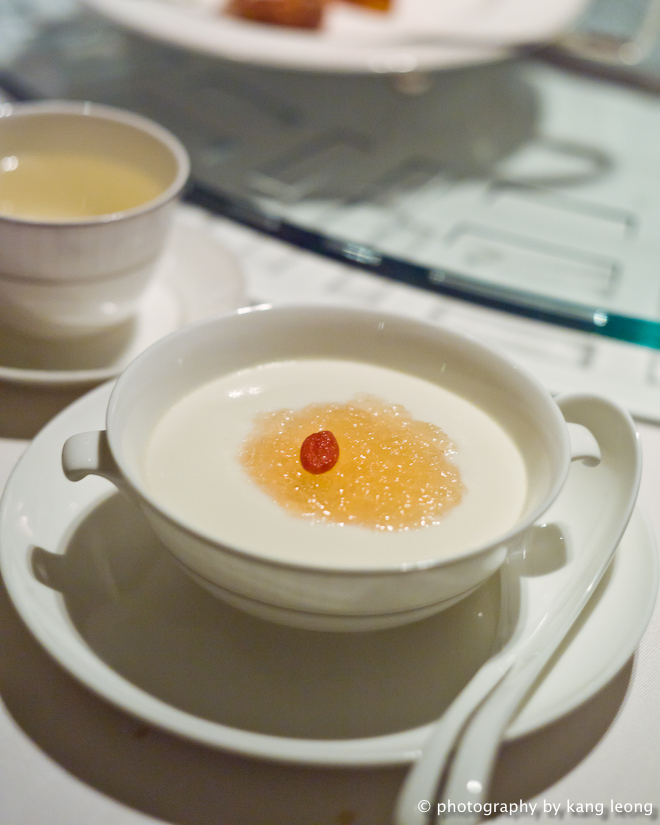 That virgin-like unbroken milk protein texture, somewhere wobbly between tofu and pannacotta was superb. Two huge spoonfuls of birds nest was also a rush of blood. What I didn't like was how flavourless it was. It was served piping hot when I thought it really needed to be rested before service. Because of the blandness, I kept imagining phantom ginger flavours, or maybe there were faint ginger flavours. I don't know I couldn't tell. As far as I was concerned, this was wet tofu with sparrow phlegm. I didn't like that. It needed at least two rock sugars dissolved into it. It needed to be soaking in a rock sugar broth. God, it was so frustrating to end on such imbalance. £12? Alright, for the amount of bird's nest in the dessert, the pricing was justifiable.
Petit Fours : Tonic medlar and petal cake.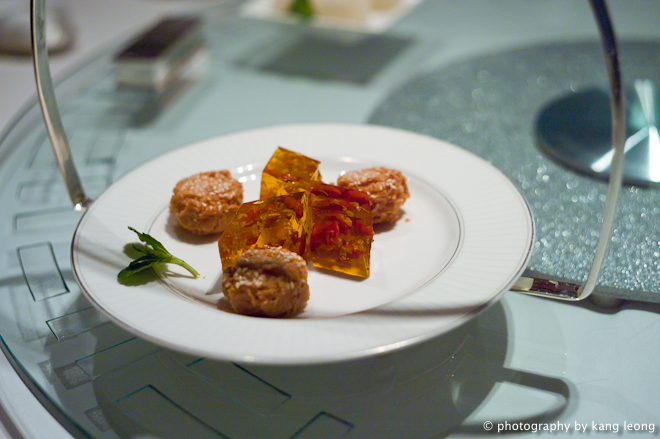 The medlar jelly cakes were a pleasant finish. It's also a signature of Tim Ho Wan – the 1 starred dim sum place in Mong Kok, which coincidentally is started up by an ex-LKH dim sum chef. (I'll write about that following this post)
I made the old man (thanks dad) pay HKD2159.30 (£197) for the meal for three. Two bottles of Perrier and a tea. No wine. That works out to roughly £70 per person. Considering we didn't have live fish, lobster, abalone or sharks' fin (hush hush, no I don't eat that stuff) – it's very dear.
It didn't exceed expectations, but it didn't disappoint either. The cooking was definitely on point, precise even and food was mostly delicious. But it was no better than most Chinese restaurants in Hong Kong. Three stars? An exceptional detour into the very pinnacle of Chinese cooking? That it is not.
It is the world's first three starred Chinese restaurant, but it is also the world's emptiest three starred restaurant on a saturday night. Looking around us, I counted maybe ten tables at 1st sitting. The restaurant may as well be empty for 2nd sitting. So much so, chefs were seen wandering around the dining room, perhaps knocking off home for an early night. Considering the strong eating-out culture in Hong Kong, I think an empty dining room is a sign that the michelin love is not shared by the everyman in HK.
I was startled really, and a little saddened. After all, I am Chinese, and I would like to be proud of the ultimate representative of Chinese cuisine. It's nice that the bib has enhanced Chinese cooking's international credibility, but I doubt Lung King Heen is the right establishment to carry the torch.
Not to say that it's terrible, it's pretty good, just not that much better than most of the restaurants in Hong Kong. The night before, my uncle took me to some Chinese restaurant (whose name I forgot to take down) at Telford Plaza in Kowloon Bay, and it was absolutely rammed, with queues. Where was the bon vivant spirit? It was the quietest Chinese restaurant I'd ever been to, it was so boring I was falling asleep.
How about service I hear you ask ? Well, we were (gently) coerced into ordering bottled water, so we asked for a Perrier. At the end of the bottle, I specifically asked the waiter NOT bring us a second bottle. So we ate, and unsuspectingly, my half empty glass of water was mysteriously topped up a quater of an hour after I said no to the 2nd bottle. Stupidly, I assumed this was the restaurant offering it on the house. When we got the bill, they charged us for 2 bottles of Perrier, at HKD95 each. Of course, how idiotic of me to assume the good samaritan 3 starred restaurants are suppose to be. That's nearly £9 per 500ml bottle. What a bloody rip-off. Plus service, it works out to £20 for two bottles of water. To me, that's super fail, irrespective of stars. And here I thought restaurants had gotten over trying to con diners by sneaking in all the ++'s to inflate the bill. It's a cheap shot if anything.
I did look at the wine list, in case you wondered. It was mostly French, a little Italian, a couple of Rieslings thrown in. For me, I didn't fly 10,000 miles to swig wine which has travelled the same distance to get here. This could have been an opportunity to feature some Asian brew – how about some of that Chinese grape wine (Ningxia?) or some baijiu (Chinese white wine made from rice or sorghum, but perhaps not for the faint of heart). Maybe some Taiwanese Huatiaw wine? There is a long history of alcohol in Chinese culture going back millennia, and we drink to celebrate. It may not be as tightly classified as the cru system in France, and so procuring good examples may be a little harder than the obvious Châteauneuf-du-Pape, but I would have liked to have seen at least a small selection on the wine list. To have nought at the ultimate Chinese restaurant is a little disappointing.
Of course, it's difficult not to get caught up in criticising the Michelin selection system. I could dig into the bib like this dude has done in his 2000+ word literal onslaught on how aghast his meal at the recently crowned two starred Hand & Flowers in Marlow was. He does have a point, Kerridge's pub is lovely, but it's exactly the kind of place which would invite negative attention because of the expectation that comes with two stars.
The issue here is expectation. If Lung King Heen didn't carry stars and charged half the money for the food (with the view) – then yes, I'd say it's pretty good food. Not quite the best Chinese food I'd ever eaten though, but as I said, it was precision work. Just good. 7/10 kind of thing.
To paraphrase my buddy Jackie, the bib anoints tourist attractions. That little red book is a convenient guide for people who are either retired, have build up their cake and spending the icing or have access to expense accounts. I definitely felt a little ripped off…for my dad.
Stars effectively grant restaurants the license to charge high prices. Unless money is not a concern (let's face it, people who don't have money problems, don't need to read food blogs, they'll just go and try it) , the rest of us are still looking for some hint of value for money. One could argue it is just economics to price out the majority, and to do the business of those who are serious about food or those who can simply afford to do so.
Either way, perceived value is linked to expectation. Making things expensive doesn't make it taste better, but it certainly increases the pomp factor and this only serves to increase diner scrutiny, and this mutual diner-restaurant pressure makes the meal unbearable, torturous to sit through.
This is the intriguing aspect of michelin surfing, and how easily fine dining is becoming a parody of self-important arrogant idiots (such as myself) who think I've scaled some sort of mountain simply by paying for the privilege to eat in a place which is highly recommended in a guide book. The joke is ultimately on me (or my dad in this case, as he paid for it.)
Perhaps it is a sign of changing attitudes what with the fall of Wall Street worship. Maybe I've lost touch with the romance of eating-out but there seems to be little redeeming about discovering high end dining. Especially in a city like Hong Kong, where the richest eating experiences can be found on the streets. Like a take-away egg tart vendor that's been doing it for two generations, and still charging 1980 prices for their egg tarts (that's 20p (HKD2.5) each) or having fried ho fun with swiss sauce at Tsui Wah.
In a way this restaurant is unnatural in its local habitat. This tourist attraction is as alien as I am foreign to this country. It seems like it is designed for foreigners like me to come and gawk at the emperors new clothes, in doing so it has stripped it the local charm that makes Cantonese cuisine so endearing.
Lung King Heen has the view of a dragon yes, but the dragon has his eyes closed. On the surface, this is a luxury restaurant, it's just a shame the food is so devoid of the rich culture it is suppose to represent.
But the 3 stars still intrigues you doesn't it? You are still curious because as much as you think you lament the red guide, you still respect the macaroons. You respect what it means for the chef to be blessed with those things. To have three of them, you want to collect the experience of having been there. Look at me, 3000 words in and I still refuse to stop the verbal diarrhoea.
Unfortunately for me, Lung King Heen falls in the stereotypical tragedy of one-shot special occasion dining. I'm glad I've been there and done it, but never again. I'd rather stand in the rain and queue for a piping hot egg tart than come here. I wonder if this is the kind of success the chef wants to be known for?
So my apologies oh great Chef Chan, I think you and your team can definitely cook, but I think the holistic experience of Lung King Heen is a burden of its own burgeoning design and a victim of its own success.
To my beloved reader thinking about what to eat during your next HK visit: I would recommend that you go out there and discover Kowloon by visiting all the cha chan tengs you come across and not waste two hours being isolated in the ivory tower eating abalone snarling at HK harbour. But you already know that.
The Gist of It
Lung King Heen
Cantonese, £80pp
Four Seasons Hotel,
8 Finance Street, Hong Kong.
Tel : (852) 3196-8880
Did you enjoy reading this? You can subscribe to the RSS feed.