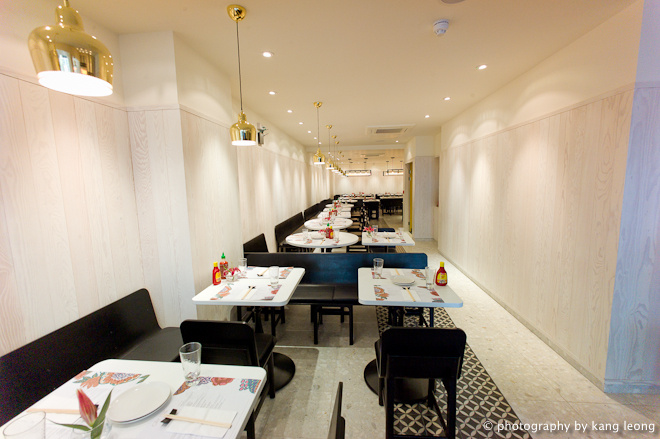 Coming to a West End near you, a slice of Little Hanoi. Let Pho fever be unleashed. Again. Yep, you feel it too don't you. It is starting, Cay Tre is going to sweep the intertubes, and with good reason: they flog smashing Vietnamese food to the public.
Many of you are already quite familiar with the Vietnamese Kitchen's group of restaurants, namely Cay Tre and Viet Grill, which counts Mark Hix, amongst its many fans. This time round however, Mr Hix happens to also be a very involved stakeholder with Hieu Trung Bui's latest venture.
So it is little surprise that the new Cay Tre in Dean Street shares much of its menu with the Hoxton branch and Viet Grill, such as the theatrical Chả cá Lã Vọng and the incastratable Mekong Catfish.
Reminiscent of Viet Grill, but one in which its decor has been given a spit shine of the highest order. Pristine, white enamel table tops, black chairs with black leather cushions, wooden panel walls, painted white and pressed against cement walls (also painted white). Wah… so clean. The room is long and narrow, a little clastrophobic, and if you squint, you would be forgiven for mistaking this to be NOPI, but with less brass. Much less brass.
My eating schedule is all screwed up these days, so lunch for us was at the sleepy hour of three on a Saturday afternoon. Understandably, you lot were all frolicking in Hampstead Heath or licking ice cream cones at Gelupo, so the restaurant was completely empty. All this space to me and the missus then.
We chose from a limited afternoon menu, that listed large bowls of pho, plates of rice and small bowls nibbly things. Prices range from £8 to £9 for the large ones, and £4 to £7 for the small bowls. Now the afternoon deal was £14 for a large and a small, so we very carefully chose the priciest pairs in order to maximum the discount.
Grilled calamari with lemongrass, coriander and chilli oil, £7.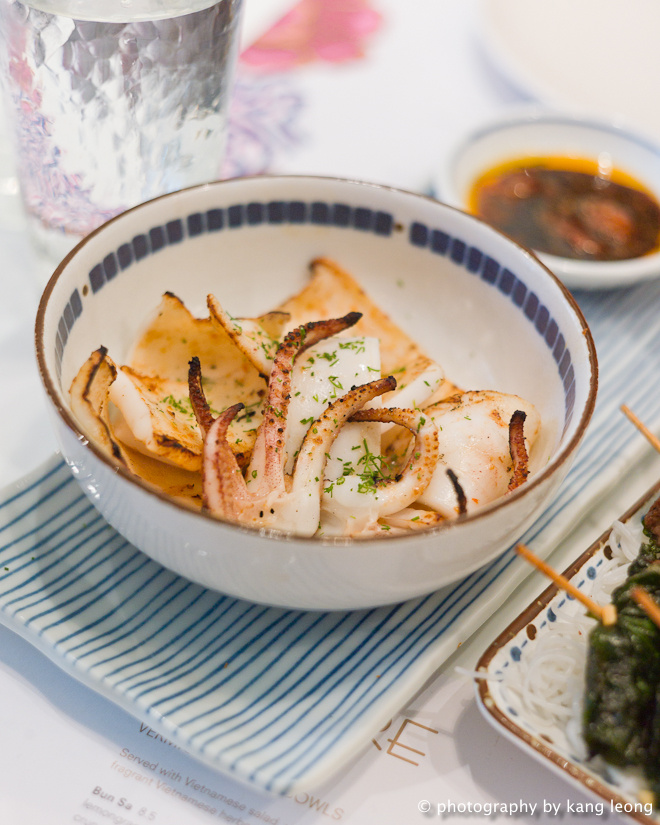 Nice. These small bowls were so large, they put the entire shrinking small plates revolution to shame. You seeing this Nopi? This is how big, small plates should look like.
Large parcels of cut squid, simply charred, but served with a stonkingly great dipping sauce. Was it the lemongrass that I was tasting, the chilli oil, or was there more to the secret ? It tasted like a fire breathing bitter burnt chocolate gravy with chilli and oil doused over it. What a great dipping sauce. Ka pow.
Cha la lot. Spicy ground pork wrapped in betel leaves, served with roasted peanuts and nuoc cham, £7.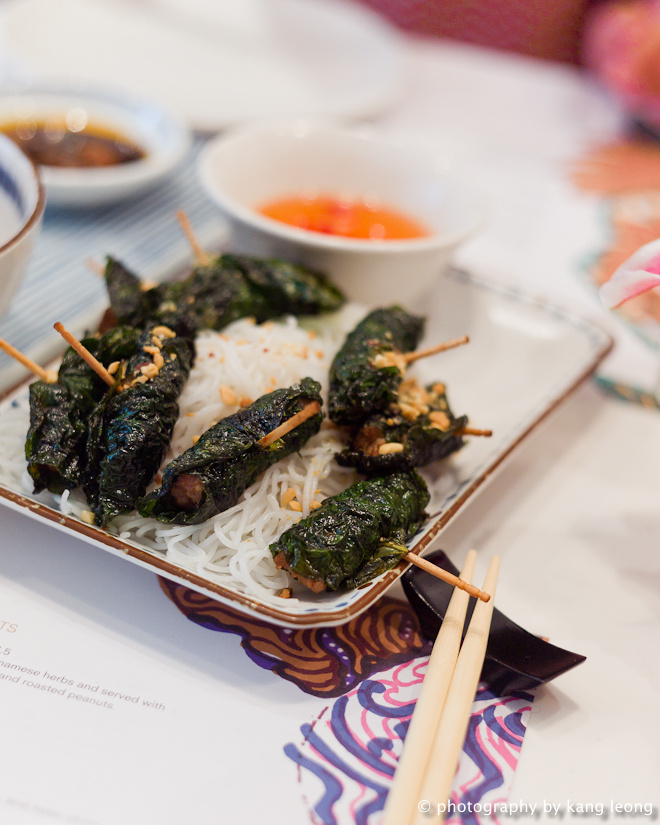 The nuoc cham was a sweet chilli drizzle, which was less exciting than the calamari's dipper, but this one was great for the vermicelli. I'm sure I've had something quite similar on my many visits to Viet Grill.
Ox Cheek au Vin Pho, £9.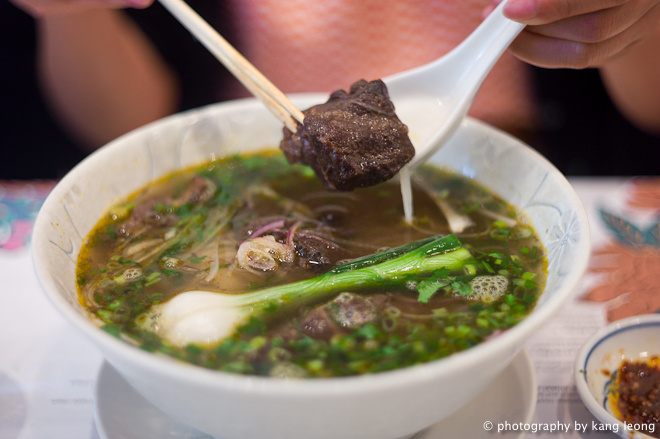 Stop the press, or the blogging and run out to Cay Tre, now. This was the best bowl of food I had had all week long. I don't think the combination of ox cheek and pho has been done yet, at least this was a first for me, and I have got to say: This is a winner. A real winner. You and I both know how good ox cheeks can get when they are slow cooked to off-the-bone, tenderness, with the melt-the-glacier tendons falling off the meat and such. The cheeks were absolutely divine, cubes of silky, slithery and buttery clumps of protein. So tender, they deformed like marshmallows do under the stress of a metal fork. Extremely generous chunks of cheeks were allotted to this bowl of pho, I counted five, maybe six, or perhaps seven. Everytime the soup spoon went in, the better half scooped up yet another piece of meat.
Lemongrass and marrow rich and it wasn't spicy at all (which suited me fine.) the soup stock was great, but I couldn't really tell if it were greater than the Cafe East version. Truth be told, I can't actually tell the difference between Kingsland road's finest versus Cafe East, but what I can conclude is that they are all good enough for an enjoyable experience. But if you pressed a gun to my head, I would probably say the Cafe East version was better.
I thought this ox cheek pho was a real knock out punch. A superb combo, the depth of richness in the ox cheeks really does do the pho alot of justice. I could really do with another bowl of this as I write this. Go try this, and then come back here to tell me if I'm right or if I'm dead wrong.
Com Saigon. Grilled pork and shredded pork fillet, served with a fried duck egg and jasmine rice. £9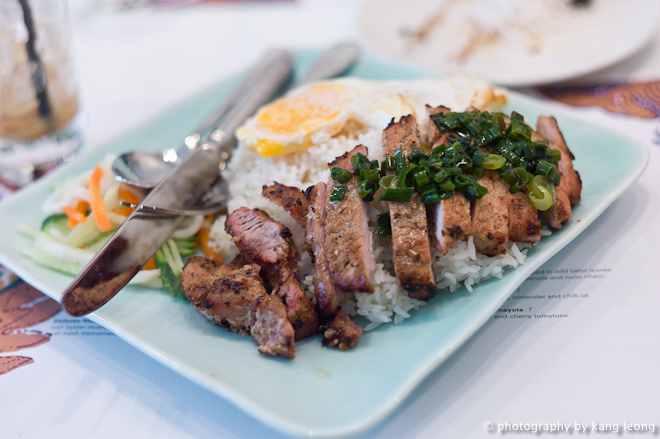 I'm a rice fella, Chinese roots and all, I need my steamed rice. The better half is from down under, so she's a better judge of the soupy stuff, but I pride myself as a man who lives by the grain, a man who swears by his one plate meat + rice, and by those estimations, this was not the best pork fillet rice I'd yet had. It was alright, but just nothing to shout about.
The best Viet style pork chops on rice I've tried in London were at Song Que, and the best pork chops on rice I've ever tried were at a restaurant called 'Black Shop Pork Chop Rice' in Danshui, about a 20 minute train ride from Taipei to the coastal town. Not a fair comparison, since the latter are pork chop rice experts. If you ever visit, GO THERE.
Puddings are at least another 2 weeks before they make it on to the menu, and I hazard a guess that it will include the tapioca, durian and coconut. Plus two glasses of Vietnamese coffee, the bill was a respectable £37.12.
All in all, I think Cay Tre is a wonderful addition to Soho. We've all made the eastward pilgrimage to sample the internet's favourite Vietnamese cafes, and much of what I love about Viet Grill, has (seemingly) been successfully transposed to the new site in Dean Street.
Now if only Cafe East would do a 'Cafe West' and open right next door to Cay Tre. They are the momentary master of pho… and the three colour drink, and would it be so bad for the two restaurants to duel for our affections. Wishful thinking? Stranger things have happened.
The Gist of It
Cay Tre Soho
Vietnamese, £20pp
44 Dean Street, W1D 4QD
Tel: (020) 7317 9118
Tube : Piccadilly Circus
Pho now: Skinny Bib , Greedy Diva , Time Out London , Fay Maschler
Did you enjoy reading this? You can subscribe to the Newsletter. Alternatively, you cansubscribe to the RSS feed.