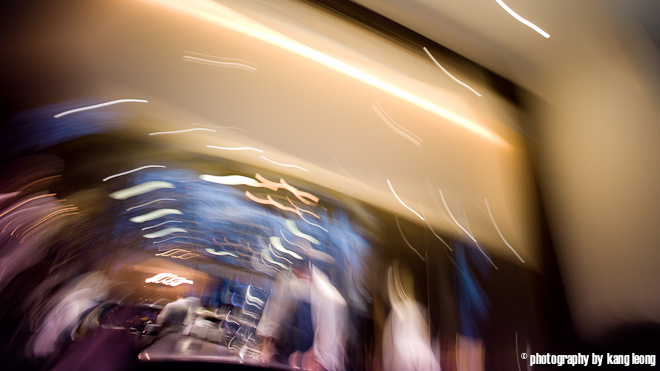 *Update Revisited on 10 July 2012 – I had the Salmagundi, a salad of chicken oysters, roast marrow, salsify with some kind of rich vinegar (I'm guessing). Hereford ribeye for mains, great concentrated flavour, and charring but not as good as say Goodman. Tipsy cake still tops, meatfruit still dazzled, surprisingly. 'Standard' chips offered as apparently we were told that they will only triple cook maris pipers, which were out of season. Not as inspiring as the first meal, but still decent. It will certainly underwhelm if you have high expectations.*
The most hotly anticipated London restaurant opening to date has finally opened for business. A quick trawl through the interwebs returns dozens of reviews, blog posts, photographs and genial hype. Expectedly, there is just no shortage of media (virtually and in print) coverage centred around Heston Blumenthal's first foray into the queasy world of London fine dining. Blumenwho you say? Only one of (if not) the most highly regarded chefs in the universe, famous for his three michelin starred restaurant – The Fat Duck – in Bray, for his obsessively scientific approach in constructing recipes, for the TV show that plotted the reinvention of a road-side diner and for another TV show that had him recreate medieval feasts from myth, legend and history books.
Even in post-meal, I have only read one complete review about Dinner (Gill's), so as to keep my expectations as undiluted as possible. Besides, it was always either gonna win rave reviews or suffer major criticism; In this case, it is the former, a general feeling of utter awe. We are barely into 2011, and there are already whispers that this is not only the best new restaurant opening in London this year, but potentially the greatest London restaurant ever created.
I was extremely excited to visit this restaurant. Something uniquely in its own league. We are all Heston fans after all.
There are four Heston Blumenthal restaurants in Great Britain. Three are in Bray including The Fat Duck, Hind's Head and The Crown, and Dinner would be the fourth and only London destination. I have now been to three of the four. It is pleasing simply to sit here to recount the brilliance of Heston's food, such as the pea and ham soup at Hinds Head – such an elegant dish – , the triple cooked chips – only the best in Britain – to the Blackforest Gateau (everything as is described in his book) and the peerless snail porridge (still amazes me how Heston & team have managed to create such silkily textured snail flesh..) at the Fat Duck.
Everything about Heston Blumenthal is measured and well-rehearsed. This is a man who is at the top of the game because he leaves nothing to chance. Everything about his restaurants exists by design. Its name – Dinner – is the starting point for the overriding theme of the restaurant, which pays tribute to the entire history of Britain on a plate, through the ages. From there, the menu is laid out as three fully formed courses – no tasters – using the period the recipe originated from, as inspiration. Everything reads very well on the menu, the only downside is not being able to try everything all at once.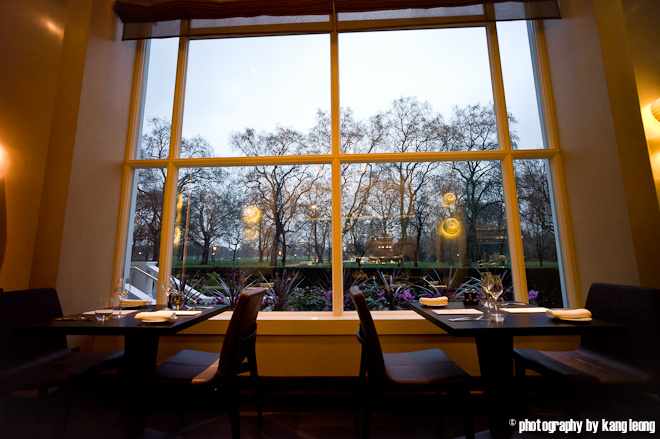 Look at that view? Ain't it just grand.
Lots of interesting if subtle touches, such as the jelly-mould shaped lamp shades, but most of it go unnoticed since the room is so very comfortable to sit in. At the heart of it all is the transparent-walled kitchen, giving diners the chance to marvel at the sheer harmony, cleanliness, the gliding hands and feet of how the real pros do it. It was so calm, zero shouting, zero noise, 100% zen.
Running point is Mr Ashley Palmer-Watts, Heston's right hand man and the Executive Chef of the Fat Duck Group. We were very pleased to see that he was overseeing our lunch service, albeit he spent more time tending to patrons on the Chef's table.
Toward the back, diners have a view of Hyde Park. It's brilliant. I liked the tremendously high ceilings, the enormous windows, and seeing the fiery Josper grill in action through dinner service was a sight to behold. I think the best tables probably reside toward the back, more private, more serene with a view. I think if I were seated at the front of the room, I might feel it to be too open and a little intimidating.
We were a table of five, for mid Saturday lunch. Service was impossibly professional and friendly and warm, never getting in our way, and but always there to lend a hand and ear when needed. They made us feel welcomed and relaxed, which is the entire point of good service. Just like The Fat Duck.
On to the food.
Starters
Roast Marrowbone (c.1720)
Parsley, Anchovy and Mace, Pickled Vegetables. £14.00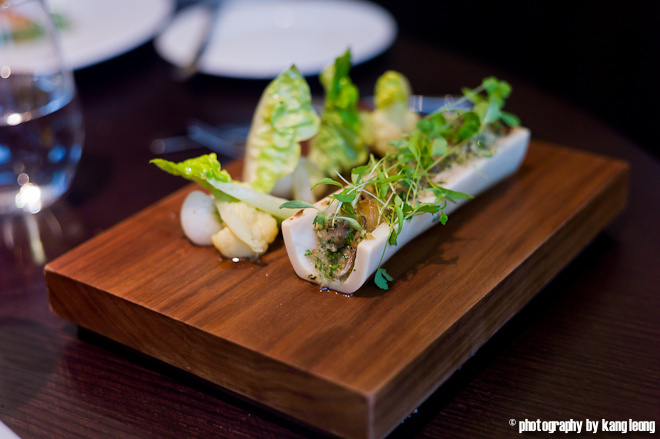 Wow. There's something sweet about it, like vanilla, with such a delicate texture, it felt like I was having a savoury mousse of some kind. I must admit, I couldn't discern the flavours, save for that it was just very well seasoned, well balanced and something very delicious to eat. The taste was perfect, the flavours were effervescent, juicy, oily, dollopy drips of heaven. I don't think I've ever had bone marrow quite as good as this.
Roast Scallops (c.1820)
Cucumber Ketchup and Borage £16.00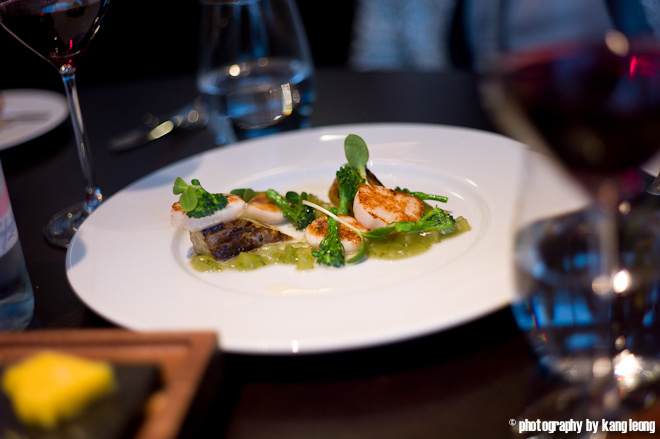 More of the same with these scallops, a beautiful softly, silken texture with a kind of lively zest to the cucumber ketchup that made it so very comforting to eat. Mmm..
Savoury Porridge (c.1660)
Cod Cheeks, Pickled Beetroot, Garlic and Fennel £14.50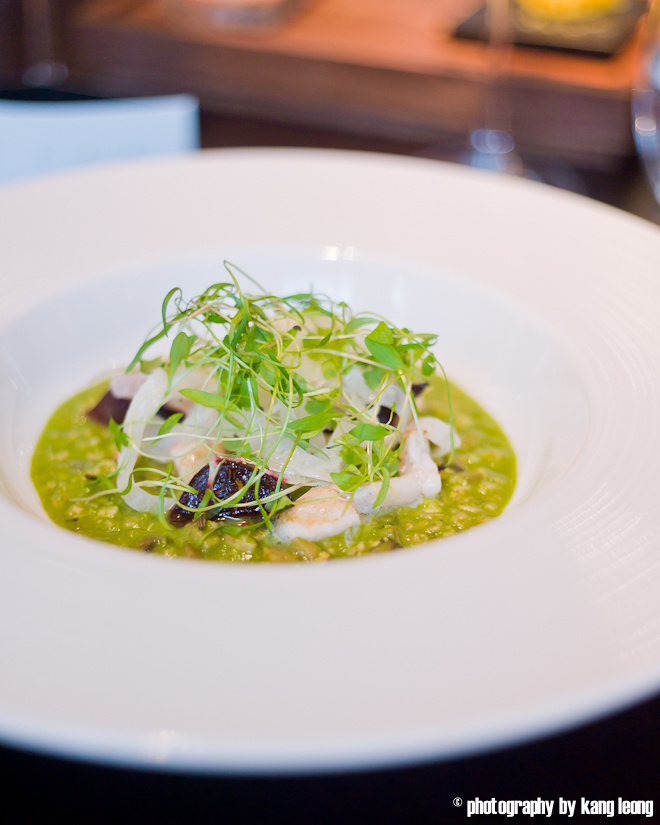 In case you wondered, I was plate-surfing across the table, sampling what everybody had. This was actually my dish. I ordered this hoping this might take after the snail porridge at the Fat Duck (which I thought was wonderful), and when it arrived, and I saw the green, I knew my prayers were answered. A heartwarming, dense texture, like a fluffy puree, the perfect balance of taste, and with a deep flavour of cod. Snails and Jabugo ham were replaced with pickled beet and those ethereally soft cheeks of cod. Scraping together all the individual elements in a spoonful, gave way to a fabulous melange of the sweet, the sour, the salty, the bitter and the umami. So delicious.
Meat Fruit (c.1500)
Mandarin, Chicken Liver Parfait and Grilled Bread £12.50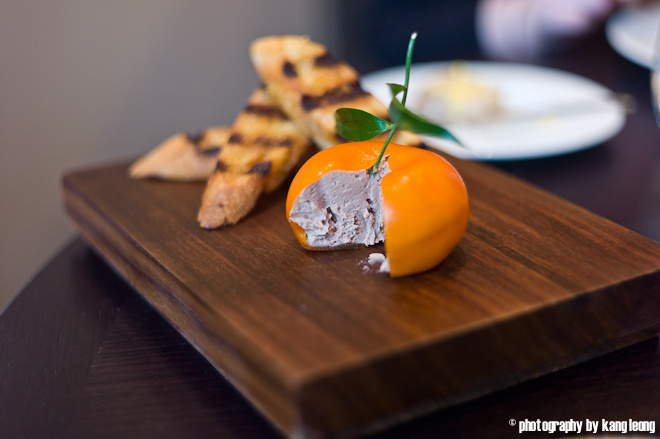 It looks like a mandarin, with mandarin jelly on the outside, but with the smoothest chicken liver parfait ever whipped up. A touch of the mad hatter's genius.
Mains
Beef Royal (c.1720)
72 hours Slow Cooked Short Rib of Angus, Smoked Anchovy and Onion Puree, Ox Tongue £28.00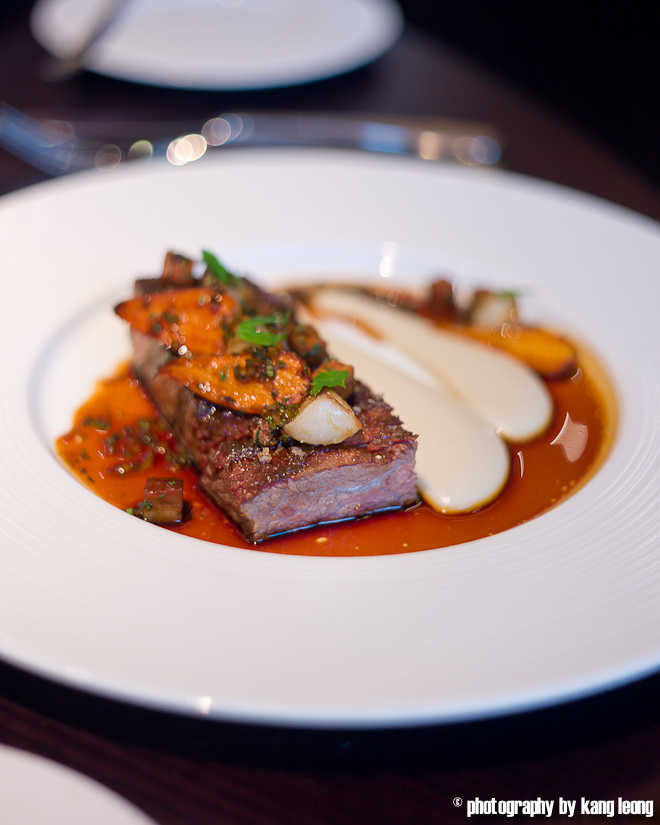 My brother opted for this dish. So did Mark. I nicked abit from both, and we all thought it was a stupendously well cooked beef. The texture was simply astonishing. Mellow and pillowy, a stewed down heartiness about it, that was so joy to chew on. Impressive.
Roast Turbot (c.1830)
Cockle Ketchup, Leaf Chicory £32.00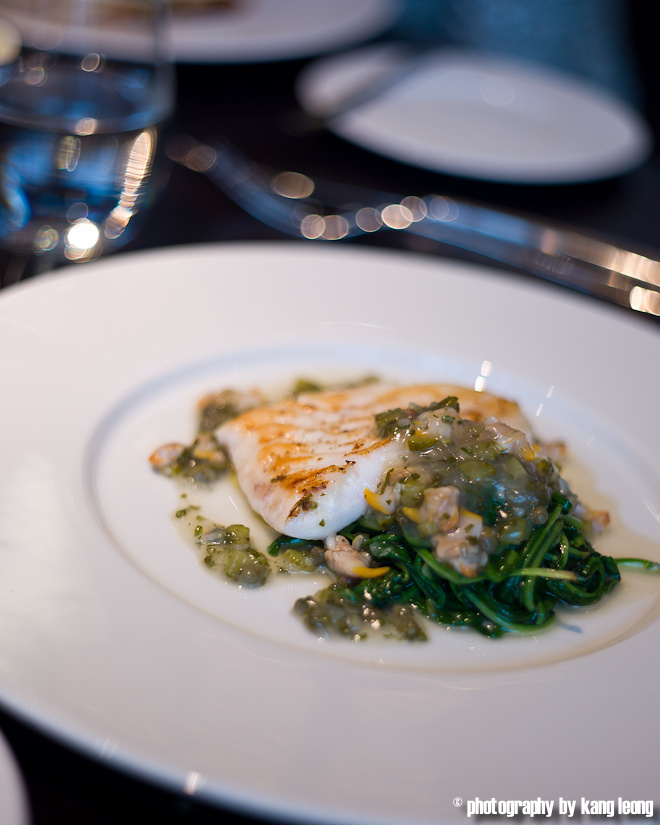 The better half ordered this, though I thought this was a wonderful dish. It looks so edible, look at that gelatinous cockle ketchup. Once again, it were the perfect textures that grabbed my attention, they cooked this piece of fish to absolute perfection. Soft yet dense, like cutting into a parfait, or warm butter, consistent, concentrated and juicy.. just perfect.
This ketchup really made the fish taste all lively and fresh for some reason. As if it were swimming in my mouth, with the zest of capers and pickled gherkins. Just a tad of bitterness from the chicory balanced against the rest of the flavours and the fish. What sheer elegance, something that appears so simple, taste so very good. Truly accomplished, well rehearsed cooking.
Black Foot Pork Chop (c.1860)
Pointy cabbage, Robert Sauce £28.00
And I ordered the pork chop, on the bone.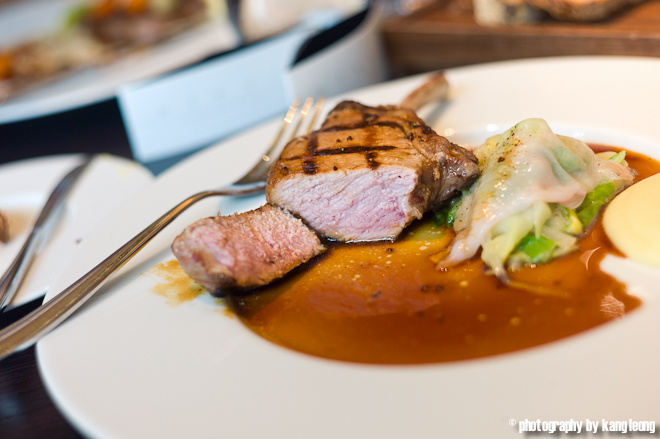 Easily, the best pork chop I've ever eaten. It was very juicy, but the texture again was simply out of this world. It bounced like a well sprung mattress, just a blush of charcoal and the thin sauce, the Robert sauce, were like the concentrated juices collected as the kitchen sweated the meat. Not entirely sure what was layered over the cabbage, it kinda tasted like a cross between melted cheddar and skin. Whatever it was, it was good.
Pudding
Chocolate Bar (c.1730)
Passion Fruit Jam and Ginger Ice Cream £8.50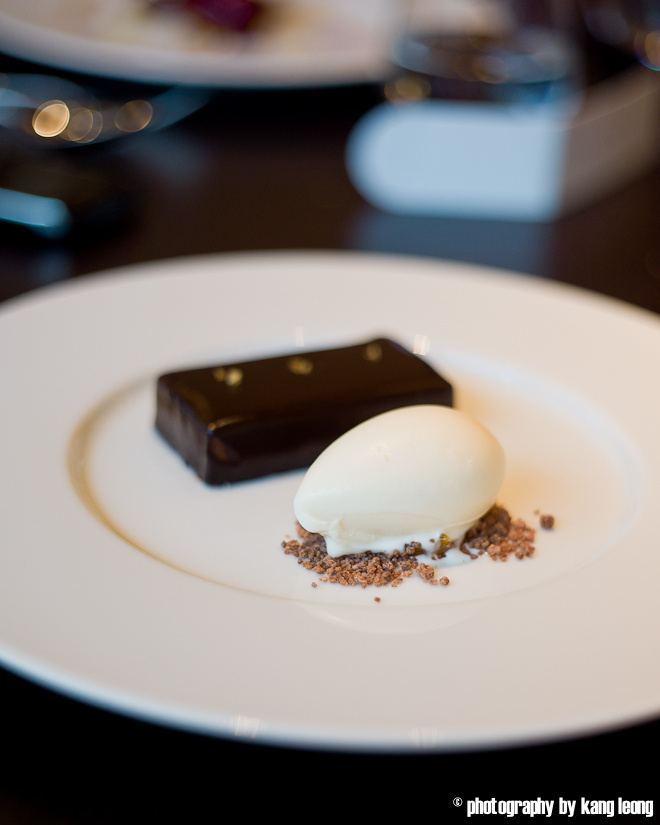 The chocolate bar reminded me of the famed Ducasse – and Gauthier by extension – pudding, the Louis XV. The tremendously reflective and unbroken dark chocolate surface, with gold leaf sprinklings.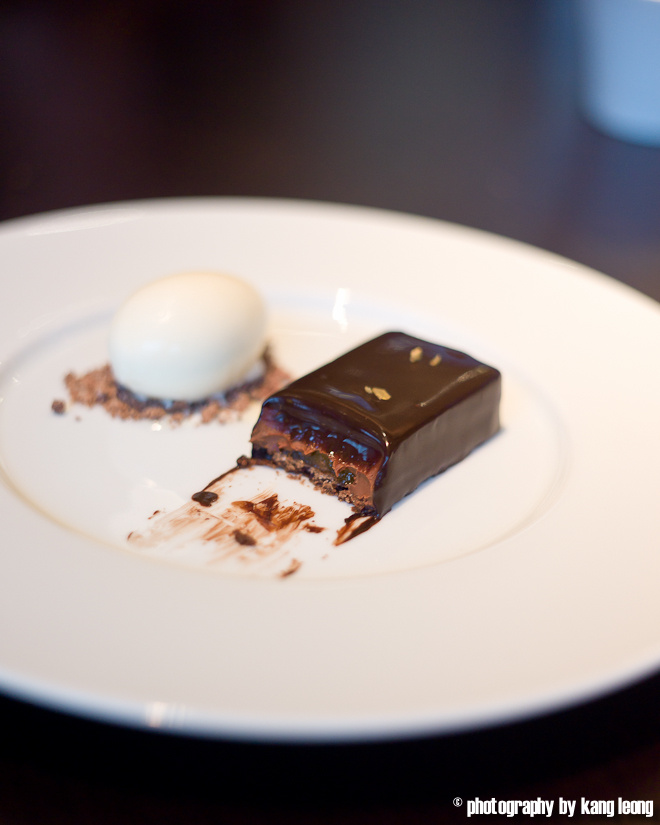 Cutting into however, revealed something entirely different. A tangy passion fruit centre enveloped by even more chocolate, with a touch of ginger tickling the palate. Intriguing.
I must admit, at the sight of layered chocolate pudding, it had me thinking about Heston's perfect Blackforest gateau. That was something really memorable, a great pudding. Perhaps it will make a cameo appearance at Dinner someday.
Brown Bread Ice Cream (c.1830)
Salted Butter Caramel Malted Yeast Syrup £8.00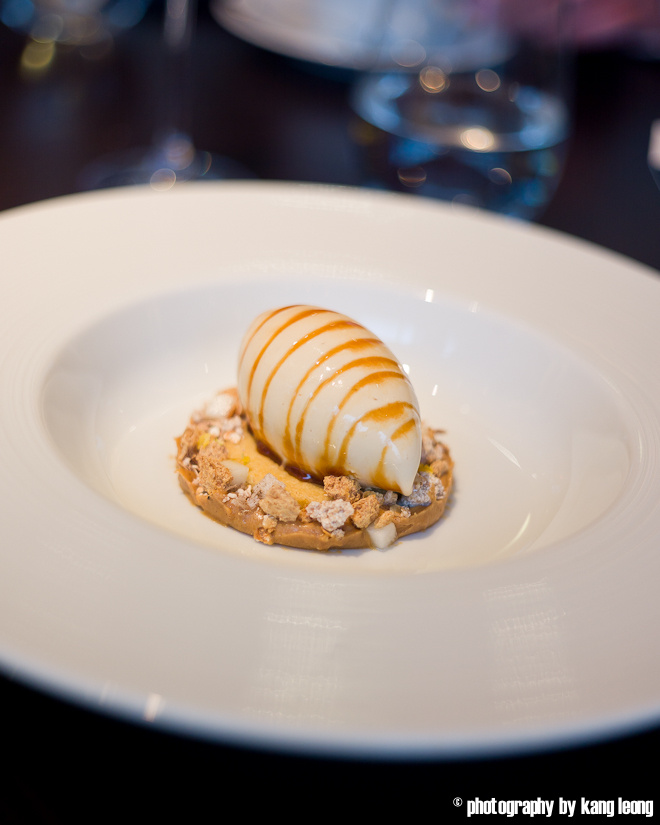 My brother opted for this, which I forgot to try, but which he seemed to enjoy.
Taffety Tart (c.1660)
Rose, Fennel, Lemon and Blackcurrant Sorbet £8.50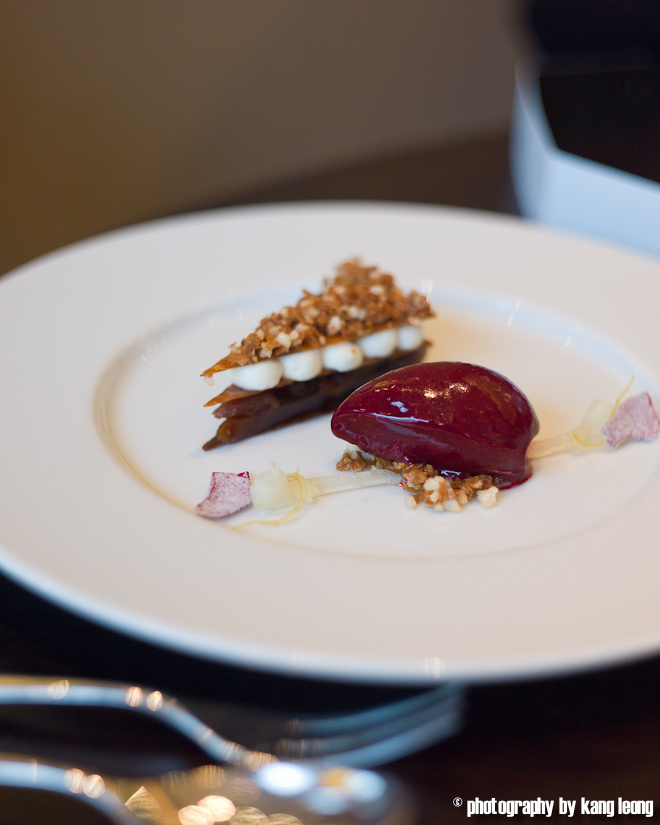 And finally the zesty Taffety Tart which looks very similar to a dessert from the Fat Duck menu.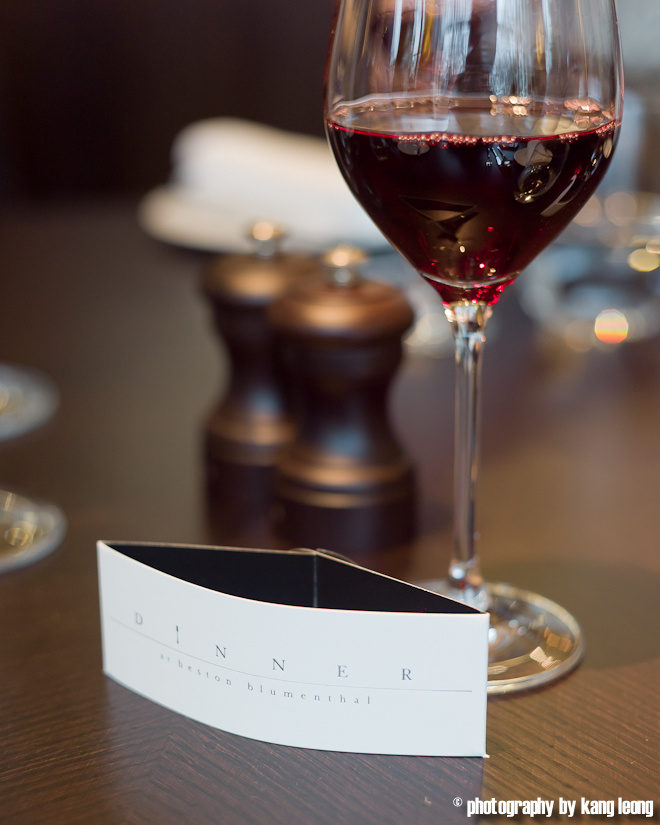 This might just be the greatest restaurant to grace London. It could even be better than the Fat Duck. The meal was perfect in nearly every regard. Every dish was a reminder of how skilled the kitchen was at cooking food. This is what I love about Heston's restaurants. At the core, Heston's recipes begin with the cooking process, and this process inevitably serves to enhance taste and flavour.
I have always felt that at the Fat Duck, theatrics got in the way of how bloody good the cooking actually was. I suppose the showy aspects are part of the total sensory experience. All that dry ice succeeds in ensuring the other senses are fully engaged, but because it's a meal, I think too much sensing dilutes the eating part. Perhaps that is why the more food focused, Hind's Head was created. While the cooking is good, it does lend the feeling as though it has been intentionally held back from actively competing against its older sibling next door.
On the other hand, Dinner seems to lie somewhere in between the procession of Fat Duck, and the stripped down Hind's Head. On the surface, it appears to borrow the best elements from both restaurants, though it distinctly feels as if Dinner is a further refinement of Heston & co pursuit for the perfect food.
New and even better dishes may be created in the future, but as it stands, I feel that Dinner is already near-perfect. The question now is one of consistency. You get the sense that these set of dishes are so well rehearsed, so well experimented and researched that they have nailed down the exact parameters in crafting the perfectly delicious. Taking the subjective ambiguity out of the process if you like by trial and error.
..Edible magic..
The beauty of it all, are that these dishes are so democratic and easily understood. The total lack of pretension (for what is the very peak of haute cuisine), is, in my opinion, its greatest achievement.
I'll stop with the arse-licking. We paid £365 for five which included still water, coffee, a bottle of jammy 2009 Moulin-à-Vent from Beaujolais, and finished with a viscous condensed milk gelatin accented with earl grey, which i suppose is petit four masquerading as tea with a twist.
Dinner is sensational. It is well rehearsed and it is exactly what the apex of modern fine dining should look like. Forget the tired old world of Nouvelle and Haute cuisine and step into the pragmatic yet magical world Heston has created. This restaurant is serious about delivering a good dinner, with fully developed portions, that it is draped around the heritage of British cuisine makes it intriguing. It takes the best GB has to offer and redefines the very extremes of faultlessness. This is why Heston's cuisine is so celebrated. This is why Dinner is perfect. And this is why it's booked up for the next three months.
So if you are only just picking this up, you'll have to fall in line, and so will I too, as I plot my second visit. If you are torn between FD and this, I would suggest giving Dinner a try first. If you can't wait that long, go to Hind's Head, or try the Crown. You won't go wrong whichever way.
The Gist of It
Dinner by Heston Blumenthal
British, £60pp
Mandarin Oriental Hyde Park
66 Knightsbridge, London SW1X 7LA
Tel: 020 7201 3833
Tube: Knightsbridge
More photos on my flickr page.
Did you enjoy reading this? You can subscribe to the Newsletter. Alternatively, you cansubscribe to the RSS feed.