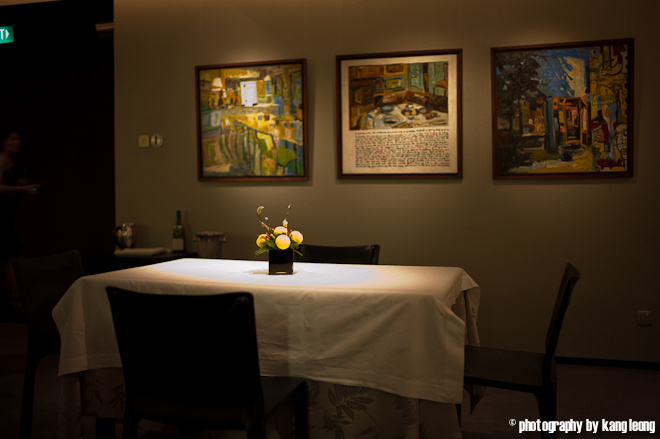 Ever since the Great British Pound took its glorious tumble following the economic rodeo of '08, travelling the world with HM in your pocket doesn't go as far as it used to no more, all my assets doing an extended shrinking violet number. Ta-da.
Picture the shock and horror whilst researching prices at top end restaurants in Singapore; Waku Ghin – Tetsuya's Singaporean operation – a whopper of a SGD$400 (£200) per pop; FiftyThree, the well-regarded Euro-comfortica for a mere SGD$250 (£125), yikes..! Shinji – the Raffles Hotel pre-eminent shrine of haute sushi starts at SGD$220 (£110) and flattens out at SGD$450 (£225). Gosh, fine dining sure is pricy in Singapore.
All rather paradoxical considering this is a country better known for its amazing standard of hawker centres, food courts, char kuey tiaw, chilli crab, pratha, kaya jam, hainanese chicken rice, nasi padang just to name a few commonly accessible, easily affordable, delicious one platers.
Perhaps it is to do with the fascination, mystique and romance of the sycophantic fantasy propagated by high-rolling guides – the Michelin, the Miele and the World Top 50, all of which appear to back the idea that the quality of indulgence be measured not only by how well the food is cooked; but also by the expense spared in investing the restaurant's cabinet of Laguiole knives and the completeness of their Le Creuset collection.
Obviously I respect these ranking guides, and if we believe these industry benchmarks, then Iggy's is not only Singapore's finest, but also the undisputed King of Asia (as described in Miele's top Asian restaurants list) , bettering the best of HK, Taipei – a proposition that intrigues and puzzles. No disrespect to Iggy's of course, but I doubt the best of S'pore can outdo the best of HK. Also named the world's 28th best restaurant (bettering Keller's The French Laundry and Robuchon's Parisian workshop).
The owner is one very accomplished super sommelier – whose CV is as glittering as his awards cabinet – Ignatius Chan, who has stinted in many a luxury hotel previous to his eponymous debut in 2004, firstly at The Regent, and in late 2010, relocating to The Hilton.
A mammoth reputation to the tune of SGD$250 (£125), complete with the unfamiliar '++' postscript for the 'Gastronomic Menu'. I took my parents because all three of us were anxious as to what the allegedly best restaurant in Asia could produce. It didn't take us long to start feeling that the weight of such high expectation was going to fail us inevitably: No a la carte for dinner service.
For a venue as new as this, I was shocked at how Nineties the décor was. Windowless, drab, dim, soul sapping, featureless and formless, dull greys and browns, just so damn business-like that I doubt even Gordon Gekko would consider this as his office.
Frosted glass auto-sliding doors, which – every time a waiter had to access the kitchen – gave diners a glimpse into the inner workings of the kitchen. Which was bright, colourful, cheerful and filled with files and cookbooks. Like cooking in heaven, and dining in hell no? Come now restaurateurs, in this day and age, elegance can be funky too, no? This type of establishment is just so boring to eat in.
First, SQUID. Sea urchin, dashi, ohba flowers.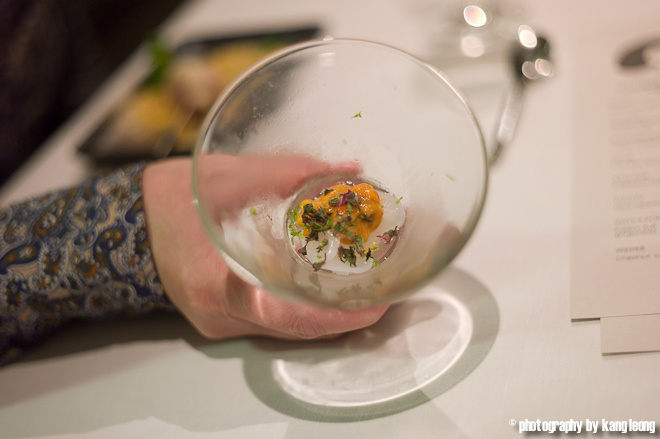 Squidgy and fresh, bitter yet citrusy with a burst of the fragrance of freshly picked flowers. A subtle, if rather uneventful, uncooked start to the meal.
Second, KOHADA. Tomato, Clementine, mango, quinoa, beet.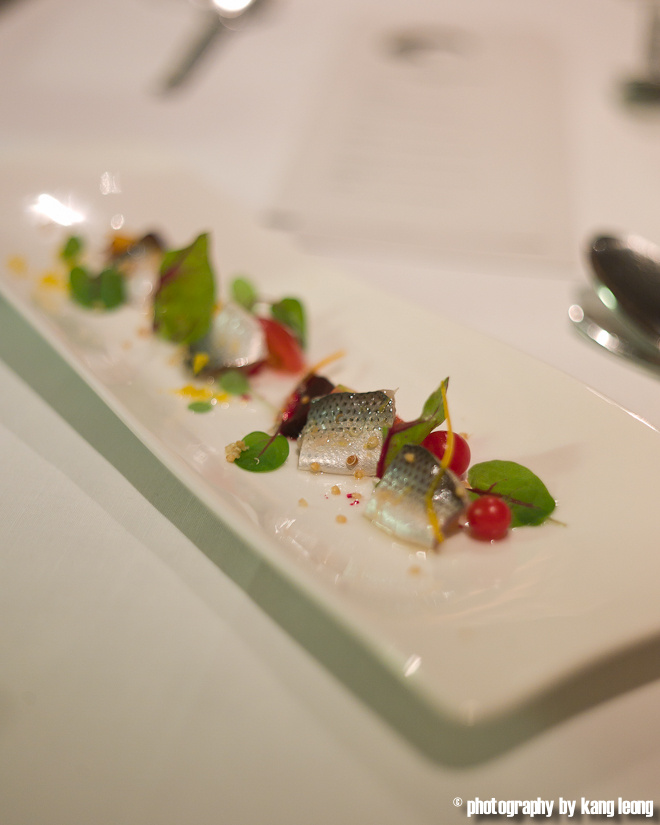 Visually, the dish was beautifully, the tiny tomatoes were the size of a match head, strangely pulling my attention. Kohada – we were told – belonged to the herring family, here it seemed as though it was either poached or pickled, but I couldn't really tell, because there was so little of it. The fillets measured no more an an inch across. Bursting summery fruity flavours, the clementine in particular was blindingly apparent on the palate. While I thought the subtle interplay of gentle flavours and textures was mildy entertaining, I also thought of how little cooking was involved, and thought how this dish was utterly pretentious and ridiculously tiny. Let's see now £125 / 8 = £15. That's expensive.
Third, SOUTHERN BLUE FIN TUNA. Carrot, watermelon, radish, bottarga.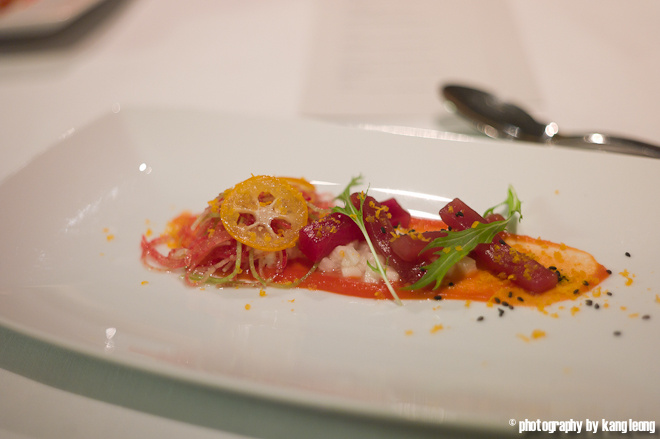 Southern blue fin tuna…damn, it's good. It's more than just good, it was amazing. The texture was buttery smooth, I could hardly believe I was having the loin and not the belly. It tasted so alive. Leading me to wonder about the grade of tuna which Atari-ya imports into the UK.
I don't think I've had Southern Blue Fin ever before, because I don't think I've ever come across such a high quality tuna sashimi in London that has left with the same arresting impression.
We must address the issue of conservation, as unfortunately, this fish is critically endangered, because of people like you and I who crave it as we do.
Anyway, the rest of the fruit and vegetable medley was another summer on a plate. It served as a nice foundation to spruce up the sticks of prized tuna. I thought it was a nice exercise in texture, a syrupy, horseradish-like sauce, a chopped and grated salad, like the best tuna sashimi salad I'd ever tried, but therein was the problem, this was no more than a glorified sashimi salad.
I thought the recipe lacked guile and imagination, it was so easy to eat – all two spoonfuls of it – that it simply felt complacent. There was little doubt that this kitchen was very capable at slicing, dicing and plating, but my nose detected nothing and consequently I felt there was too little flavour involved with this kind of dish.
It was neither Japanese, nor European, and it certainly was not Chinese. Throughout the meal, I struggled with Iggy's inspiration for his recipes, I felt they were erring dangerously close to being Pan-Asian, and truth be told, it did not feel Japanese, it felt – and I don't mean this in the bad way – like a glorified vegetarian taster menu.
Fourth, QUAIL. Foie gras, faro, peas, mushroom.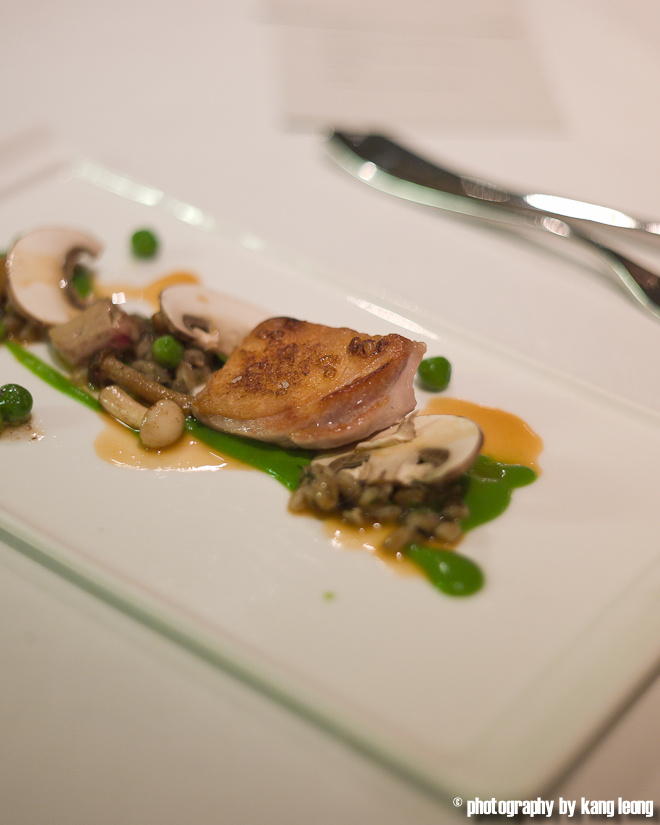 So far, it has been a turtle-speed start to the meal. Three courses in, about three quarters of an hour sat there in a half empty dining room that was catering to no more than ten patrons. I'd hardly felt like I ate anything, and I wondered why food took so long to prepare. Aside from expertly sourced seafood, I'd not tasted any evidence that suggested this kitchen deserved to be Asia's best.
Here we see some semblance of eurocentric Michelin inspiration. Firstly, excellently seared quail, nice cast-iron flavours, sealed juices and such, and kudos on pairing with umami rich ingredients including the mushroom and peas. Sadly though, I thought the dish failed as a whole. The selection of mushrooms were ordinary, barely cooked, so there was little in the flavour department. Again, ridiculously tiny portions, and I was shocked at the size of the foie gras, roughly the size and shape of a dice. I have never eaten such a poor foie gras dish, with so little of it, in a restaurant of such pretense before.
At this point, I wondered if the kitchen had merely added the duck liver to the recipe to make it sound posh, rather than make it an integral part of the recipe, which in this case, it wasn't. Particularly poor was the pea puree, too thin and tannic , like the skin of the peas on my palate, and it lacked any potency in flavour. It was more like pea soup than a sauce designed to hold the dish together. No fire in this lake. I'll say that this dish was very easy to eat, but I think it was easy to eat, because it lack so much. An empty recipe.
Fifth, ABALONE. Koshihikari rice, Perigord black truffle.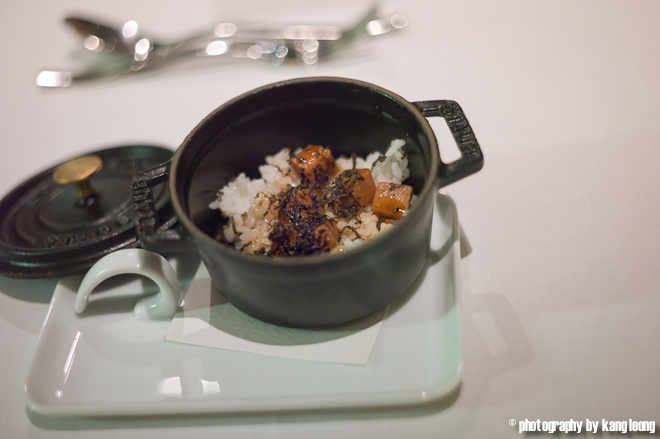 This was probably the best dish on the night. While it didn't look like much, all three ingredients were majorly high end. Firstly, the koshihikari was amazingly. Superbly smooth, creamy and yet maintaining the individuality of each and every grain. I couldn't ascertain as to whether this was US grown or Japanese, but it's better than the Japanese Koshihikari I've cooked at home. Truffle shaved like sea weed, along with a luxurious braised abalone sauce gave way to a immensely powerful flavour profile that attacked the palatte. Pure umami.
Being Chinese – and given that we were in Singapore – I was disappointed we were not served whole abalone. Countable diced abalone is bad form, considering the setting. Come now, how difficult is it to source Taiwanese baby abalones? And even that's low end. My dad recounted his experience of abalone at Ah Yat seafood , and did not have much nice words to say about this dish. If you're going to put a banquet ingredient on the menu, at least do it with style. If this was say, a £10 dish at a more egalitarian setting (think Brawn), then I would say fucking wow. But at this level, I'm afraid it's a monumental fail.
Sixth, WAGYU. Olive tapenade, Yukon gold potato.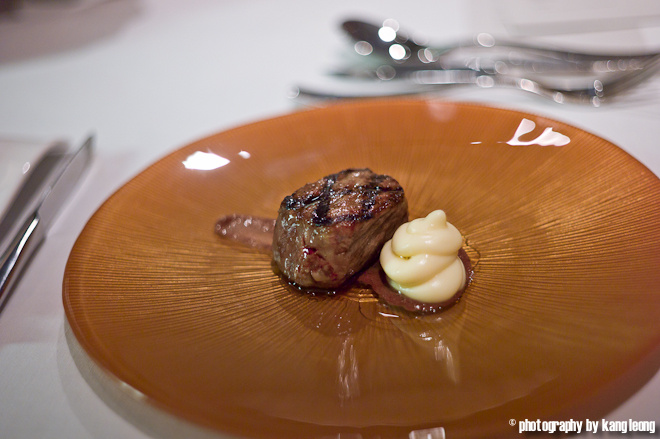 Our waiter insisted the wagyu striploin was from Japan (whether it was Kobe or not, I could not confirm) and not Oz, with marbling score of 9 to 9.5. We were given Laguiole knives with metal hilts, which I was certain we didn't need if indeed it was Japanese Wagyu.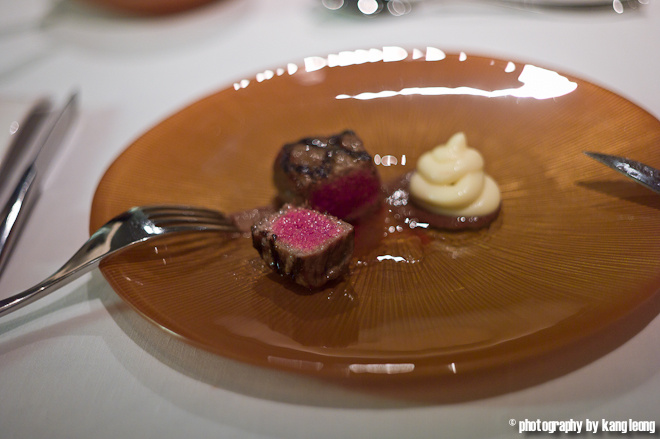 Seared to just about medium. First impressions were that the meat was very oily. Was it that all the gorgeous fat had melted away? What remained, was disappointingly chewy, and strangely, it was devoid of flavour and distinctly lacked beefiness. The potato puree on the side was disgusting. It was too creamy, too buttery, too salty and too oily. Why the need for such an overpowering potato mash? Shouldn't the natural quality of the beef be allowed to shine rather than be drowned out?
It looked as if the meat and potatoes sat on a strange clear, blubber-like sauce, like congealed oil, leaving me feeling queasy at the end of the meal. As it was the last of the cooked dishes, what appeared to be the most premium ingredient on the menu, also appeared to be the weakest. That potato tasted as bad as it looked. I couldn't believe it was Wagyu, let alone being Japanese. Simply put, one of the worst beef dishes I have ever eaten.
Seventh, IGGY'S POP. Passion fruit, mandarin vodka, vincotto, gorgonzola.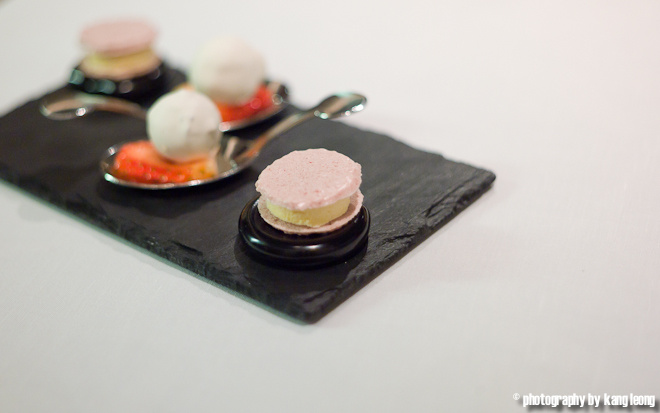 This was nothing more than a two-staged palate cleanser, firstly with a white chocolate truffle with a liquid vodka centre, and then a kind of macaroon with an iced passionfruit filling. Yawn.
Eighth, WINTER. Chestnut, coconut, coffee, lemon.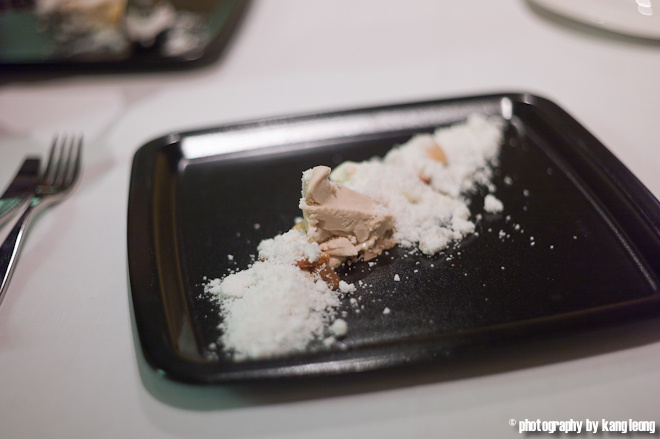 To finish, chestnut ice cream that was alright, and shaved coconut, perhaps like the soil and sand stuff they do in molecular gastronolabs, with but a slight coffee infusion to wake us from the snore-fest of a meal.
We paid something ridiculous like $880 (£440) for three and we didn't even order any wine.
Sobering. One of the poorest pricy meals I've ever eaten. I received a major bollocking from my parents for recommending Asia's best restaurant to them, that's how poor the meal was.
It was so pretentious, it intimidates with the mob of waiters and constant cutlery swapping and grown-up ambiance that as a diner, you are bullied into thinking that this setting means that any food that comes out from the shrine that is called the kitchen has to be food fit for kings. A woeful reminder of a time of out of control excess, when misplaced values didn't matter. How this was a meal at the world's 28th best restaurant is beyond me. Self-indulgence had got the better of the chefs, seemingly living in their own bubble, complacent with reputation, more in love with how their food looked than how it was cooked. I think somewhere along the way, someone had forgotten about creating recipes that married wild and fantastic flavours to create new, previously unheralded flavours. Where were the signature dishes? What were the combo revelations that has had industry insiders cooing in unison? What was I suppose to take away from this 'gastronomic' meal? It was neither the tediously illuminating dissecting light that molecular gastronomy shines upon the subject, forcing an education upon the palate; nor was it boundary pushing, rule bending, inventive marriage of world cuisines, which should have been, of the unpigeon-holeable fusion cuisine that Iggy's strived to create. It was neither here nor there. I think what was most disappointing was that it seemed as though the kitchen had talent, but that this talent appeared to be mis-directed.
Singapore is a country full of highly competitive hawker centres that have to woo customers the old fashioned way: great food and value for money. Specialty one-plate dishes all have their own family recipes and unique twists, like the various versions of chicken rice for example, so I'd imagine that Iggy's would at least show some of this national pride in cooking. So I was scratching my head as to what was so great about Iggy's. What was I paying for? A lesson in food styling perhaps?
Maybe at one point in its lifetime, Iggy's was deserved of its reputation, but if this meal was anything to go by, it was certainly the epilogue to the magnum opus. No apparent pursuit of breaking new ground, just a set of safe, labored and downright boring dishes, which were very much less that the superb provenance of ingredients it was built around. I fell asleep eating the food. The food was so clinical, that it lacked any genuine heart and soul. Gimmick ridden, flashy and too little fire. My apologies if you're a fan but I just didn't like it.
The next day, my parents and I cancelled our booking at FiftyThree, we didn't want to take the risk of being wallet-raped again, and besides, French food probably tastes better in France anyway. We decided to eat the rest of our meals from food courts while shopping in Orchard Road. Much more of a gastronomic discovery, with better ambiance, fuller stomachs and at a fraction of the asking price at Iggy's.
The Gist of It
Iggy's
Fusion, SGD$250 + 10% service + 7% GST
The Hilton Hotel
581 Orchard Road
Singapore 238883
Flight: SIA SQ322
Eggy: GT ; Sparkling or Still ; No Expert
Did you enjoy reading this? You can subscribe to the Newsletter. Alternatively, you cansubscribe to the RSS feed.