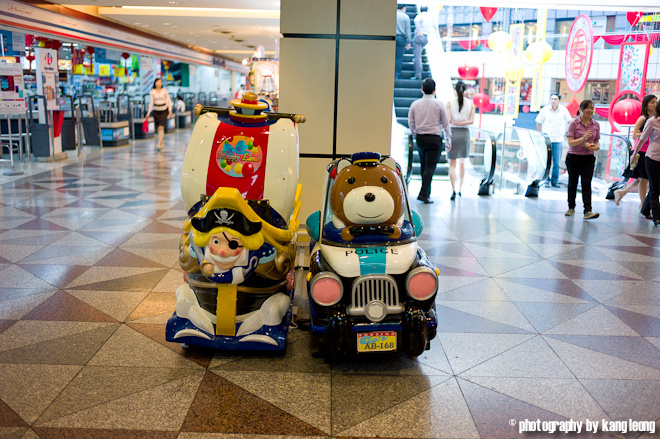 Yes… the blog has been rather slow lately because I am still travelling in Asia. I'm on my annual leave to celebrate Chinese New Year. I must say, I am itching to get back to London, especially to meet my reservation at Heston's Dinner at the Mandarin Oriental. Thus far, I have refrained from reading any GB media about perhaps the most hyped up restaurant opening in recent memory, until after I try it for myself… and of course you can expect a blogpost from me, to follow shortly after.
Ohh, also the Byron Big D February Special is still rolling and rolling and I can't wait to get back to that as well. Yesterday, I was quite pleased to have received a mention in The Times, this time around, not in the The Table supplement, rather in the non-food related Daily Universal Register section instead. Also the paper's original name when it was founded, I believe.
Yep, I am a proud subscriber to The Times.
So I had the distinct pleasure of sampling Singaporean food for the last couple of days, including the high nose stuff like Iggy's (2010's 28th entry on the World Top 50, eh.) and Shinji. However, I stopped short of going all the way at Waku Ghin (which is Tetsuya Wakuda of Tetsuya's Sydney fame) , as my eyeballs popped into the stratosphere after I saw the wacky asking price of its taster menu – a whopping 400 big Singaporean kahunas, exclusive of service. That's two hundred very British pounds per person. Talk about being overpriced. It is based inside a casino afterall.
I will write about these visits as self contained reviews.
For this post, I thought I might as well share some of the more modest, but perhaps the most delicious finds during this short trip. I think the beauty of Asia is that the most accesible foods, found in the food courts, the hawker stalls and the open-air cafes are the tastiest. The mystique of age old recipes passed down from generation to generation, with the asking price very nearly kept the same through the decades. Something which I admire, and I feel that the true romance of food lies with the simplest pleasures, great food more often than not, is not found on a silver platter burdened with the costs of justifying all that Egyptian cotton, not to mention the need to pay back the costs for the water baths (in the kitchen).
I largely split my time shopping and gambling at the newish Marina Bay Sands casino, which was bloody amazing, and dangerously addictive. The dry fried ho fun with sliced pork was spellbindingly amazing.
Sightseeing was out of the question, since I've been coming to Singapore since I was about five years old. At first, it was because of my Dad's business, but as the years rolled by, it became a sort of a second home. Anyway.
Akashabu
The hub of technology shopping is at the Funan IT mall.. and I've probably been visited this mall every year for the past 8 years. So I was there about this time last year, and I noticed a new sushi restaurant open with fantastic promotional prices. Salmon nigiri at around 50p, blow-torched nigiri for a quid, and the more exotic stuff like sea urchin and otoro at about three pounds each. A year old, it looks like they've kept the rock bottom prices, and had added a few extra exotic additions, such as wagyu sashimi.
Japanese Wagyu Sashimi, approx £10.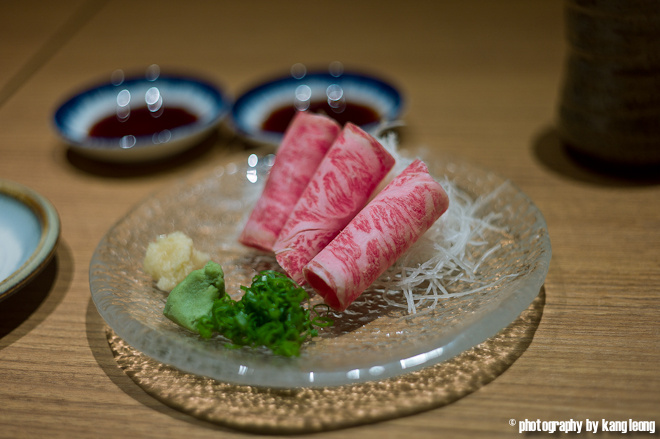 …for three sukiyaki slices. Can't say I am the biggest fan of thawed sliced raw beef, but as it was Japanese wagyu – a rarity even for Singapore – I had to try it. It tasted abit like smoked bacon, the texture was expectedly fatty, it was perfume-sweet. Still can't say I'm the biggest fan of sliced raw beef after this experience, it ain't no bresaola, but it was rather interesting, I suppose. Before we go further… check out the amazing marbling!
Assorted nigiri, about a fiver.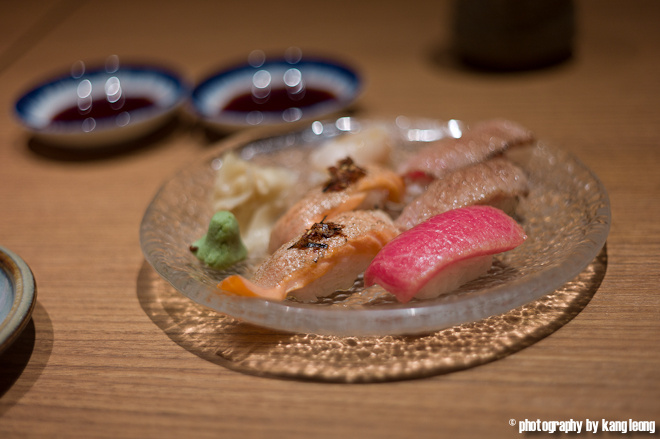 The orange-coloured fish, is actually blow-torched (Aburi) salmon.. and it was, to die for. The rice was smooth, wet and creamy. Really great, almost as good as say Yashin. Bearing in mind this was £1 each, better than Yashin.
The brownish ones at the back are seared otoro (£3) , and the pink one in the fore was the otoro (£3). Closer to chu-toro than full-fat belly, but still, a very good piece of fish, high quality stuff, absolutely zero smell, melts in your mouth, the marbling is like butter, etc, etc. You know the score when you gorge great otoro. Ain't nothing like it – and here is my guilty conscience working now – and probably why tuna fish will one day be extinct if we keep indulging in this way.
The meal was cheap, and I think it just illustrated the standard of sushi in Singapore compared to London, ie: way way ahead. I'm not entire sure how Akashabu compares against its peer in Singapore, but compared to the middle of the road sushi bars in London – it wins hands down.
Akashabu at Funan IT Mall
Funan Digitalife Mall
109 North Bridge Road
Singapore 179097
Tel: 6333 9954
Durian…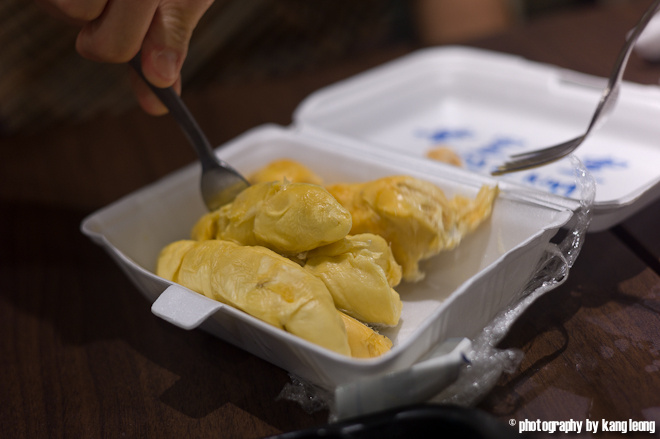 …unfortunately, durians do not come into season for at least a couple of months, so we had to pay abit more cash to eat this stuff. Originally retailing at £20, the supermarket (Cold Storage at Takashimaya) sold it at a knocked down price of a tenner. It is considered the 'King of fruit' in South East Asia, and while we ridicule the misunderstood golden fleshed delicacy as custard-like fruit slow-cooked in wrapped overnight socks; adjectives such as 'creamy' , 'custardy' , 'honey sweet' , 'will make you cum and cum' (I made the last one up) were written next to the probably made-up grades of AA, AAA++, Super AAAAA, on the boxes to flog this stuff to unsuspectingly greedy tourists such as yours truly.
I'd like to think of the stink as a strong nose, like the fruity, bitter brilliance of a fine cognac, with the texture of Marcus Wareing's egg custard tart, and the sweet richness of the best creme brulee you have ever sampled, sans the demerara sugar…
How some of you continue to dismiss this fruit of the gods with disgust is beyond me. Ah well, taste is in the buds of the beholder, I suppose.
Ji De Chi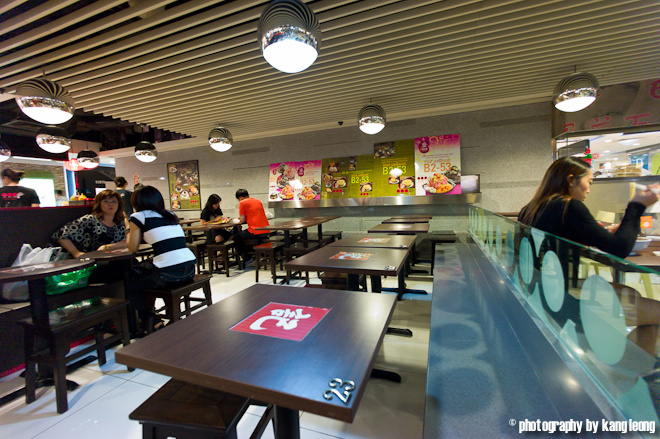 Ji De Chi means 'Remember to Eat'. My dad found this place and he loves it. My grandad was an ace pastry chef, and so my dad and my uncles all seem to love milky, eggy puddings. Ji De Chi is located in the basement food court of yet another mall ( in the city of malls) , Plaza Singapura. They specialize in a range of Chinese desserts, franchised as three outlets across the island.
Durian with Pomelo Sago, £3.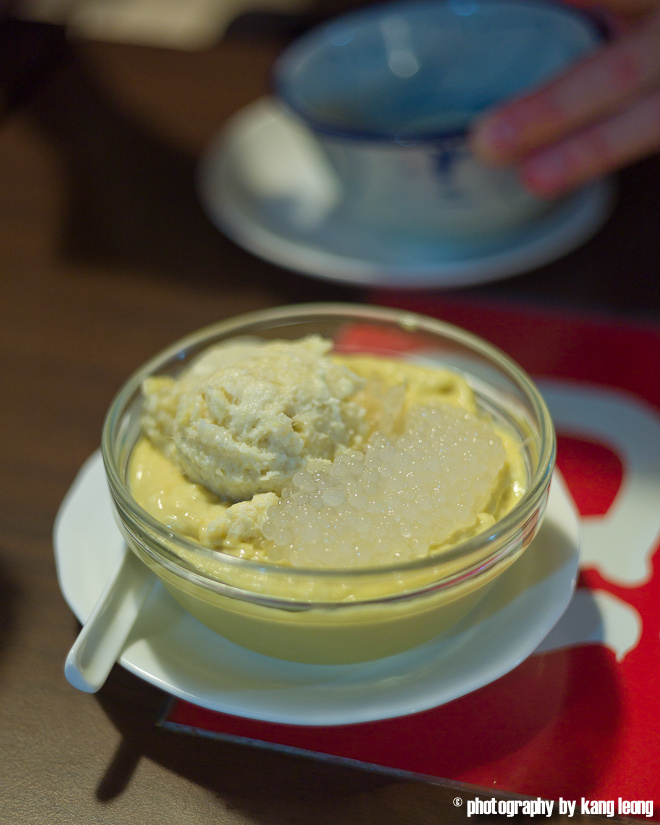 I know this doesn't look like much but…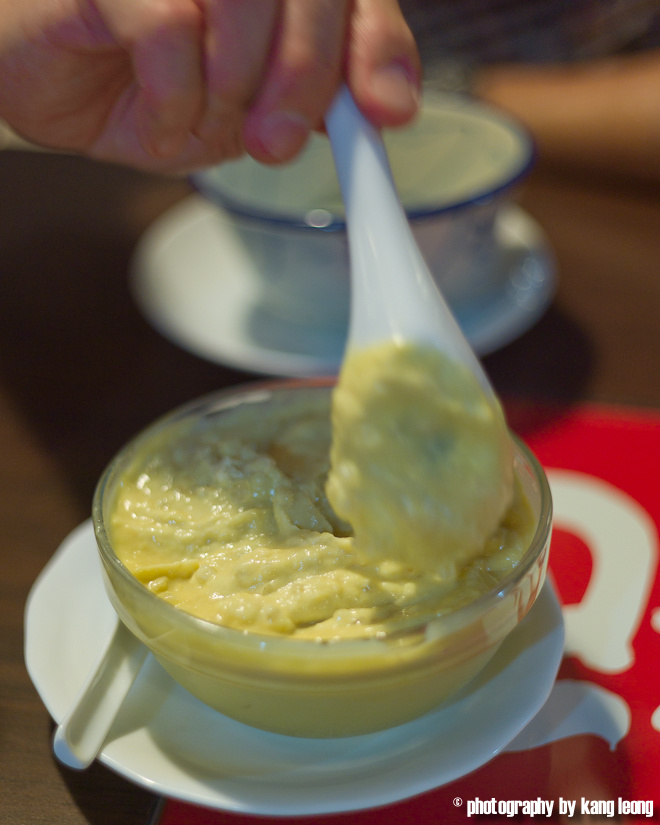 …Oh my schweet schweet lord, this was amazing. Think a superiorly smooth rice pudding. Your best memory of what the perfect egg custard should taste like, butter, and a dash of your favourite poison for but a pinch bitterness. Monumentally fabulous. Gloopy, whippy, heavy… ethereal. It was a perfect pudding. So good I had three. And I think you should too if you happen to be passing through Singapore. Also, you must try their double boiled egg desserts, that's very Chinese.
Ji De Chi
68 Orchard Road #B2-53
Basement 2, Plaza Singapura Tel : 63379828
The food court at Suntec City.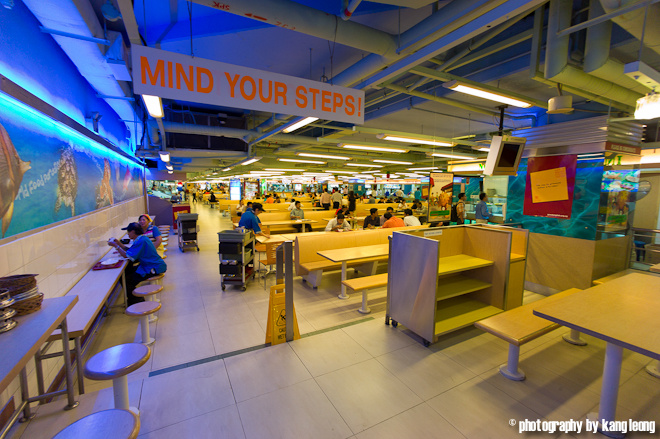 You guessed it buddy, I was mall hopping, and in every mall, there was a food court, filled with such wonderous things that I'd never seen before. So much variety in Asian food courts, it's like the modernisation of street food. Transposing the street-side hawker to a concentrated gastro-glorification centre of continued gluttony, competition and bustle. A haven.. a haven.. all that you can ask from, from teppanyaki to banh mi, to Nasi padang to Hanainese Chicken Rice.
Hainanese Chicken Rice with Kai Lan and smoked egg, £3.50.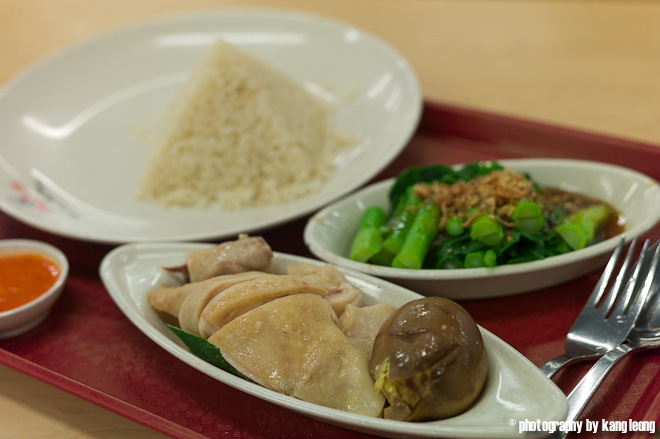 Mmm… juicy, tender, merino wool masquerading as someting edible, bursting with brazen chicken flavours. The viscous yet light sauce, probably made from chicken stock, soya sauce and perhaps sugar, but then that's just me trying to second guess a well-preserved family recipe. The rice was obviously also chock full of brothy chicken flavours as well. And since it was so good, and so damn affordable, I had two.
But wait till you see what my dad ordered: Braised duck, with char siu and pig intestines and peanuts, and rice. £3.25.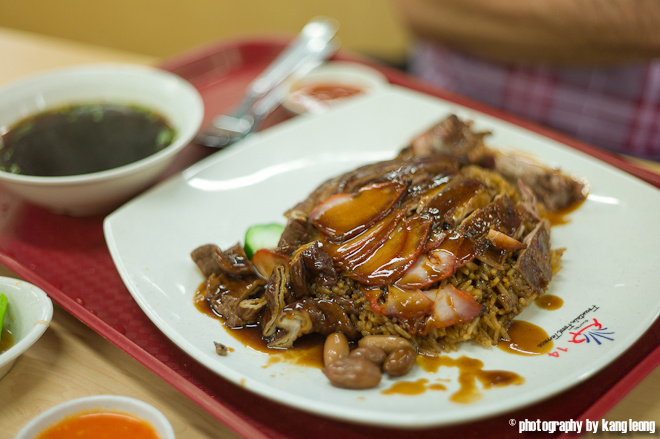 Just look at the smothering sauce that has been drizzled all over that juicy meat. Comes with a free 'light soup' too. Gorgeous innit? This was from just a modest stall in a food court. Asia is just awesome in that way.
MOS Burger
The Mos Burger, £2.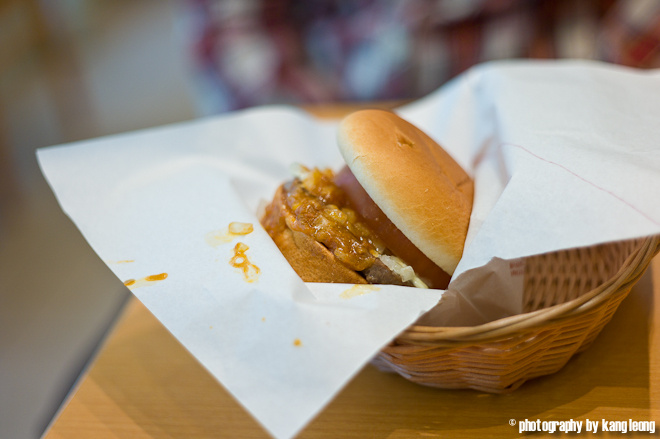 I have always really enjoyed this Japanese fast food burger franchise, I have had versions of the burger in both Singapore and Taipei, and I like it for its 'healthier' and clinical approach to the art of fixing and mincing. The name 'MOS' is actually quite a comical PR (in the Japanese spirit of inspirational origin stories) for Mountain, Ocean and Sun. The first thing I notice is how perfect the slice of beef tomato is. It's like the second patty in the burger. The patty itself is nothing to shout about. It's a mince, probably no better than any mass produced frozen patty, but it is the spicy ragu-like sauce, with freshly diced onions (and the processed cheese) which takes this burger to another level.
Very different to the fatter, drippier, bang, bang, bang philosophy which GB burgers seem to be taking on these days.
Spicy chilli dog, £2.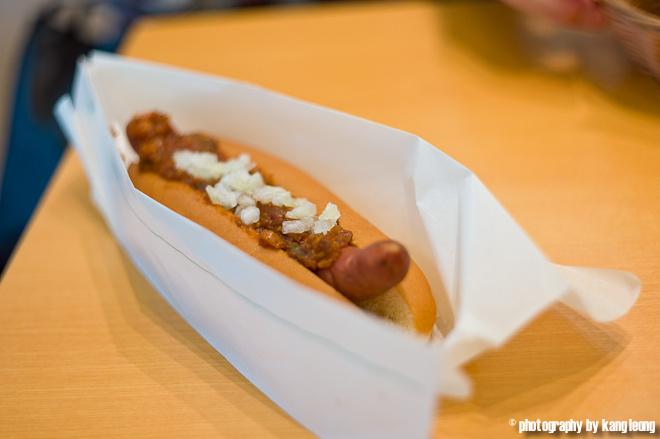 Same as the MOS burger, except it has a fried hotdog in a hot dog roll.
Finally, a Singaporean breakfast at the airport.
Wang Cafe at Changi Airport
Kaya toast with butter, 2 soft boiled eggs, french toast with kaya and butter, teh-c (hot) , £3..maybe £4.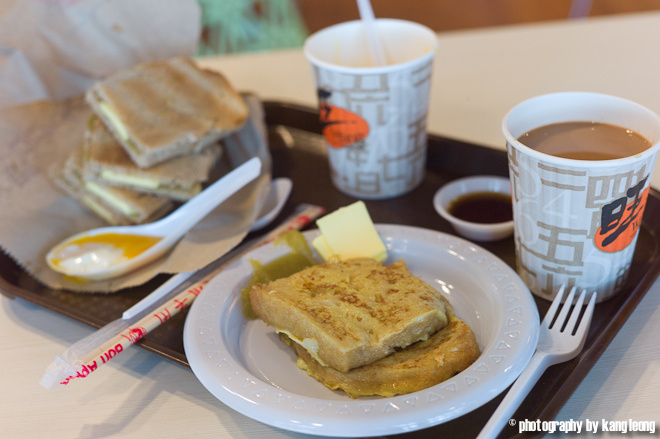 The name we give to kaya-butter toast in Brunei is 'Kahwin' … which means 'Marriage' in Malay. I'm not entire sure where the name has come from, but this particular toasted marriage of coconut jam with butter (if memory serves, planta butter is usually used) is a firm fixture (for many decades) in all Chinese caffes across what is modern day Malaya and the old states of Borneo island.
Kaya is a kind of jam made from egg and coconut, sometimes it's green, sometimes it's orange in colour, depending on where you get it from, they taste similar, translucent, sweet, creamy, bit like reduced sweetened tea, if that makes any sense. Whilst one can easily buy them from the supermarkets (including in London actually), you're not really eating the real deal. Like all the best jams, the truly amazing ones are usually home-made by your neighbour's grandmother. It's the TLC that goes into every jar innit.
It's an incredibly elegant recipe, truly baffling how something so simple can be so amazingly satisfying. Maybe it is because the experience of eating it, brings back so many happy memories. The smell of the charred bread, the smell of the evaporated milk in the tea, the mucus-like soft boiled egg. It's the whirl of spinning ceiling fans, the booming chatter of old Chinese dudes hanging out in the cafe, and I'm pretty sure spittoons kept under the tables were before my time. Oh man, do I miss home.
Oh and by the way, Wang Cafe, roughly translates to Prosper Cafe.
Iggy's, Shinji of the Singapore meals, and then shortly after, I'll be back in Blighty with Dinner at Heston's to follow, in the next couple of weeks … so happy reading folks.
Did you enjoy reading this? You can subscribe to the Newsletter. Alternatively, you cansubscribe to the RSS feed.