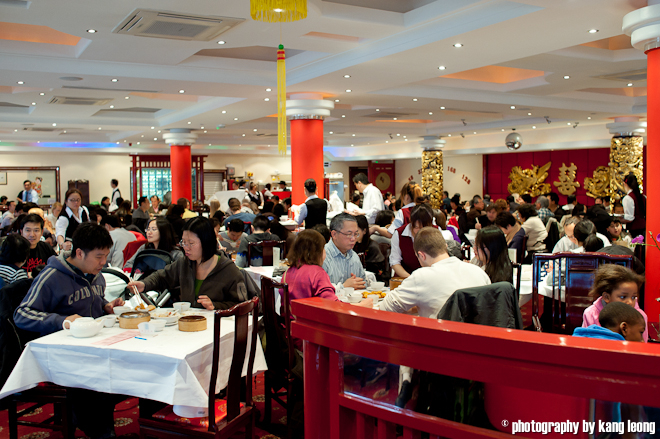 The fish counter at Wing Yip always gets my undivided attention, whenever we visit to stock up the larder. It's those massive tanks with the filtered running water, the sound of an artificial waterfall, filled with still live and flopping crabs and lobsters, mussel stacked upon mussel and probably some of the cheapest rock oysters in town. Wing Yip are like the Ikeas' of the Asian perishables industry, self proclaimed 'Superstores', the premises are giant warehouses which stock everything a Chinese restaurant could ever want, from giant bamboo steamers, to 19″ cast iron woks to the latest hoi sin sauce to hit the market. Majorly wide shopping aisles too. You can even get Roast duck in a box, dressed like a box of Gran Prix roses with a plastic window. No kidding.
There are two eateries at this particular Wing Yip superstore. The smaller one is a 'dai pai dong'-style, bistro/cafe which I frequent on week nights – Cricklewood is closer to me than Bayswater – for one platers. I much prefer their soya chicken and good manners to the step-on-you-and-die attitude accompanied by benchmark roast duck at Four Seasons. Oh and the orange-skinned bbq squid too. As with many Oriental superstores of its ilk in the UK, there's inevitably a full sized Chinese restaurant on location, big enough and decorated with enough traditional trinkets (red lanterns, small red platform/stage) to host banquet dinners. The name of the restaurant is Wing Tai… but not that I really noticed, I have always thought of it simply as The Restaurant at Wing Yip.
Rather than wait for an invitation to a Chinese wedding, I urge you to head down to Wing Yip, with four or five warm bodies, at 12pm on any given Sunday for proper dim sum, at risk of preempting the report… but ahh, it's the holiday season, and my brain is decaying to mush with the daily countdown to Christmas.
I love going to Wing Yip on Sundays not because the dim sum is world beating (which it is not), as you will have experienced much more clinical work at Central London's starriest counterparts, Yauatcha to drop one name, but the thing with dim sum is that it is equally about atmosphere as it is about dumplings. It is a family affair, a gathering of close buddies, a time to reflect with the relatives, hive mind catching up, all contributing to the bustling, overcrowded, chaotic liveliness, that truly conveys the feeling that the weekend has reached its peak. That the spirit of dim sum is not one of glamour or trend, but rather to indulge in the company of those close by, over steaming dumplings and tea, on the day of rest, to let your hair down, almost completely.
In the last couple of years, I've been going back to Wing Yip about once a month, and I do think they are improving their output. Most dishes are actually pretty good, as I will illustrate.
Three selection Cheung Fun, £3.80.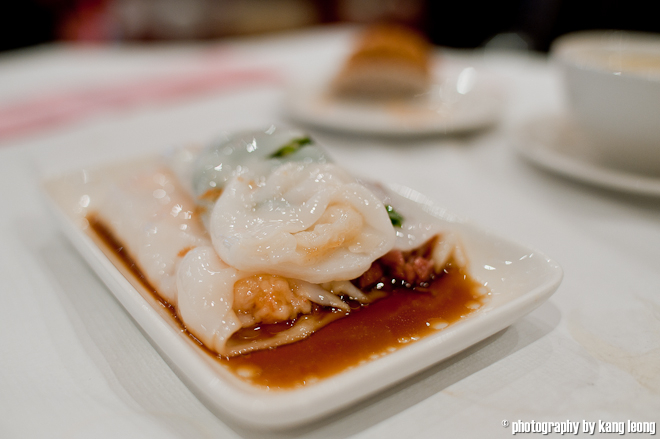 Firstly, the rice noodle roll was al dente, strachy and springy and held together well. Stuffed with three different options, shrimp, char siu and scallops, and doused with sweet soya sauce. Yummy. I had no complaints.
Congee with pork 'bones' and fermented cabbage (I think), £3.90.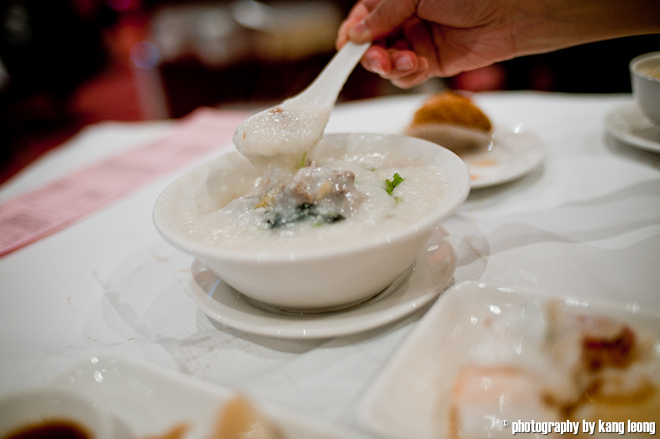 Proper texture, gloopy and dollopy as Cantonese style 'juk' should be. The flavours were stocky, slightly salty, and overall just a hearty experience, which in London, usually means something a little watered down, but this was far from it. About the only thing missing were slices of you tiao.
…Alot of food arrives.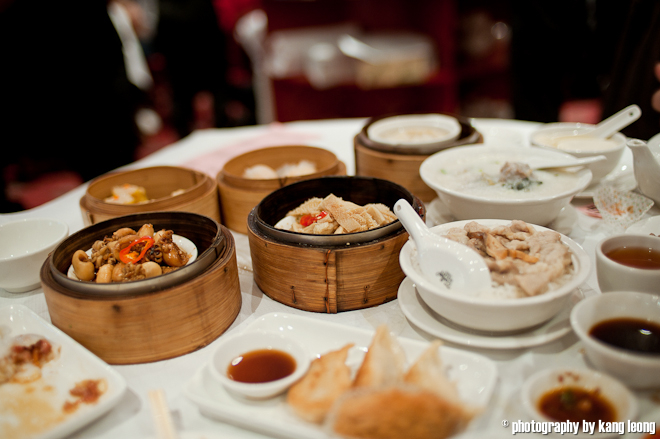 Midway through lunch, the steamed dishes joined the fried stuff. The fried taro puff was great, and while I'm no fan of intestines, the better half really enjoyed the tripe.
Satay Baby octopus, £2.50.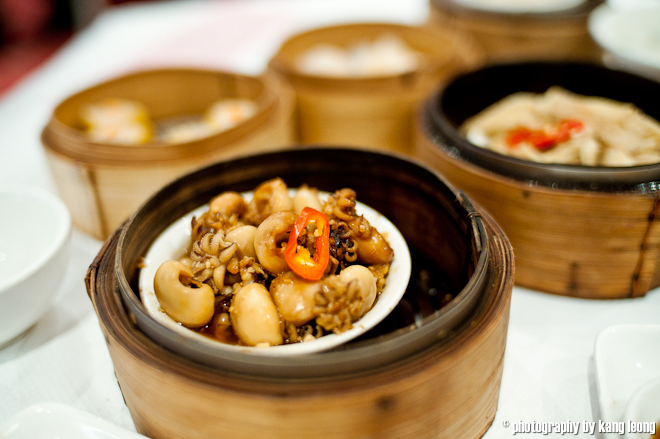 Sweet and spicy.
The obligatory shui mai and har gaw. £2.50 each.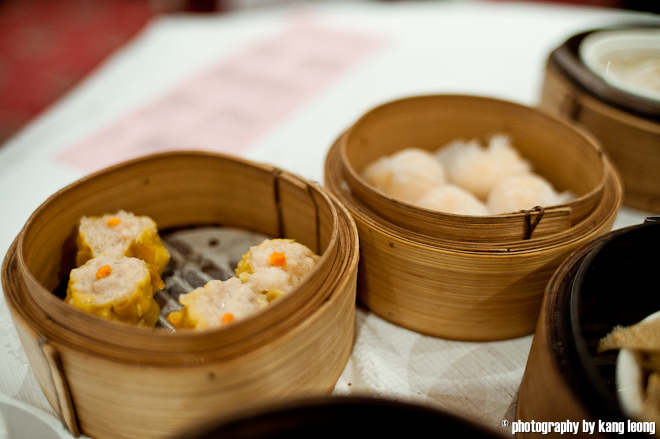 I was pretty surprised with these – this for me is the acid test – as I think they got 'em spot on. Bursting with flavours of prawn, and a hint of pork fat in the back of the tongue, and spring-like in texture, great shui mai. Similarly the har gaw bounced like a basketball, with a juicy, prawn filled centre.
Steamed rice with Salted fish, £3.90.
Or you could also get one with steaming spare ribs, generally speaking, these steamed pots of rice are fab. My mum used to cook them just like this, and they are amazingly hearty, perfect for the wintry season. The entire steamed pot means that all those lovely juices that eek out of the fish during the steaming process would be reabsorbed by the rice, in essence leading to a flavour charged base of rice. Not many places in London do this, so there isn't much in terms of comparsion. But it would be nice if they would pump up the variety in toppings, instead of just salted fish, which could be rather bland to some.
If they did Chinese mushrooms, chinese sausages (lap cheung) and some pak choi throw in, that would be a dream steam.
Tapioca and yam dessert, £2.30.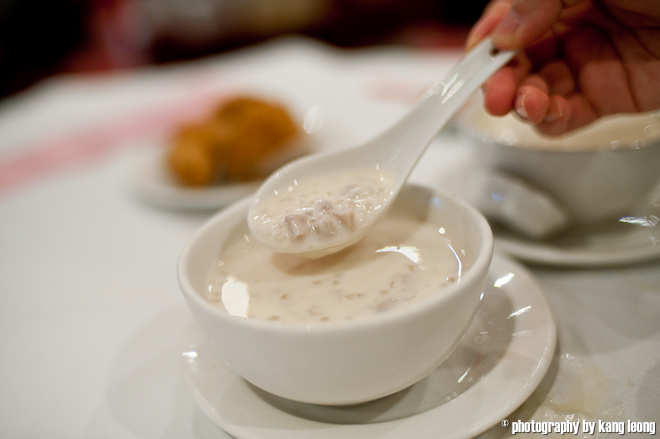 Served cool (probably already prepped in the fridge), milky, syrupy with chewy pearls and stodgy yam – just as one expected. Great way to end the meal.
So the burning question is if Wing Yip – being that it is such a trek to the North West – is worth the trek out or not. Well, food is pretty good, not quite the best as I said, but good enough to leave you satisfied. Prices are fair, and comparable to most dim sum serving restaurants in Central, but at the end of the day, I do think it is worth an expedition simply because it has great atmosphere. It is always full on a Sunday, and I think it says alot about how much people like it. To savour the ambiance – save for perhaps the Royal Chinas – alone is worth the wait. Do bear in mind though, if you go there at the height of lunch at 1pm, you will be in for a long wait for your ticket number to be called. So I do recommend to either turning up early or abit later. And then afterward, make sure you visit the Superstore, in fact, make the trip anyway to stock up your pantry with exotic perishables, like oyster sauce (by Lee Kum Kee no less), black bean sauce and try some bottled bird's nest (ready to eat and pre-cooked in rock sugar) by Brands. And do swing by the fish counter and tell the live crustaceans, I said hello.
The Gist.
Wing Tai at Wing Yip
Chinese, £25pp
395 Edgware Road, Cricklewood
NW2 6LN
Tel: 020 8450 0422
Bus : From Kilburn Underground, take the No. 32 or anything to Cricklewood till you see the Pagoda.
Did you enjoy reading this? You can subscribe to the Newsletter. Alternatively, you can subscribe to the RSS feed.